Without a doubt, the new 2021 Chevy Corvette is a big car for General Motors. Of course, I'm not referring to the actual size of the vehicle – which, in a manner of thinking, is true since the new C8 Corvette is significantly more than the outgoing C7 model – it's an important model for the brand. True to form, there's no other American sports car like the Chevrolet Corvette. But in its entire 67-year history, the C8 presents many firsts for the Corvette nameplate. The engine is now mounted in the rear, and the C8 Corvette has the grandeur and presence of a supercar rather than an aging sports car.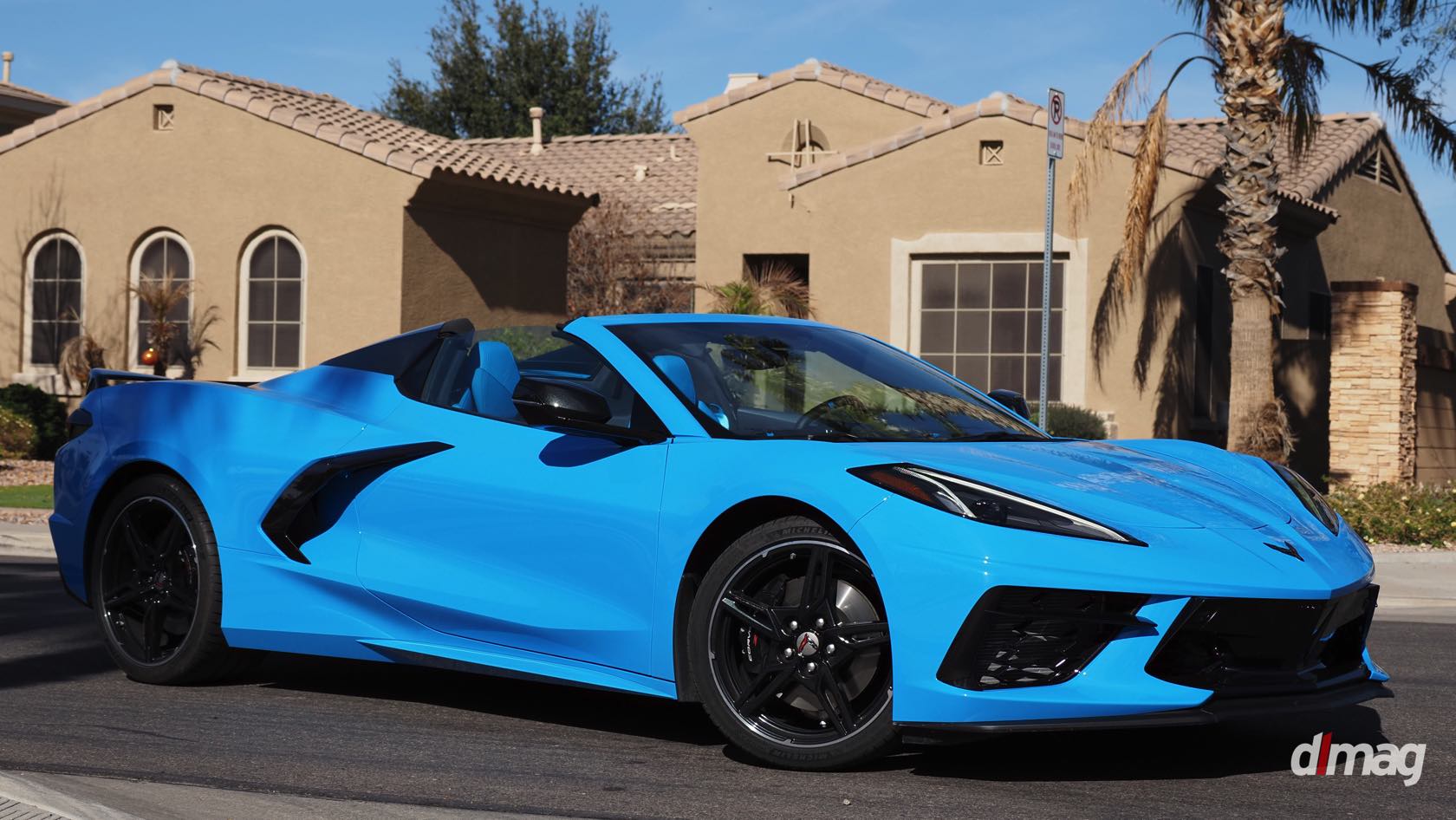 The Corvette is my hero car, so to speak. But there was always something inherently wrong with past generations of the Corvette. The interior is not worth writing home about for starters, while the archaic leaf springs can only do so much to keep the rear tires on the road, not to mention the somewhat jarring ride over anything resembling potholes bumps, or manhole covers. And while other supercar makers got better at building aggressive yet street-docile machines, the Corvette was going in a different direction. Yeah, it got faster, harder, and more aggressive – even track-focused, if you will – but most of the gripes are still there. Not that you'll mind, particularly in the C7 ZR1 model with 755-horsepower and 715 pound-feet of torque under the hood, but it's part of what Chevy was trying to do in reinventing the Corvette. Sure, it now looks like a proper supercar, but Chevy is aiming for more with the C8 Corvette. Chevrolet was brave enough to literally reinvent the wheel with the new Corvette, and thus the reason why I can't hide my enthusiasm to drive Chevy's latest supercar finally.
But first, let's address the biggest elephant in the room – the way it looks. And you know what, the 2021 Corvette is much better-looking in the flesh. Sure, those angular creases are a bit busy, but it's not as if there's no purpose behind the intent. Some find it polarizing, while others say it's a step in the right direction, and I'm in favor of the latter. This is not the first time I laid eyes on the new Corvette Stingray, but the shock factor remains. Maybe I still can't wrap my head around the fact that the new Corvette is finally a mid-engine supercar, but maybe because Chevy has finally caught up with premium supercar makers regarding building quality and craftsmanship. Don't get me wrong, and the Corvette is unlike any bespoke Rolls-Royce or Bentley. Still, it's a huge step forward in styling, cabin refinement, and overall quality, so it's only proper to give credit when it's due. I still think the C8 Corvette has the styling DNA of the Ferrari 360 Modena, but the rear is pretty much a Corvette from the onset.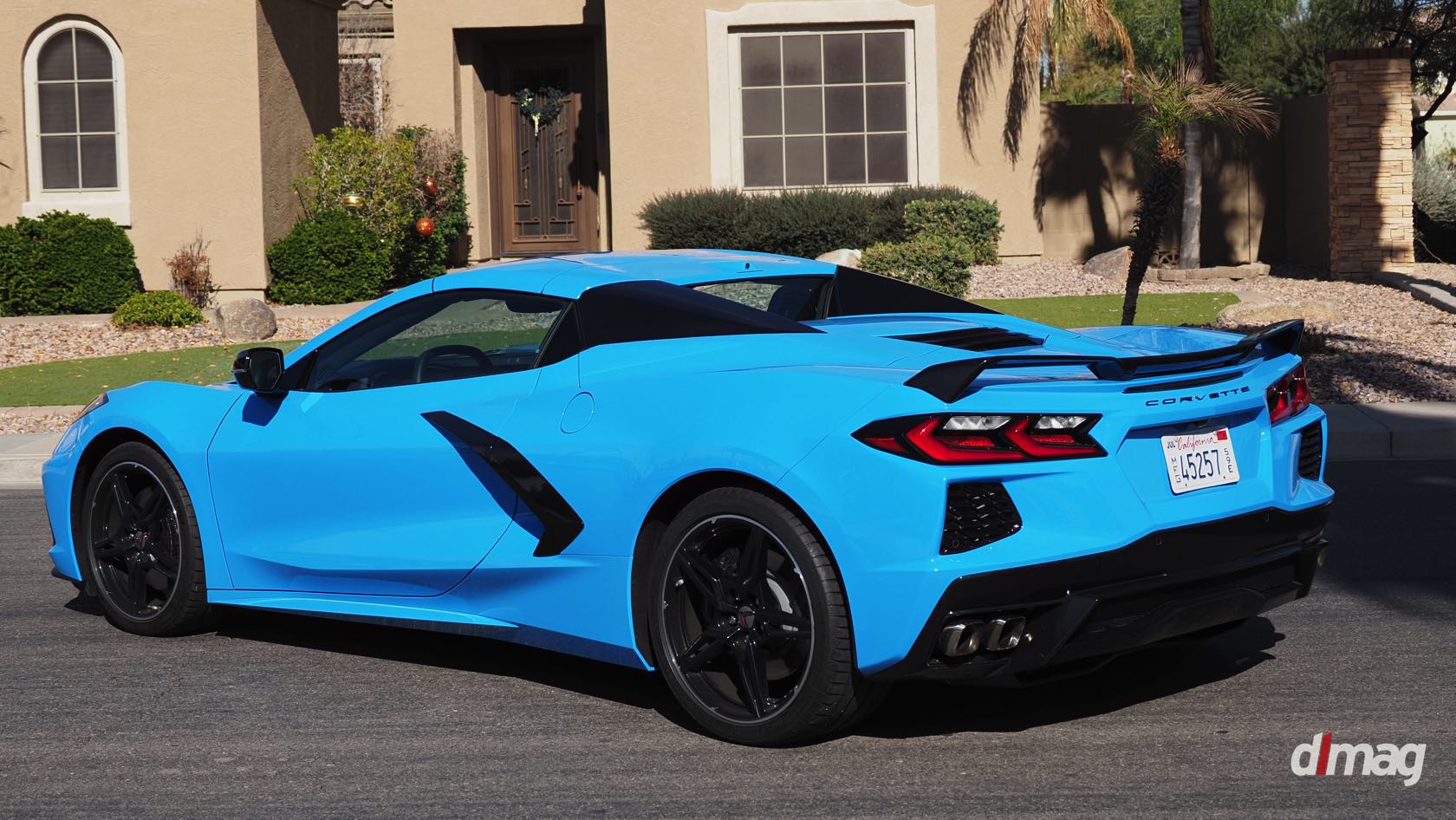 Also, I mentioned it got bigger and longer than the outgoing C7 Corvette, and that's true. The new Corvette is the biggest and widest Corvette to enter production. The only downside is it also happens to be the heftiest Corvette to tip the scales at around 3,366 lbs. Nevertheless, the 2021 Corvette 3LT Z51 I'm driving doesn't feel heavy at all. For the record, adding the Z51 Performance Package adds five more horsepower, Brembo brakes, a louder performance exhaust system, and adaptive suspension.
Equipped with a raucous yet silky LT2 6.2-liter naturally-aspirated V8 engine with 495-horsepower and 470 pound-feet of torque, the C8 Corvette is, unexpectedly, unlike any Corvette I've driven before. It rushes from 0 to 60 mph in 2.9-seconds and devours the quarter-mile in around 11-seconds while top speed is at 194 mph. "We made sure the top speed is a real number we have done in a real car on a real track," said Alex McDonald, vehicle performance manager at Chevrolet. "The Corvette's Nurburgring lap time is sub-7:30, but it's not official," he said. "The process to get a certified Nurburgring lap time has gone fantastically expensive, even for a company like General Motors," added McDonald. "So what we can tell you is that 7:29.9 was measured in the same way with the same techniques as any lap time published before," he continued. "But, we're comfortable with cars under 7:30."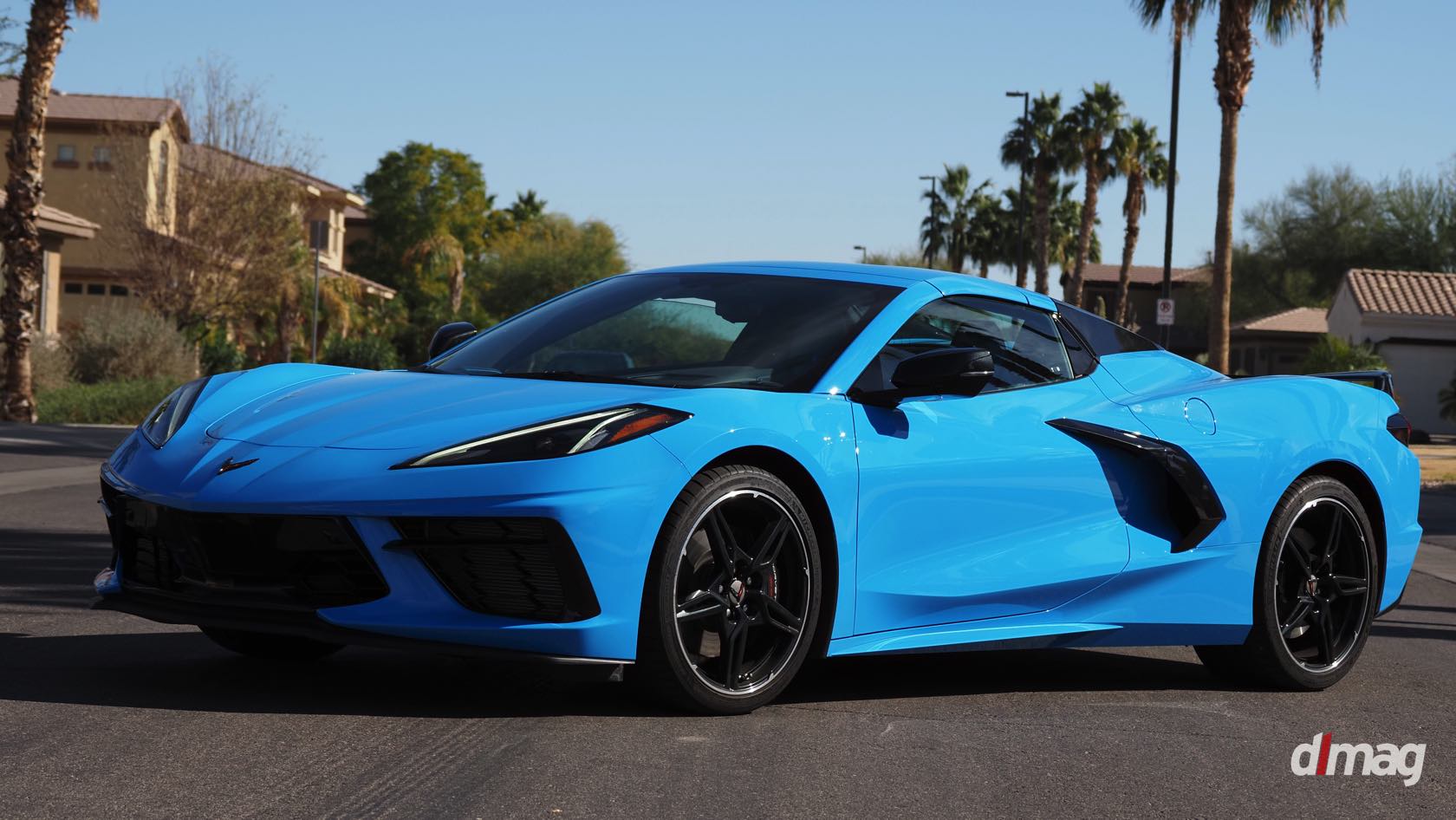 Those numbers are not enough to justify how fun this car feels on the road. Put it in Tour mode, and the new Corvette behaves like a normal sedan. The ride is smoother than in most German sport sedans in this mode, while the steering is lighter than a mini compact. Although at this mode, the transmission also feels a bit laggard and acts lazily when blipping the throttle. With a bevy of strategically-placed acoustic insulation materials, the new C8 Corvette is as quiet as a luxury car with none of the maddening annoying from Corvette's of yore.
True to form, the 2021 Chevy Corvette Stingray is the type of supercar you can drive to work every single day, and you won't look or feel ten years older upon arriving at your destination. But here lies my problem with the C8 Corvette: It doesn't feel or sound like an exotic supercar when driven normally! Has Chevy done too much to impress droves of newer and younger clientele? Hard to say. Whether this is good or bad is up to you. Let's put it this way: Unlike in a high-strung Ferrari or Lambo where the vehicle almost feels like constantly tugging at the leash, the C8 Corvette can be enjoyed as much on the street as you would on a racetrack. However, it still had the raw and primal character of the previous C7 Corvette. But when it comes to achieving maximum velocities and G-forces at the slightest hint of an open road, the new C8 Corvette feels like it was born to accomplish such a task.
Dual-clutch transmissions have come a long way from being clunky, expensive, heavy, and cumbersome. In this regard, most of the credit goes to that excellent Tremec 8-speed dual-clutch automatic transmission (DCT) with paddle shifters that – similar to a McLaren Senna – are wired directly to the transmission unit for rapid-fire gear changes. "There's no computer in the middle that's metering out messages," said McDonald. "It's like having a wired connection from your hand straight into the transmission to make that shift as quickly as possible."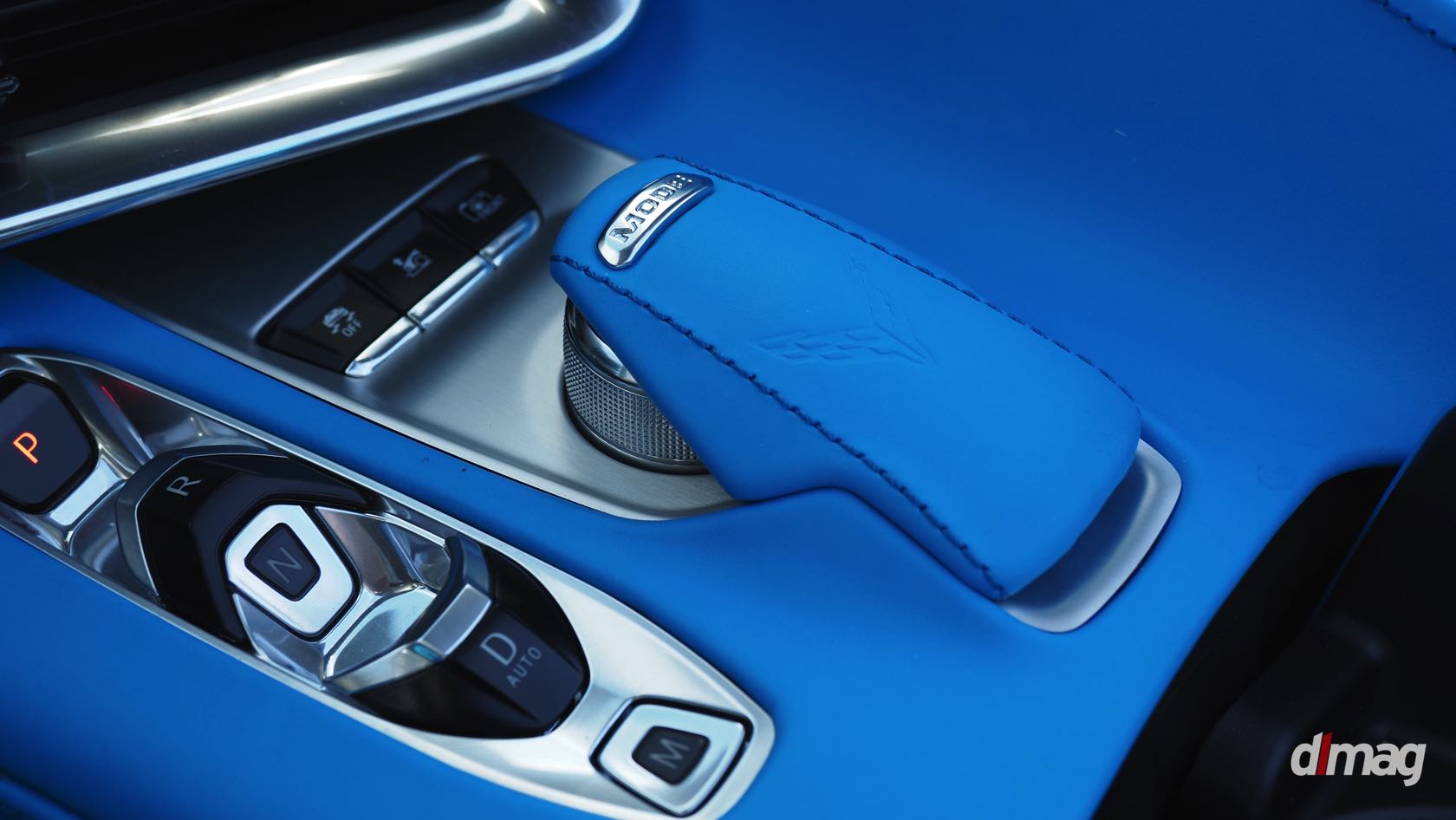 The Corvette's DCT pretty much reminds me of the Tremec 7-speed dual-clutch assembly in the 2020 Ford Mustang Shelby GT 500; it's smooth when you want it to but absolutely on point when you're in a hurry. Also, the DCT has a manual mode that allows you to bounce off the rev limiter all day if you want while still automatically downshifting as you stop or scrub off some speed.
The C8 Corvette accelerates hard as a supercar should, but the steering at higher speeds is simply worthy of praise. The faster you go, the better it feels. Unsurprisingly, the new C8 Corvette has a split personality like Dr.Jeckyll and Mister Hyde. Whether in Drive or manual mode, the car pulls with such ferocity while the V8 motor sounds pretty much like a NASCAR machine at full bore.
One of the keys to producing such a great powerplant is the engine-mounted dry sump system. "It's a three-scavenge pump system," said McDonald. "And what it does fundamentally is it lets the system pull the oil out of the cylinder heads instead of letting that oil wash down across the spinning crankshaft." In other words, the Corvette's dry-sump system improves the engine's ability to maintain the oil pressure at high lateral acceleration, which translates to relentless acceleration each time you lower your foot to the gas. "We've had dry sumping in the Corvette for a while," added McDonald. "The architecture is kind of similar to what we're used to in the Corvette, but there's a lot of details that make this a big step forward."
With such a powerful and tech-laden engine at the back, Chevrolet could break free from the constraints of having a heavy engine lounging in the front. "One of the key advantages of having a mid-engine setup comes down to 40:60 weight distribution," said McDonald. "Getting weight on the drive wheels is critical for performance." Since the cabin is now pushed forward with the engine relocated in the back, both driver and passenger are now sitting closer to the front wheels, which also benefits steering response.
For all its supercar-baiting performance, hardcore performance merits, and docile behavior in Tour mode, the biggest news of all would have to be the new Corvette's interior. Again, some argue the cabin is a bit too driver-focused for what is purportedly a fun, American sports car, but who says shotgun passengers need to see all those stuff in the center screen when rushing at nearly 200 mph? What's important is how all the touchpoints and material choices have vastly improved over previous generation Corvettes. I appreciate that when you look at the car's materials that look like aluminum, it is aluminum. If it feels like leather, it is leather.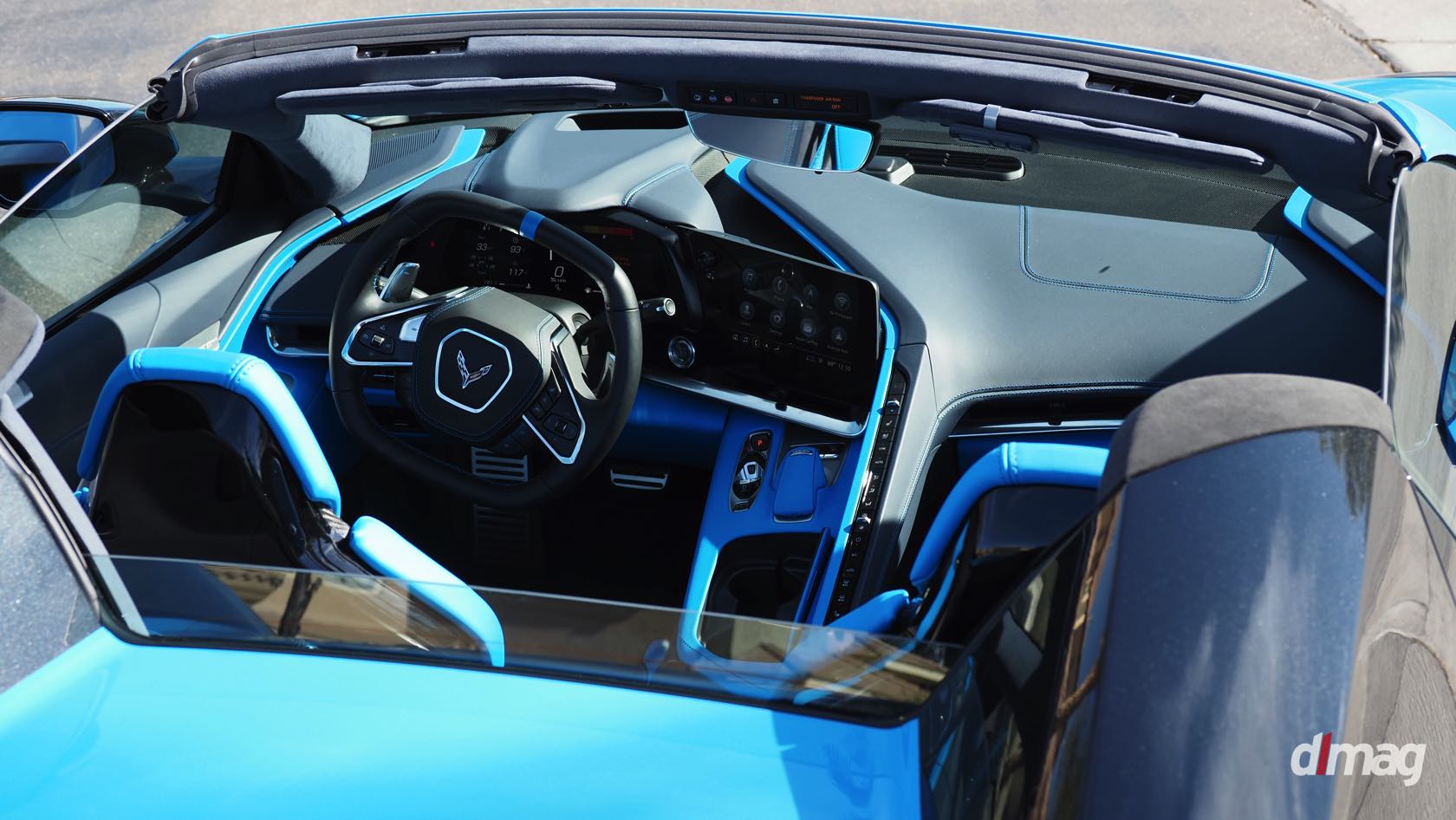 There's also a varied mix of carbon fiber and suede to fortify the C8 Corvette's sporting yet premium intent. Some hate the cabinet-inspired center console design. But for me, it's all about authenticity. This type of setup may look out of place in a family sedan but not in the Corvette. The odd-shaped steering wheel did take some getting used to, but I'm marveling at Chevy's effort to make enthusiasts forget what a previous generation Corvette interior looks like. You know what, they did it by radically changing everything that had something to do with the last model, including a basic round steering wheel. I'm only nitpicking at this point, but the C8 has the best-looking and best-feeling interior in the long and cherished history of the Corvette nameplate. However, it's not perfect, either. I'm not sure if it has something to do with the 'divided' feel of the cabin, but the C8 Corvette's lack of wiggle room is a bit problematic, most especially if you're over six feet tall.
No one's stopping you from choosing a sports sedan (or worse, a crossover) over the Corvette if you're complaining about legroom or shoulder room. In my many years of covering the fastest roadgoing sports cars and supercars, I learned two important things: First, if you feel you're going too fast, then you probably are; and second, sacrifices will be made to experience the extreme. It's a cliché, I know, but it's true. As I sat inside the C8 Corvette, I just couldn't help thinking why some of the storage space wasn't sacrificed for more cabin space. It felt like it was the other way around, and I find this funny since the Corvette is a true-blue American car and not some lightweight pocket rocket like a Lotus Elise.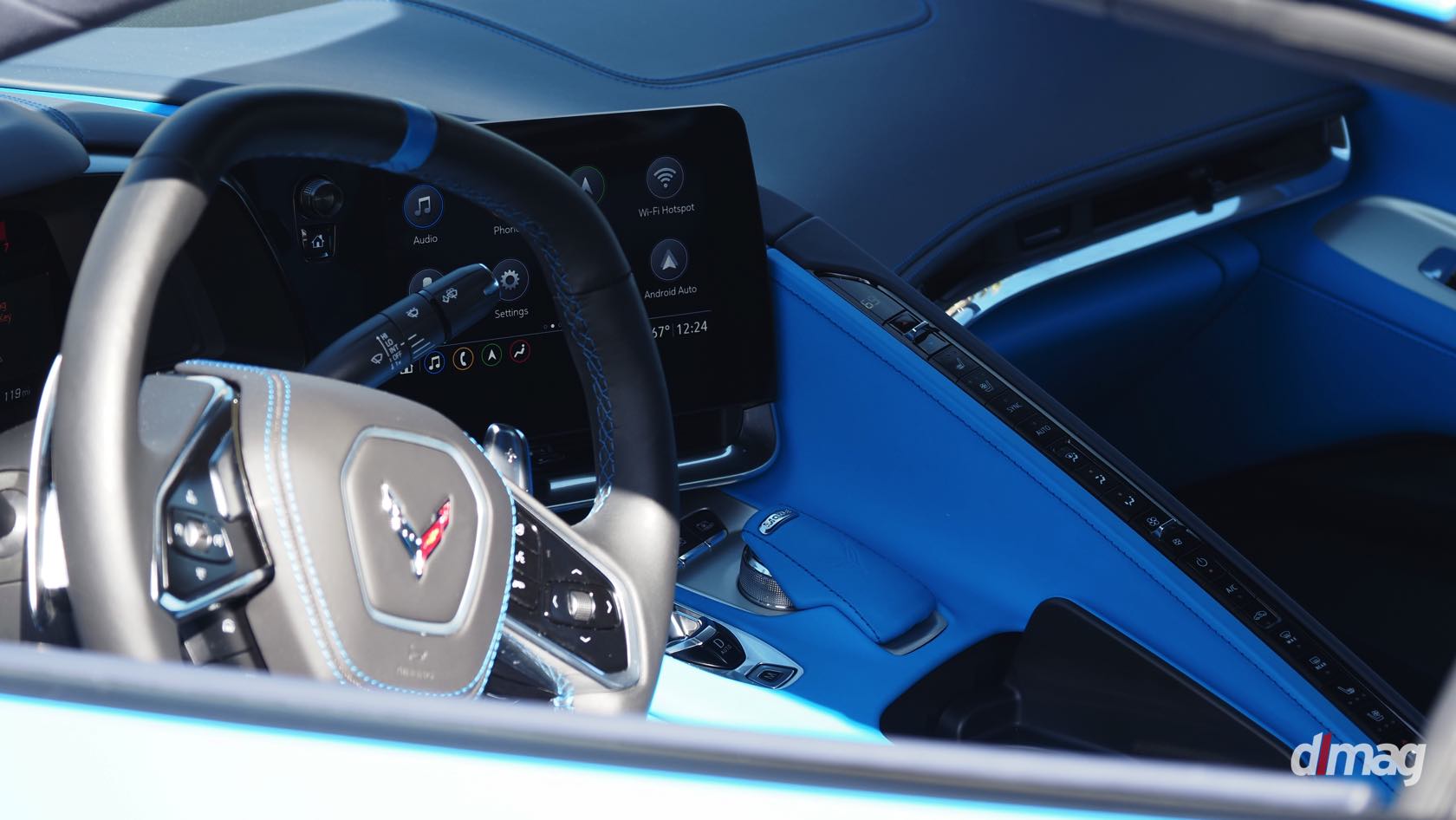 On the technology side, my test vehicle came with a standard 12.0-inch digital instrument cluster, a heads-up display (HUD), an 8.0-inch infotainment touchscreen with Apple CarPlay and Android Auto, and a magnificent 14-speaker Bose audio system. It even came with Chevy's brilliant GPS-enabled nose lift system, which remembers locations where you activated the nose lift function and automatically lifts the nose as you arrive at that particular destination. You can store up to 1,000 preset locations, so you won't have to worry about scraping the nose of your precious C8 Corvette.
Despite coming up with an entirely new version of the car, the 2021 Chevy C8 Corvette remains a veritable bargain in the realm of ultra-high-performance sports cars. The base 1LT trim starts at less than $60k, while the 2LT with more standard features retails for around $67,000. Meanwhile, my Corvette 3LT test vehicle has a sticker price of $71,945. Adding the Z51 Performance Package demands $5k more, bringing up the total at under $80k. Although this time, you get a mid-engine layout with the panache of an Italian exotic. Sure, it's still a lot of money for a Corvette, but it's hard to deny it remains the performance bargain it was always known for.