Audemars Piguet has always embraced a blend of tradition and innovation in their design philosophy. Their latest creation, the Royal Oak Jumbo Extra-Thin 16202XT, is a shining example of this philosophy in action. What sets this watch apart from other luxury timepieces?
Material Mastery: Titanium and BMG
The choice of materials for the 16202XT showcases the brand's dedication to innovation. While titanium has been previously used in watchmaking owing to its lightweight nature and durability, BMG (Bulk Metallic Glass) is a relatively fresh entrant.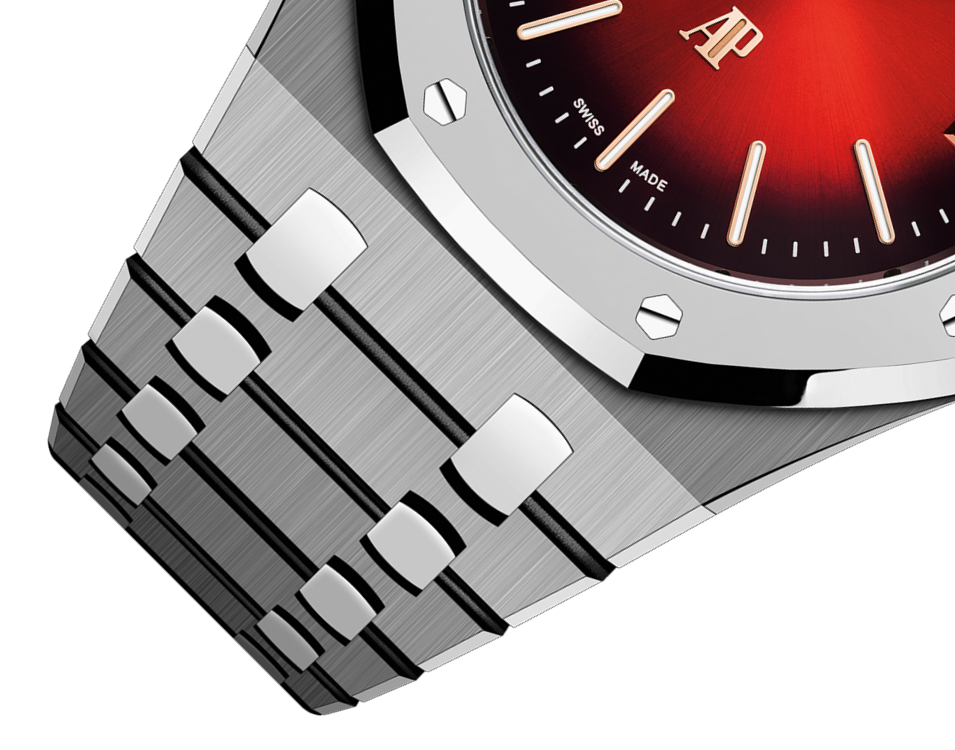 BMG's amorphic nature allows it to resist wear and corrosion far better than traditional metals. Beyond its functional advantages, BMG offers a captivating aesthetic with its palladium-based alloy composition. When hand-finished, the play of light on the non-crystalline BMG surface adds depth and allure to the watch. This is especially evident on the bezel and the mid-links of the bracelet.
Dial Design: A Shift from Tradition
Audemars Piguet's Royal Oak is almost synonymous with its iconic tapisserie dial. Thus, the departure from this design in the 16202XT to embrace a burgundy red smoked dial is both bold and refreshing.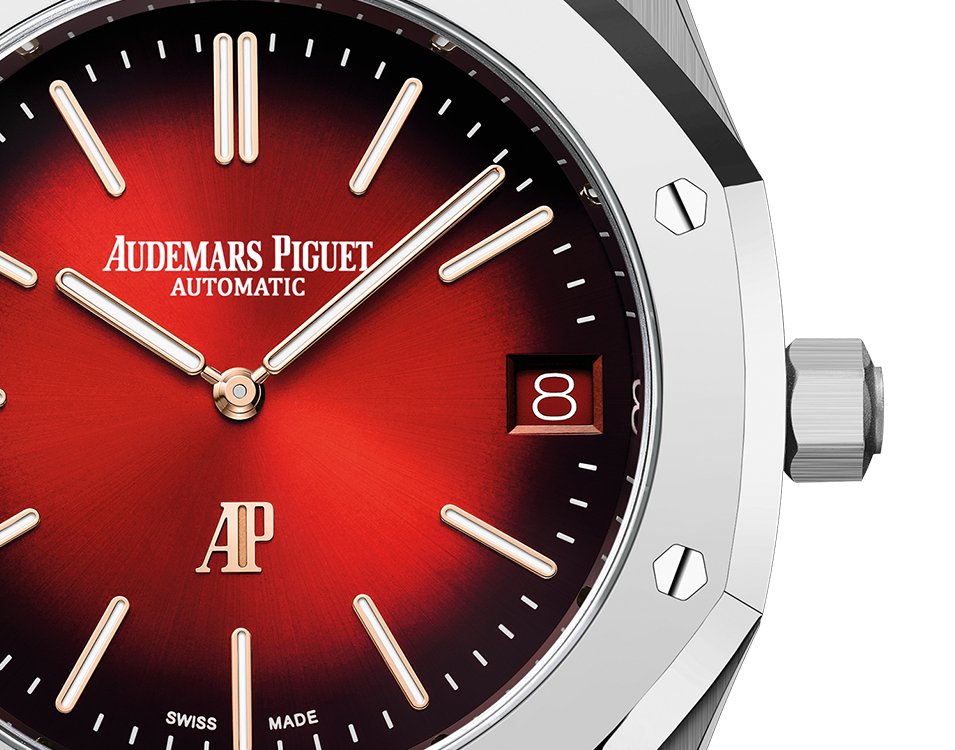 The gradient effect adds depth to the watch face by moving from a darker hue on the periphery to a lighter center. The sunray-brushed texture furthers this effect, making the dial shimmer under different lighting conditions. The absence of any other pattern ensures that the focus remains on the mesmerizing fumé effect.
Pink Gold Accents: Touch of Opulence
While the watch predominantly embraces a futuristic material palette, the use of pink gold for the applied markers and hands is a nod to tradition and luxury. This touch of opulence juxtaposes beautifully against the muted titanium and BMG, offering a visual contrast that enhances legibility and adds an element of classic luxury.
Movement and Mechanism
Peek through the sapphire back, and you are greeted by the calibre 7121. The thin automatic movement, developed in-house, strikes a balance between the traditions of watch craftsmanship and modern-day construction techniques.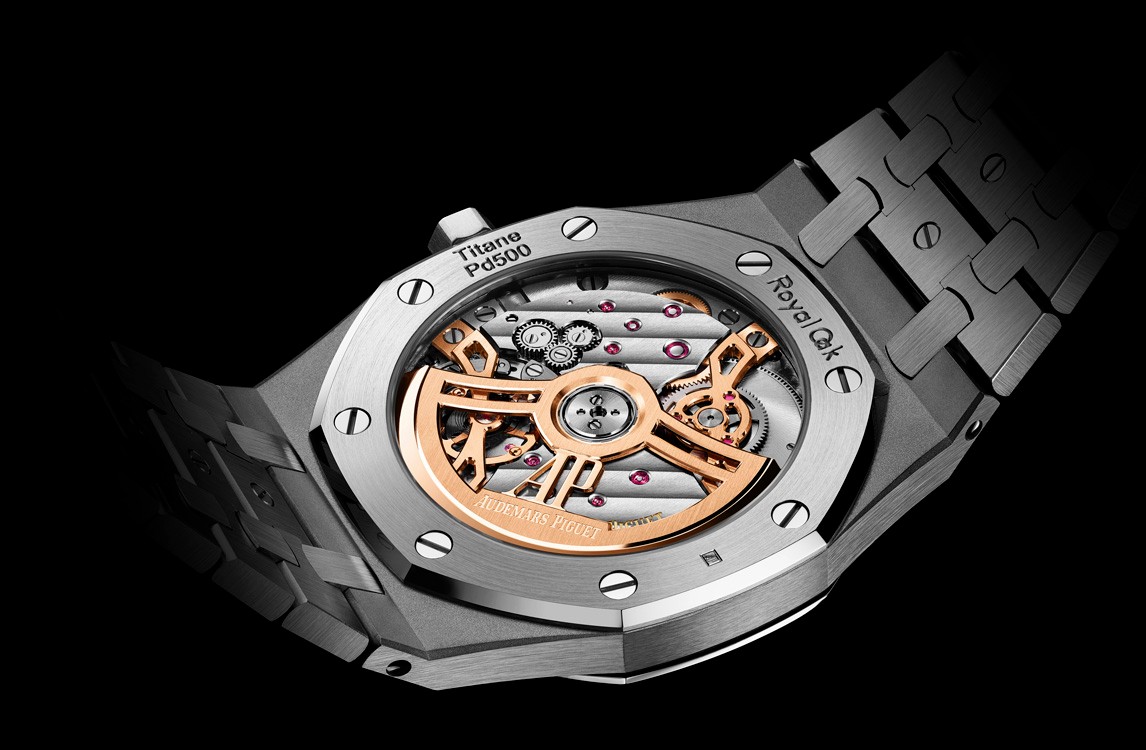 Proportions and Ergonomics
While the watch is a visual masterpiece, it doesn't compromise on wearability. The 39mm diameter ensures that the watch sits comfortably on a variety of wrist sizes. At 8.1mm thickness, the timepiece retains a sleek profile, made even more impressive considering its mechanical intricacies.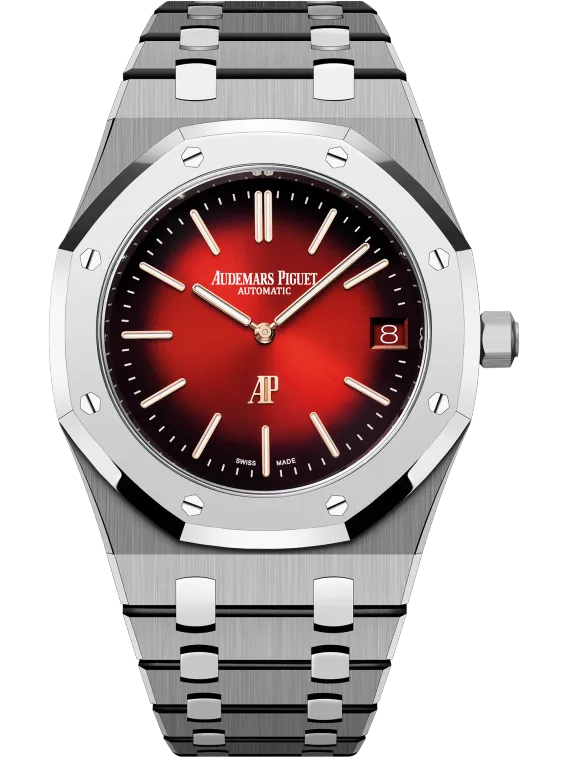 The Royal Oak Jumbo Extra-Thin 16202XT is a masterclass blending modern materials with age-old craftsmanship. It stands as a testament to Audemars Piguet's unyielding drive to push the boundaries of watch design while staying rooted in its rich heritage.