Imagine sitting inside a vehicle that seems to understand and cater to your every need. Picture yourself in a space that doesn't just feel like a car but an extension of your personality, a mobile living space tailored just for you. This is the experience the designers at Audi aimed to create with the introduction of the new Audi Q6 e-tron.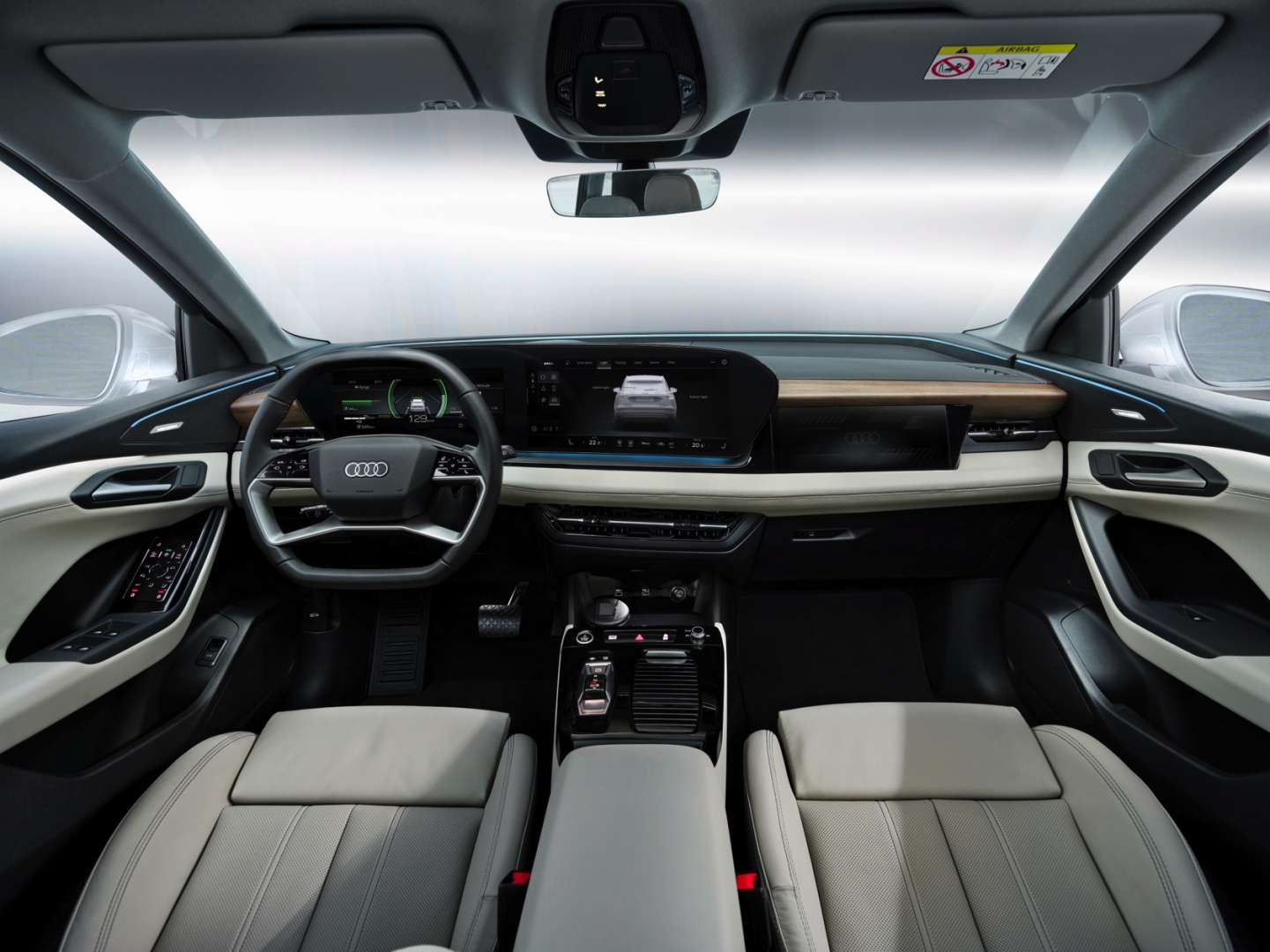 At its core, the Q6 e-tron has been designed with the user in mind, and every element of its interior reflects this. Instead of merely being a space to sit in while you go from A to B, this car's interior is more like a well-crafted room in a modern home. It uses a unique three-dimensional design strategy that brings certain elements forward while others sit subtly in the background. The effect? An intricate and immersive spatial architecture where everything feels just right, both aesthetically and ergonomically.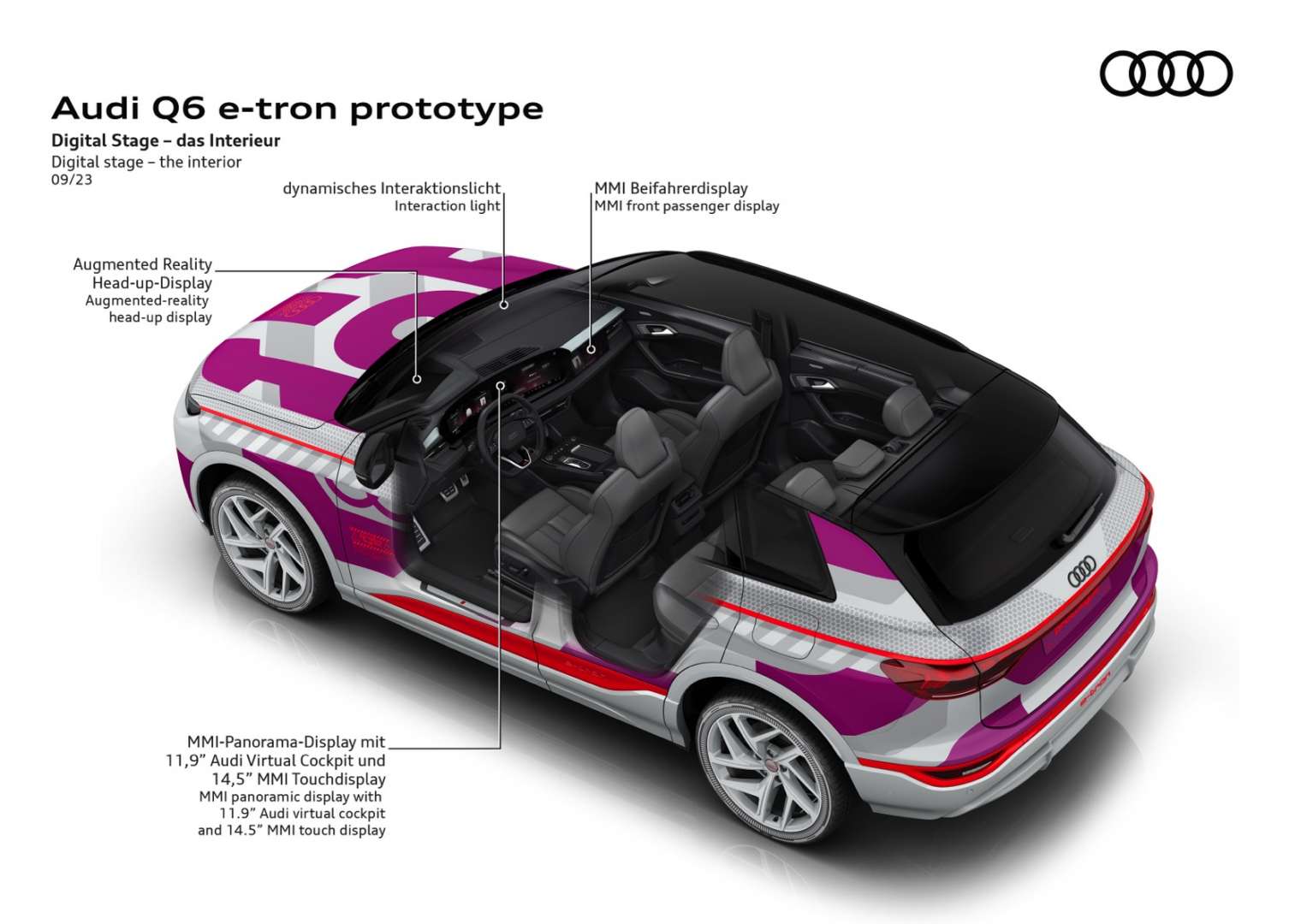 What makes the Audi Q6 e-tron stand out isn't just its innovative design and groundbreaking technology underpinning it. This is Audi's inaugural vehicle model built on the freshly conceived Premium Platform Electric (PPE) coupled with the advanced E3 electronics framework. Together, these components didn't just reshape the car's exterior but significantly influenced the way its interior was conceived, integrating technology, beauty, and sustainability in a harmonious symphony.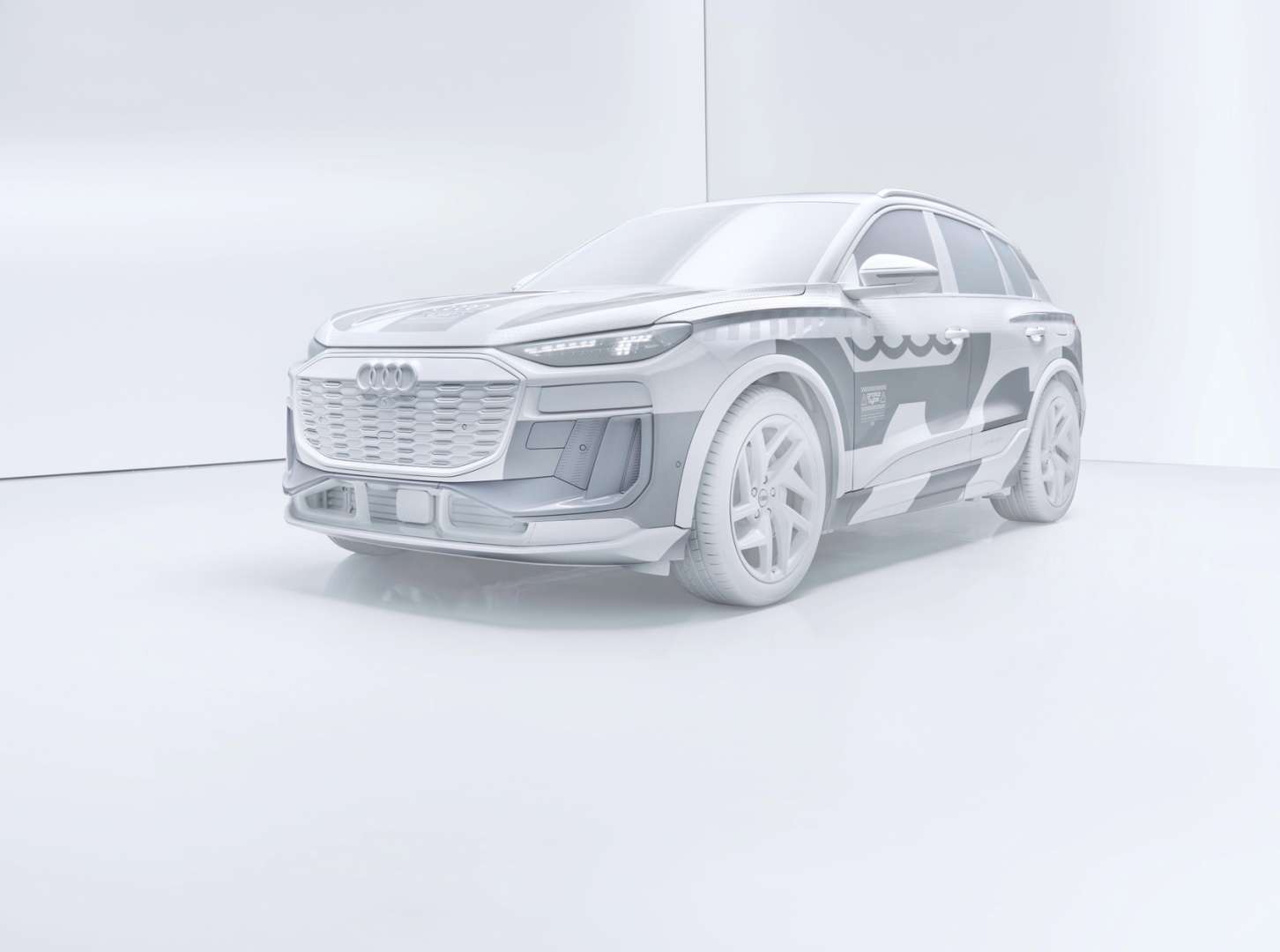 Marc Lichte, who leads Audi Design, draws attention to the fascinating and challenging era we are currently in. He notes that the automotive world is undergoing significant changes, perhaps more so than ever before. Several factors contribute to this evolution. The onset of the digital revolution, society's increasing emphasis on sustainability, evolving concepts of luxury, and the yearning for a more personalized driving experience all play pivotal roles in changing the very essence of cars. Lichte suggests that Audi's primary motivation behind its fresh design perspective is to understand the needs and wants of its drivers. By prioritizing the experiences and wishes of users, Audi has embarked on a journey to redefine the conventional paradigms of vehicle design.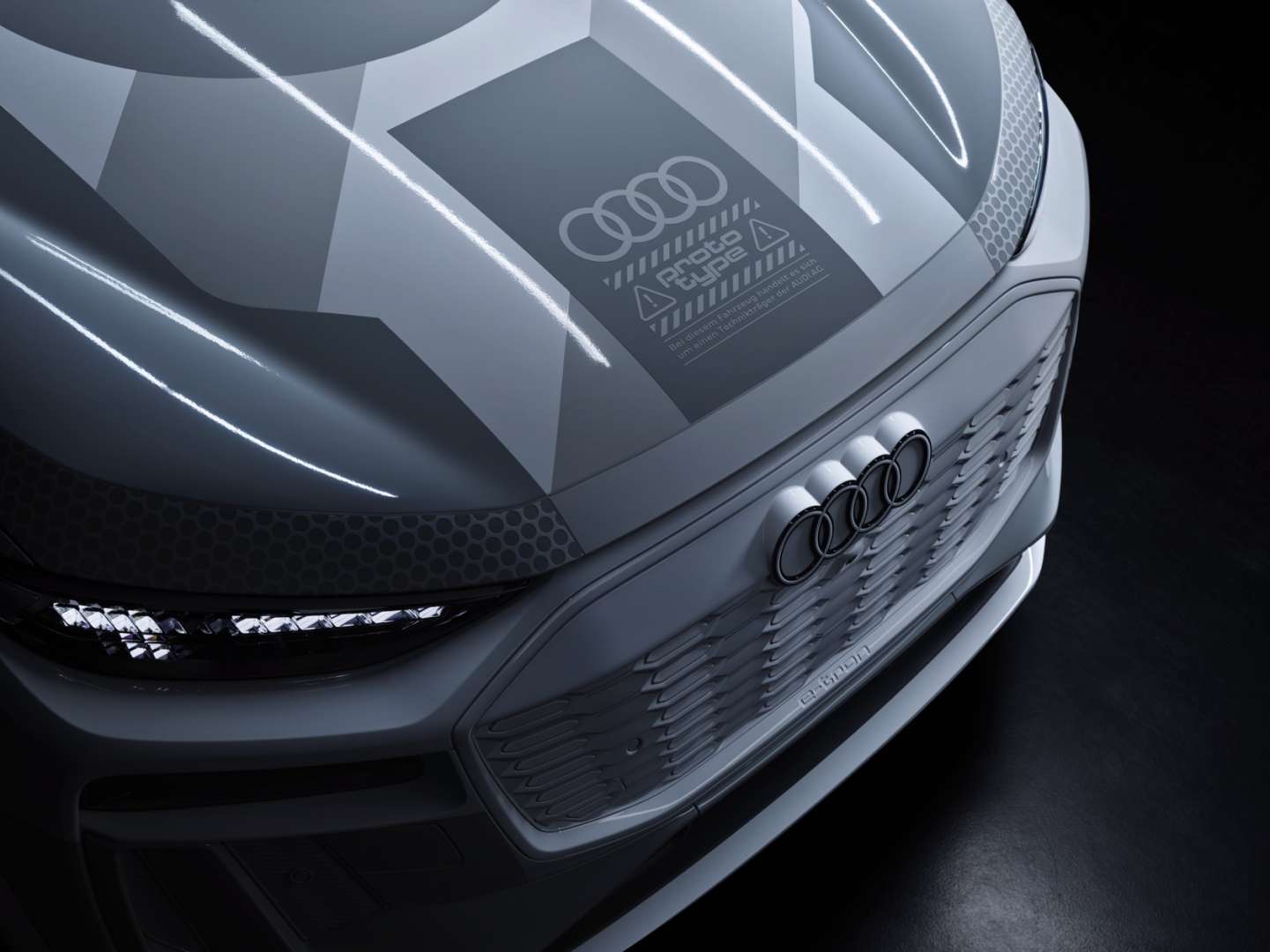 Instead of starting with an exterior blueprint and working inwards, Audi designed a unique approach with the Q6 e-tron from the inside out. This shift in design philosophy emphasizes viewing the car's interior as more than just a space. For Audi, it represents where drivers live, think, and feel. By centering their design process on the essence of this interior space, Audi isn't merely challenging traditional design conventions but is actively reshaping them. This fresh approach is exemplified in the Q6 e-tron, turning their forward-thinking vision into a tangible experience for drivers.
So, if you've ever wondered what the future of automotive design looks like, the Audi Q6 e-tron gives a compelling glimpse into a world where cars are not just about driving but about living. It's a testament to what's possible when a car company listens deeply to its customers and then has the audacity to reimagine everything.
Audi's Unique Approach to Interior Design: The Cozy Cocoon
Let's dive into the heart of a car – its interior. Most people might think of an interior merely as a space lined with seats and decorated with a dashboard, but the designers behind the Audi Q6 e-tron have a different philosophy.
Picture yourself entering a room where everything feels connected and seamless as if you've stepped into a warm embrace. That's precisely the sensation Audi aims to evoke with their concept of the Softwrap. This innovative feature extends from the doors, sweeps across the cockpit, and flows right into the center console. It's like a gentle wrap-around, tying every element together, creating a singular and inviting atmosphere.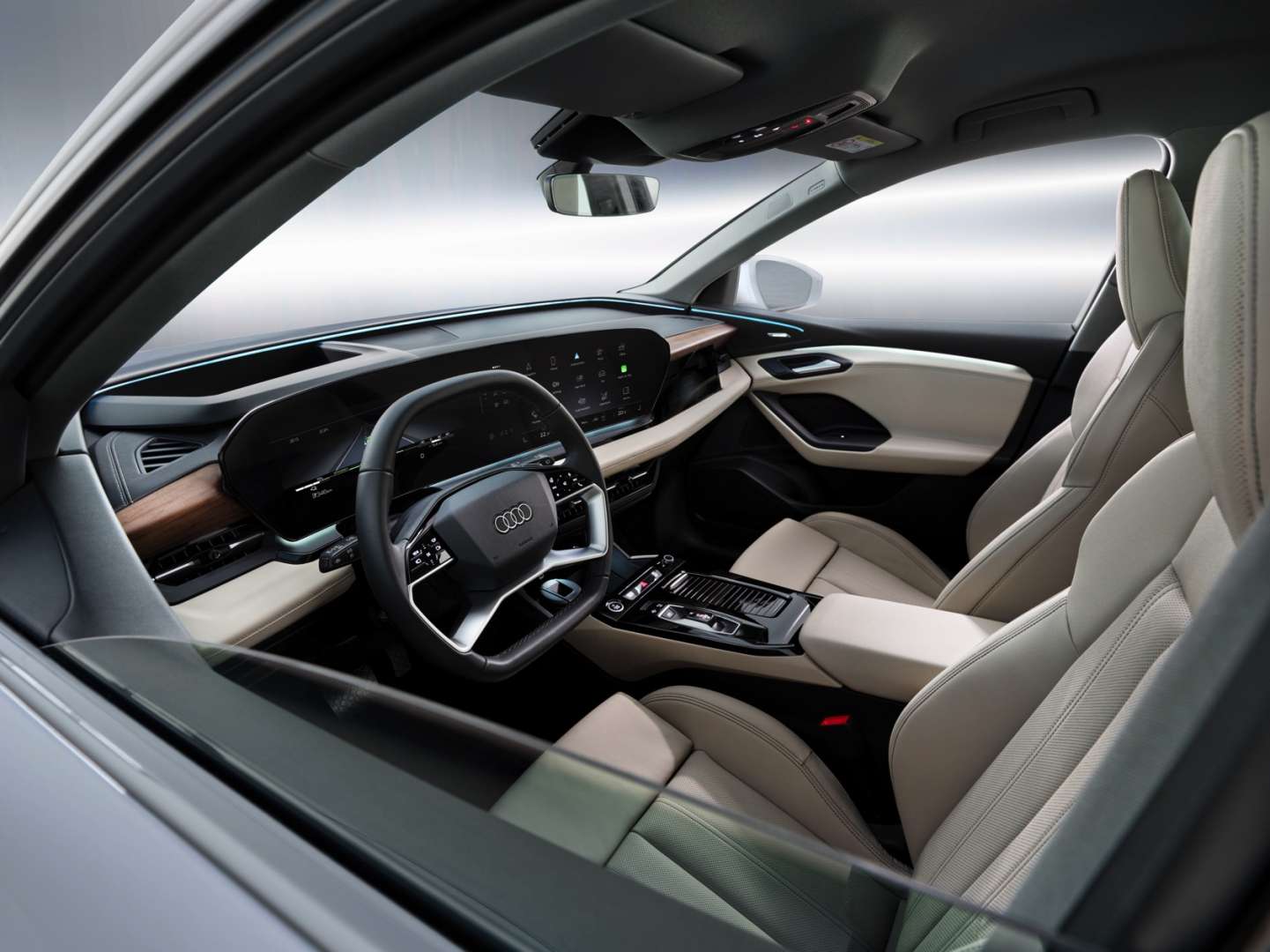 Now, let's talk about colors and materials. Audi has handpicked high-quality materials that resonate with today's eco-conscious generation. Interestingly enough, Some of these materials are recycled, yet they exude a premium feel. They're not just thrown in as an afterthought either; they are thoughtfully integrated into places like the seats, reinforcing the design's continuity.
When you're seated inside, you might get the feeling of being nestled in a cocoon. This isn't just about comfort; it's about how the design communicates. For instance, soft, expansive materials mark areas dedicated to relaxation and ease. Imagine plush cushions and gentle fabrics – that's the realm of comfort. On the other hand, the operational aspects of the car, the bits you interact with, are distinctively finished in a sleek, high-gloss black. This gives a touch of elegance and makes it clear where you need to reach out when adjusting a setting or pressing a button.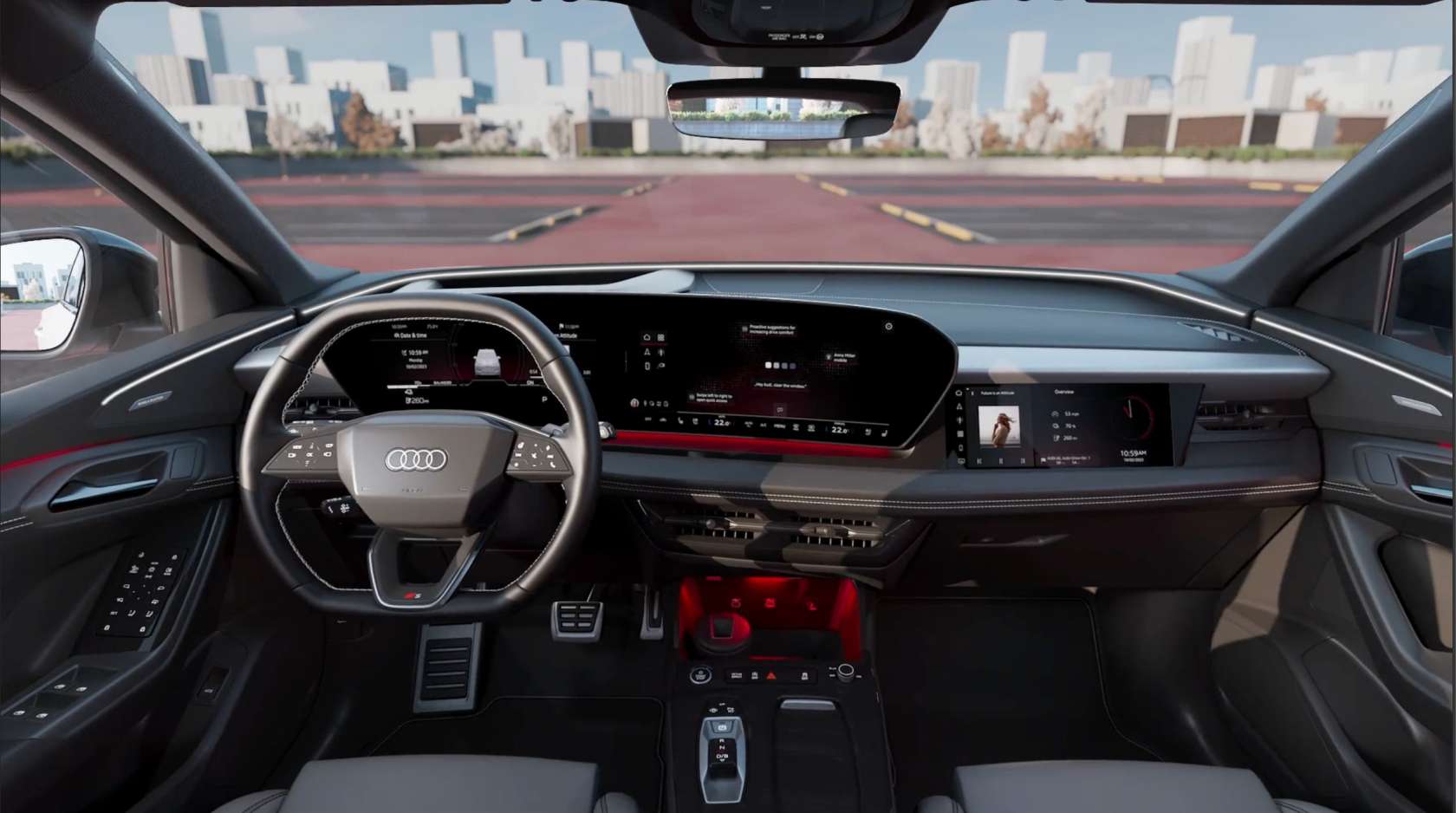 Audi's design mantra here is simple: let the materials speak. By enhancing these materials' richness and tactile feel, the interior elements serve a functional purpose and elevate the overall aesthetics. Think of it as upgrading from a regular rug to a luxurious carpet – changing the room's vibe.
And there's a focus on the little details, too. The air vents, for example, are sleek, horizontal, and low-lying, melding effortlessly into the car's aesthetic landscape. Then, the neat "black panel" is on the driver's side door handle. It's more than just a style statement. It integrates essential controls, such as adjustments for the mirror, seat, and door functionalities and lighting and visibility options. It's a testament to Audi's belief that modern design should be as functional as it is beautiful.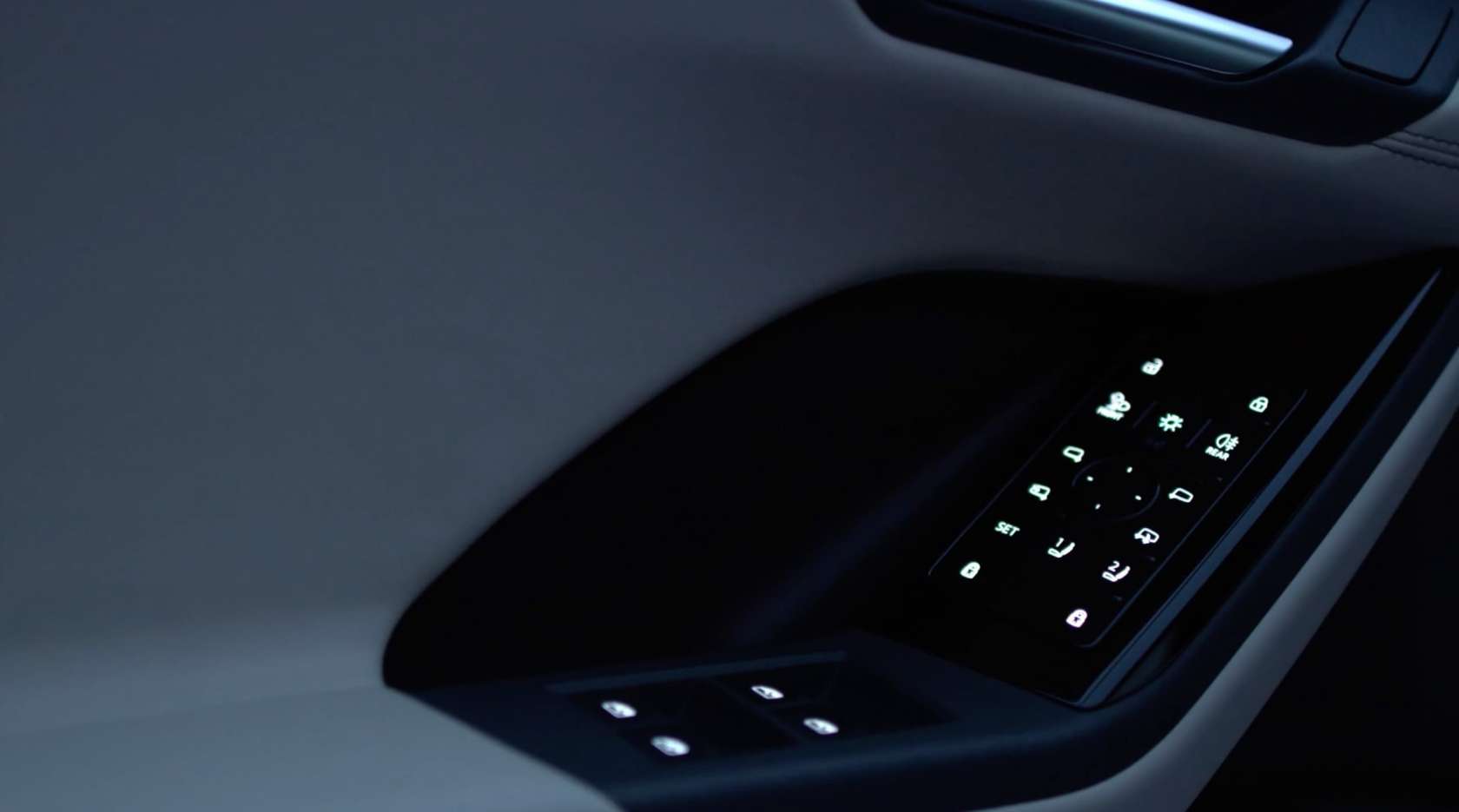 Audi's Q6 e-tron interior is a masterclass in design thinking, where every element, material, and feature is chosen not just for its individual merit but for how it contributes to the harmonious whole. It's an environment that promises both comfort and clarity, beautifully crafted for the modern driver.
Balancing Eco-conscious Choices with Style: Inside the Audi Q6 e-tron
The Audi Q6 e-tron's interior raises an intriguing question: Can automotive design be both environmentally responsible and aesthetically pleasing? The answer, as seen in this vehicle, is a definitive yes.
Starting with the **Softwrap**: This material innovation seamlessly connects different parts of the car's interior. In the sportier S line version, Softwrap incorporates a fabric known as *Elastic Melange*. This fabric is produced entirely from recycled polyester, demonstrating Audi's commitment to sustainable sourcing. Furthermore, Elastic Melange is not limited to the Softwrap; it's also an option for the standard seats and the car's headliner.
For enthusiasts of sportier aesthetics, the S line and S model bring forward diverse material choices. One can opt for the *Dinamica microfiber*, a recycled material that doesn't compromise on luxury. Alternatively, there's the option of fine Nappa leather adorned with intricate diamond stitching, which adds a touch of sophistication.

The dashboard in the Q6 e-tron exhibits a refined 'volcano grey' paint finish; interestingly, certain finish components are derived from renewable sources. Those with a penchant for natural textures can choose between two wooden finishes: a warm light brown and a muted stone grey. Additionally, a brushed aluminum finish in anthracite caters to those with a preference for a metallic touch.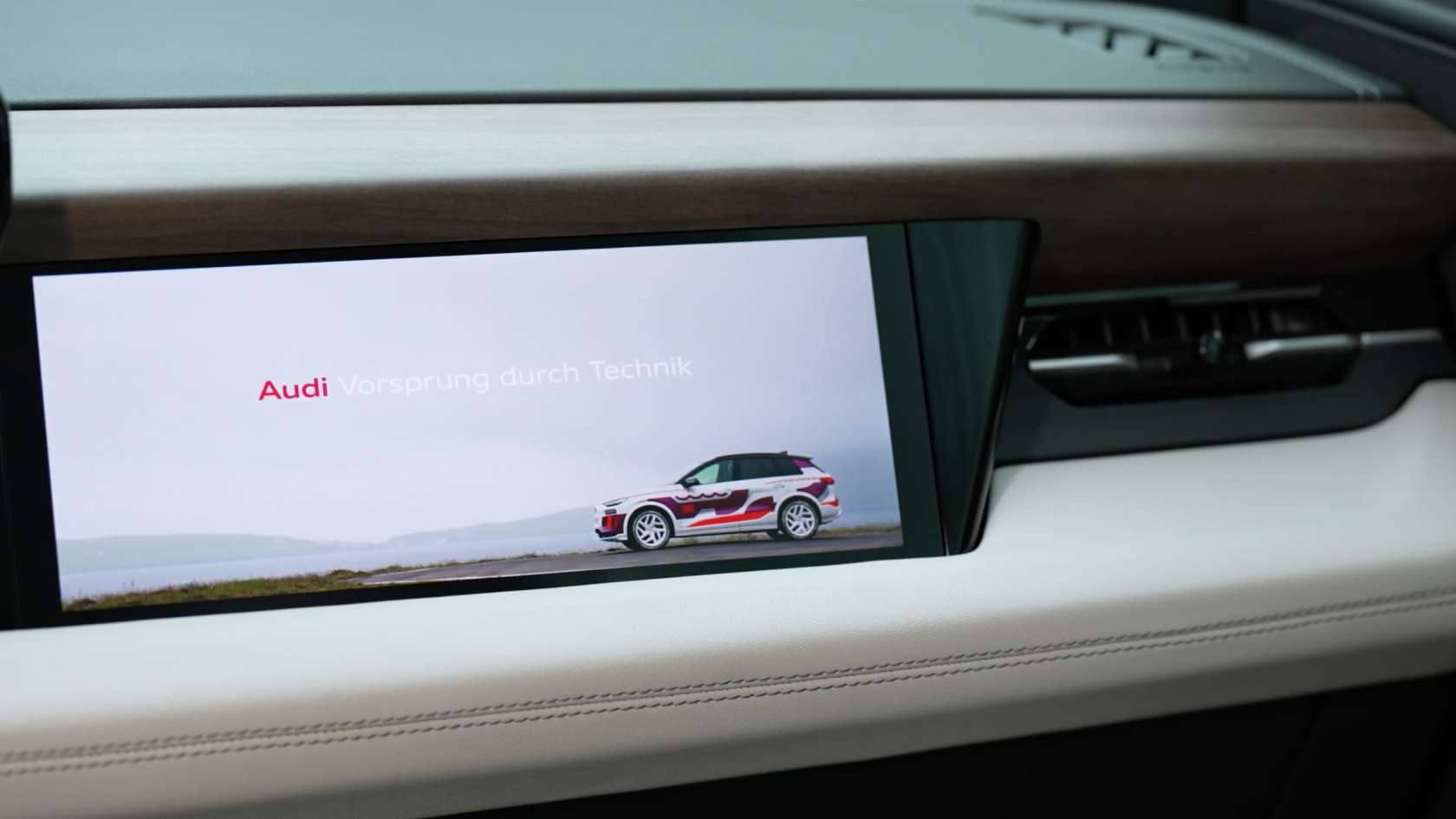 Audi offers specialized finishes for those selecting the enhanced S line and S model. While the anthracite brushed aluminum remains a consistent choice, a modern *carbon structure* and an innovative mesh material are added. This mesh, noteworthy for its origin, is constructed from recycled components, showcasing yet another sustainable choice.
Lastly, the vehicle's floor mats deserve mention. Crafted from *Econyl*, these mats are a testament to upcycling. Econyl is produced by reclaiming materials like discarded fishing nets and repurposed carpets.
PPE's Contribution to Space and Practicality in the Audi Q6 e-tron
The Audi Q6 e-tron, built on the PPE platform designed especially for electric cars, offers an impressive blend of performance, innovation, and everyday convenience. Here's how:
Interior Amenities: The car's interior isn't just roomy but thoughtfully designed for daily needs. You'll find plenty of storage areas, two cupholders, and dedicated spaces to charge two smartphones.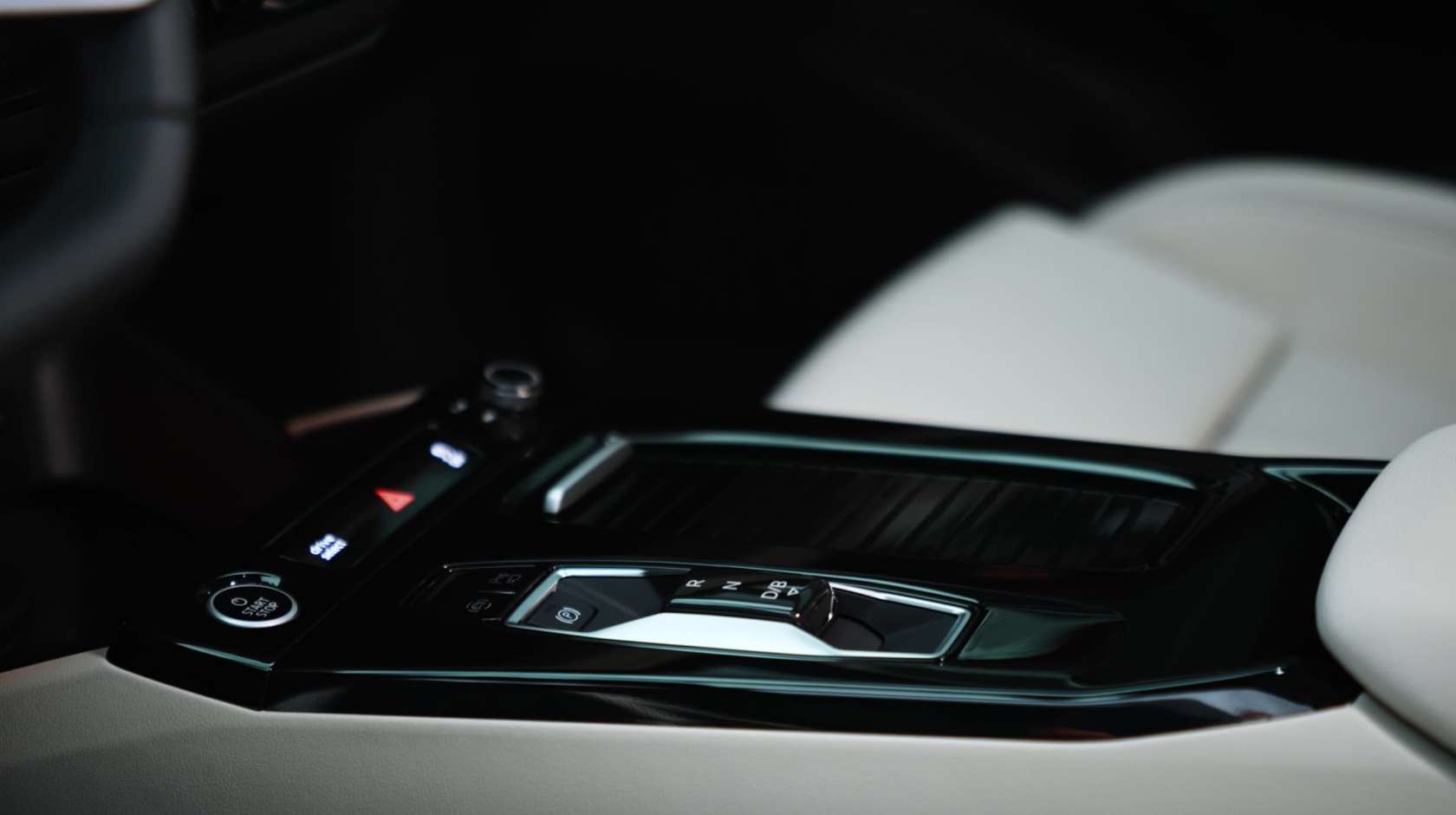 Easy Access: Without the traditional center tunnel seen in non-electric cars, there's extra legroom, making getting into the back seats a breeze. Plus, the middle back seat is designed for comfort.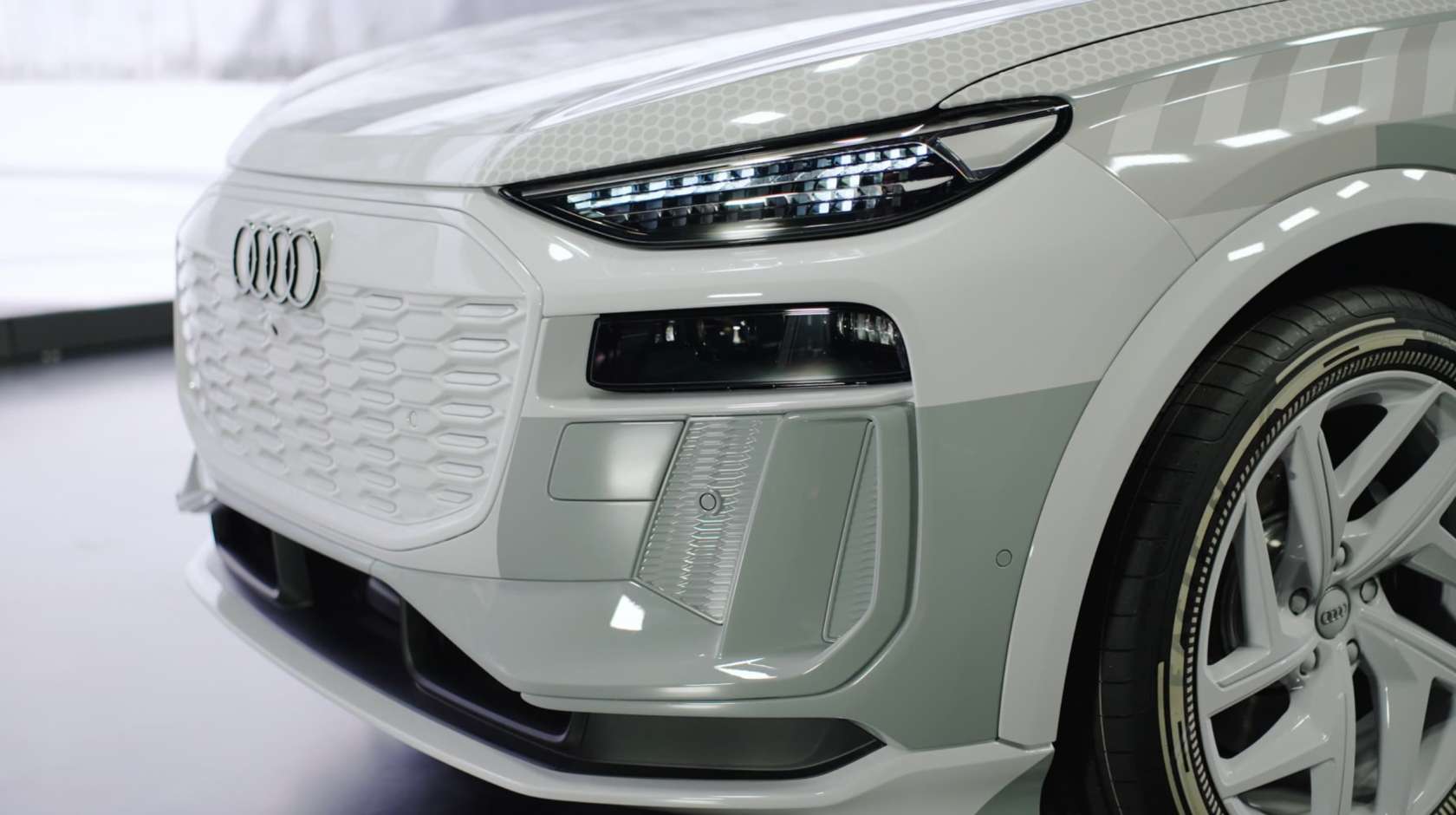 Trunk Capacity: The trunk alone gives you 526 liters (18.6 cu ft) of storage. Need more? Fold down the rear seats (they split 40:20:40) and get a whopping 1,529 liters (54 cu ft).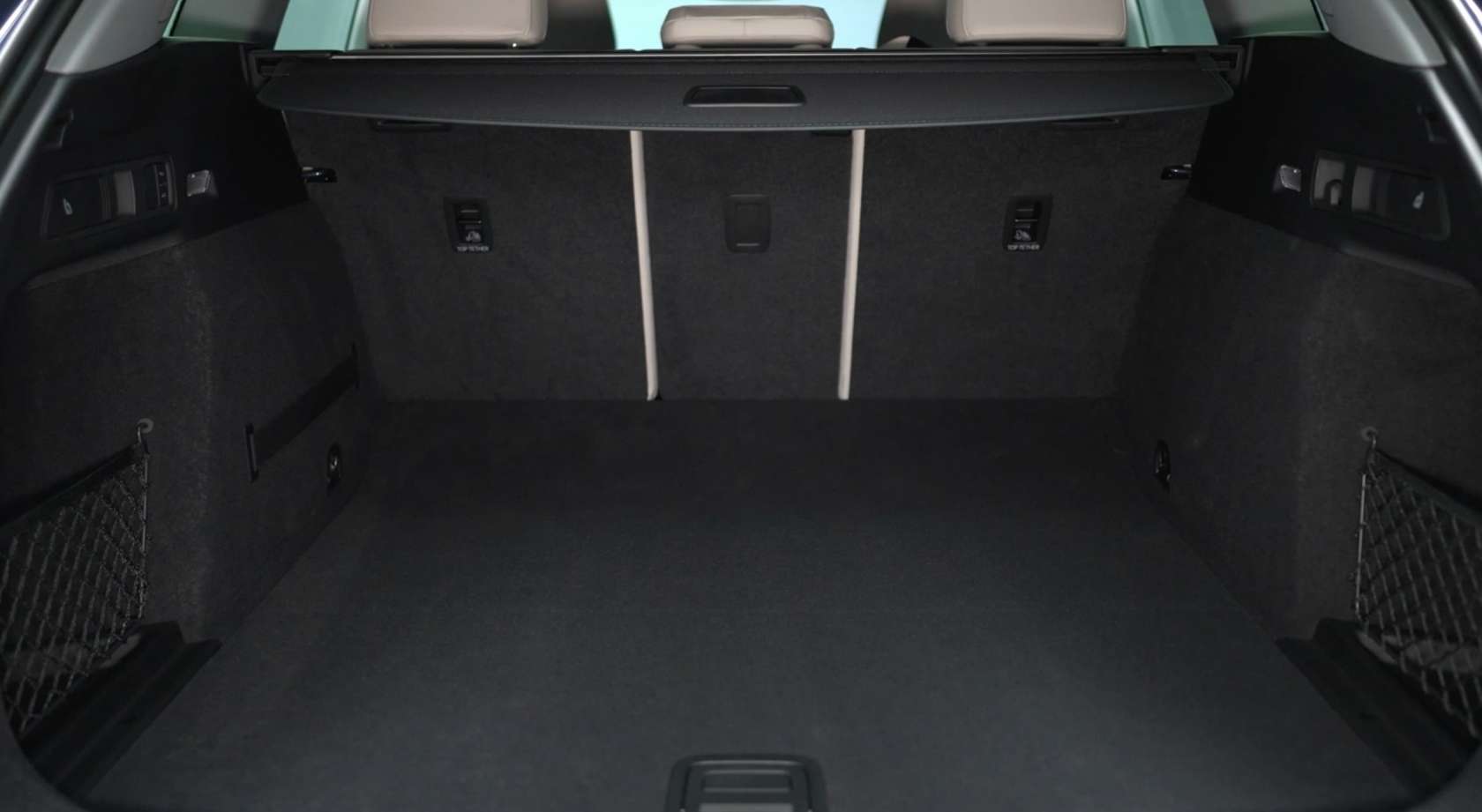 Bonus Storage: Don't forget the additional 64-liter storage in the front trunk (frunk). Perfect for the car's charging cable or a couple of small bags.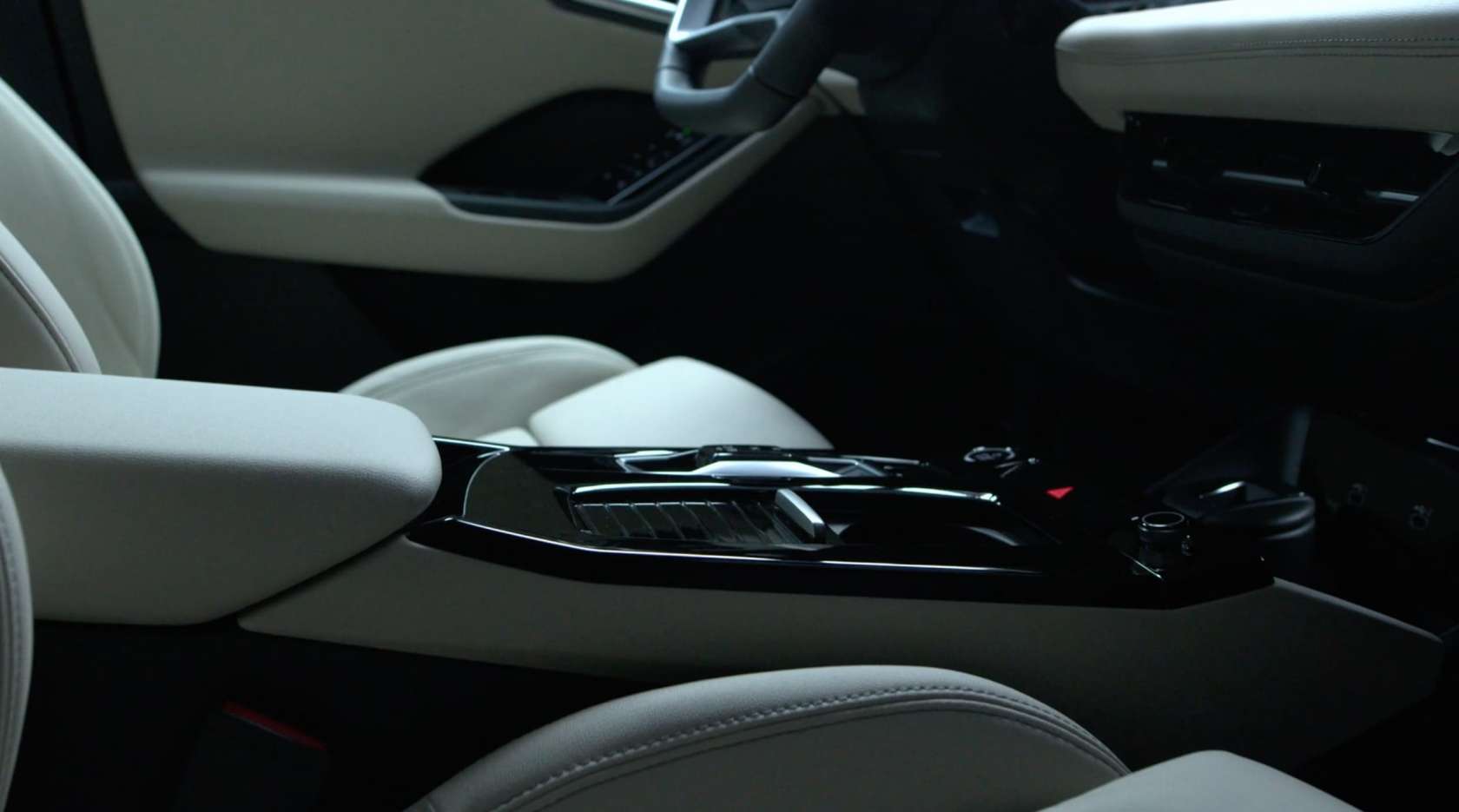 Inside the Audi Q6 e-tron: A Digital Odyssey
Enter the Audi Q6 e-tron, and you're immediately ushered into a realm where design meets digital sophistication. Taking center stage is what Audi has christened the "digital stage", a testament to the automotive future we're rapidly driving into.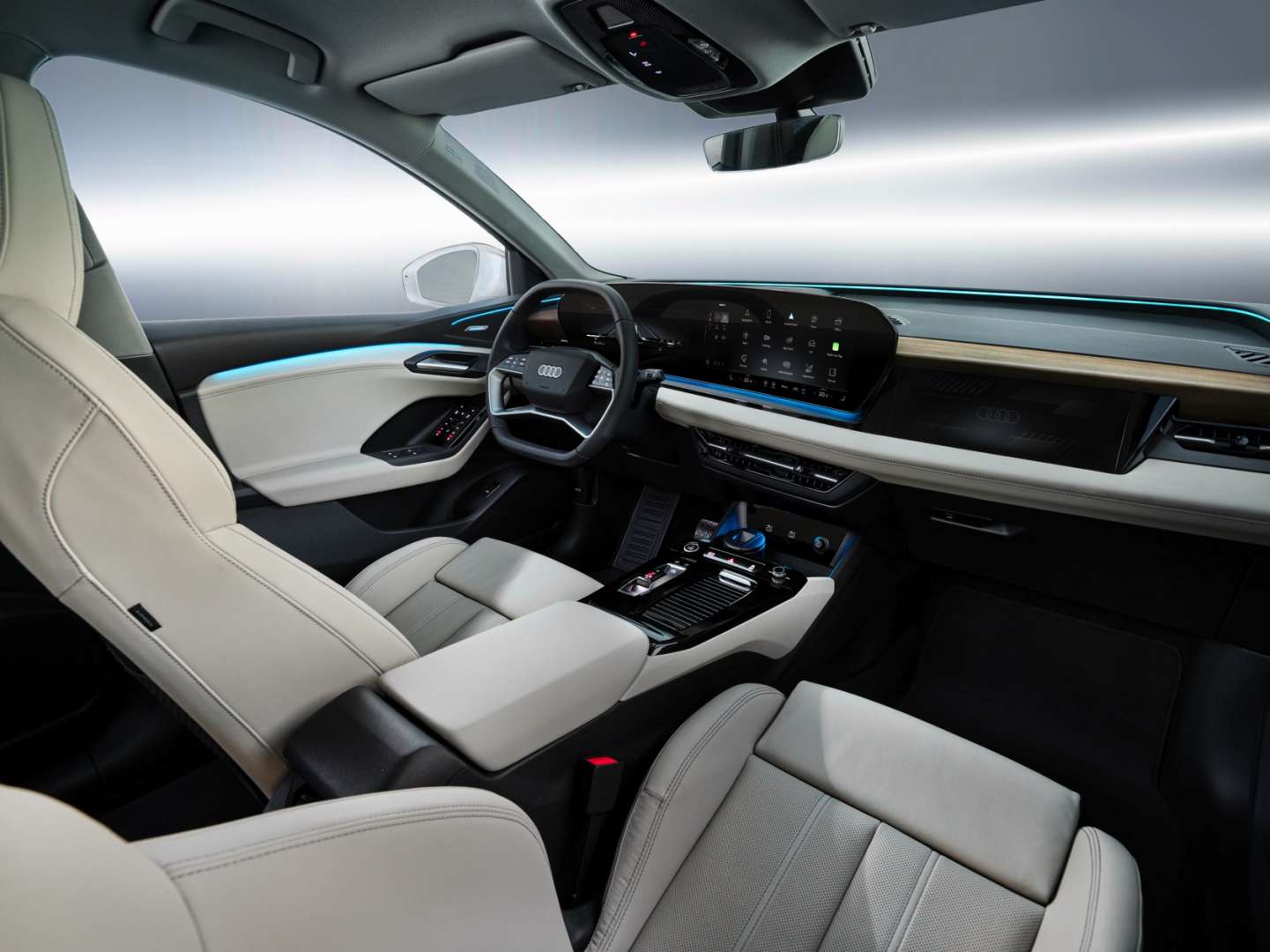 At the heart of this futuristic ambiance lies the Audi MMI panoramic display, which marries effortlessly with the MMI front passenger display. These are not merely screens but digital canvases that arch gracefully across the cabin. The 11.9-inch virtual cockpit, designed for the driver, merges seamlessly with its 14.5-inch touch sibling. And this arching design is more than just a visual treat—it harks back to the very essence of Audi's legacy, its emblematic Singleframe.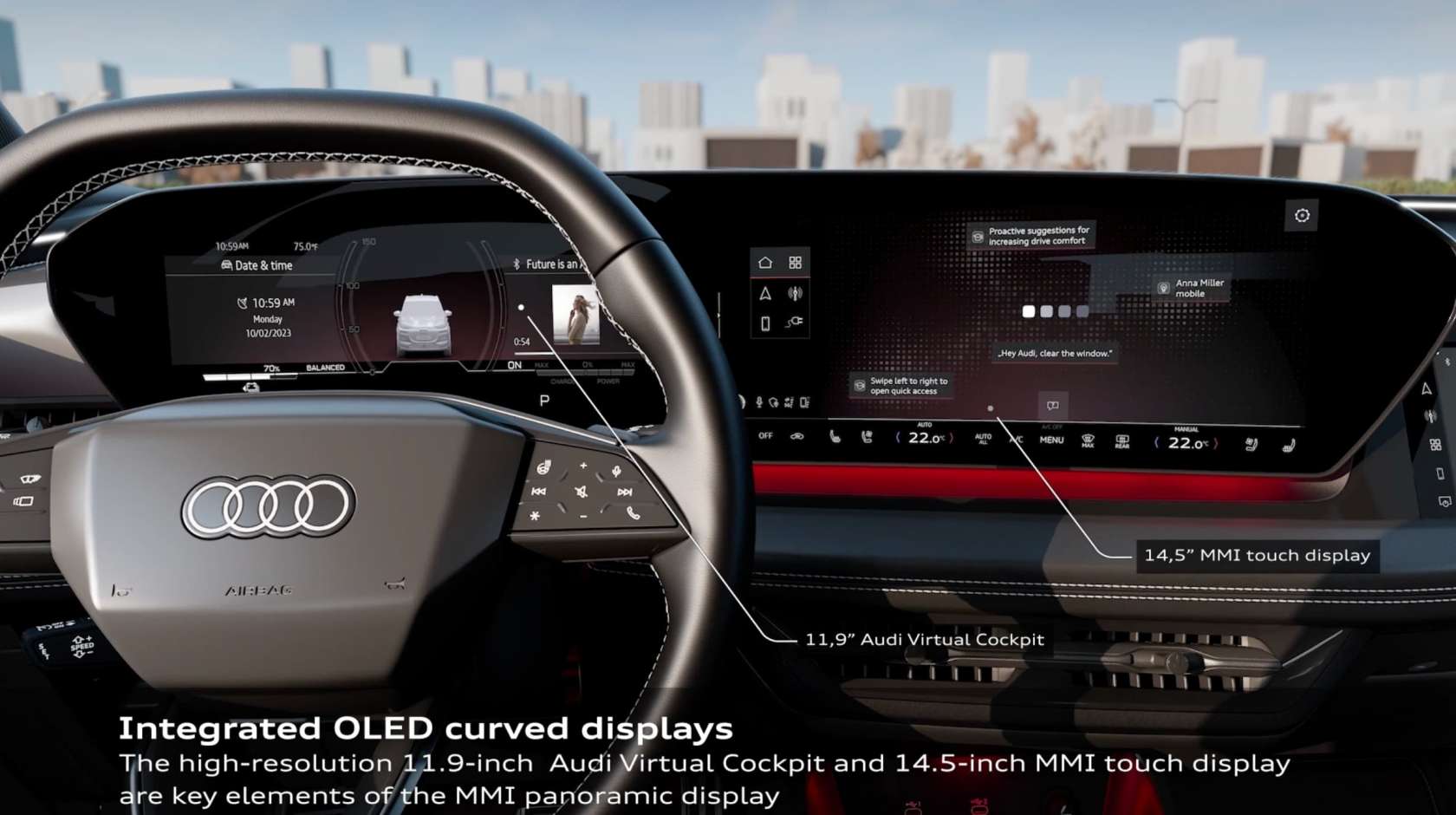 When night cloaks the roads, the cabin takes on an ethereal glow. Special ambient lighting casts the panoramic display in a luminescent halo, enhancing the car's celestial aura.
On the passenger's side, the engagement is equally digital and delightful. Their 10.9-inch MMI display, set smoothly into the dashboard, is more than a screen—it's an interactive tool. Its active privacy mode is a brilliant touch, letting passengers dive into their entertainment world, all while ensuring the driver remains undistracted. Plus, it morphs into a co-pilot of sorts, letting passengers chip in with navigation inputs, making every journey a team effort.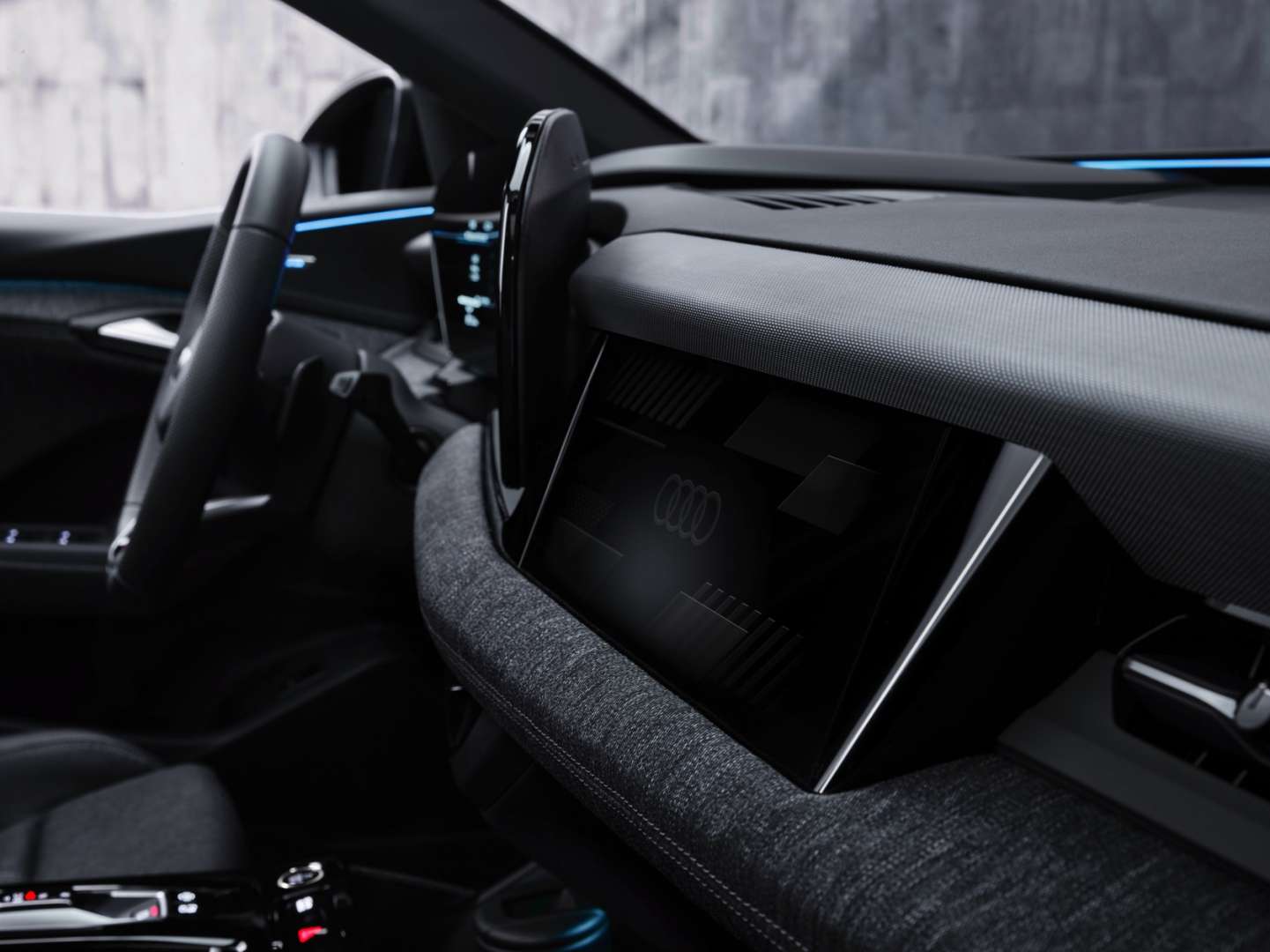 But the true highlight of the Q6 e-tron's tech ensemble is the augmented reality (AR) head-up display (HUD). This isn't your run-of-the-mill HUD—it's a leap into augmented brilliance. From speed stats to navigational cues, every piece of data is cast onto the windshield, appearing to meld seamlessly with the world outside. Imagine driving through fog or heavy rain; this system guides with digital signposts that feel like they're part of the environment. With a display view stretching roughly 88 inches from the driver's viewpoint, it's a digital vista that's both grand and helpful.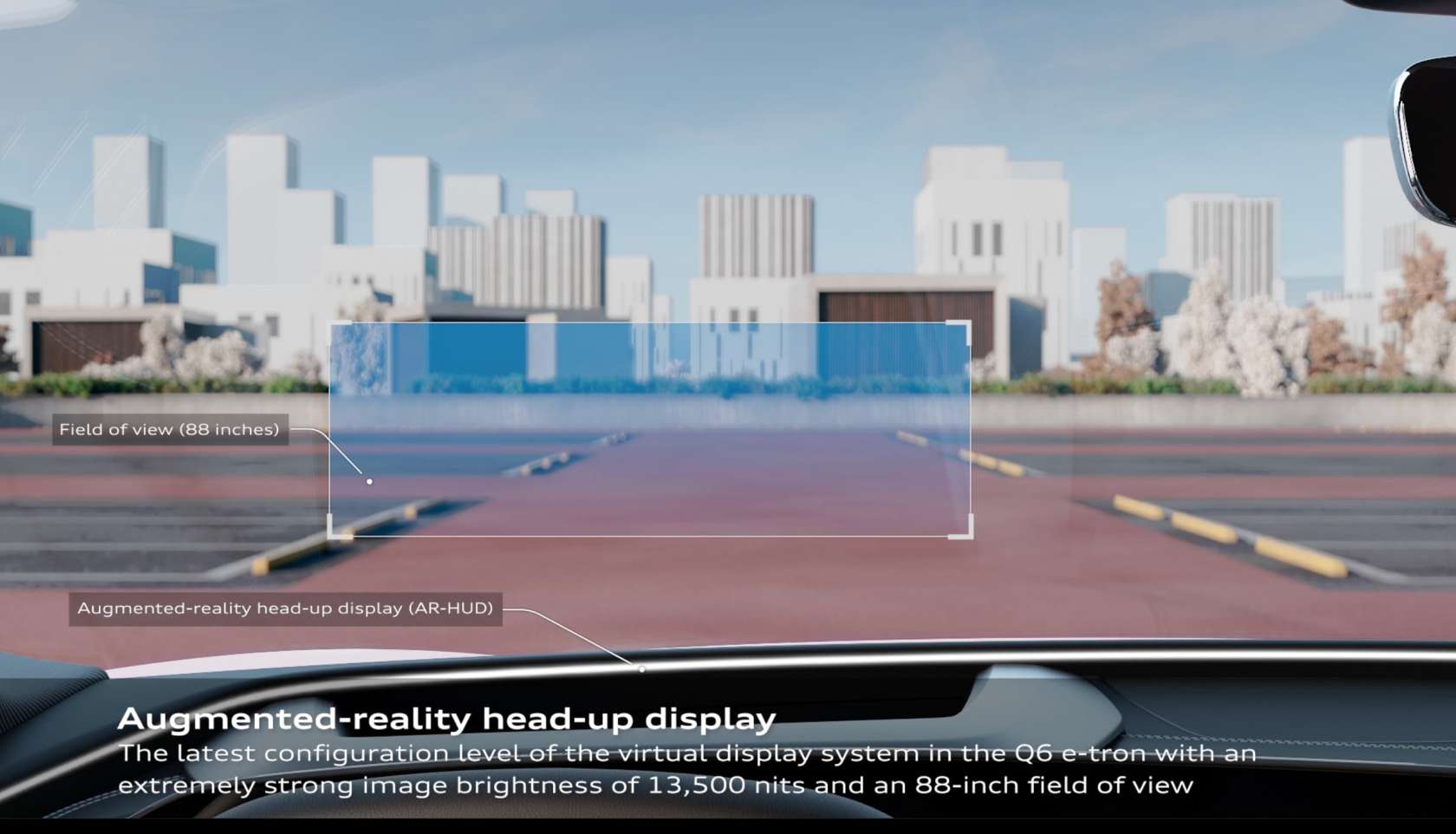 The Q6 e-tron's cabin is more than just a space—it's a digital journey, a testament to Audi's commitment to marrying timeless design with the future of tech.
Shining Interaction in the Q6 e-tron Interior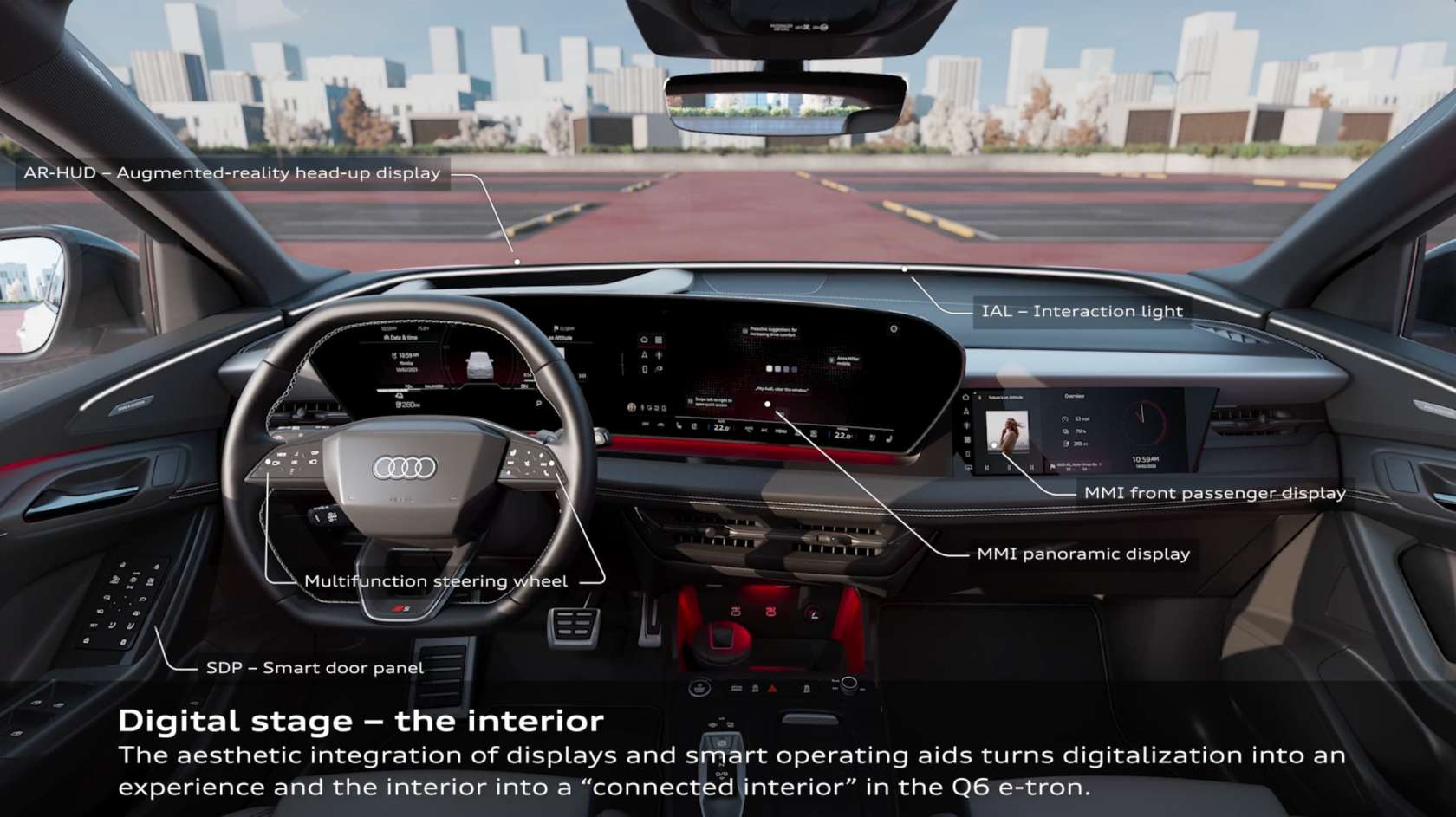 The Audi Q6 e-tron introduces the Interaction Light (IAL), a feature designed to enhance the communication between the car and its occupants. This light system, sweeping across the cockpit, serves three primary roles: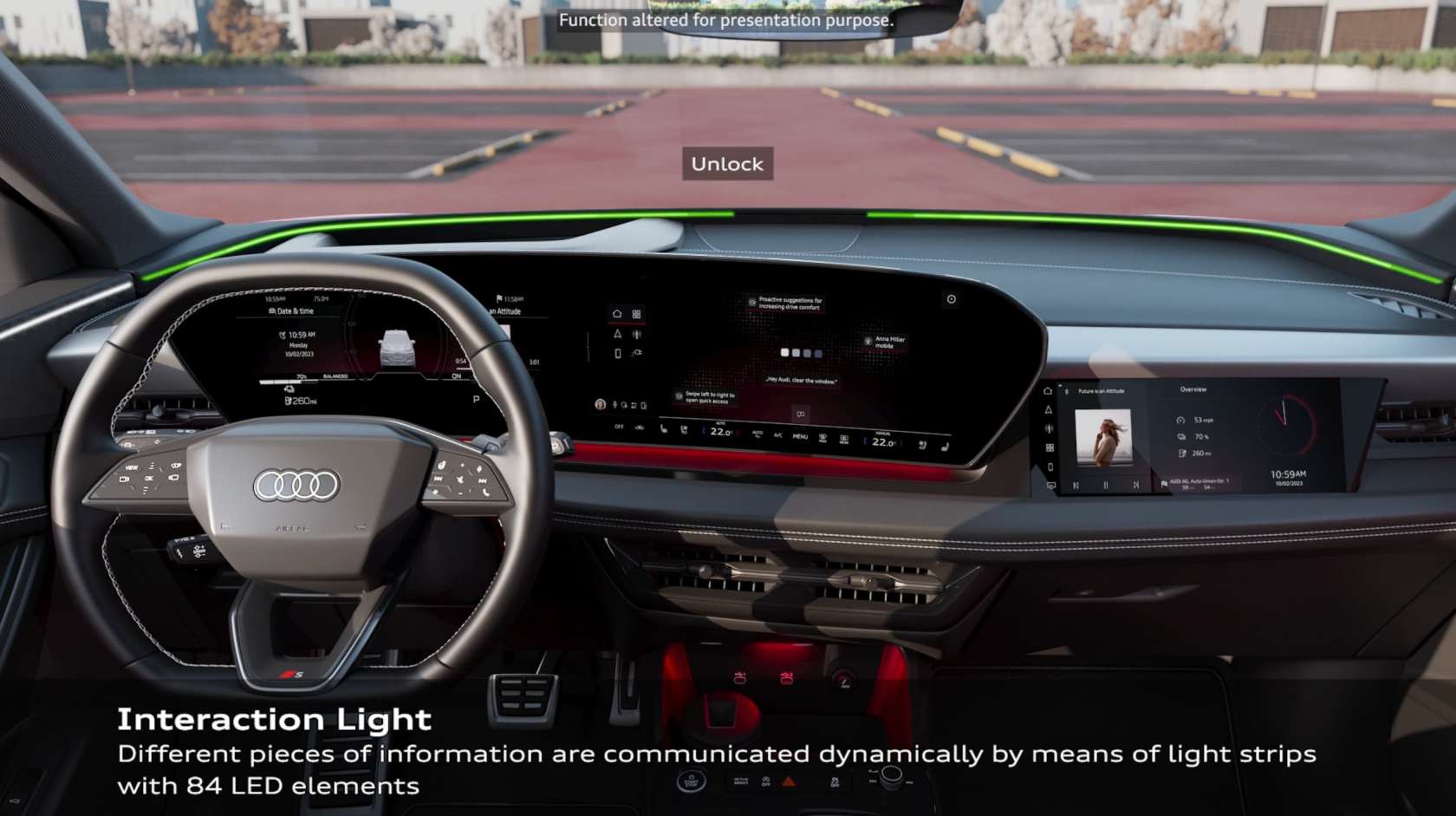 Ambiance: IAL sets the mood inside, offering a warm welcome when the car is unlocked and subtly indicating when it's locked. When not active, it seamlessly blends with the contour light.
Safety: Beyond the ambiance, the IAL amplifies safety, notably visualizing dynamic turn signals. It's worth noting that this doesn't replace the turn signals in the virtual cockpit.
Information Display: The IAL also offers visual cues about the car's battery status. When charging, it emits a pulsing light to display progress.
This illuminating feature is an integral part of the enhanced ambient light package.
Powered by Android Automotive
The Audi Q6 e-tron is at the forefront of car digitalization. Underpinned by the cutting-edge E3 architecture, it delivers a deeply integrated digital cockpit. In collaboration with software specialists CARIAD, the Q6 e-tron showcases a brand-new infotainment system built upon Android Automotive. This means it's not just smart; it's also perpetually updated to the latest tech trends.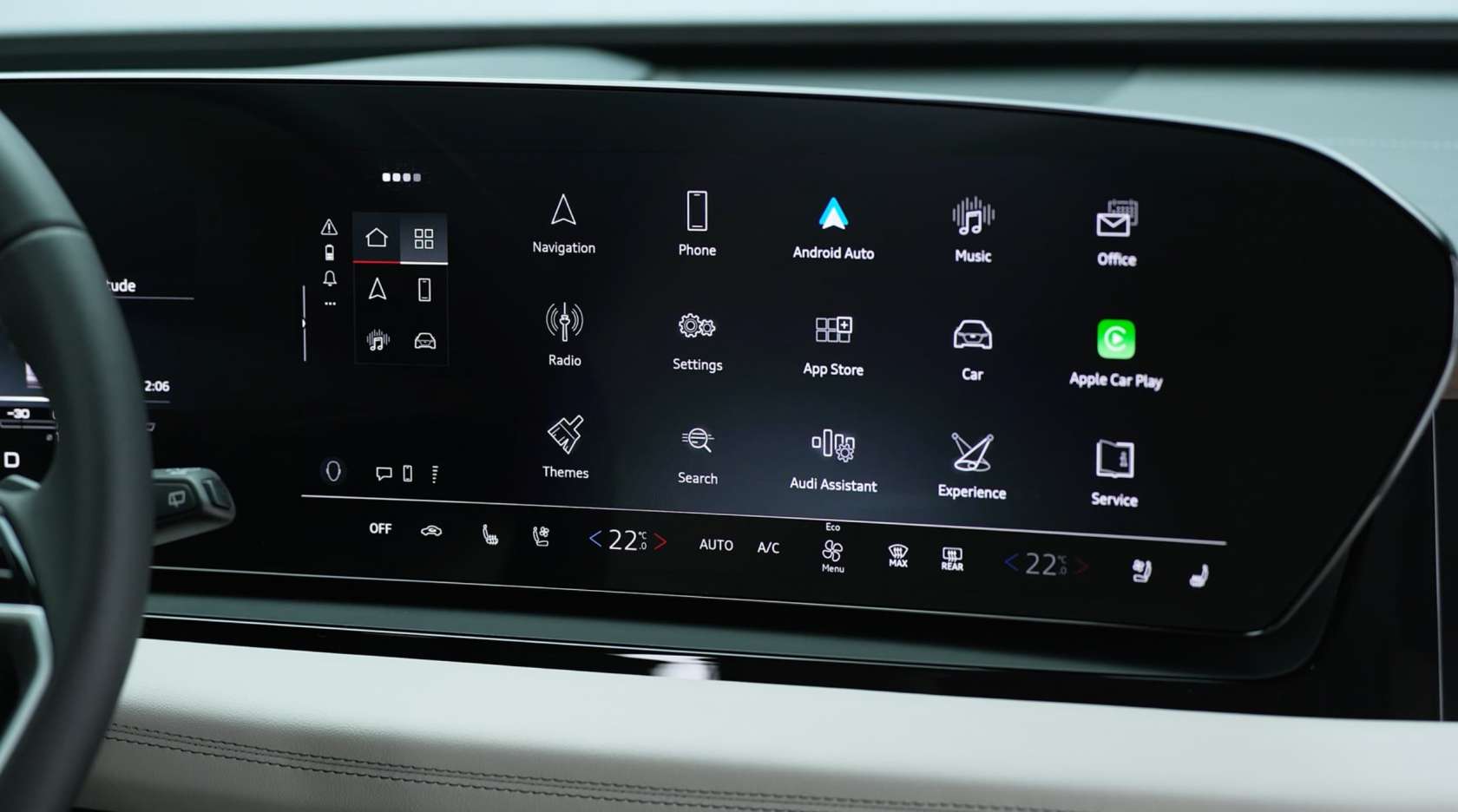 Interactivity is a major highlight. The in-car voice assistant, an intuitive feature, now has its own visual representation – an avatar that pops up on your dashboard and in the augmented reality display. Just utter "Hey Audi," and a suite of vehicle functionalities spring to life, both on and offline. This voice assistant isn't static; it learns as you drive, offering tailored suggestions, automating frequent tasks, and even creating smart task lists based on your habits.
Moreover, a built-in app store is a joint venture with CARIAD and Harman Ignite. This means drivers can add and use their favorite apps right from the car's main screen without needing their phones. And if you're more of a talker than a toucher, you can command these apps simply by speaking. The blend of intuitive design and high-end tech makes the driving experience both modern and user-friendly.
Conclusion
The Audi Q6 e-tron represents a significant step in the evolution of car design, seamlessly combining elements of technology, sustainability, and user-centricity. With its design emphasis shifted from the exterior to the interior, the car focuses on providing an environment tailored to the driver's experience. The use of materials, both recycled and new, underscores a commitment to sustainability without compromising on quality. The incorporation of the Premium Platform Electric (PPE) and the advanced E3 electronics framework highlights a blend of form and functionality.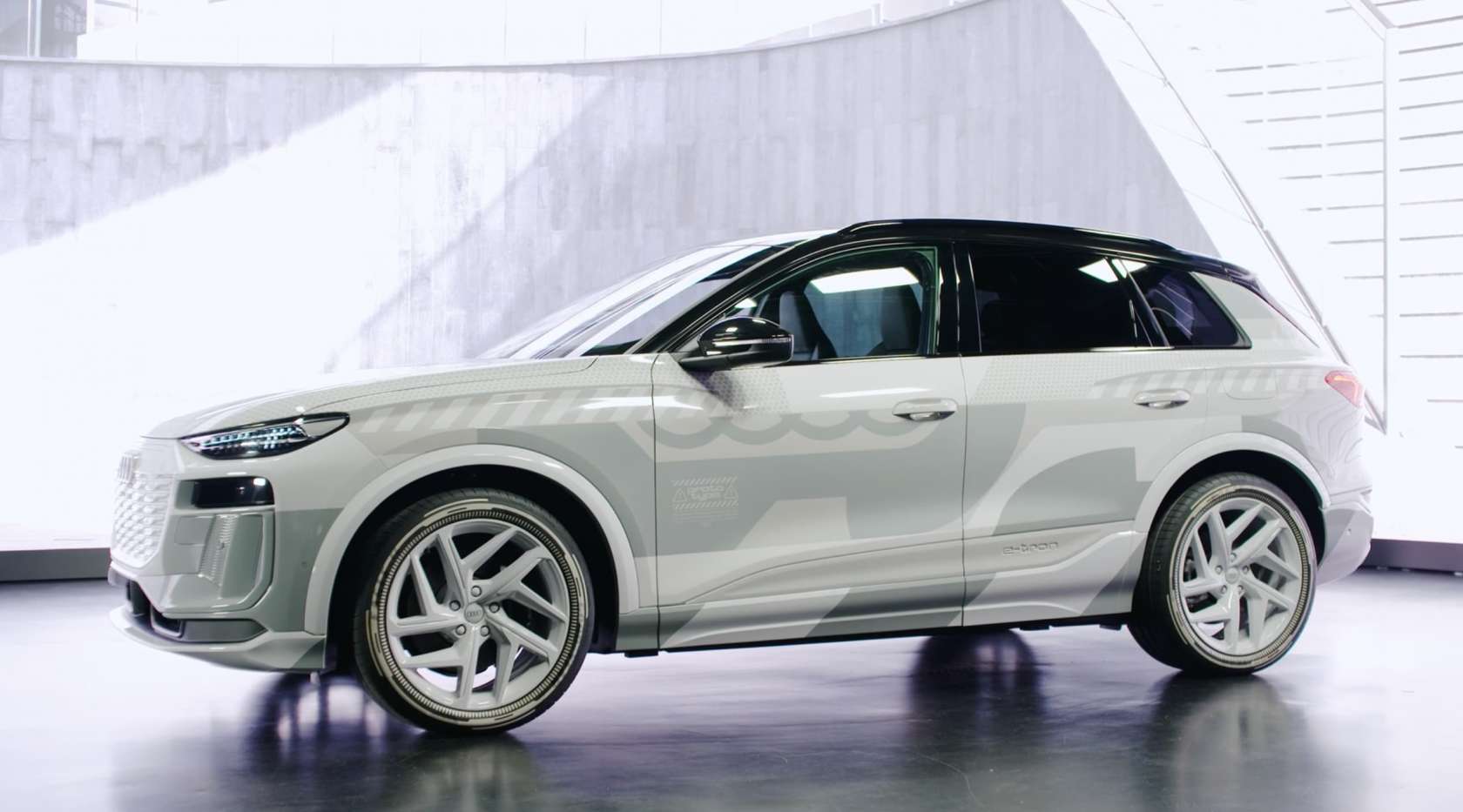 At the heart of its technological offerings, the Audi Q6 e-tron introduces innovations such as the augmented reality head-up display and the Interaction Light, enhancing the driver's interface with the vehicle. Powered by Android Automotive, the car's digital ecosystem promises regular updates and a more integrated user experience.
In essence, the Audi Q6 e-tron is a reflection of current automotive trends, addressing modern-day drivers' preferences while integrating emerging technologies and sustainable practices. As the automotive landscape continues to evolve, vehicles like the Q6 e-tron provide insights into the direction the industry is heading.