Hunting has been around for many centuries, evolving from a survival tactic to a recreational activity. With every passing year, hunting technology and tools only become more sophisticated and diversified, with certain types of knives catering to specific parts of the game-hunting process. However, with near-unlimited choice comes the veritable confusion of which knife to pick, which needs they suit and how well they fit into your hunting kit.
Each aspect of hunting knives is a point of contention, right from blade length to knife steel and grip handle to fixed or folding blades. That said, all guides function as just that– guides. What's best for you entirely depends on what you need it for, how you want your grip to be, how much time you want to dedicate to maintenance and the process of hunting itself. Let the list begin!
CDS-Survival MOVA-58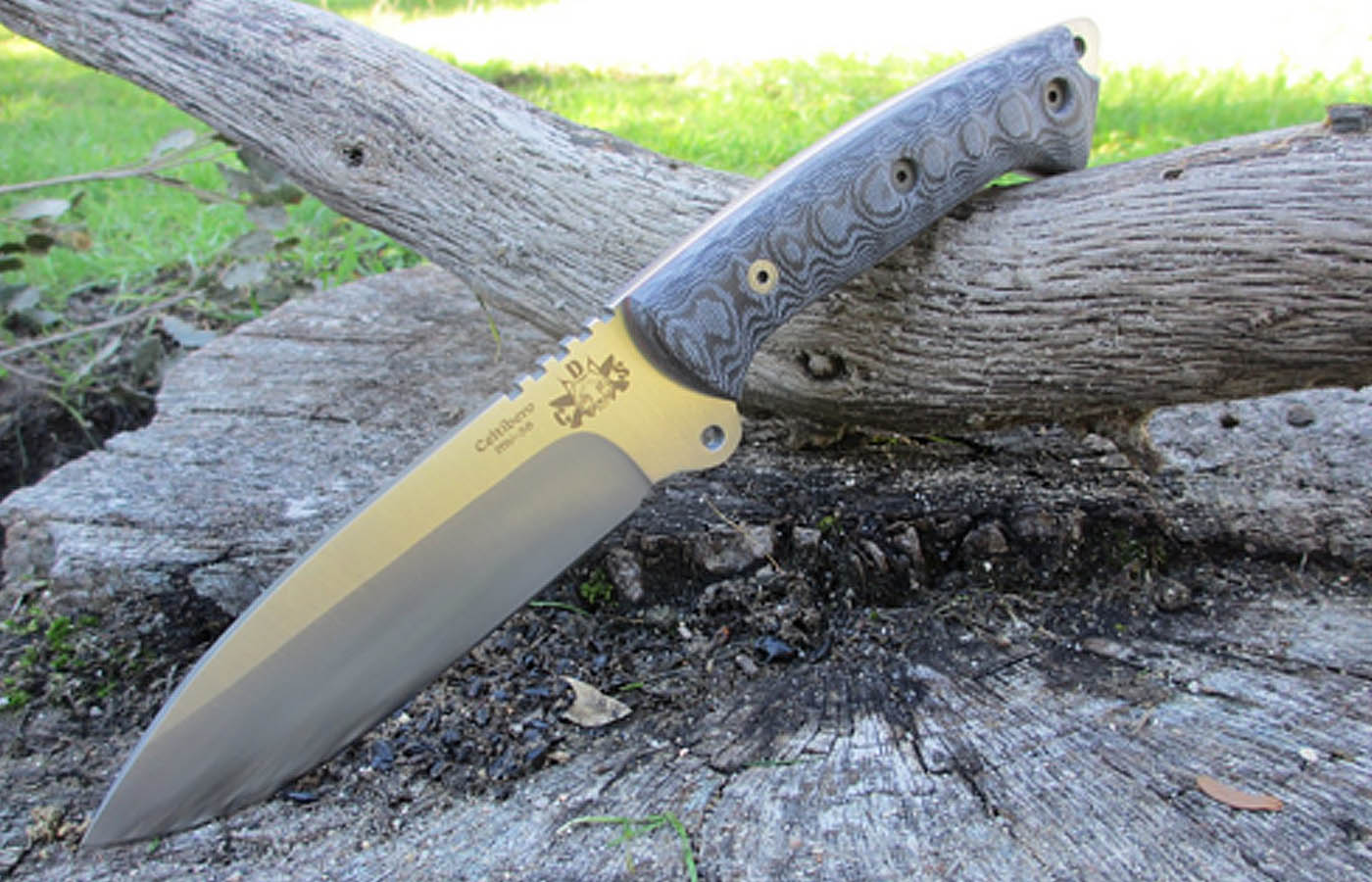 Spanning a total length of 27.5 cm, this stainless-steel hunting knife packs both functionality and aesthetics. It's built for campers, hunters and general wildlife enthusiasts and holds up exceptionally well in harsh rugged conditions. The blade itself is 14.5 cm and has been laser-cut, then polished by hand, to provide a better finish and easy use.
The knife handle will draw eyes– it's crafted from a gorgeous exotic wood called Cocobolo and displays a reddish-brown hue with purple veins running through. As the knife aficionados agree, a good knife is never without its leather case; the CDS Survival knife's case is hand-sewn from the best of leather and made multi-positionable to be fitted vertically or horizontally, as you please. With the knife, you'll also be furnished with a sharpening stone and firelight so that upkeep is never a problem.
Pros: Cocobolo wood handle; multi-position leather case
Elk Ridge ER-059 Series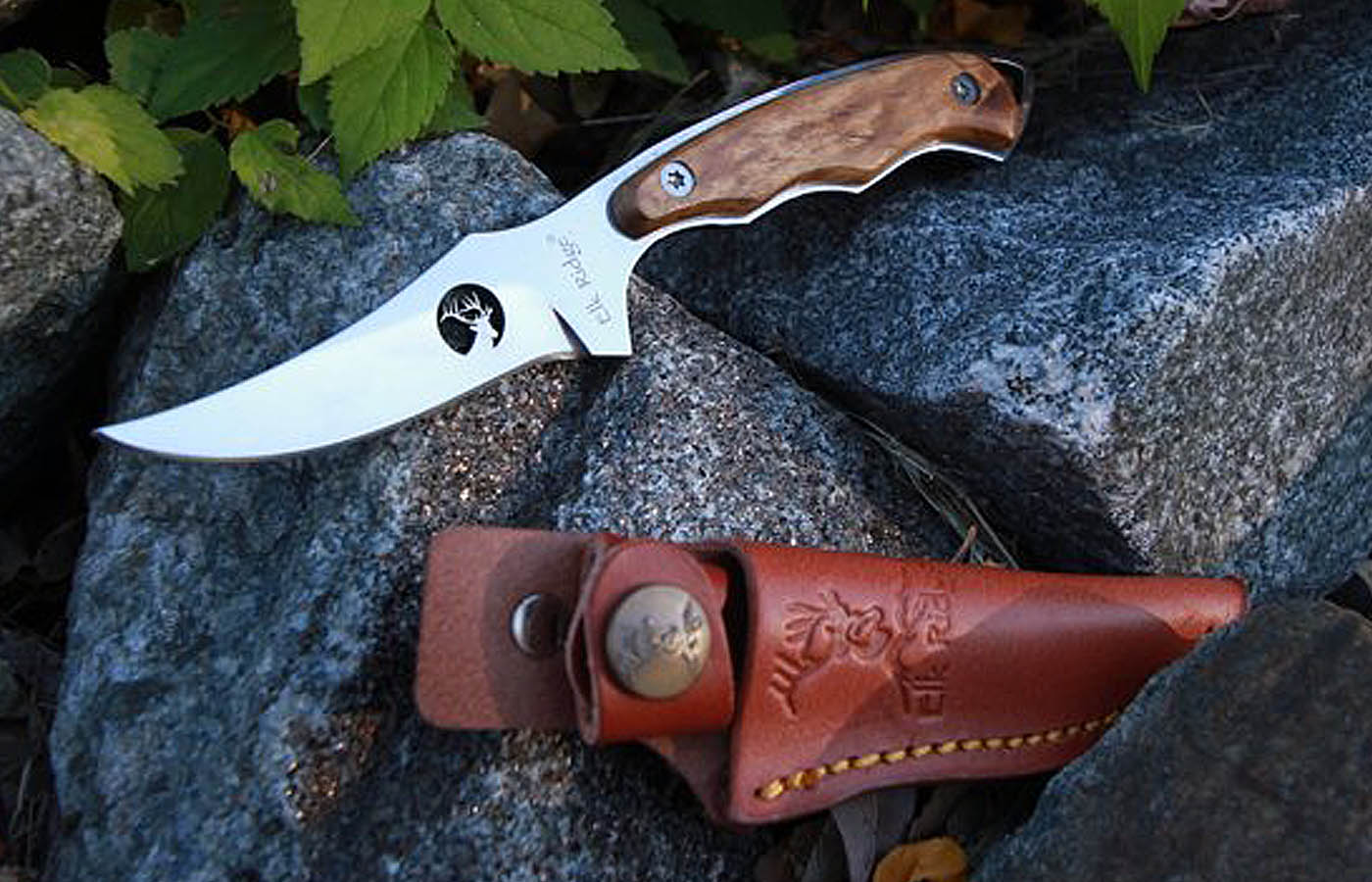 Affordable to a fault without compromising on form and function, the Elk Ridge brand is fast making news through the hunting world. The brand's ER-059 Series hunting knife has a stainless-steel fixed blade that's 8.57 cm long– handy to carry on your person and whip out at a short moment's notice. It's a medium-sized hunting knife, but that doesn't mean it can't take on larger game like deer.
It resembles a skinner in design– this ensures dismembering of the game without damage to vital organs or meat. What's interesting about this knife is that the handle isn't separate; indeed, the blade extends and Pakkawood or maple burl wood is screwed on to either end to form a handle that won't separate, fall off or cause any hindrance to smooth movements. The blade is polished to a high sheen and a lovely elk form is cut out from the stainless steel.
Pros: Medium-size knife; suitable for deer
ESEE Knives 4P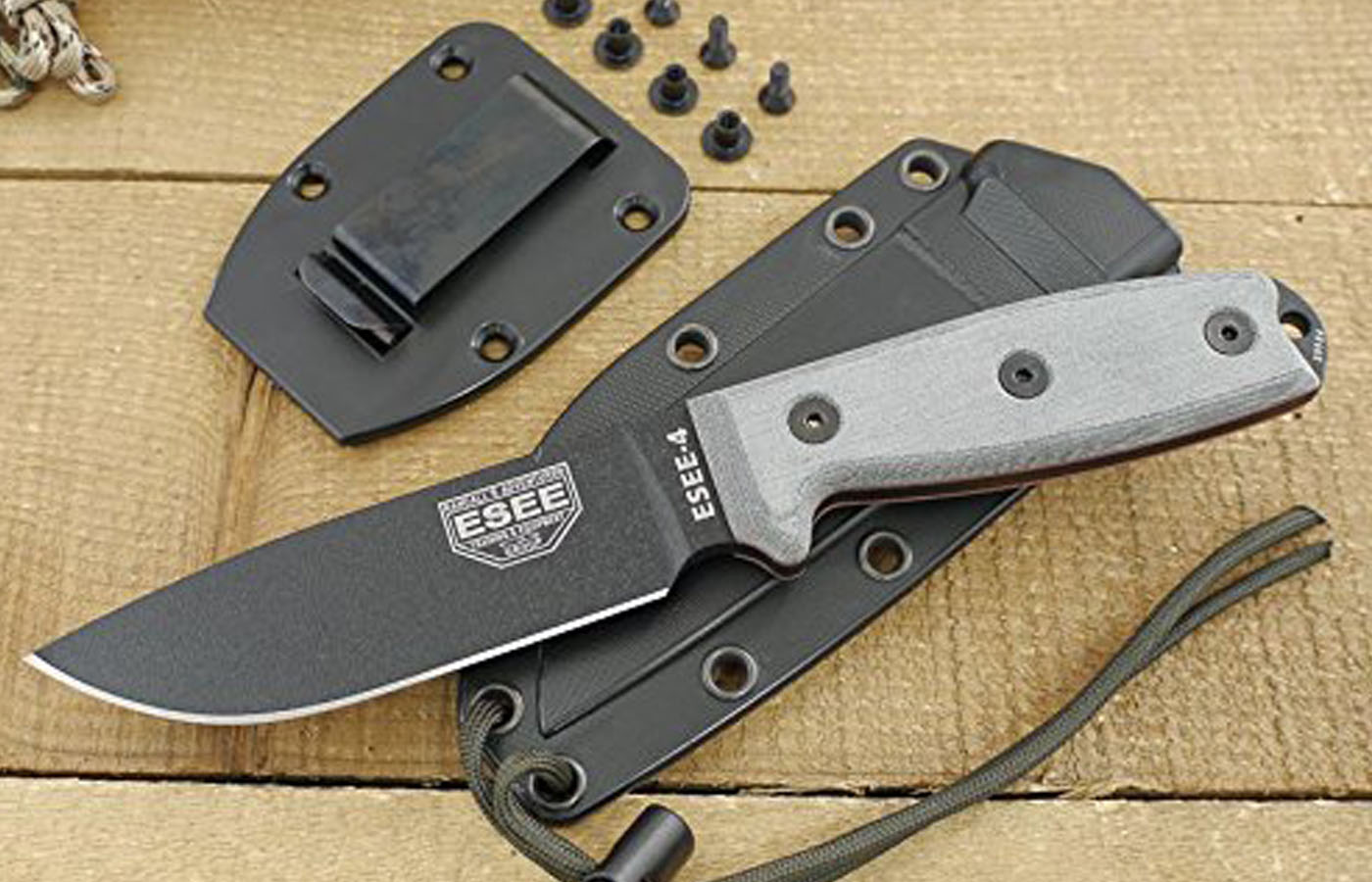 Hailed by many as one of the best production knives in the hunting world currently, the ESEE knife performs many roles in the outdoors. It can serve as a skinner, processing and a hunting knife; when things go awry, it also doubles up as a survival knife. The 4-inch blade is cut from 1095 high carbon steel, which makes it durable and hardy enough to tolerate heavy use and maintain its edge.
Its handle is different from the ones mentioned so far into this list in that its made of linen micarta scales instead of traditional wood and plastic. This helps to maintain the hunter's grip and doesn't split or wear away easily. While the blade doesn't need expansive sharpening setups, it is worthy to note that the cutting edge needs extra care to prevent rust. With the Kydex sheath on, the knife can be heavy for some but that doesn't take away from its performance and ease of use in the field.
Pros: Multi-use knife; linen handle
Cold Steel Master Hunter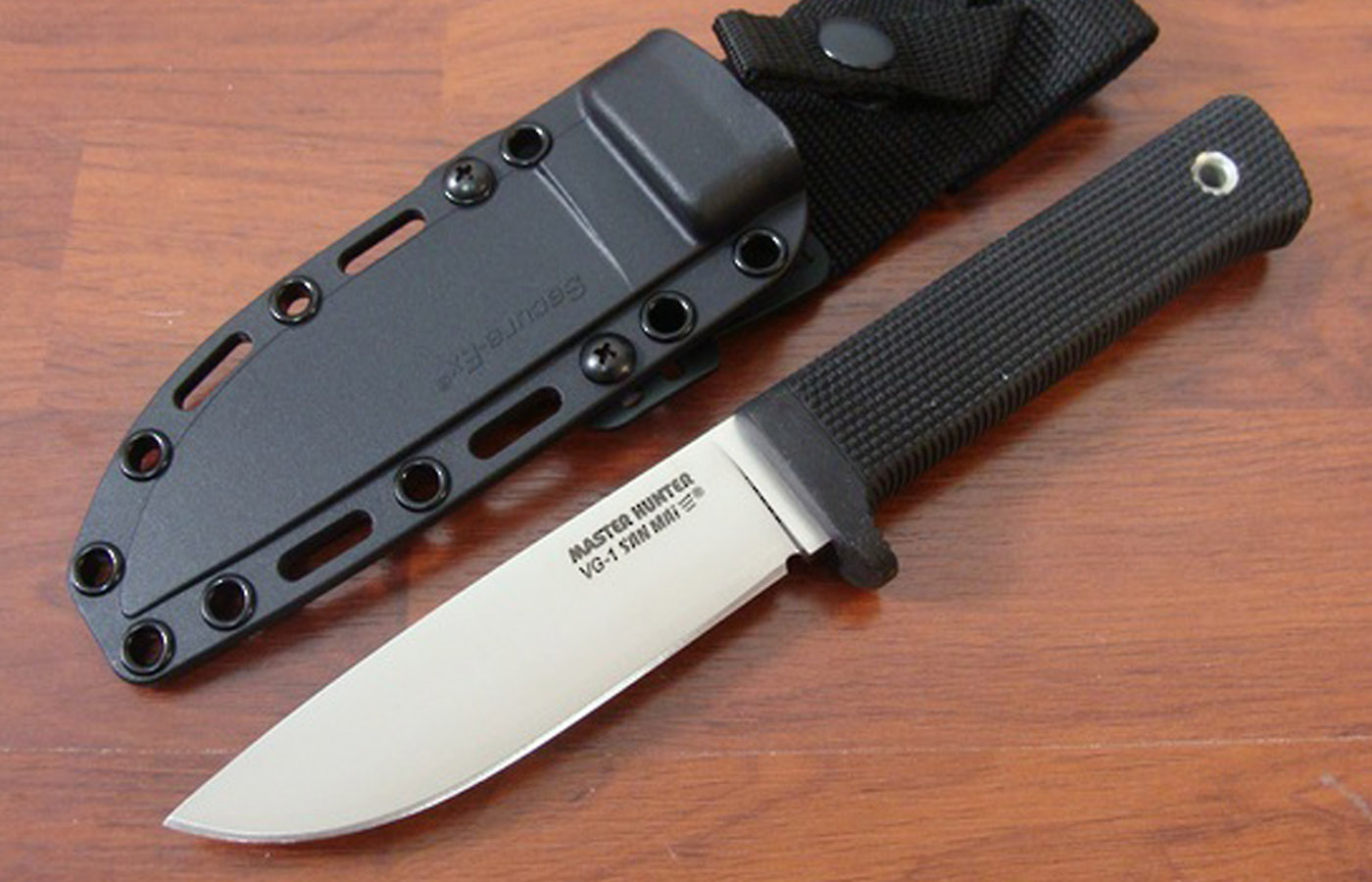 The most unique feature of this knife is its blade, a VG-1 San Mai one. But even in other aspects such as performance and edge, the Cold Steel Master Hunter does hold its ground. It's a 4.5-inch fixed blade setup that promises both flexibility and durability, along with great edge retention. It has a shallow drop point– making it perfect for skinning– but it also holds up well under use in camps.
The handle is crafted from Kray ex rubber with a tangible texture that ensures a powerful grip. Many have testified in favor of it being durable and hard-wearing, even when spillages and liquids are involved. This hunting knife may be a tad hard to maintain– especially the blade edge, which requires a heavier stone than most (think sapphire or diamond) to sharpen. It's not a fancy-looking hunting knife either, but it more than does its job.
Pros: Grip handle; shallow point blade
Ka-Bar Full Size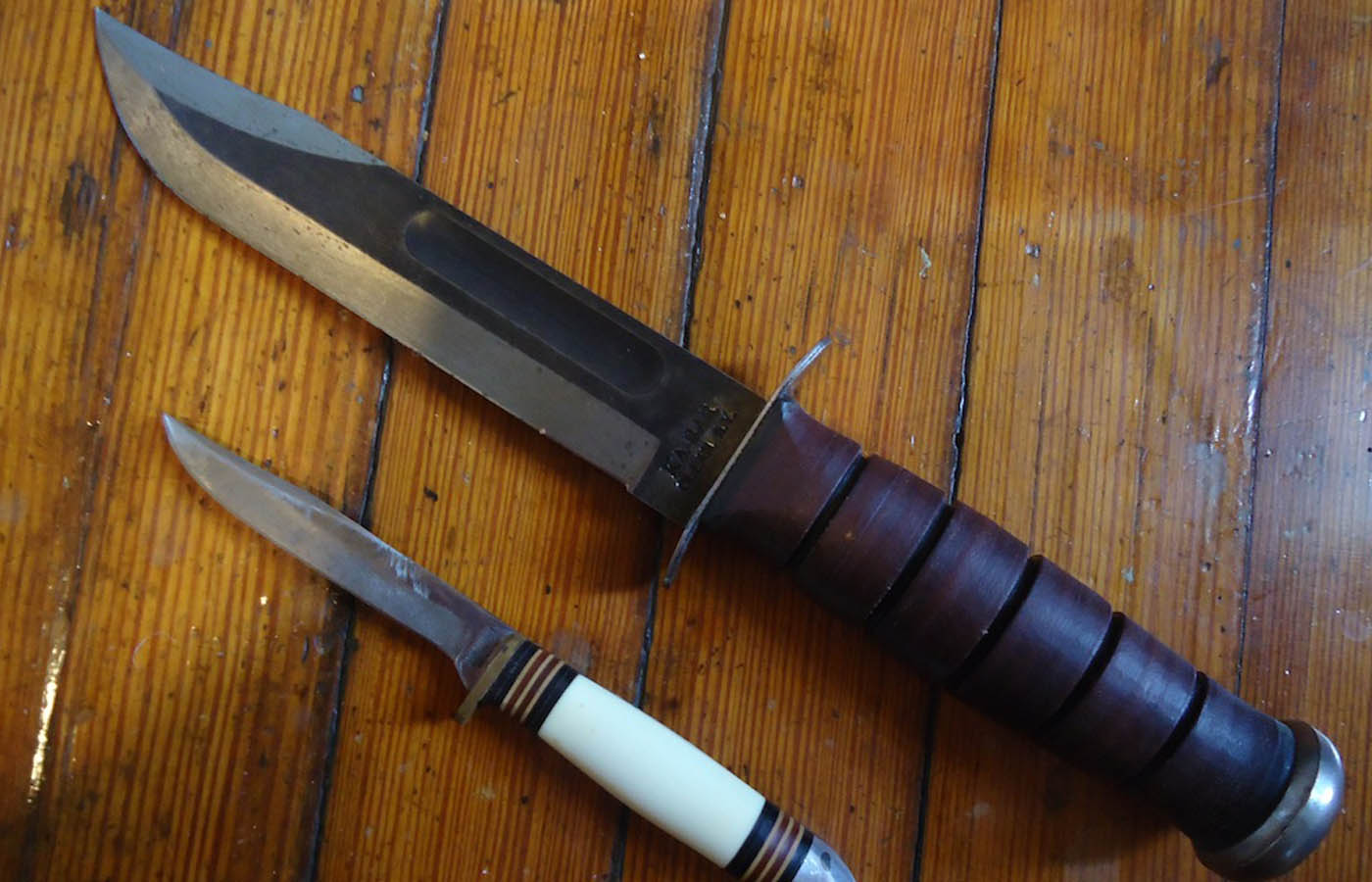 A knife brand that's lasted through the years– despite originally not being a hunting knife– the Ka-Bar has come a long way. The modern version packs a Modern 1095 Cro-van steel known for its razor-sharp edge that holds over time. It's a long knife– the blade itself is 7 inches long. Though rust-prone, the blade is coated to reduce time and efforts in blade maintenance. It's also perfect for the butchering of large game and possesses a convex edge that's ideal for cutting through muscle.
The full-size Ka-Bar has a rat-tail tang and a grooved wooden handle. It's meant to hold up in a variety of environmental conditions and provides a decently solid grip. The length of the knife could be a hindrance to some, but it's also what has made it one of the most recognizable hunting knife models in the world today and over the past few decades.
Pros: Long blade; sharp edge
Whether you're a regular hunter or just want a nifty knife that's ideal for outdoor conditions, no-nonsense design and easy maintenance should ideally be on top of your list. Then, depending on what you'll mostly use the knife for, you can narrow down on the perfect choice. Like any decision, picking a hunting knife is a game (no pun intended) of choices and preferences!