We sat down with the Australian motorsport legend Mark Webber at this year's Pebble Beach Concours d'Elegance to chat about his passion for motorsports, Rolex watches, and cars.
It goes without saying that Mark Webber knows a thing or two about pursuing dreams with passion and excellence. He had a successful career as a Formula One driver from 2002 until 2013 – one defined by longevity and that includes a total of nine wins, 42 podiums, and multiple third-place finishes in the overall driver championship.
We're all accustomed to hearing the old adage "finish what you start". However, when you're an extreme athlete with such enthusiasm for sports and life, as Mark is, there never really is an ending to what you start. Such is the case, because after retiring from the Formula One circuit, Mark went on to join Porsche's FIA World Endurance Championship team and finish FIA World Endurance champion in 2015.
After another respectable finish in the 2016 season, Webber finally thought it time to announce his intention to retire from the motorsport arena. But his affable personality combined with the timeless characteristics of good sportsmanship, persistence, along with the dedication he has exhibited throughout his career, continues to curry favor with fans and sponsors alike. Indeed, this is part of what makes Mark a world-class athlete.
Hard-won success and a fairytale story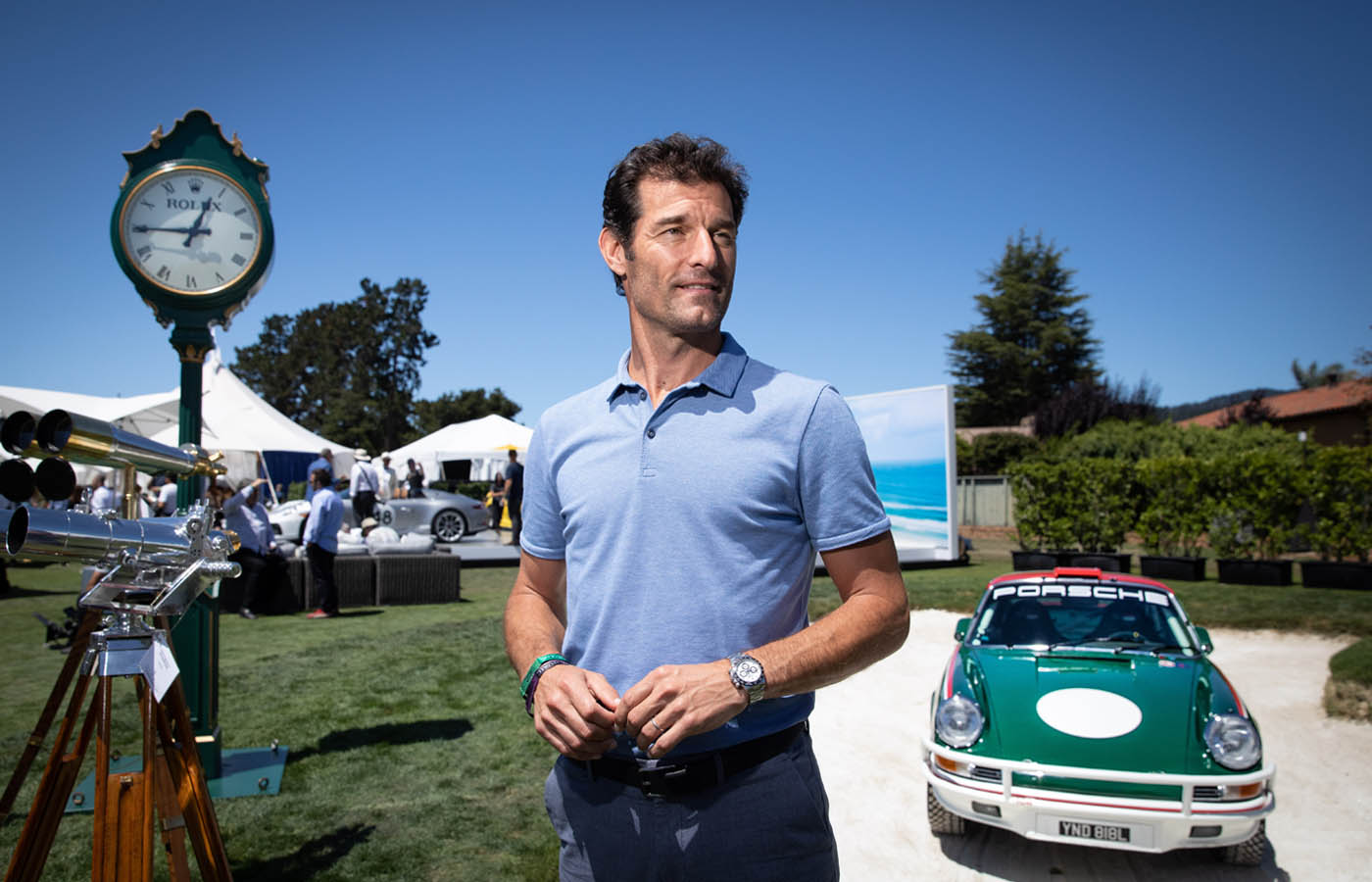 Mark's endearing qualities and hard-fought successes have made him a perfect role model and inspiration for countless racing devotees and enthusiasts. Which has earned him additional opportunities – it wasn't long before Webber was approached by Porsche about an ambassadorship, and invited soon-there-after by Rolex to be a Testimonee – brands that represent the pinnacle of technicality and excellence.
In his uniquely professional, laid-back, and down-to earth Aussie style Mark shares with us that "it was an honor to receive the phone call from Rolex and asked to be closer to the brand". And because of this "I've met so many amazing people through that relationship. For me it's an absolute privilege to help Rolex". He jokingly adds, "though obviously they don't need too much help from me since the product does all the talking".
Elegance combined with toughness and durability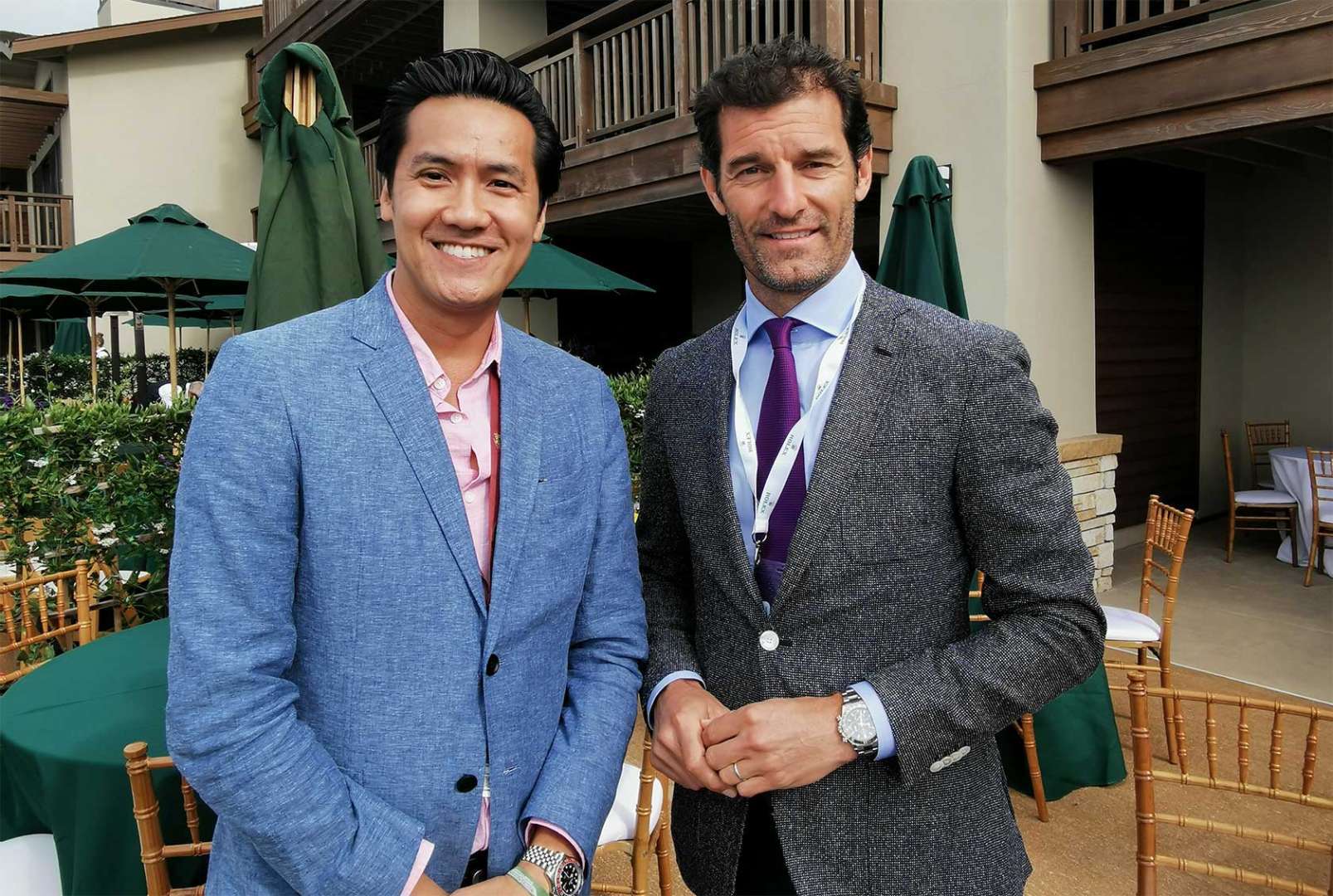 Sports have traditionally been an outlet for the Rolex brand harkening back to the days of first Everest climbs and deep dives – part of an adventurous and dangerous era that blurred the distinction between athlete and pioneer: days with unknown and undetermined outcomes that heavily relied on the precision of timepieces to make milestones (or even to make it out alive). Mark gives a nod to those who have come before him and muses about the trust formed between the Rolex and those who wear them.
Mark affirms "Trust is the word to describe it. The engineers have gone on a great journey at Rolex with such a delicate process of putting a precise timepiece together and understand the consequences of any kind of malfunction, or unreliability in extreme conditions".
Just as important, was the stopwatch with the chronograph vis-à-vis Daytona and motorsports, when land speeds were broken and made by thousandths of a second. "The human endeavor is something that Rolex loves … to go out and do something really adventurous and pretty extreme."
Perfect match between man, motorsport and watch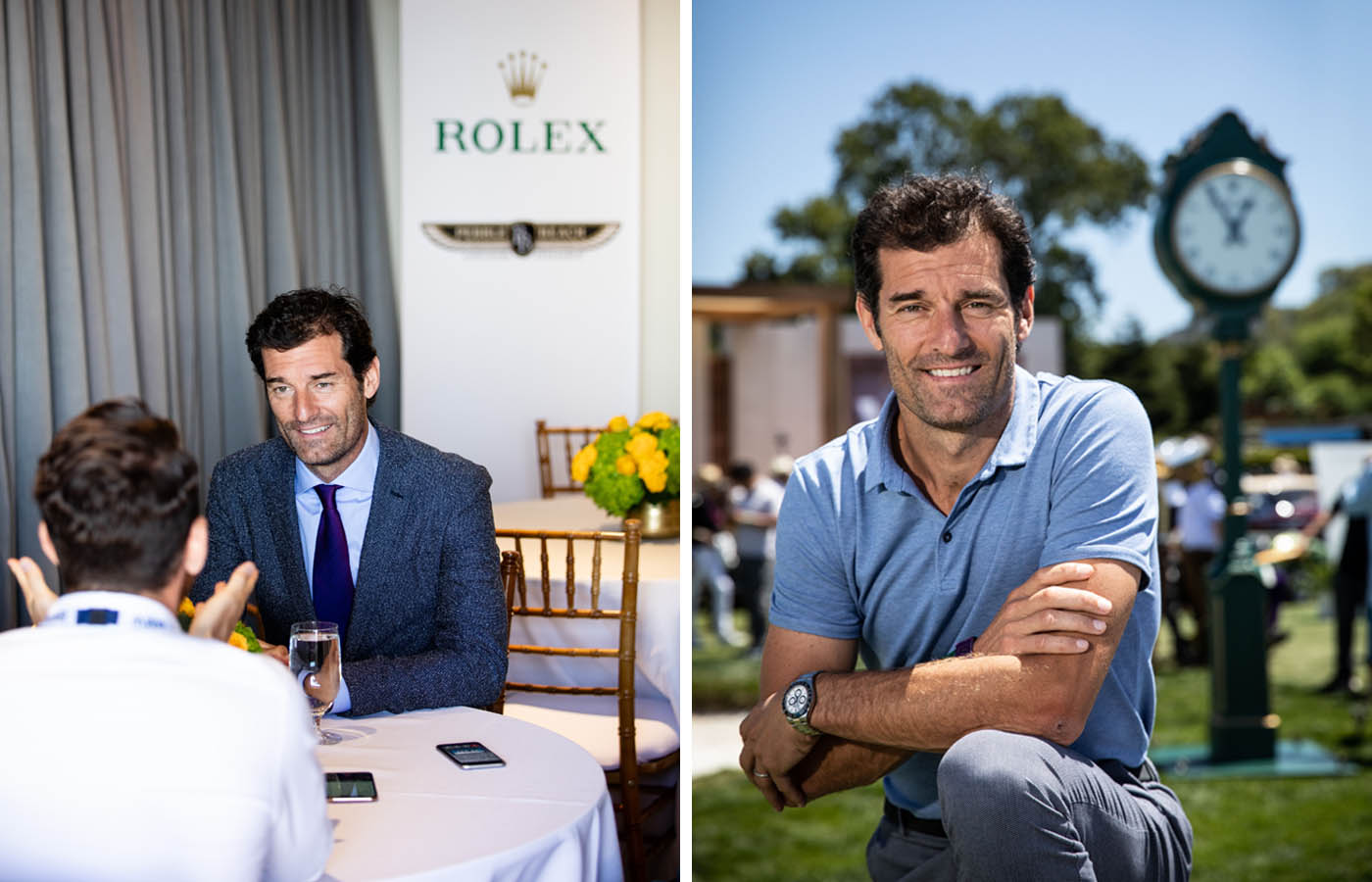 Mark had already been a fan and customer of Rolex watches, but his personal journey with the brand began to get serious with his first grand-prix win – at which time he treated himself to a Rolex GMT-Master. When asked why he chose to go with the GMT-Master, he responded "because it's simple, clean, timeless, elegant, and not too showy – these are things that Rolex does best". Thus, making the watch a perfect fit with Mark's own personal style.
Mark goes on to say "I've been to Rolex HQ in Switzerland. When you go there it's very special because you see the journey this incredible brand has taken over the last 90 years in testing the boundaries of precision, speed, man and machine, and understanding what the timepieces can take … this is really impressive." It's easy to understand the intertwined relationship between Rolex and the motorsport world.
Race car drivers have extremely high expectations when it comes to the performance machines they drive. Mark acknowledges that "racing drivers are really fussy simply because of what we've been exposed to in our profession … awesome machines, superb mechanical design, and excellence in engineering. So when you come across how Rolex goes about the watch making process, you understand the natural fit. We [race car drivers] can accept Rolex because they raise the bar and are phenomenal."
A Rolex pretty much stays on Mark's wrist all the time. In fact, the only time Mark is inclined to take it off is during an extended run in the wilderness or mountain bike excursion … more out of the concern for damaging the piece than anything else. And though he does like a bit of low-tech time in life, he's entirely optimistic about technology and the future (especially when it comes to cars and transportation). He makes a point to add, however, that he really enjoys wearing a Rolex when catching big waves on his surfboard.
Mark's impressions of Monterey Car Week
Surprisingly, this is Mark's first experience at Monterey Car Week – and he's clearly excited to be here. He's impressed by the energy and effort car owners put into the preservation and maintenance of these incredibly valuable objects of automotive history.
Mark thoroughly enjoys seeing the different car categories at the show, but admits that he's partial to race cars. "I'm still a racing guy and I do have more emotions towards the racing cars, like Jimmy Clark's Lotus 49 – a car with gorgeous proportions, cigar shape, and chassis on the limits of design and power to weight ratio." As for the street cars, he says that "it is probably the 550 Porsche which is clean, timeless and lightweight" adding "I'm not that difficult to please when it comes to cars".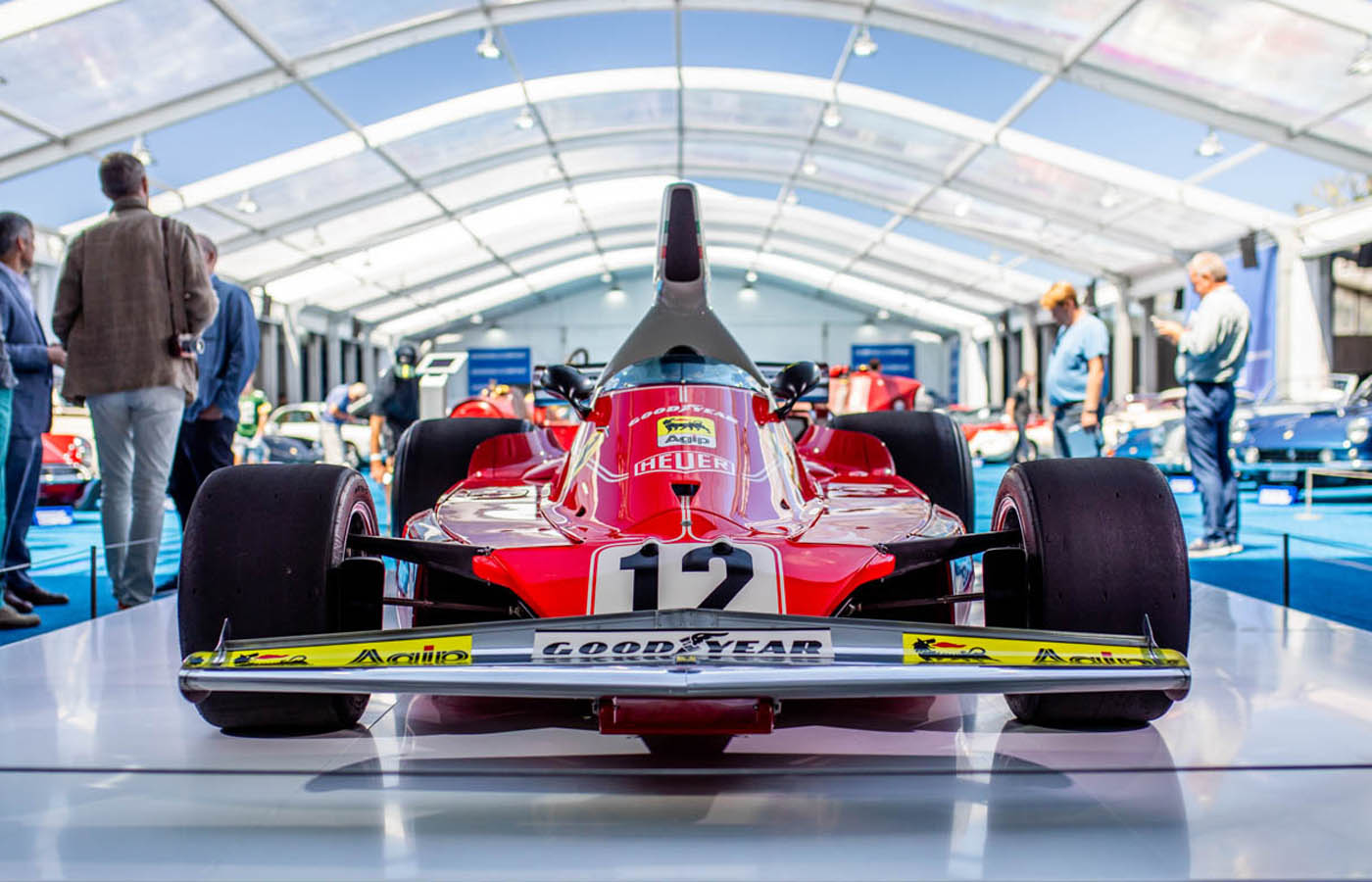 But of all the automobiles out on the lawn, the one that makes the biggest impact on him, is without a doubt, Niki Lauda's Ferrari 1975 312T. Mark explains that it's the man who drove the car that creates the strong emotional connection for him. "Nikki was a close friend of mine, an incredible individual … and a true warrior of the sport." Mark was happy to see it sell for $6M to an owner who will appreciate the as much as he does.
The parallels between the race track, pushing boundaries, working with people who seek excellence and demand the best all of the time, and Rolex is obvious. In the end, this is the spirit and ethos it takes to create the best products – which is exactly why Mark has such an affinity for the Rolex brand.
Images courtesy of Rolex