For me, there's nothing sexier on a man's wrist than a full-bodied diver's watch. The sheer size of it and exemplary complications on the dial only add to the sex appeal and make both the man and the watch highly desirable. The real question many watchmakers ask themselves is this … "will this watch really take a dive?" The sad truth is that the majority of the dive watches ends up doing desk and paper-work diving than the real, sub-sea deal. They never even get to break the surface of the ocean, let alone feel an ocean breeze.
Why do people buy diver watches
So why do people buy dive watches if they won't even get it wet while swimming in a pool? The answer is pretty simple: Vanity! Yes, lust, vanity and all evil desires to own a highly complicated machine is what drives most men to invest in some of the finest Ocean-o-meters.
The industry caters to this sentiment by offering the finest features on a dive watch that one can image. Although there are some benchmarks and norms to follow, most dive watches must be able to withstand 20 atm of pressure, which is the equivalent to 200 meters beneath the surface.
The features you should look for…
Morning showers aside, if you are really looking to buy a good diver's watch then there some basics that need to be covered. You will want to invest in the kind that allows you to take it on a sailing spin in your 150-foot yacht. You are essentially looking at watches that feature tourbillons, minute repeaters or both. Added bling and bronze are just bonus, and not mandatory.
Worn by more non-divers than actual divers, the diving watch comes in a variety of designs and functions. There are some elements that separate them from a casual sports watch. Specialized dive watches by makers like Citizen have highly advanced features that track depth and have electronic dive logs. 'Serious' divers typically buy these; however, the regular watches have a set of useful features which are helpful in daily wear.
It doesn't take rocket science to know that all dive watches should have a good threshold for water resistance. Saline water will otherwise erode the crap out of the mechanism. Nowadays we see watches with water pressure resistance that is equivalent of 200 meters underwater, or 20 atmospheres.
Not that you will dive that deep, but there is a possibility of experiencing such similar pressure even in shallow waters. A watch with basic water resistance rating of 30 meters is avoidable and one with ratings of at least 100 meters should be worn. On the flip side, there are watches that exist that go up to 6000 meters and beyond, and we all know that you won't dive that deep!
Material matters!
The next big thing to watch out in a diver's watch is the material used for its construction. It's a given that the outer casing and bands must be crafted from corrosion resistant materials. For example, many watches use Stainless Steel, but titanium and even gold are often used. Bands are fashioned from rubber or silicone. The good thing about these materials is that they support any kind of active lifestyle. So bring on the sweat, grime, and dirt…they are able to withstand it all.
Dive watches also sport some type of countdown timer and the most common is an elapsed time scale on a rotating bezel. You need to rotate the bezel to align "0" with the minutes hand and as the minutes hand progresses, you can calculate how many minutes have elapsed since you commenced your dive. It is very critical that the diver keeps a track of the time spent under water and this makes a countdown timer an essential feature.
It's all about legibility
The next most important thing is the legibility of the watch hands and timer when down in water. As we know that a deep dive can be dark and dingy, making it very important for the dial to have large and highly visible hands and markers with a lot of luminescent material slapped on. This is probably the reason why diver's watches are mostly made with orange and yellow twinges.
Apparently the International Organization for Standardization (ISO) has a written standard for dive watches: ISO 2265 — Divers' Watches. I am not sure if I am conforming to their list, but most of what I have with me is pretty much common sense. So next up in my list is the bracelet.
Did someone say bracelet?
A leather one or any such material is going to spell doom when it comes in contact with water, which is why diver's watches are teamed with steel bracelets or rubber straps. It also helps if the watchband is expandable enough to go over the thick sleeves of a wet suit.
Some watches come with extra-long rubber or nylon straps or include extension straps for the dive. Another common trick is to have an extension piece built into a steel link bracelet, which stays hidden inside the clasp. It extends only when you need to take a dive and deploy it.
With these basics included, I am sure you will find the perfect diver's watch. It remains up to you if you intend to put it to good use, aka dive, or sit with it in your bathtub!
Bonus: five divers watches we love
Audemars Piguet Royal Oak Offshore Diver Chronograph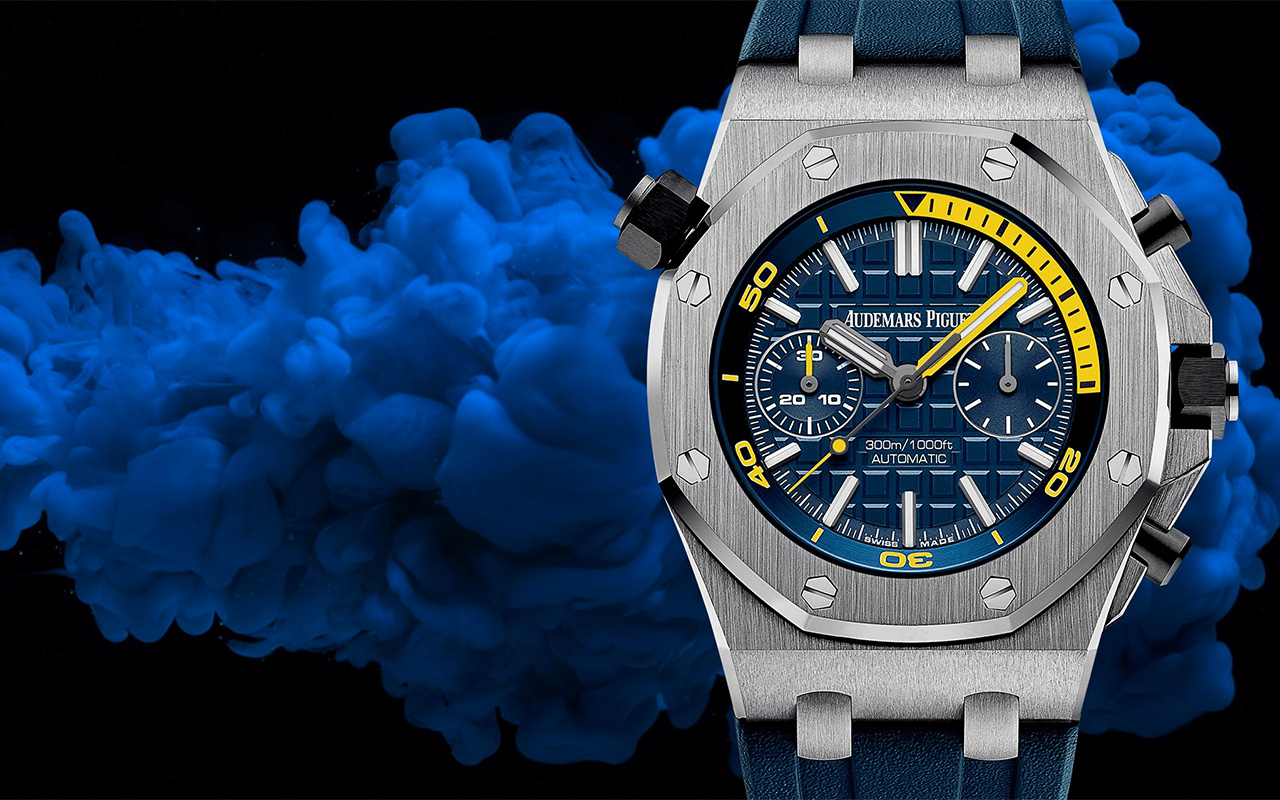 What We Love: This blue Royal Oak Offshore looks classy with the dash of yellow. It looks spunky and is a limited edition of 400 watches.
Specs: 42 mm Stainless steel case, water-resistant to 300 m, Blue dial with "Méga Tapisserie" pattern, Royal Oak hands (yellow minutes hand) with luminescent coating and a self-winding movement.
Omega Seamaster 300 Master Co-Axial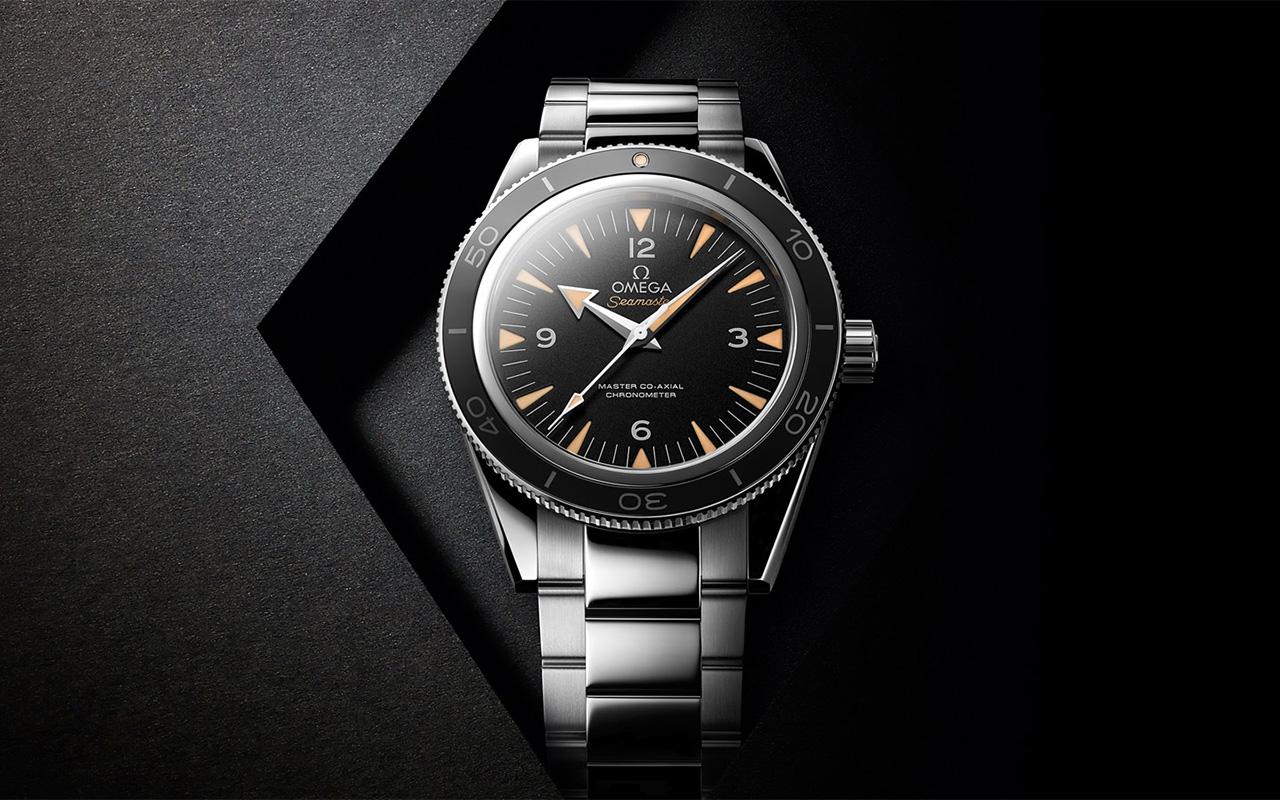 What We Love: Making its debut in 1957, this watch has been associated with James Bond and has a very vintage appeal.
Specs: Polished ceramic bezel ring has a Liquidmetal diving scale, 41 mm brushed and polished stainless steel case, powered by OMEGA Master Co-Axial calibre 8400, 60-hours power reserve, 300 meters water resistant.
Blancpain Fifty Fathoms Bathyscaphe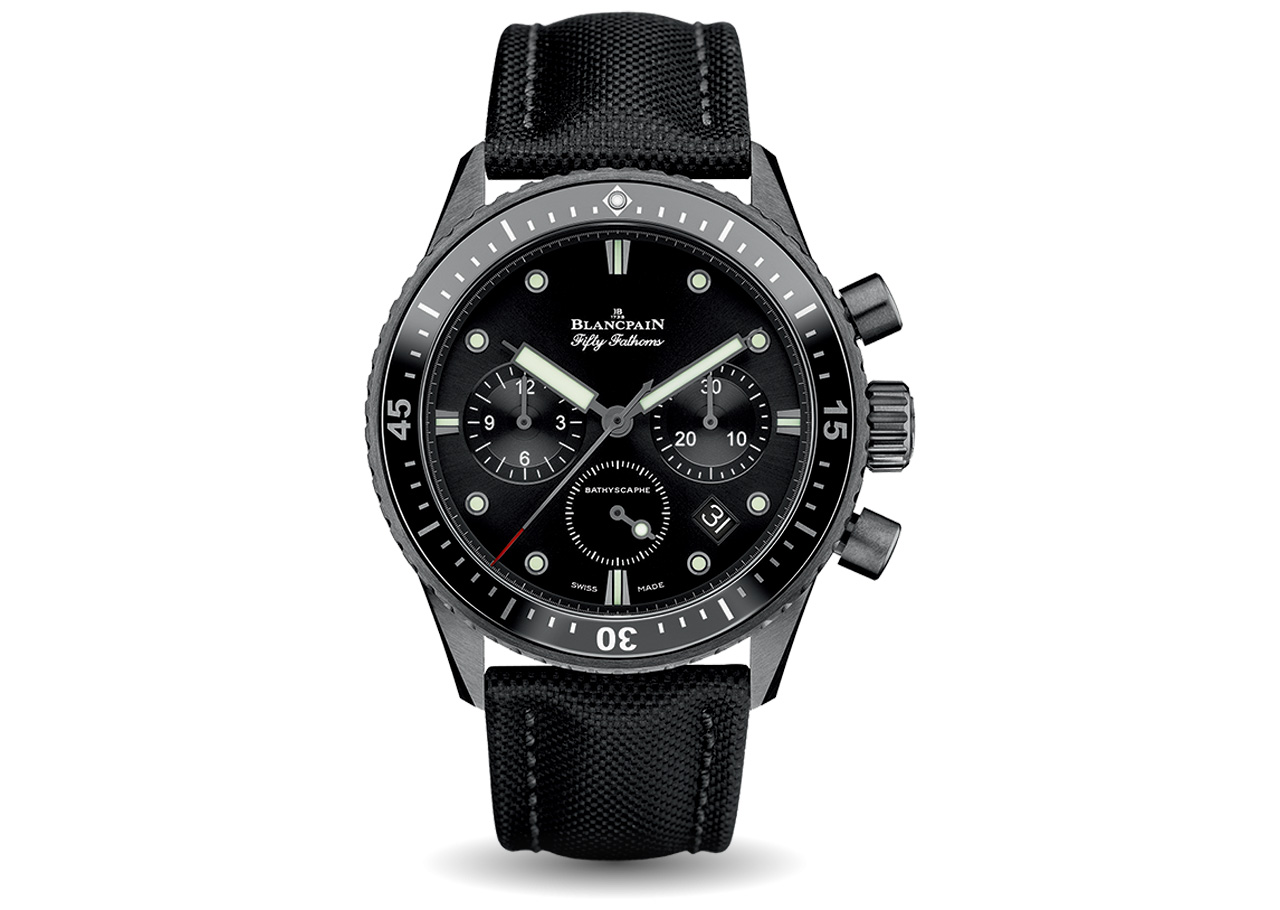 What We Love: The Fifty Fathoms collection is a testimony to Blancpain's passion for the marine world. Making its debut in 1953 with their version of the first modern diver's watch, the watchmakers have worked alongside divers, scientists and underwater photographers to give us some fine divers watches, including the Fifty Fathoms Bathyscaphe.
Specs: Flyback Chronograph powered by Caliber F385, Unidirectional satin-brushed black ceramic bezel with ceramic insert and Liquidmetal hour-markers, 43.60mm case, 300 meters water resistance, 50 hours power reserve.
Ulysse Nardin Diver 42mm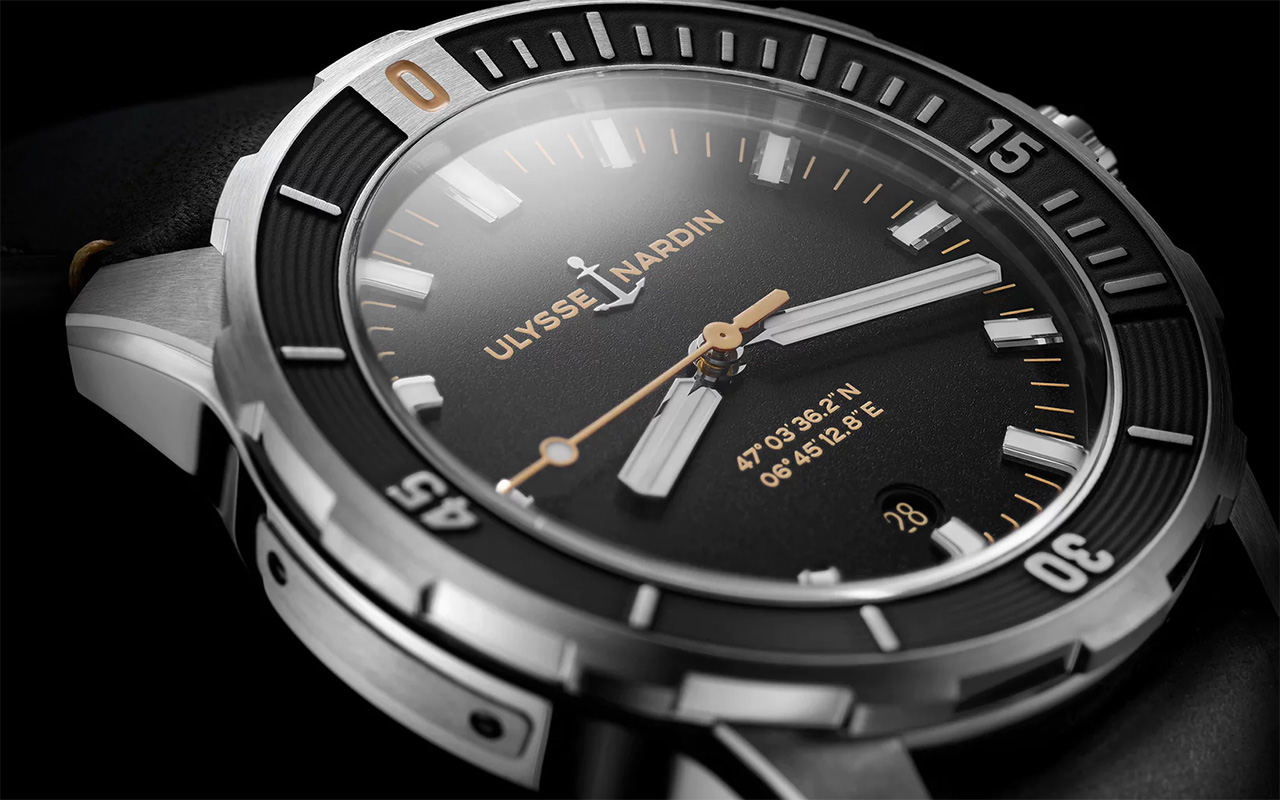 What We Love: Ulysse Nardin's Diver collection has exceptional detailing, we like the slightly concave bezel and the concentric rings as they lend visual depth to the watch.
Specs: 42mm stainless steel case, black or blue dial, 300 meters water resistant, automatic UN-816 (Based on the Sellita SW300) movement, 42 hours power reserve.
Rolex Deepsea Oyster Blue Dial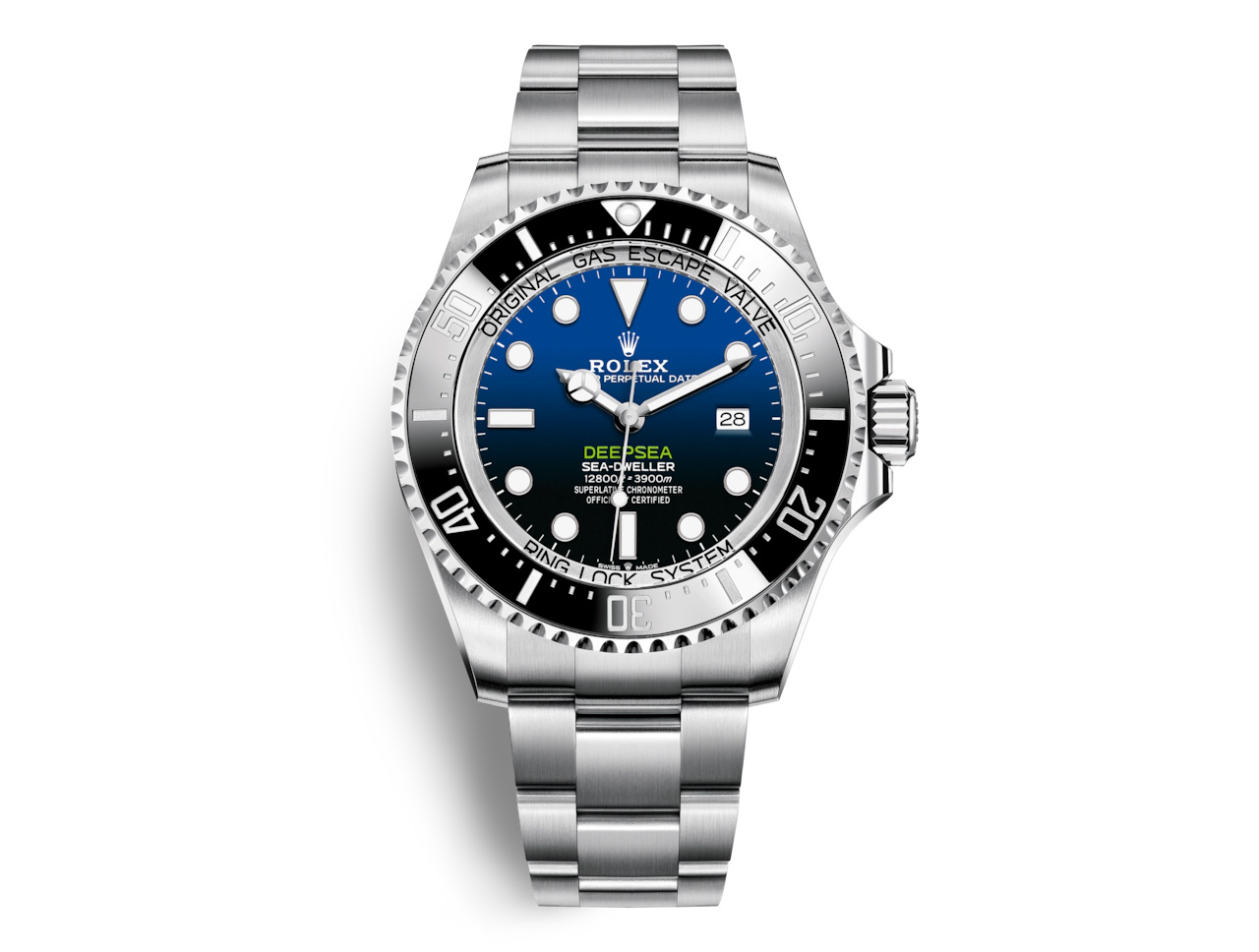 What We Love: Rolex uses Oystersteel for its steel watch cases and this belongs to the 904L steel family. It's a tough material that is used in high-technology and in the aerospace and chemical industries. The watch pays tribute to James Cameron's historic solo dive.
Specs: Oyster bracelet, calibre 3235 new-generation movement, 44 mm case, perpetual, mechanical, self-winding movement, 70-hours power reserve, Waterproof to 3,900 meters.