What could be more fun for two sophisticated ladies than flying half way around the world to spend a day driving tanks
The plane started its descent into Minneapolis, Minnesota that Monday evening, and as it went down in altitude the sky turned dark and ominous looking. The pilot safely guided us around the towering cumulus nimbus stretching towards the stratosphere. Severe thunderstorms with lightening and driving rain had delayed or diverted the majority of flights arriving Minneapolis–Saint Paul International Airport. Once the turbulence had ended and the plane safely on the ground, a palpable sense of relief was felt among the passengers. But the silver lining was that a colorful triple rainbow waited for us on the ground – I took it as a good sign of the tank driving experience to come.
Myself and a girlfriend decided it was time for a get together. A little brainstorming gave us a more unorthodox idea than an average beach getaway or city weekend escape. It was decided, we spend a day driving Tanks in Kasota, Minnesota with Drive A Tank. No, there would be no spa day for us – only a whole lot of heavy machinery, mud, and the roar of diesel engines. With airline tickets booked, we giggled with anticipation for an impending day of debauchery and excess.
At first, the idea of handling incredibly heavy machinery was slightly intimidating. But the prospect of grappling with and controlling such powerful equipment, firing enormous cannons, and wrecking a whole lot of stuff was exciting deep down – besides, it's not your average way to spend a Tuesday!
It was going to be good old-fashioned and mischievous fun – the kind that's usually reserved for boys – but one that no woman should pass up. The other small detail was that my girlfriend had recently lost her fiancée in freak accident, and, well, engaging in destruction just seemed like a perfect therapeutic move to blow off some steam.
Drive A Tank is located about a 45 minutes drive south from the Minneapolis-Saint Paul International Airport. Depending on your time of arrival, you'll be transported to either a hotel close by to the facility for the night, or directly to grounds for an action-packed day.
Our flights were late, so Drive A Tank organized the night before the program at the Saint Peter Best Western – which was recently built with a 3.5-star rating. The accommodation was nice and more than sufficient; the rooms were clean, simple, and stylish with comfy beds for good shut eye.
Bright and early the next day, Tony the owner of Drive A Tank, picked us up in his work truck. We made a pit-stop at Dunkin Donuts, where I made the mistake of ordering a dainty low-calorie egg wrap that my body burned through in a flash. Heed my advice and make sure to throw back a hearty breakfast of eggs, bacon, and potatoes, because it turns out that driving tanks is intense and energy consuming activity.
Ready, set, now drive a tank!
Drive A Tank was founded back in 2006 when Tony took a trip to England and came home, with not just any souvenir, but a big green one. Ever since then, the rest is tank history.
Since then, the company has been providing one of the most elite tank driving experiences in the world. Over the past ten years, they've had ample time to acquire an insane number of tanks, build up the armory, and round up other equipment – most of which is at your disposal for use in an ultimate day of mash up madness.
Don't kid yourself into thinking that only local Minnesotans show up at Drive A Tank. In fact, people come from around the world for an unhinged afternoon that's off the charts in terms of most normal experiences. A few even fly into the local airstrip on private leer jets – now that's what I'm talking about. And while anyone is permitted to do the program (some regulations apply to children), military historians and tank buffs make pilgrimages here too. But by no means is attendance circumscribed by war enthusiasts … one mother decided to throw a pizza and tank party for her sixteen-year-old son, and racked up a $50,000 USD bill in the process. Candles and cannons sounds like a sweet theme for any boy or girl celebrating sixteen years.
Drive A Tank packages
Drive A Tank offers three different packages with optional crazy and calamitous "add ons" to choose from. Basic packages start at the 3 Star Lt. General which runs around $299 USD – your basic budget option. It includes a safety/history presentation, 5 Ton Transport, driving time in the FV433 Abbot SPG, chance to wield a STEN WII Machine Gun, and tour of the shop and equipment. But if you've come from afar, why stop there. Level up to the 4 Star General for double the price at $549 USD. This package gets you and another passenger all of the above, plus a drive in the FV432 APC, and opportunity to blow targets to smithereens with an M4 and 1919 WII Belt-fed Machine Guns.
But getting doubly serious, why on earth would you want to stop there. Perhaps you've saved up for this your entire life. Blow your wad and go for the full 5 Star Commander in Chief for $2,599 USD. This lustrous war pearl of a package gets you everything listed above, time in the mind-boggling Russian T-55 MBT, car crush with Chieftain Tank (nicknamed "Larry"), and some groovy machine-gun love time with the MG42 WII Belt-fed Machine Gun and Barrett .50 Cal Anti-Material Rifle.
It's also home of the world's only Sherman Tank Driving Experience, which seems like a steal at $1,599 USD. Tantalizing extras can be added on to any program: the single or double car crush, or my personal favorite, the drive a tank through a house option – which must be done one in a lifetime.
After a quick sign of the waiver, you're taken to the central presentation room where Tony says "we find the easiest way for you to learn is to simply lock you inside [the tank] and kind a sit back and see what happens next." He expertly delivers a safety briefing and gives you a thorough run down on tank history – all while an old black Lab named Sherman pants in the corner and stares at you. You walk away with an understanding of how the tank helped turn the tides of WWI and, thus, the outcome of today. After the talk, you're ushered into the field for day of action thats worthy of the film, Fury.
Tank driving isn't so easy
The ground was a muddy sloppy mess from the previous day of heavy rain. The property of Drive A Tank is expansive, and during the summer months, the heat, humidity, dense jungle-like vegetation, and blood-sucking mosquitoes intensifies the experience.
We start out driving the APC, which is not a tank, but an armored vehicle used to move infantry across the battlefield. Inside, there was a two lever and clutch system – pull back on the left lever to turn left turn, and likewise on the right, but don't forget the clutch!
To enter the driver's seat of the APC or gain entry into the tanks, you drop your body down through a top hatch and into a dark, tight, and cramped space that's full of lots of skin ripping sharp metal objects. Once the hatch is closed, the periscope becomes your best friend. With the majority of your peripheral vision gone, it can be a little disorienting and claustrophobia-inducing at first.
You gain insight into what troops must go through when in tanks, and develop a profound respect and appreciation for their effort. Most amazingly is that it wasn't uncommon for soldiers to spend days, weeks, or even months inside these "death traps" during wartime. Once we started rolling, I was surprised about the weight of the APC, which is balanced and pivots more towards the front – making it a nimble and responsive vehicle to steer.
Next up would be our first tank, the Abbot. The turret on the Abbot sits near the back of the hull where most of the weight (approximately 10,000 lbs.) and is also how it wants to drive. The weight distribution is readily apparent when driving is more difficult to handle than the APC. But, by god, we were getting the hang of it.
After passing the APC and Abbot test, Tony gave us a nod of approval and graduated us to the big granddaddy of the all, the Sherman Tank. My first glimpse of this 33-ton metallic army green beast was while in the driver's seat of the APC. A puff of smoke suddenly appeared in my periscope – it came from the Sherman's cannon, and then POW – the frangible projectile was launched and blew apart on the lower left side of my APC – in a classic surprise attack in a game of cat and mouse. I let out a scream, picked up speed, as my forehead banged off the metal scope – getting me and my crew me the heck out of a tight spot.
The Sherman Tank is a two-stroke diesel engine that adores high RPMs, and for the most part, a pedal kept to the metal. The periscope on the Sherman is much older, and the tank in general is more difficult to drive. You need a descent amount of strength to drive these behemoths; you have to put your whole body into a lot of the action and it takes muscle to efficiently handle the steering or gunnery. it is physically exhausting. Our bodies felt grizzled by the end of the day and in need of a massage. And my hair saturated with the not-so-refreshing scent of dirty diesel for days.
It was time for the Drive A Tank nightcap … the car crush. You're handed a pair of safety glasses to don and told to press down on the Chieftain's accelerator. With the pedal pressed, Larry lurches forward and picks up speed. With the planetary track system is centered on your target – in my case the Monte Carlo LE, 2-door coupe – the white Chevrolet squishes like a pop can and shards of metal and glass explode everywhere in confetti-like style. Tony hands you the keys to the car you've just crushed with handshakes and congratulation. It was weird, but I admit that I was delightfully delirious at having just crushed my first car (with a tank) ­– forever in the exclusive ranks of those who have.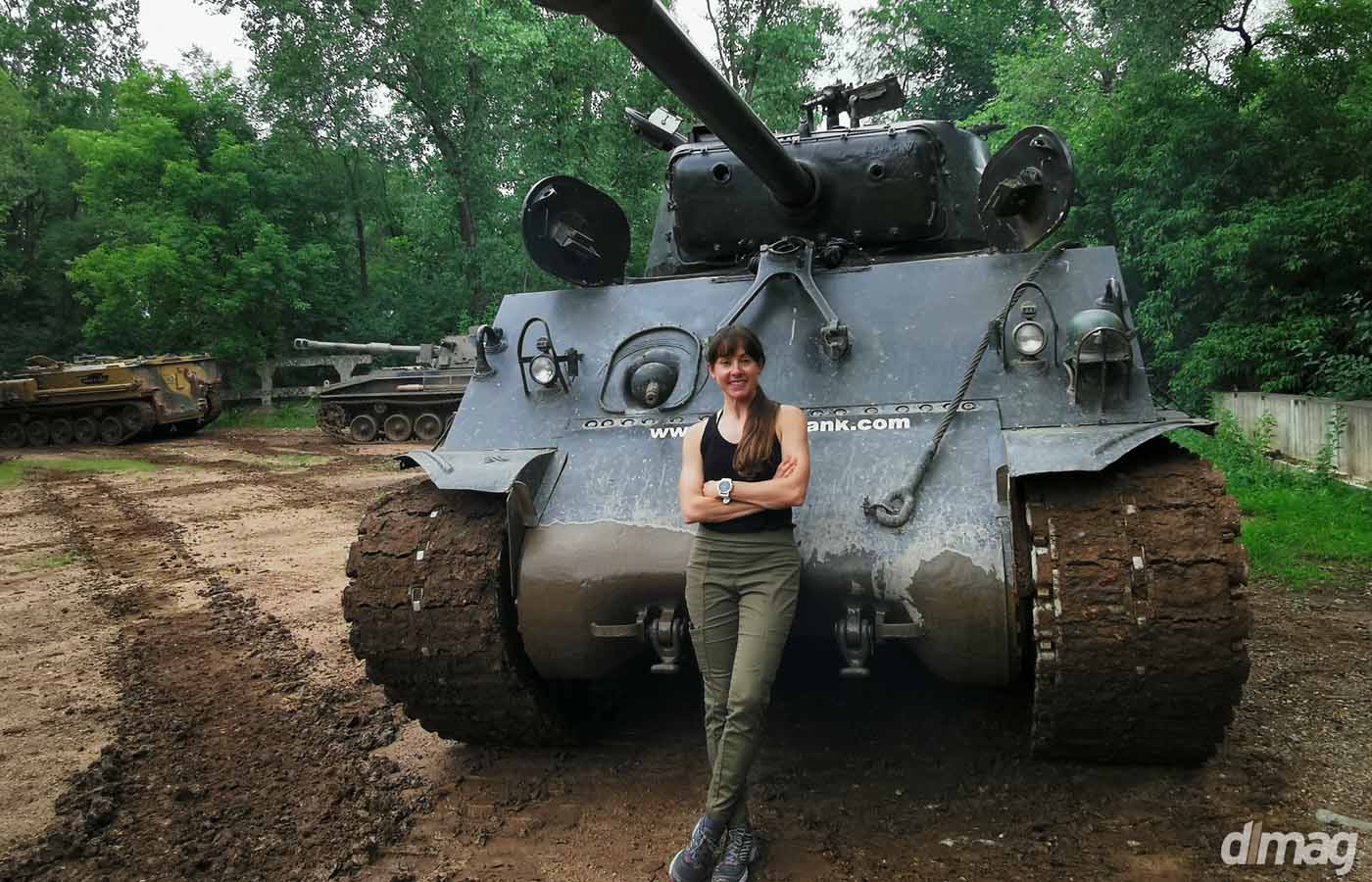 You'll leave Drive A Tank feeling like either a G.I. Joe or Jane, tank historian, and professional tank driver – at least that's how I felt. The experience is a must for all tank lovers out there, or for those looking for something a little more unusual that combines adventure with destruction.
Heck, even if you don't love tanks, muster up the courage to go for it. Take it from two sophisticated ladies who never did such a thing before – it was a blast and something that we'll never ever forget.