Electric scooters are a cool novelty. But the newest range of electric scooters are more than just toys. With a sturdier chassis, larger battery pack, and user-friendly levels of practicality, nothing beats an electric scooter in terms of clean and reliable intercity mobility.
However, a word of caution. Electric scooters may look like toys, but there are some with an insatiable appetite for speed. And when it comes to electrical devices with wheels and battery packs, it's unwise to bet on the lowest bidder.
With that being said, cheap doesn't necessarily mean cheerful in the world of electric scooters. But of course, you don't need to spend huge money to enjoy the sensation of riding an electric scooter. And as it turns out, there are those that offer nicer features, longer range, and more powerful motors at an affordable price.
Here are the five of the best electric scooters you can buy today.
Razor Ecosmart Metro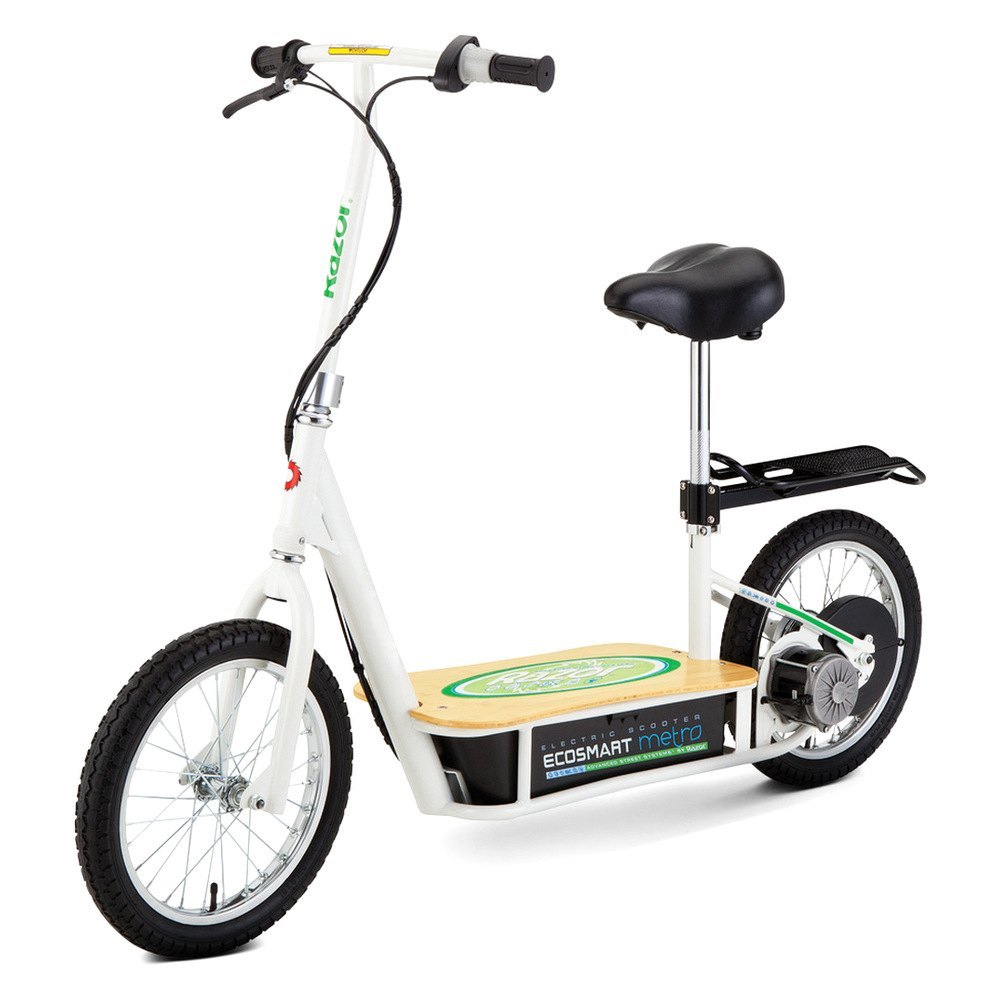 Okay fine, I have to admit the Razor EcoSmart Metro is a bit dorky. But you need to look at it from a different perspective. Where other electric scooters are basically skateboards with handlebars (and two fewer wheels), Razor's EcoSmart Metro is a small bicycle with a 500-watt electric motor.
The EcoSmart Metro is a refined and updated version of the first-gen Razor electric scooter. But still, there are downsides. While the electric motor churns out peppy acceleration, the top speed is limited to 18 mph, and the range is approximately 10 miles per charge. Also, it takes 12 hours to recharge the battery pack.
However, you can rest your feet in the bamboo deck floor as you ride. You also get a removable luggage carrier so you can carry more stuff in your electric scooter. It has a sturdy frame that supports a maximum rider capacity of 220 pounds. Best of all, the Razor EcoSmart Metro starts at approximately $380 to $420.
Glion Dolly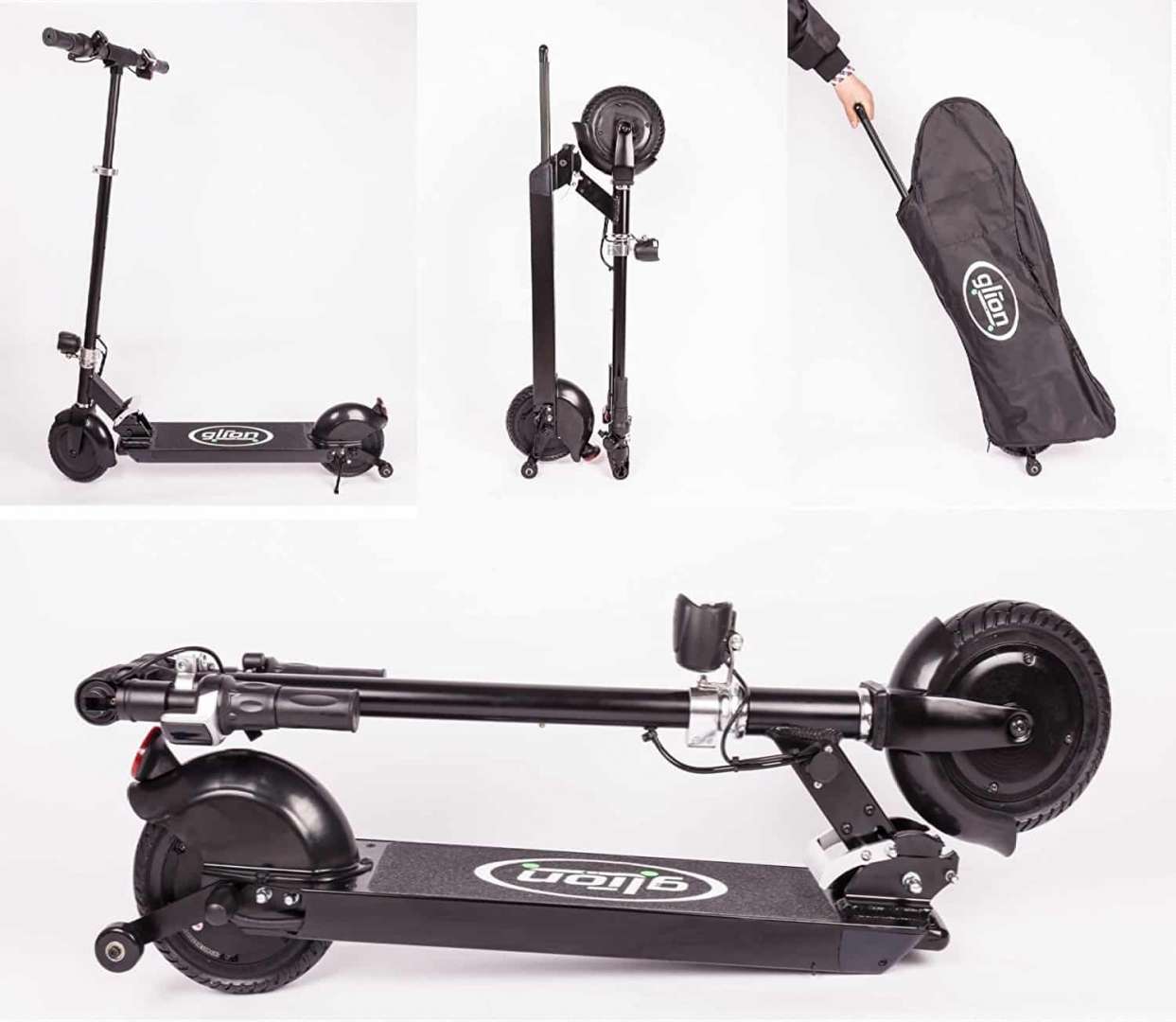 The Glion Dolly is in our list of best electric scooters for one main reason: portability. But of course, there's a catch. Making an electric scooter lighter means having a smaller battery pack and a smaller motor. But still, the Glion Dolly's 250-watt motor is good for a top speed of 15 mph. The maximum range is 15 miles per full charge, but you can replenish the battery pack in around 4 hours.
The Glion Dolly has a lightweight yet sturdy aluminum frame. It only weighs 26 pounds and comes with a handle extension. When you're done, fold the scooter, extend the handle, and pull the scooter like wheeled luggage.
However, the Glion Dolly is a bit pricey at $599 but you get a well-built and relatively lightweight scooter with enough power to zip your way around town.
Bird One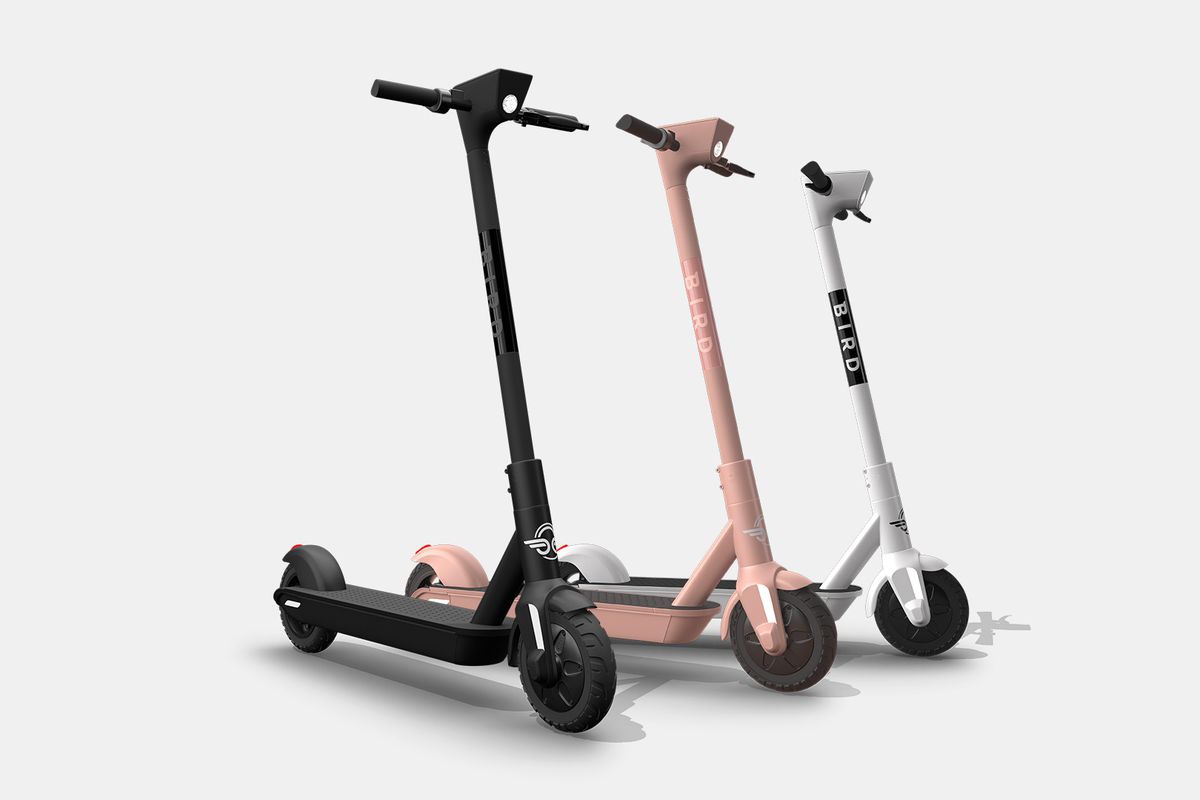 Unlike the first-generation fleet of Bird electric ride-sharing scooters, the Bird One is designed and engineered in the USA. It's technically not available as of this writing, but Bird is accepting pre-orders for the much-anticipated Bird One.
Let's start with the juicy bits. The Bird One costs $1,299. It's probably more than you're planning to spend on an electric scooter, but you do get a load of features for the price. What's more, Bird specifically engineered the One to last longer than cheaper and conventional electric scooters.
It starts with an aluminum frame. But in order to improve rigidity, the frame is reinforced with steel bits in the load bearing areas of the frame. With this construction, Bird ensures maximum durability over the life of the scooter. Bird is offering a 1-year warranty on the One, which is a nice thing to have in an electric scooter.
But there's more. The Bird One has a maximum range of 30 miles and a top speed of 18 mph. It comes with a GPS-enabled anti-theft system along with regenerative braking, and rugged yet comfy 9-inch semi-solid pneumatic wheels. It even comes with front and rear LED lights, Bluetooth and cellular connectivity, and over-the-air updates courtesy of the Bird App for iOS and Android.
The Bird One is a perfect example of a new-age electric scooter. You can pre-order the Bird One with a $149 refundable deposit. It's available in jet black, dove white, and electric rose.
FluidFreeRide Mercane WideWheel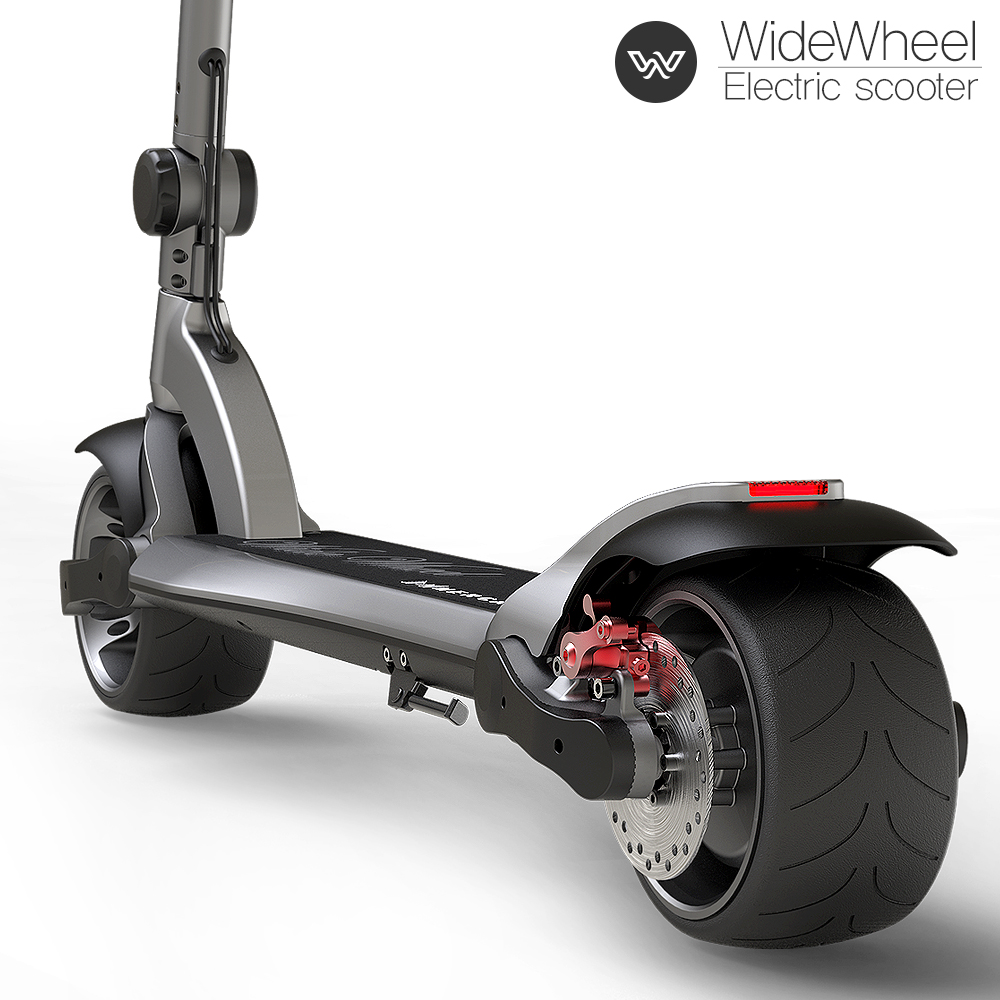 For the same amount of money as the Bird One, you can have the Mercane WideWheel. It starts at $1,199 but you get a significantly more powerful electric motor that churns 1 kW of continuous power. The peak power output is around 2 kW. This means the power to climb heels or steep gradients that leaves lesser-powered scooters gasping for breath.
The Mercane WideWheel is good for a top speed of 25 mph, but it ships with a lower top speed of 15 mph and around 20 miles of range. Unlocking the 25 mph top speed requires a series of button presses like launching a missile from a fighter jet. But when you do, the WideWheel's powerful motor can spin the rear wheel under hard acceleration.
But what really makes the WideWheel special is the full suspension system. With more than enough power to climb hills, the wider wheels, front and rear disc brakes, and suspension system allows the WideWheel to travel over rougher and uneven patches of road. And you can do it with more zip than a conventional electric scooter.
And while the WideWheel is a bit hefty at 45 pounds, it comes with folding handlebars for unmatched portability.
Turbowheel Lightning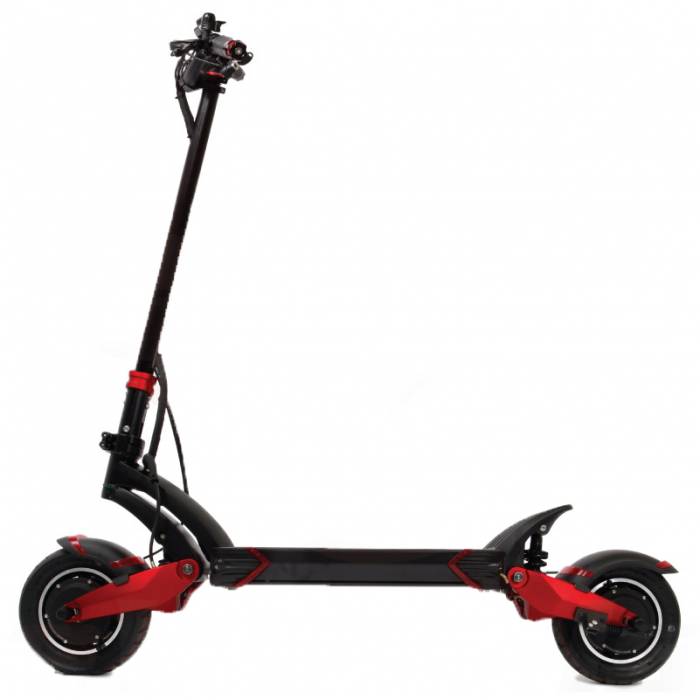 If you're looking for the supercar in the world of electric scooters, look no further than the Turbowheel Lightning. It comes with a boosted electric motor capable of churning out a continuous output of 2 kW with a peak output of 3.6 kW.
You know what this means, right? It means the Lightning can perform smoky burnouts to the delight of your friends, co-workers, and family members. However, this type of raw power is reserved for experienced riders. If it's your first time to own an electric scooter, we suggest the cheaper and low-powered variety over higher-performance scooters.
But it's hard to hold back on speeding if you have the power to do so. The TurboWheel Lightning has a top speed of 40 mph. Again, this doesn't sound much. But aboard an electric scooter, 30 mph feels like 120 mph and is more than enough before self-preservation kicks in. Having a top speed of 40 mph (64 kph) in an electric scooter is a marvelous thing, but only if you know how to make good use of the power.
The larger battery pack allows up to 44 miles of range, but only if you have the willpower to lay off the throttle. With that being said, the range will suffer if you constantly leave a cloud of tire smoke as you accelerate, but there's no doubt the TurboWheel Lightning is huge fun.
This electric scooter is also equipped with a full-suspension system. Ultimately, it boasts the largest travel in any suspension system fitted to an electric scooter. This means you can hit large potholes without breaking a sweat.
Perhaps the only downside to the TurboWheel Lightning is the price. Yes, it's the fastest electric scooter in the market today, and it's got the smoothest and most comfortable ride. But it also costs $1,690.