The fenix 5S Plus is the latest multisport watch out from Garmin and has a premium price tag between $650 and $1100 USD depending on the model, making it among the most expensive they have. Just how wonderful is this wearable wrist piece, and is the cost justified?
The fenix 5S Plus series comes in three different sizes: 42, 47 and 51 mm. Al of the 51 mm options are black and sleek with a slight military look that have the special feature option of 'pulse ox acclimation' that serves the purpose of monitoring oxygen levels at high altitude. The 47 mm comes in a Sapphire, Titanium with Solar Flare Orange Band or all black. While the 42 mm is probably meant for ladies and smaller wrists in all white with either a stainless steel or rose gold bezel and scratch resistant sapphire lens.
As an adventure enthusiast and specialist who lives the better part of my life outdoors doing all things hiking, mountain running, climbing and camping … a solid watch is just as important as any other piece of outdoor equipment or tool. I've owned nothing but Garmin since the days of GPS sports watches, having started out with the least expensive model, the Garmin Forerunner 220 in my dear youth and over time, worked my way and wallet up to the Garmin 735xt model – which is a great combination of price, low-weight, bright colors and long battery life, but lacks certain features that I prefer to have at this stage of the game.
First impressions matter
First impressions of this watch from an aesthetic point of view, all other things aside, is that it looks real good. Being a woman, Garmin suggested to send me the white 42 mm Sapphire with Carrera White Band edition for review. I was instantly impressed with its overall design and craftsmanship upon taking it out of the box.
After a month of getting well acquainted with the watch, I will share with you that it is the first sports watch I wear around the clock; I strap this watch on with pride everyday and it's attached to my person through thick and thin – daily duties, social gatherings and during all of my running and athletic pursuits. If you're a man, there's a sports watch in the fenix 5S Plus to get excited about as the larger black editions are both smart and sexy looking with the brains to back it up.
Performance index and training modes
Decorative accoutrements aside, let's move along to the guts and, thus, glory of this sweet baby of a timepiece. It's loaded – and this isn't just a figure of speech. Feature rich, the Fenix 5S Plus has everything you could ever want or need in a sports watch – except, perhaps if you're a navy seal.
Designed for all ultimate adventures, hard trainings, it accurately tracks all performance statistics. All the basic features are there and then some … barometric pressure is monitored so as not to be caught off-guard by a surprise storm – barometric change from your trusty wrist mate gives you the advantage. Heart rate technology can be measured on the wrist – eliminating the need to always wear the heart rate belt (although, the belt is the most accurate way to record your heart rate). Built-in navigation sensors include a three-axis compass, gyroscope, and a multi-satellite network for tracking a path through tough and rough terrain. Full-color TOPO mapping helps you stay oriented. There is no touch screen operation though and the Garmin fenix 5S Plus requires full on button pressing to toggle through selections.
I recently traveled to a mountainous and rocky Cycladic island in the Aegean Sea for a 30 kilometer trail race. Only a couple hundred people participated and though my Greek is descent, when trucking along at race pace my comprehension of the language lowered. An inhabitant of the island was standing along the route as a race volunteer and pointed me in the wrong direction. In what seemed like moments later I looked up to realize I was off course – not a person in sight – just few horses frolicking in nearby fields. Fortunately, I had downloaded the course GPX file and followed the arrow on the topo map screen ensuring a safe return to the course. The TOPO maps are incredibly useful and can be a lifesaver if your lost in the mountains or forest somewhere – the feature didn't exactly save my life, but it did save my stomach as I made it back to the port in time for dinner.
Another feature I have come to rely on is the altimeter. In mountain races with total ascent, for example, it's important to know your elevation profile. All the previous Garmin watches I had could never tell me where I was, and, thus I had no idea how hard to push. There are numerous advanced performance metrics: physiological, running dynamics, training status and load. This iteration of the watch has a long list of activities not on previous models. Modes include trail running, hiking, climbing, mountain biking, open water swimming, triathlon, ski, snowboard, xc ski, sup, row, golf, kayak, strength training, yoga, jumpmaster (for parachuting), and tactical – this thing is a monster!
Simplify your life with music and contactless pay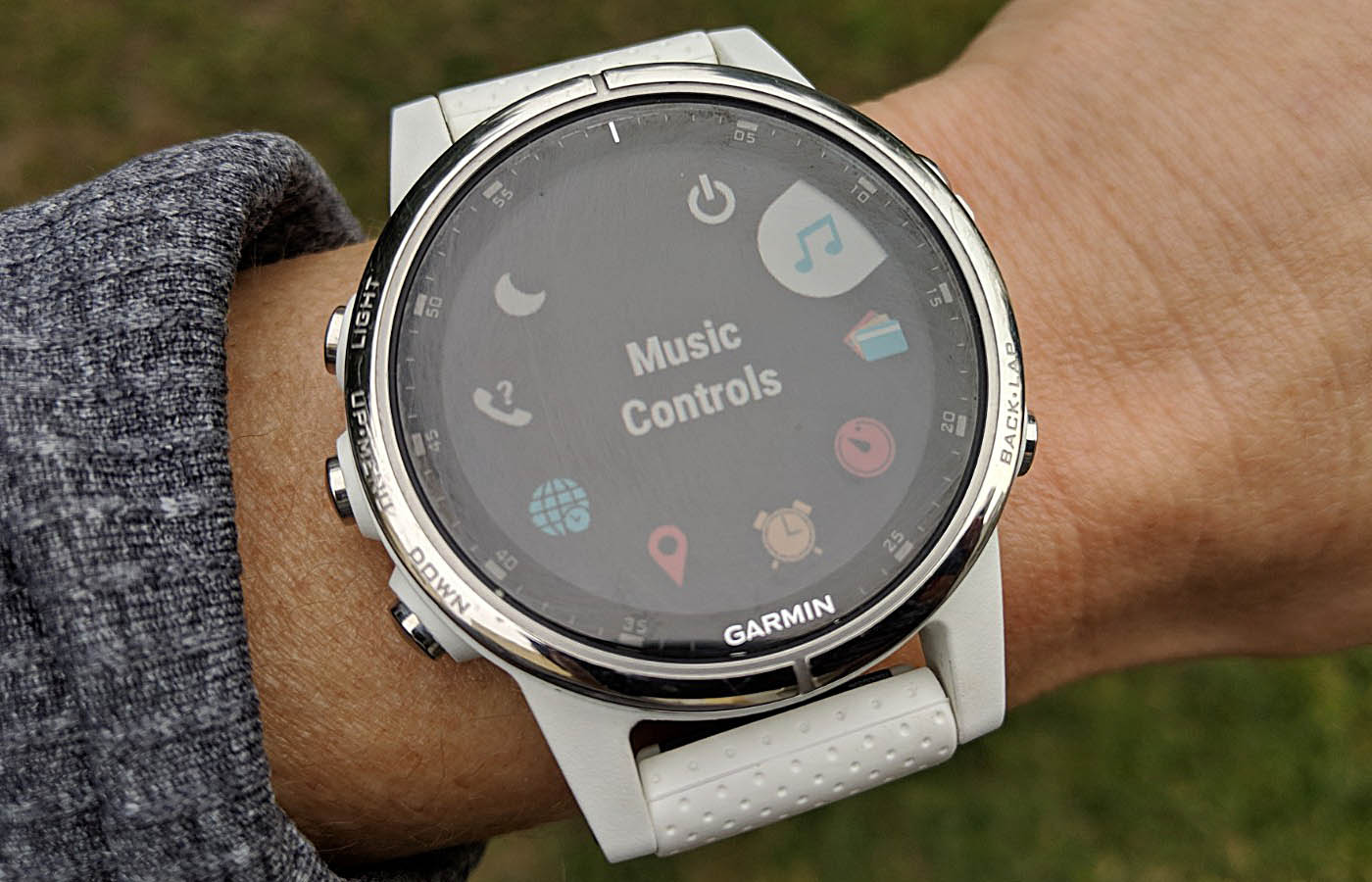 The Garmin Fenix 5S Plus simplifies your life. You no longer have to carry pocket cash or stash a credit card in your spandex with the new Garmin Pay contactless payment solution. Just swipe your wrist to pay. The watch connects to your smartphone for messages and is fully customizable with dozens of creative and cool watch faces that you determine down to the second hand detail of style and color. QuickFit bands are available depending on your style and mood.
The music feature is one of the things I enjoy most about the Garmin Fenix 5S Plus. Easily add playlists to the watch through apple itunes playlists or download the Spotify app. Garmin has made strategic relationships with sport earbud manufacturers like Aftershokz, Jaybird Sport, Plantronics, and Skullcandy. So you can sync the watch with a pair of wireless headphones for a true freedom-like experience.
Most of the time, the music experience is great, but, it's also one of the only areas where I've encountered problems … as a fan of the Jaybird Sport Tarah pro I was psyched to see they should pair perfectly with the Garmin fenix 5S Plus. The Tarah Pro pairing component sits behind your right ear and I wear watches on my left wrist. Unfortunately, maybe because of my head or body, the connectivity becomes an issue and is not flawlessly maintained – instead the music cuts in and out. The companies should work together more closely to co-engineer products ensuring a perfect music experience – a very important aspect for most people. As it's one of the true joys of this watch.
Besides the wireless headphone pairing issue encountered, the watch would be damn near perfect if only battery performance on the Fenix 5S Plus were better. According to the Garmin website, the watch has 7 days in smartwatch mode and 4 hours in GPS mode with music, or thereabouts.
As stated before, I took the fenix 5S Plus with me specifically to test it in the trail race on Naxos island which I estimated would take around 3 hours and 30 minutes including a total of 1400 meters positive altitude. A nightmare scenario would be if the battery died mid-race and progress could no longer be tracked. I noticed in the shorter training runs in the weeks leading up to the race the battery quickly drained while music was on.
The day before the race I performed a simulation. With everything charged fully and GPS tracking turned on and music playing at 40% volume level. I let the watch run while sightseeing the main town of the island. After exactly four hours, the watch goes into a critically low mode and auto saves the data before shutting off.
The 5S Plus is water resistant up to 10 ATM and is perfect for swimming or snorkeling – but probably not wise to dive with it since it's not a true dive watch. In multisport mode, I dove bravely into cold April waters of the Aegean Sea and the watch came out functioning just fine.
Wrap up – overall performance rating 8.8/10 stars
In sum, Garmin has done an impressive job delivering a stylish product with awesome multipurpose. Utilitarian to the max, the watch can serve all of us well in one way or another, but especially athletes and outdoors men and women. You will need discipline though this watch needs fairly frequent charging (and if you're using the music feature) – unlike the newer apple watch that uses body heat to charge. But all the other watches out there can't touch the specialty performance of this Garmin device.
If looking only for a monetary investment, then pour your money into a Rolex. If you're a novice athlete then go with a less expensive model in the Garmin line. If you're an advance athlete or performance watch enthusiasts the Garmin fenix 5S Plus delivers serious data, performance, health, safety and offers refined styling.