Thirty million tourists flocked to Greece and her bedazzling array of islands last year. Many visitors travel to the country with a standard itinerary that tours Athens and the Acropolis before heading with a ferry or airplane to one of the bedazzling islands.
Greece is an island nation with 1000 to 6000 islands. Impressive numbers to say the least. The mainland has almost 10,000 miles of coastline and ranks Greece the largest coastline in the Mediterranean and overall, eleventh in the world. Not all of the islands are inhabited, there are over 200 islands with a population that one can visit. So choosing an island for your holiday can be daunting with choice.
I have lived in Greece for over four years, speak the language, and am fortunate enough to say that my group of Greek friends are an 'elite' coalition of athletes and adventurers. The long story short is that my knowledge of the country is rich and detailed and we can drum up ideas that go beyond what guide books can offer.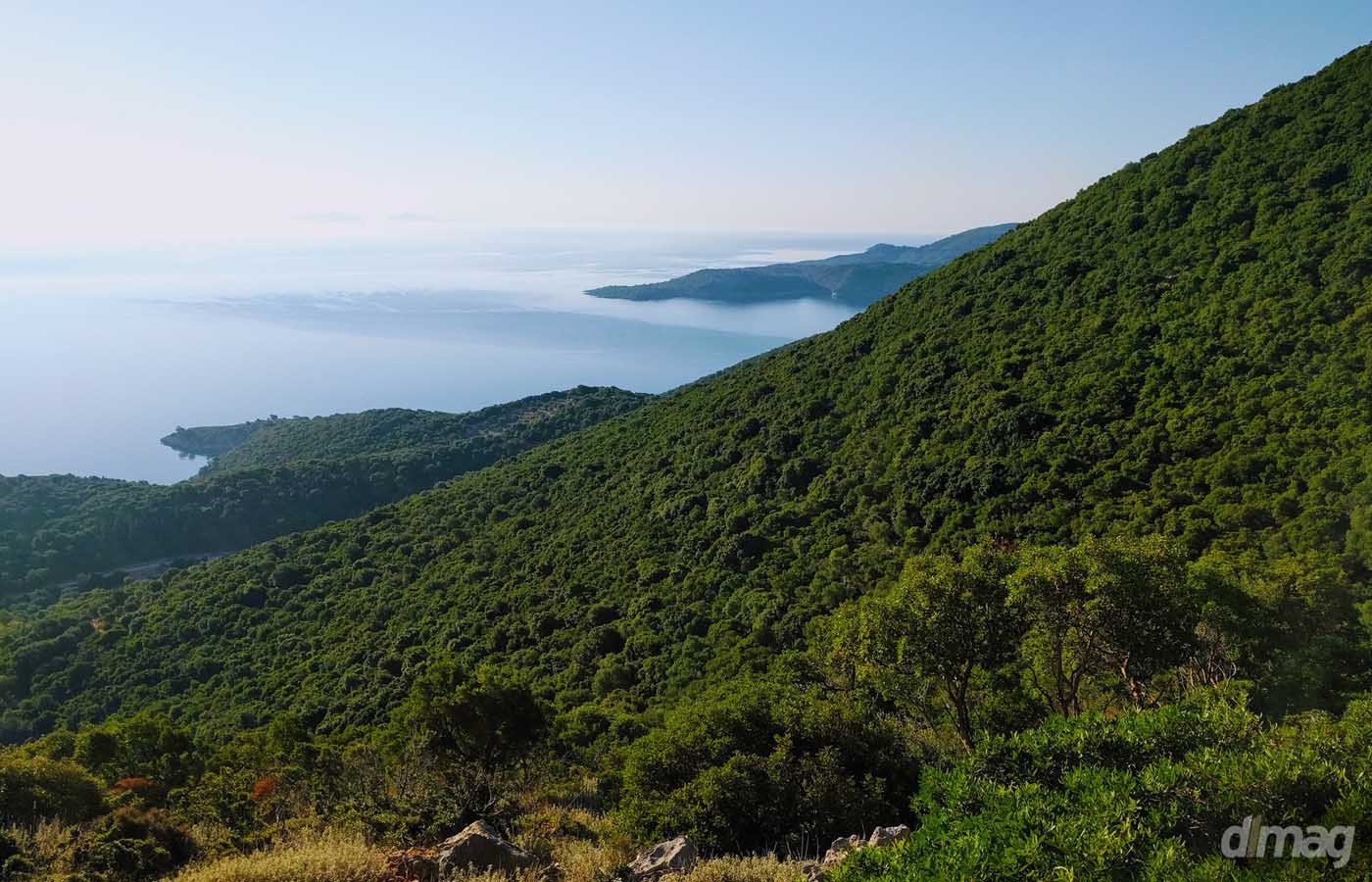 This all being said, you can tour Greece like everyone else in the world, or you can choose a more creative and interesting path. Recently, I decided take a sea kayak tour of a Greek Island. The following six day itinerary includes a mix of camping and hotels, and always includes fine dining.
Many Greek islands are small and can be sea kayaked in a few days. But the larger ones require longer. It all comes down to physical size, the pace you'll want to paddle at, and the time of year and winds. Wind in Greece is something that you have to take seriously. A strong headwind can turn an hour of easy paddling into a five hour ordeal – it happened to me before. It's no biggie, but going at a speed of 30 feet an hour can get quickly frustrating.
You also need to look at where it's possible to camp, stay, eat, and get water and provisions. You can store water and foodstuff in your kayak and pack your clothes in watertight bags and secure them on the front and back of the boat. But you will need to stock up on water and provisions, if not every other day, possibly every third day.
The Ionian Sea is the large body of water between Greece and Italy. The group of islands on the Western side of Greece are referred to as 'The Ionian Islands'. These islands are very beautiful and covered with trees and foliage due to the greater amount of rainfall they receive. (Cycladic Islands tend to be more arid and rocky). The Ionian Islands are Corfu, Paxos, Lefkada, Kefalonia, Zakynthos, and Ithaca and have Italian influence in the art, architecture, cuisine, and culture.
After narrowing down the choices to a few potential winners, we decide upon the island of Ithaki – legendary home of King Odysseus. If you have not yet read The Odyssey then I highly suggest you do it soon. A tale of epic adventure, it was composed almost three thousand years ago, The Odyssey is considered one of the greatest pieces of literature of all time and recounts the trials of ten years of travel King Odysseus endured after the Trojan war trying to return to his beloved home – Ithaki. This just made it seem all the more fitting to sea kayak the island.
A smaller ferry line called Ionion P. Lines serves the group of Ionian islands from the small town of Astakos (which translates as "lobster"). There are daily departures at 12:15 and and 7 o'clock in the evening, but it's best to double check the schedule for changes. Painting a realistic picture, this is an older and slower ferry boat that harkens the olden days, before mass tourism, of ferry travel within Greece. It's not like the more sleek and modern boats of Blue Star or Superfast Ferries that serve the Central Cycladic and Dodecanese, but it's definitely not without its charm. The fare is an economical whopping €10 per person.
After all of the passengers and cars finished loading, we walk with our two-person sea kayak on board and set the kayak down at the door. The two hour ferry ride makes one stop first on the eastern side of Lefkada – the town where they filmed "Captain Corelli's Mandolin" in fact – before arriving in Ithaki.
Because I've visited so many of the Greek islands, I consider myself somewhat of an expert, discerning critic and travel snob when it comes to the islands – with high expectations. Ithaki turns out to be an emerald jewel in the collection of islands with amazing history, nature, food and people.
When the ferry made port, we were the first people off of the boat walking with our bright yellow sea craft to the waters' edge. It was heavy with our supplies. You don't need to bring your own sea kayak, you can arrange with one of the islands outdoor shops, such as Odyssey Outdoor Activities, to meet you at the port with a kayak. Within a half hour, we were in our boat and set off for our grand sea kayak tour of the island.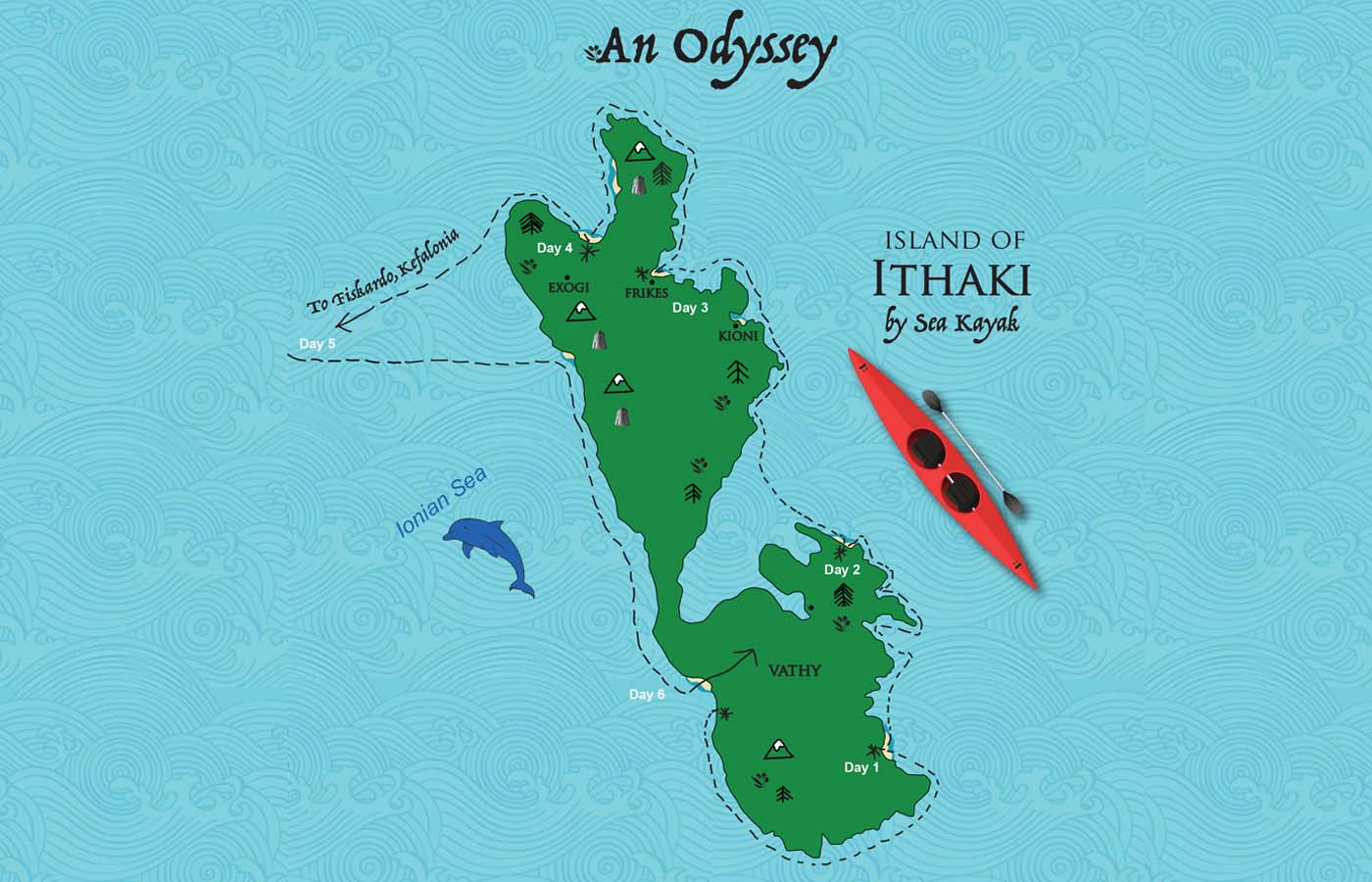 To give you an overview of this handcrafted itinerary, the trip was designed to be a week long at leisurely pace and going in a counter clockwise direction around the island. This helped when we headed south along the windward side of the island. The extended itinerary also ensured shorter days of paddling with plenty of time to enjoy the gorgeous beaches, swimming, hiking and trail running – the island has a unique shape that undulates in a sultry way. It is also crisscrossed with amazing walking paths that affords stunning views. Of course the trip can be expanded or condensed based on your desire and stamina.
Day 1
Kayak around the southern tip of the island for about 3 hours and set up camp on one of the small beach located on the Southeast side near Talaros. Get ready to enjoy solitude, quiet and a night sky full of stars for your first night on island. During the high season, you may get a number of sailboats that moored in the bay for the night.
Day 2
Get up early for about 3 hours of kayaking north up the East coast. Make sure to stop and enjoy the beautiful beach of Sarakiniko and stop somewhere after Filiatro for the night. Set up camp again at one of the isolated beaches in this area. Make some tea with an MSR camp stove or Jetboil and dine fashionably out of tins.
Day 3
Get up early and take walk or run the fantastic footpath from here that winds through a low pine forest to the other side of the peninsula and into the protected bay area of Vathi, the main port of the island. The views can't be beat. Enjoy the amazing Gidaki beach and its vast expanse of narrow beach and take a snack at the beach bar and café.
Day 4
This will be your biggest day of paddling, about 4 hours total, and will take you past some of the most darling and quaint towns on the island. Try to time it so that you stop in the darling seaside village of Kioni for lunch of mouth-watering grilled sardines and a glass of an crisp white wine in one of the traditional tavernas. Kioni is cute and colorful and makes for picture perfect memories and photography. You can choose to stay here for the night if you wish, or continue to Frikes for the night. Either place you choose, book a room for the night in one of the nice small hotels or rooms to let. We left our kayak on the beach at night and never had a problem with theft. Frikes is my favorite village on the island, it's extremely well maintained, relaxed and also has some of the island's best restaurants that offer upscale cuisine like Ageri Restaurant and Rementzo as well as more traditional fish tavernas too.
Day 5
If your keen on staying fit, there is an awesome 10k loop that you can run from here that takes you through some breathtaking scenery and up to the island's iconic windmill. This was one of my favorite days of kayaking. Expect this section of the trip to take about 4 hours. You'll go past caves, impressive pebble beaches that look Jurasic and waters so warm and neon that you cannot resist to jump in. Set up camp for the night at Afales beach and take the path up the hill and into town for dinner. Enjoy great cocktails and dining at Yefyri Restaurant.
Day 6
You have the option to continue back to the starting point of your trip today, or you can island hop. 2 hours of paddling across the small straight to spend one night in Fiskardo, Kefalonia. A pretty town with pastel colors fit for a painting, luxury yachts and sailboats in port, this will be a jet set night. Stay in one of the myriad of hotels that range from budget to luxury and enjoy a night of great seafood, followed by gelato and a café in one of the fashionable seaside cafes.
Day 7
Rise and shine with a small hike or set sail in your craft. It will take you about 4 hours to get back to the port of call, Aetos Harbor where you can take a taxi to the main town of Vathi for the night, or the return ferry back to the mainland.
I promise that you'll feel refreshed and right as rain after this week long relaxing trip. The the strong sun, your body will be churning out high levels of vitamin D, so don't forget to pack some protective gear, like a hat, sunglasses, a UV shirt and sunscreen. Happy kayaking and please ask if you have any questions!