Imagine you're planning a ski trip but decided to pass over that logo down jacket in favor of a basic windcheater that only set you back a couple of bucks. Cut to the ski D-Day and you're suddenly shivering in your thin jacket and socks.
Now you wish you'd bought that well-crafted down jacket. We hear you.
There's really nothing better than a well-crafted down jacket– except, maybe, a luxury down jacket. Whether for casual use, tearing down ski slopes or going cross-country hiking, a good down jacket is one that keeps you warm without weighing you down.
What else does a good down jacket entail?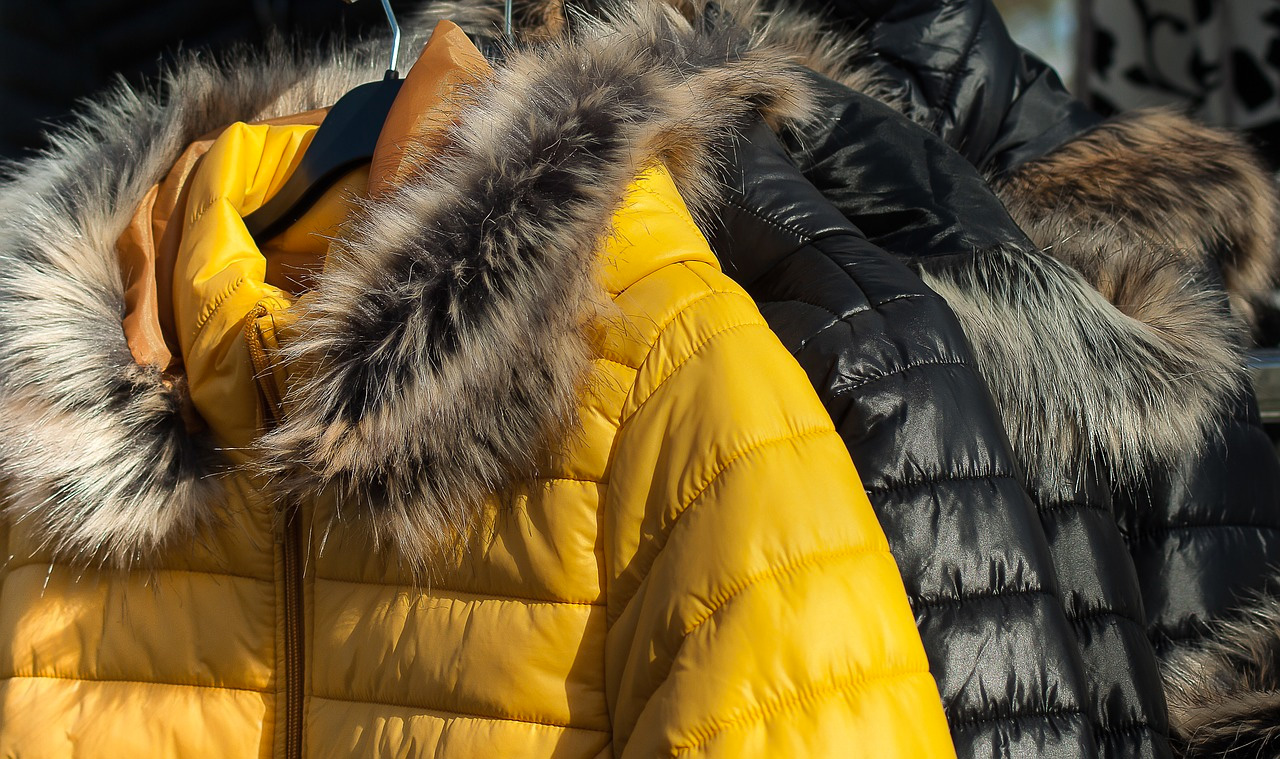 Easy stowage: A good down jacket is one that's easily storable when not in use and just as easily thrown on when the winds get rough.
Lightweight: The ideal down jacket is one that keeps you warm enough without hampering mobility or looking like you have 5 different layers of clothing on.
Choice of style: You shouldn't have to pick and choose between benefits– the ideal down jacket is one that's in the style you like and the color you love while being equally adept at keeping you warm and toasty.
Well-made: Neat stitches, tamper-proof and authentic material are some boxes the 'perfect' down jacket needs to tick to earn that title.
Soft down: The quality of the down matters. Goose down in itself has variants, and luxury brands aim to use the best of the bunch to stuff their jackets. You'll find many jackets also contain goose feathers– a necessary evil to enable the jacket to hold shape when on or off.
Insulation: The trick here is to trap heat, rather than cause it. This is why luxury down jackets stress on being lightweight– this technology allows the jacket to trap heat from your body while preventing it from escaping to the cold outdoors (thermodynamics, anyone?).
Warmth-to-weight ratio: Down ranks high on the warmth-to-weight ratio list, meaning it can keep you warm without having to be too heavy, over-stuffed or weighty.
Compression: The ideal down jacket responds well to compression in that it doesn't lose shape or cause the down to form clumps that need beating to spread out evenly again.
Layering: Ideally, down jackets can be layered over or underneath other outerwear without weighing your body down. This is perfect for harsh or unpredictable weather conditions.
As the winters of 2019 approach, here's a rundown of the best down jackets from the world's most renowned luxury brands:
AW Down Jacket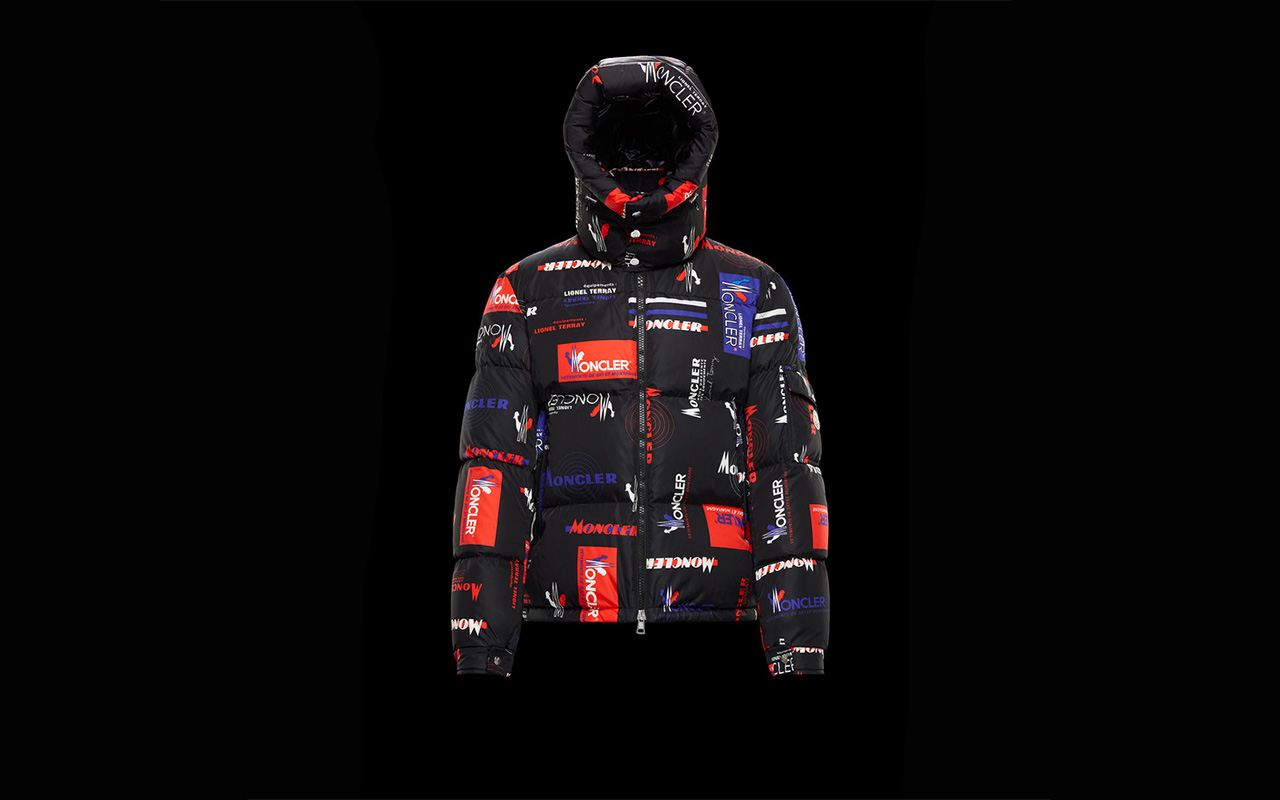 Brand: Moncler
Moncler began by making tents and sleeping bags but steadily forayed into the quilted jacket market and hasn't looked back. Although their offerings have extended to parkas, coats, knitwear and the like, they're still ever-popular for their jackets– so top-notch that the Italian expedition to Mount K2 and the French Makalu expedition donned them.
Moncler uses high-quality goose feathers– known for their insulating capabilities– in their down jackets. It also offers fur trims said to be made from the fur of coyotes, which once again warrants the luxury price tag. The combination of insulation and weather-protection makes the Moncler down jacket a favorite amongst the style-conscious and the hardcore trekkers alike.
Lightweight Down Jacket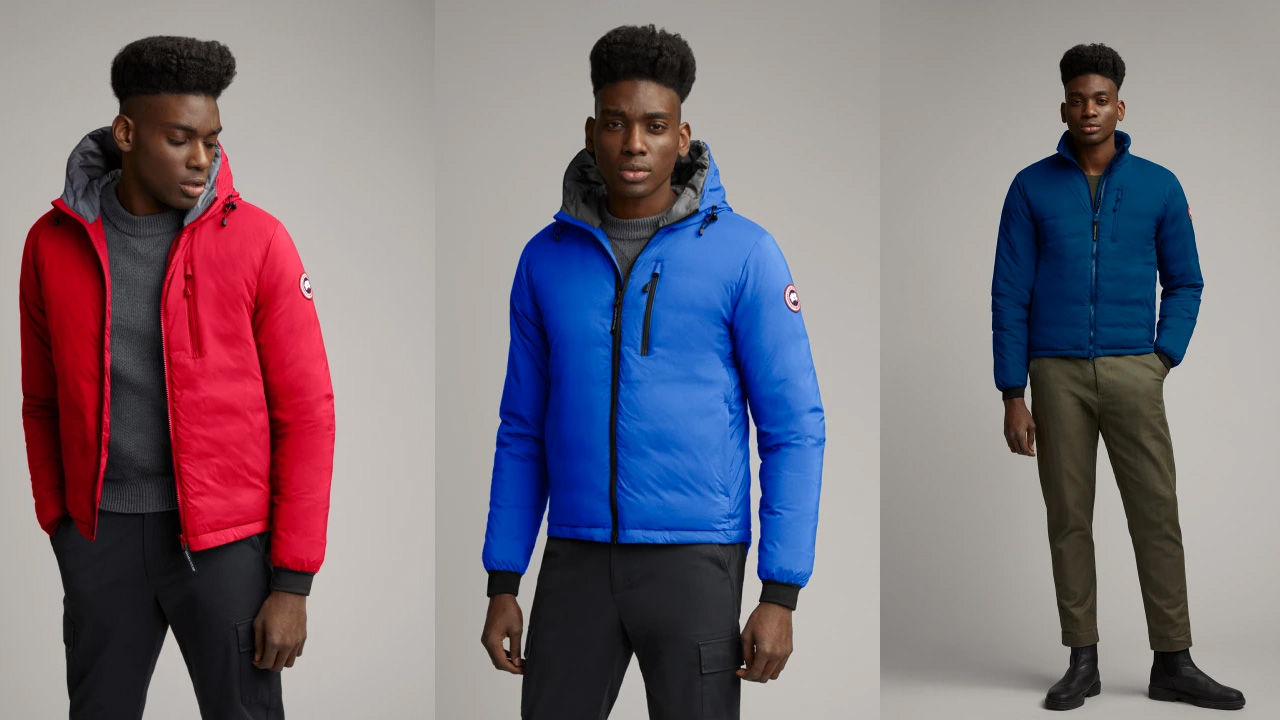 Brand: Canada Goose
As far as extreme weather gear goes, Canada Goose is on the top of the list for many. Far beyond the average puffer jacket, their lightweight down jacket packs warmth without adding bulk to the body. Their USP is that they're lightweight, making them a must-have for backpackers and hikers with minimum loads to carry. In offering these features, the brand doesn't compromise on style– the down jackets come in a variety of colors, fits, and styles to rival your favorite clothing brand.
They're ideal for taking on travel as they're packable and light enough to avoid adding extra weight to your kit. If you're venturing into unpredictable weather conditions, then the Canada Goose down jacket is ideal to layer underneath a raincoat or a windbreaker.
Tip: Both Moncler and Canada Goose are considered rivals in the luxury down jacket arena and have pretty similar offerings, so be prepared to be of two minds!
High-end Down Jacket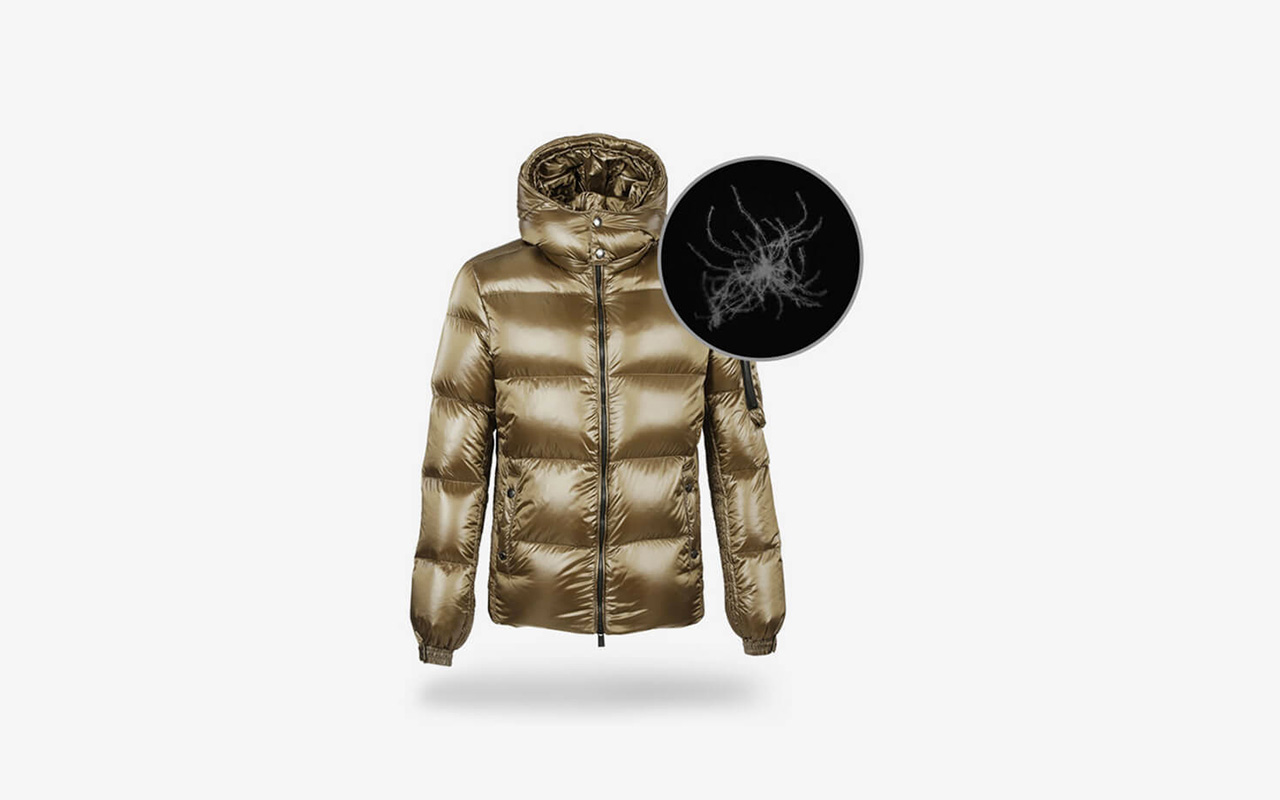 Brand: TATRAS
With stores in Asia and Europe, TATRAS is an up-and-coming outerwear brand that marries Italian craft and Japanese design. They're most known for the use of what is considered the best goose down available in the market today– Polish goose down. The 90% down stuffing guarantees volume and lightness without compromising on warmth or mobility. The 10% consists of goose feathers, which promise elasticity and hold shape.
The resulting down jacket is high-performance and functional while looking elegant. The brand offers a range of textures and colors running the gamut from an austere grey to a flashy red.
Nylon Down Jacket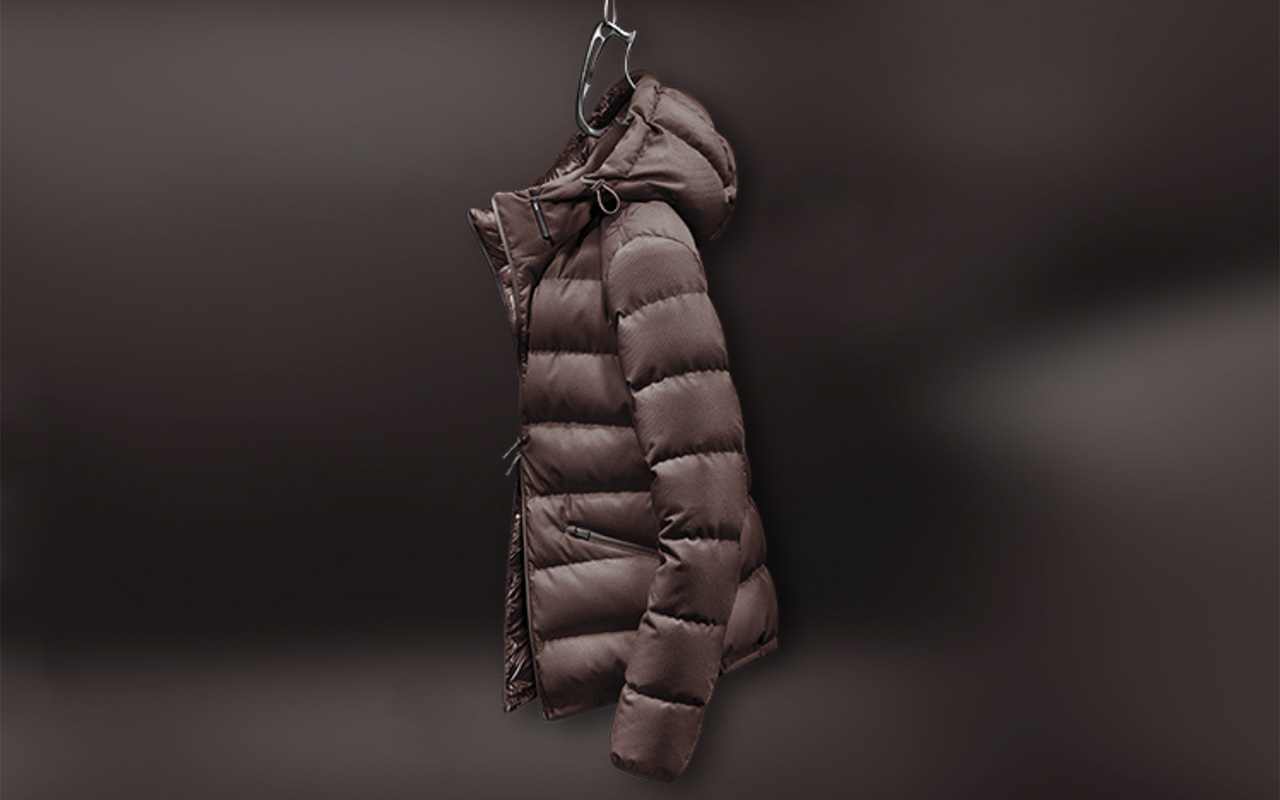 Brand: Herno
Featuring a lightweight exterior made of laminated nylon and displaying a honeycomb structure, Herno's down jackets are ready to take on any wild weather situation. The outer fabric is both water-resistant and wind-proof without weighing down on the body.
Across collections, adjustable drawstrings keep the jacket close to the body to store warmth, while the adjustable hood is pulled up or down. Utilitarian accents, including two-way zippers and handy pockets, warrant wearing this on the streets and in the wild.
Quilted Puffer Down Jacket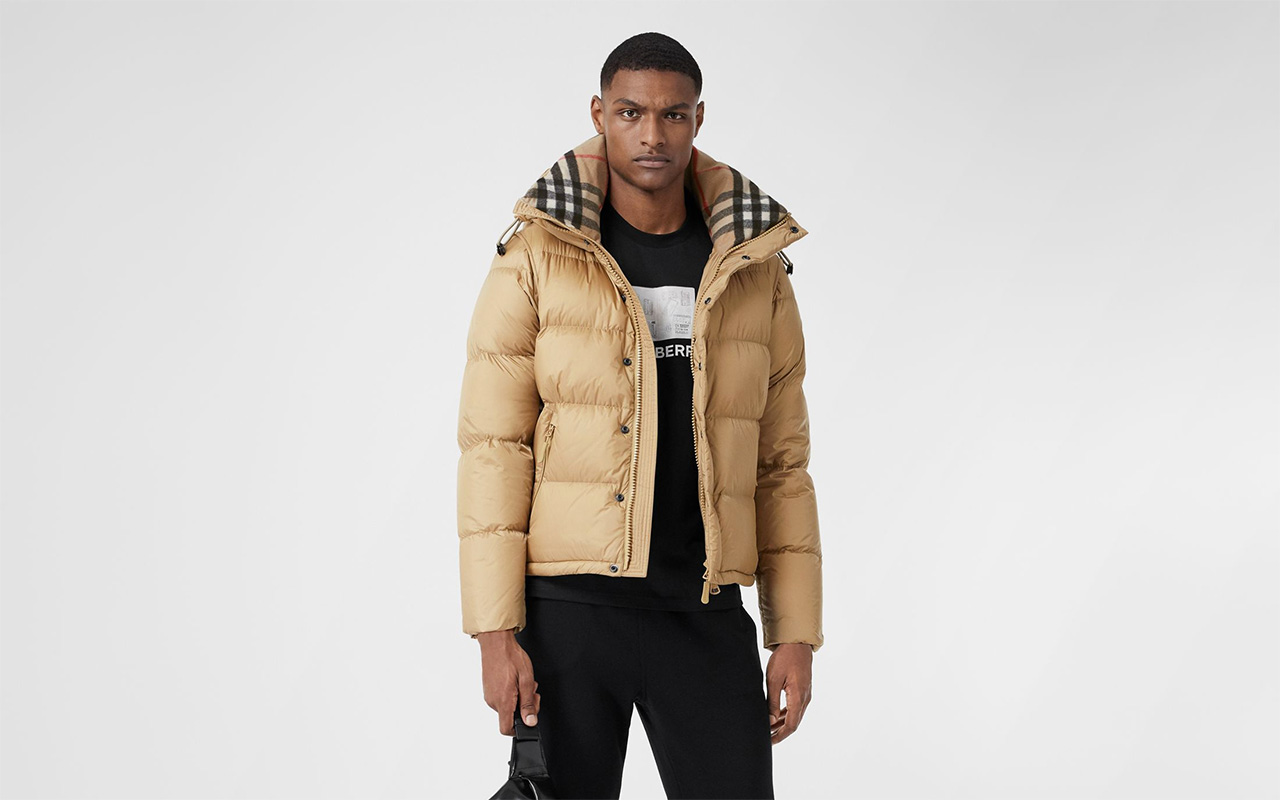 Brand: Burberry
It's hard not to notice the iconic Burberry vintage checks– but, for those preferring inconspicuous functionalities, Burberry makes their down jackets in a plethora of colors to suit your tastes. Crafted by the legendary designer Riccardo Tisci, Burberry down jackets conjoin authentic streetwear silhouettes with all-weather functionality. The jackets are generously padded with ultra-lightweight goose down and feathers.
Depending on the option you choose, the jacket may feature 37.5® thermoregulation technology to maintain ideal body temperatures no matter the external environment. Utilitarian features abound in the Burberry line, ranging from detachable sleeves to varying lengths and a choice of ostentatious or modest Burberry checks and logos.
It's imperative to stay warm (yet dapper) in the winters– this guide to luxury down jackets should sufficiently equip you for a long winter to be spent in style.