Whales and dolphins are some of the most loved creatures in the world. Seeing them firsthand, in the wild, is an awe-inspiring, almost spiritual experience. Dl recently went with a small outfitter based on Vancouver Island for a memorable expedition to observe these intelligent, playful, and majestic animals in a natural oceanic habitat off the coast of beautiful British Columbia.
A day at sea on a comfortable zodiac raft
Campbell River Whale Watching Adventure Tours offers whale watching tours. An early arrival at the boat house and main office of the Campbell River Whale Watching Tours, a chipper and smiling employee checks you in. After signing a waiver, you're handed a big red puffy suit that is a floatation device and like wearing a warm down comforter to boot. It's mid-July and the middle of summer, but the weather is still cool up here in these parts – especially when you're out on the water.
A small group has gathered consisting of people from around the world – all of whom have come to see the great humpbacks and killer whales for themselves and from close proximity. Ever hopeful of capturing an elusive and coveted shot of a whale breaching its body from the surface of the ocean. Before boarding the craft, the group sits together for a safety briefing and synopsis of the itinerary.
Shay, our affable guide for the day, is a local that knows the islands and the waters of the Salish Sea and Discovery Passage like the back of his hand. Not only is Shay extremely knowledgeable about the area, he's familiar with the wildlife that calls these straights and sounds, home.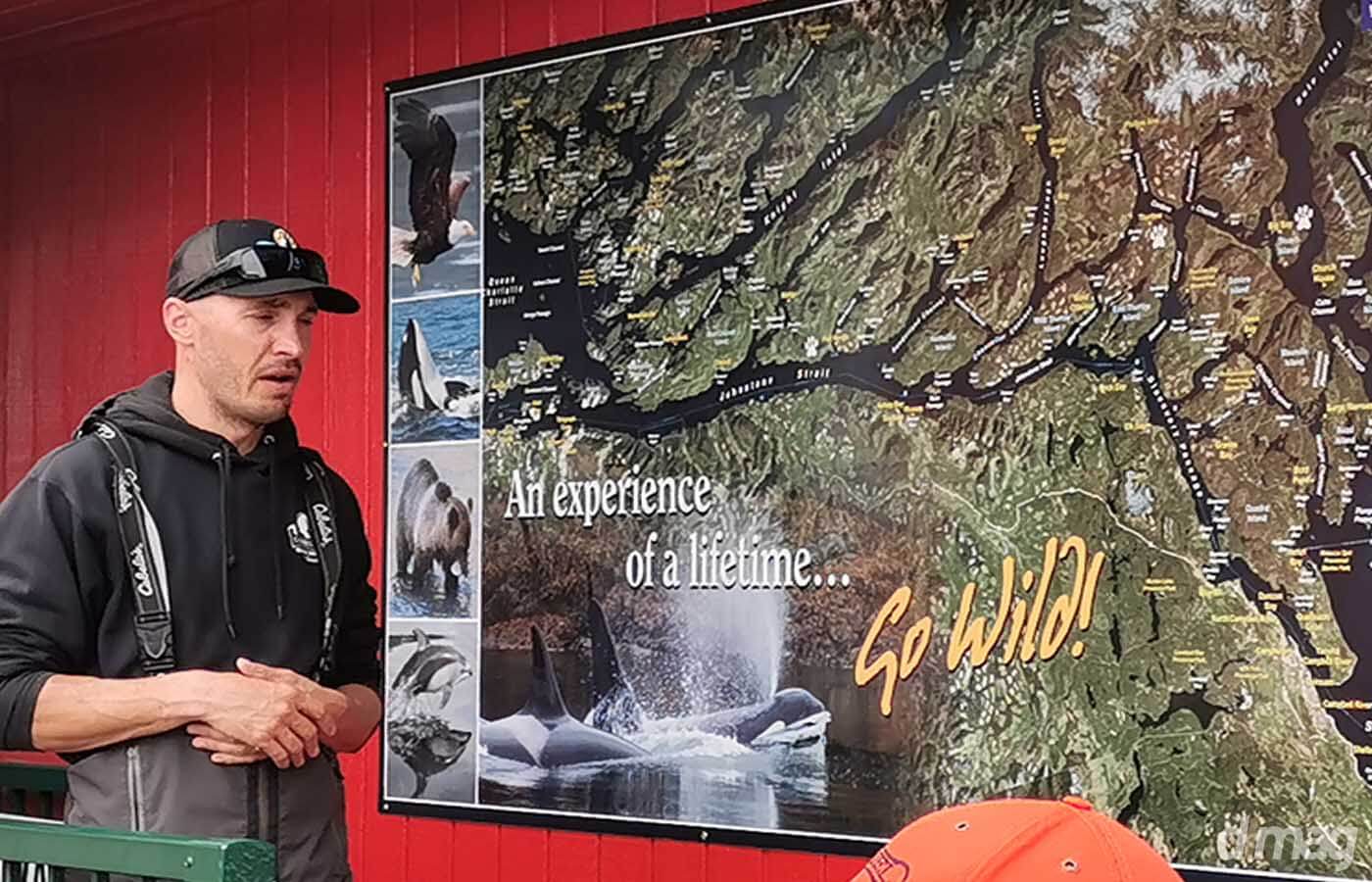 Campbell River Whale Watching tours has been in operation for the last six years and comes with excellent reviews. They have a fleet of high-powered rafts with impressively quiet Yamaha motors, that make them equivalent to Cadillacs of the zodiac world. These rafts pretty much guarantee you a smooth ride through calm or choppy waters and ensure safe passage through some of the strongest currents in the world – including potentially deadly whirlpools up to 30 feet in diameter.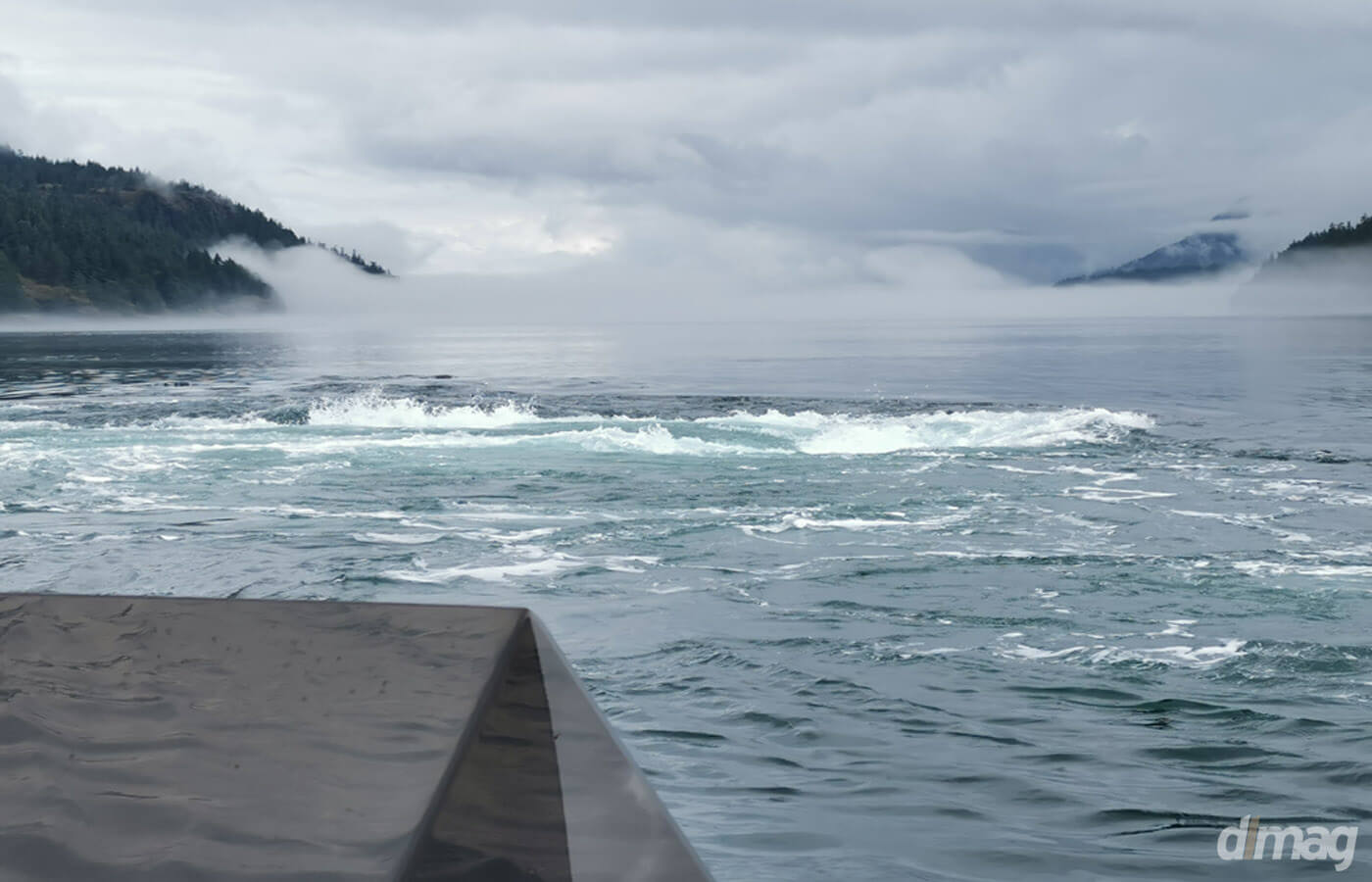 The company offers different options, including a half-day tour whale watching tour (lasting approximately four hours), or a full-day whale watching tour (that runs up to seven or eight hours).
Eight hours may seem like a long time to be out on the water (don't worry there's a latrine onboard), but it's highly recommended to go with the longer option as there's more opportunity to see a larger variety of animals. Remember, this isn't a zoo, and it takes some time and crisscrossing of the area to find and follow the whales as they move. The other thing to mention is that each of the whale watching guides heads out in a different direction at the start of the day. They work in tandem and alert each other via an onboard radio network when animals are spotted: this group coordination and effort helps to maximize the sightings for tourists and, thus, the increases the value of the tour and day.
The morning starts out calm and on placid waters, with lots of fog and a few storm clouds. The boat goes under a rain shower or two, and through some dense mist at time – but there's nothing to worry about with the radar and GPS technology onboard. The sun comes out and burns off the remainder of clouds, and the sky clears up.
Dolphins, sea lions, and whales, oh my!
Within the first hour on the water we run into dozens of Pacific White-Sided Dolphins at play. Their backs and fins break the calm of the surface waters. They race around us in dolphin droves and dive under the boat for fun, leaping with aerial acrobatics – who knows whether they were showing off their skills or just having fun.
As we go, we scan the coastline for feeding Grizzlies and Black bears. This is the time of year they have cubs in tow and are already in the process of putting on weight for the upcoming hibernation during winter months. We spot groups of fat, and seemingly lazy Stellar Sea Lions snorting and growling, and an island that's filled with adult and juvenile Bald Eagles to count. In fact, they sat like Christmas tree ornaments on the branches – all over the island.
Picnic lunch on Stewart Island
A full day of whale watching also includes a picnic-style lunch on Steward Island. We stopped for around 45 minutes to gather our wits and assuage our appetites. The guide unloads a crate of gourmet wraps, coffee and teas, fruit, and nut bars onto the docks. The passengers are more than satisfied with the selection, and the nutrition has bolstered their bodies. Ready and alert, we're ready to get underway for more whale watching.
Whales spotting
While train spotting is overrated (at least the movie) whale watching, on the other hand, is all it's cracked up to be. Word comes in over the radio that a group of Killer Whales have been spotted down the coast and towards Desolation Sound. We race to the straight, taking about 30 minutes to cover. Once there, we're rewarded with a large group of active Orcas. The boat was equipped with a hydrophone (not all of them are), which our guide Shay lowered into the water, affording us sounds of the whales communicating that were so sweet I almost started to cry.

Canada has strict wildlife regulations and boats must legally keep a certain distance from the whales. The idea behind this is that the animals have they're space and that man has minimal influence on their wild behavior. The guides support and strictly follow these rules as they do not want to interfere with the inherent behavior of the animal. There are a few sea kayakers in the water however, that can get close to the gentle giants since a kayak is under man power, not engine.
The day passes quickly and it's time to head back to shore. The trip fortuitously wraps up with a Humpback Whale sighting – maybe a half-dozen of them actually. Our boat shut off the engines and we were floating in the middle of a ring of them. Watching them crest and flip their mighty tails up as they start a deep dive in search of food sends chills up your spine: watching these giant water beasts. Unfortunately, none of them felt inclined to breach out of the water at the time, so that just means I'll have to go back for more at a later date.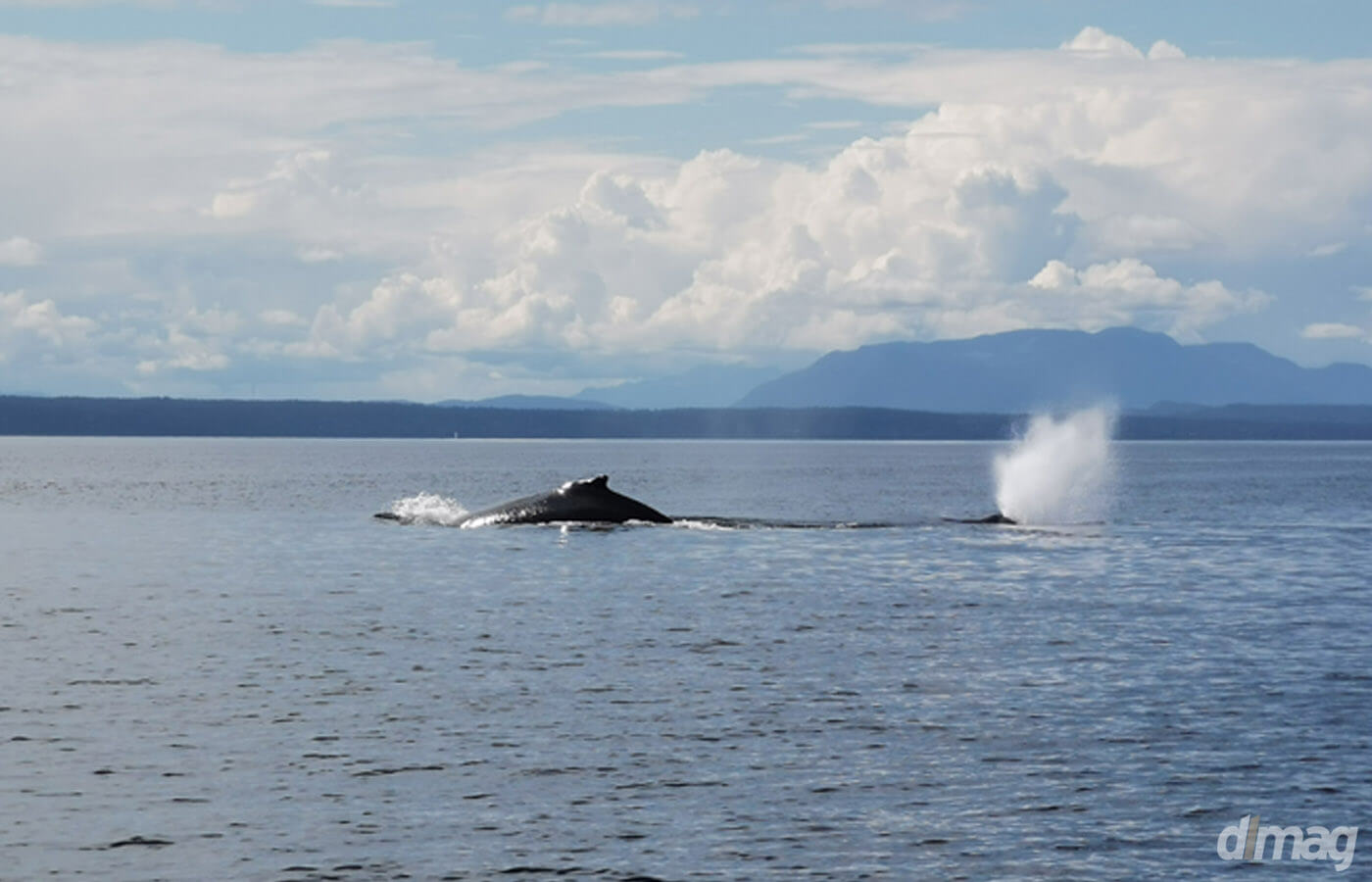 Photographing these animals can be a little tricky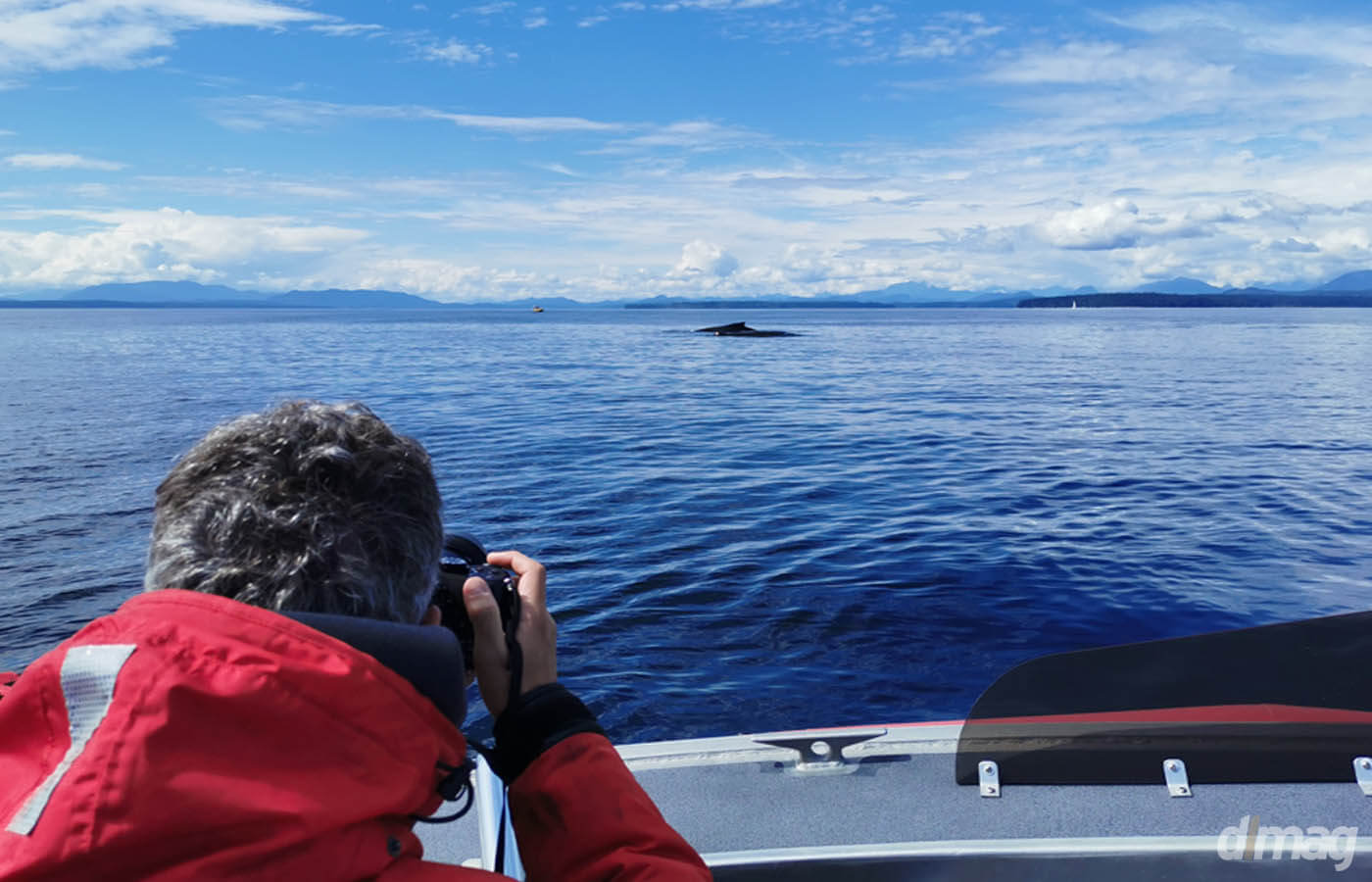 The waters off the northern waters off the North America continent are teeming with sea life and is a fantastic (and relatively accessible) place for whale watching. Going to see them is a worthwhile journey. Be forewarned however that photographing these animals can be a little tricky as they're not inclined to pose for the camera and say cheese – you'll definitely need a quick trigger finger. Take along a little patience and a sense of wonderment and you will leave feeling humbled and in awe.
Choosing the right outfitter
Choosing the right outfitter is important since it affects your experience. I was more than happy with Campbell River Whale Watching Tour. The outfitter offered excellent tours with knowledgable guides, and very nice boats. In general, look for an organization that follows the laws and regulations of the particular area or National park. Also, those with guides who are well-educated on the species you'll be viewing is a bonus and shows authenticity.