Designing a seating arrangement in an aircraft cabin is easier said than done. AirGo Design out of Singapore has recently delivered the first images of a patent-pending design for a business class seating arrangement which purports to be the most space-efficient yet.
The new business class layout features sofa-style seats that convert into flat beds. Along the windows, seats are planned to be side by side and at an angle in order to maximize space and comfort for passengers onboard. The seating arrangement will be good for narrow-body airliners and larger ones as well. AirGo Design has is calling it the "Galaxy cabin configuration" and it appears to be a success. Major airlines around the world are anticipating in installing the design.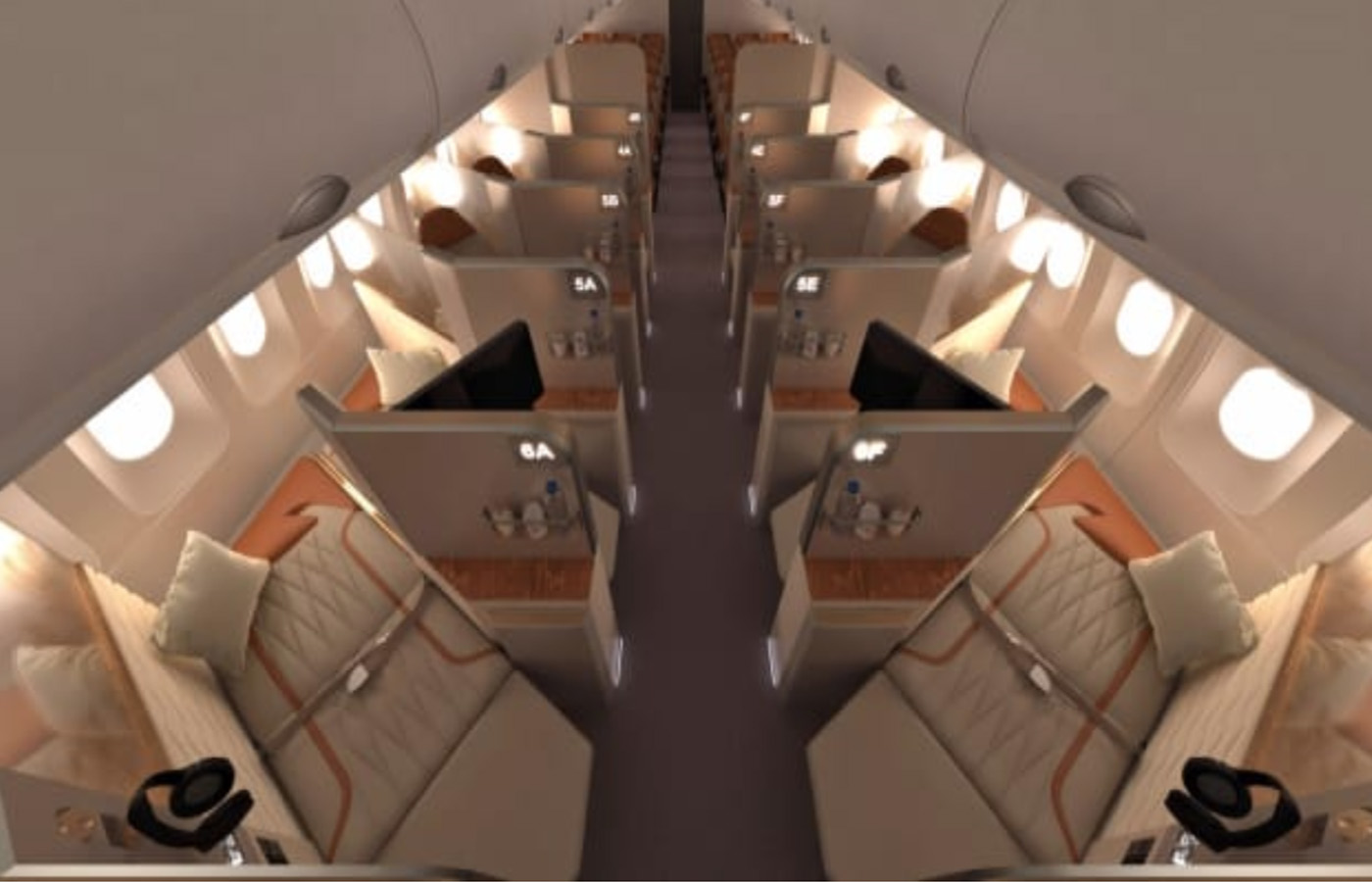 There will be two different types of seats depending on the type and size of aircraft. Larger aircraft can accommodate the sofa-style bed, with smaller ones holding sofa-style seats with foot rests. The goal of the overall plan is to eliminate wasted space. According to the founder and chief technology officer at AirGo "We should have more than one kind of seat, we should be able to fit even more seats, by essentially using the wasted space." The two different seat design is one of the distinguishing points of AirGo's plans. Oh, and there's also a cocktail bar in the works.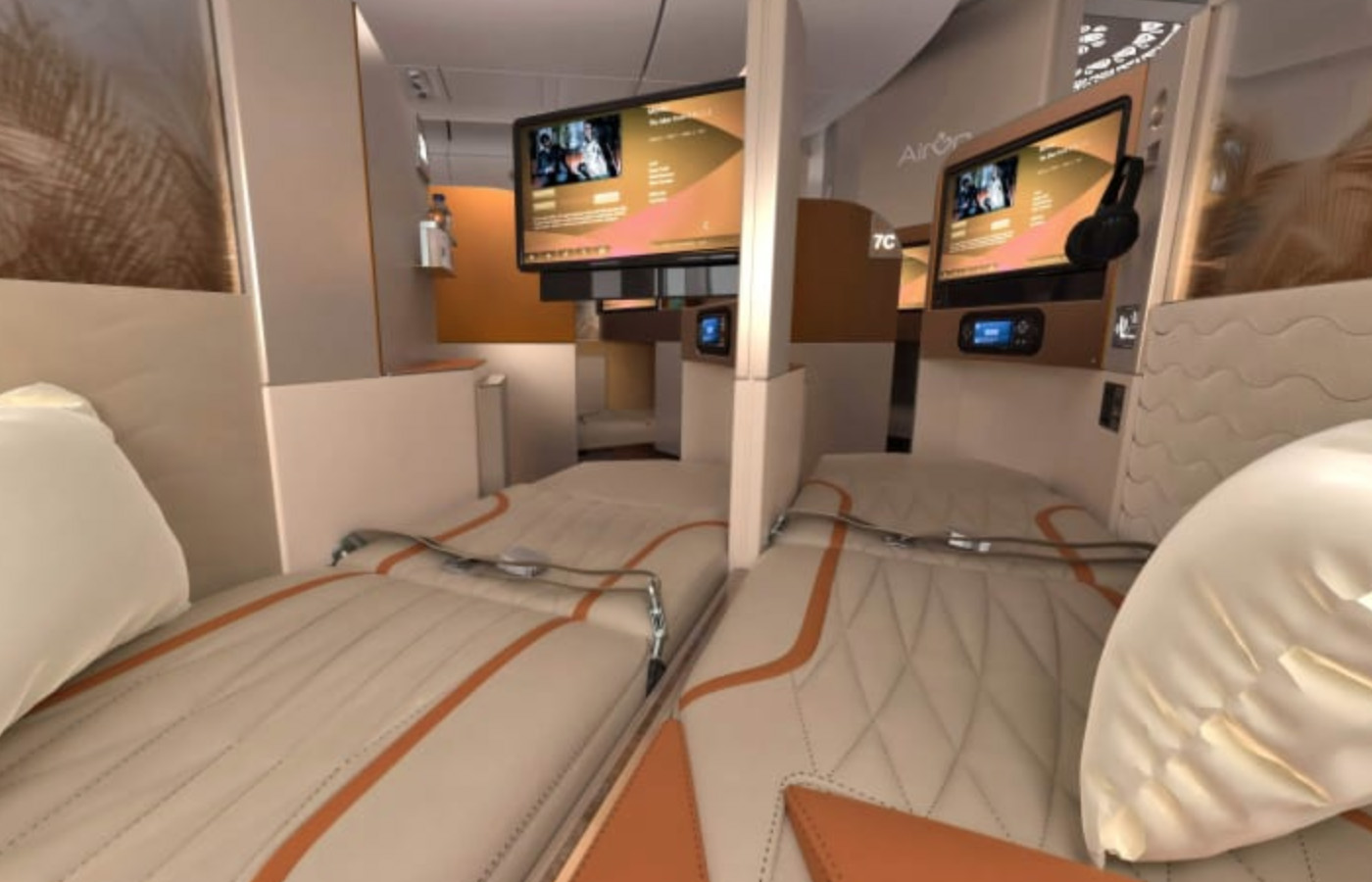 Let's take the Boeing 777 as an example of how the new Galaxy design might look. Galaxy will be organized with 36 seats and also have a cocktail bar. At the moment, sketches of the cocktail bar show a half moon counter with shelves of drinks in the background and flight attendant jump seats on either side of it. This drink bar feature might be placed on the opposite side of the first-row bulkhead up in business class and shares the space with the front galley. This organization will work not only for the Boeing 777, but for the Airbus A330 and Boeing 787 Dreamliner as well.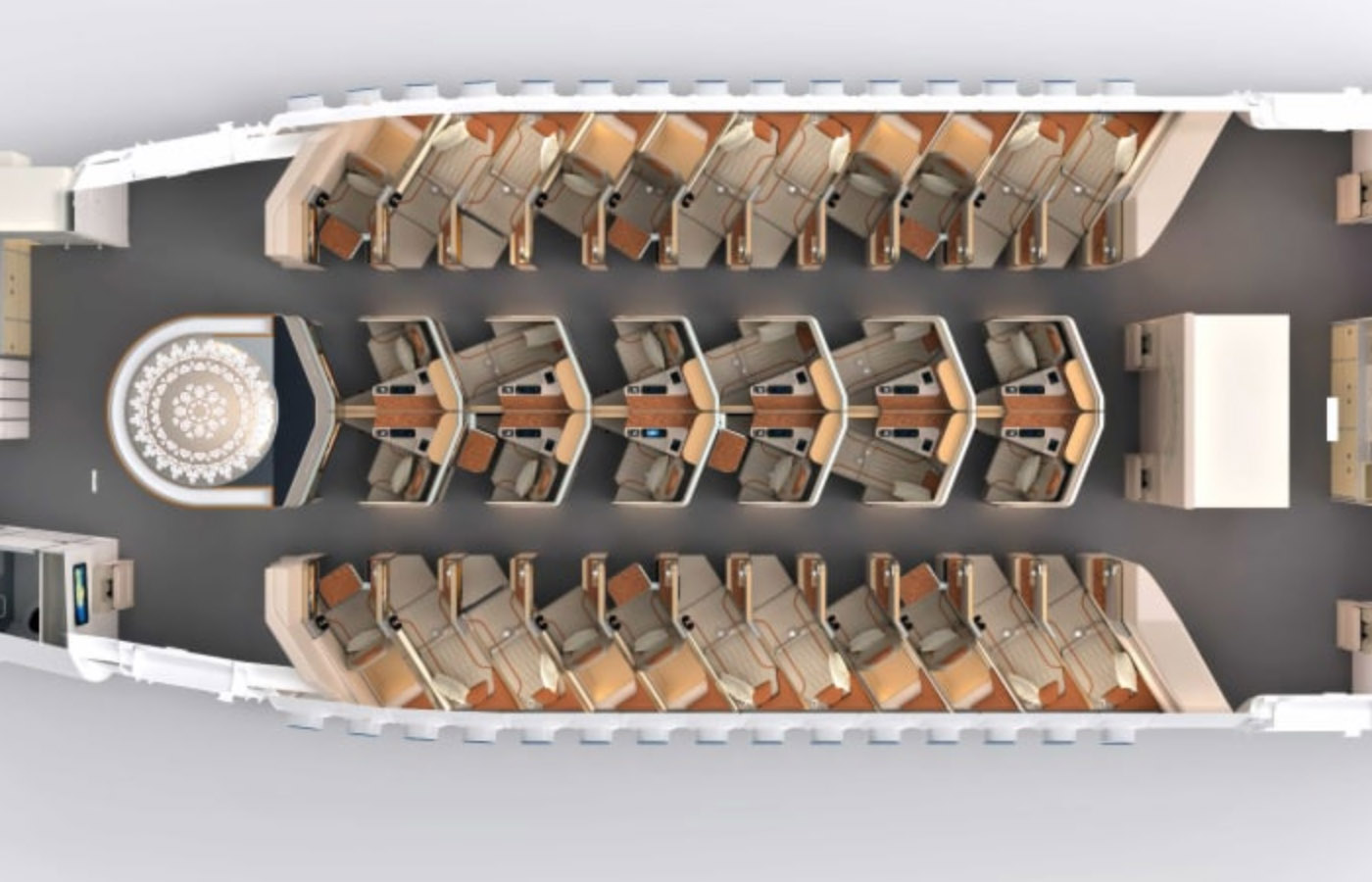 A nice detail regarding the sleeper-style sofas is that it's a dream come true for couples and families. The dividing wall separating each seat can be lowered to create a common, shared space with a queen-size bed. The design is conceived in such a way that seats along the windows will be ideal for those traveling together, and the center seats are better suited for business passengers or those traveling alone. The window seat has a small pitch at 27.6 inches, but AirGo emphasizes the flexibility the design offers as a luxury feel. Middle seats have a larger pitch of 47.6 inches.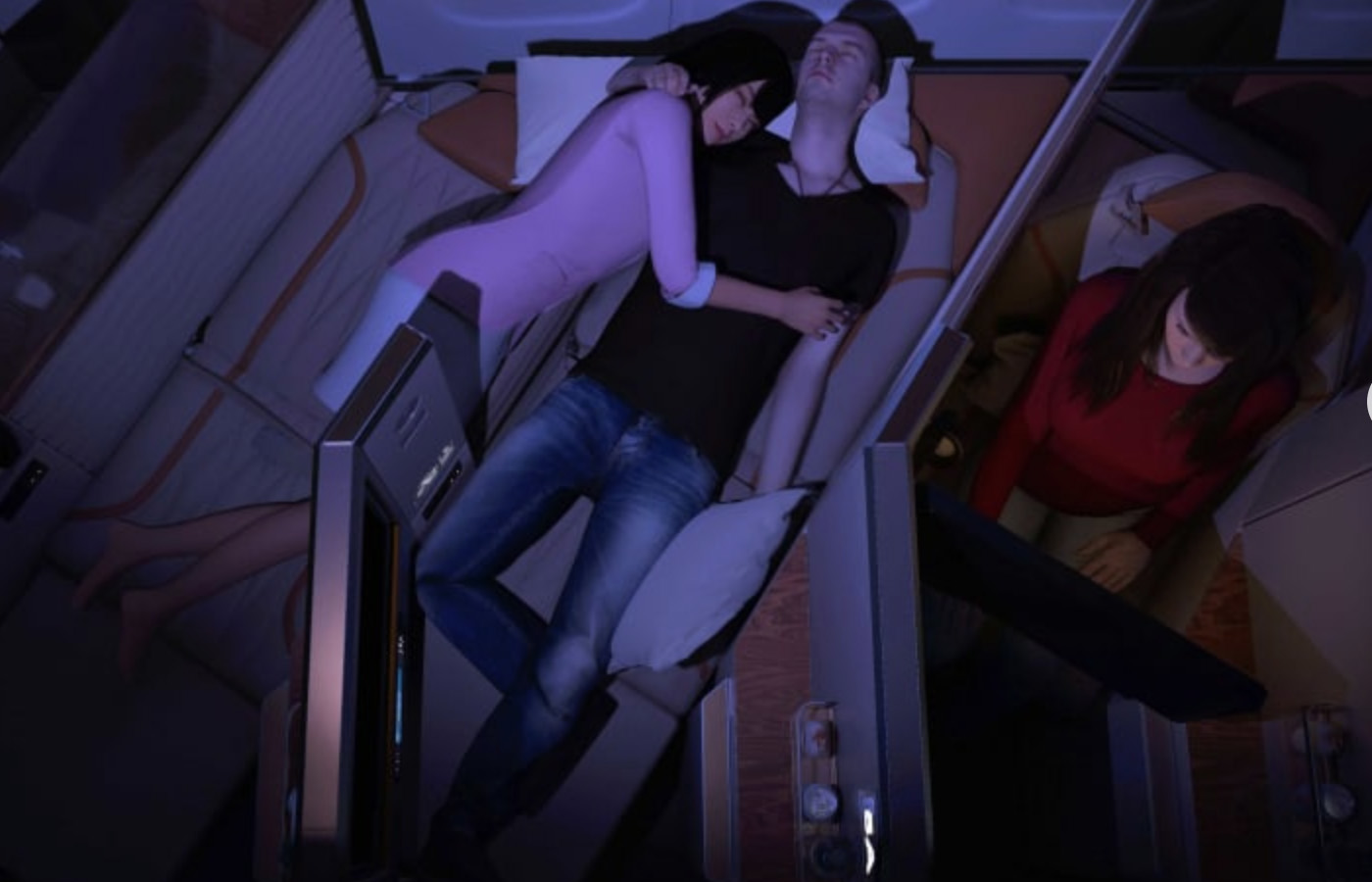 The company has submitted a patent for the new seating arrangement. There's no word out yet as to whether or not AirGo will manufacture the seats themselves (known for their comfortable Carbon composite seat concept for long-haul flights on narrow-body aircraft like the B737 and A320).
The company is creating a full-scale mock-up for airlines and passengers to soon experience what the future of travel may look like.
Each year, exhibitors at the Aircraft interiors Expo present all of their new concepts and ideas. The next one will be taking place next year in Hamburg, Germany. We've been hearing about stand-up seats on shorter flights for some time now, which haven't taken off – probably due to fear of a passenger boycott.
Current ideas are trying to get the most use out of a finite and limited space. This translates into an interior be as multi-purpose as possible. Will they be able to conceive a way to turn your seat space into a yoga studio or fitness spot in the near future? We'll see.