If there's one thing wrong with all McLaren cars in general – if, indeed, you can call it a fault – is the clinical feel and design, most particularly in the interior. Some people say it's a bit too serious-looking to be considered fun. In my mind, those people are missing the point entirely.
The goal of a supercar is to provide the utmost driving engagement with little to no distraction while simultaneously pleasing all the senses. Something we don't think about often and unbeknownst to many is that this goes beyond the design of the instrument cluster, the size of the central screen, or the position of the pedals and steering wheel. The look and feel of the materials – everything the eye can see and the skin can touch – are among the first receptors in the body to be stimulated as you gaze over the glossy body or sit inside the car.
McLaren stands out from the crowd by merging art with science, almost like combining a fine Cabernet Sauvignon with a Merlot. This is where Jo Lewis, Senior Colors & Materials Designer for McLaren, can spread her wings and let her talent speak for itself. Lewis graduated with a masters in textile construction at the Royal College of Art and Math in London, England, specializing in a process called textile welding technology, part of which focused on making materials either lighter or stronger.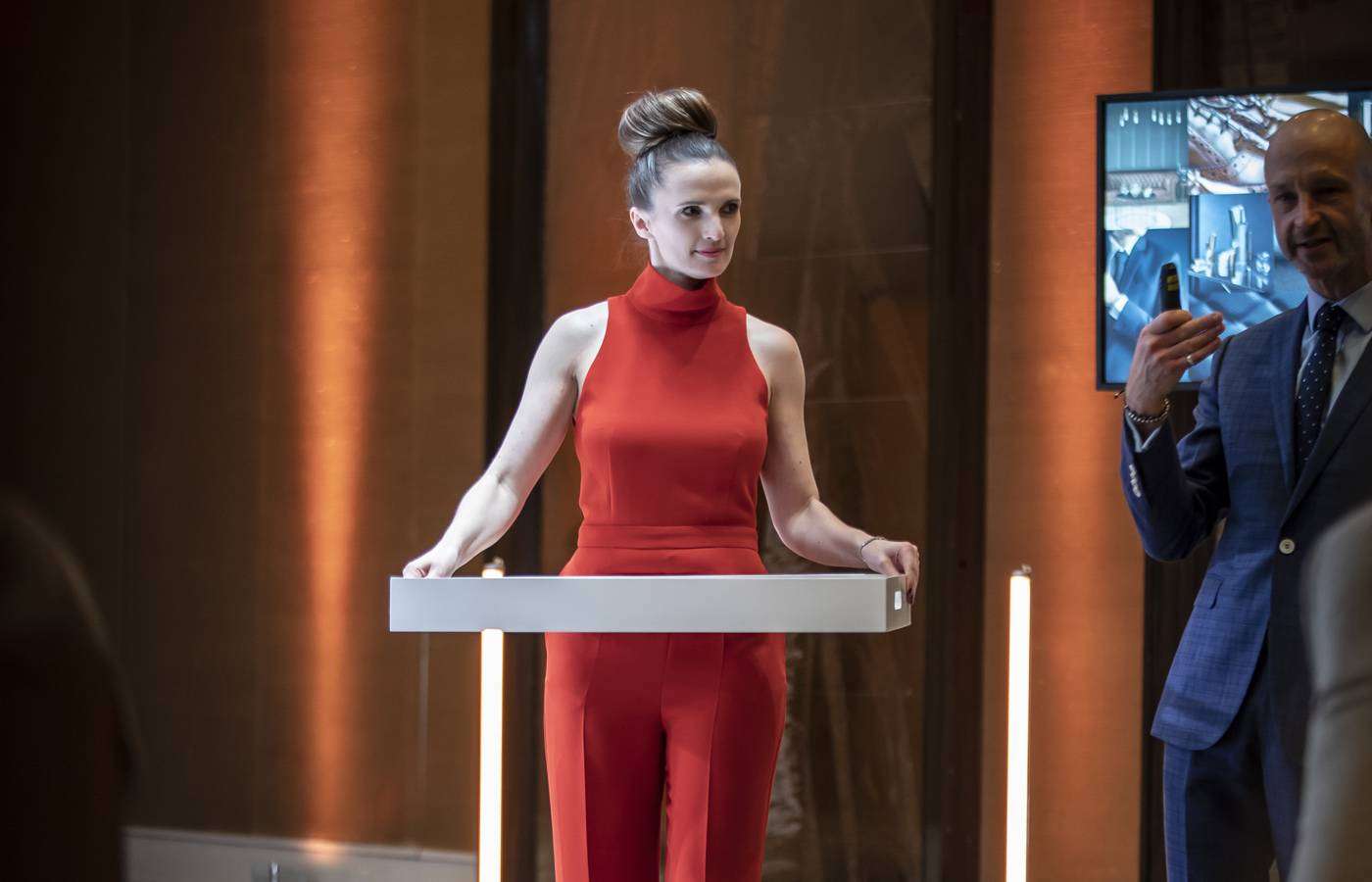 "It's literally about using new processes, taking away an additive material in order to join a material. Because then, you are making it effectively stronger and lighter at the same time," Lewis explains. She worked with Jaguar Land Rover and Lotus before coming onboard with McLaren, which she said was strictly by chance. "The color process led to an understanding around materials because in order to do it, you truly need to understand the material itself, deconstruct it and then reconstruct it," said Lewis.
"A very creative background led to something that was more engineering focused. And then I heard about a job at JLR at the time which was working in color materials design. Someone said you'd be great at it because you've got a creative kind of thinking but you also understand engineering and how things are made and processed – which exactly what the job was," added Lewis.
"So I thought I'd give it a go! And that was it. I spent over three years at JLR before moving on to Lotus, and afterwards came to McLaren just over three years ago." She knew a little bit about the industry in the beginning, but her career in the automotive world happened organically over time.
It must be wonderful to work with a supercar maker known for having the cleanest assembly line in the world. But what happens behind the scenes more than justifies the price you pay for a McLaren supercar. "Anything people see, touch, and feel in terms of color and material is something that me and my team have input on. It is quite a responsible job, just look at the detail of the Speedtail. Imagine the portfolio of cars we have, going through and knowing every part of each and the options available for each part – all McLaren products!" said Lewis. "You're not just focused on the interior, it's the entire car: anything material-related from the exterior to the interior, so all of the different types of materials: the carbon fiber, the plastics, the liquid paint technology, the paint for the wheels, the brake calipers and the finishes that come with it, we hand pick everything," added Lewis.
When you stop and actually think about it, it's a fairly daunting job to be one of the McLaren captains at the helm of what a supercar looks and feels like. It is obvious that decisions are not taken lightly and selections are definitely not made on a whim … Jo explains that "the whole process can take anywhere from two to three years, maybe more depending on the model. We work the same way as all the engineers and designers on the project. I follow the whole process from concept stage to the delivery of the production car."
I cannot resist asking what particular McLaren is her favorite. With a huge smile on her face, Jo Lewis more than happily replies, "the Speedtail is particularly special to me because it was the first project I worked on at McLaren. The design itself is amazing. Then there's another layer … this car is so unique since it is all about bespoke customization for every single customer. The customer gets to be hands-on, and we help guide them. I think this is really important."
Jo continues "because of what McLaren is, a technology leader in the industry, it allows for us to actually create and make it happen because we're not tied to volume and you're not limited or constrained by budget. You can pretty much do what you want. Being the first to do something is both a good and challenging part – like being pioneers." She tells us that this where her motivation and incentive come from.
Blending art and science at McLaren is not only exciting and avant garde, but can be a tedious job too. Jo is the first to say that like any demanding job, a day at the McLaren offices has it stressors "to be honest, the working environment is massively busy. All jobs give you stress and it's not always fun, but I really enjoy what I do and it's challenging because our line of products are so incredibly amazing." Even if being the Senior Color & Material Designer amounts to a heck of a lot of pressure, Jo emphasizes that it's still "the best, it's a dream to work here."
When asked where she gets her inspiration from, Jo responds "Inspiration comes in many forms. I am inspired everyday by the people around me, people you come across and meet. Doing research and being open to what's going on in the world. We try to get ourselves out of the studio to events and shows. But, specifically we ask ourselves, what is next … what is cutting edge." Jo and her team, along with the engineers and designers help each other to push the boundaries of what defines McLaren.
Another interesting fact that seems totally random is that Jo likes cake making and breeding rare hybrid ducks in her spare time. I didn't have the presence of mind at the time to ask her to expound on her hobbies outside of work, but clearly it is something she enjoys and likes to do in her downtime – and it is too fascinating not to mention here. It simply adds to mystique and her well-rounded mix of talents.
A government-issued driving license isn't sufficient to drive a McLaren. You need to pass the McLaren driving test to obtain your special McLaren license. Even though Jo works for McLaren, sadly, she doesn't own one. She drives a Porsche from 1982. However, she says with alacrity "I did recently pass the McLaren driving test so I can drive their sports cars and supercars now". "You need to. It's company policy. They just want to make sure you can handle what you've been given," she added.
Jo Lewis's eclectic background in the arts and sciences, combined with her talent and working knowledge in the automotive industry is truly one of the secrets behind the sporty and premium style of McLaren supercars. And while it might not be something that people have given much thought to, or even something that individuals are consciously aware of, it is a critical element that can define the success or failure of a supercar and deserves our attention.