As a hotspot of modernity, innovation, and with a glittering skyline to boot, Singapore has much to offer to the wide-eyed traveler. But for the gastronome and the gourmand, the food scene in the cosmopolitan city is 'die, die, must try'– 'to die for' in Singlish.
Singapore is quite the melting pot of cultures, and it's many occupants over the years have introduced, nay infused, their signature flavors, fragrances, and spices into Singaporean cuisine. As a result, many of the dishes you may try– whether it's getting cozy at a local hawker stall, visiting celebrity chef outposts or partaking in a meal at Michelin star restaurants– are chockful of flavors reminiscent of Singapore's multicultural social fabric.
Most Singaporean food is perched somewhere on the ubiquitous three pillars: Noodles, rice, and seafood. In other Asian countries, it's one over the other but in Singapore, it's two out of three, maybe even all. Suffice to say that, in Singapore, meals aren't mere necessities, they're an experience. The cultural fusion in the gastronomic sphere has resulted in Peranakan/Nyonya dishes, Indian trade-offs, Chinese hand-me-downs, and Malaysian crossovers. However, in the hustle and bustle of selecting a dish and savoring it, you'll quite understand that ethnic and boundary differences in the world of food here are quaint.
Aside from actually eating the dish, even getting to it is a journey of a different kind. Singapore's hawker markets and food villages are a thing of lore in the traveler world and a must-visit for locals as well. When visiting any of these, soak in the brightly-colored tents and billboards, the commotion of foodies and hawkers intermingling and the smells of all sorts of mouth-watering dishes being made right in front of you. It's an adventure quite unlike any other. For the more discerning traveler, Singapore has long secured a spot on the map of the world's most luxurious restaurants and delectable eats. From celebrity chef Akira Back's outpost to Michelin star restaurant Candlenut Kitchen boasting traditional Peranakan cuisine, fine dining is also an otherworldly experience– one on the other end of the spectrum from street food runs.
Without further ado, here's a rundown of 10 dishes you must try when in Singapore, whether as a backpacker, a luxury traveler or a business trip-maker.
Laksa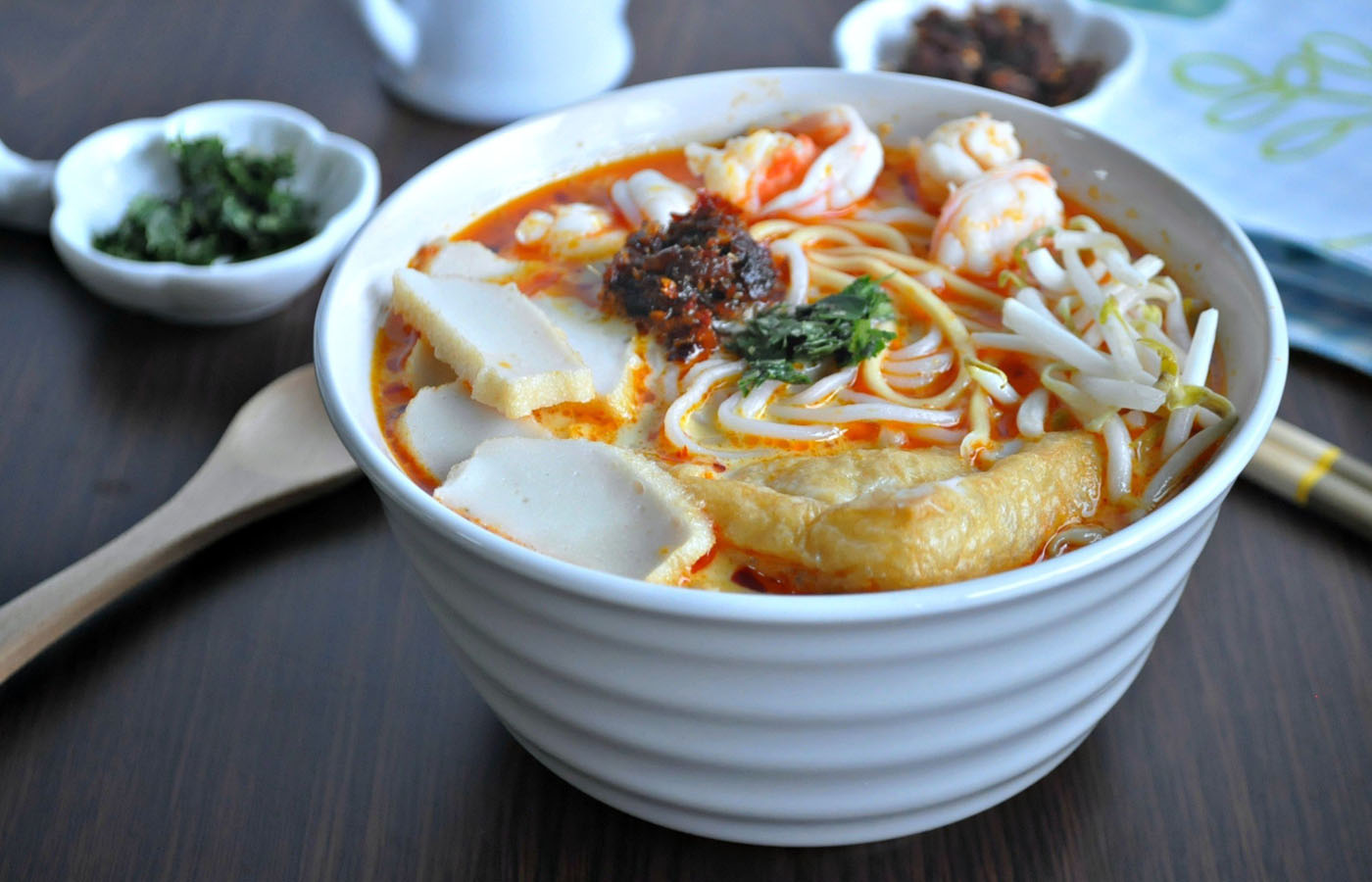 First on the list of mouth-watering dishes is Laksa, a spicy (or sweet) seafood noodle dish popular on the streets of Singapore and Malaysia. The base is often concocted of dried chilies and fermented shrimp paste, but from there, the flavors diverge. Some versions of Laksa are sweet and aromatic courtesy unbridled use of star anise and cinnamon, while yet others have black pepper, chilies and cardamom to make up a complex, savory taste.
There's no standard noodle used, either– depending on where you go in Singapore, you could sample vermicelli, rice sticks, glass noodles or egg noodles in your Laksa. Hainanese Chicken Rice may pop up first on search engines when looking up Singapore's national food, but it's Laksa that's the guilty pleasure of many Singaporeans and international travelers.
Where to try: Marina Parade, Chinatown and Yishun host restaurants catering to all budgets but with one common factor– great Laksa with a spectrum of flavors.
Hainanese Chicken Rice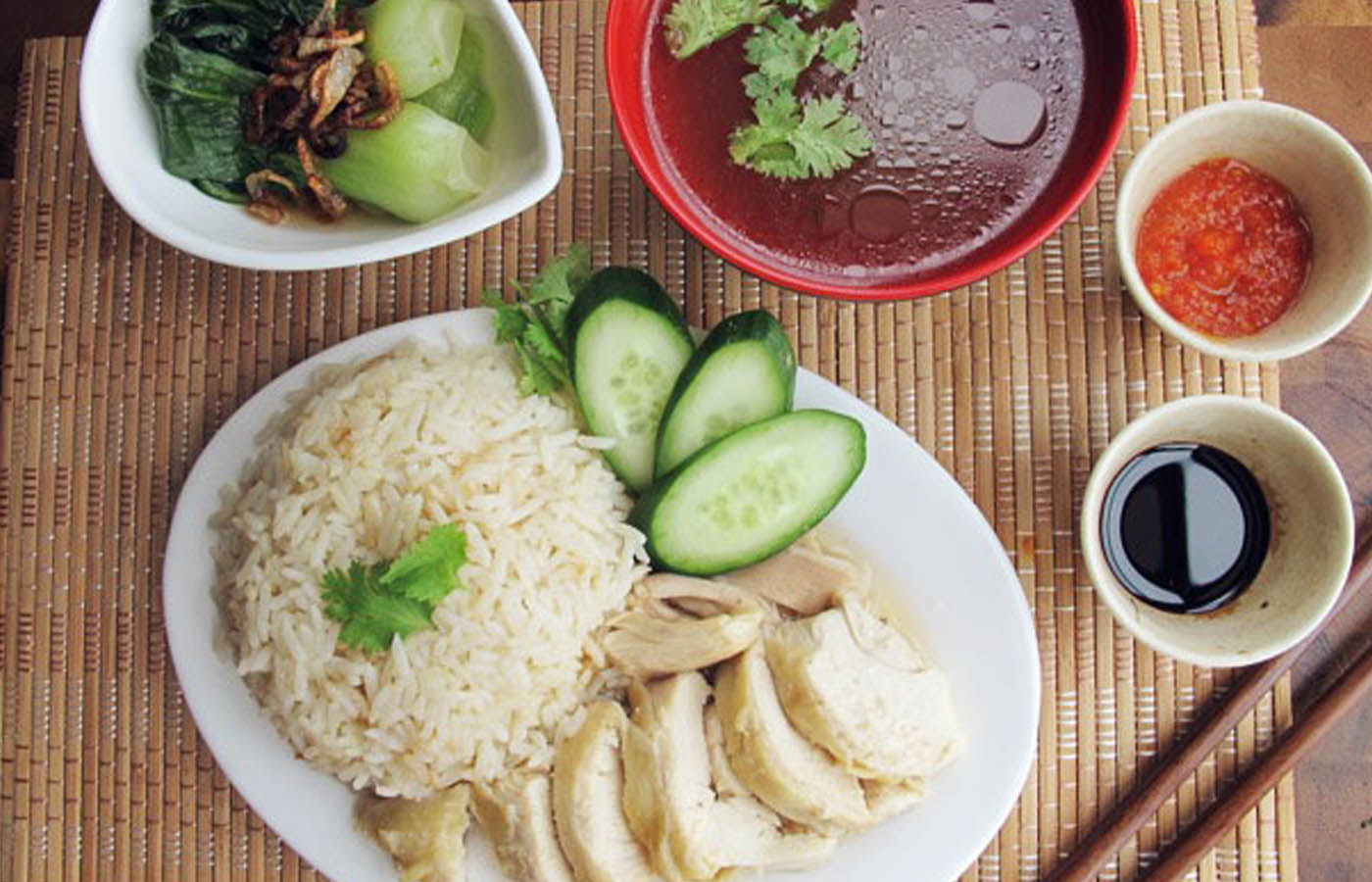 The Hainanese Chicken Rice, lauded by many as Singapore's national food, is a direct result of the Chinese influence on early-day Singapore. Adapted from the dishes of Chinese immigrants on Hainan Island, the deceptively simple dish is actually a medley of flavorful rice cooked in chicken stock and flavored with powerful chili sauce and well-cooked white chicken.
There's next to no hawker center in Singapore that doesn't Hainanese Chicken Rice– a testament to how much Singaporeans love the dish. But it doesn't stop there; Hainanese Chicken Rice has won international laurels including being voted by CNN as one of the 40 dishes in Singapore "we can't live without" and one of the world's "50 best foods".
Where to try: Get your fill of Hainanese Chicken Rice from vendors at the Maxwell Food Center, in Purvis Street or at Bishan.
Mee Pok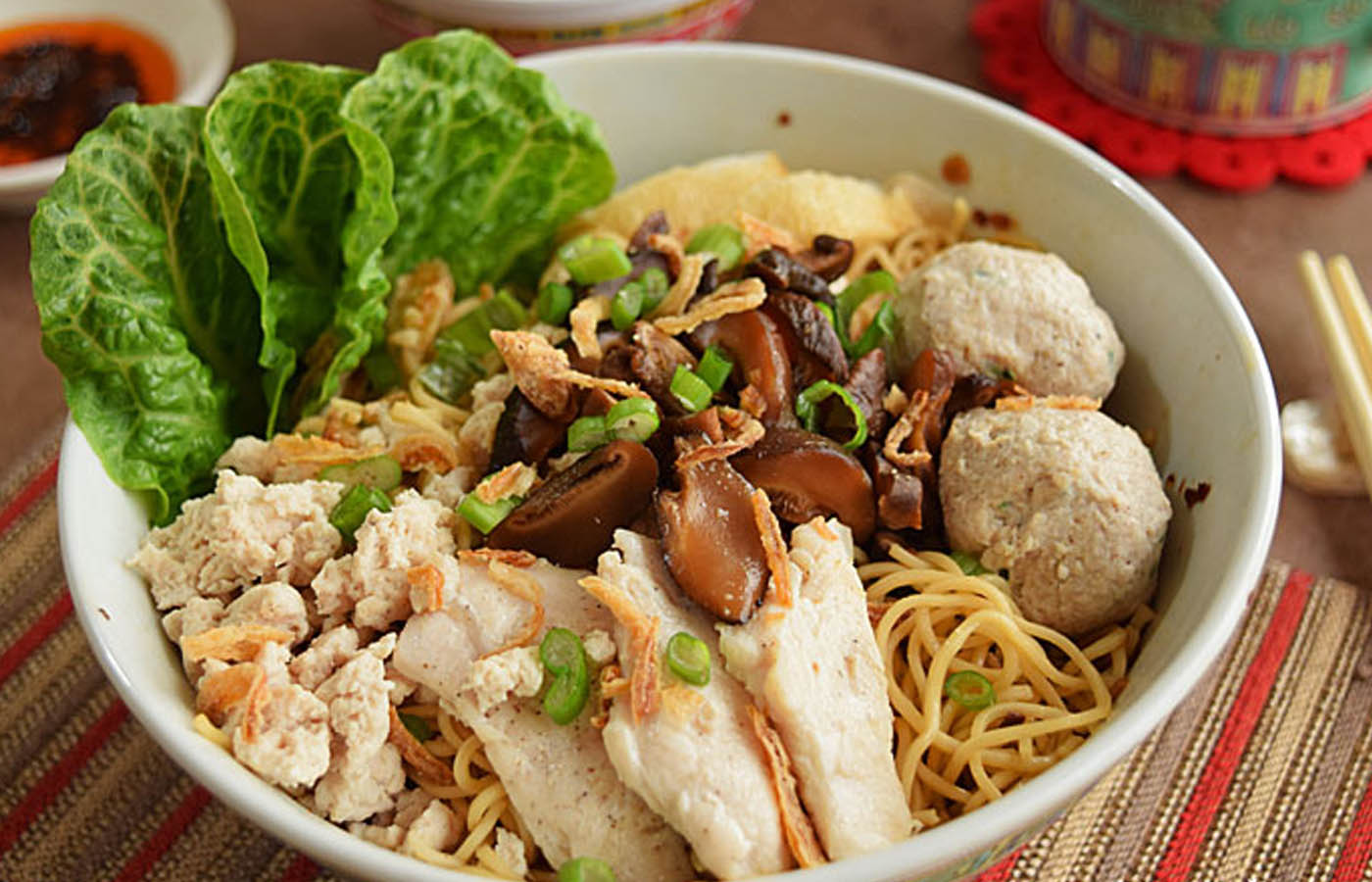 Yet another noodle dish, Mee Pok packs Chinese flat noodles in two flavorful variants– fish ball Mee Pok and mushroom minced meat Mee Pok. The dish is usually served dry, but in many food courts and eateries, you may come across a soupy version with meat and vegetables. Why is Mee Pok a must-try? The answer lies in the sauce.
The ingredients seem basic enough– chili, vinegar, oil, and condiments– but the sauce is said to be a mark of the cook's skill and experience. The oil contributes to the texture while the vinegar adds tangy sourness in contrast to the chili's spice. The perfect concoction of all these results in a dish that's a strong contender for must-try dishes when in Singapore.
Where to try: You'll find locals and travelers crowding up at Toa Payoh and the Bedok 85 hawker center for a good bowl of Mee Pok.
Mutton Satay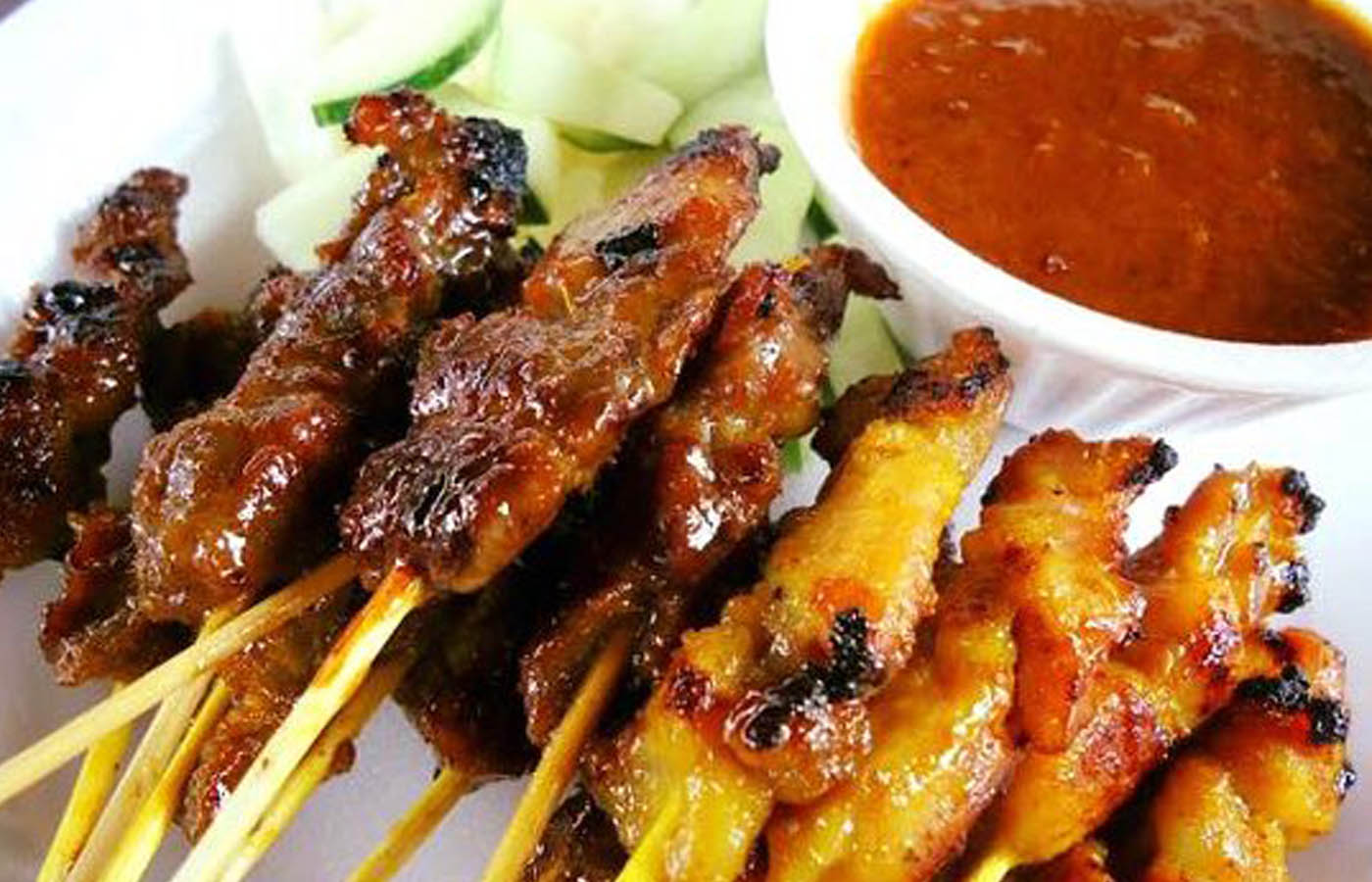 Sizzles and crackles accompanied by the smell of spices and the calls of hawkers– street food-lovers, rejoice! Mutton Satay is a delicacy that's best enjoyed fresh off the grills in the middle of a busy street. These little meat skewers are packed with impossibly delicious flavors, from savory to just the right amount of spicy. Accompanying the satay is a variety of sauces, the most common of which is soy and peanut sauce– known as satay sauce to many.
Satay isn't restricted to just mutton; some other meats that can be used, on palm frond or banana skewers, are chicken, pork, goat, fish, and beef. Vegetarians, get your hands on the tofu version of the satay so you don't miss out on the distinctive flavors.
Where to try: Get your meat fix– the skewered style– in Lau Pa Sat (in the Central Business District) and the Chomp Chomp food center.
Char Kway Teow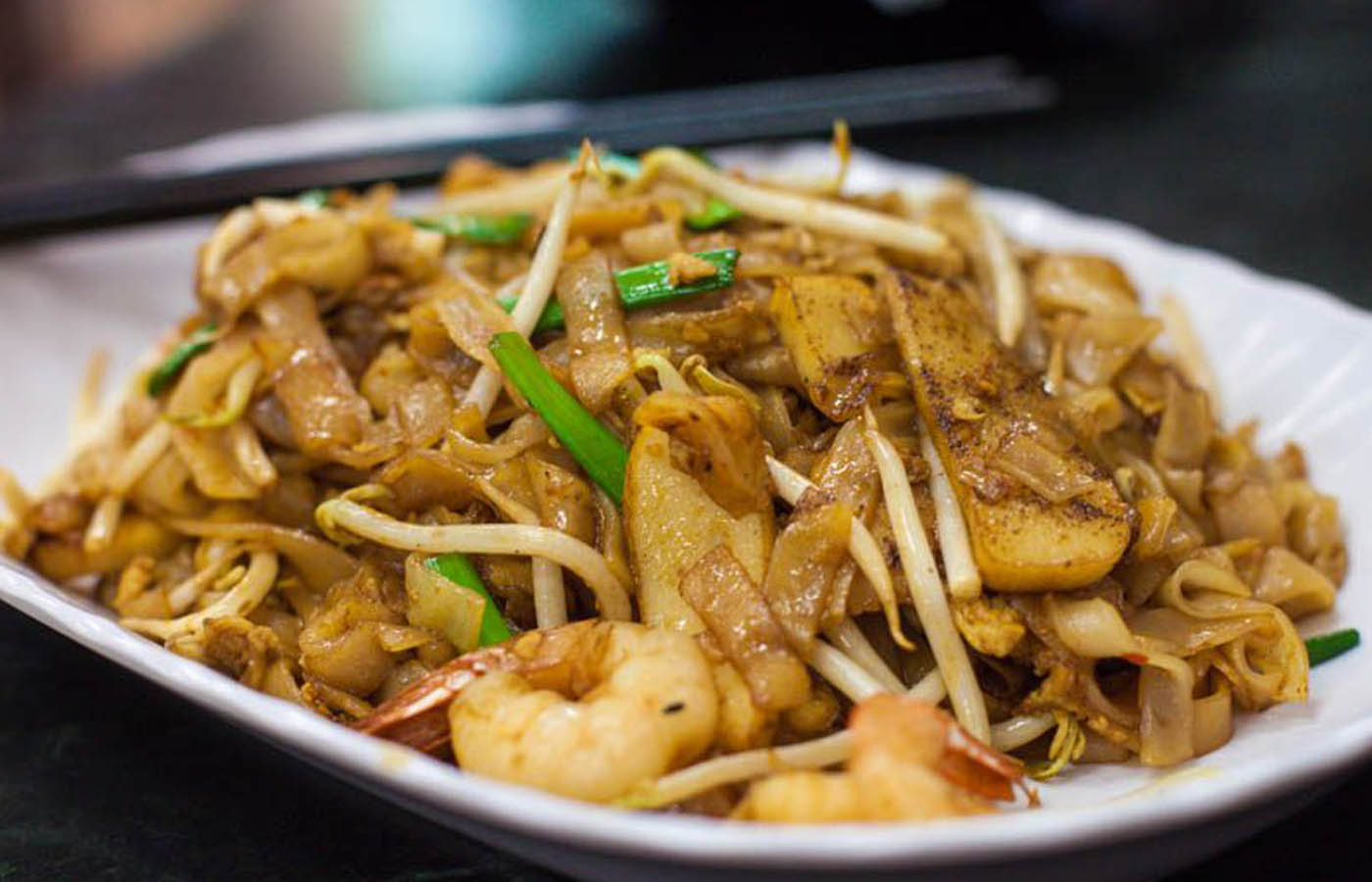 If Hainanese Chicken Rice looks deceptively simple, then Char Kway Teow takes it a step further, in terms of flavor and preparation. The making of Char Kway Teow in the hands of Singaporean street hawkers is considered by many as art not easily replicable in home kitchens.
Once all the ingredients hit the hot pan in hawker-style Char Kway Teow, it's a game with fire, a race against time– that's precisely what makes the dish a must-try when in Singapore. Slippery noodles are the heart of the experience, while a charred smoky flavor adds a little more kick to the already intense flavors. It's quite a meat-heavy dish, consisting of prawns, blood cockles, Chinese sausage, fishcake… the list goes on.
Where to try: Char Kway Teow patrons flock to Zion Riverside Food Center and Bedok South Road Market & Food Centre.
Mie Siam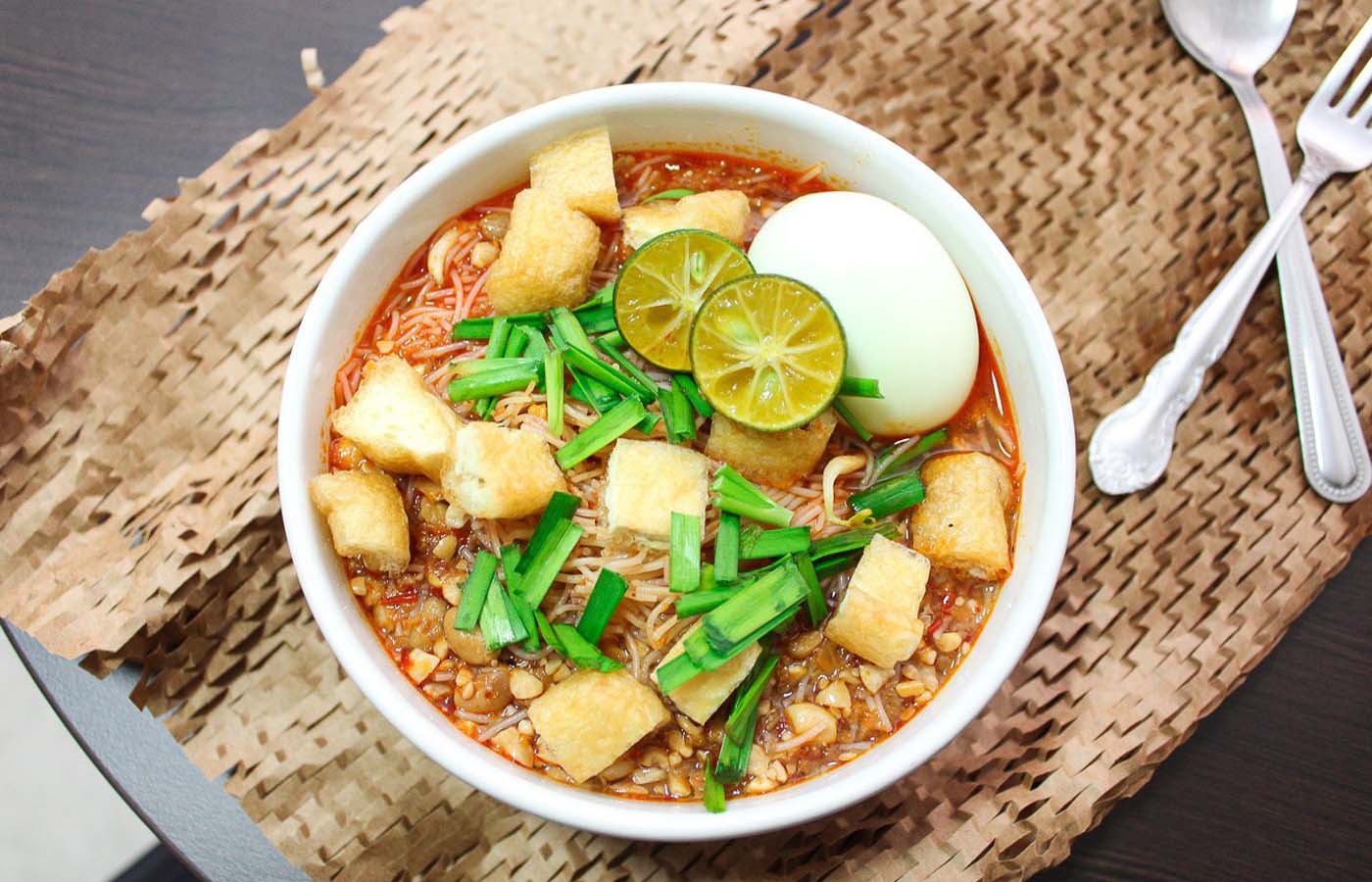 Originating in maritime Southeast Asia, Mie Siam is a very popular dish in both Singapore and Malaysia. Zesty, spicy and tangy– this soupy noodle dish consists of tart tamarind, savory fermented bean paste, and flavorsome dried shrimp. The name is a dead giveaway for the fact that the dish is inspired by Thai cuisine, but over the years its flavors have become distinctively Singaporean.
Mie Siam has secured a designated spot in locals as comfort food– all the more reason for travelers and gourmands to dig in. Most places use rice vermicelli, while still others swap it for healthier options like brown vermicelli in fragrant home-made broth.
Where to try: Taste Mie Siam (and go back for more) at the Teck Ghee Food Centre and the Shunfu Mart Food Center.
Mie Rebus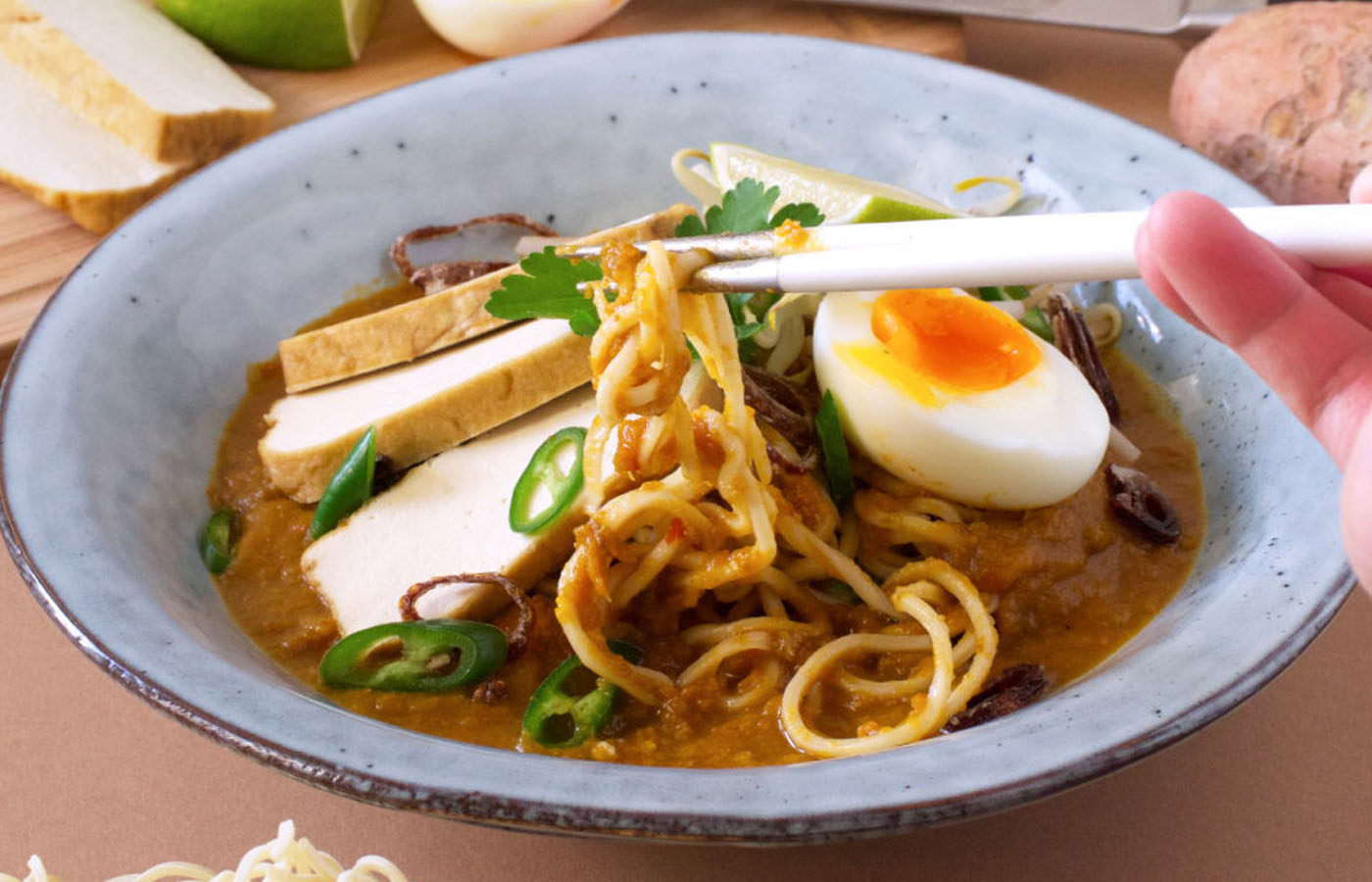 The name of the dish is quite underwhelming, literally translating to 'boiled noodles'– but Mie Rebus is that and so much more. The dish has a thick gravy made by reducing beef broth and stirring in sweet potatoes, spices and aromatics as needed.
An added kick is provided by fresh ingredients including garlic and shallots, while dried prawns and dried chilies lend the dish umami gusto.
Where to try: Gluttons Bay is the perfect starting point to sample Mie Rebus and move on to other Singaporean delicacies while you're at it.
Nasi Lemak
Creamy rice is most definitely the dominant feature of this dish– it's where the Nasi Lemak name comes from, after all. It's leavened by coconut milk and pandan leaves; the sides run the gamut of flavors from chili paste, fried eggs, and fried anchovies. The spread doesn't end there– to accompany the rice and sides, you can take your pick of chicken wings, fried fish cakes, rendang curry or deep-fried fish.
Nasi Lemak is savored by Singaporeans as a breakfast dish best sourced from one of the many hawker centers and food stalls scattered across the little city.
Where to try: Head to Changi Village Hawker Center or Golden Mile Food Center for a dose of Nasi Lemak.
Poh Piah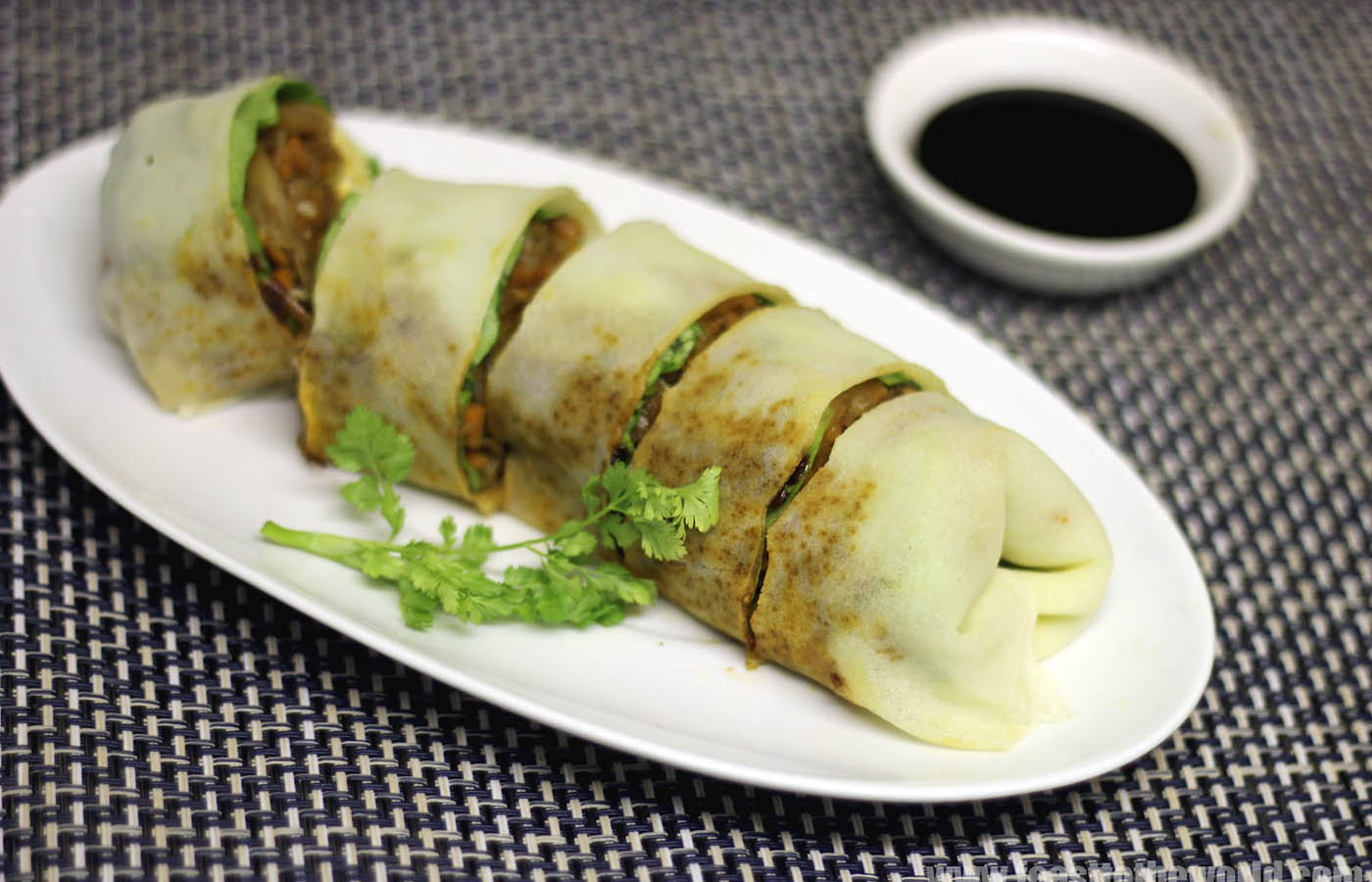 For a sampling of local fare at odd times of the day, Poh Piah is your best bet. Its name means 'thin pancake'– derived from the papery think skin that wraps around the stuffing. And what a stuffing! It traditionally contains vegetables, prawns, and jicama, sometimes coupled with eggs and Chinese sausages. However, the rules to making Poh Piah aren't entirely set in stone– which only means that vendors have the chance to get creative, making each Poh Piah experience different from the last.
In the past, the dish was made only for major festivals and was likened to the wrapping of gold and silver, both symbols of good luck. The fried version of Poh Piah is the spring roll, a common enough fare in other Asian countries with a penchant for street food.
Where to try: Visit the Chinatown Food Complex or Pek Kio Market and Food Centre to sample hawker-style Poh Piah.
Duck Rice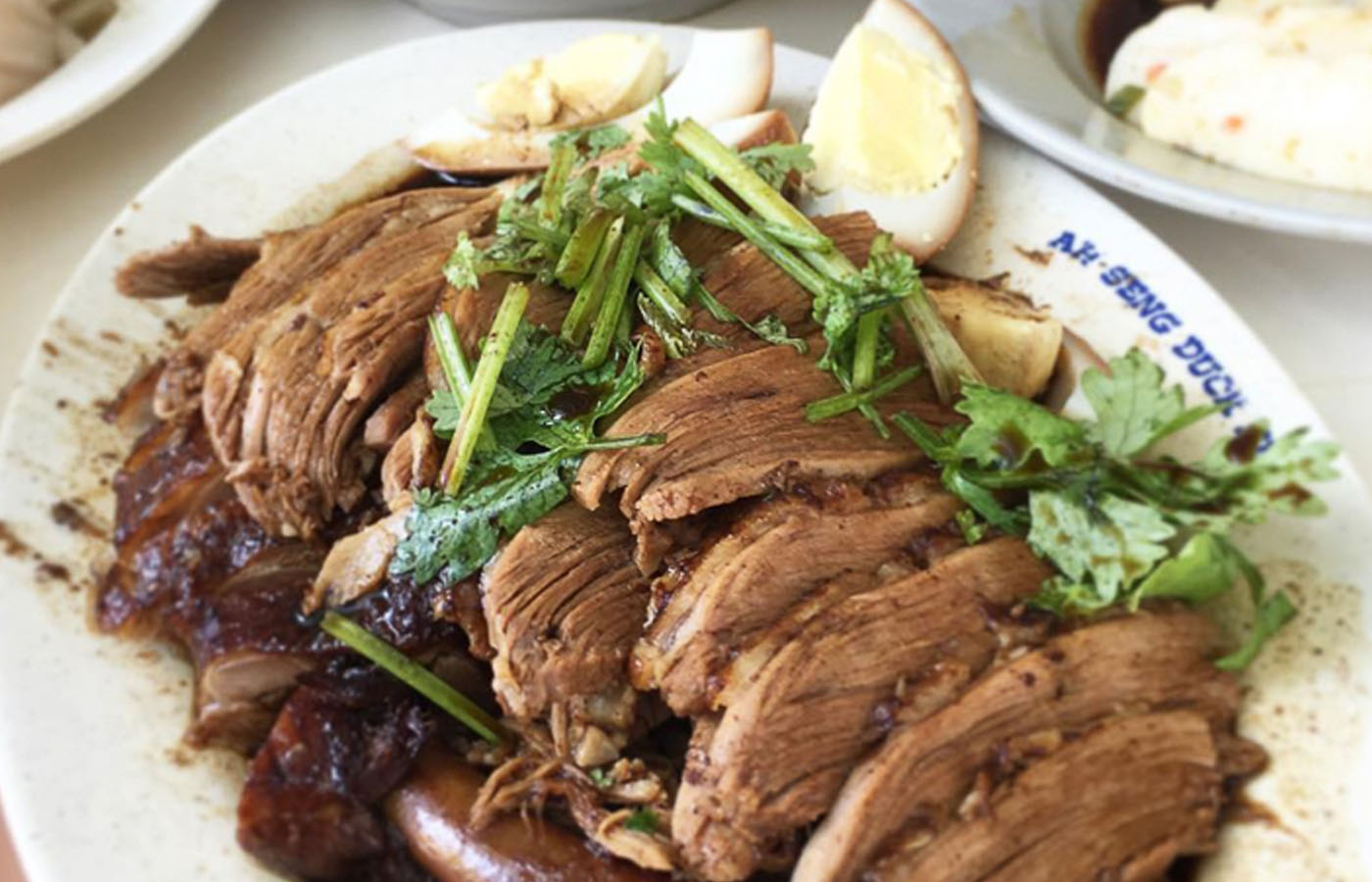 The offbeat cousin to traditional chicken rice, duck rice is one of the delicacies you can't miss when in Singapore. Singapore hawkers and food stalls usually present two varieties of duck rice. There's the Hokkien type, which is heavy on the sauce and can be cooked with yam; the Teochew version has a light but flavorsome gravy and plain white rice.
There's a difference in the way the meat is prepared, too– roasted and succulent or thinly sliced the Teochew way. Both versions look deceptively plain, but one spoon and it's a burst of piquant flavors that you'll remember for a while.
Where to try: In Golden Mile Food Center or the East Coast Lagoon Food Village, you can try traditional or creative versions of duck rice, depending on where your palate takes you.
Special mention: Daging Chabek
Of course, it's nigh impossible to limit all of Singapore's wonderful offerings into a list of 10. It only makes sense, then, to introduce an outlier that may not have made it to the list but are still worth a try if you pass by a dedicated hawker stall or food village.
Slow-braised beef in a spicy and tangy coconut-based gravy– that's Daging Chabek in a nutshell. The dish has been experimented with by a myriad of chefs, from the experienced hawkers in food villages to celebrity chefs in their Singaporean outposts. This naturally means that, while the base recipe remains the same, the experience of Daging Chabek is different each time you try it, depending on where you try it. The dish is also an example of Singapore's finest cuisine– Peranakan– that marries tang and spice into otherworldly servings of meat.
The final word
And there you have it! 10 dishes (and a bonus) that you must add to your travel itinerary when planning a Singapore trip beforehand or landing in the island nation at the last minute. Remember, the taste of the dish, indeed the experience of it all fully depends on where you're eating it. But whether you're wolfing down satays among local Singaporeans at a hawker stall, or partaking in luxury fare at a star establishment, one thing is guaranteed– with Singaporean food, you're in for a ride.