The Geneva International Motor Show is more concept focused than some of the other major shows that take place throughout the year. You are guaranteed to lay witness to cars that are sugar & spice & all things nice walking through the exposition halls. There are a myriad of models that merit review, here is an overview of five very noteworthy and hot-trending concepts that debuted in 2019.
Kia's "Imagine by Kia"
No, this car has nothing to do with John Lennon – apart from the name. As that suggests, Kia's latest concept looks like an amalgamation inspiration taken from bits and pieces of the natural, mechanical, and sci-fi worlds.
Overall the car is very insectile with an exterior like a handsomely-fashioned exoskeleton. An unusual design for the headlights expands to fill the entire front end of the car, and actually seems like a good safety feature for low-light or nighttime driving. Squint and, with both doors both open in suicide fashion, it looks like a beetle prepared to take flight.
The word on the show floor is that the seats were 3D printed. If you're lucky enough to be sitting in one of these fanciful clamshell-styled thrones, you'd probably be a dead ringer for Venus in the Sandro Botticelli painting. A champagne interior reminiscent of sunken treasure is minimalist and sparingly outfitted, except of course for the elaborate dashboard of 21 canted screens organized into a wavelike pattern – a move the company says is meant to be playful commentary on the word concept. Kia's imagine by Kia is a little out-of-this-world.

The Honda e Prototype
Meet the adorable Honda e prototype, a little robot that has cross-bred with a giant panda bear. Or, maybe call it the lap dog of the EV world: this toy poodle of a car has been engineered for the cityscape, with a limited range but fast-charging solution of up to 80% in approximately 30 minutes.
This car exudes personality all its own, with a charging port under the black panel in the middle of the hood. A classic three-door design, with an expansive display panel crossing the dashboard along with a combination of wood trim and digital amenities, my only gripe about this particular EV would be that, with the tiny headlights, cab and windows, good visibility might be an issue.
The small size and minuscule side-view cameras are enough to put a smile on the face of any urban commuter, though, especially when it comes to parking. With little sunbursts on the tires, it shows that a no-frills electric vehicle can be charming even as it goes about its simple and honest metropolitan mission.
Honda has confirmed that the concept shown in Geneva is relatively close to production-ready, and will be for sale on the European market by the end of 2019. Unfortunately, the Honda e Prototype isn't slated to make it to the US. Honda is ramping up its electrification ambitions and intends to deliver a completely electrified range in Europe by 2025.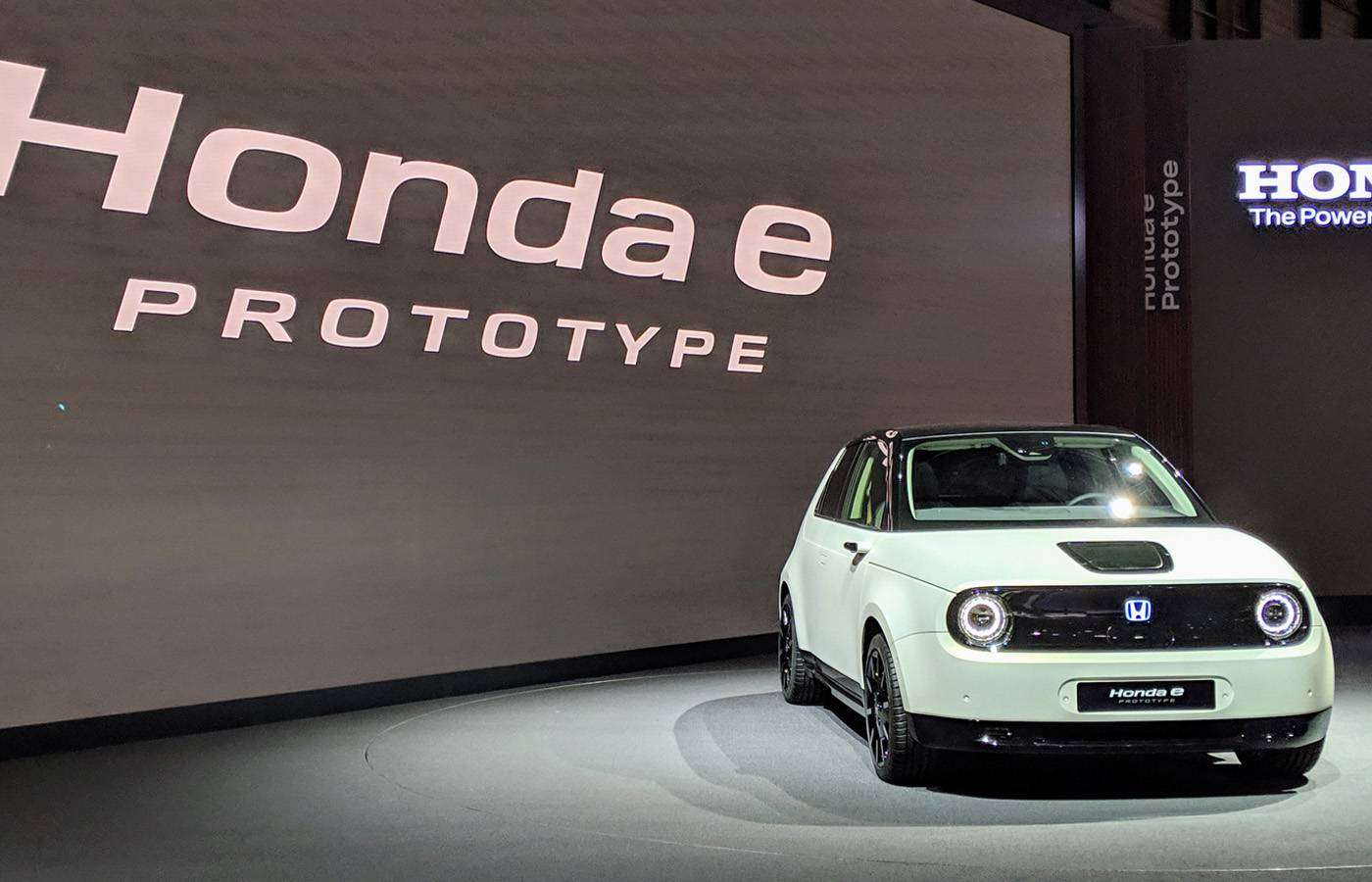 Lagonda All-Terrain Concept
Lagonda is the upscale luxury nameplate of Aston Martin, so how does the highest end of the high-end spectrum imagine its concept car to be? As a full-sized, all-terrain, electric SUV geared toward the "pioneering, environmentally friendly person," according to Aston Martin's chief creative officer, Marek Reichman. The Lagonda doesn't sacrifice opulence at the expense of appealing to those with a conscience.
It's a luxurious lounge-like space on wheels. Walking around the sleek exterior, the exaggerated lines beckon you to evaluate its size and high waistline, perfectly accented with strips of head and tail lights. The body streamlines back to a pointy finish. If this car ever makes it onto the interstate, something other than a Class 1 driver's license might be necessary.
An elegant, space age look fit for interstellar travel will definitely have heads turning. The wheels are adorned with a decorative and rhythmic arabesque pattern – perhaps conveying the seamlessly intertwined nature of engineering and design.
The spacious interior has plush seats with extending foot rests that should put airliners to shame. Only added memory foam could make napping a experience better. The company has embedded Swarovski crystals in the seats, either for looks or for a crystal's healing properties: either way, it enhances the holistic nature of the upholstery. Being swaddled in rich natural materials, such as cashmere, will guarantee an ultra-calm and quiet cabin space. And with the low-pile carpet on the floor, you'll want to take off shoes before entering, like in a real home, and instead use a pair of dedicated driving shoes that remain in the car.
The video displays inset in the back of the seats are sure to be an entertaining experience, while a quarter-sunroof toward the back will aid those inclined to car sickness by delivering ample access to fresh air. Aston Martin is clearly not hung up on the past: the Lagonda is futurist art and part dark mystery horse at once. A production version inspired by the car is planned for 2022.

Audi Q4 e-tron Concept
Audi was able to bring its newest electric vehicle, the Audi Q4 e-tron Concept, to Geneva after only 10 months, by basing it on Volkswagen's MEB dedicated EV platform. Don't let the "concept" name fool you, though. It looks great, is practical, and most importantly it's close to production-ready.
The Audi Q4 e-tron Concept has been engineered to show off its girth and size. Ordinarily, the grill and wheels of a car are left as negative space. Audi, on the other hand, has consciously filled this into positive space, which creates a more solid, planted look. All the lighting elements on the car can be customized to your preference and taste, meanwhile.
Inside, the cabin is lined with recycled materials, along with fishnet floor mats in a nod to environmental trends. A dark color scheme on the floor transitions into light hues, creating a rising gradient of openness. The seats are cozy, with added air vents for additional comfort.
A digital dash and infotainment center with ambient lighting is clean and modern, with plenty of spots to stash your devices and belongings. There are no door handles on the inside, just a place where you put your hand to trigger the door to open; they, along with the precarious-looking cup holders on the doors probably won't make it to production. Audi says that should start in 2020.

Subaru Viziv Concept Adrenaline
The Subaru Viziv Concept Adrenaline is the kind of car that would make Mad Max proud. If I had to pick something to travel around the world in, this might be it. It can handle itself well in the outback. Displaying a bold design that doesn't hold back, it's hopefully setting the tone for the Japanese automaker's imminent designs.
Boasting substantial ground clearance and a wide wheel base, this car has the character of a predator and its habitat is rough terrain. A multimedia mix of hard and softer materials with contrasting colors like the wide matte black bumpers leave this Subaru looking edgy. The top is a metallic silver, with small sunroofs that top the car like a tin can that pops. Accents include hexagonal florets that function as secondary or ground lighting, and LED headlamps that are almost painted on like a sharp liquid mascara.
The toothy design of the wheels make the Viziv look like it could, quite literally, eat dirt for breakfast. We haven't been given an idea of what is under the hood, however, though I'm hoping that Subaru's partnership and collaboration with Toyota will mean a hybridized powertrain that's in lock-step with global trends towards electrification.