The MTG-B1000XBD and B1000XB are based on the MTG-B1000 and have a mid-sized case. The reason behind this is to support enhanced wearability and like most watches in this segment, the MTGB1000XBD-1 supports smartphone connectivity and solar-powered radio control.
Considering it's the 20th anniversary of the MT-G series, the way this watch makes itself different and appealing, is by using Carbon Fiber for its bezel. When put into perspective that carbon fiber is considered as the 'third material', after metal and plastics; the use of the material is befitting the anniversary event.
Evolution in Design
You could call this as an evolution in design, where we see carbon fiber being used. It is quite similar in terms to plastic and the light-weight stance. However, carbon fiber is more durable than metal and its hardness makes it more difficult to process.
What we have here is an updated black resin case with G-SHOCK's first-ever layered carbon fiber bezel. The size of the case is another debate altogether, it measures 51.77 mm and it doesn't have any lugs. This makes up for the fact that it's a huge disc on your wrist and works well with the layered composite band made with durable fine resin parts.
Rocking The Black and Red Sheets of Carbon Fiber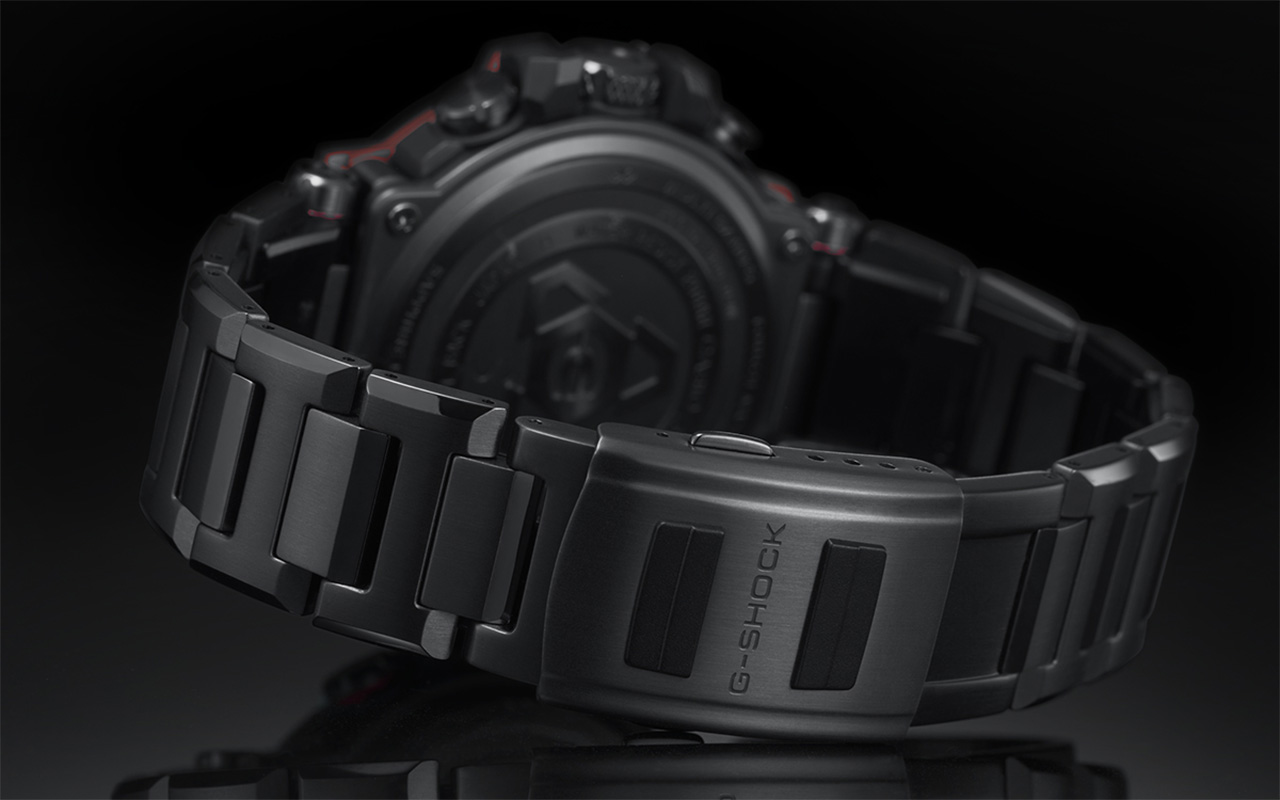 The timepiece sports an impressive bezel, which features sharp etchings and uses a layering process that alternates black and red sheets of carbon fiber material. This gives the watch a unique look – black with twinges of red. Attention to detail gives us polished hex screws that fix the bezel to the main case. The red anodizing along the side of the 8 o'clock pusher and the anti-reflective sapphire crystal give this watch a sophisticated vibe.
Details on the watch include water resistance up to 200-meters. The main case is crafted from polished resin and multi-layered carbon fiber for the bezel. A crosshatch guilloché pattern on the main dial complements the Casio Tough Solar charging technology.
Features on this G-SHOCK MTGB1000XBD-1 include a 24-hour chronograph function, a 24-hour countdown timer, a second time zone in the 6 o'clock subdial, a power-reserve indicator, a true world timer, a push-button LED, a fully automatic day/date display, Bluetooth pairing via G-SHOCK Connected app, a daily alarm function, illumination system and self-adjusting radio sync atomic timekeeping from six timekeeping stations across the globe.
The G-Shock MT-G MTGB1000XBD-1 is for $1,100.