It is not unusual to be inspired by the landscape and sceneries that surround your daily life. For some brands the translation is evident in the way they represent it – for example for runway fashion, it could be the print or textures of the fabric, but for Glashütte Original, it's made way into the new Seventies Chronograph Panorama watches though their dials and their colors.
Two very attractive dials have been added to the collection – one in green and the other in grey. Both of them take inspiration from the small Saxon town, that plays home to the watchmakers. The green dial is inspired by the greenery that can be found in and about the town, whereas the grey dial takes its color from the rocks found in the surrounding Ore Mountains.
More than just the color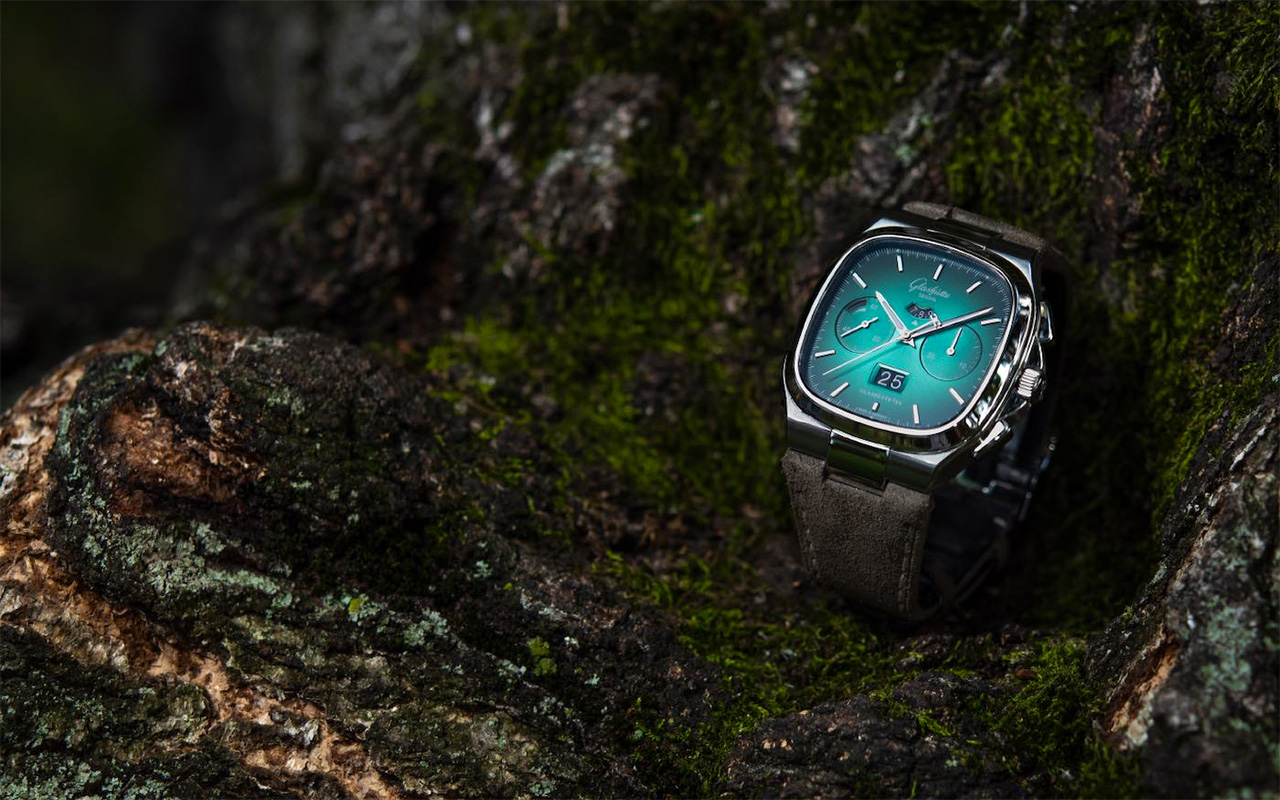 The dials on the Seventies Chronograph Panorama watches are more than just the colors of the landscape that they represent. We have seen grey dials in the past, but they were typically with a sunray finish. The new watch hosts a degradé fade, which is pronounced in the quasi-square dial and looks eye-catching.
Made in Pforzheim – the Gold City – they certainly stand out for the exceptional color that they have.
Making its debut almost five years ago, the Seventies Chronograph Panorama Date became very popular and with the new editions, the success story hopes to continue. Designed to be a limited-edition, we can expect collection to get sold-out soon.
Under the Hood and more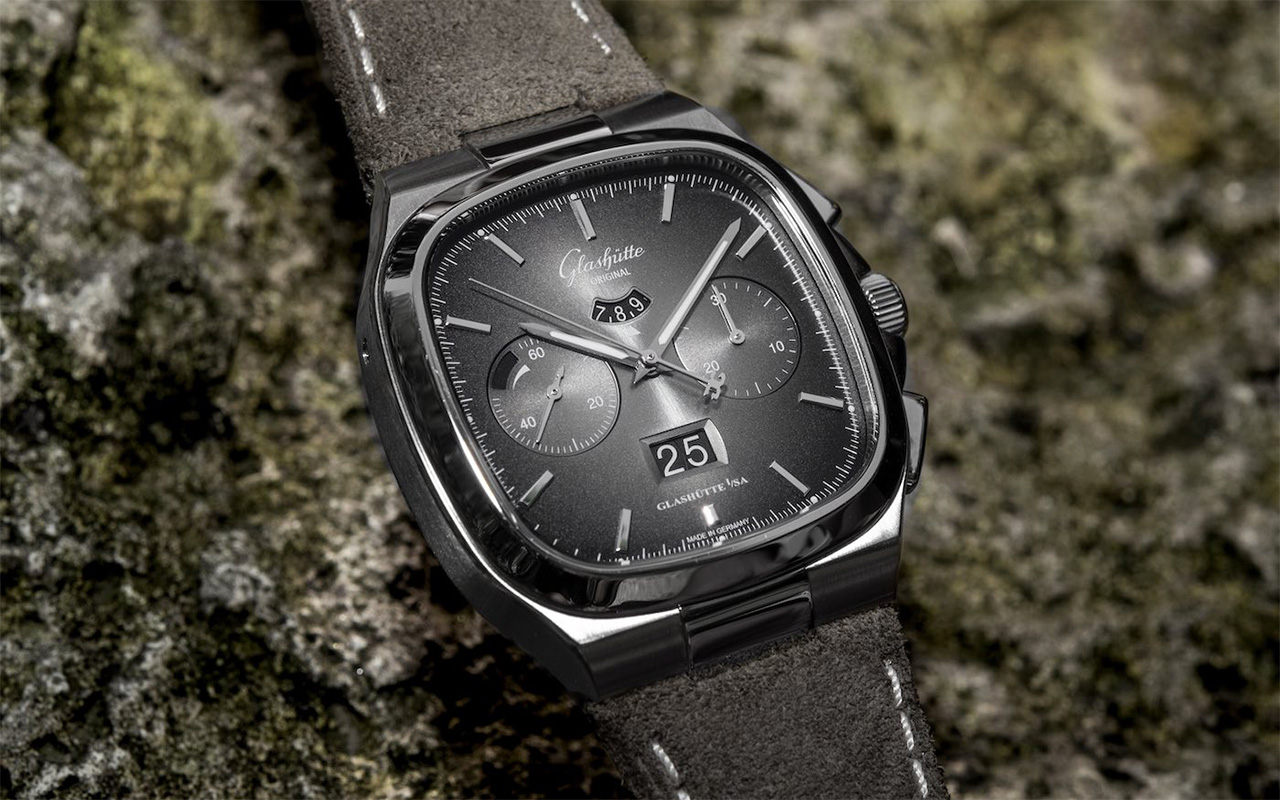 The dials on the Glashütte Original Seventies Chronograph Panorama Date watches are crafted with rotating brass brushes that give it the sunray finish. The next step in the process is galvanizing the dial and applying green or gray lacquer, several times. Subsequently, black lacquer is applied at varying angles, and this done using a hand-held spray gun. The result of this technique is that individual colors flow uniquely to each dial and they are fired up to fix the colors permanently. Next, the dials are fired to fix the color in place.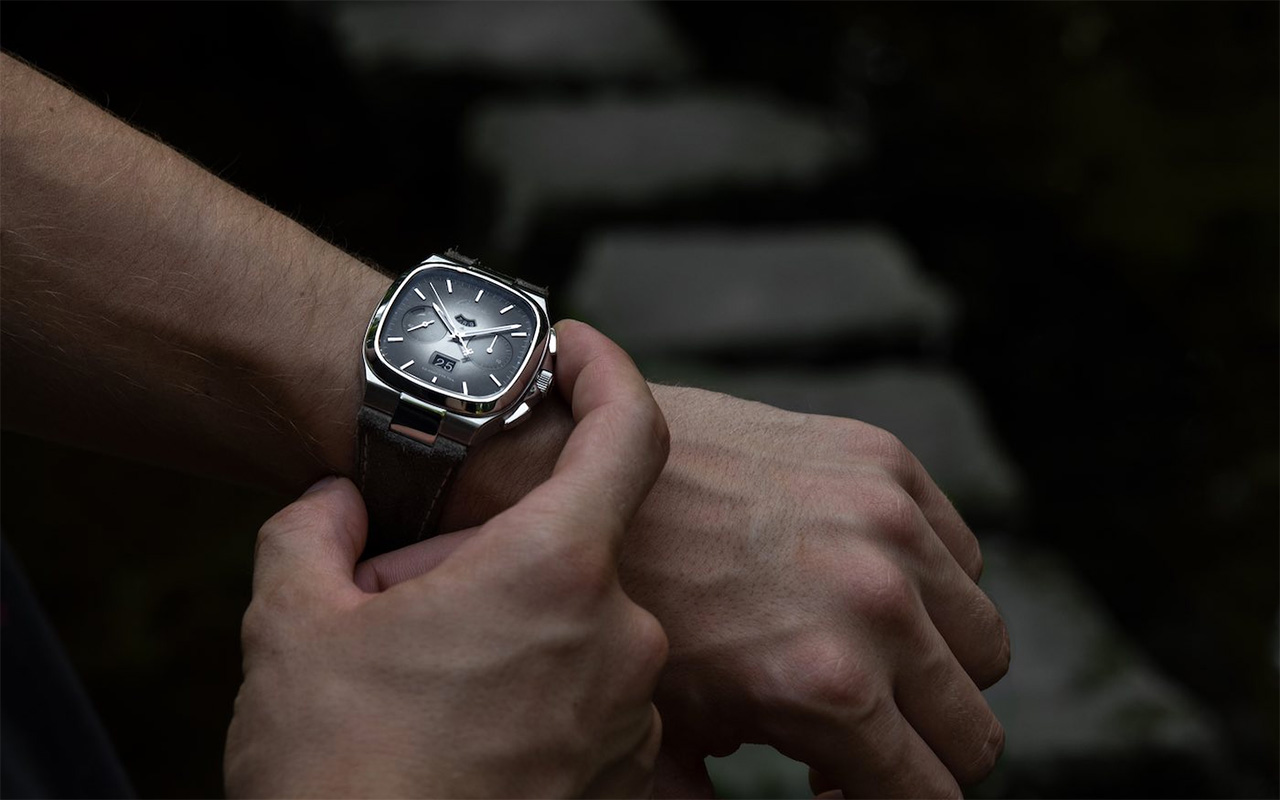 Under the 40mm-wide stainless steel case, rests an automatic flyback chronograph – caliber 37-02, which provides 70-hours power reserve. The case is tight enough to go down 100 meters, which is good enough water resistance for this watch. The power reserve indicator can be viewed through a tiny cutout in the upper left hand quadrant, housed inside the seconds sub-dial at 9 o'clock.
Other details include: the chronograph 30-minute counter at 3 o'clock, the dual-disc panoramic date at 6 o'clock and the crescent-shaped below the brand's logo. The Seventies Chronograph Panorama Date retail at $12,700for the calf nubuck leather strap and $13,900 for the optional stainless steel bracelet.