You got to give credit to Tesla CEO Elon Musk. If you didn't see the live unveiling of the new Tesla Cybertruck, then you missed a lot. And if there's something to be said about Musk, the man has a nasty habit of keeping his promises and delivering the goods.
Ladies and gentlemen feast your eyes on the new generation of pickup trucks. "Trucks have been the same for a very long time, in like a hundred years," gleefully said Musk in front of a raucous crowd at Tesla's design center in Hawthorne, California. "We want to try something different."
Behold the beauty of bare metal + cyberpunk styling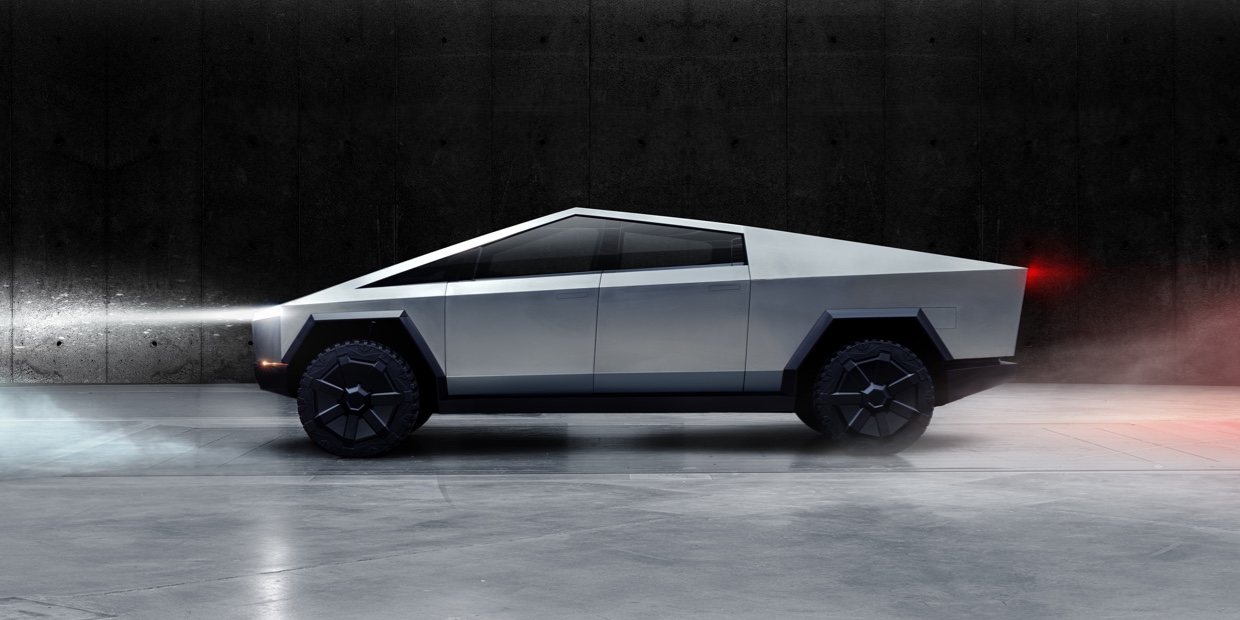 You see, the fastest way to evolve is to be entirely different from the previous generation. And with that being said, the Tesla Cybertruck is unlike any other pickup truck, SUV, or four-wheeled vehicle you've seen before.
Describing how the Tesla Cybertruck looks is not easy. However, it's exactly what Elon Musk said it would be. The Tesla Cybertruck is reminiscent of the Lockheed F-117 Nighthawk stealth fighter jet. Now, that aircraft caused quite a stir in the early 80s with its revolutionary steeply-angled silhouette.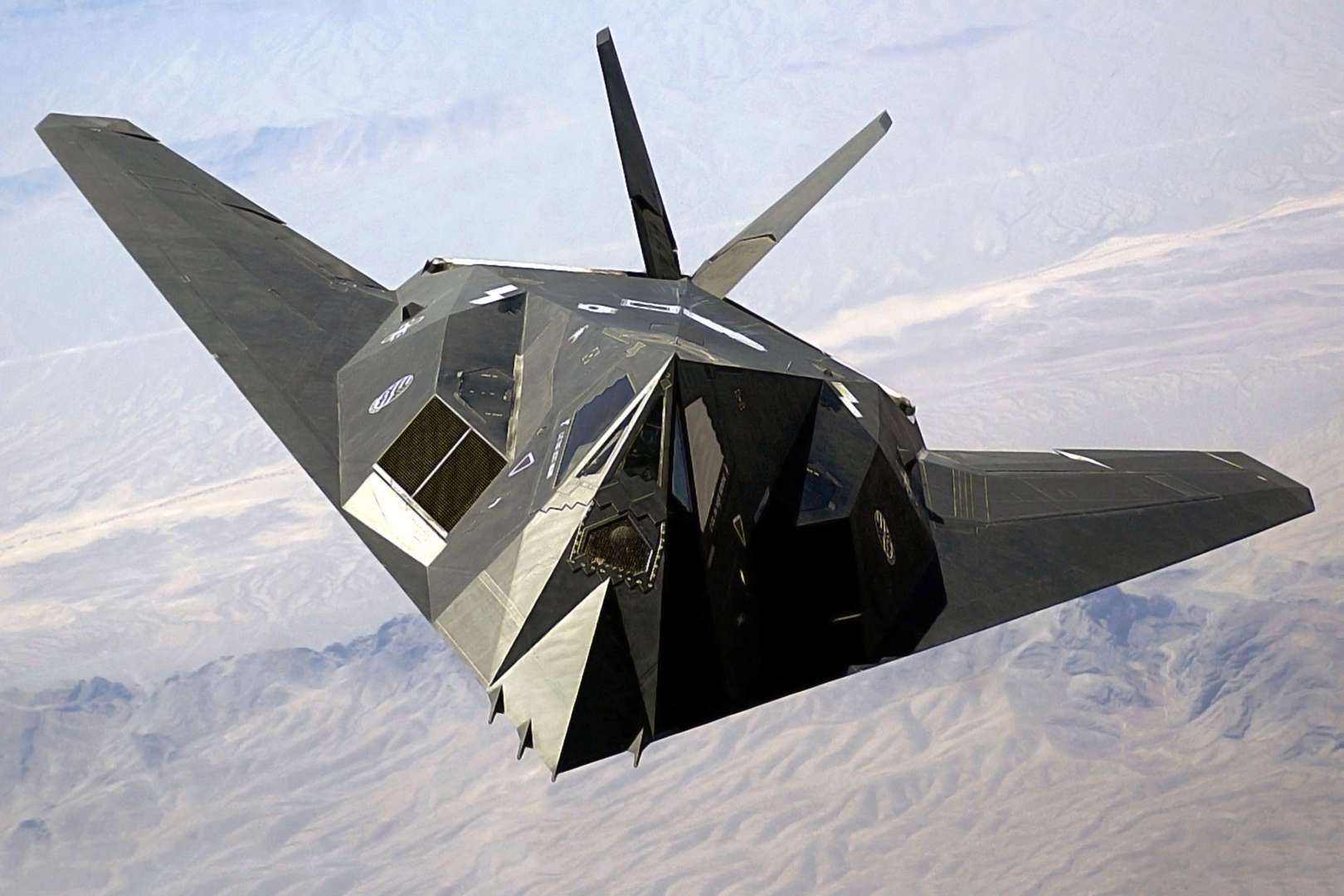 Back then, no other aircraft was quite like the F-117 Nighthawk. Today, Tesla has done the same with its new Cybertruck. Like or not, the rugged and high-tech styling grows on you. And that's before we get to the really juicy bits.
Tesla Cybertruck reinvents the pickup genre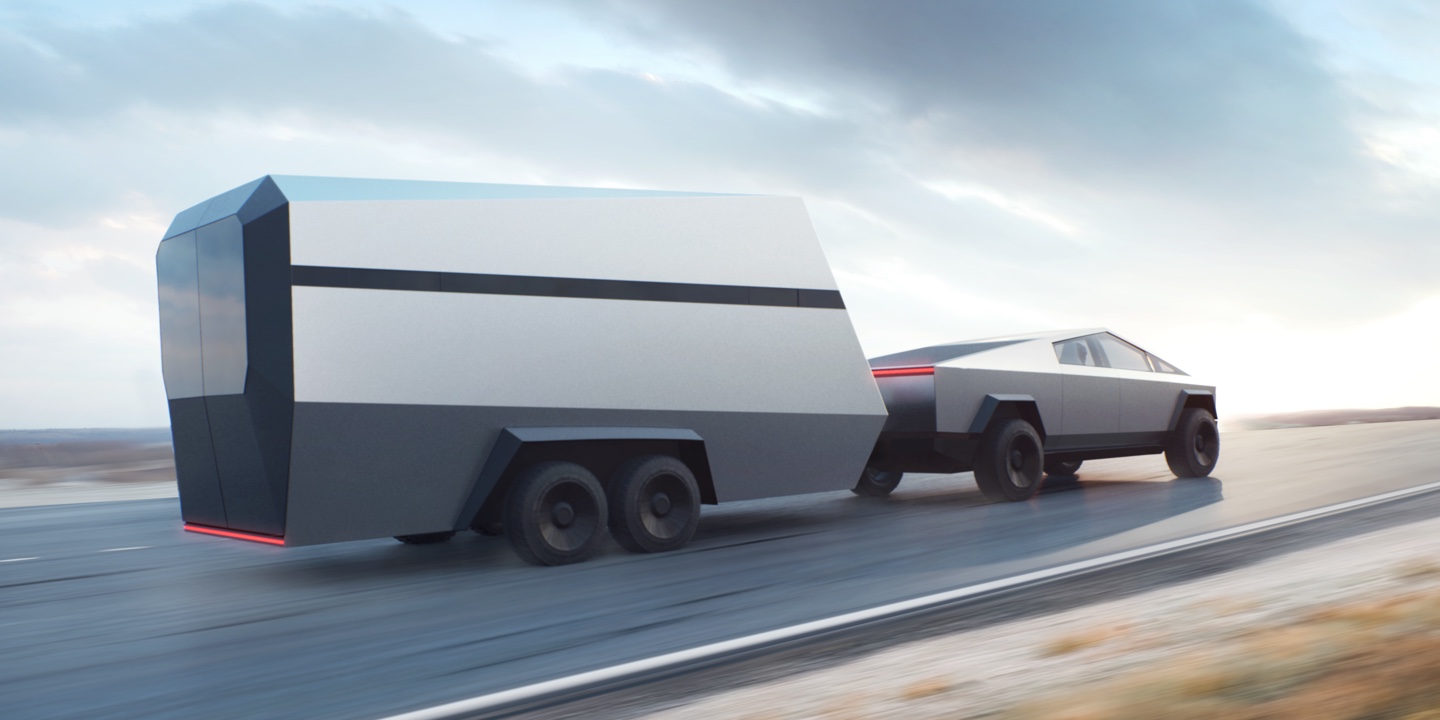 Traditional pickup trucks are built on a body-on-frame and bed-on-frame ladder chassis, but Tesla wanted something different for its Cybertruck. "We moved the mass to the outside of the truck," said Musk. "We created an exoskeleton. The body and the bed in a normal truck are carried like cargo, like a sack of potatoes," Musk continued. "It's the way aircraft used to be designed."
But in Tesla Cybertruck, the exoskeleton has a stressed-skin design. "By moving the stress to the outside skin, it allows you to do things that you can't do with a body on frame," said Musk.
The aluminum exoskeleton is impervious to 9mm gunfire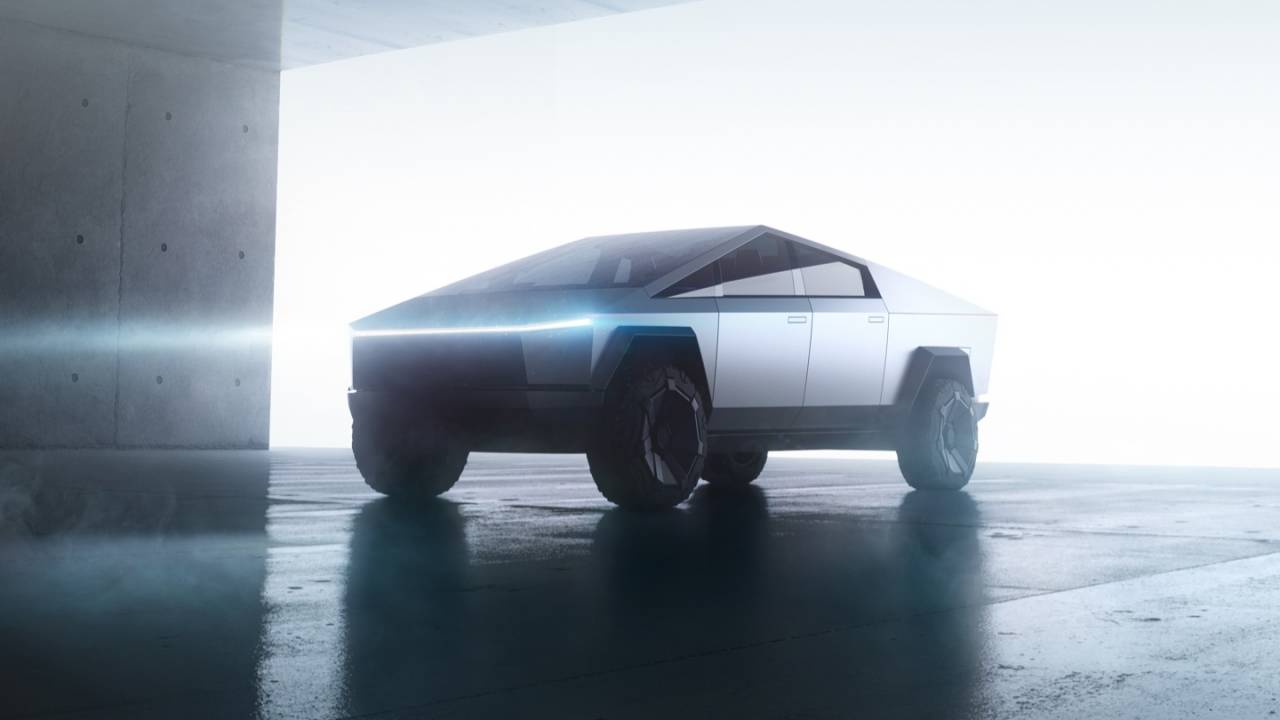 The exoskeleton is constructed from 30x cold-rolled stainless steel, developed in-house by Tesla. The body panels are purported to be so durable that the material is able to resist hard impacts from a sledgehammer. In fact, the same material will be used for Space X's Starship rocket.
But more than that, The Tesla Cybertruck is practically bulletproof. According to Musk, the body is impervious to 9mm bullets. This is all well and good, but at 232-inches long, 79.8-inches wide, and-75-inch in height, it's not that the bad guys will have trouble identifying you on the road in your Cybertruck, right?
How about the glass? Elon Musk was ahead of us again by giving the Cybertruck its own Tesla Armorglass, which offers advanced protection against forceful intrusion. So yeah, the Cybertruck is a fully-equipped armored vehicle straight from the factory.
Before we forget, Tesla Cybertruck is all-electric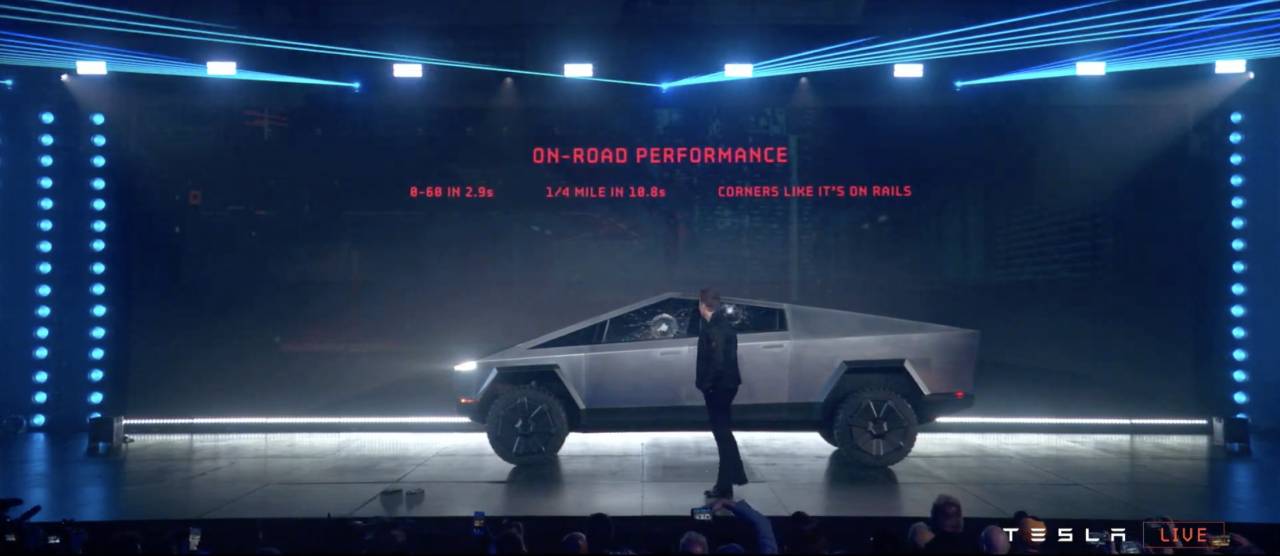 It's available in three versions. The single motor RWD model is good for 250+ miles of range while a dual-motor AWD model achieves 300+ miles. But if you want the most powerful Cybertruck, shoot for the tri-motor AWD model (yes, it has three electric motors) with a 500-mile battery pack.
As for performance, the most powerful version of Tesla Cybertruck can rush to 60 mph in 2.9-seconds and finish the quarter-mile in 10.8-seconds. And according to Musk, the Cybertruck can corner like it's on rails with its revolutionary exoskeleton design.
It's practical to a fault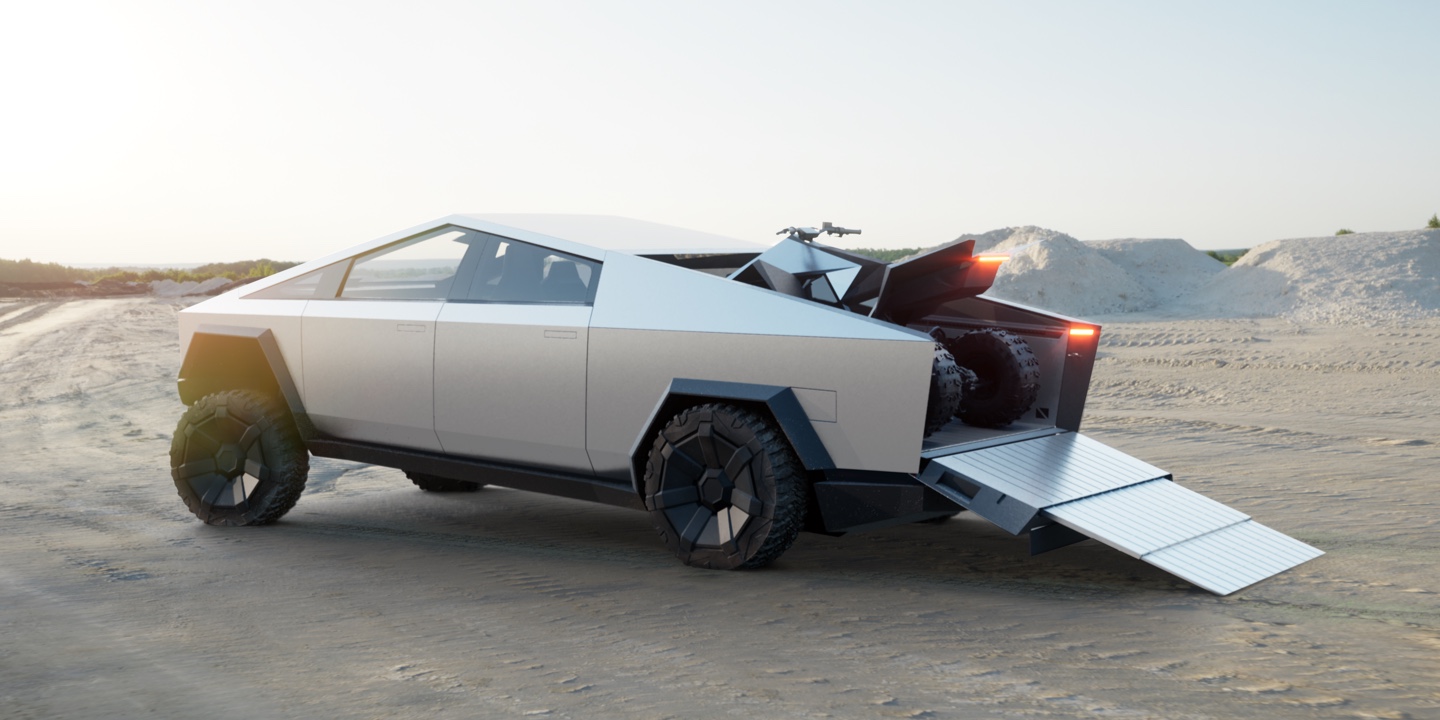 The Tesla Cybertruck is roomy enough for up to six full-grown adults. It has a 6.5-foot bed large enough to carry a full-size ATV. IT comes with adjustable air suspension to vary the ride height. The Cybertruck is tough enough to carry up to 3,500 pounds of payload and tow up to 14,000 pounds depending on trim model.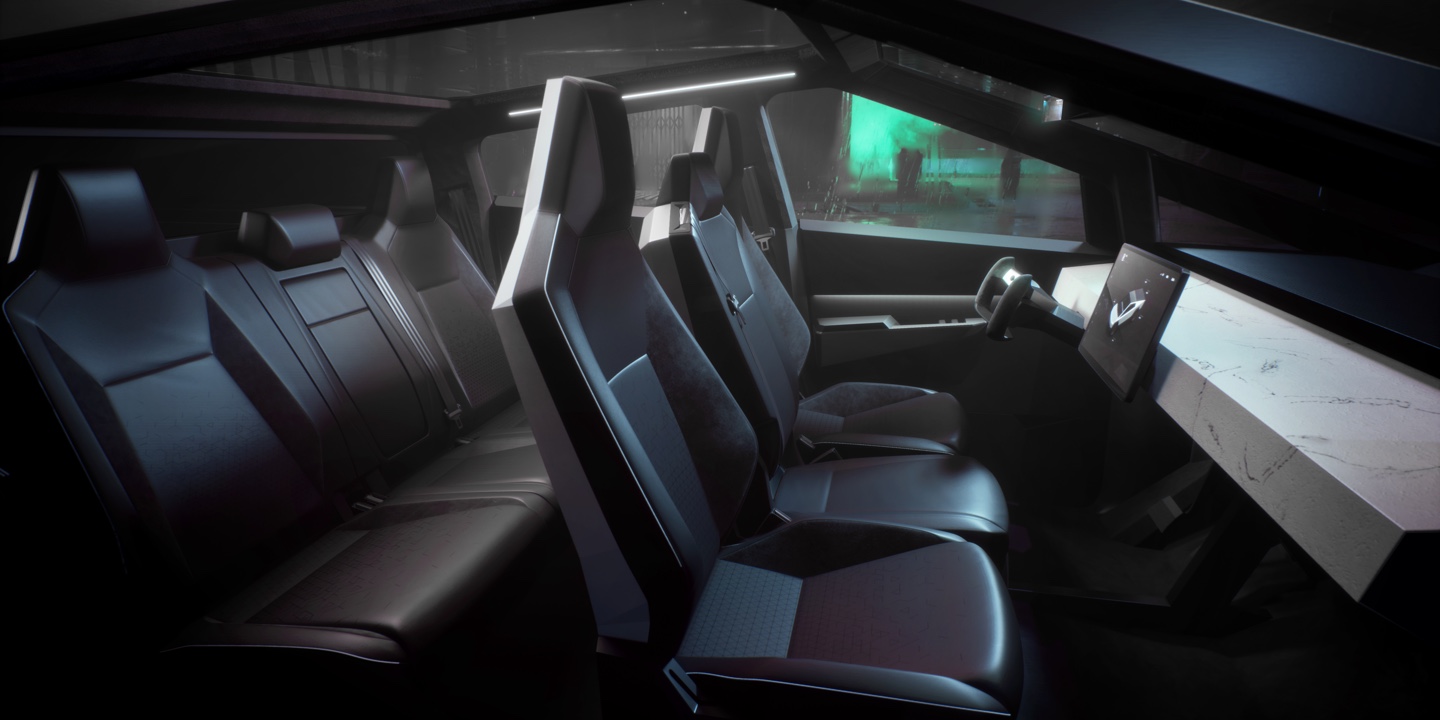 The truck even comes with onboard 110V and 220V outlets to power up work tools and equipment. Musk is also kind enough to fit an on-board air compressor. The Tesla Cybertruck is capable of DC fast charging of up to 250+kW.
How much is the 2021 Tesla Cybertruck?
The Tesla Cybertruck starts at $39,900 for the base 250-mile version while the 300-mile version has a base price of $49,900. The tri-motor AWD model starts at $69,900 before federal incentives.
Tesla will add the full self-driving package for $7,000 more. Tesla is now accepting reservations for the Cybertruck. Production starts in late 2021 while the tri-motor AWD version won't arrive until 2022.