For Christians, to follow Jesus means to take up His cross. Walking on water is another but how about putting yourself in Jesus' shoes? That is possible by getting the Air Max 97 MSCHF x INRI Jesus Shoes.
It's just another novelty pair we know people will want to buy and be part of their sneaker collection. Don't think it's a mockery of Christ because the designer seemed to have intended this to inspire faith. Even if you don't want religion, you'll find this Nike Air Max awesome.
MSCHF, a creative label based in Brooklyn, has worked with INRI to come up with this Nike Air Max 97. The customized pair is based on the story when Peter saw Jesus walking on water (Matthew 14:25).
The shoes tell of one's "faith" in the Messiah. And believe it or not, there is actual Holy Water from the Jordan River. It really is a "Walk on Water" experience because literally, there is water inside the sole. (We're not kidding.)
Walking on Water Experience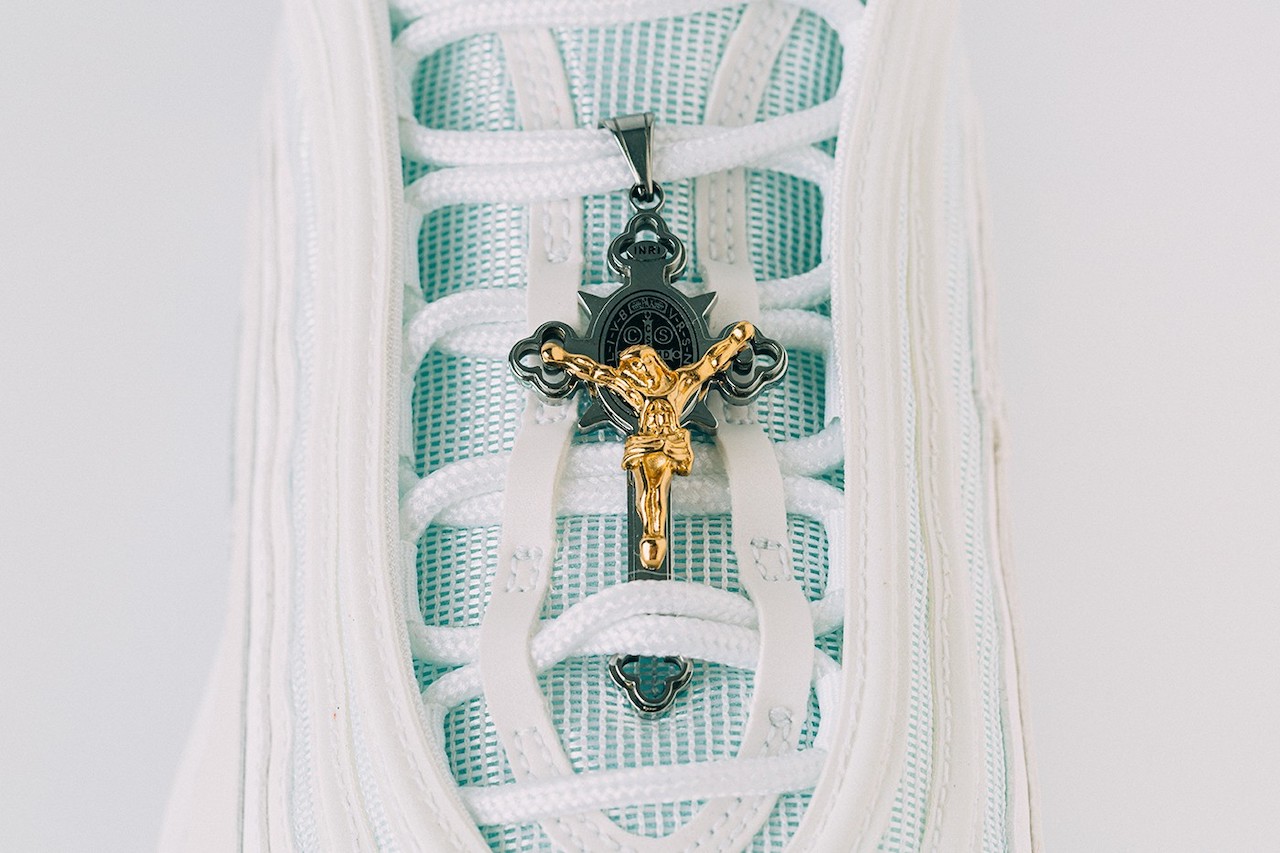 The pair is set in pure white with a silver crucifix and a gold Jesus hanging. We see a red fire on a flap in the tongue which could be a symbol for the Holy Spirit. Inside is a red insole with the MCSHY INRI logo.
On one side of each shoe is the Bible verse 'Mt. 14:25'. At the back again are the brand names MSCHF on the left shoe and INRI on the right.
Sweet Holy Pair of Sneakers! Be Good.
This is one holy pair, we think. If looking at it and actually wearing it will make you become a better person, that is, if you're a believer, then go ahead and buy this expensive pair. Expensive, yes, but Jesus' sacrifice for you is priceless.
The Air Max 97 MSCHF x INRI Jesus Shoes was released on October 8. And as with most special editions, this one sold out in one minute. You can buy one from StockX marketplace with a starting price of $2,499.
The original price was only $1,425. People are now selling it for more than double the price because that's the way it is in the fancy sneaker business.