For British carmaker Aston Martin, there's a lot to celebrate at this year's Goodwood Festival of Speed. The year 2019 marks 70 years of racing at the Goodwood Motor Circuit and 60 years since the unforgettable 1-2 win at the 24 Hours of Le Mans.
The only fitting way to commemorate both events is to commission a limited-edition race car. The blokes at Q by Aston Martin – the company's bespoke personalization service – went to work and created six unique Vantage models, with each honoring a famous race car from Aston's longstanding love affair with racing.
Aston Martin will only make 60 Vantage Heritage Racing Editions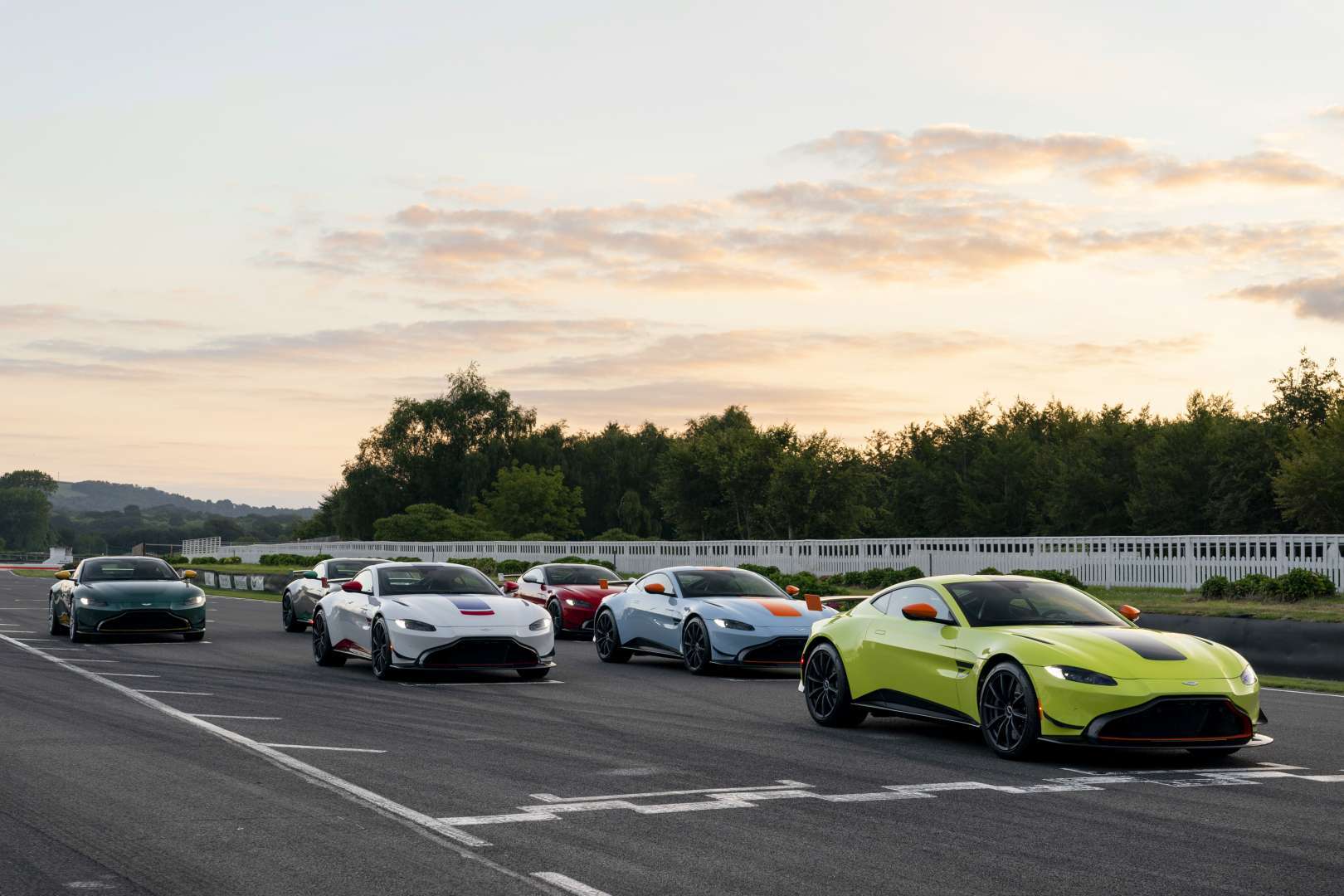 Aston Martin wasn't clear on this aspect. However, 60 units of the Vantage Heritage Racing Edition divided among six unique models is clearly 10 units per model, so each car is extremely limited-edition. Potential customers (those lucky bastards, and I'm looking at you, Tom Jones!) can choose from any of the six liveries or choose all of them if you have the means.
Each Vantage Heritage Racing Edition receives a new and exclusive aero kit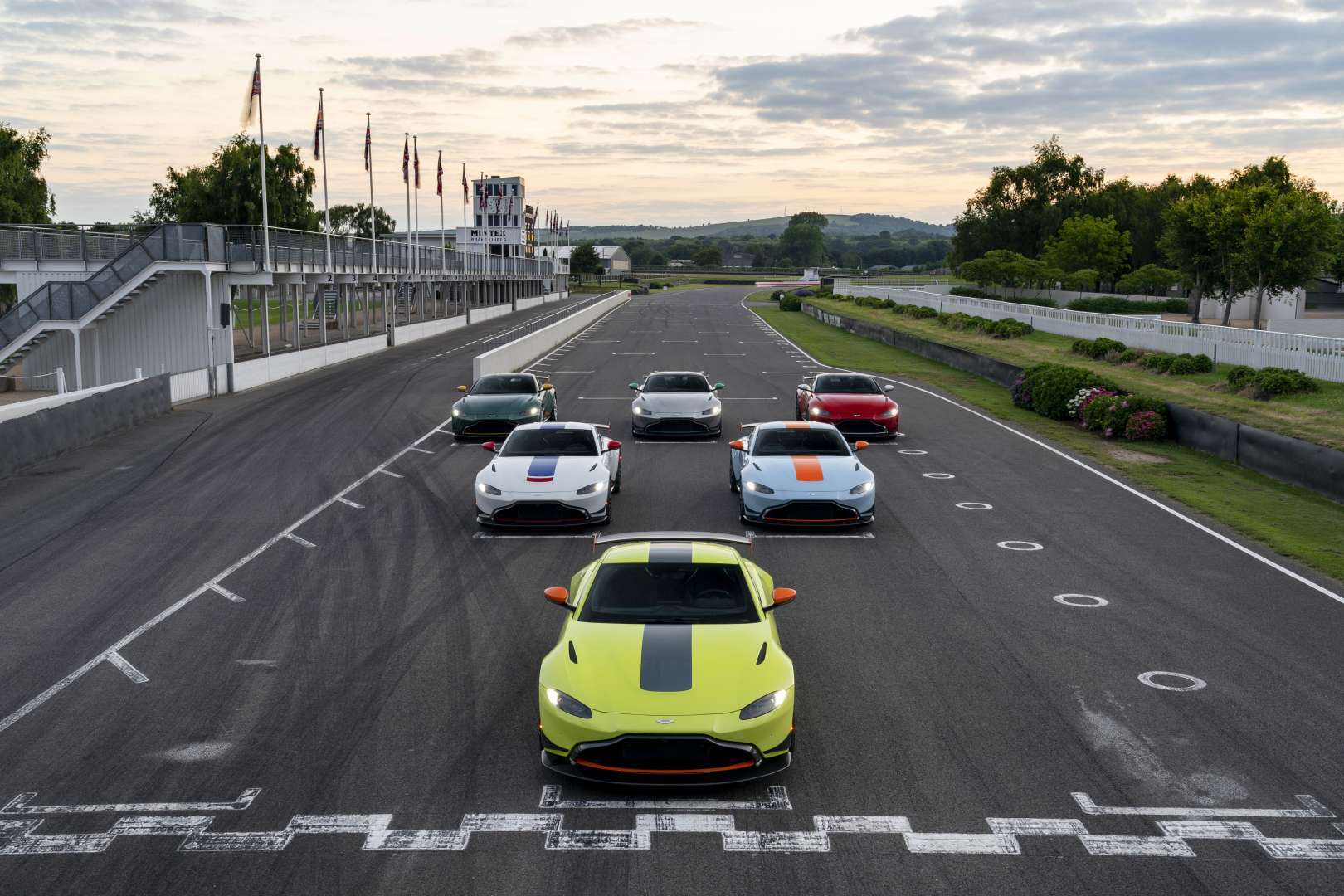 It starts with, of course, a 2019 Aston Martin Vantage. Yes, I'm talking about Aston Martin's newest $150,000 sports car with a thunderous twin-turbocharged 4.0-liter V8 from Mercedes-AMG. The new Vantage is now more focused, agile, and energetic than ever before, so there's no question why it goes like stink.
With 503-horsepower and 505 pound-feet of torque, the Vantage can zoom from 0 to 60 mph in 3.6-seconds. And because it doesn't weigh as much (the Vantage is 375 lbs. lighter than the Mercedes-AMG GT C), it feels glorious while doing so. The torque arrives similar to a wave of punches thrown by Manny Pacquiao. If you know anything about boxing, that's saying a lot.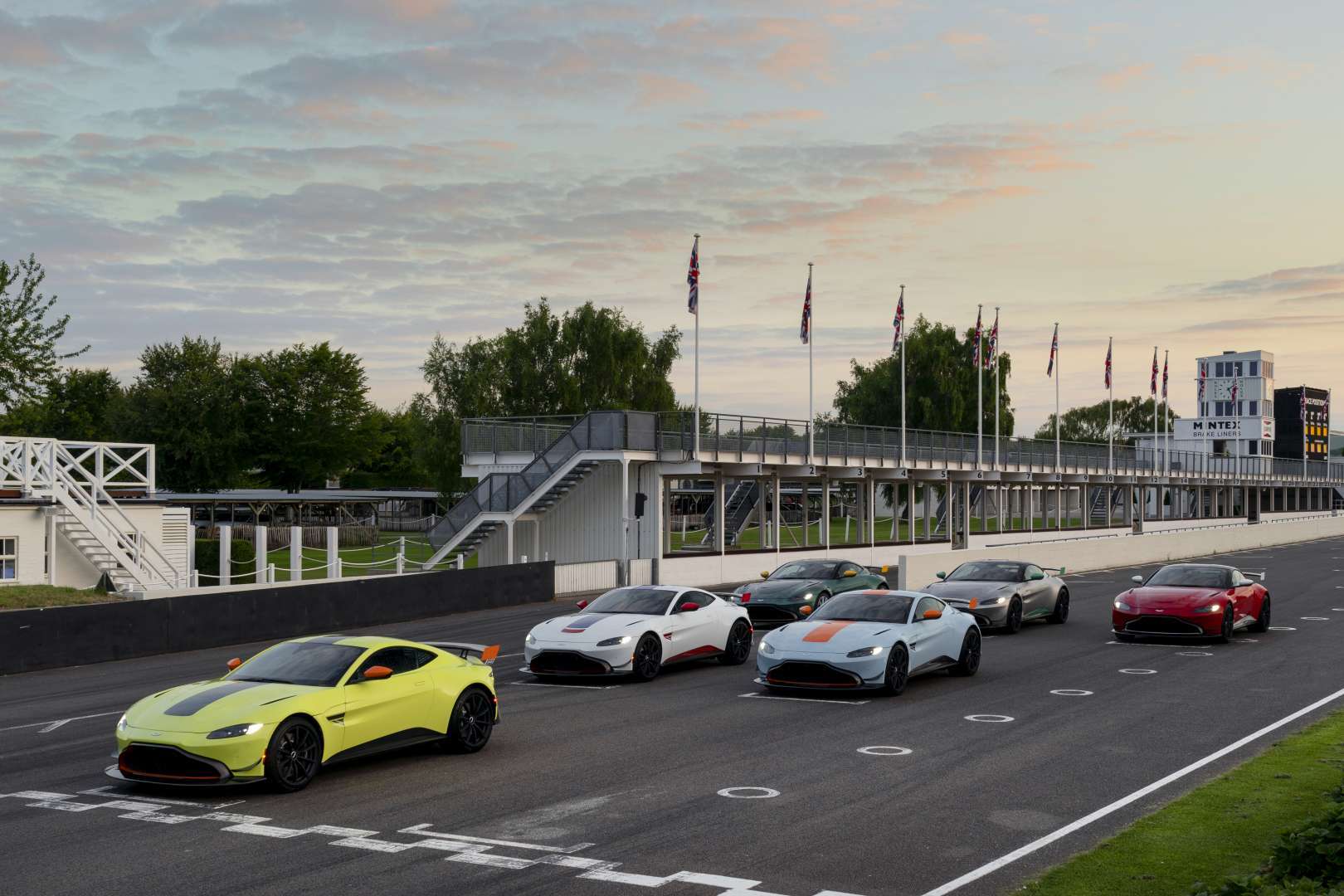 But each Vantage Heritage Racing Edition is equipped with a brand spanking new aero kit developed by Aston Martin's aerodynamic boffins. This includes a carbon-fiber rear wing, dive planes, and an extended front splitter. Also included are lightweight wheels, carbon fiber interior detailing, and the sports plus pack. The latter includes revised seats and a new steering wheel.
All told, the Vantage Heritage Racing Edition has 428 pounds more downforce at 190 mph than the original model. What this means is a track-focused Aston Martin you can enjoy both on the street and racetrack.
Here are six liveries of the Aston Martin Vantage Heritage Racing Edition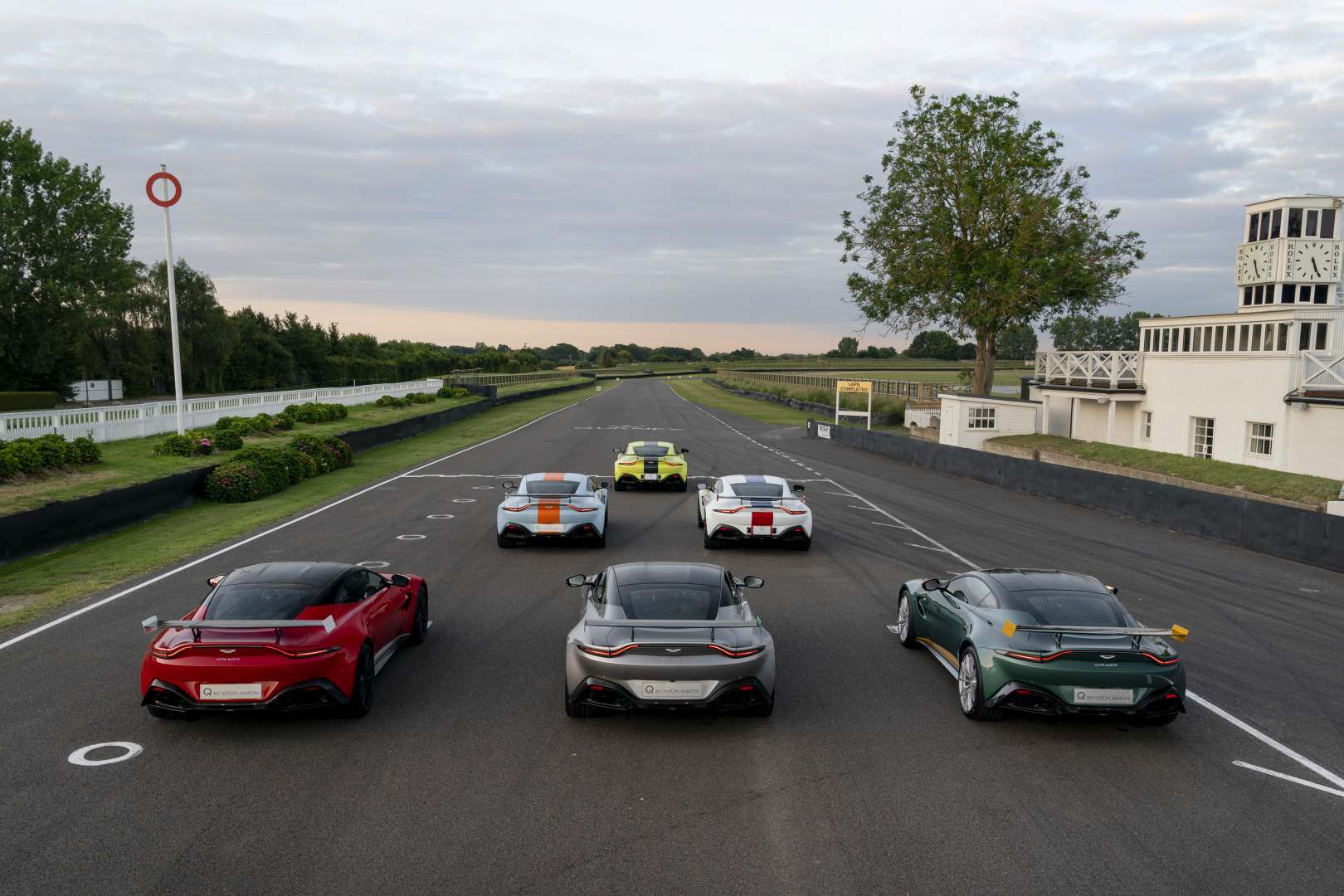 Here are six of the classic Aston Martin race cars that inspired the liveries in each Vantage Heritage Racing Edition.
Razor Blade – this race car is popularly called 'The Record Breaker' back in 1923. It set two class records in the 1500cc light car class at Brooklands. This livery is distinguished by its green and silver paint scheme.
The Italian Progettista – this is the most iconic pre-war racing car from Aston Martin, which many refer to as 'The Ulster.' It finished third overall at the 1935 Le Mans 24 Hours to win its class while placing fourth in the RAC Tourist Trophy Race. It has a lively red paint scheme and 'Aston Martin' lettering on the side gills.
DB3S – this race car hails from the time Sir David Brown acquired Aston Martin in 1947. Back then, Aston had a habit of using different colors on individual race cars to make them easily identifiable on the track. As it runs out, the yellow and green liveries of the original DB3S became the most iconic of them all.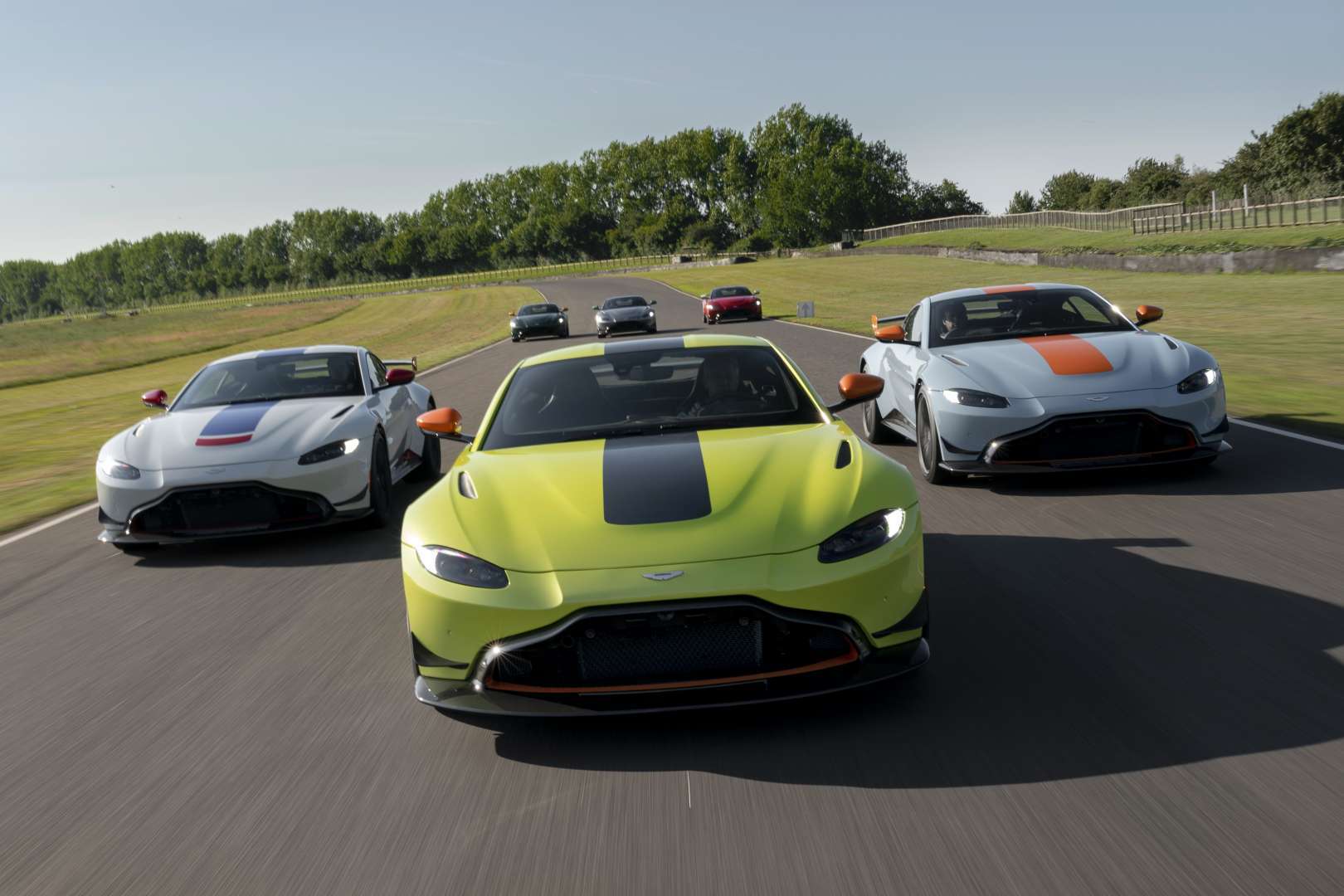 AMR1 – this race car is also called 'The Group C Monster' and was developed in 1989. It came with a Kevlar and carbon-fiber monocoque chassis, which was unprecedented back in the day. It also came with a flavorful white, blue, and red paint scheme.
DBR9 – this race car is the Le Mans-winning Vantage that took home the checkered flag in 2007 and 2008. It dominated the GT class dressed in retro-classic Gulf livery. The blokes at Q by Aston Martin ensures the Vantage Heritage model is as cohesive as the original race car in terms of looks and design.
Vantage GTE – this is the 'Next Generation' Aston Martin race car currently in action at the FIA World Endurance Championship (WEC). This model is distinguished by the delicious Lime Essence and Stirling Green paint scheme.
The looping central feature in the display area is a sight to behold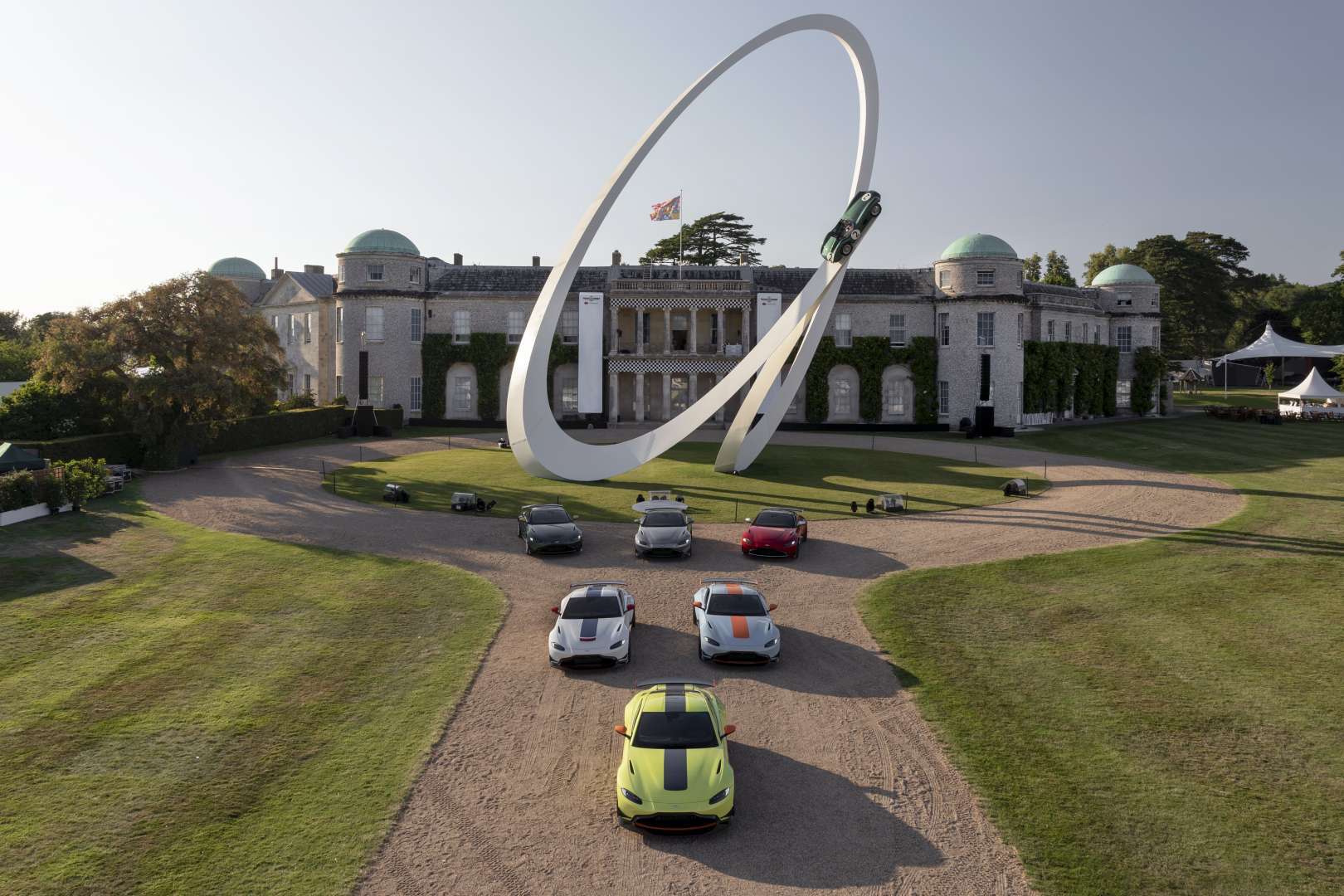 See that ringed background resembling a continuous race track pointing towards the sky? It was designed by Gerry Judah and consists of a 30-meter high swoop of steel. At the end of the loop is an Aston Martin DBR1 ascending to the sky like a space shuttle lifting off.
It's crazy, I know. But there's no better way to present all six models of the Vantage Heritage Racing Edition than by creating an enormous racing backdrop.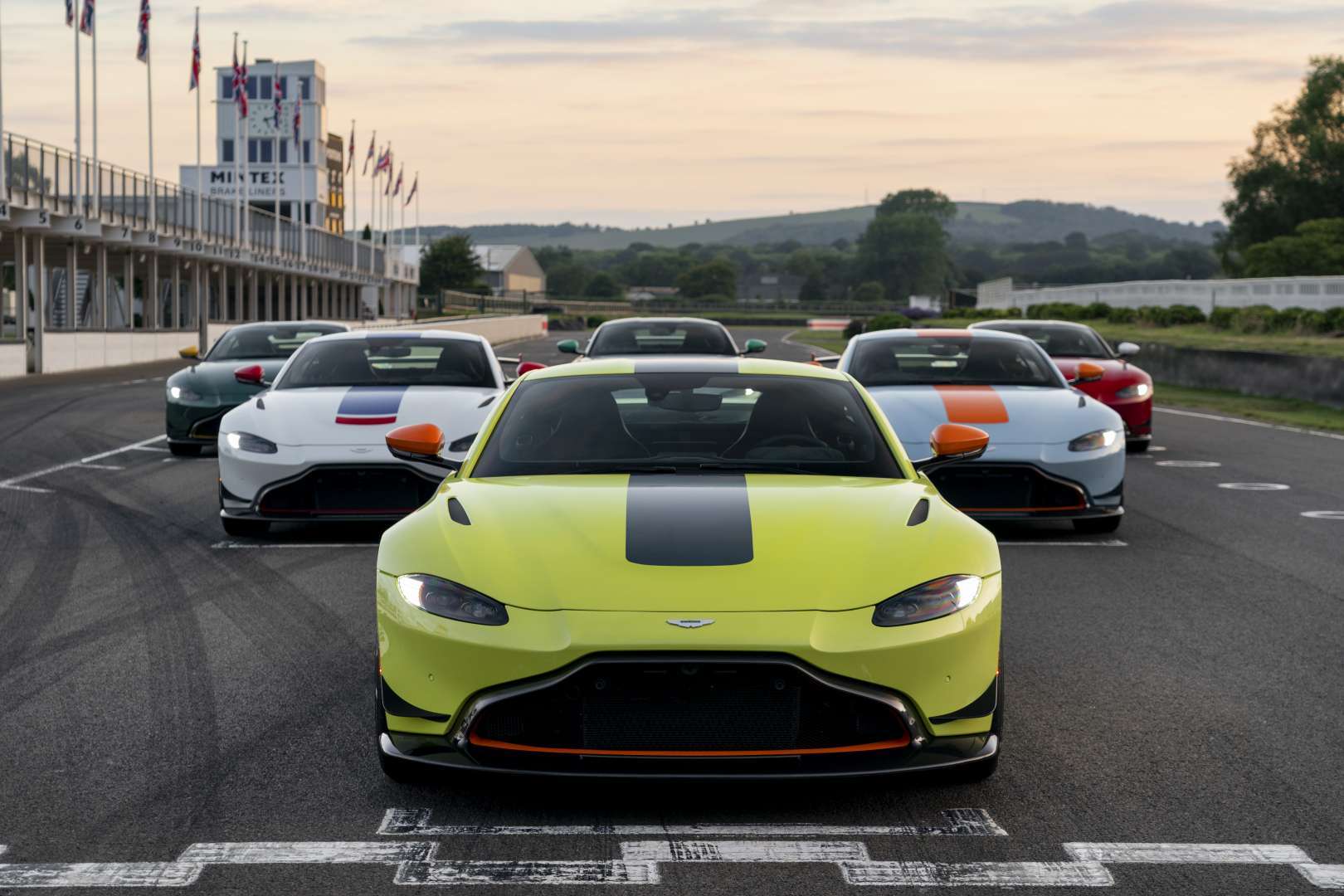 Each of the six limited-edition Vantage liveries is on display at the 2019 Goodwood Festival of Speed.