The first thing that you notice about the Casio G-SHOCK 5000 Series Watch, is that it has the same rugged square looks and color scheme of the very first G-SHOCK that made its debut. The major differentiation between then and now, is the use of a Titanium Case.
The new full metal construction is of course, to give us a lightweight watch that is comfortable to wear. The first impressions about this timepiece, is the alluring vintage look that keeps the ethos of the brand in-line with modern trends. Using this sturdy and dependable material for its case construction, strengthens the shock-resistance commitment.
First Square-shaped 5000 Series Using Titanium
The choice of using Titanium as the primary metal in its components, makes this Casio G-SHOCK the first watch in the square-shaped 5000 series, to adopt this route. This means that the case, bezel, caseback, and buttons, are all in Titanium.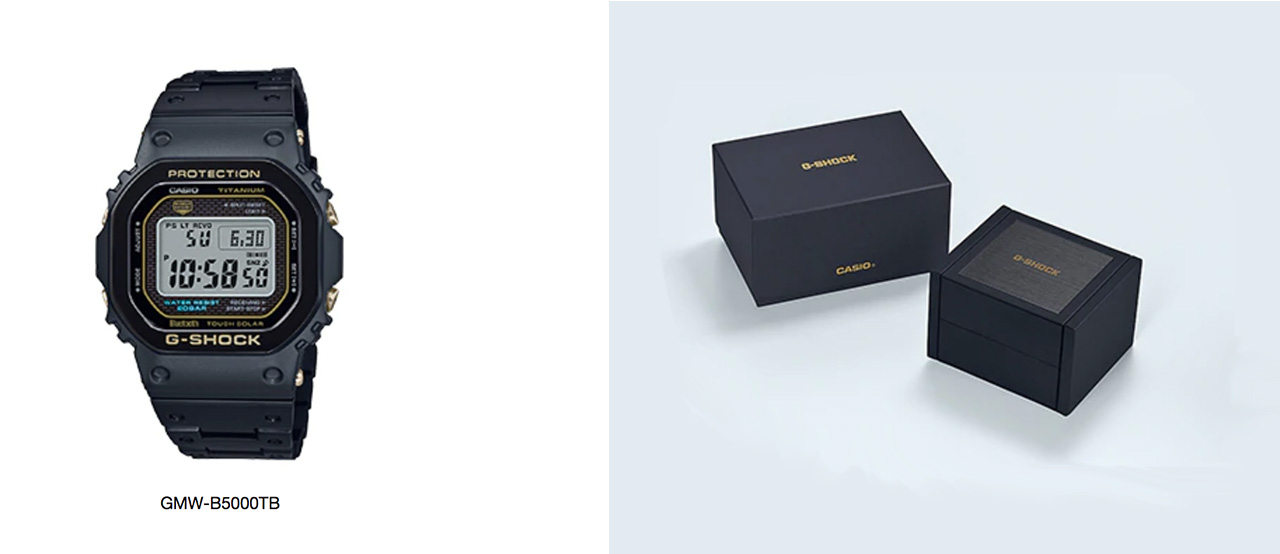 Apart from upping the glam quotient for the watch, the usage of this material has made the timepiece lighter by 57 grams, on the whole. The focus of the watch is to make it sit comfortable on your wrist, and this is achieved well by shaving off some weight.
The 5000 Details!
Moving away from the tradition use of stainless steel, the refreshing Titanium case has screw-back for a tighter seal. This means, the watch is 200-meters water resistant. The black case highlights the gold lettering and lines across the dial, making the details visible and legible. The watch basically has the vibe of the DW-5000C-1B, which was the first-ever G-SHOCK. The case measures 49.3 × 43.2 × 13.0 mm, which is the same as the predecessor.
The details on the timepiece include diamond-like carbon (DLC) coating on the metal components, scratch-resistant anti-reflective sapphire crystal, STN-LCD display for superior viewing angles and improved readability. The GMW-B5000TB hooks up to your smartphone via Bluetooth and allows you to set the World Time. Other details include Stopwatch, Countdown Timer, Alarm, Solar Power Charging system.
Pricing is not yet announced, but you can keep an eye out here, for the details.