Tokyo-based Ambush has collaborated with Converse to give us two new shoes that are in lines with futuristic utilitarian styling. Founded by Yoon Ahn, Ambush is a well know jewelry and streetwear brand. When she was working on the Fall 2019 collection, Ahn found the footwear industry to be fascinating and thus wanting to explore this new avenue.
The one thing she had in mind very clearly, was that she wanted to do something with rubber boots and took inspiration from military boots that were practical and had value. The design team at Converse, immediately understood her cues and found that they had at one point, produced boots similar to what Ahn was referring to. Team Converse and Ahn made the Converse Chuck 70 and Pro Leather as their starting point.
Extreme Cold Weather Boots
Ahn was sure that she didn't want to stamp-out the foundations of both the Chuck 70 and Pro Leather shoes. While the original character of the shoes are retained, Ahn has built up the on two classic sport styles. She has taken inspiration form the Extreme Cold Weather Boot, which are a pair of rubber military boots that were made by Converse in the 1950s.
Ambush's signature styling is quite evident is the silhouettes of the shoes. If we talk about the Chuck 70, Ahn has a heightened platform midsole and embellished the rubber layering. The color tones of both the shoes are kept unisex, hence the coconut-milk colored rubberized upper for the Chuck 70, complements the matte detailing and the gusseted tongue.
Re-working the Pro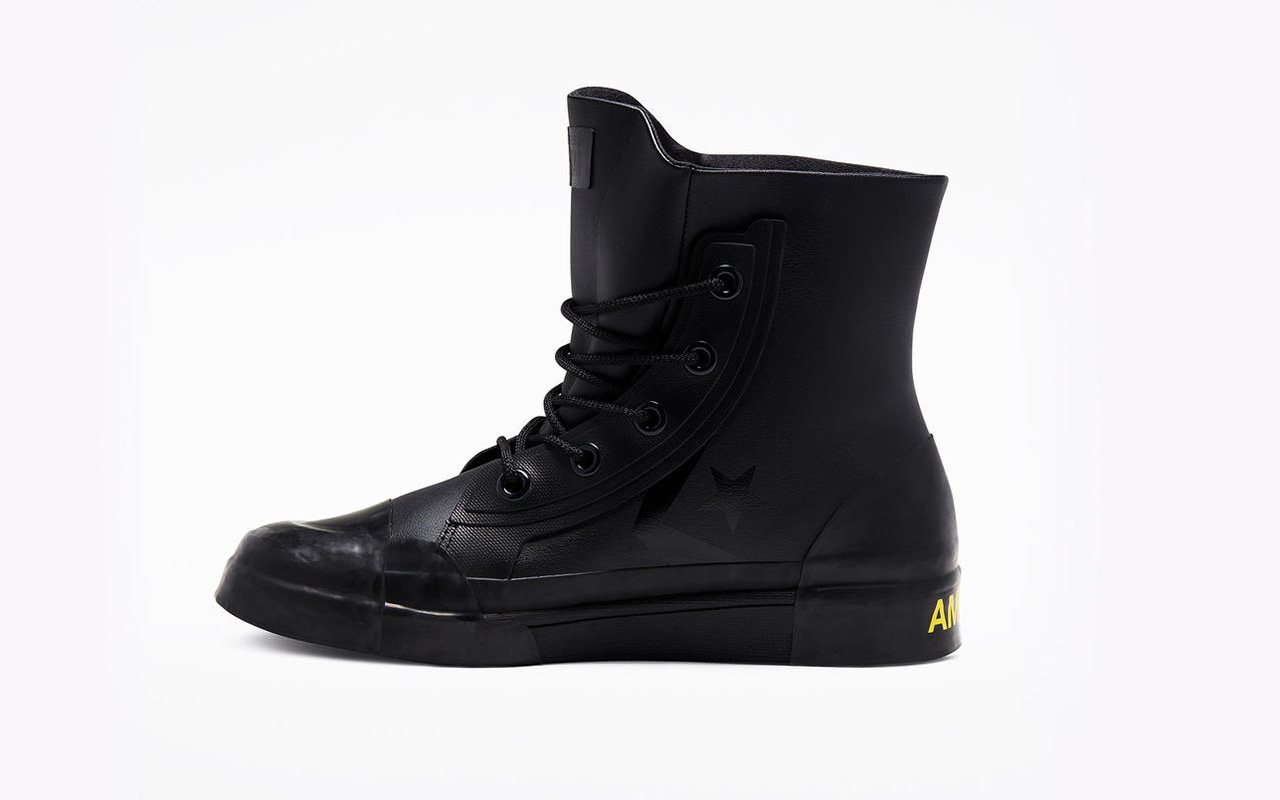 With this collaboration Ahn has got the opportunity to re-work the Pro Leather quite extensively. This classic basketball shoe is transformed with a black rubberized upper and tonal 3D Converse Star Chevron logo. Monochromatic black laces, gusseted tongue and cyber yellow instructional Ambush branding on the elevated heel, are the additions that Ahn has brought in.
While Ahn has maintained the simplicity of the Chuck 70, she has upped the tactical aesthetics of the basketball shoes. Both the shoes will be available from October 19th, online and at select retailers for $160 (Chuck 70) and $180 (Pro Leather).