San Francisco based Mission Workshop makes bags, good ones at that. The company fabricates well styled and utilitarian backpacks for the marketplace synonymous with quality, ruggedness, and individuality. A classic and best seller, the Rhake, is now available with a weatherproof advanced Waxed Canvas. The Rhake WX is the new version and is currently available for Pre-sale at $70 dollar off the ticket price.
The Rhake WX is a rugged, yet soft canvas pack that is ideal for your days of work, play, and overnight travel. The bag features a number of pockets that have been designed with purpose and practicality. All of your items – laptop, tablet, phone charger, cords, keys, shades, and water bottle – can be stowed in the intentional pockets, staying organized and secure.
Waxed cotton is cotton that is treated with a paraffin or a natural beeswax – either woven into or applied directly to the cloth. It was developed in the United Kingdom during the 1920s and used primarily as a form of waterproofing for sails and sailing applications. More modern materials have since supplanted the majority of waxed cotton out there, but it is still an elegant, effective, and natural means of weatherproofing.
The Rhake Waxed Canvas Laptop Backpack is weatherproof, and, like all Mission Workshop backpacks, is constructed with a two-layer weatherproof system to ensure that all your gear stays dry and continues to function.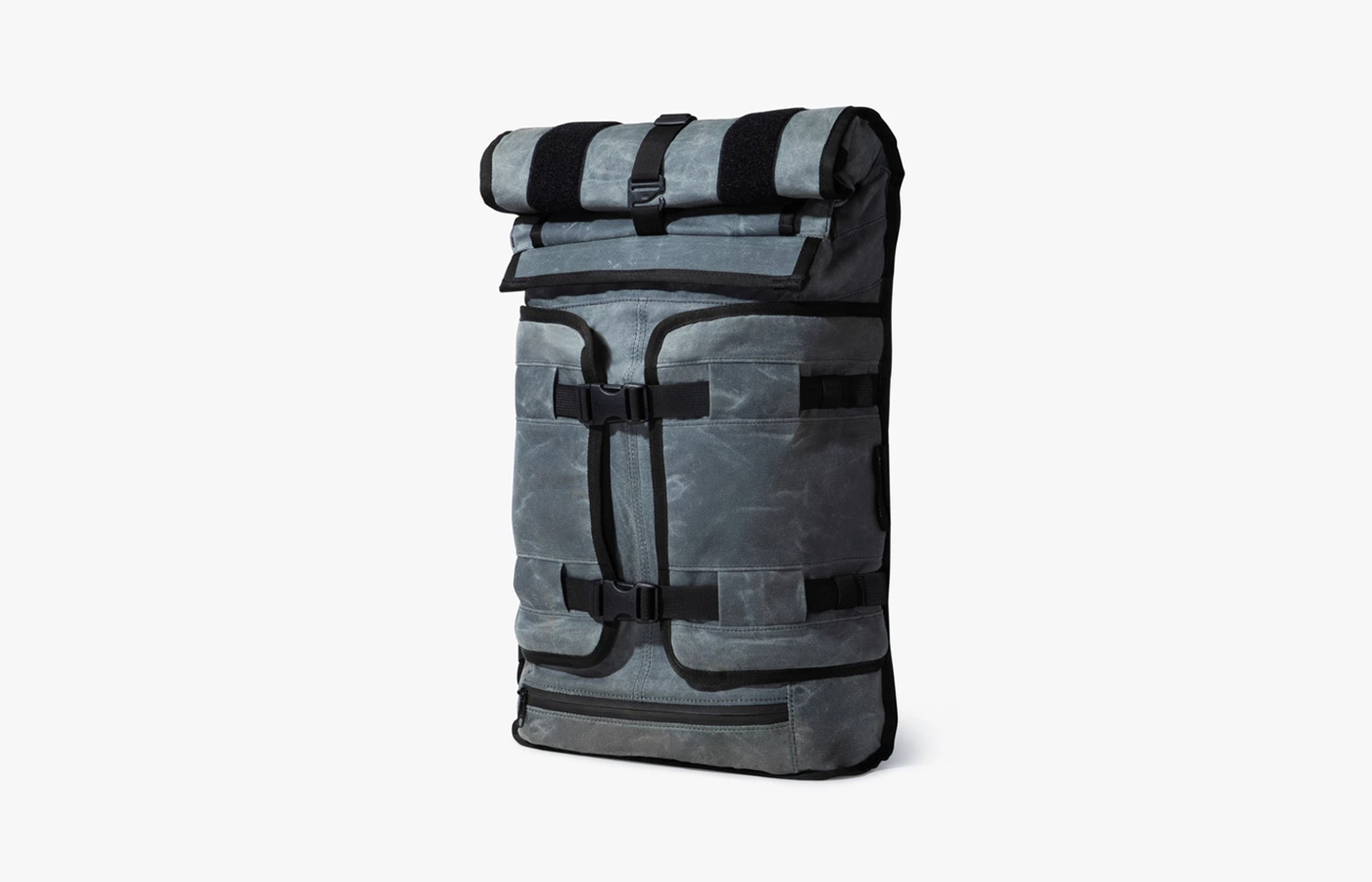 The main compartment of the Rhake WX is a 22-liter volume capacity. With one of the best parts about the bag being that it is expandable or reducible in size to accommodate more or less of your things – be it gear, clothing, or a combination of the two.
The bag stays affixed to your body with wide and comfortable shoulder straps. In addition, the straps are customizable and have two Arkiv rails where smaller pockets and accessories can be attached.
Rhake is takes many of their base series of products and ups the products to another level in a project called the Advanced Projects® series. The Rhake WX is one of their advanced designs. The bag is strong, durable, and built to last through wear and tear. It is made with a Fairfield Textile 10oz Army Duck Canvas with a Martexin Waxed Finish – a weatherproof canvas.
Over time and with daily use, the Rhake WX will show wear patterns unique to your lifestyle, thus making no two bags alike in the long run.
The Rhake series of bags have a slight military inspired look to them, are exceptionally attractive, and suitable for both men and women to sport. The bags at Mission Workshop are Made by hand in small batches in the USA and guaranteed forever. That's a pretty good deal.
The awesome news is that the Rhake WX is available for Pre-Sale with $70 USD off the $455 USD retail price with use of the discount code RHAKEWX upon checkout.