SpongeBob SquarePants! The only cartoon character that could get my son to eat his meals properly. Imagine my plight, I was new to motherhood and handling a two-year old, who barely knew how to speak, my son was hooked to his yellow buddy and would eat without a fuss, watching his favorite toon.
Today my son is twenty-two, and in a heartbeat will not mind spending a hundred dollar or two, on SpongeBob SquarePants branded shoes. For those oblivious – really? – there is a yellow sea sponge called SpongeBob SquarePants and he lives at Bikini Bottom, which is situated at the bottom of the Pacific Ocean.
This animated television series was the brainchild of animator Stephen Hillenburg for Nickelodeon. Apart from the series, which is now moving to its 13th season, there are two movies that have come out and a third one in the pipeline, due in 2020.
Some of the ideas for the TV series first germinated in an unpublished educational comic book called The Intertidal Zone, back in 1989. However, the series made its debut on the silver-screen on July 17, 1999. It's interesting to note that Nickelodeon named SpongeBob's hometown as Bikini Bottom – which is inspired by the real coral reef, Bikini Atoll, found in the Pacific Ocean.
When we can have new species of fungus (Spongiforma squarepantsii) taking inspiration from SpongeBob, then it comes as no surprise that brands want to cash in on the popularity and gives us co-branded gear like shoes.
Nike, Timberland and Vans – all three have their take on SpongeBob SquarePants and his friends. Which one do you like the best.
The SpongeBob and Timberland Collaboration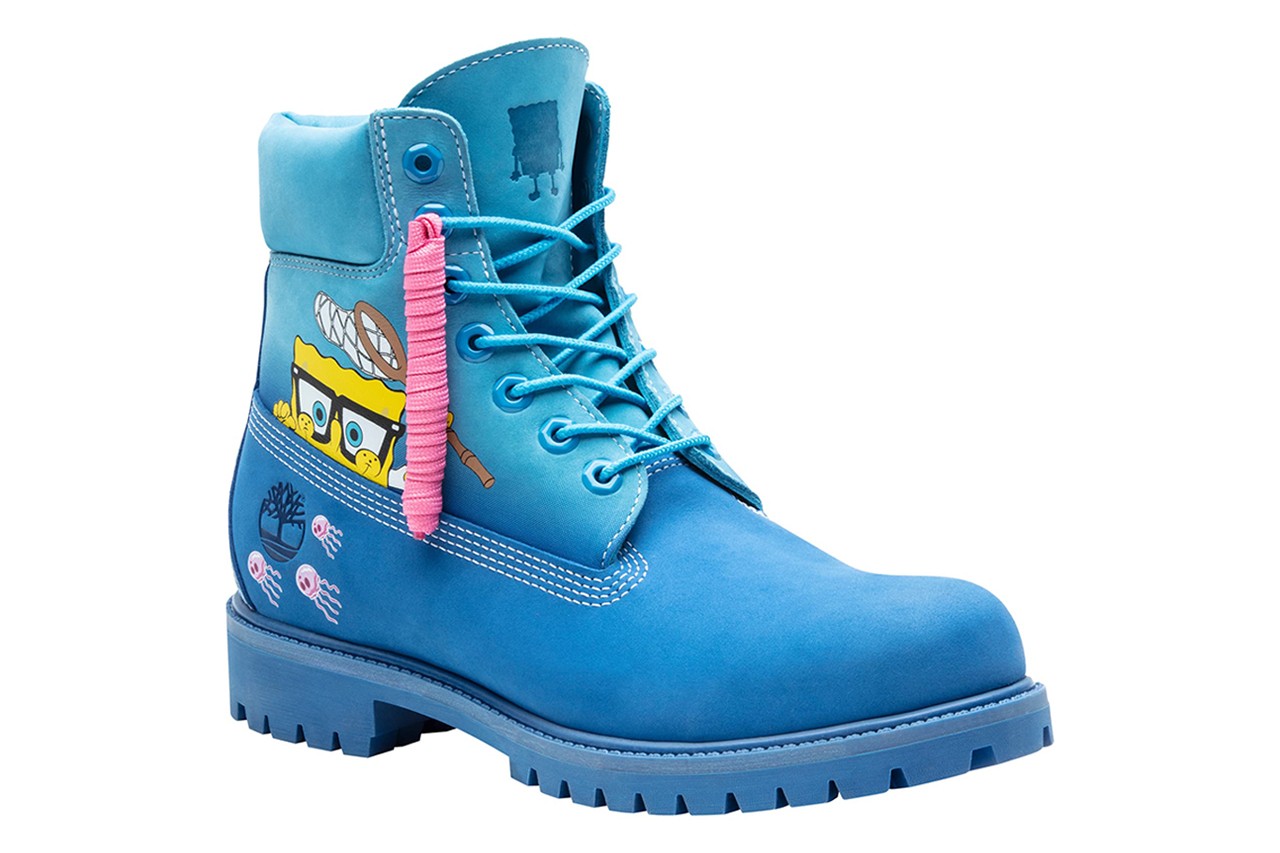 Two pairs of 6" Premium Waterproof Boots have been designed by Timberland that focus on SpongeBob and his kin. On the side of the shoe, you will find SpongeBob looking over the contrasting white stitching. With a net in his hands, SpongeBob peers over to in an attempt to catch the three jellyfish that are around Timberland's debossed logo. Very cheeky if you ask me!
The most iconic move is to place a debossed image of SpongeBob on the shoe tongue. The shoes come with two interchangeable laces giving you a chance to team with blue or vibe with the jellyfish with a bright pink.
I love the details like the giant jar of jelly keychain in place of the Timberland branding attached to the shoe.
The shoe in black version showcases a SpongeBob scene with Plankton running in front of a fresh Krabby Patty that is printed over Timberland's logo found on the heel. The top two lugs are painted in red, which makes them stand out against the black backdrop of the shoe. The laces are yellow with a sponge pattern. SpongeBob's iconic outfit can be seen as a representation at the dubrae, and SpongeBob looks like endearing as the graphic on the oversized tongue. It's Hard to pick between the Nebula Blue and Black options.
Kyrie Irving + SpongeBob SquarePants + Nike Collaboration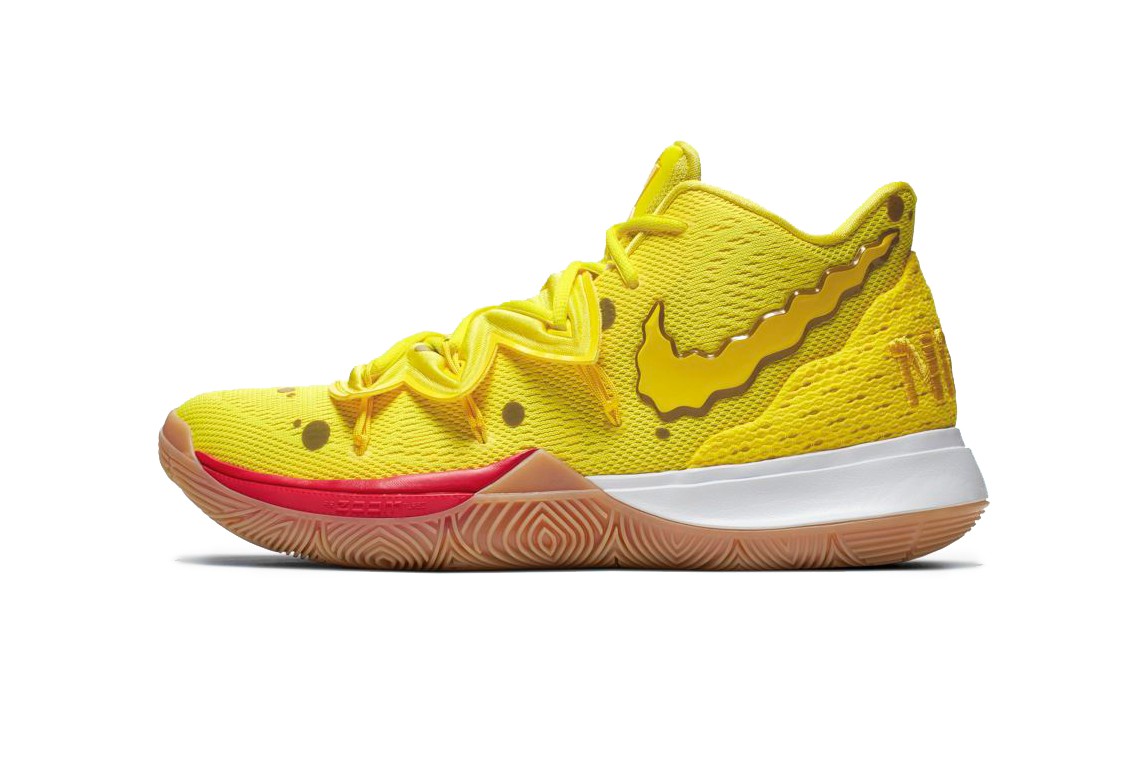 You may find SpongeBob in a pineapple under the sea, along with Patrick, Squidward, Sandy and Mr. Krabs, however now is the time to see how they got onto a Nike Shoe. Kyrie Irving in collaboration with Nickelodeon and Nike have designed the Kyrie 5 'SpongeBob SquarePants' shoes.
The collection includes five distinct colorways that represents the show's main cast and of these the silhouettes include two of Irving's signature models. The Kyrie 5 and Kyrie Low 2 showcase SpongeBob, Patrick, Squidward, Sandy and Mr. Krabs in thematic colors. These shoes are available for $130.
Vans SpongeBob SquarePants Collection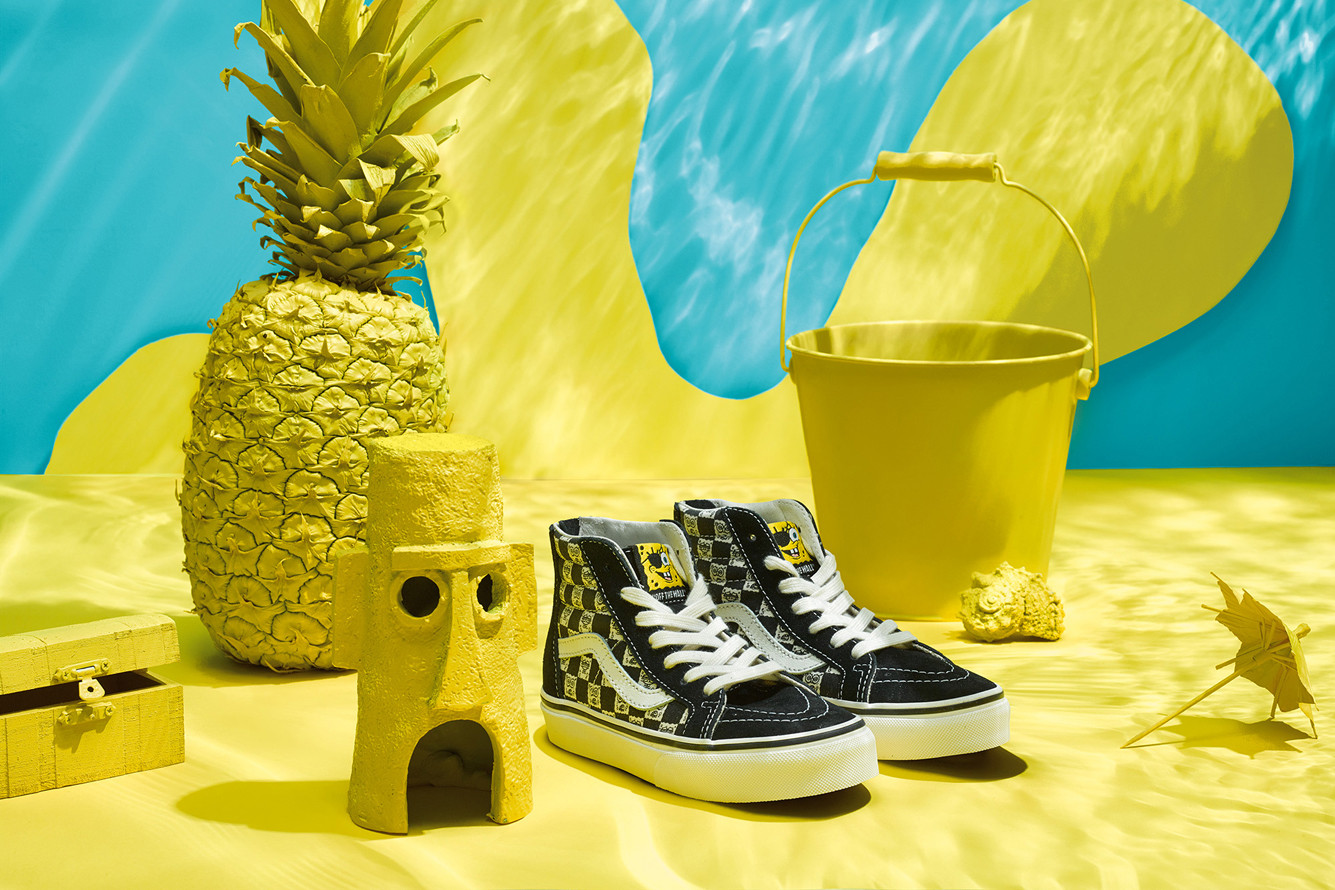 Vans has also collaborated with Nickelodeon's most-loved cartoon SpongeBob SquarePants. The characters are seen enjoying the attention on Sk8-Hi, Authentic and Slip-On models. The collection includes a total of six releases.
Patrick and SpongeBob can be seen on the uppers and Plankton is featured on the bottom outsole, giving the shoes a fun vibe. Design elements include all-over prints and checkerboard styling with custom tongue tags and co-branded insoles.