Now, this feel-good type of news is killing two birds with one stone. Nissan and Mackie's of Scotland are partnering to create a zero-emission electric ice cream van.
With this new EV, you can satiate the summer heat with your favorite ice cream treat without inhaling nasty fumes.
The ICE is out in ice cream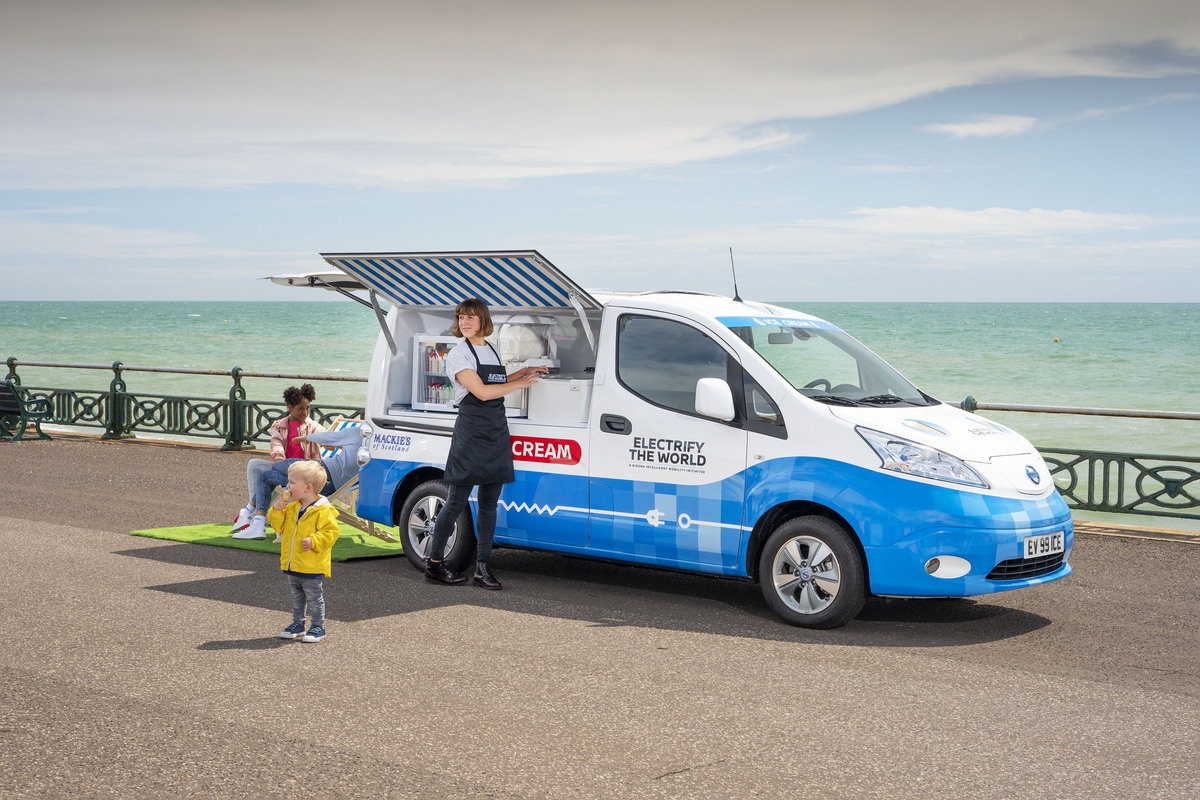 The imminent arrival of an ice cream van brings back tons of childhood memories. It's a piece of nostalgia that both kids and adults can relate to.
But with the "Sky to Scoop" project of Nissan and Mackie's of Scotland, both companies are proving every stage of the ice cream journey can operate smoothly without relying on good ol' fossil fuel.
This means the ice cream vans of the future are fully electric. There's no ICE or internal combustion engine spewing harmful gasses as the vehicle sits idly.
Most conventional ice cream vans are powered by diesel engines. The vehicle is left idling at all times to power the onboard freezers and refrigeration equipment.
But with this new concept electric ice cream van, vendors can offer a better customer experience while significantly reducing potential carbon footprints.
And with this, you can breathe easily while enjoying a cold treat.
Mackie's of Scotland produces ice cream using wind and solar power

Mackie's of Scotland is a family-owned dairy farm. Their facilities are all powered by renewable energy. All those savory and mouthwatering treats are produced using wind and solar power.
Partnering with Nissan for a zero emission all-electric ice cream van is the next best step. The 'Sky to Scoop' initiative ensures zero carbon emissions from the farm to the truck, and straight to your palate.
If this isn't the best way to enjoy ice cream, I don't know what is.
The concept EV ice cream van is based on the Nissan e-NV200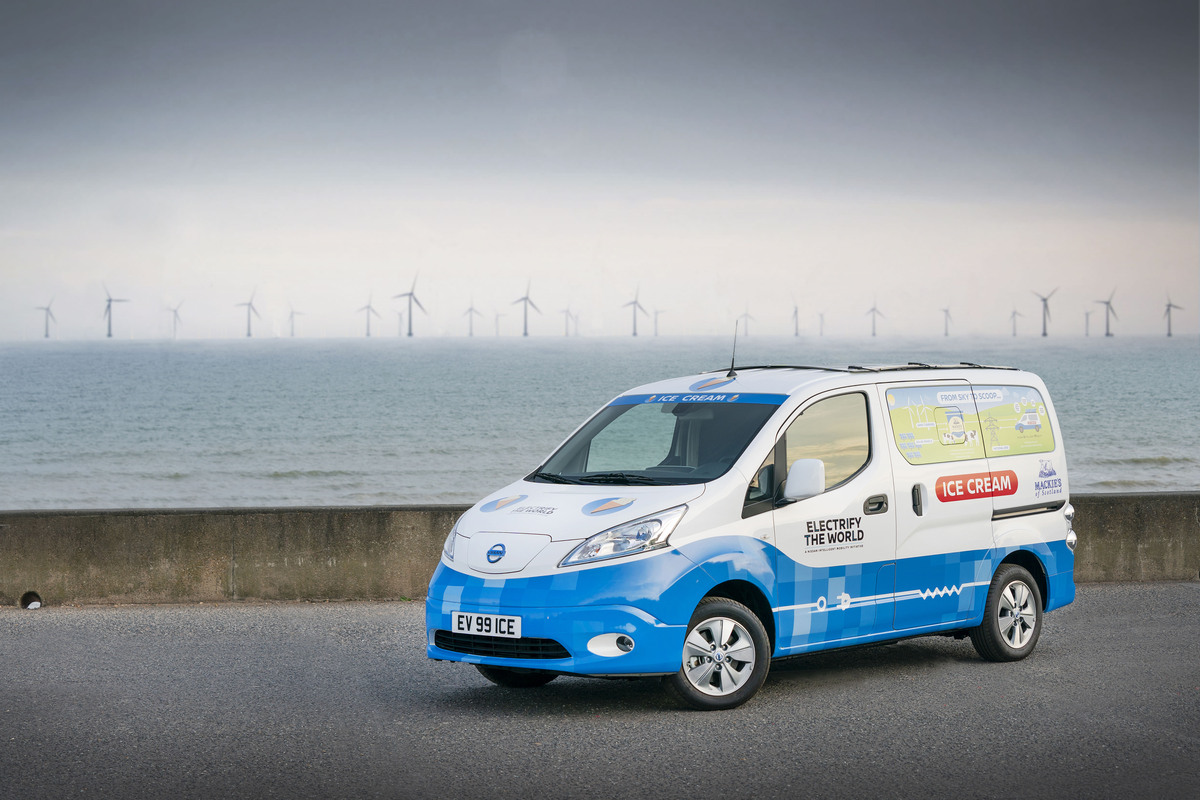 Yes, you read it right. Nissan's electric ice cream van is still a concept, but it's based on a real car, the Nissan e-NV200. It's a 100% electron-powered light commercial vehicle.
The e-NV200 van is equipped with a 40 kWh battery pack. This allows a maximum range between 124 to 187 miles. The van is charged via a 6.6 kW onboard charger (around 7.5 hours to achieve full charge) or a standard domestic outlet which takes 21 hours to juice up the battery pack.
However, it's impolite to keep the crowd waiting for ice cream. With this in mind, Nissan saw it fit to install a CHAdeMO rapid charger to replenish the battery pack from 20% to 80% in around 40 minutes.
The concept ice cream van utilizes the Nissan Energy ROAM system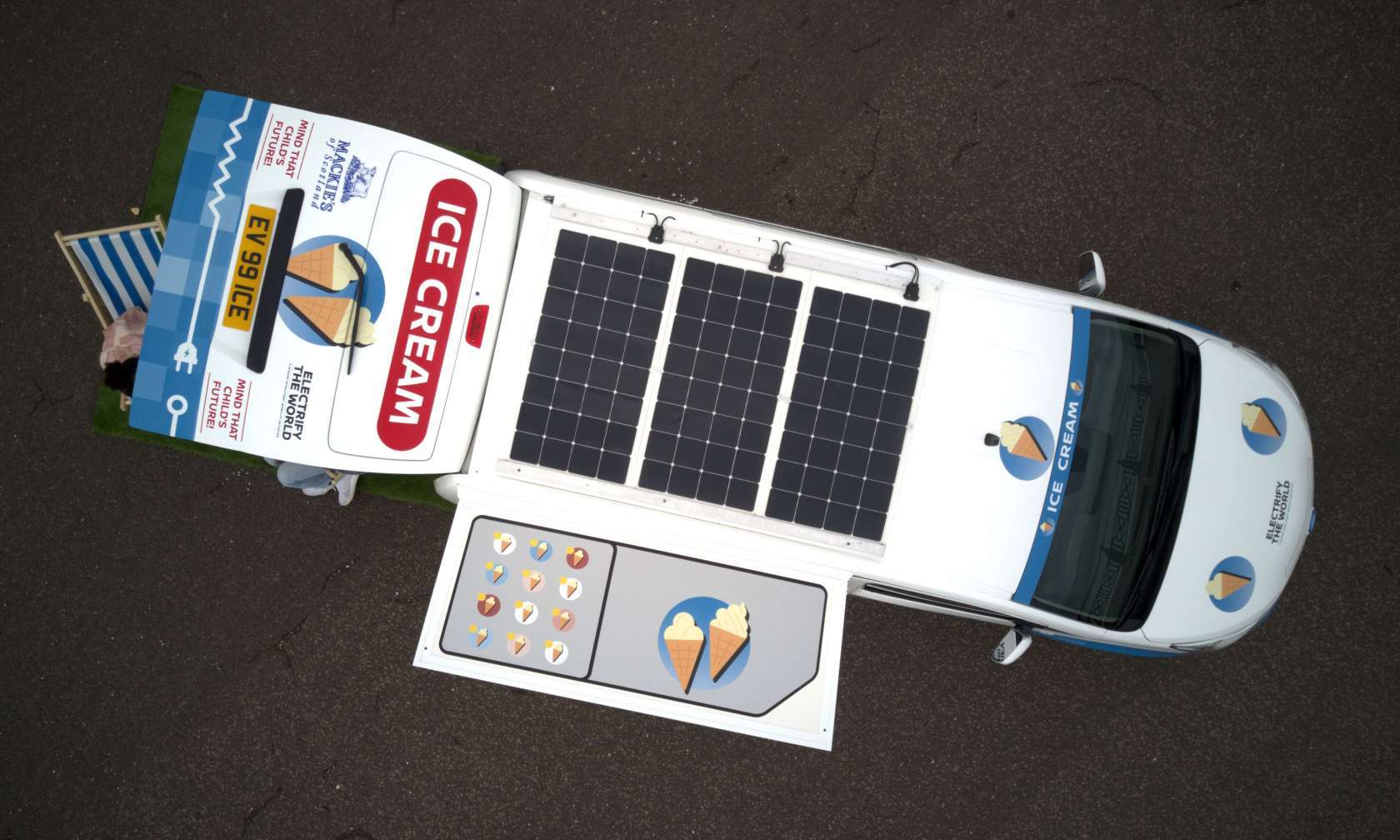 Okay, so we fully understand Nissan's concept EV ice cream van is powered by electrons. But what about the on-board ice-cream equipment? Nissan has it covered with the new Energy ROAM system.
The ROAM is basically a portable battery pack consisting of recycled lithium-ion cells. The batteries are harvested from early first-gen Nissan EVs produced from 2010 onwards. The Energy ROAM system feeds power to the standard freezer drawer, soft-serve machine, and drinks fridge in the ice cream van.
The ROAM battery pack is recharged via the solar panels on the roof or by hooking it up to a standard 230v mains supply.
Say goodbye to the ice cream jingle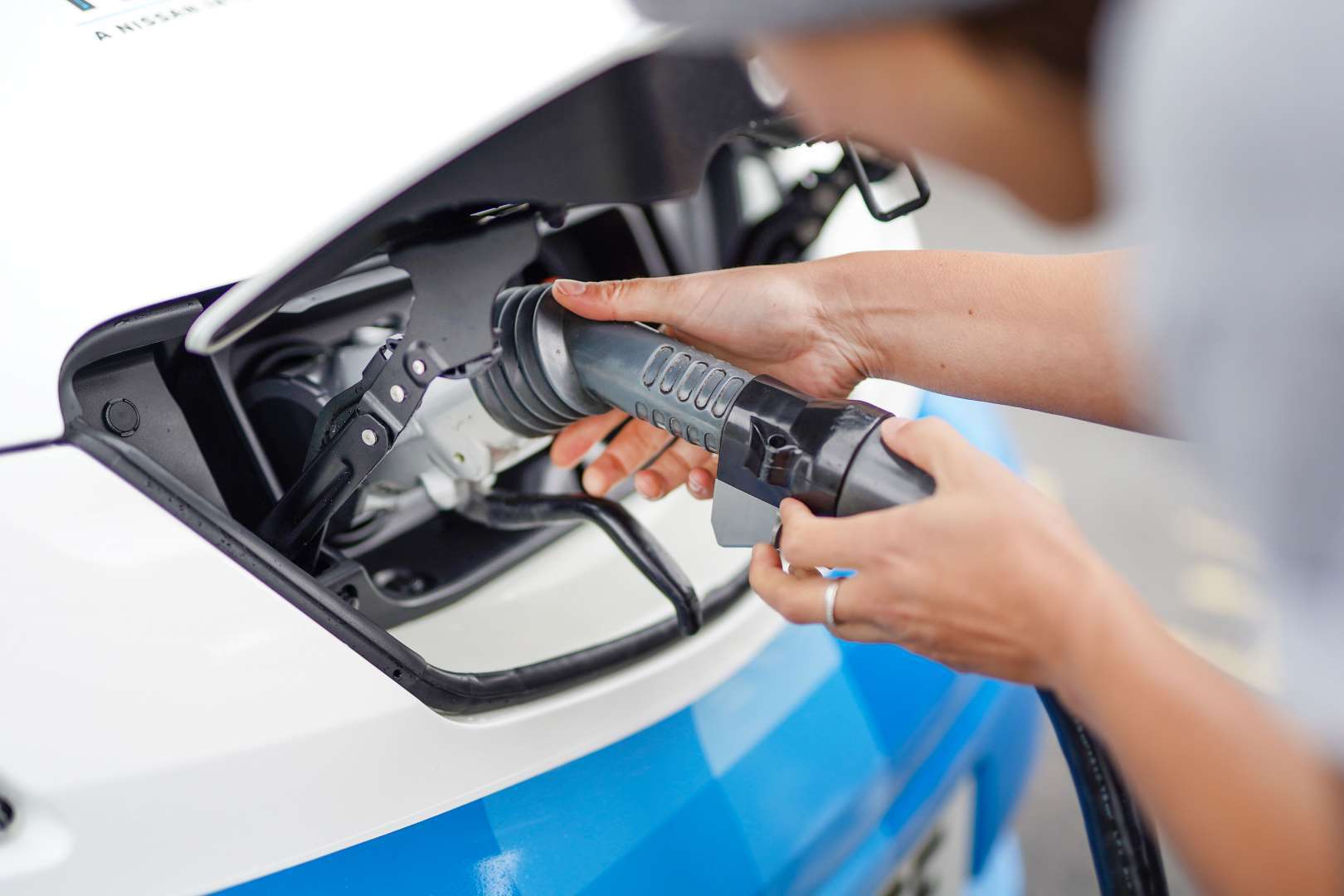 Electric vehicles are eerily quiet, so how will kids and parents know the exact location of Nissan's electric ice cream van? Instead of playing an ice cream jingle on large exterior speakers, Nissan has a better solution.
The van is equipped with a smart button. Pushing this button automatically generates a tweet broadcasting the location of the ice cream van. This is made possible by using What3Words, a popular global addressing service that divides the entire world in a grid of 3m x 3m squares. Each square is assigned a unique 3-word address.
This means you can get the precise location of the ice cream van whether it's near the seafront or inside a huge park.
No cash required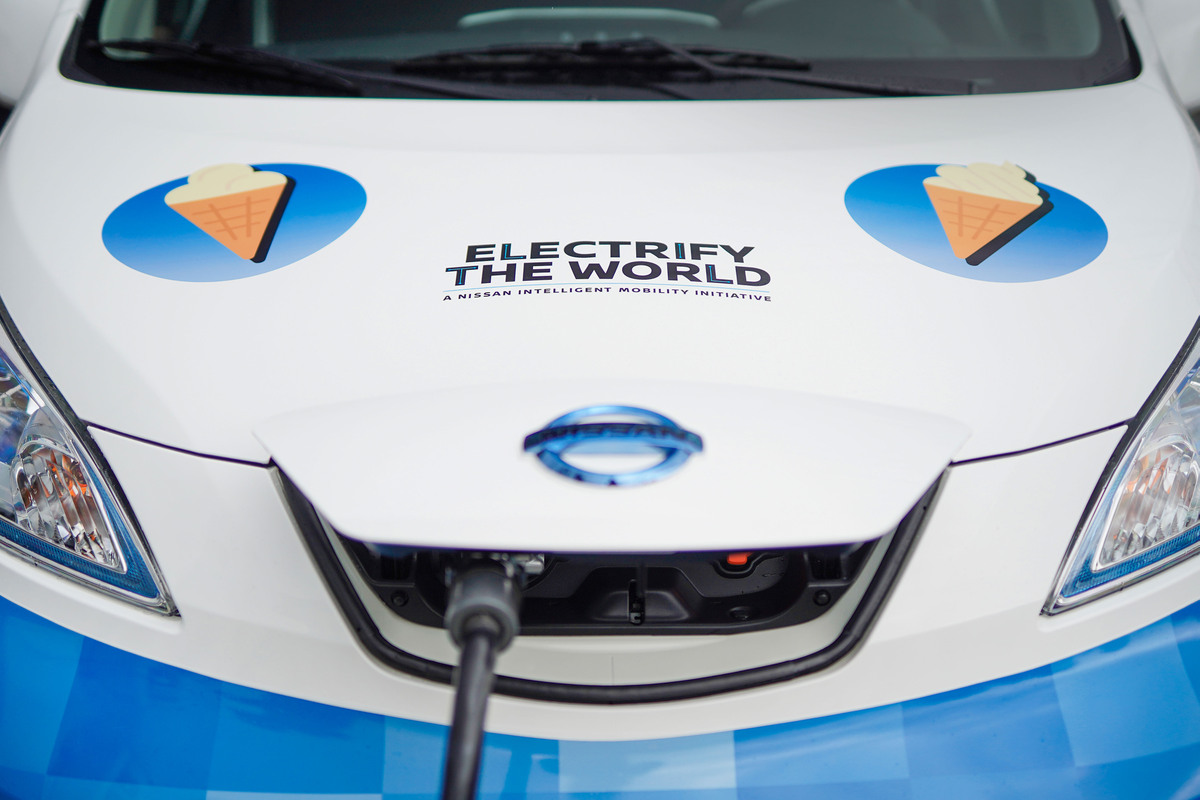 This unique ice cream van is equipped with a tap-to-pay panel on the side of the body to accept smartphone payments or contactless bank cards. No word yet if the vendor accepts cash or change.
The concept electric ice cream van from Nissan and Mackie's of Scotland coincides with the UK celebration of Clean Air Day on June 20.
And with that, let's all do our part in maintaining a clean and pollution-free environment, whether it's Clean Air Day or not.