A new restaurant on Norway's South coast offers a unique dining experience beneath the surface of the sea. At the country's southernmost point, the landscape to peaceful and tranquil – small red wooden houses and a lighthouse sit upon rocky outcroppings between patches of grass and woodland. It's here, in the small hamlet of Båly that you'll find Under – Europe's first underwater restaurant ­– along glistening waters at the shoreline.
Scandinavia is home to Under – a restaurant where you can dine under the sea on surprising and delicious local delicacies. The restaurant was conceived by hoteliers Stig and Gaute Ubostad and constructed by the Oslo architects, Snøhetta. The design is considered New Nordic temple meets marine theme. The architects wanted the building to experiment with boundaries and become part of the biodiversity that surrounds it.
Under is an experiment in pushing boundaries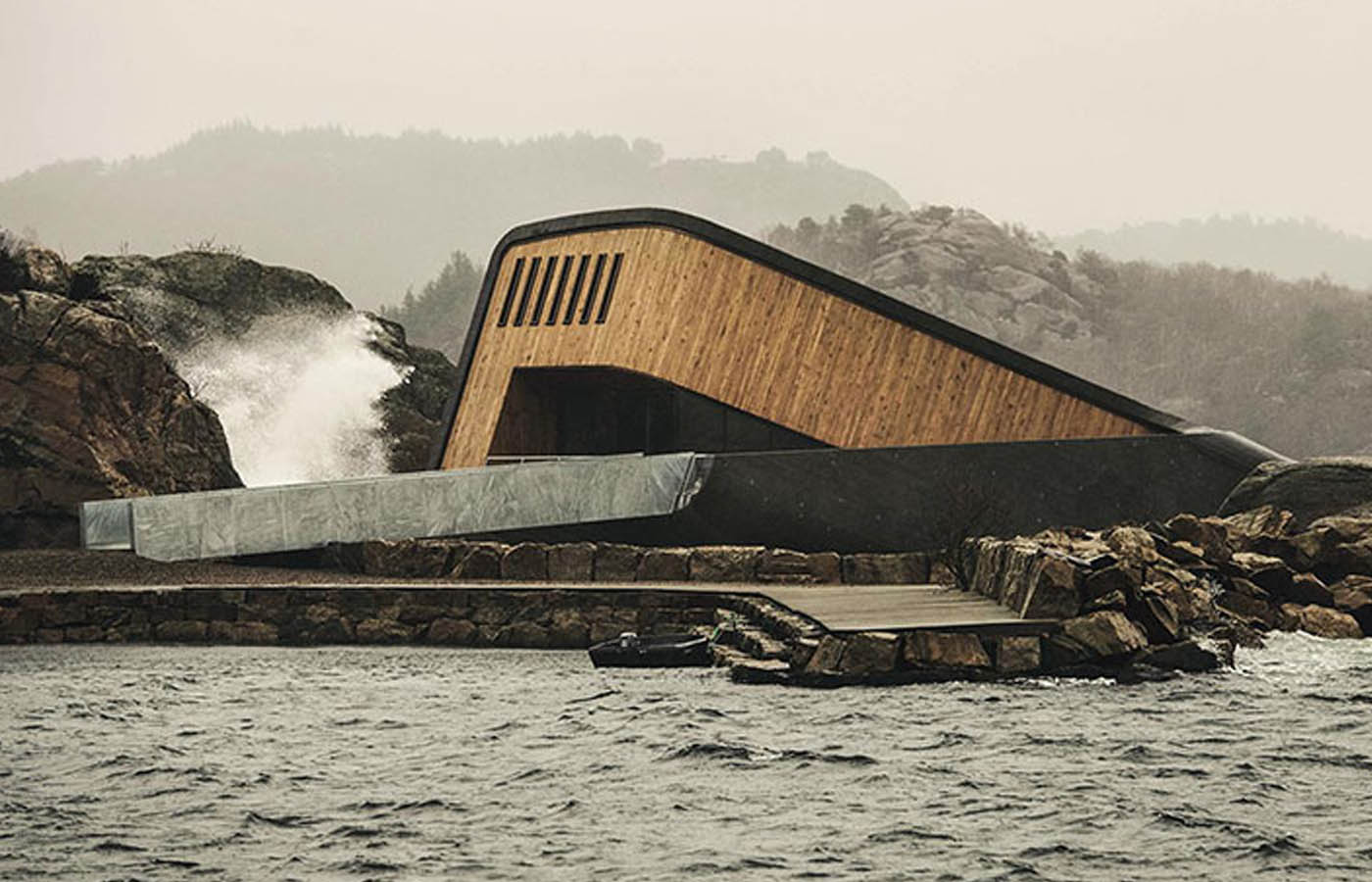 A side of the building is wooden with clean and classic Scandinavian lines. From the other side, the building looks like a concrete shell breaching out of the surface of the water like a playful humpback whale. Rest assured that the building is intentionally placed at a canted angle, but it appears to have slipped off the rocky bluffs to settle on the sea floor at one end.
The inside is stunning and fantastical. The main entrance of the building leads down to the dining area with a stairwell and has the appearance of a magical movie theatre or other-worldly opera house with a glowing teal and electric blue screen at the front.
An underwater dining experience that's part spiritual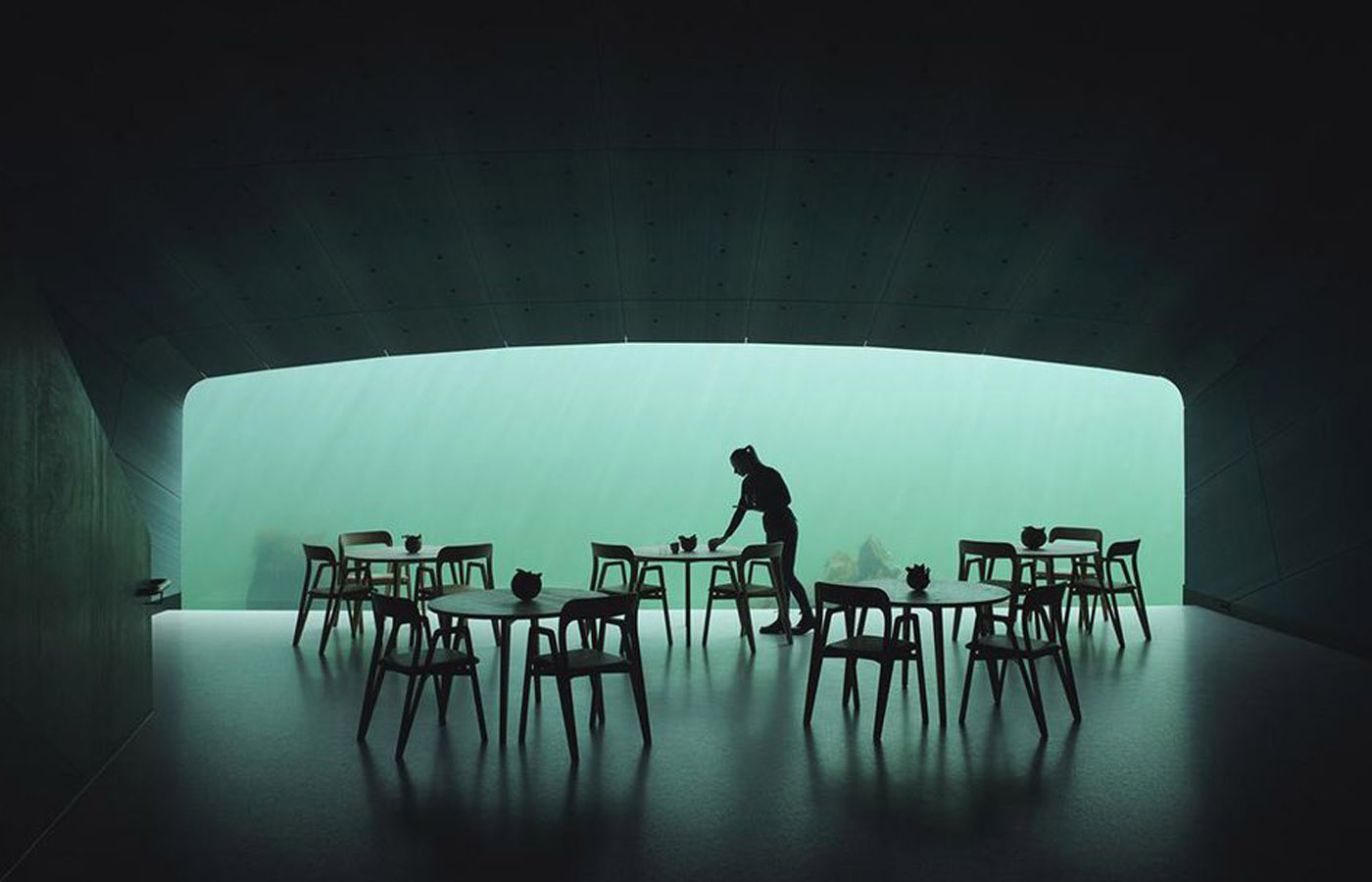 Despite all the experimentation aside, the inside remains simple, minimalist and functional. The dining room is dim with accented lighting to enhance the underwater sensation and viewing experience. The ceiling features a textile that's coral reef-like in appearance. And other elements include bleached wooden furnishings and oak wood paneling – reminiscent of driftwood – and all awash in the blue hues radiating from the large bay window. How can I say this without sounding silly … I imagine a romantic Scandinavian cafe meets Parisian café on an underwater sidewalk.
Even though you're really only at 5.5 meters beneath the surface, Under wants to inspire you and deliver a fresh perspective on life. It is said that when the sun sets, that's the time sea life really ramps up in activity. And guests have reported watching a myriad of star fish and stone crabs slowly making their way across the sea floor, as well as large fish like cod and jelly fish.
Chef Nicolai Ellitsgaard brings you an eclectic menu that's fresh, pure, and very local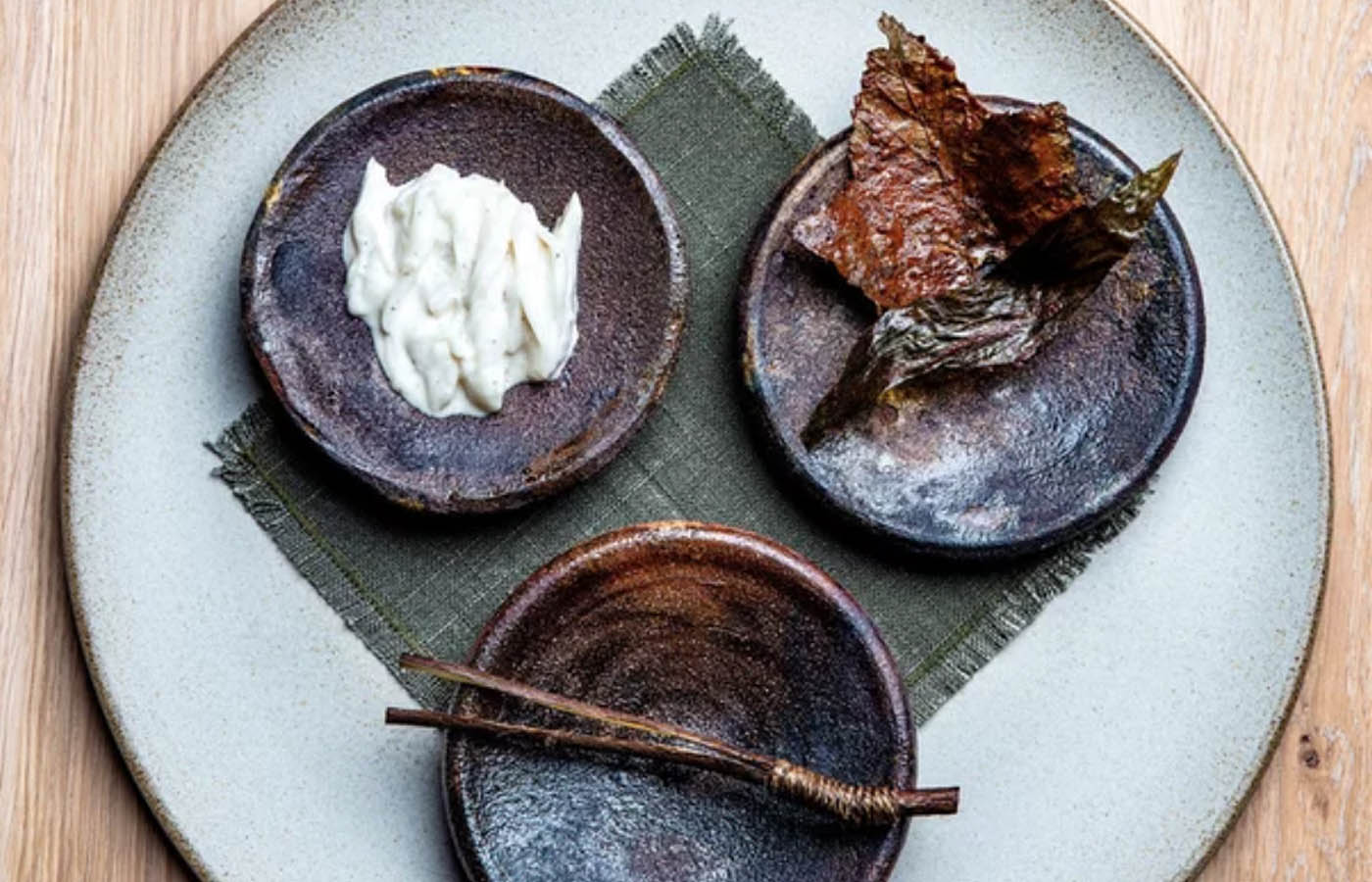 The brains and creativity behind the menu is Chef Nicolai Ellitsgaard. It took over one year for him to curate the finely crafted menu. The dishes consist of pure and fresh ingredients from the vicinity.
Only forty guests are permitted to dine together at any one time. Of which will be served a set 17-course meal that takes 4.5 hours to complete – a Norwegian cornucopia of cooked, cured, fermented seafood and edible greens gathered from the immediate coastline.
For example, you'll be served crackers with ling and capers, finely cut mahogany clam with silverberries, langoustines basted with fermented honey, and seaweed tacos made from dulse, oarweed, bladderwrack, sugar kelp, and sea buckthorn.
Under is multidisciplinary: restaurant, educational, and research center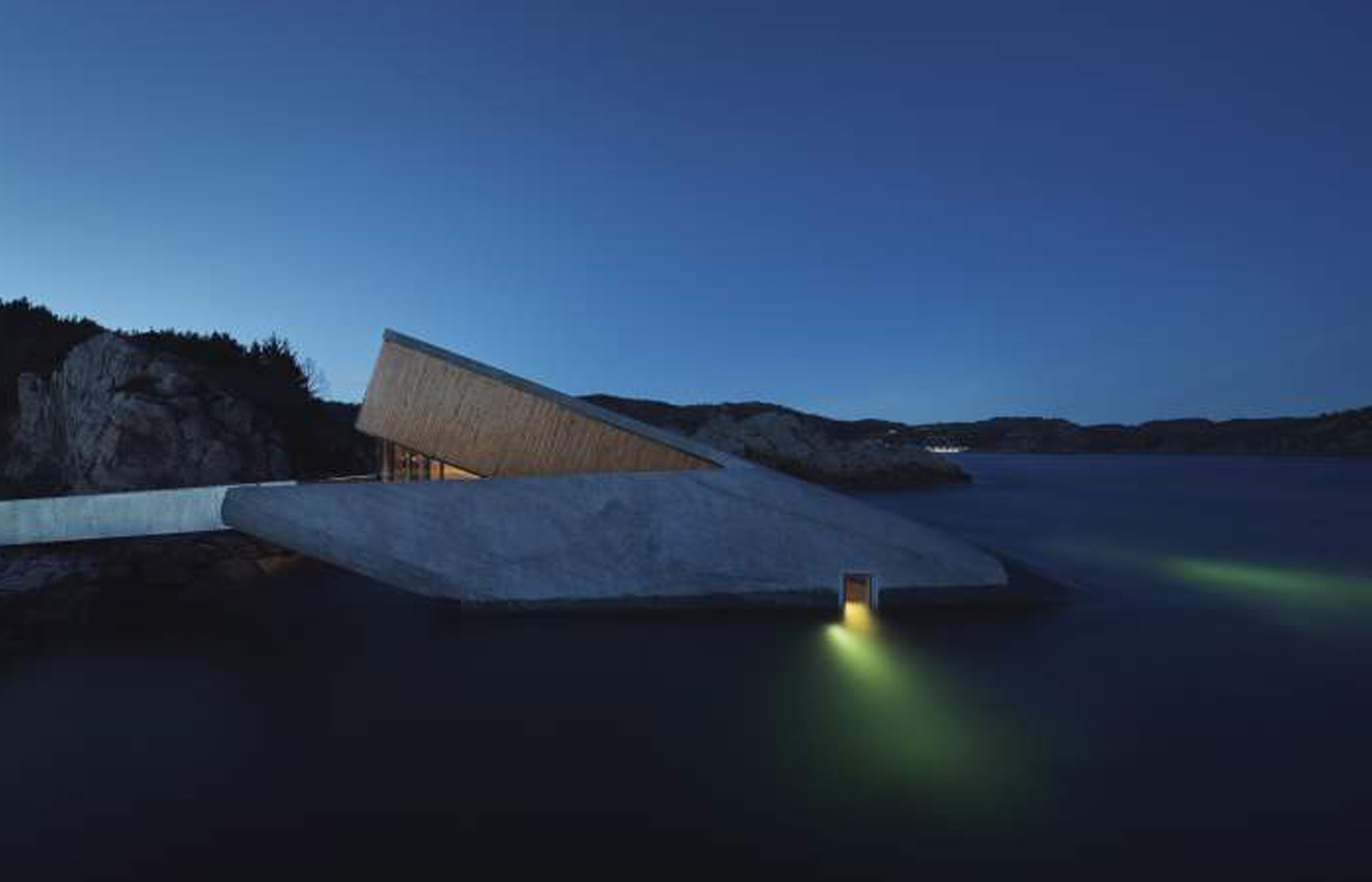 Under has an educational bent too. It is meant to inform diners about the abundance of sea life and edible foods from this part of the world – like the small green shore crab. Chef Ellitsgaard serves this small crab with chamomile and seaweed. Normally, however, children in Norway like to catch these little creatures and throw them back into the sea like a game. People don't normally think of them as a food source, and tasty one at that. So, Under is also about teaching the Norwegian people to think differently about their food source.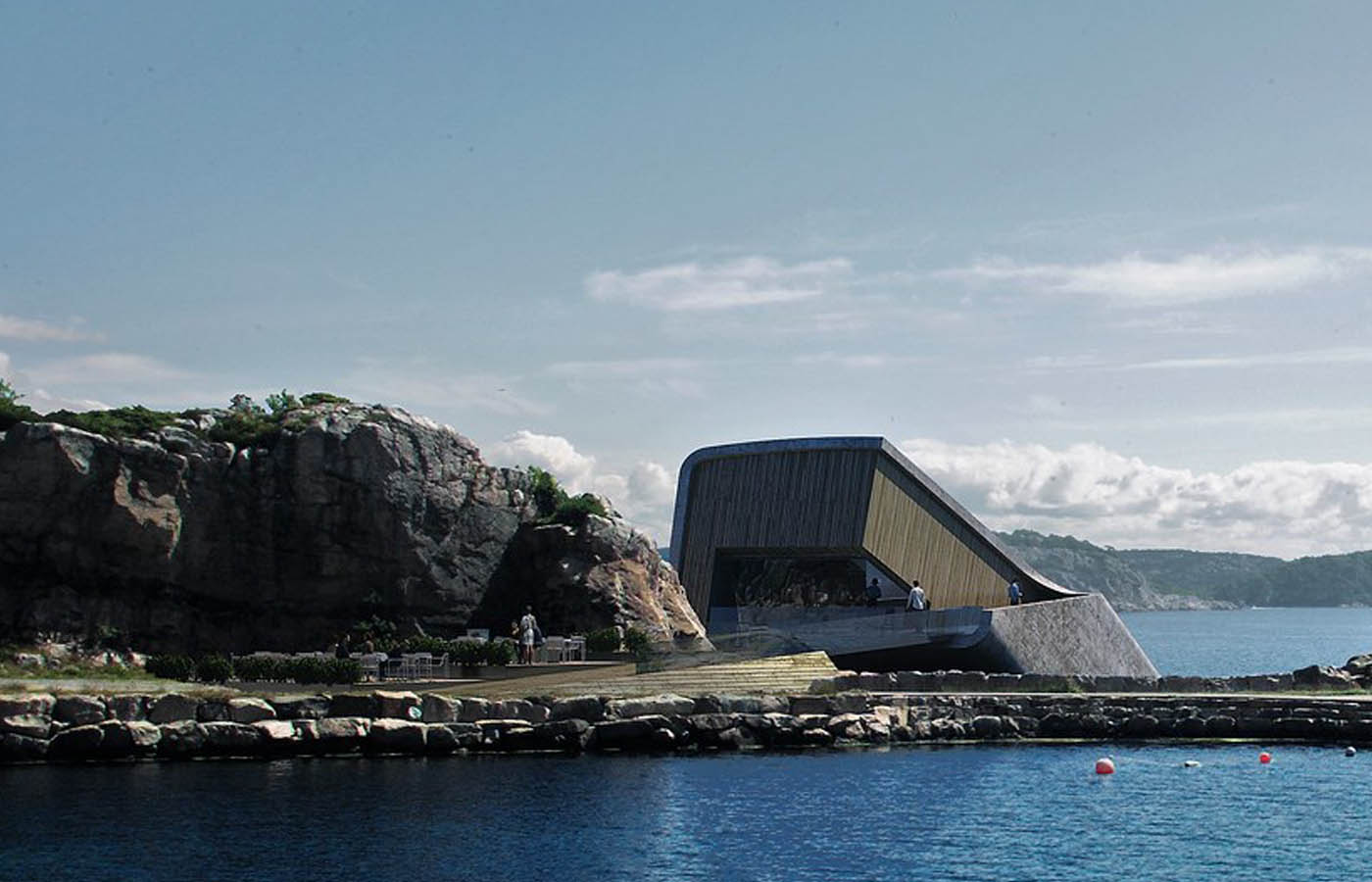 In addition, the building Under is housed in, is part research facility and home to interdisciplinary teams studying marine biology and fish behavior.
If you'd like to dine at under, plan to make your reservations six months in advance and prepare to pay from $260 to $430 (when paired with wine) for this exquisite and unique experience.