It's really fun to fly around the world on different airlines to experience their flights and services, for only then can you truly make comparisons with all the other airlines out there. Norwegian Air Shuttle is a recent arrival on the low-cost carrier scene and I recently had a chance to fly on them.
Norwegian Air Shuttle is Norway's largest airline, and it is the third largest low-cost carrier in Europe, coming in only after easyJet and Ryanair. The company started out with high-frequency flights domestically, but expanded long-haul operations back in 2013. According to the airline, they claim to be the "World's Best Long Haul, Low-Cost Airline". So let's find out how they fared.
First off, Norwegian Air Shuttle caught my eye while searching for inexpensive flights between Europe and the USA during the hot travel months of summer. Whereby major U.S. carriers were coming in somewhere between $900 and $1200 USD, Norwegian Air Shuttle was offering to hop passengers across the pond for a mere $350 approximately (that is if you traveled light with cabin bags only and choose to not opt for a meal service). I wasn't sure what the catch was, but pure curiosity drove me to book the flight.
Low-cost carriers have business models that infamously cut costs at all expenses, sometimes to the point where the flight is downright brutal. So was this claim by Norwegian to be the world's best long-haul, low-cost carrier, true? Well, both pros and cons were present, depending on the situation.
Ground staff, airport agents, and room for improvement
As far as boots on the ground go, the agents and ground staff seem to be outsourced by an airport agency. This fact doesn't give the Norwegian brand a lot of consistency in the pre-flight customer service experience – which is alright, provided there isn't a cancellation.
Be forewarned if things go wrong, like a cancellation
The first time taking Norwegian Air Shuttle, the flight canceled on me. Eventually, the airline did manage to find everyone hotels with bus transportation, the agents were not trained really well enough to deal with the cascade of unfortunate events, and the process took an eternity.
However, the reservations and booking department at the 1-800 number were kind and courteous enough and got everyone rebooked on new flights in one way or another. All in all, when things go wrong, there is much left to be desired ­– definitely an area for improvement by the airline. Having copious amounts of patience in this case is a must. But if you can hang in there, things should get better once everything gets back on track.
Time to actually board the flight and fly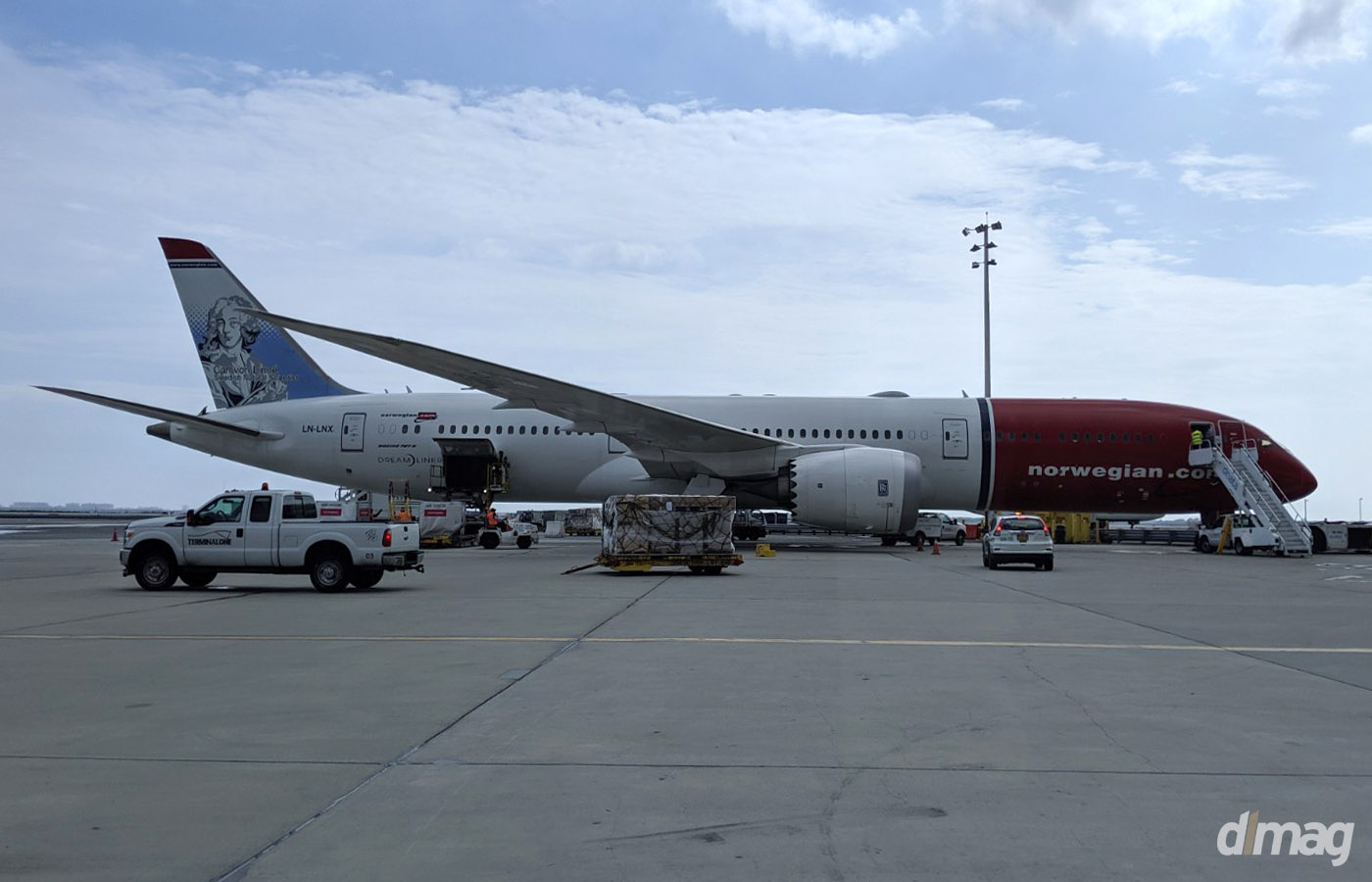 The in-flight experience is pretty darn nice for the price. Don't expect jetways and glitz, but a bus to the tarmac. This probably has nothing to do with anything, but it was the first time in my life that I boarded a plane from the left hand side – usually reserved for the service and catering crews. Not sure if this has something to do with the airline renting the cheapest parking spot on the tarmac, which blocked the left side of the plane.
Aircraft and seating configurations on trans-Atlantic flights
The Atlantic routes between JFK and Copenhagen, Oslo, or Amsterdam are run on new Dreamliner 787-900s – a beautiful piece of modern aviation technology. Even many of the U.S. airlines, like American, are still waiting on orders for this plane and won't receive them until next year in 2020.
Boeing's Dreamliner is one of the nicest passenger aircrafts around. Ultra-big windows with tinting, a low-pressure cabin with enhanced ventilation all leave you feeling more relaxed and refreshed at the end of a long-haul flight. That being said, Norwegian Air Shuttle had a fairly chintzy seating configuration 3x3x3 in economy and 2x3x2 up front (which is what one would expect for a no-frills business class). The seats were packed tightly, and even as a smaller person, my knees scraped the seatback in front of me.
The plane was exceptionally clean, and even the bathrooms were well maintained throughout the flight – which doesn't always happen on the long-haul.
Pleasant crew and nice in-flight service
The flight crew and flight attendants were sweet and professional, with stylish uniforms to boot (although I was told that they'll be swapping out the dapper dress in the near future for something a more plain and mundane).
The service is simple, but refreshingly and surprisingly nice. In fact, it's one of the best I've ever seen for a no-frills, low-cost carrier. Do not worry if you didn't pre-order a meal. Because if you find yourself hungry during the flight, there's plenty to order from the "snack bar" screen – and it includes a good variety of drinks, snacks (including vegetarian options), and amenities (earbuds and blanket).
Everything is ordered via the seatback screen. The flight attendant will deliver your order within minutes, if not seconds. Simply swipe a credit card in advance and the system opens a tab for your seat. All of the snacks ordered were tasty. The whole system is very efficient and effective. The stewards and hostesses also make two passes down the aisle with the traditional cart system. There are no complaints whatsoever in this department.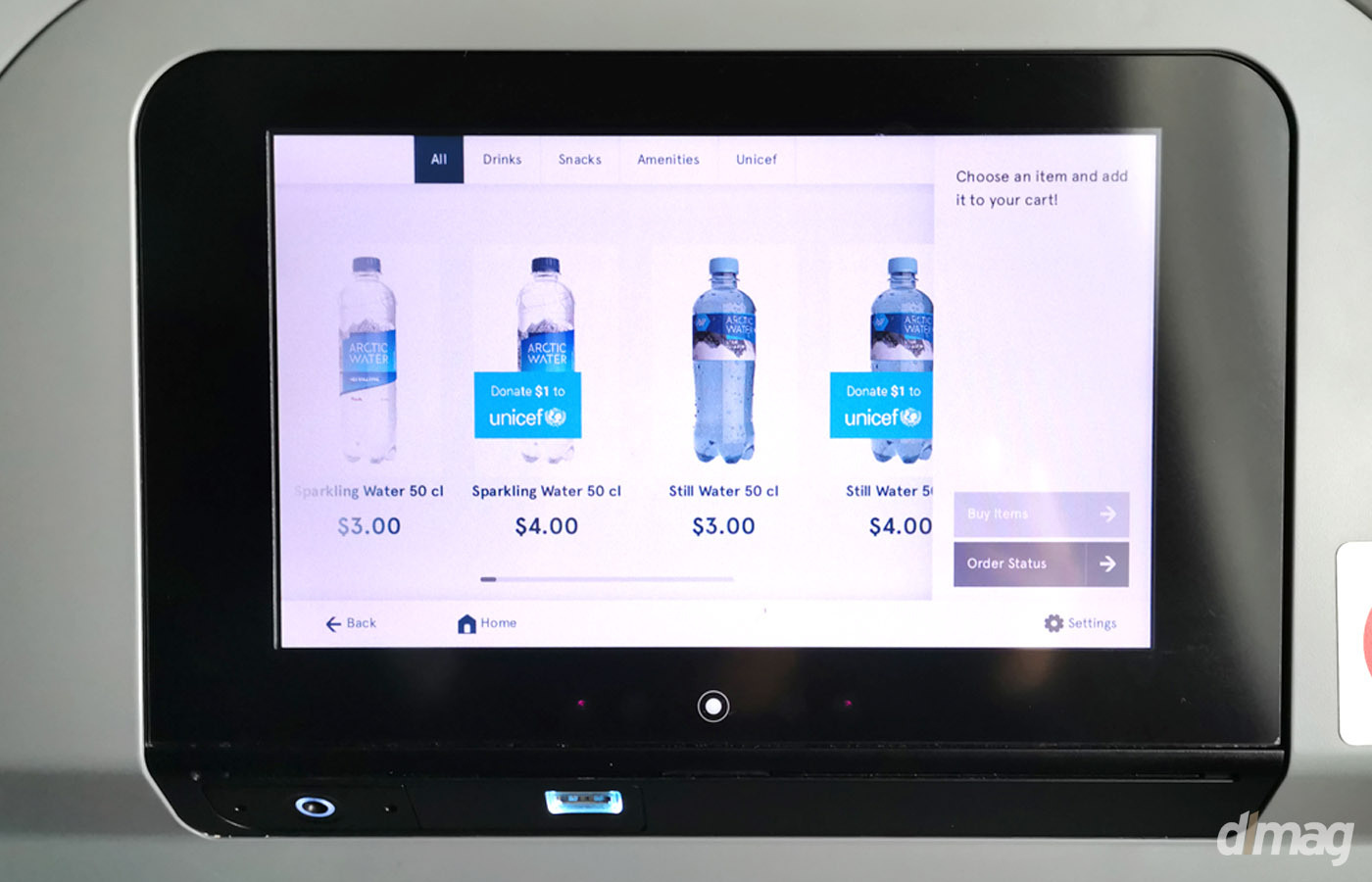 Onboard entertainment is limited, but there are a sufficient number of movies, TV series, documentaries, and shows available to get you through the flight.
Level of economy comfort
The seats themselves are pretty good but no pillows or blankets are present on the plane. A blanket can be bought though the seatback 'amenities' screen. But if you don't want to purchase anything and you're prone to getting cold on the plane, be sure to bring a jacket, sweater, or blanket with you, or something to lay your head upon.
In conclusion
In the end, the aircraft and flight is one that you will appreciate when looking for value. The low cost of the ticket is pretty much unbeatable and offsets some of the inconvenience and annoyance factors vis a vis the airport agents and pre-flight events that you could potentially face (worst case scenario being a flight cancellation). After having flown all of the world's major low-cost carriers, it must be said that Norwegian, is to date, the nicest of them all and offers an impressive in-flight experience for the price.