As far as we know, flannel has been around since as far back as the 1500s. The origins lie somewhere in the region of the British Isles, Wales possibly. But let's face it, European heritage aside, America has somewhat usurped the flannel fashion phenomena, claiming it for its own. Even if bands like Pearl Jam and Nirvana hadn't brought it back into the popular lexicon, would it still be as appreciated? Most probably, yes. Companies like Patagonia are producing some of the finest flannels out there.
Today flannel is omnipresent and as American as apple pie or mac-n-cheese. In fact, you get extra points for wearing flannel while eating a slice or bowl of the good stuff. Making an appearance on American shores sometime in the late nineteenth century, flannel was worn primarily by blue collar laborers, working class-folk, who were the backbone of the workforce during the Industrial revolution. Emblematic of the times, it was even the attire of choice for the original American mythical hero, Paul Bunyan and Babe the Blue Ox.
Evidence suggests that flannels were originally made out of carded wool and makes sense because of the abundance of sheep available. However, today, there are more different options available and is easy to find flannels woven from many different materials such as wool, cotton, synthetics, or even vegetable fibers like the Scots pine – creating a hemp-like appearance. Making it the acceptable for both vegans and meat-eaters alike: I think we've found a peace flag.
An incredible softness and suppleness is achieved when the fabric is brushed. You can also find it with a more rough, raw and natural finish. There's even bespoke flannel with select brushing on certain spots. The secret of its strength and durability lies in the way the fibers are woven together. The weave is also performed in such a way that air is trapped within the layers, thereby, providing a barrier of insulation. If the insulation and durability of flannel aren't impressive enough characteristics, the material exhibits wicking properties too – making it ideal for activity.
Flannel is no longer just for railroad workers, lumberjacks or the hunters of the world. The iconic material has come a long way since the outhouse days of onesies with buttoned butt flaps was prime for the moment; the miracle material has risen, and transcends the echelons of fashion critics and hierarchy.
I mean seriously, how many other items can you think of that can be worn under almost any circumstance – from formal settings to extreme Red Bull events. Fitted on beds across the continent as a home furnishing, sophisticated enough for meetings and social gatherings, cool enough for hipsters, the perfect attire in which to carry out permaculture projects. Let's not forget about sleeping – a flannel shirt can be your one true love at night and is synonymous with pajamas. Like I said, the flannel equals versatility at its best.
There are five elements: earth, fire, air, water, and flannel. Rugged, sexy, and environmentally friendly. I'm no stranger to spending lots of time outdoors. This past winter I had the opportunity to travel above the Arctic Circle for an extended period of time. You bet I packed a flannel, but only one made it into my 34 liter Osprey pack – the Men's Long-Sleeved Fjord Flannel Shirt from Patagonia – my favorite flannel shirt.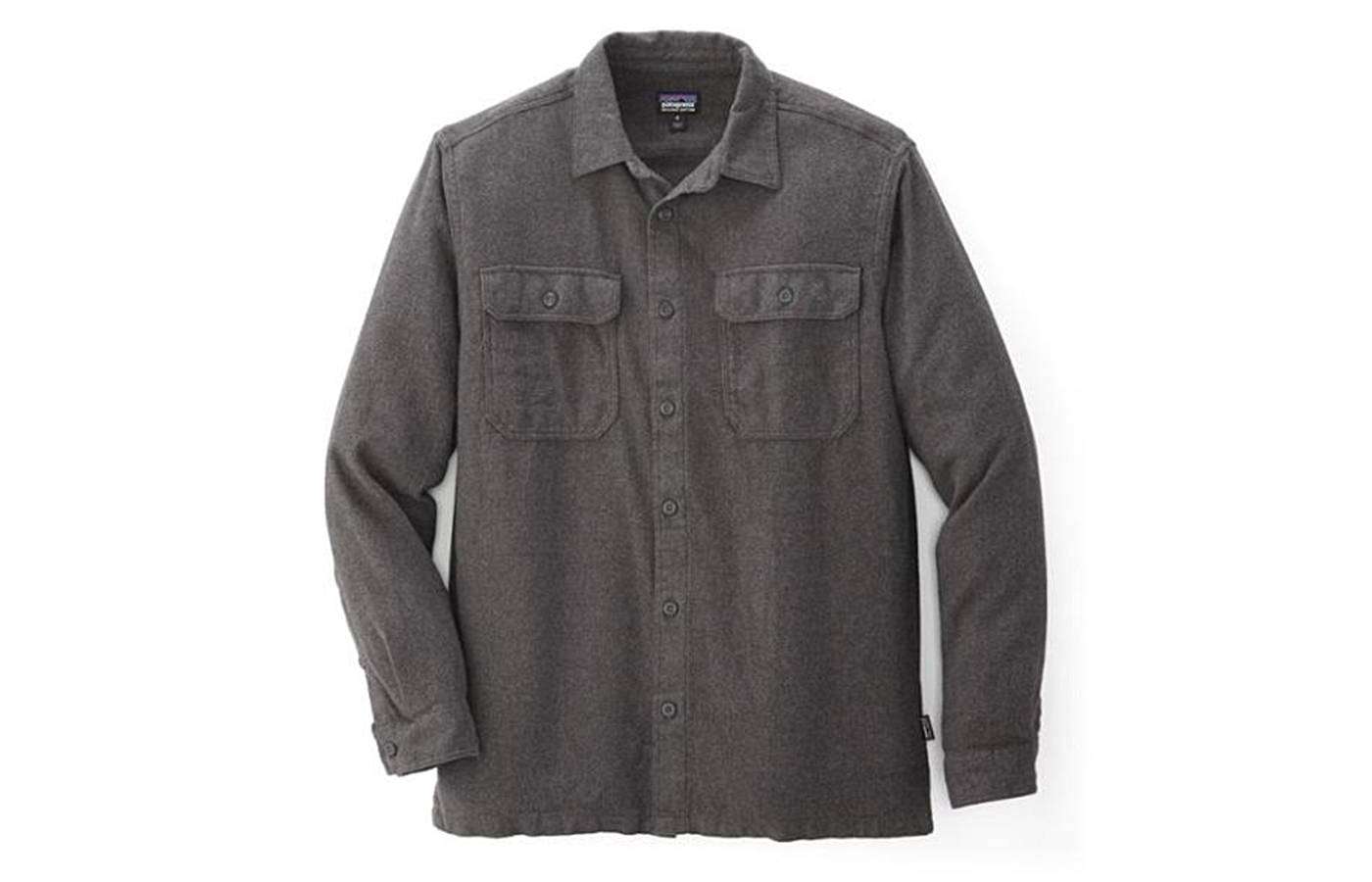 I purchased the all-grey version of this beauty as it was attractive and I could combine it with other shirts and layer it with almost every pair of pants and jeans I own. Perfect for travel by plane or car. I also wore it as a mid-layer on top of a wool base-layer on days when I would be outside. I was toasty in temperatures as low as minus 25 degrees Fahrenheit when combined with a warm down jacket.
The Men's Long-Sleeved Fjord Flannel Shirt is 6.5 oz of heavy-weight organic cotton. As you can imagine, the shirt took up a bit of space in my bag. Thus, I made sure to wear it while in transit. The shirt not only looks sharp on, but the luxurious organic cotton feels great too. Patagonia refers to it as "A timeless classic…that appeals to all ages" and I have to agree – but let me add to that statement by saying, it also appeals to both sexes.
Springtime is just around the corner, but I'll argue that a flannel shirt merits a place on the shelf year-round – always keep one an arm's length away: especially at this time of year when the seasons change and warm days give way to cool nights. In this case, layering it over a tee like a light jacket is effective.
You're never taking a gamble when wearing the jack-of-all-trades flannel. It's equally good for getting a jolt of local java or while on expedition to the other side of the world. Purchasing a high quality flannel could cost upwards of $100 USD, but it's likely to last a lifetime. And, stylistically, flannel has stood the test of time.