It's been ten years since Porsche introduced the Panamera. Celebrating this milestone is the Panamera 10 Years Edition model. The 10 Years Edition package is available on the Panamera, Panamera 4, and the Panamera 4 E-Hybrid. It includes a host of new standard features along with a few special visual touches rendered in white gold trim.
Happy 10th birthday, Porsche Panamera!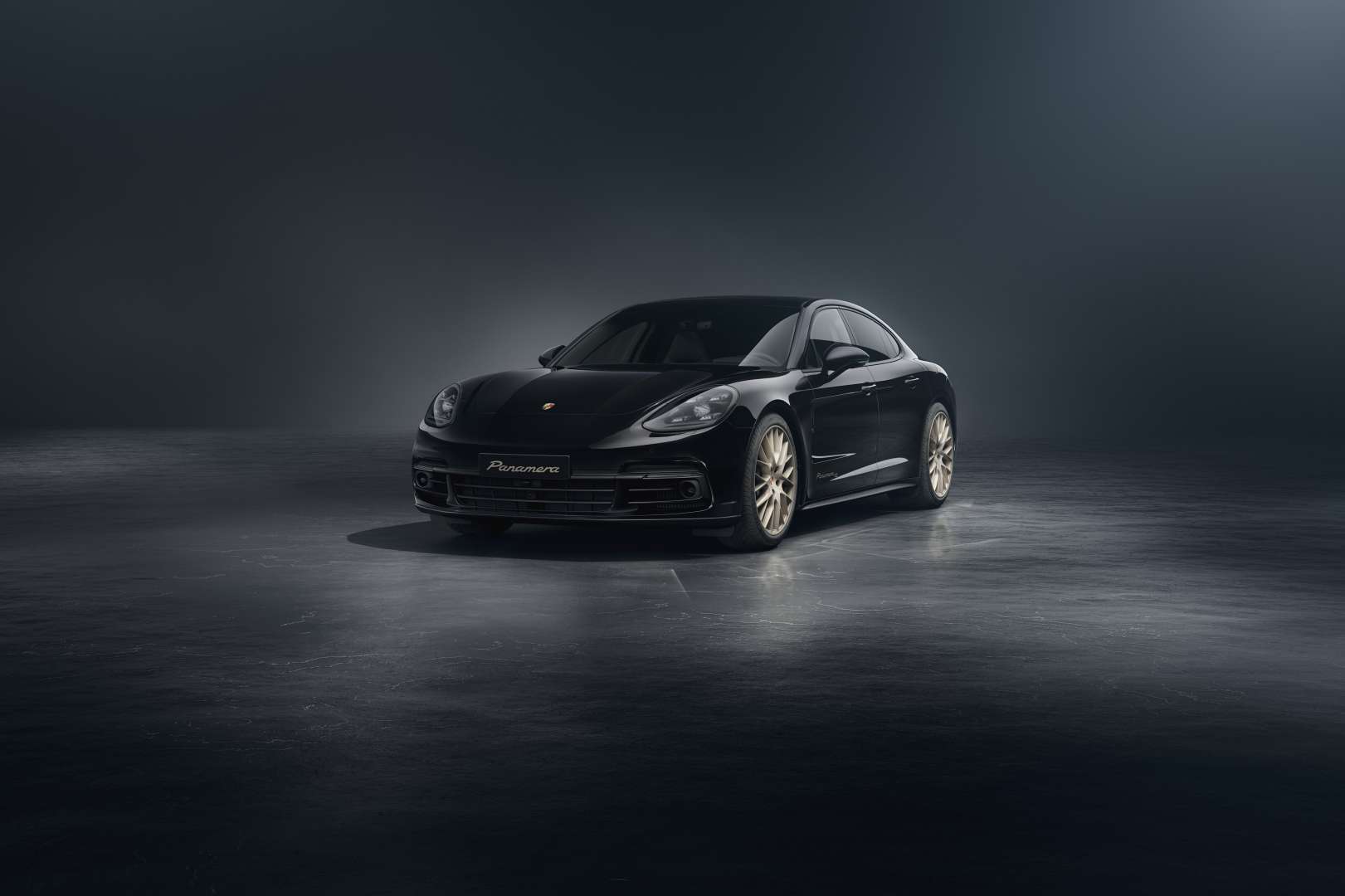 Time flies by so fast. In the automotive world, celebrating ten years of existence is considered a glorious feat. The Porsche Panamera debuted in 2009, but it did so with much fanfare and controversy, particularly the exterior styling. Thankfully, the second-gen Panamera addressed most of the styling faults. It had a longer wheelbase and is generally bigger and taller than the first-gen model.
The Panamera 10 Years Edition is based on the second-gen model released in 2017. But since Porsche is in a celebratory mood, it gave the Panamera some unique touches and more standard equipment.
The Panamera 10 Years Edition gets white gold trimmings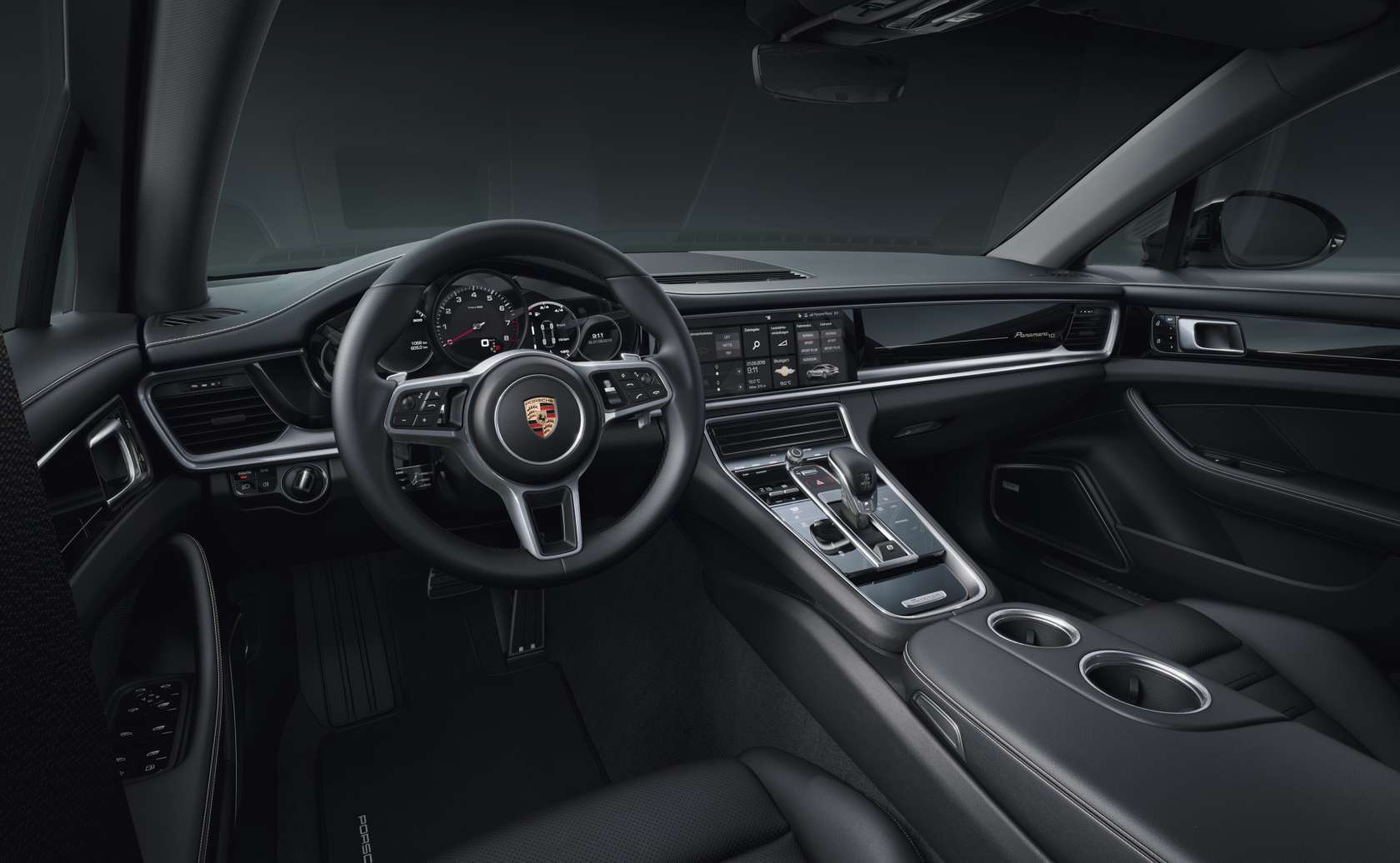 The most obvious design feature in the Panamera 10 Years Edition are those 21-inch white gold wheels. Porsche calls it Sport Design wheels in satin gloss white metallic, and they look magnificent. The car also receives commemorative Panamera 10 emblems on the passenger side of the dashboard and door entry guards.
The all-black leather upholstery also receives the 10 Year Edition treatment. It now has special white-gold stitching to give the interior a different type of vibe.
It also gets more standard kit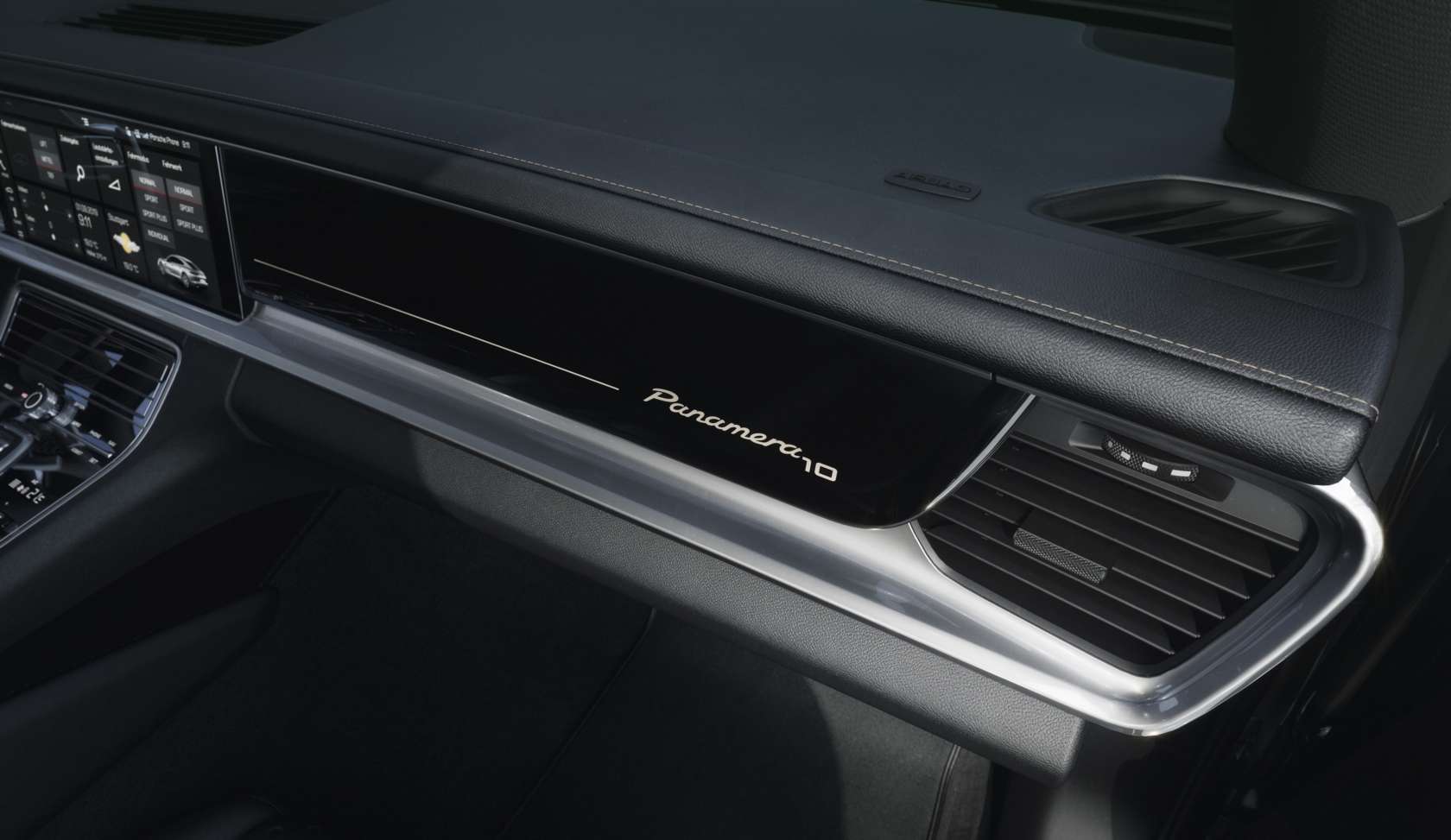 Porsche also threw in a bevy of additional standard and safety kit. The car now has heated 14-way comfort seats, LED matrix design headlights, a premium Bose Surround Sound audio system. Also standard is three-chamber air suspension with Porsche Active Suspension Management (PASM) including Porsche's Power Steering Plus system.
If you fancy the Panamera 4 E-Hybrid, Porsche is throwing in a 7.4 kW on-board charger as standard in the 10 Year Edition. This is a nice upgrade over the previously standard 3.6 kW onboard charger.
Additional standard safety equipment for all Panamera 10 Year models includes ParkAssist with a surround view camera system, soft close doors, lane change assist, and lane keeping assist.
But the 10 Year Porsche Panamera gets no additional power under the hood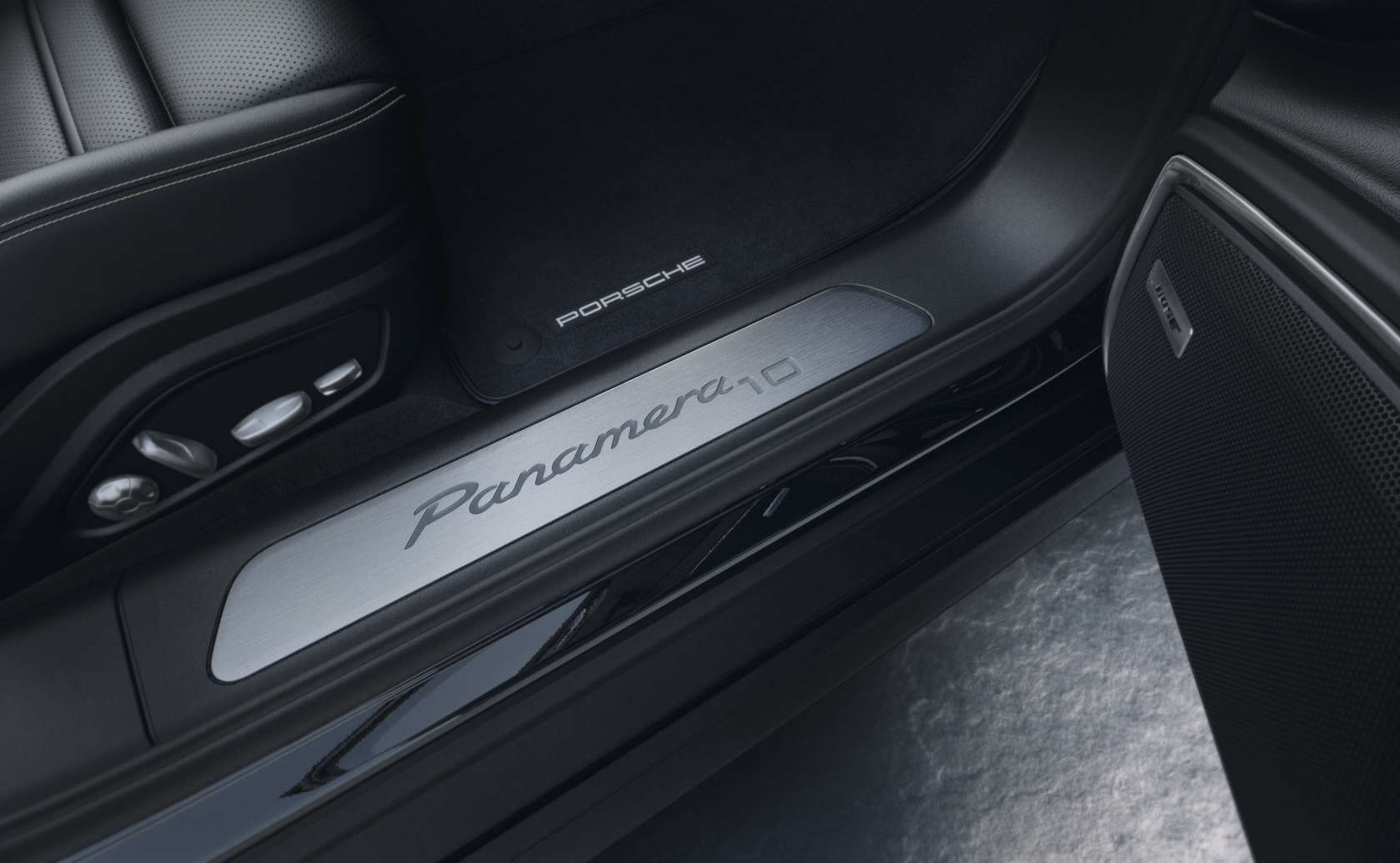 And that's a good thing. Otherwise, adding more power will jack up the price significantly over the base Panamera. The 10 Year Edition still gets a mono-turbo 3.0-liter V6 motor producing 330-horsepower and 331 pound-feet of torque. The base model is rear-wheel-drive while the Panamera 4 adds an all-wheel drivetrain.
Meanwhile, the Panamera 4 E-Hybrid receives a 2.9-liter twin-turbocharged V6 engine and an electric motor for a combined output of 457-horsepower. All Panamera 10 Year Edition models come with an eight-speed automatic transmission.
Unfortunately, the 10 Year Edition trim is not offered in in V8-powered Panamera GTS and Turbo models.
The Porsche Panamera 10 Year Edition starts at $103,300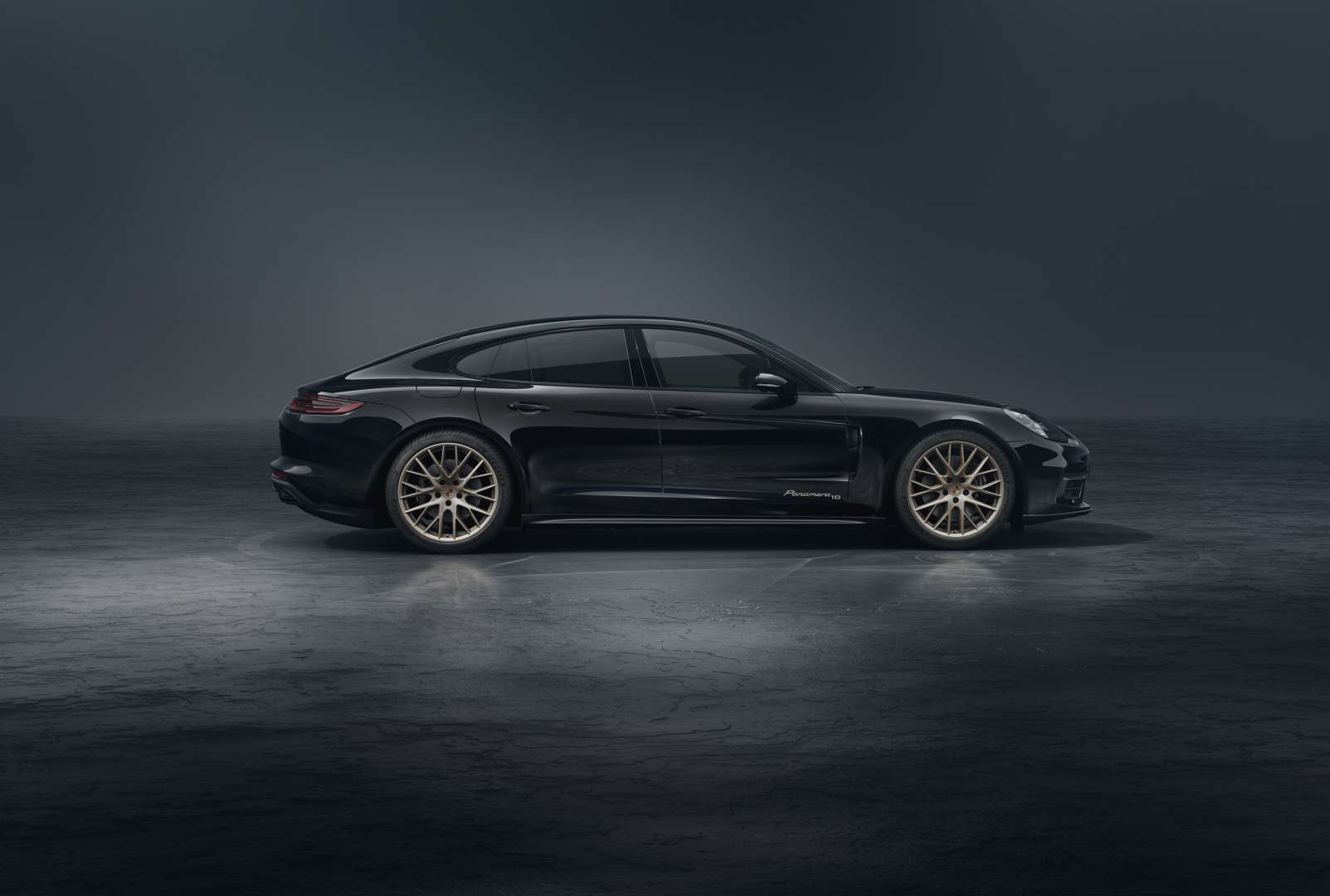 The special-edition Porsche Panamera 10 Year model has a base price of $103,300 while the Panamera 4 10 Year Edition starts at $107,500. The Panamera 4 E-Hybrid 10 Year Edition starts at $116,900. All prices exclude $1,350 delivery and handling fees.
Admittedly, the base Panamera 10 Year Edition is around $16,000 more than an entry-level Panamera. But considering the amount of standard kit and the bragging rights of having a special 10-year anniversary Panamera, the added cost is worth every penny.