PUMA has done a great job with reviving the RS revolution, which is the innovative running tech brought back from the 1980s. The newer shoes reflect the chunky runner trend that we follow today. Adding the X-factor – where X stands for extreme and X³ stands for exaggerated, remixed fervor that takes things to a new level.
Essentially what PUMA has done is that it has cubed, enhanced and added extra to the RS-X³ lineup. The signature RS design and dialed it up to the third power! And when you see the lineup, you notice amplified detailing on the uppers and stronger material mixes. The bold color combinations take the kicks to a new level.
Running System offers cushioning from the forefoot through the heel, and for this season, PUMA lines up a Rubik's Cube & 'Sonic The Hedgehog' collaborations to the mix. The shoes will make their debut along with their own clothing capsule collections.
Get Squared with the Rubik's Cube
If you have colors missing in your life, then the Rubik's Cube is what you should be looking at. Complete color therapy is what you will get, as PUMA goes all out with the colors found on the cube puzzle. The surreal effect is that the design team has included black mesh to the design, just like the cube.
We like the fact that there is a mixture of suede and mesh panels in blue, orange, yellow, red and green. And as another tribute to the puzzle cube, there is a checkerboard print as well. You will find black branding on the heel tab along with a color-split outsole. Three cubes in red, white and green colors, act as a lace lock.
Sonic The Hedgehog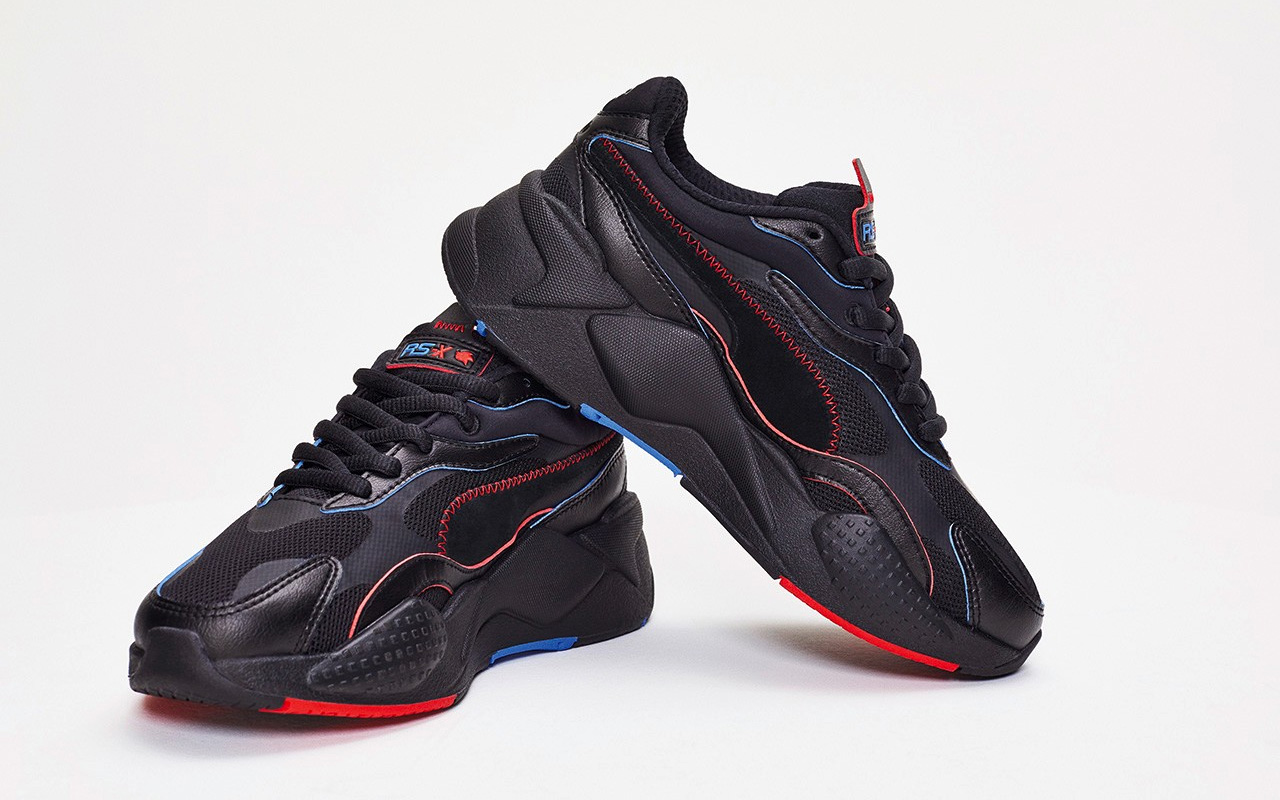 Adding to the Hot Coral and Lime Punch shoes, the new Sonic The Hedgehog iteration mixes a variety of materials like leather, suede and mesh. The character's persona comes alive in the choice of colors for the shoe, along with other niche detailings.
Predominantly in red and blue, these signature colors showcase the stitching and piping that encases the shoes. Graphic details like 'RINGS 50' and a 'Sonic' head emblem on the sole unit look outstanding.
You will find Sonic's head etched on the heel tab at the rear, and along with the debossed, tonal rings. The inside of the shoe is lined with a checkerboard racing-inspired print. Apart from the shoes, a capsule collection of T-shirt, hoodie, beanie and cross-body bag, will also make its debut.
The PUMA RS-X³ Sonic and Rubik's Cube collaboration will retail for $120.