Even though I have traveled only in the economy class with them, I have to commend Qatar Airways for providing very good basic amenities for us plebs. Given on request, I ended up asking for a comb, emergency sanitary napkins, dental kit, socks, eye mask and ear plugs, during my 20-hour trip from Hangzhou to London, last month.
For the month of October, the First Class and Business Class passengers and in for a special treat and it's for a good cause. Every year, Qatar Airways does its bit for raising awareness and supports the Breast Cancer Awareness Month. This year, the airlines is offering passengers traveling on long-haul flights, BRIC's limited edition pink themed amenity kits.
It's pink and black for men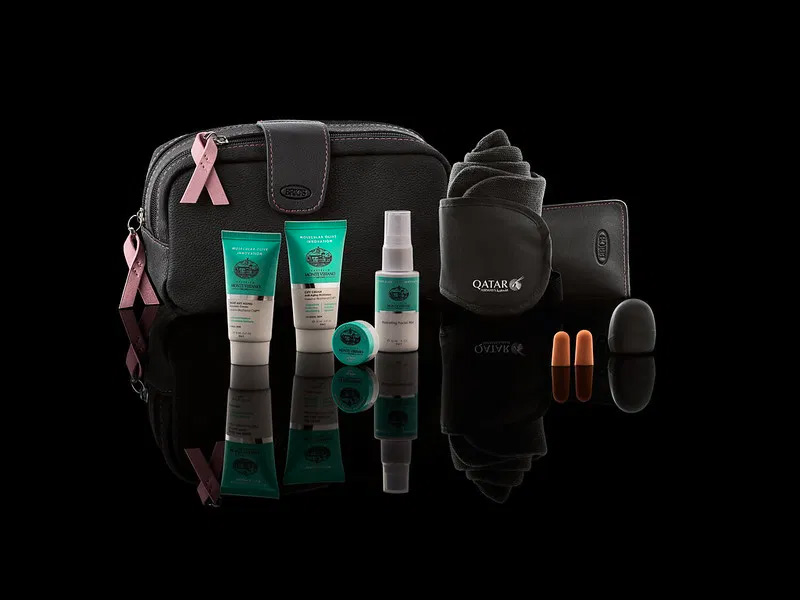 Men flying with Business Class and First Class will be given a charcoal grey kit with pink accents, which gives the pouch a very sophisticated feel. Fitted with a unique zipper, the pouch opens with the help of the iconic pink ribbon, which is associated with the breast cancer awareness month. Made from vegan leather, the pouch doubles up as a wash-bag that can be used beyond the flight.
The kit also sports a personalized message printed on a band that reads: 'Support the fight & think pink'. Each kit contains socks, eyeshades, ear plugs and an organic range of products that are from Castello Monte Vibiano Vecchio from Italy. The products from this company are nutrition-centric and includes olive oil in some of the formulations.
Mile-High pampering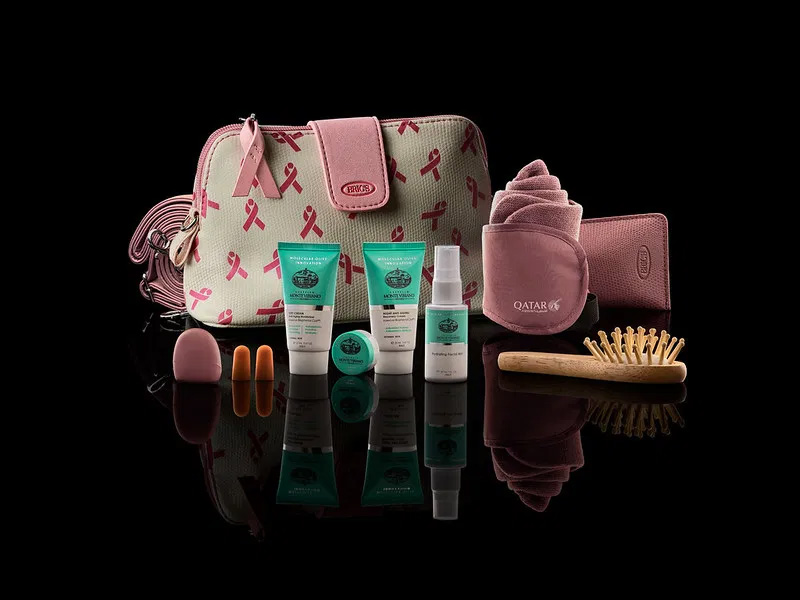 We all know that our skin goes through dehydration and becomes dry during long flights. Hence, it's important to stay hydrated. To help take care of your skin, Qatar Airways has included a lip balm, hydrating facial mist, and anti-aging moisturizer to the kit.
The only extra items in the First Class kit, is a Night Recovery Cream and BRIC's signature eyeglass pouch. The bags for women are unique and they hold socks, eyeshades and ear plugs – all in pink color, where as the men's kit has the amenities designed in grey tone.
Economy Class passengers flying the red-eye long-haul and ultra-long-haul flights will also be given the limited edition breast cancer awareness amenity kits. These bags however, will include only eyeshades, socks, ear plugs, lip balm, toothbrush and toothpaste, along with the signature pink ribbon.