Yes, fanny packs were a thing of the 80s and 90s, and then suddenly fell of the face of fashion from embarrassment. But, it's hard to argue with practicality and versatility, especially when it's infused with even a modicum of style. Fanny packs have come back into style with a vengeance and I dare say, are here to stay. They can be dressed up or down, depending on the color and style, and for a night on the town, travel, or a run. And a fanny pack by any other name, is still a fanny pack: waist belt, bum bag, whatever.
After seeing my mom with a fanny pack as a kid, I thought I had sworn them off for eternity. That is, until I was backpacking through Peru in 2007 and witnessed travelers who putt the cool back in the fanny pack. Besides, I could no longer deny that the convenience of a small travel pack that you sling around the waist – throw in your essentials, carry the weight on your hips, your arms free to interact and take pictures, and your back stays sweat-free – a win win. And, whatever you do, don't forget to rock your fanny pack with attitude. Here are the ten best fanny packs we've tested so far.
Best pack for all-day
Mountainsmith Tour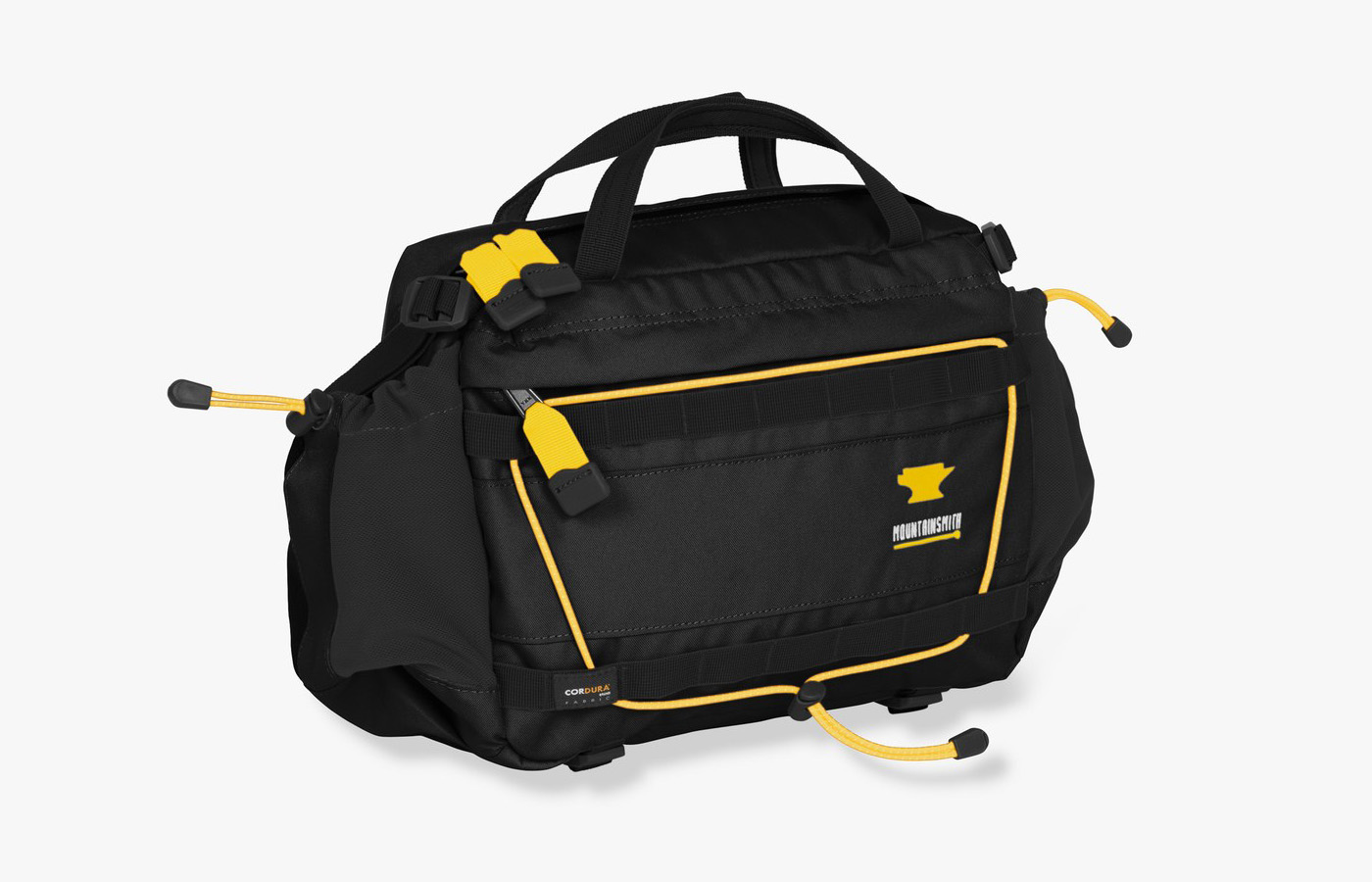 This is a great bag for all-day excursions due to the pockets galore. The Mountainsmith Tour has got lots of spaces to stash your stuff, and the bag's large size actually makes it a lumbar pack – sits over the hips and covers the lower back too. There's enough room to fit a tee-shirt, pair of pants, socks and underwear for a day's change, and a meal or two in addition to the gear you'll need while on the trail or bike for a full day.
Compression straps run along the side for a snug fit and you can lash on a windbreaker using the bungee cord on the face. There are two water bottle pockets on the sides, a zip up pocket for your mobile, and six pockets on the inside with a padded tablet sleeve. It sounds like it can handle a lot, and it can. So, when it gets too heavy, you can pull out the shoulder straps. Buy for $60
Best for Running
Patagonia Ultralight Mini Hip Pack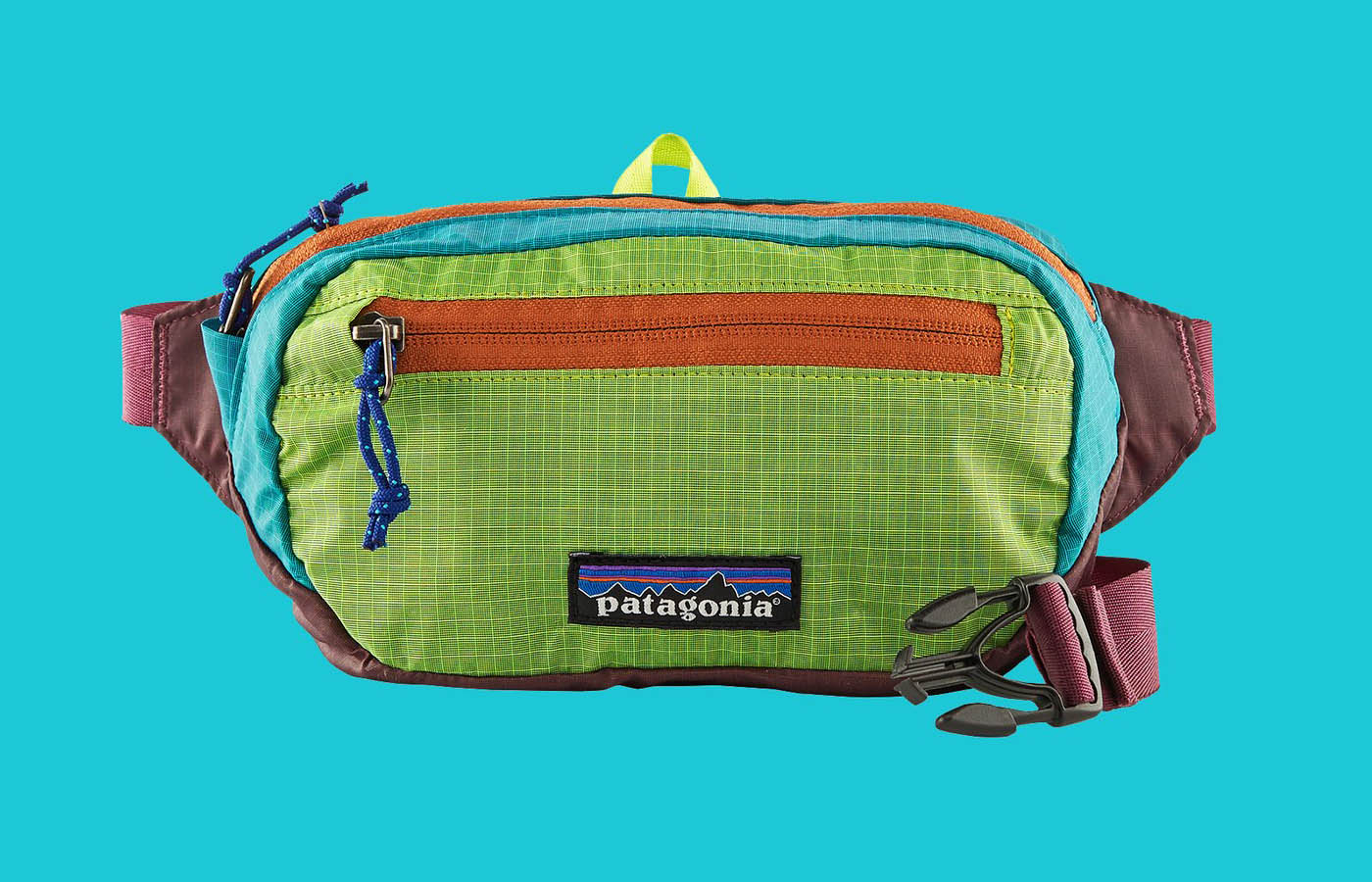 You can always use a minimalist fanny pack. They are a great alternative to those crossbody bags that can swing when you bend down to pick something up – which while they look good can be annoying when in use. And Patagonia offers a very nice one with lots of fun retro colors – just looking at it makes me smile.
The Patagonia Ultralight Mini Hip Pack has been updated this year with a 100% recycled material, ultralight ripstop nylon treated with a durable water-repellent (DWR) finish. It has enough space to fit your phone, wallet, keys, and chap stick. You can cinch it to stay tight on the small of your back even during long runs off-trail. It easily expands to fit a pair of gloves or hat in there, say after you've warmed up. This hip pack is awesome for travel, or for stashing in your pocket while traveling. Buy for $29
Best Cheap Pack
Dakine Hip Pack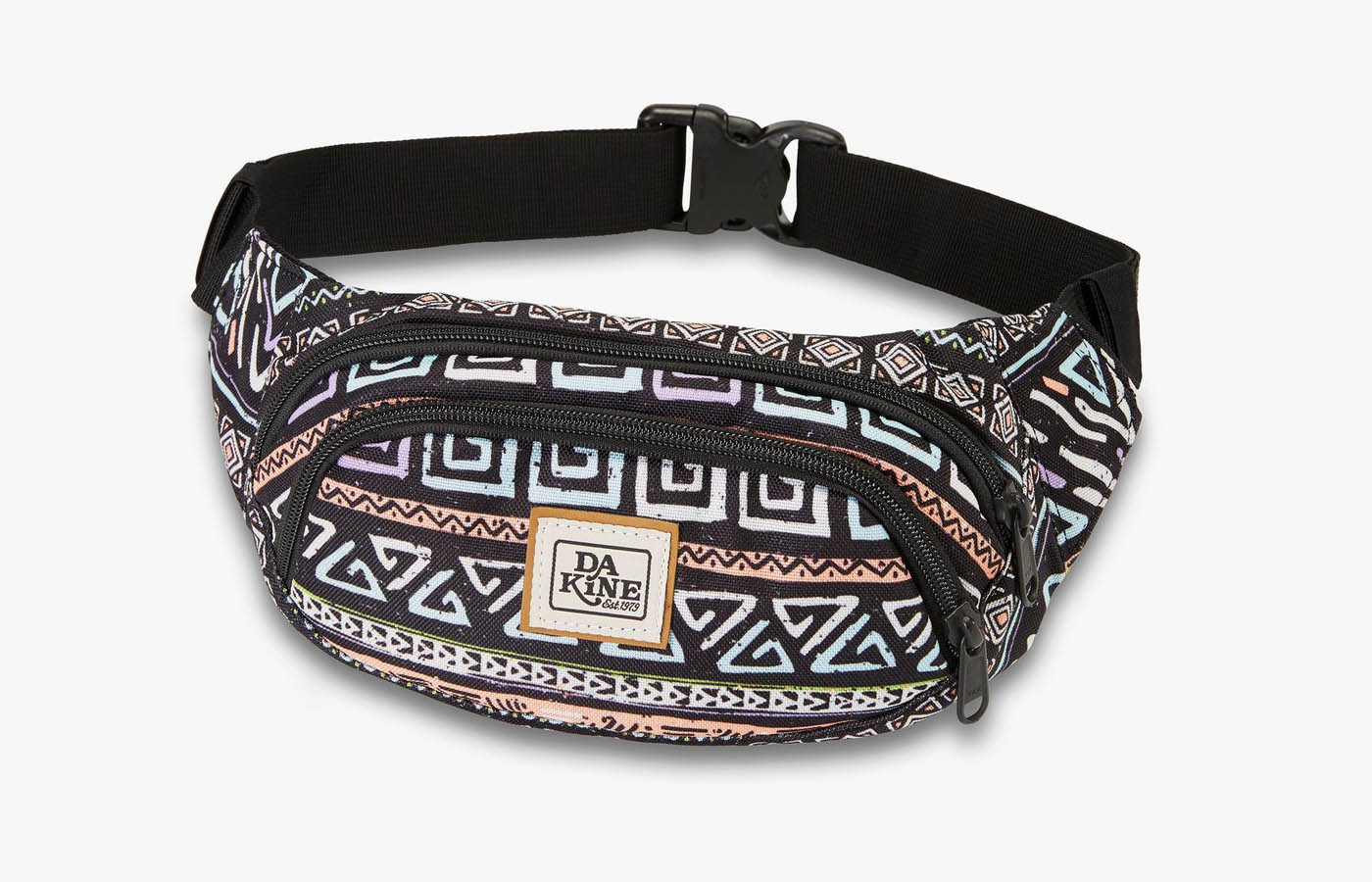 This small hip pack by Dakine covers the basics at an affordable price and is durable. I've seen people traveling all over the world with this little hip pack wonder and the wide strap fits comfortably around a shoulder as much as it does around the waist.
It will also form fit to the small of your back, which can be convenient when traveling on scooter or moped in some parts around the globe. It is just large enough to fit your phone, wallet, passport and keys, and there's a fleece-lined exterior pocket where you can place your sunglasses inside. Buy for $17
Best for Bike Commuting
Road Runner Bags Lil Guy Mini Pack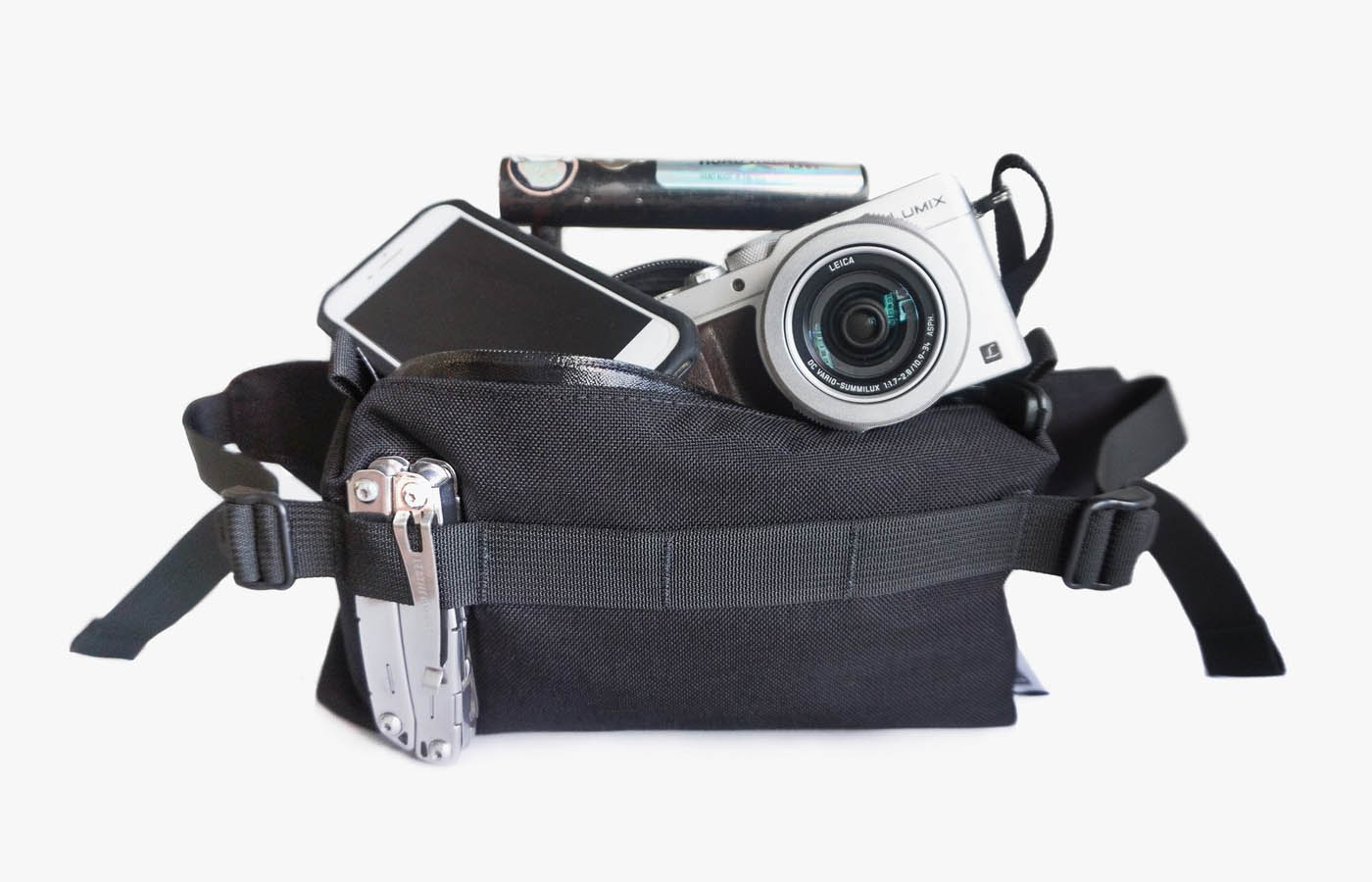 This is a favorite bike accessory for many cyclists. It is handmade in Los Angeles by Road Runner Bags and sizes in at 10"-wide, 5"-tall by 2"-deep – the perfect size for carrying around a minimum of gear required for a morning or afternoon in the city. It will fit your phone, lights, lock, keys, sunglasses, an energy bar, and even a couple of beers, if that's your jam.
A great design detail is the U-lock holster on the side of the bag that goes against your body, so that when you slide your lock into the slot it sits securely against the back and doesn't bounce around. It also gives you the option of other places to fasten the lock if you don't want it against your back, like at the hip. You can latch taillights, another lock, and a carabiner of keys with the strip of webbing across the outside of the Cordura bag. Buy for $60
Best for Concerts
Timbuk2 Slacker Chest Pack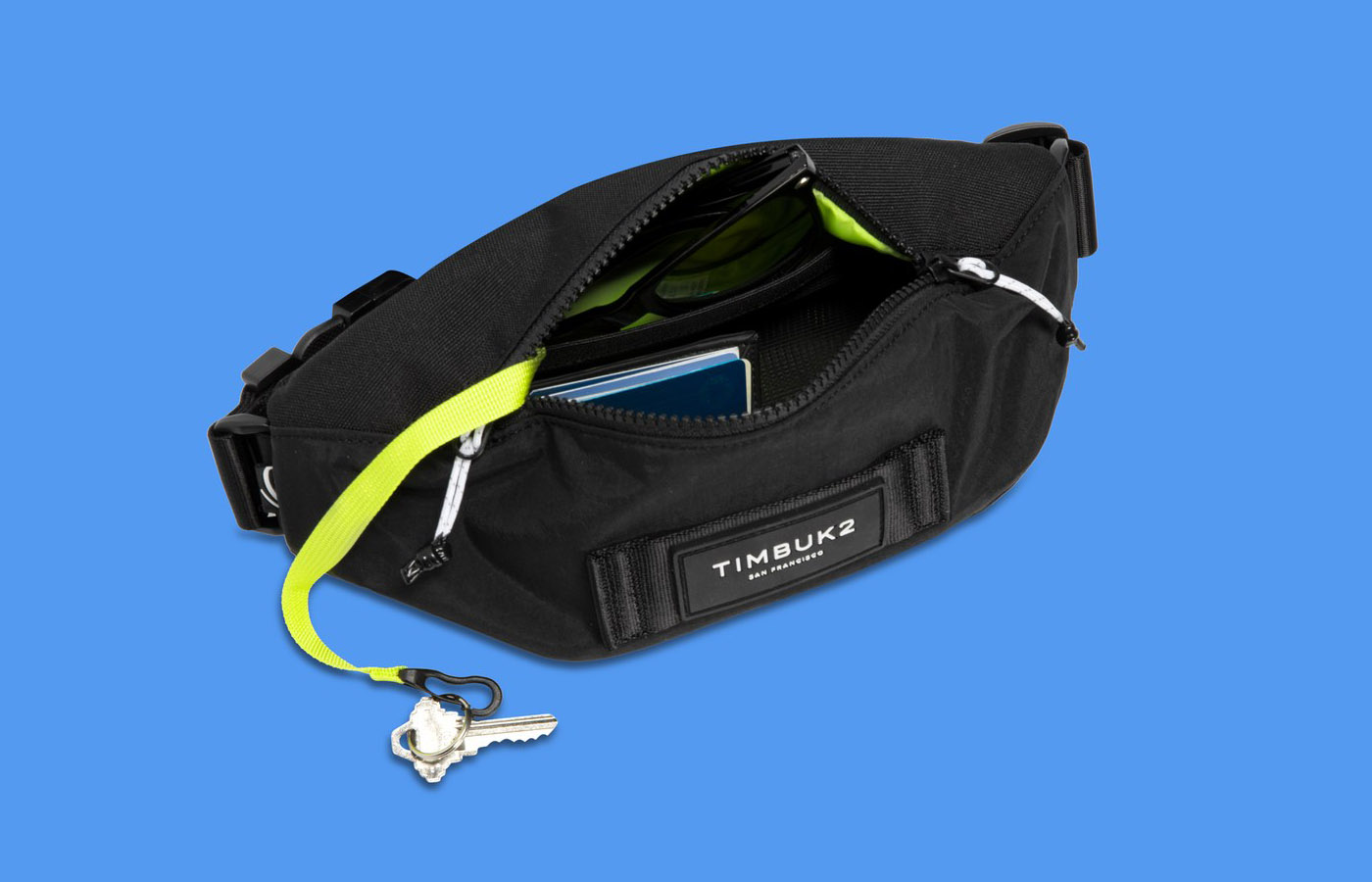 This sleek Cordura bag from Timbuk2 is one of the smallest bags on this list. It be comfortably worn in three different ways: around the hips, across your back, or around the chest. Wherever you choose to put it, the bag will stay put with the padded mesh panel on the back of it.
While it doesn't hold a whole lot, you can fit your phone, earbuds, sunglasses, and it has a clip inside to attach your keys – just the basics here folks. The zippered opening is small to help prevent anything from falling out, making it a great choice for a concert or short walk or errand. And being able to swing it around on your chest, will bring peace of mind in crowded places or on public transit. Buy for $49
Best Mountain Biking Pack
Osprey Savu Hydration Pack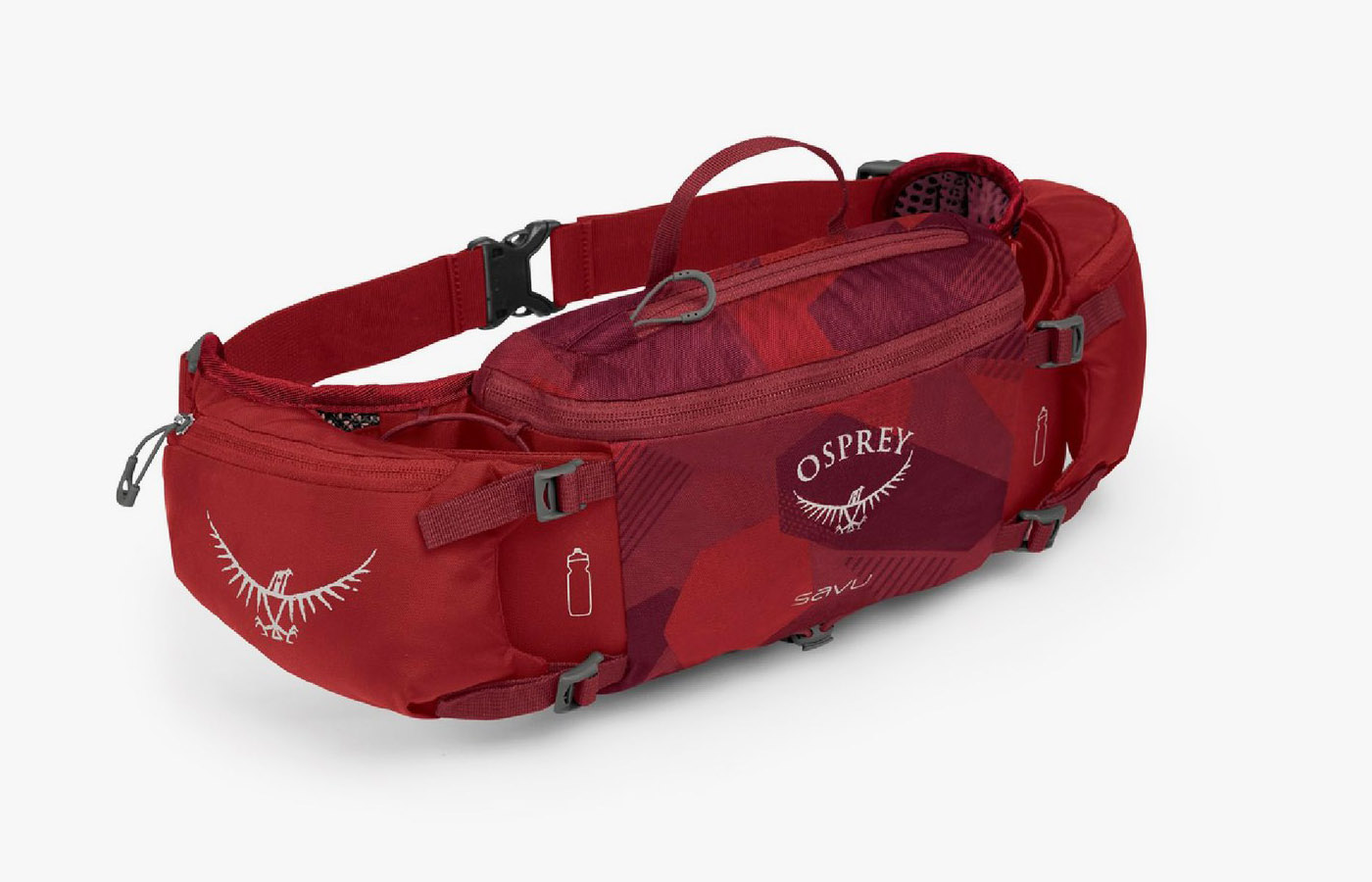 Osprey packs are known for great suspension on their internally-framed hiking backpacks. This year, the company has come out with new mountain biking lumbar packs, that also suspend their weight over your body for better comfort and ventilation.
The Savu has 4-liters of capacity and is large enough to fit a few granola bars, small multitool, and base-layer for a few hours of riding. There are small key or snack bar pockets on the front and a place for a 1.5-liter hydration reservoir. You can also opt to put in a couple of water bottles or flasks of water in the two compressible pockets which are conveniently placed and easy to reach spot. Buy for $55
Best Camera Bag
Moment Fanny Sling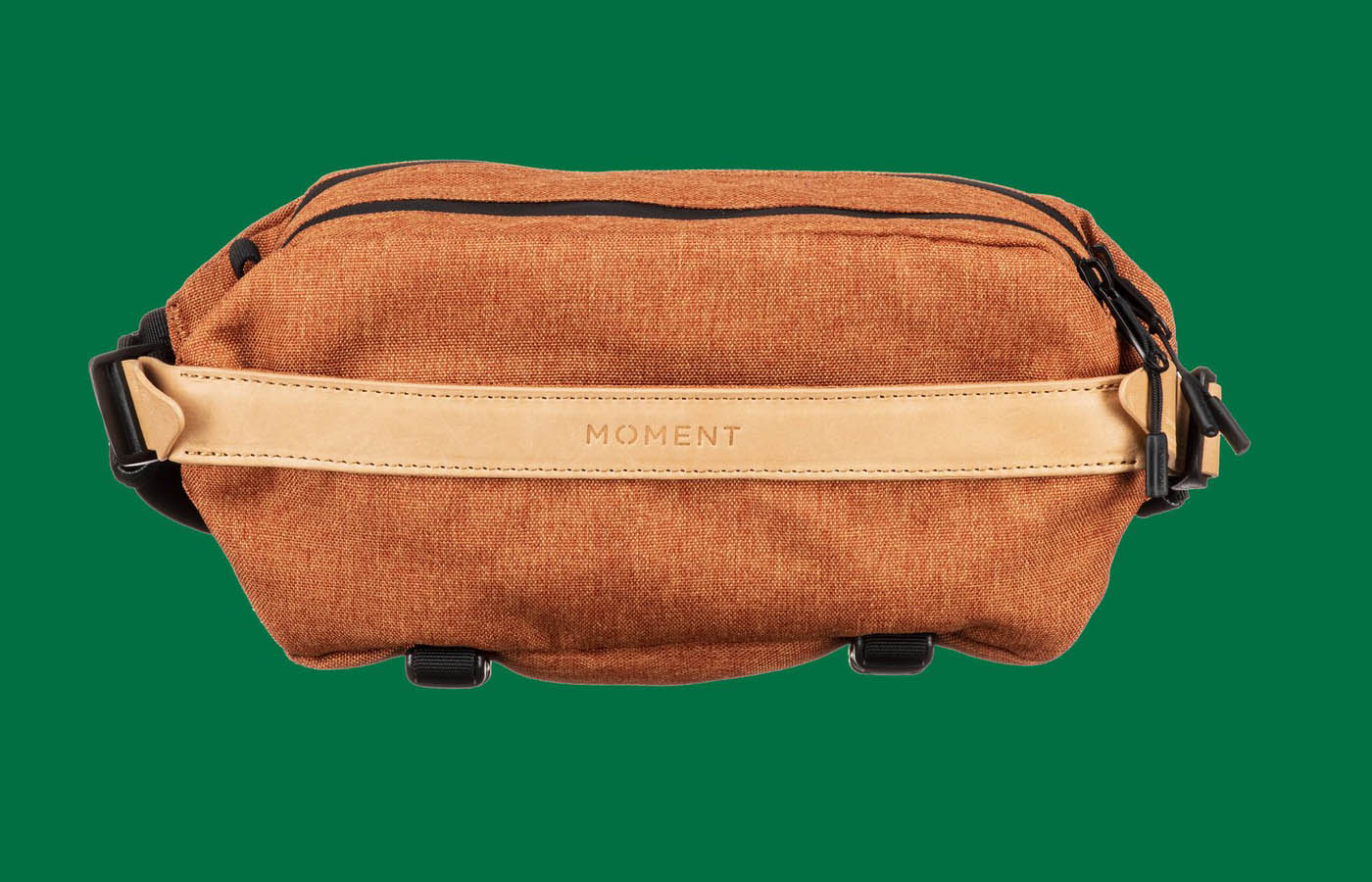 The Moment fanny sling is actually a full-size camera bag disguised as a small, minimalist fanny pack. It measures 10-inches across by 5-inches deep but comes with a healthy dose of organizable storage. There are tiny pockets that are padded, microfiber-lined, and Velcro-adjustable for your lenses and other gadgets.
There are also larger mesh pockets, small pen pockets, and other microfiber-lined pocket for your phone, with a secret soft pocket on the back for a passport. All of this is in a bag that can expand up to 4-inches across and be cinched down with a compression strap. There's a soft lens cloth attached along with small cargo straps on the bottom where you can attach a windbreaker or small tripod. Buy for $70
Best Travel Pack
Pacsafe Venturesafe Recycled Sling Pack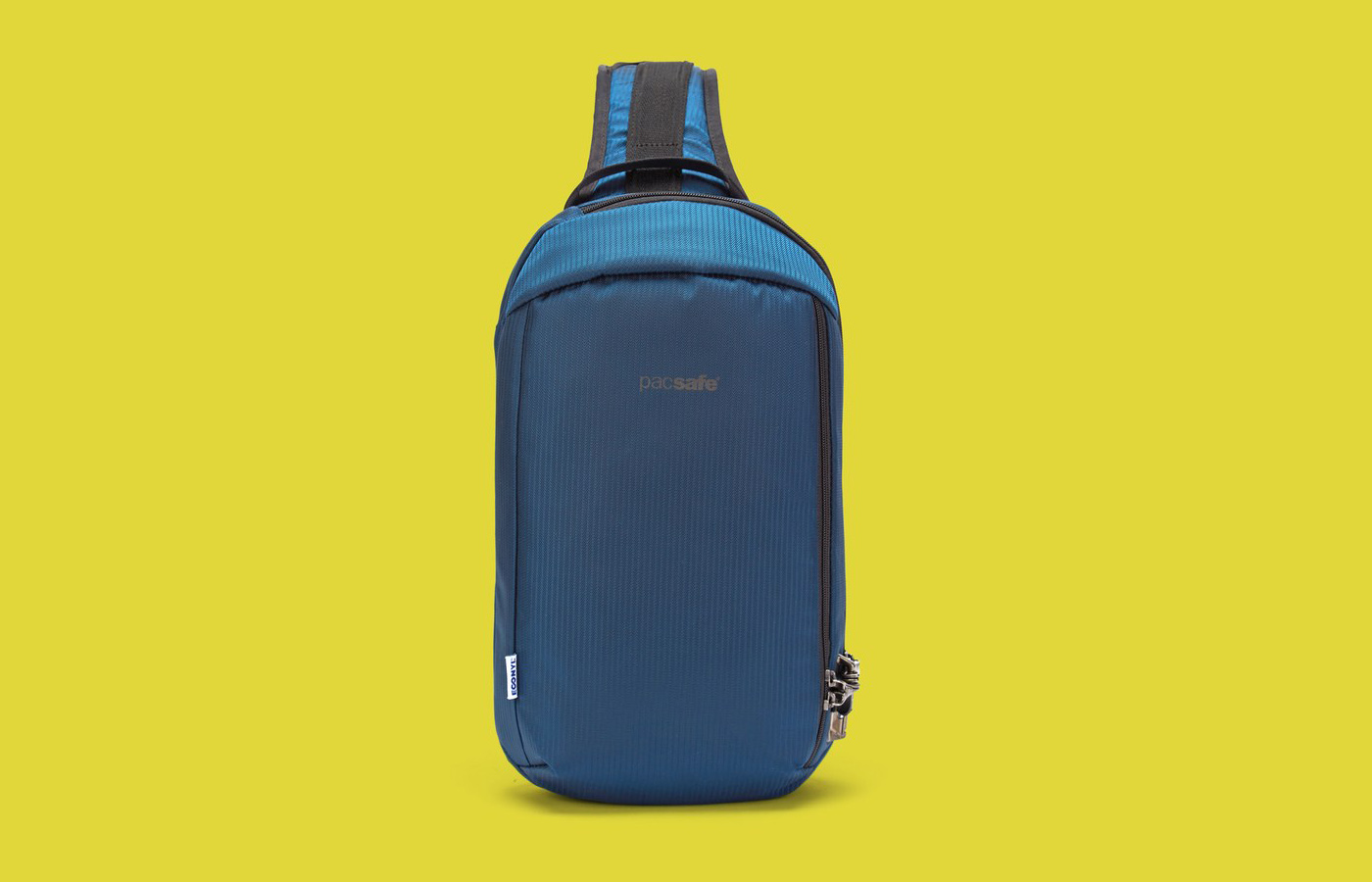 When you travel, no doubt you'll hit some of the tourist hot spots where crowds and throngs of people gather. You're a moving target for pickpockets with a bag chocked full of valuables. Pacsafe's sling pack has a number of anti-theft features – like pop-able and lockable zippers to thwart most thieves from opening it while behind you in a crowd or on a bus.
Other security measures include wire-reinforcement with slashproof straps, and an interior RFID-blocking pocket. The Pacsafe Venturesafe Recycled Sling Pack is stylish and made from a recycled nylon. It is big enough to also fit both smaller tablets or e-readers and an iPad Mini. Buy for $85
Best Minimalist Pack
CamelBak Pivot Sling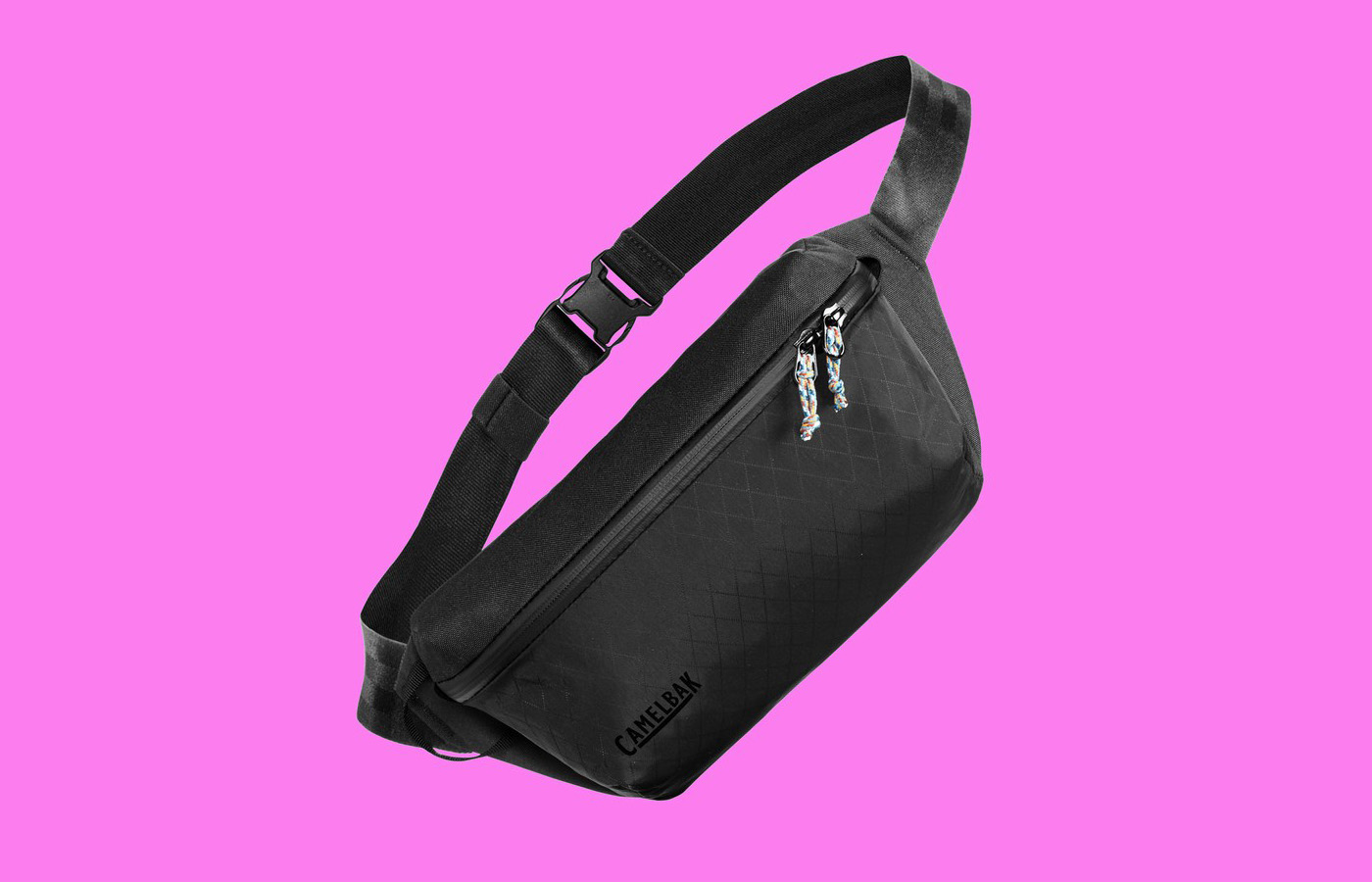 This pack probably resembles most closely to the fanny packs of the 80s and 90s, mostly due to its remarkability as a fanny pack. But don't let that deter you from reading on about this pack, as the good news here is that it has a few great features that put it out ahead of the rest.
The CamelBak Pivot Sling is eco-friendly and made from 70-percent recycled materials, including a recycled lining. The shoulder strap is made from seat belt webbing, which makes it super soft and very comfortable. A pocket on the inside is soft lined for a phone or other valuable, and it has a key loop to ensure your keys stay in place and don't accidentally fall out. Something I really like about this bag is the light gray interior which makes it easy to find what you're looking for. Buy for $40
Best Waterproof Pack
North St. Pioneer 8 Hip Pack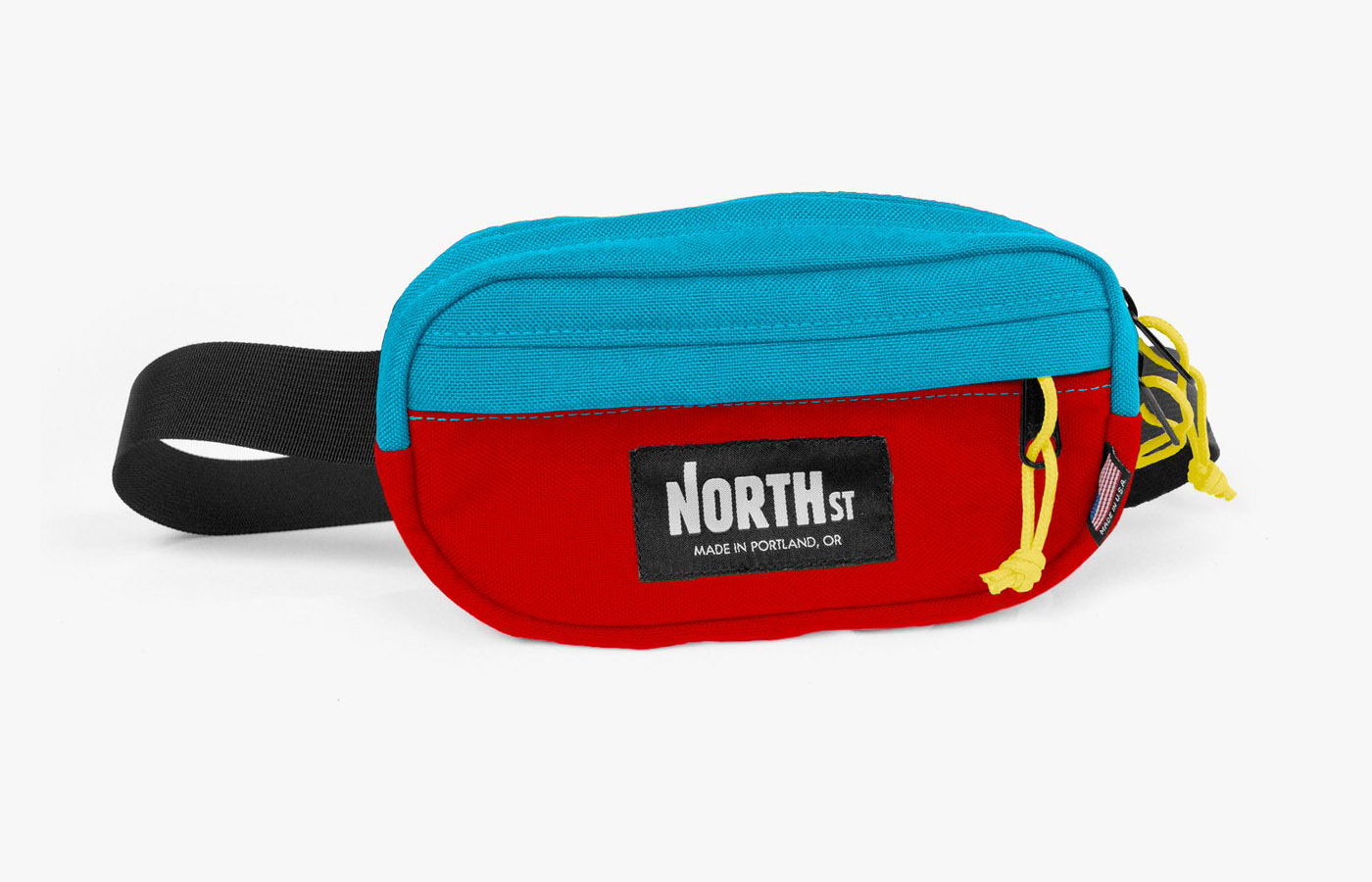 North Street Bags makes all of their bike bags by hand in a small workshop in Portland, Oregon. Their bags are meant to withstand some of the wettest and muddiest weather encountered. The Pioneer Hip Pack comes with a lifetime guarantee. It is made with a super durable waterproof X-Pac fabric, with heavy-duty, waterproof Lenzip zippers to keep all of your things dry.
The Pioneer 8 Hip back is smaller and a nice size, but there is also a larger one available. The Pioneer 9 hip pack is cool because you can customize it by adding interior pockets, a shoulder strap, or a handlebar kit. The company also works with local artists on a frequent basis to do collaborations and limited-edition prints. Buy for $40