One of the most exciting things is when you hit the open road on two wheels. By two wheels, we're referring to on the back of a motorcycle or under the power of your own effort by bicycle. It's a glorious feeling of freedom, cruising around country roads with the sun setting and the wind whipping through your hair. Maybe you swallow a bug or two along the way, but hey, that's part of the fun and experience (not to mention a little extra protein).
During your bike trip, you might opt to stay at a roadside motel here or there along the way. But there's always the option of overnighting it out-of-doors as a free soul along side your two-wheeled steed – like a modern western. Camping with a proper motorcycle tent is kinda like the wild west meets the transformers, meets the Beatnik lifestyle – sounds totally rad to me.
Here are three of the best motorcycle tents in the market to sweeten the lifestyle of life on the road. So you and your bike can act like one self-sufficient traveling unit.
Mototent V2 by Lone Rider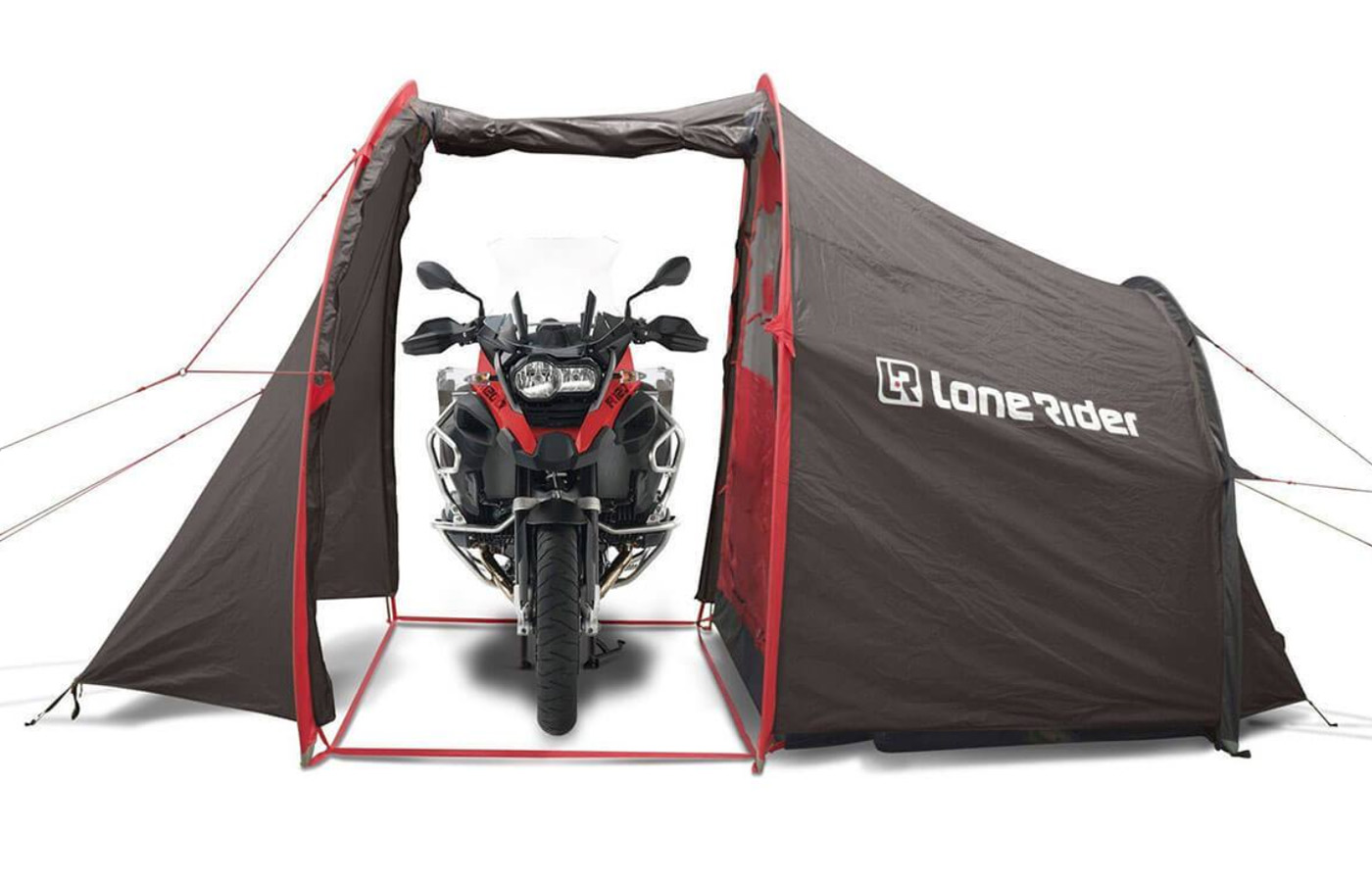 This tent wins best-in-class motorcycle tent for its list of features and should be considered the gold standard of the "two-wheel" tent category. It features a large sleeping area that can accommodate two riders plus a good amount of gear. This tent has a vestibule area that is wide enough for an adventure motorcycle with panniers Made from a durable ripstop nylon shell with waterproof zippers and aircraft-grade aluminum stakes, the Mototent V2 can keep you protected in inclement weather. The weight is 12 pounds and it runs $550
Redverz Atacama Expedition Motorcycle Tent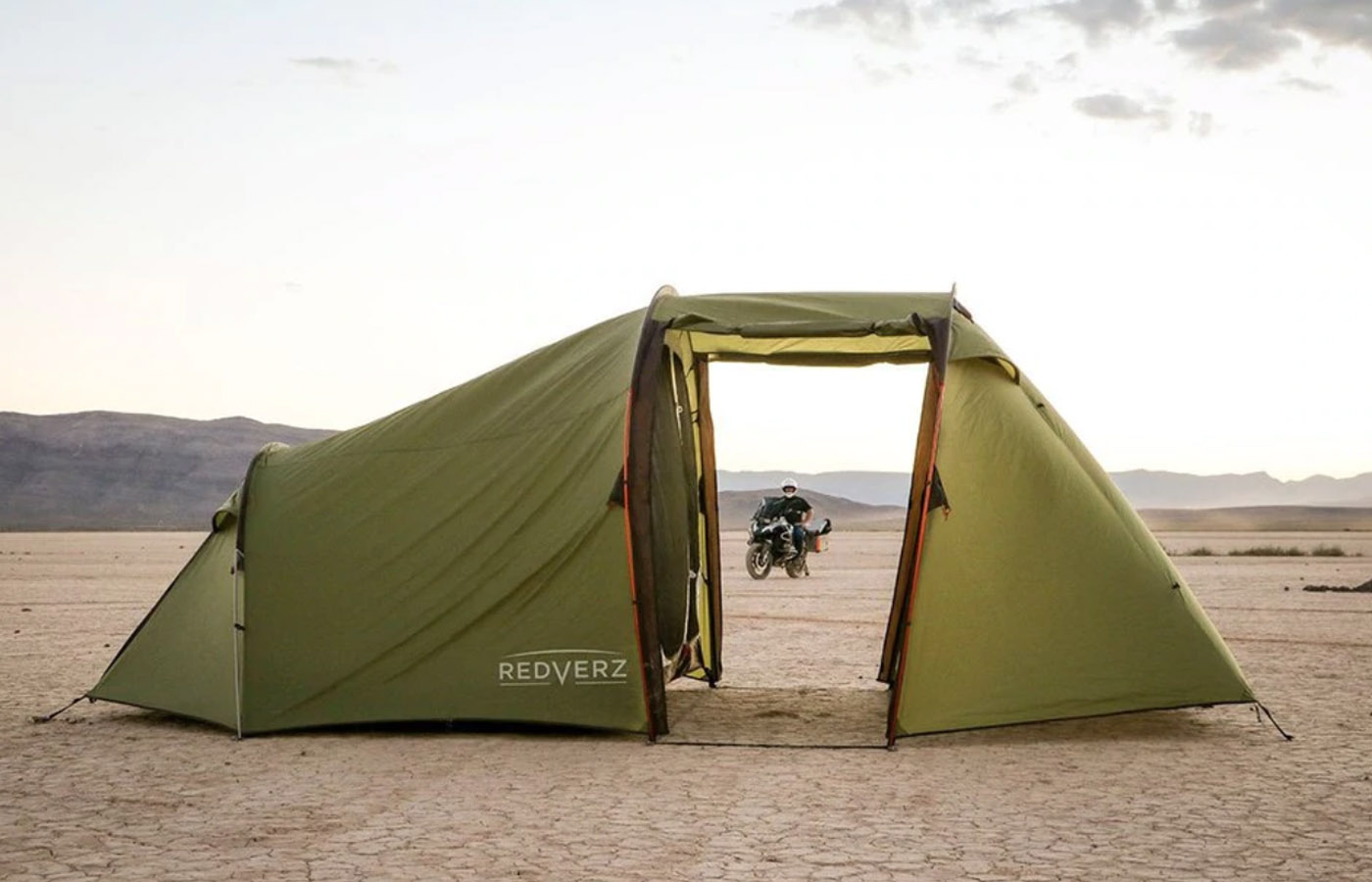 This is a well-regarded two-wheeled camping tent that's good for adventures. The rain fly is engineered with 4000mm hydrostatic head in order to withstand the most driving of rains and the windiest of winds. The vestibule can handle most full-sized touring adventure bikes with panniers, for your very own mobile garage – just pull right in. Garage doors roll down on both sides, thus, both you and your bike will stay dry. And there's more good news. A queen airbed will fit inside, or two sleeping pads and a couple of camp chairs for the ultimate on the go bike trip comfort. The ceiling height is 77 inches for plenty of headroom clearance and ability to shift about. The price is $599
Wingman-of-the-road Goose Motorcycle Camping System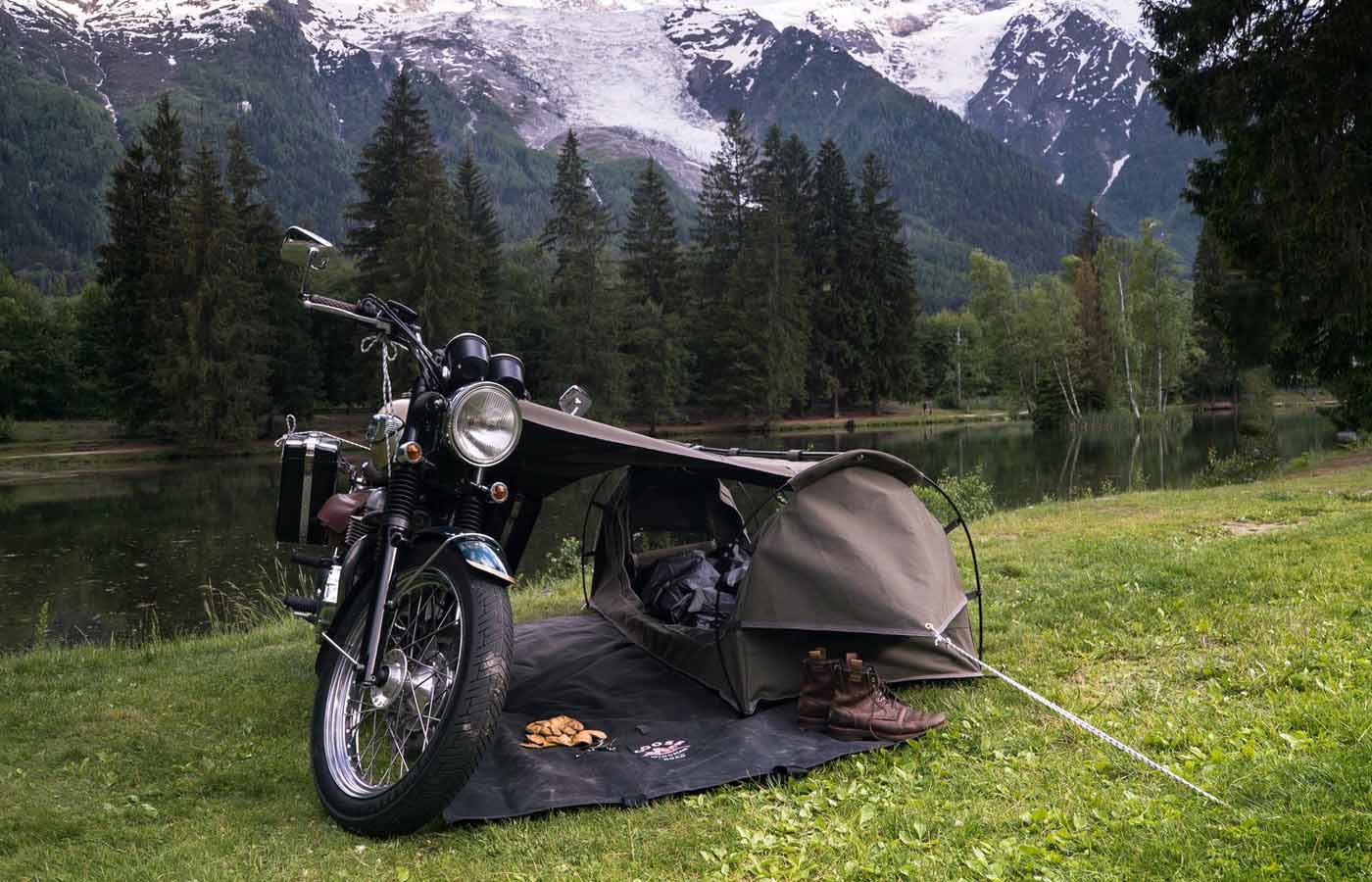 This all-in-one system for adventure cyclists, unlike any of the other motorcycle tents out there – and it's a downright utilitarian solution. The Wingman-of-the Road Goose boasts a super cool vintage design that is military-styled and practical. The entire system is composed of a canvas tent, thick foam mattress, sleeping bag, and a blanket that doubles as a cover for the entire kit. You're ready to overnight almost anywhere with this on the back of your bike. Essentially, your bike acts as a supporting structure for one side of the tent as the flap goes over the seat and gas can. The space in between can be used as a vestibule for gear or a guest. The price is approximately $400