Similar to electric vehicles, electron-powered motorcycles are slowly entering the mainstream market. After having a taste of the Lightning Cruise and Zero SR-R sports bikes, Tacita is offering a manual-equipped cruiser bike also fed by electrons.
But Swedish electric motorcycle manufacturer Regent is offering something different with the No.1. It's a retro café racer-inspired creation that begs to be driven in thick jeans, knee-high boots, a leather jacket, and some good ol' driving goggles.
Let the fun begin!
The Regent No.1 is coming in May 2020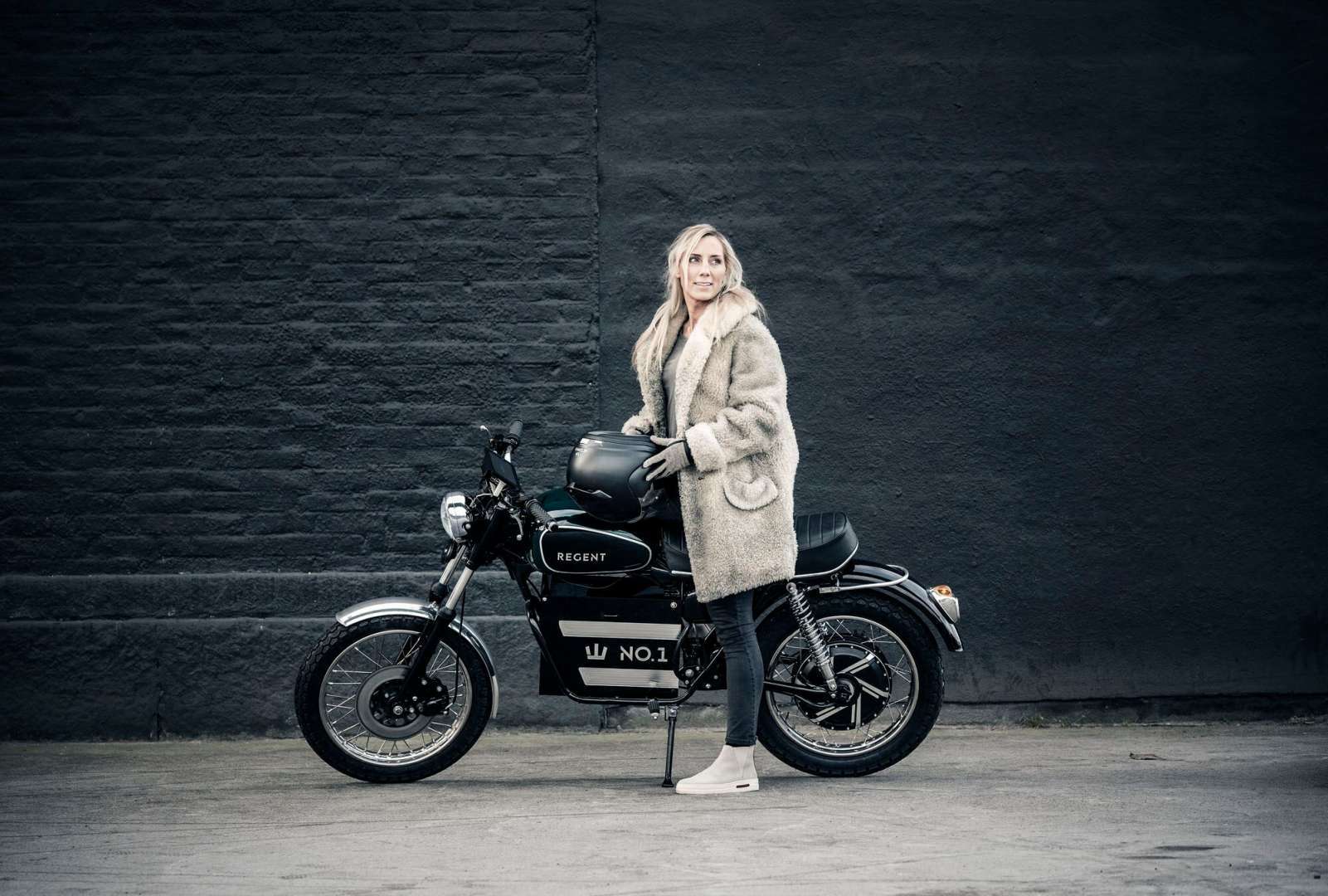 The No.1 is Regent's first electric motorbike. The company is pushing forward with production plans in May 2020. You can pre-order the Regent No.1 at their website. The first 100 pre-orders will get a 10% discount.
How much is the Regent No.1? It starts at around $10,800 (€9,500).
Not bad for a cool-looking and clean-burning vintage-inspired scoot.
It looks like a regular motorcycle from the 1960s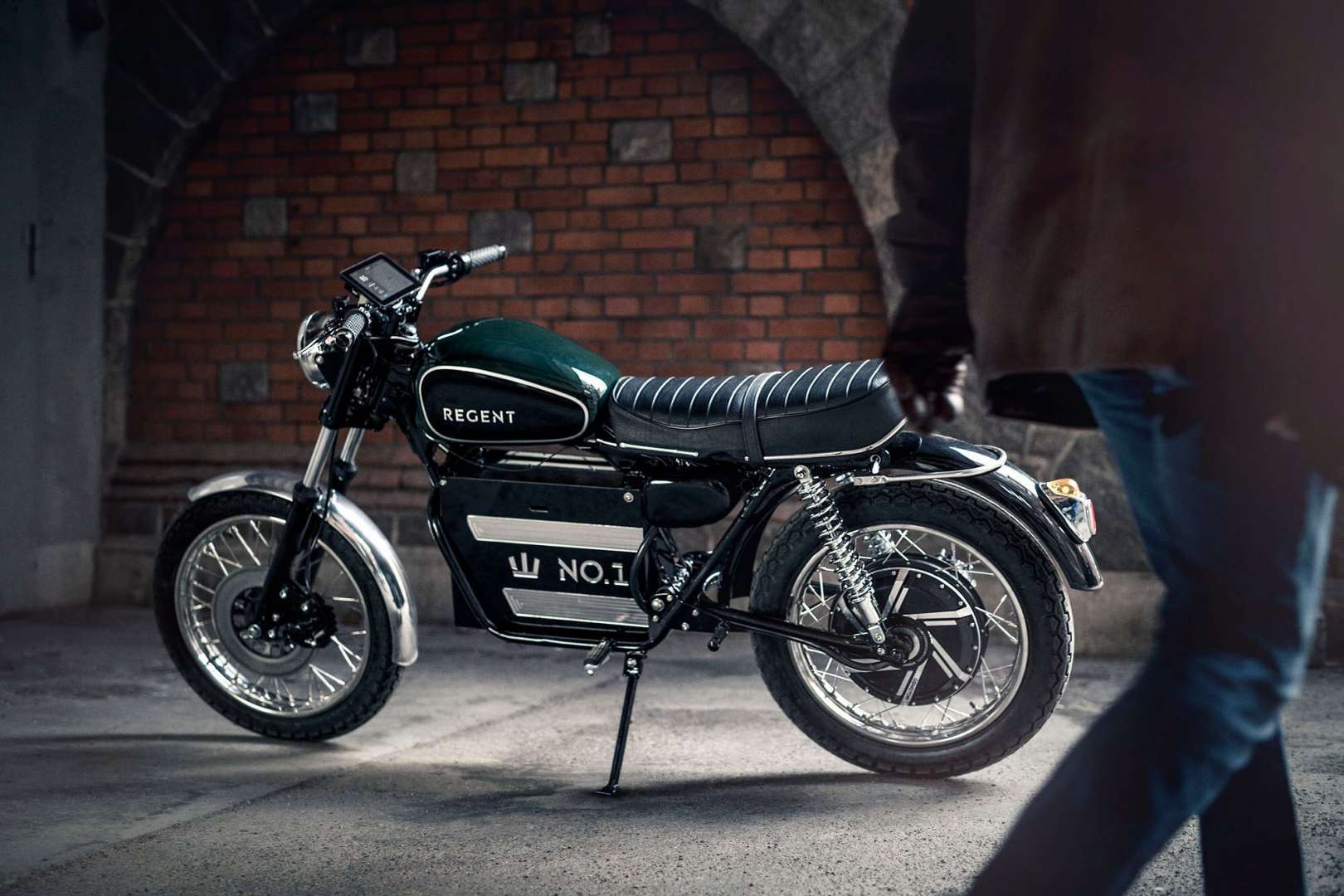 The Regent No.1 has all the elements of 1960s motorcycle. It has a steel frame, dual rear shock absorbers, and a telescopic fork. The vintage look is enhanced by the chrome coilover springs and spoked 18" wheels.
Hell, even the horn is hanging innocuously under the front headlamp in an off-center manner. Viewed entirely from the outside, there's no telling the Regent No.1 is a modern zero-emissions motorcycle.
Well, except for the lack of a muffler and a proper footbrake, of course.
Oh, and the fuel tank is obviously fake.
But it comes with techno-cool modern features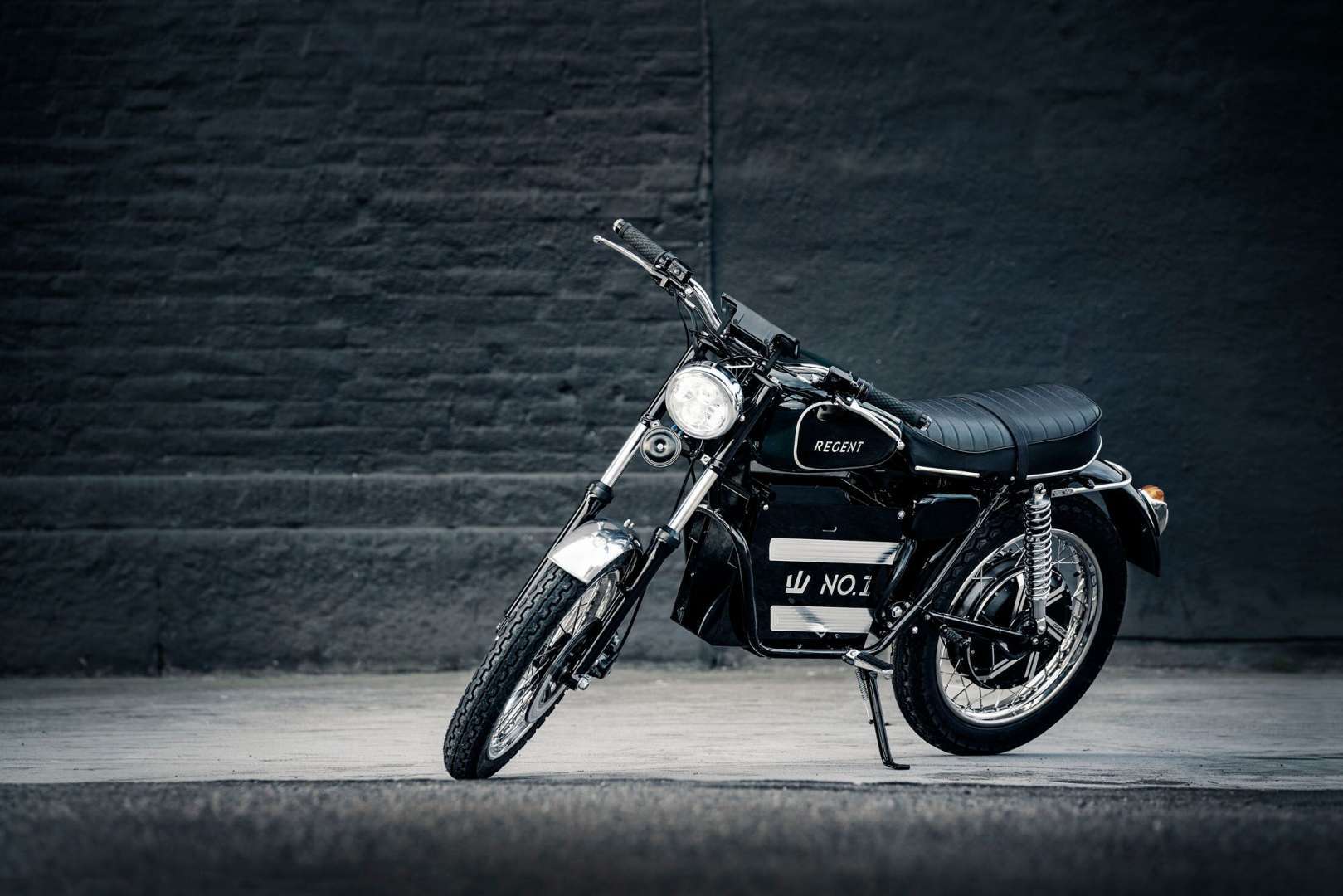 The Regent No.1 may look like a salute to the past, but it has a bevy of modern and hi-tech features. It has LED lights, a digital touch infotainment system, regenerative braking, an active safety system, and built-in GPS.
It even has a GPS-based alarm system to protect the motorbike from theft or eager teenagers.
You'll also notice the bike has dual brake levers like in a conventional gas-powered scooter.
The Regent No.1 has enough power for the urban grind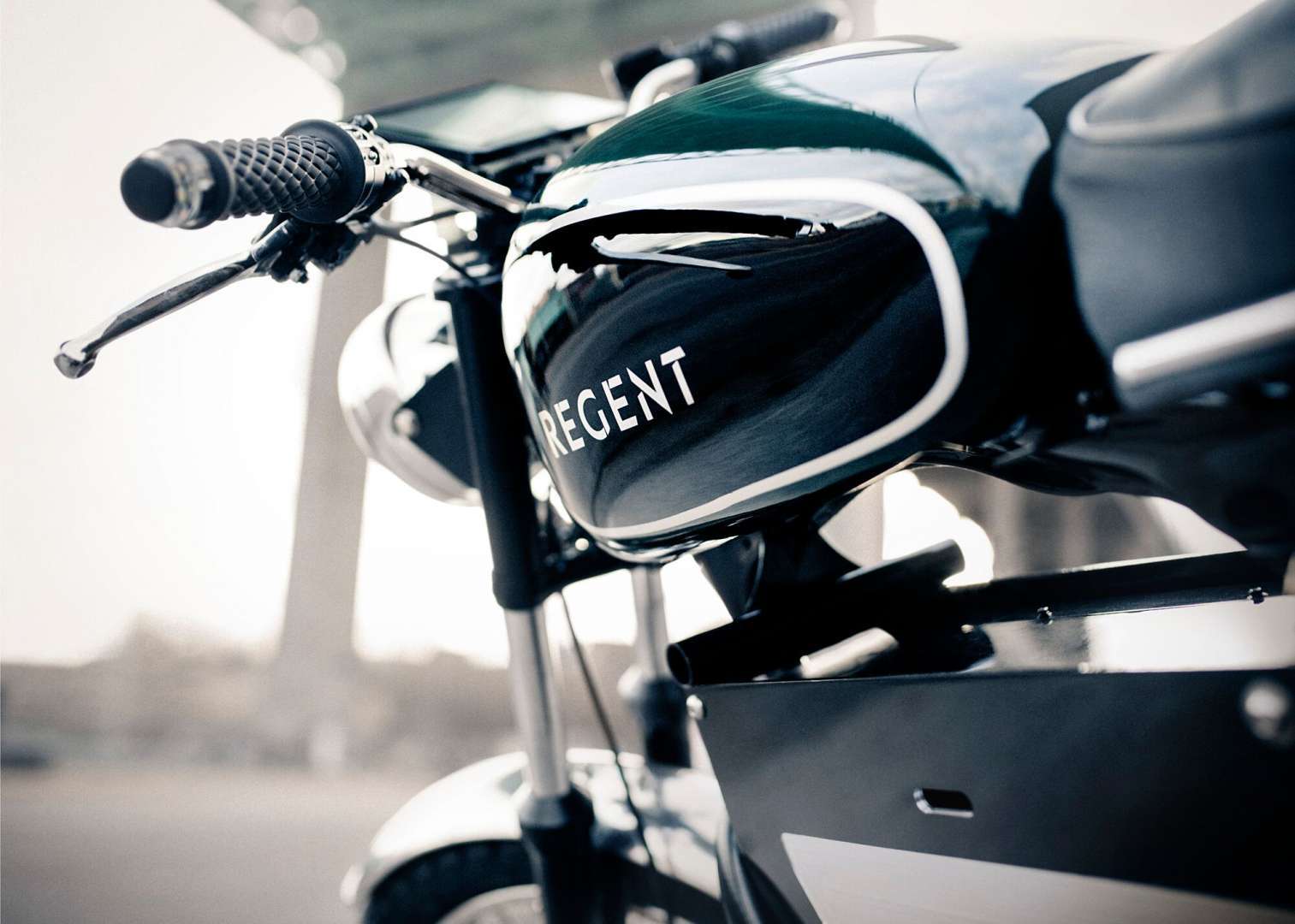 Where other electric motorcycles are trying to break speed records, the Regent No.1 is different. As the design is an ode to a glorious past, you need to drive this thing like you have all the time in the world.
But this is not to say the Regent No.1 is a slowpoke. In fact, it's far from it. It has a small electric motor mounted in the rear hub. It produces a continuous output of 11-horsepower (8 kW) and a peak output of 20-horsepower (15 kW). Weighing in at around 130 kg (286 lbs.), the small motor pushes the Regent No.1 to a top speed of 75 mph (120 km/h).
Clearly, achieving crazy speed is not on the agenda. Instead, the Regent No.1 offers a stylish and Earth-friendly way to cruise around town.
And besides, a top speed of 75 mph is more than enough for quick highway jaunts.
And with enough range to enjoy the ride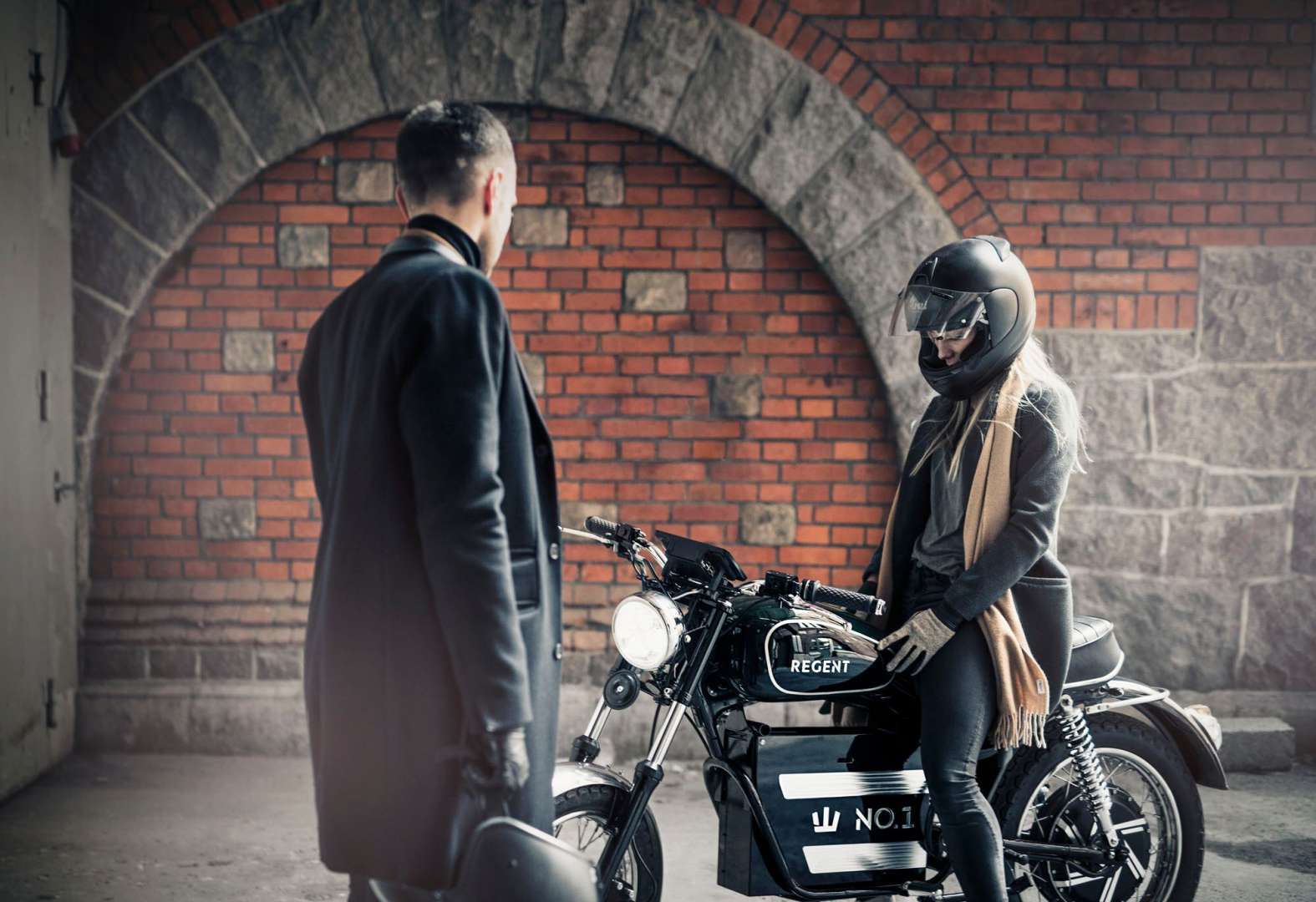 The Regent No.1 is equipped with a 72 V and 80 Ah battery pack with a capacity of 6 kWh. This allows a maximum range of 93-miles (150 km), which is more than what the CSC City Slicker and Zero FXS has to offer.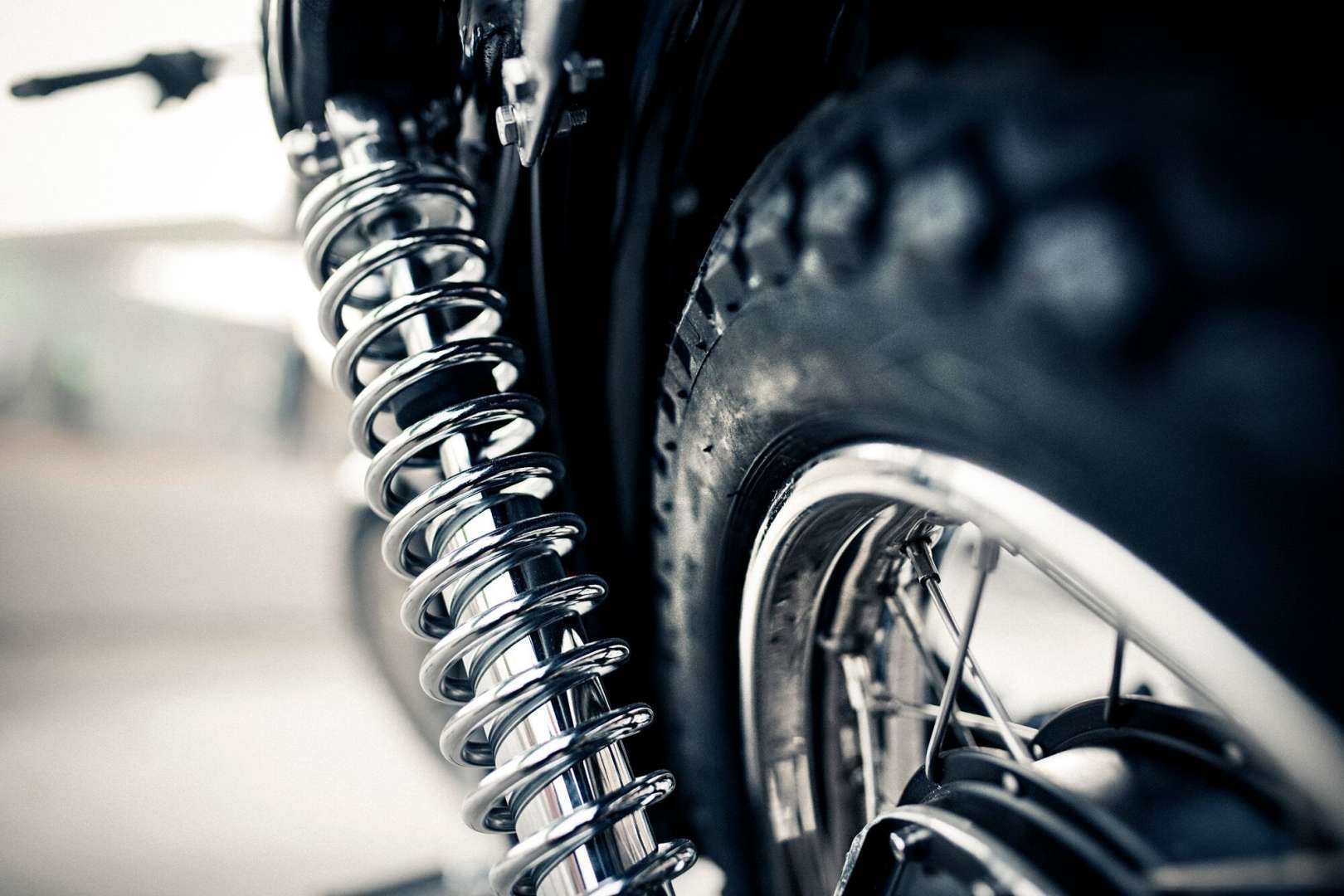 Admittedly, the Regent No.1 is a bit expensive. But where else can you get a classic bike with modern features and zero carbon emissions?