We are way past breaking the myth of levitating fakirs and snake charmers; India as we now know it, is a country bustling with culture and a melting pot of languages, rituals, food, communities and people from all walks of life. For those who have never been to the subcontinent, brace yourself for a journey that is breathtaking, enlightening, spiritual, life changing and even frustrating at times. For those who have, we know you left a bit of your soul back there.
'Atithi Devo Bhava' – The Guest is God
The Government of India has been pushing the envelope with the enticing Incredible!ndia campaign on foreign shores and it has gained much success. There are several cities and monuments that are must-visit, but here are some ground rules that you must understand before making any plans. India is a HUGE country and most of the places you'd want to visit are either in the North Western parts or South Western parts of the country. However getting from place-to-place needs careful planning on your part – for example the distance between the capital city New Delhi and financial capital Mumbai is over 1100 kilometers. What this means is that you need either 18 hours for a Rajdhani Train ride or two hours by airplane. Don't even think about a road trip!
Let's focus on the North for a moment; we start our journey in the capital city of New Delhi or Dilli as it called by the locals. Predominantly dominated by the Punjabi-speaking folks from the states of Punjab and Haryana, the capital is home to some of the most enchanting architectural monuments from the Mughal era. The mother of them all, the Red Fort, is one of the most fascinating tourist spots and is in the World Heritage List compiled by UNESCO.
Thankfully, the city now boasts of an integrated Metro Rail service that commenced a couple of years ago. You can use it to get to the most congested places of them all – Chandni Chowk. This densely populated market place is the perfect place to do street shopping for fabrics and get a good bargain on Indian accessories like the 'bindi' and bangles. This is also the place where you get some of the most amazing street foods like Kulfi (an Indian ice cream made from only milk and sugar), Chaat (street food that is spicy and tangy) and Chole Bhature (Indian grams and bread). This place is so full of people moving across narrow lanes that you can expect to literally rub shoulders with the person walking next to you. Do try a ride in the cycle rickshaw it is fun.
Some of the popular spots that almost every one tries to visit, include: The India Gate, a tour of The Rashtrapati Bhavan (President of India's residence), Humayun's Tomb, Jama Masjid (the largest mosque in India), Qutab Minar, Gandhi's final resting place – Raj Ghat and Bahai Temple (shaped like a Lotus). The one we'd like to recommend is the Dilli Haat or literally translated as the Delhi Market. You will find here shops selling textiles, curios and jewelry in a setting that resembles a village marketplace and are sourced from all over India.
From New Delhi lets move to Amritsar – the most popular city in the state of Punjab. Amritsar is famous for three things: food, food and food. Oh, and did we say food? Most of what you eat as 'Indian Food' in your country, originates from the kitchens of Punjab. Chicken Tikka Masala, Tandoori Chicken … ring a bell? American chef and foodie Anthony Bourdain was here recently, to capture the essence of the cooking. He visited the landmark 'Kesar da Dhaba', which is ironically known for its vegetarian food. It is a non-descript and unpretentious 'dhaba' or local restaurant where commoners eat. A die-hard carnivore, Bourdain says that he is ready to turn vegetarian only if this is the kind of food he gets to eat.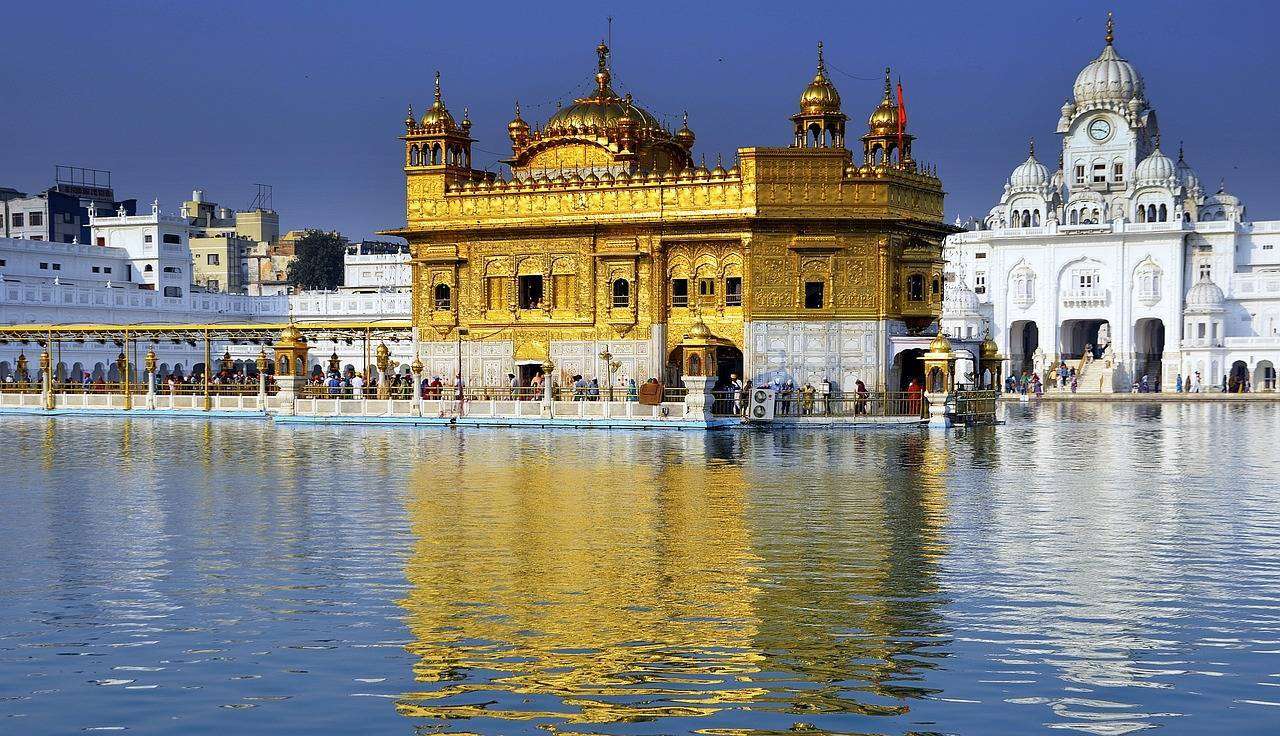 Amritsar is also known for its trademark 'Amritsari Macchi' or Spicy-tangy fish and Kulcha (Indian flatbread roti stuffed with a spicy mixture of potatoes and cooked in a clay oven or tandoor) and like most eateries, you'll find the best version of this as street food. A whole page can be dedicated to the kind of food that you get in Amritsar, it's probably because the produce used is fresh and the sweet water that comes in from the rivers. Amrit literally means nectar and hence the name of the city.
Moving on to sightseeing, you must visit the Golden Temple, the home to the Akal Takth or the seat of the Last Guru of the Sikhs – The Guru Granth Sahib – The Holy Book. Surrounded by pristine waters of the Sarovar tank, the Temple Structure is half white and half gold plated. Yes – real gold. It is open to people of all faiths and is a sublime experience. Before you enter the complex, you have to remove your shoes in a locker room and collect a token for it. Do you know that the person collecting your shoe could probably be a millionaire doing 'seva' or service? The purpose behind this gesture is to keep you grounded and your ego in check.
You cannot escape food – yes even in the Golden Temple, where they host a langar – or free meal service for devotees. Said to be one of the biggest community kitchens, dedicated sevadars or volunteers work in harmony to feed the devotees a simple vegetarian meal comprising of a dal or pulse, roti (bread) and vegetable. Needless to say this will be one of your most blissful experiences connecting you to the divine within. Your last pit stop has to the 'Closing of Guard Ceremony' at Wagha – Attari Border. Amritsar is barely and hour away from Lahore, in fact, before the India – Pakistan division, the two cities were know as twin cities. Both belonged to the collective state of Punjab, half of which is now in India and the other in Pakistan. The Border Security Guards from both the countries put up a dramatic show of animosity and mutual respect while lowering the flags of India and Pakistan, and folding them for safekeeping, each evening.
From the plains of Punjab now lets move on further North, to the mighty Himalayas, the home to the state of Jammu and Kashmir. Mughal Emperor Shah Jahan called Kashmir 'jannat' or heaven on earth and was the mastermind behind the famous Shalimar Gardens, which are a part of the Mughal Gardens. Often touted as the Switzerland of India, the cities of Srinagar, Pahalgam and Gulmarg are beautiful and are the tourist hotspots. Srinagar is the capital city and home to the Dal Lake. Dotted with numerous Houseboats, staying on the Dal is an experience one must take. Since saffron grows in abundance here, much of the cuisine is influenced by it. One of the notable beverages from this region is the 'kawa' or green tea. Special kawa leaves are brewed in hot water along with a few strands of saffron. The tea is then poured over crushed almonds, cardamom, cloves, raisins, and pistachios. You can sweeten the tea with a dollop of honey or plain sugar. A sip and you are in heaven!
While Pahalgam is a city where you'd like to rent a cottage and relax, enjoy the natural beauty and climate, Gulmarg is an action packed destination for those who like to ski. Of course the ski slopes are ready only in the winters, and are lush green meadows during summers. Golfer's haven we suppose! Moving deeper into Kashmir and more towards the Himalayas, we head to an area called Leh & Ladakh. Leh is the capital of Ladakh, and has several Buddhist Monasteries. Although the Dalai Lama resides in Dharmsala – a hill station in Himachal Pradesh, you can find strong Tibetan influences in this region. This area is so pure and pristine, the air so fresh, that you get spellbound. This region is good for trekking and camping; there are several local options available for trekking to glaciers and foothills of the majestic mountains. Essentially, Ladakh is the highest plateau found in Kashmir and spans from the Himalayas to the Karakoram ranges. As a part of the Indus Valley, the region is home to some exceptional flora and fauna. In short, Kashmir is a destination for those who'd like to dwell on Mother Nature's beauty and be humbled by her abundance and grace.
Now that you have spent some time with Mother Nature – wait a minute; are we skipping Rishikesh, Varanasi (Banaras) and the river Ganga completely? Yes, we are – these are hardcore spiritual places with loads of spas and places that help mend broken souls. Steve Jobs put this place on the map for the techies, if you've read the book, then you'll know what we mean. We'll skip the details for now, but you can research them and plan accordingly.
Back on track – now lets head over to Agra for a quick trip to the Taj Mahal and then over to the state of Rajasthan. The Taj Mahal is in Agra, a day trip distance from New Delhi. Besides being one of the Wonders of the World, this monument is a UNESCO World Heritage site. Built by Shah Jahan in the memory of his beloved wife Mumtaz Mahal, who died giving birth to their 13th child, The Taj is the ultimate symbol of love. Before you go on to buy a miniature one for yourself, do remember this is a tomb, and typically you wouldn't want to keep the symbol of a tomb in your home, right? On one hand you'll be entranced by the beauty of the marble inlay work and the other hand you'll feel distraught to know that the hands of those who worked on the Taj, were cut off on the orders of Shah Jahan. He did not want any replication of this magnificent structure, however the Bibi ka Makbara found in South India is pretty similar to Taj.
From romancing the stone, lets get cozy with the sand dunes of Rajasthan. If budget is not an issue, then you probably can book yourself a seat in the Palace of Wheels and indulge in a royal experience. This royal train departs from New Delhi and takes you to Jaipur, Swai Madhopur, Chittogarh, Udaipur, Jaisalmer, Jodhpur, Bhartpur and Agra. The royal journey is worth the experience aboard this specially designed train. Unlike the typical trains of India, the Palace on Wheels hosts two dining cars and luxurious sleeper cabins for its guests. After a traditional welcome, passengers are treated like Maharaja – king – and Maharani – queen; the royal treatment is extended throughout the 7-day journey. You can expect to see the Hawa Mahal and Palaces of Jaipur, experience local folk dances and culture of Rajasthan while dining in erstwhile places-turned-into-five-star-hotels.
Swai Madhopur is a forest area and you get to drive out to go tiger spotting. Scrumptious meals and extensive sightseeing are a part of the deal, so all you need to do is go with the flow. The sound and light show at the Padmini Palace at Chittogarh, recounts the tale of how Rani Padmini conducted the 'johar' of self-sacrifice in a funeral pyre, when she was about to be abducted by Alaudhin Khilji, a menacing Mughal king. While Jaipur is known as the Pink City, Udaipur is famous as the White City. The Lake Palace of Udaipur is the perfect place to view the sunset and creates a memorable experience. As we move on to Jaisalmer and Jodhpur, you will notice a drastic change in the landscape. It gets more dry and arid, until you start noticing monumental sand dunes. Being a part of the Thar Desert, Rajasthan receives very little rainfall, the best time to visit here or even New Delhi and Amritsar, is the winters. Rounding up this tour (we already discussed The Taj Mahal) is Bharatpur, which is a bird sanctuary. The Keoladeo Ghana National Park is home to almost three hundred species of birds and many of them are migrant species. They travel and come here from parts as distant as Siberia and China.
Now that you have experienced the traditional side of India, lets loosen our belts, let down our hair in the financial capital – Mumbai. You probably have heard about the Antilia, home of Mukesh Ambani, India's richest man. It cost him close to $70 million to construct this jarring piece of structure and quite frankly it disturbs the tranquility of the surrounding Cumbala Hill area. The must-see in Mumbai include the Gateway of India, Queens Necklace at Marine Drive, Stick Exchange Building, Asiatic Library, Haji Ali Dargah and of course a walk down the Colaba Causeway. Mumbai is electric and is home to many cultures and cuisines, from fine dining to street food; there is a wide variety to choose from. For example breakfast at an Irani Restaurant can be as simple as Brun-Maska and tea (hard bun and tea) to a beer-breakfast at Café Leopold. Lunch at a typical South-Indian Udipi restaurant – comprising of dosa, idli or pav bhaji to Dinner at fine dining at Khyber, anything and everything in Mumbai is an unforgettable experience. You will simply fall in love with the 'gola' or shave ice available at the Juhu Beach, and the paani-puri available at Elco Market.
For the non-foodies, Mumbai is a shoppers haven too, from bargain shopping on the streets of Hill Road and Linking Road to the high-end Palladium Mall; you will find the prices and collections suitable to all pockets. The frustrating part of Mumbai is the traffic; keep a buffer of 20 to 30 minutes, every time you venture out. Celebrity spotting is quite the thing here, since the seat of Bollywood originates from this 'maya nagri' – city of dreams. You can expect to bump into some celebrity or the other at this one particular café called Indigo Deli situated in Andheri West; it's like their watering hole. Weather permitting; you must explore the Elephanta Caves, which is a short boat ride from The Gateway of India. You will find ancient cave sculptures dedicated to Lord Shiva, a Hindu God. You will have to agree that Mumbai is like a drug, love it, hate it…but you can't do without it.
The next party capital that you must visit is Goa. A former Portuguese Colony, Goa is all about beaches, fenny, eating, sleeping and drinking. Leave out the water sports to Maldives and Mauritius; just enjoy the lazy days at offbeat beaches like Palolem and Chotta Vagator. If you really must do sightseeing then keep just one day aside for the temples and churches, for example the Basilica of Bom Jesus where the natural remains of St. Francis Xavier is on display, the Mangeshi Temple dedicated to Lord Shiva and Se Cathedra, amongst others. A few days in Goa and you'll know that vegetating in a beach shack, Martin's Corner and Tito's Restaurant are the BEST things to do in this lifetime.
Like we mentioned earlier, India is a vast country, so listing just a few places to visit is very difficult and doesn't do justice to this grand country. What we have done here is simply highlight the best of the best, the must-dos on your first trip. However if this is your second or third trip then you must explore states like Kerala, which is home to the Back Waters and stunning beaches. The cuisine here is very typical and mostly cooked in coconut oil, as this is abundant here. You will find the origin of Kamasutra at Khajuraho, where there are temples depicting erotic rock carvings. If you head Far East then Kolkata is another must-see destination. It has a rustic old-world charm to it and is famous for the Shanti Niketan established by Rabindranath Tagore – a literary Guru of Classical India.
To wrap it up for you … India is a destination where it's easy to soul-connect. The people here are warm and friendly. They are eager to help and you can expect them to give their meal with you, even if they don't have enough to feed their own family. Rejuvenate your mind, body and soul… come home to India.