Laos is called by many people the forgotten country of South-East Asia. Perhaps because it's a still a very remote and sparsely populated country and has largely been spared the hordes of tourists that blight neighbouring countries. When travelling through the landlocked nation, you will often be stuck just how underdeveloped it really is – there's nary a road, sign or electricity wire in many parts of country to this day. And even though times are gradually changing in Laos, it's still a delight for anyone that wants to get back to basics and enjoy the real South-East Asia.
To some people, it might seem like there really isn't much to do in Laos, but given time, its ample charms will reveal themselves to anyone that appreciates a slower pace of life. And the beauty of Laos is that it's a budget traveller's dream – of course, you can splash out and stay in luxury boutique hotels in the Laos capital of Vientiane, but for the most part, Laos is instantly accessible and affordable for even the most hardened penny-pincher.
Here's our brief guide to Laos on a budget, as well as a few tips on getting the most value for money.
Take the time to plan
For those people that prefer to travel by their wits and take things as they come, Laos presents dozens of opportunities for adventure and excitement. But like any destination, a little careful planning beforehand can definitely help keep within your budget.
Laos can easily be covered in a short trip, but many people choose to visit Laos as part of a wider trip taking in Vietnam, Cambodia and Thailand. Unlike those countries however, Laos requires a little more patience to discover what lies beneath the surface, so we'd recommend taking the time to snake a path up through the country and simply unwind. From the old colonial French architecture and lazy Mekong backdrop of Vientiane, to the mellow river-bound islands of the south, pick a route and then see where it takes you.
Essential things to do in Laos
Without doubt, Laos still remains a laid-back and authentic destination. Wherever you are, you can find delicious street food for a few dollars, inexpensive accommodation that infuses a little Buddhist charm with the friendliness of the Laotians, and excellent coffee (courtesy of its French heritage).
And getting around is always part of the fun – buses are cheap and relatively plentiful (as long as you're not going anywhere too far from civilisation), and for the more independent, scooters can be picked up for a couple of dollars a day. What better way is there to explore the twisting hillside roads around the backpacker haven of Vang Vieng, or visit every nook and cranny of the more upmarket Vientiane?
Here's our pick of just a few essential things to do in Laos that won't break the bank.
Sunset on the Mekong
North of the Laos capital of Vientiane, Luang Prabang is a UNESCO world heritage site and as such a magnet for tourists and backpackers from all corners of the world, mainly thanks to its cultural attractions and superb range of activities (from massage to temples, mountain biking to elephant rides). While it is a little more expensive as a result, there's plenty to do for free.
After you have wandered the fascinating street market that begins each evening, and marvelled at the intricate designs of the Buddhist temples, head up to the Phu Si Hill in the very centre of town. It's impossible to miss as there is a temple perched on top that can be seen from just about everywhere. You'll be amply rewarded with breathtaking views of the surrounding mountains that overshadow the confluence of the Mekong and Nam Khan rivers.
Take a dip in amazing waterfalls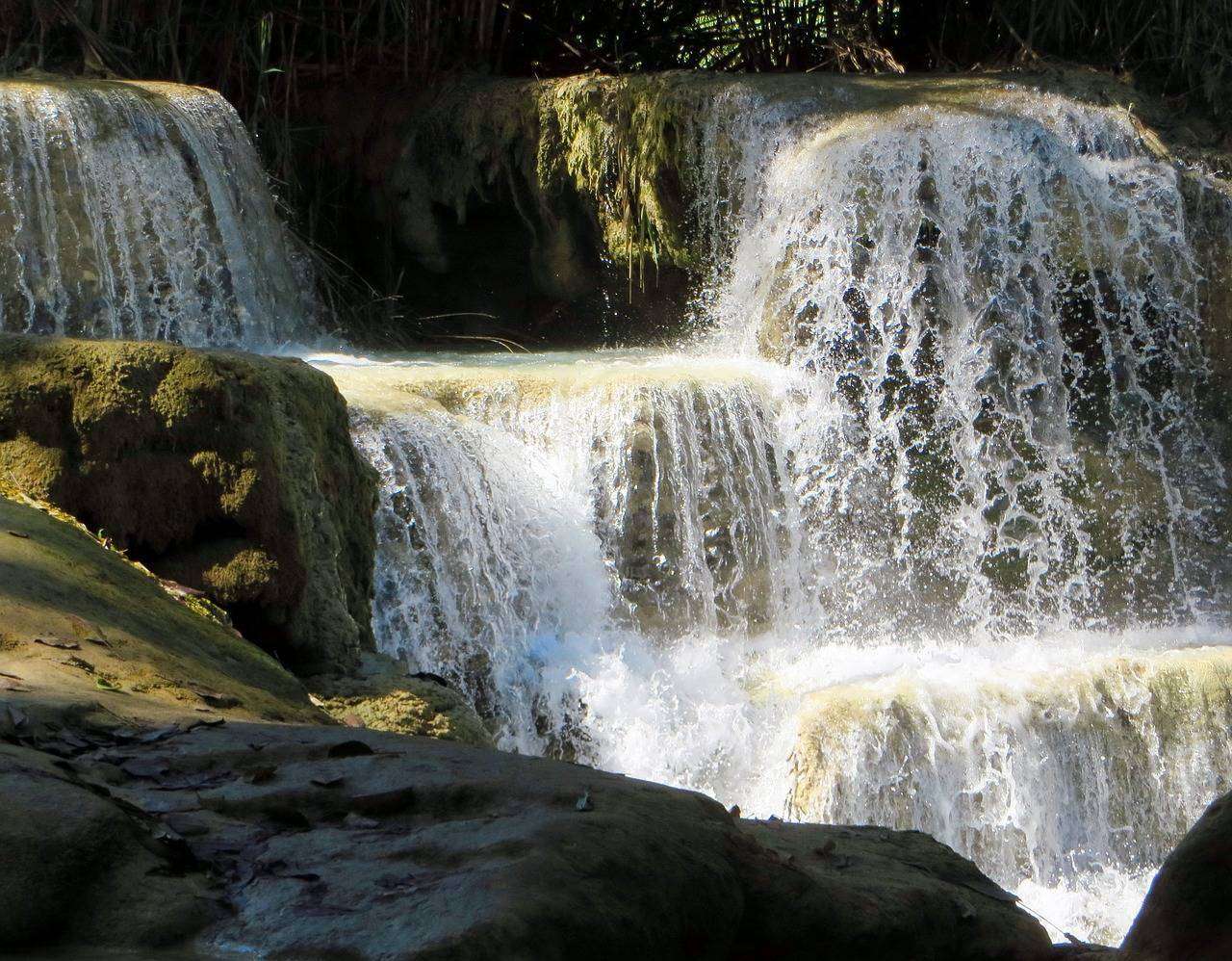 If you have travelled anywhere in South-East Asia, you will know that there are plenty of waterfalls and caves dotted around in part due to the porous limestone karst that is prevalent in much of the region. To take a respite from the at-times overwhelming heat, take a bicycle or tuk-tuk out to Kuang Si Waterfall near Luang Prabang – it's one of the prettiest in Asia and features a large cascade where you can dive into the crystal clear, cool pools below. Dozens of smaller turquoise coloured pools and falls make it an ideal spot to spend an afternoon swimming.
Eat local food (and learn to cook the Laotian way)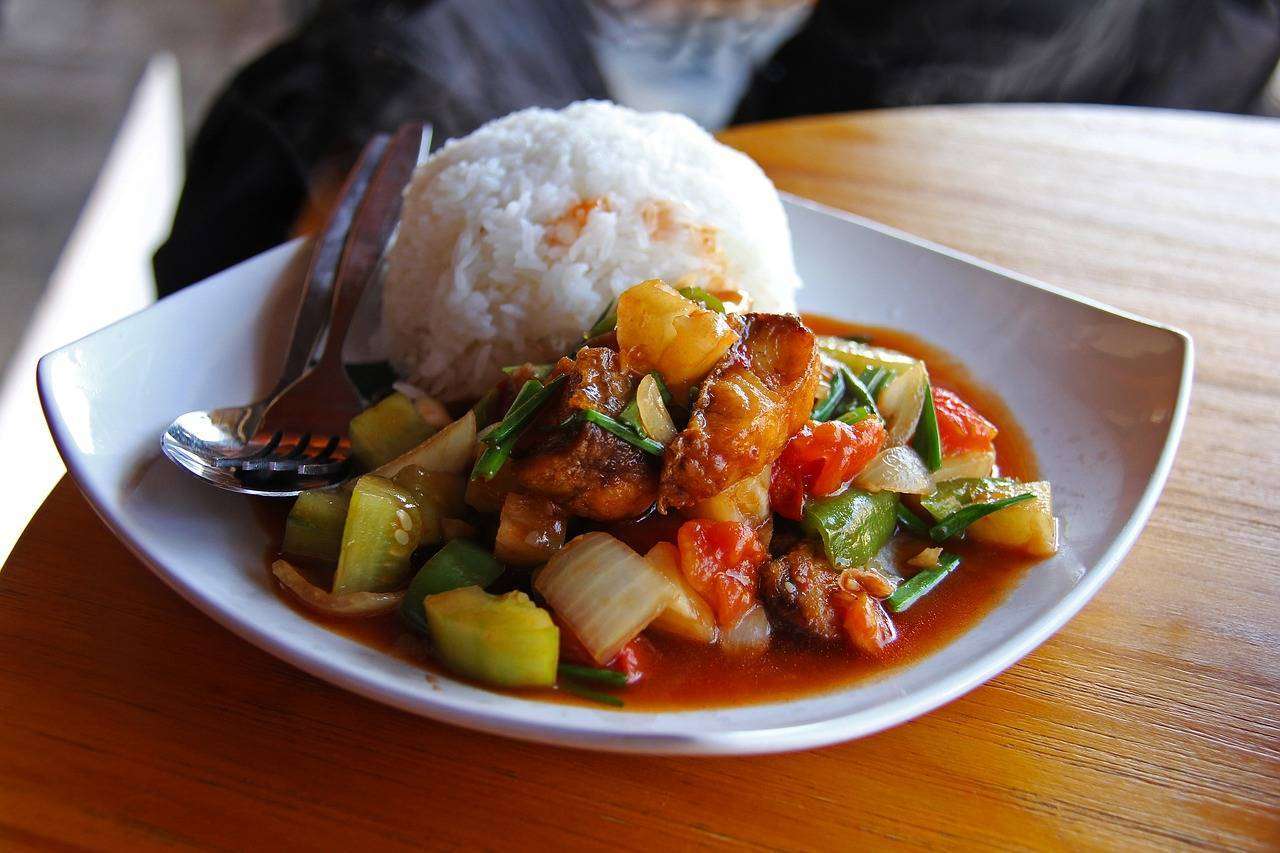 Cheap and delicious Asian food can be found literally everywhere in Laos. Even what the locals would consider an 'expensive' meal out at a restaurant is relatively inexpensive. But why eat in fancy restaurants when the street food is so wonderful? Everything from beef noodle soup to spicy papaya salad, and the local minced-meat dish called Laap is a wonderful treat for your tastebuds.
Come evening in Vientiane, the most atmospheric and authentic option is to head down to the riverside, where dozens of impromptu restaurants (plastic chairs and tables laid out on the sidewalk) spring up offering delights such as salted, char-grilled fish as well as Laos barbecues (a pot of charcoal on which sits a rounded metal dish with meat on the top and soup around the outside). But don't forget Lao's most famous and best-loved drink – Beer Laos…
If the food inspires you, there are plenty of Laos cooking courses and schools in Vientiane and Luang Prabang – just ask at your hotel or any of the dozens of local travel agents for information.
Take the two-day slow boat to Thailand
Perhaps the most atmospheric and relaxing way to reach Laos (or to leave) is to take the two-day slow boat that travels between Luang Prabang and Huay Xai near the Thai border. It's certainly not
as convenient or as fast as the bus, but it gives ample time for reflection on the stunning scenery as it languidly winds past tiny villages. Besides giving you a chance to spot a variety of wildlife, it's the best way to meet new friends (passing the time with large bottles of beer Laos) and share experiences.
Visit the surreal Plain of Jars
The Plain of Jars is an ancient archaeological site in Central Laos near the rather dusty and nondescript town of Phonsavan, but it's worth making the trip to marvel at these megalithic stone structures, some of which date back to 500 BC. The stone 'jars' are several metres in height and are thought to have been used for ancient burial practices, and can be found clustered in dozens of groups, each with hundreds of jars.
Aside from the historical importance of the sites, it's an experience like no other and there's nothing else quite like them. Be careful though, as the areas are littered with unexploded ordinance, and so a local guide is essential. After you've made the trek out to Phonsavan and the Plain of Jars, you'll start to understand a little more about Laos and what makes it so special.
Visit the Golden Stupa in Vientiane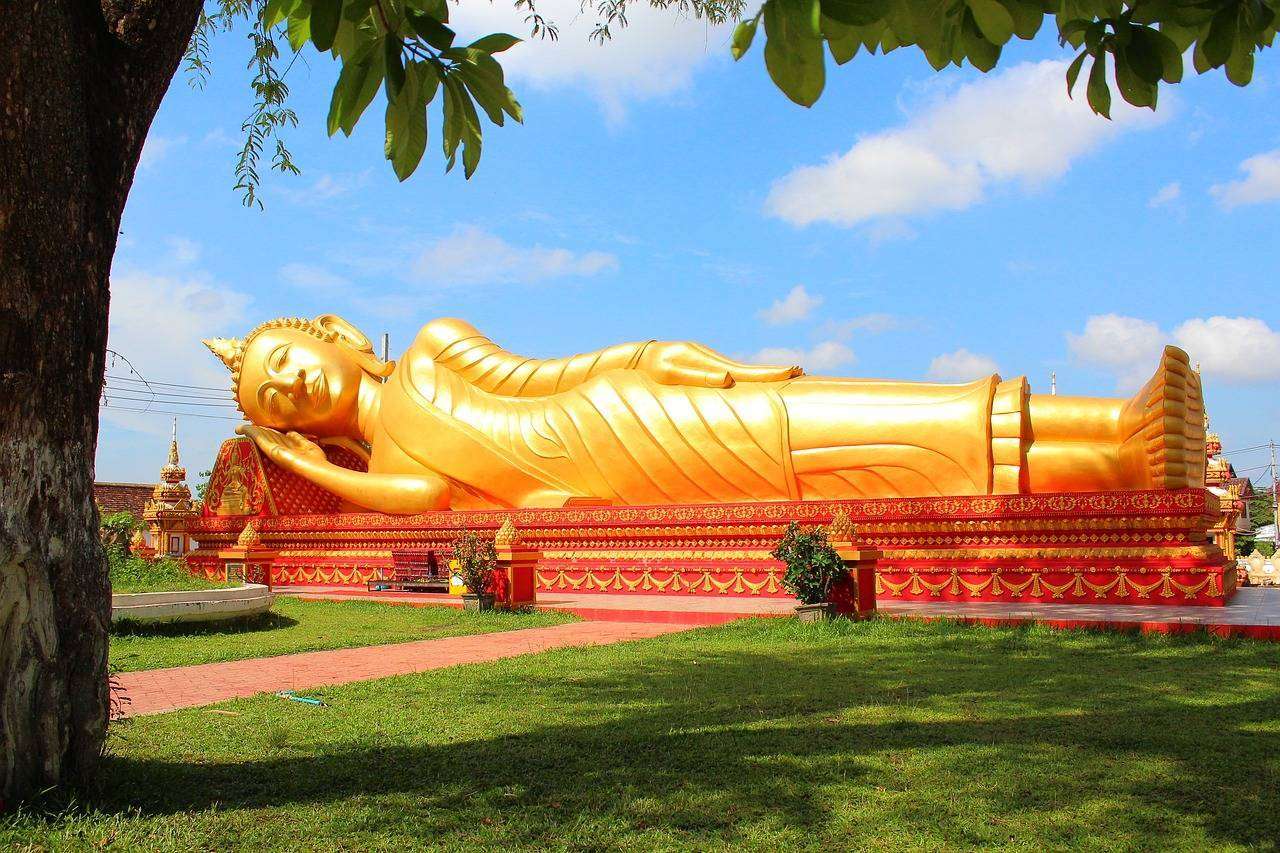 Vientiane is a little conservative and low-key compared to many other Asian capitals. There are dozens of French bakeries and coffee shops, well-manicured cobbled sidewalks, and more than its fare share of cosy boutiques and upscale restaurants springing up. However, perhaps the most interesting and impressive sight in Vientiane is the Golden Stupa (called Pha That Luang in Laos) – an important Buddhist temple and Vientiane's best-known attraction, as well as a national monument.
There's plenty of history here, but it's worth visiting early in the morning or late afternoon to avoid the heat of the midday sun. One of Laos' most-photographed symbols, the Golden Stupa is an essential place to visit, if only to marvel at its intricate architecture.
Spend a week at the Four Thousand Islands
In the far south of Laos, a stones-throw from the Cambodian border, is the area known as Si Phan Don (Four Thousand Islands). It's an archipelago in the Mekong river (Laos itself is completely landlocked) and has become a firm favourite for budget travellers and backpackers, mainly due to its sleepy and laid-back atmosphere.
Riverside huts with ample hammocks can be rented here for a few dollars per day, or even for free if you promise to eat in the owners' restaurants, and it's one of the best-known stops on any tour of Laos. There's plenty to do if you don't want to while away the hours gazing at the unrivalled sunsets, such as bicycling around the narrow paths and rice paddies of Don Det, or taking a scooter and exploring the larger island of Don Kong. Nature lovers will revel in the chance to take a kayak and paddle to some of the smaller islands for a swim, or to spot some of the extremely rare Irrawaddy dolphins that frequent the southern side of the islands.
Laos is perhaps the most intriguing destination in South-East Asia, and quite unlike its neighbours in every way. Everyone who visits Laos will agree, that it's easy to fall in love with this most unique
of countries.