Malaysia is a land full of surprises and pleasant contrasts. One the one hand, it's a very modern and forward-looking country that has all the trappings of western life. The transport links are generally excellent, and so reaching all parts of the country is a doddle. On the other hand, it offers visitors the chance to experience some of the greatest, and oldest, tropical jungles in the world and offers a rare glimpse into a landscape that hasn't changed for thousands of years.
Malaysia really does have something for everyone – from the bustling metropolis and ethnic diversity of the capital city, Kuala Lumpur, and all of its rich history and cityscapes, to the beaches and islands that have become firm favourites for all kinds of tourists and backpackers. There are even cooler mountainous regions such as the wonderful Cameron Highlands – tea plantations and strawberry fields might surprise you, but they highlight the immense diversity of Malaysia.
You might think that Malaysia is an expensive place to spend a few weeks' vacation. But that really depends on how you want to approach things, because it's just as easy to find inexpensive accommodation and eat delicious Malay food on the streets of Penang, as to live it up in luxury five-star hotels of international repute.
Quite literally, there's a bit of everything, and it will almost certainly blow your mind…
Where to first? There's plenty of choice
If you are contemplating a trip to Malaysia, you'll be pleased to know that road transport is excellent (and safe), at least compared to other countries in Southeast Asia. That unfortunately makes it a little pricier compared to, say, Thailand, but if you opt to use public transport such as trains and buses, it certainly won't cost as much as back home. You can also purchase a Touch 'n Go travel card that can be used on Kuala Lumpur's trains and buses, which is a very convenient option and makes it unnecessary to fiddle around with tickets. Even taxis aren't too expensive – a trip from central downtown to the essential Batu Caves costs around $5.
Travelling further afield is best tackled by bus – prices are affordable (for example, Kuala Lumpur to the island of Penang costs less than $20), and the buses are modern and comfortable. Of course, if you intend to travel from the main Malay peninsula to the Malaysian island of Borneo, it's advisable to use one of the region's budget airlines – Air Asia tends to have the cheapest flights.
All that's left to decide is where to go and what to do. Time permitting, the ideal budget-minded trip could be a circular route that takes in the entire region, with excursions to the dense rainforests, and beaches, and a few days in Kuala Lumpur to sample the food, nightlife, and of course to marvel at the Petronas Towers.
Recommended activities that won't cost the earth
Depending on your travelling style, a daily budget in Malaysia should be less than $30, but obviously if you eat at more upscale restaurants, go drinking (alcohol is taxed heavily in Malaysia) and visiting more attractions, you could increase the limit to $50 or even higher.
Here's a selection of some of the essential things to do in Malaysia that won't cost too much.
Get a bird's eye view of Kuala Lumpur from the Petronas Towers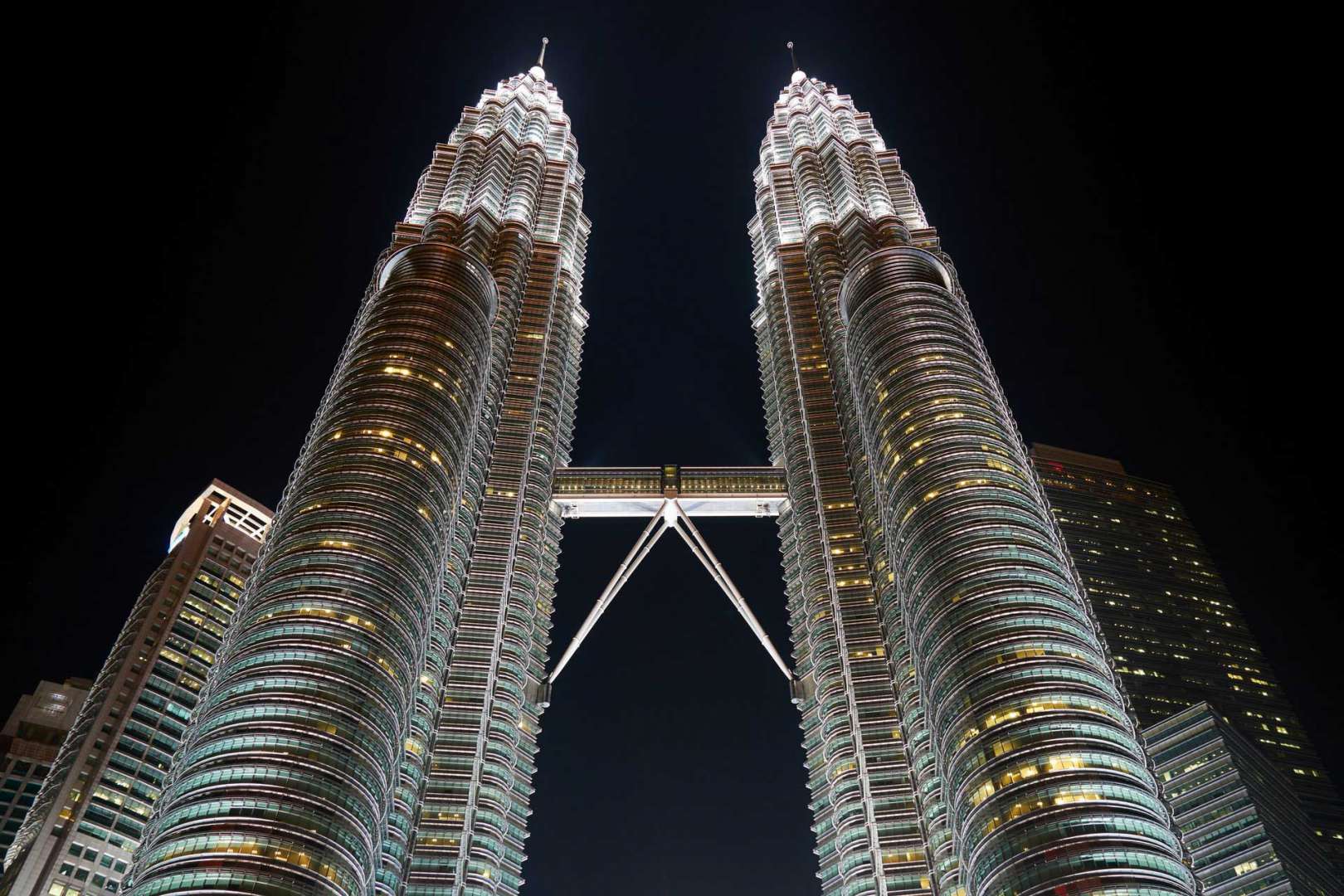 Cost: FREE
The Petronas Towers are the most well known and impressive icon of Kuala Lumpur, visible from practically everywhere in the city. When lit up at night, they are an amazing sight to behold. You can visit the Towers 6 days a week and either opt for a tour to the skybridge on floor 31, or visit the observation deck on floor 86 of tower number 2. Bear in mind that you need to obtain a ticket beforehand and it can be very busy from 8.30 am every day.
Visiting the twin towers is definitely one of the must-do activities in Kuala Lumpur, and if you don't take the guided tour it won't cost you a penny. Of course, there are many other sites and historical buildings to see all around this fascinating city, as besides just wandering aimlessly through parts of China Town and the various peaceful parks you'll find dotted around.
Visit the Batu Caves and Hindu temple
Cost: FREE. Tour of the side cave: 35 RM per person ($10)
The Batu Caves are one of the most striking geographical features in Malaysia, and form part of a series of spooky caves deep within the limestone mountains. The caves host a Hindu temple, one of the largest outside of India and are easily accessible just a short distance from Kuala Lumpur. These impressive natural caverns can be reached by a somewhat exhausting 272 steps, if you have the energy.
It is possible to visit the caves entirely for free (we advise to set aside a morning for the entire trip), but an informative and educational tour of the side cave costs around 35 RM ($10) per person. Getting there is possible by negotiating a taxi (about $35) or taking a 40-minute train ride which takes you right to the caves.
Visit the Cameron Highlands and go trekking
The Cameron Highlands are an alpine-like landscape of tea plantations, rolling hills, tiny towns and waterfalls in the central to north western part of the country. The temperatures are much lower here, typically between 10 and 21 degrees celsius due to the altitude – a welcome respite from the heat everywhere else. The Highlands cover quite a large area and encompass towns such as Tanah Rata and Brinchang, and can be reached by bus from just about anywhere. You might be surprised by the scenery which resembles parts of Europe more so than Asia (there are even some English-style black and white buildings that look as if they'd be more at home in Tudor Britain).
What makes the highlands so special are the range of outdoor activities on offer, plus the chance to relax in a totally different climate and atmosphere to the rest of Malaysia. Aside from the tea plantations, butterfly farms and strawberry fields, there are dozens of cheap hostels that you can use as a base to explore the surrounding area as well as meeting new friends. Trekking and exploring the surrounding hills and trails is recommended, and there's plenty of wildlife (and stunning views of rolling landscapes) to see.
Jungle canopy trek in the world's oldest rainforest
Cost: 5 RM ($1.40)
Taman Negara National Park is the world's most ancient rainforest at 130 million years old, and is the ideal spot for anyone with an adventurous spirit. There is plenty to love about the place – the wildlife viewing, trekking, fishing, camping and much more. The park has rightfully become one of the most popular ecotourism destinations in Malaysia, visited by thousands of tourists each year. It appears that the secret is well and truly out, but thankfully the park has remained in a fairly pristine condition.
Taman Negara is the perfect place to base yourself for a few jungle treks, whether that's short day hikes or week-long tours. To keep the costs down, you can stay at one of the small, cheap guesthouses dotted around, and note that it's not necessary to hire a guide unless you are planning to do the 9-day hike up the mountain (in which case you MUST hire a guide). The single-day hikes are easy to do on your own, and the trails around the main site are clearly marked. One of the noteworthy highlights is the Jungle canopy, which you will have to queue for, but it's really worth the experience.
Take the funicular railway up Penang Hill
Cost: 30 RM ($8.50)
There are so many things to do in the north-western island of Penang, just a stones throw from the Thai border, that it's hard to recommend any one activity. Skip the tourist hotels and find some of the cheaper guesthouses around Lebuh Chulia (Chulia Street) in Georgetown. This is the central hub of the backpacker scene, with cheap but friendly guesthouses and hole-in-the-wall restaurants. Here you can also find all manner of visa service companies, if you want to obtain visas to neighbouring countries.
Perhaps the most fun you could have in Penang is to rent a scooter from any of the rental outfits around Lebuh Chulia, in order to drive around the island through its forested, hilly interior. Be careful of the roads, but rest assured that it's one of the cheapest and most enjoyable ways to spend a day or two on the island.
Besides exploring on your own, the food in Penang is unforgettable – everything from Malay, Indian, Chinese and Thai is available, most of it in the way of street stalls that serve cheap and delicious meals at all times of the day. Why eat at expensive restaurants when the street food is this good?!
If you have time, take the funicular railway up Penang Hill (Bukit Bendera) which is located in Air Itam, 6 km from Georgetown – it's a trip best done to escape the hot weather, traffic and noise. Once you reach the top (which can take up to 20 minutes) you'll be thankful for the cool breeze and clean air. It also provides great views on a clear day and is very peaceful and quiet. A great spot to reflect on your travels and get away from the hustle and bustle of Georgetown.
In the unlikely event that you become weary of Penang, you can always take the short boat trip to the nearby larger island of Langkawi. There are more beaches and entertainment options, and it's a duty-free island, so everything is just a little cheaper than Penang.
Relax on a tropical island
Cost: FREE
There are hundreds of stunning islands in Malaysia (more than 878 islands in fact), but for budget travellers the Perhentian Islands are the perfect destination, blending unrivalled scenery and a wealth of inexpensive accommodation. No wonder it's become a favourite for those on a budget.
The two islands are known as Perhentian Besar ("Big Perhentian") and Perhentian Kecil ("Small Perhentian"), and offer some of Malaysia's most beautiful beaches and excellent diving with plenty of cheap accommodation. The more adventurous can also explore the tropical jungle that covers much of the islands' terrain.
Climb Mount Kinabalu in Borneo
Cost: $60
Mount Kinabalu (4095m) is certainly the highlight of any trip to the Borneo side of Malaysia, and one of the tallest mountains in Southeast Asia. It's visited by thousands of tourists every year, most with the intention of scaling the summit. Climbing the peak takes two days and can easily be tackled by anyone – even those without previous climbing experience. The sunrise views are spectacular and it makes the whole 8 kilometre climb absolutely worthwhile.
Thankfully the once-in-a-lifetime experience can be had for a lot less than you might think. To save money you can even attempt the climb in one day rather than staying overnight – the hike normally costs around 180 RM ($50) which includes entrance fees, climbing permits and insurance, however if you stay overnight it could easily add another $100 to the total cost. But there's one unmissable thing that you should do in Malaysia, it's ascend Mount Kinabalu. You won't regret it.
Wrap up
To coin a phrase, Malaysia is truly Asia, and is one of those places that you should visit at least once to appreciate just how unique and inspiring a place it is. For the budget-conscious, it's not as cheap as some of the other Southeast Asian destinations, but it's arguably a more wonderful, interesting and awe-inspiring part of the world.