The new 2020 Mercedes-Benz GLB has yet to arrive in U.S. showrooms. And yet, hot on the heels of the base model is the Mercedes-AMG GLB 35. As expected from an AMG model, the new GLB 35 receives more power, stronger off-road capabilities, and hallmark AMG styling cues. This newest fast Mercedes is still equipped with seven seats which makes it a unique and compelling choice in the small SUV segment.
The Mercedes-AMG GLB 35 has more aggressive styling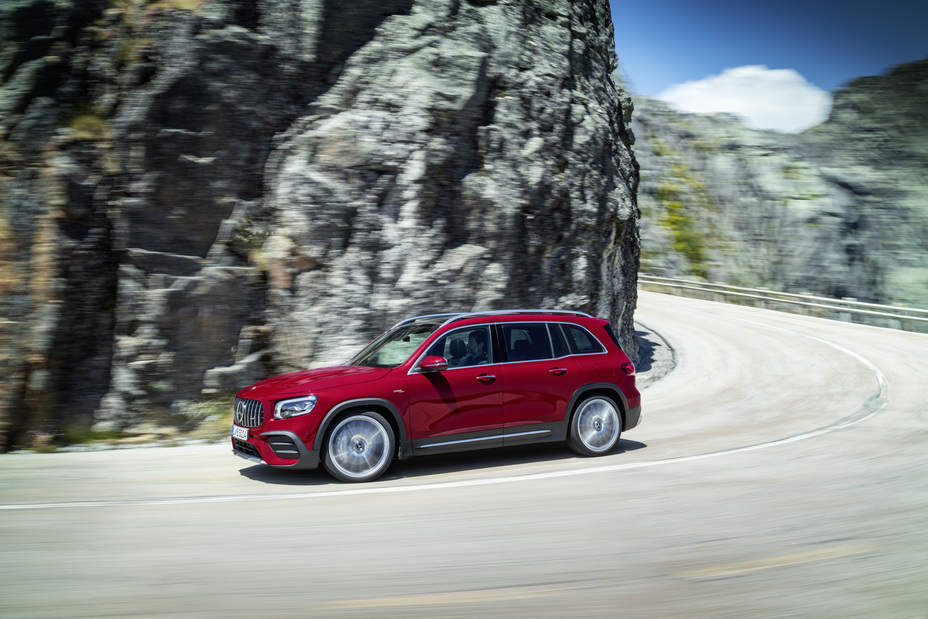 For the first time, the AMG-specific Panamericana radiator grille is employed in the 35-series model. The AMG GLB 35 is equipped with a model-specific front splitter, new rear bumper, an AMG roof spoiler, and two round tailpipes to complete the exterior changes.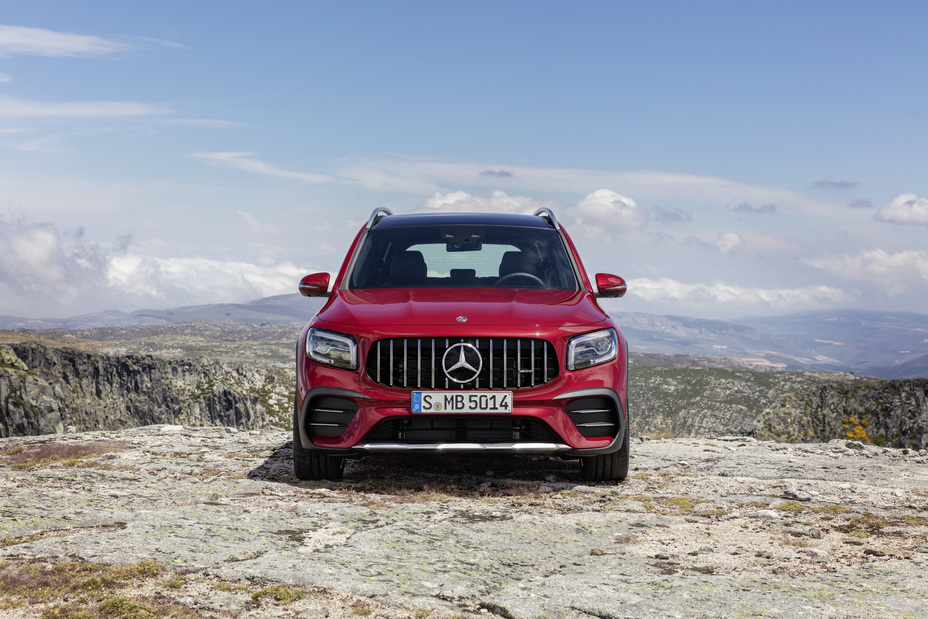 The AMG GLB 35 is fitted with 19-inch AMG five-spoke gray alloy wheels. Larger 19-inch to 20-inch wheels are optional. Peering through those gorgeous alloys are AMG high-performance brakes with silver calipers and black AMG lettering. The front brakes feature a four-piston caliper design with 13.8 x 1.3 in. cast iron discs while the rear axle has a single-piston floating caliper design and 13.0 x 0.9 in. discs.
It comes with a more powerful turbocharged motor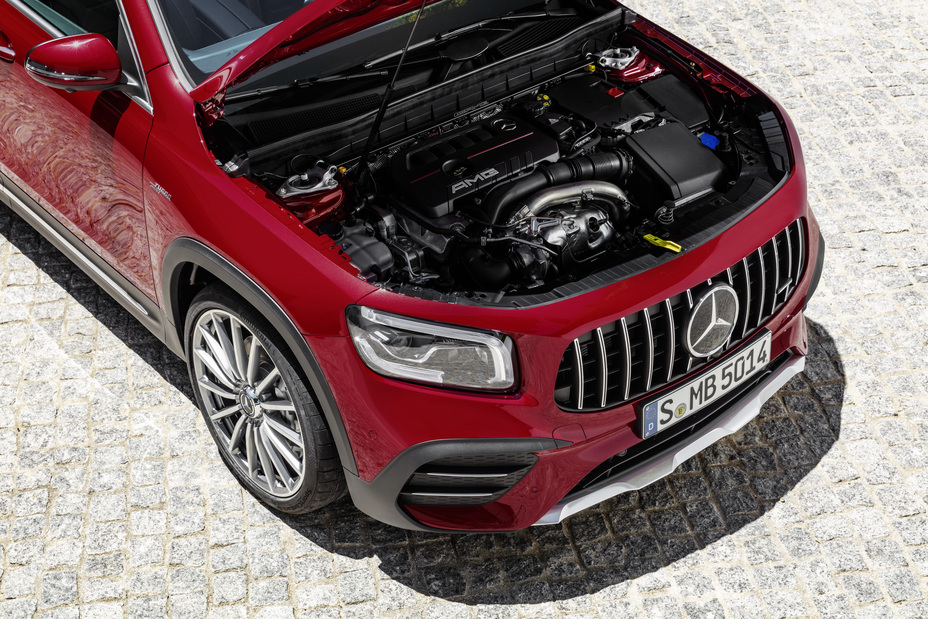 The base Mercedes-Benz GLB 250 comes with a spirited 2.0-liter turbocharged mill generating 221-horsepower and 258 pound-feet of torque. But in the AMG model, Mercedes tinkered with the engine to produce a stonking 302-horsepower and 295 pound-feet of torque. More importantly, most of the grunt is accessible from 3,000 to 4,000 rpm.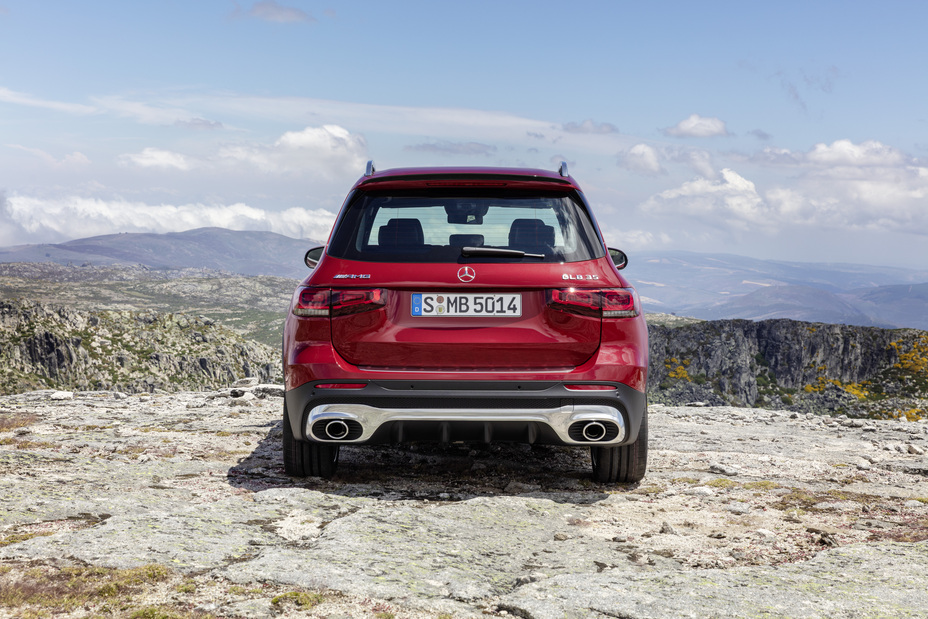 The power hike is courtesy of a twin-scroll turbocharger, a die-cast aluminum crankcase, CAMTRONIC variable valve control, and an intelligent thermal management system. The stock GLB 250 sprints from 0 to 60 mph in 6.9-seconds. But now, the AMG GLB 35 rushes to 60 mph in 5.2-seconds. Top speed remains at 155 mph (250 kph).
AMG SPEEDSHIFT 8-speed dual-clutch automatic and 4MATIC all-wheel drive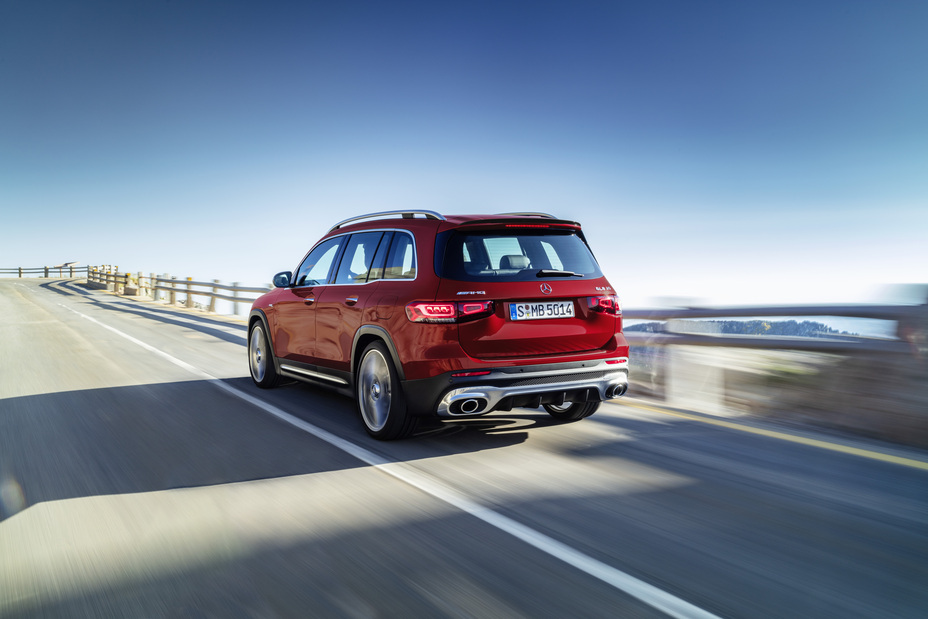 The standard GLB 250 is equipped with front-wheel-drive while AWD remains an option. In the new 2020 Mercedes-AMG GLB 35, the engine is bolted to an AMG SPEEDSHIFT dual-clutch 8-speed automatic and 4MATIC AWD. Mercedes said the new transmission delivers lightning-fast gearshifts with a double-declutch function during downshifts for improved shifting comfort. It even comes with a new RACE START function for quicker acceleration at those stoplight-to-stoplight jaunts.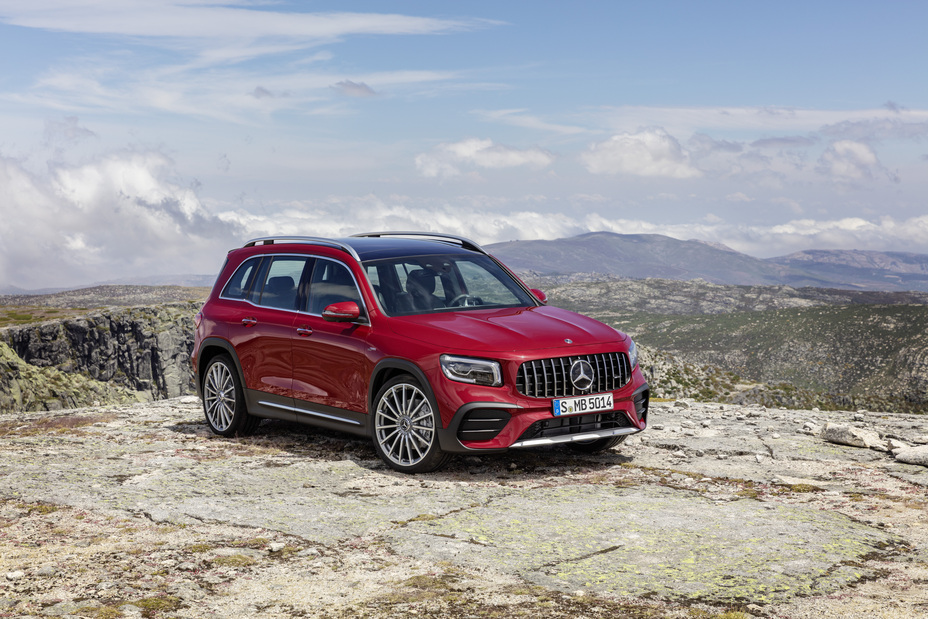 Meanwhile, the 4MATIC AWD system in the new AMG GLB 35 continuously varies the torque split between the front and rear axle. Equipped with a multi-disc clutch and AMG-specific electromechanical control system, the drivetrain can instantly change the torque split from purely front-wheel drive to a 50:50 split between the front and rear wheels.
AMG Dynamic Select Drive Modes
The base GLB 250 comes with Eco and Sport driving modes. But in the AMG GLB 35, Mercedes gave it some new driving modes namely Slippery, Comfort, Sport, Sport +, and Individual. The new Slippery drive program is optimized for low grip driving conditions while Sport and Sport + makes full use of all engine power.
Besides the driving modes, the AMG GLB 35 is also equipped with AMG Dynamics agility control. The system utilizes data from the AWD system, steering angle, and throttle position to deliver better handling.
AMG-tuned Suspension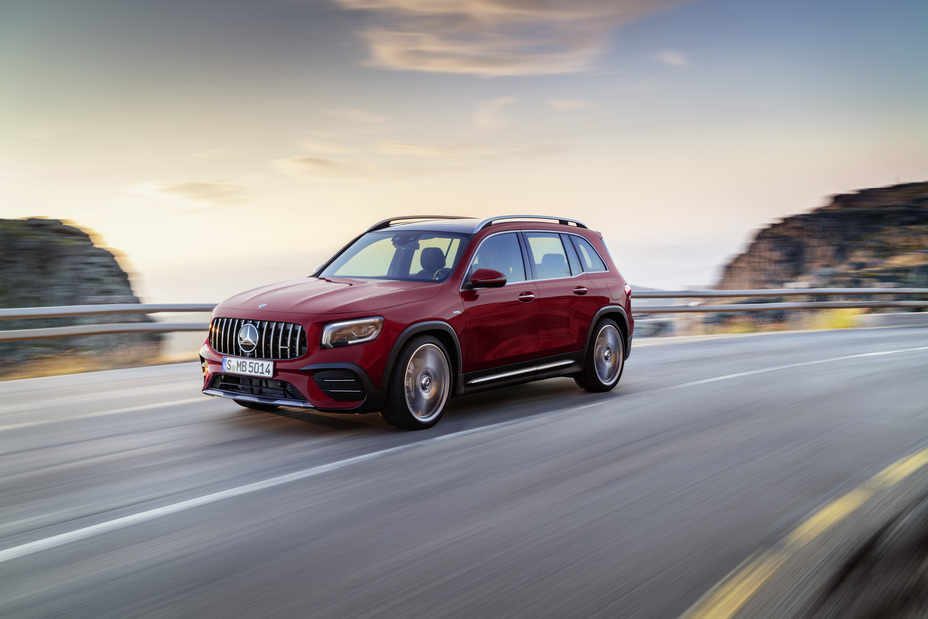 Mercedes-AMG redesigned the stock suspension components in the AMG GLB 35. This includes new steering knuckles, a model-specific subframe, new wheel carriers at the rear axle, and transverse control arms at the front axle. All these changes are designed to improve handling, response, and lateral dynamics.
The 2020 Mercedes-AMG GLB 35 is also equipped with a speed-sensitive variable-ratio power steering system. The tiller firms up significantly at higher speeds while the servo assistance is boosted at lower speeds.
Sporty Interior Style
There's no doubt the AMG GLB 35 is sportier than the base GLB 250, and the interior is a clear reflection of that. The AMG GLB 35 is fitted with unique sports seats wrapped in black DINAMICA microfiber with red double topstitching. Mercedes is offering a leather two-tone package if you like the look and feel of genuine cowhide.
Of course, the newest GLB 35 also gets the latest version of the MBUX infotainment system with a large central screen and separate touchpad controls. Meanwhile, the multifunction steering wheel also comes with touch-control buttons for easier operation.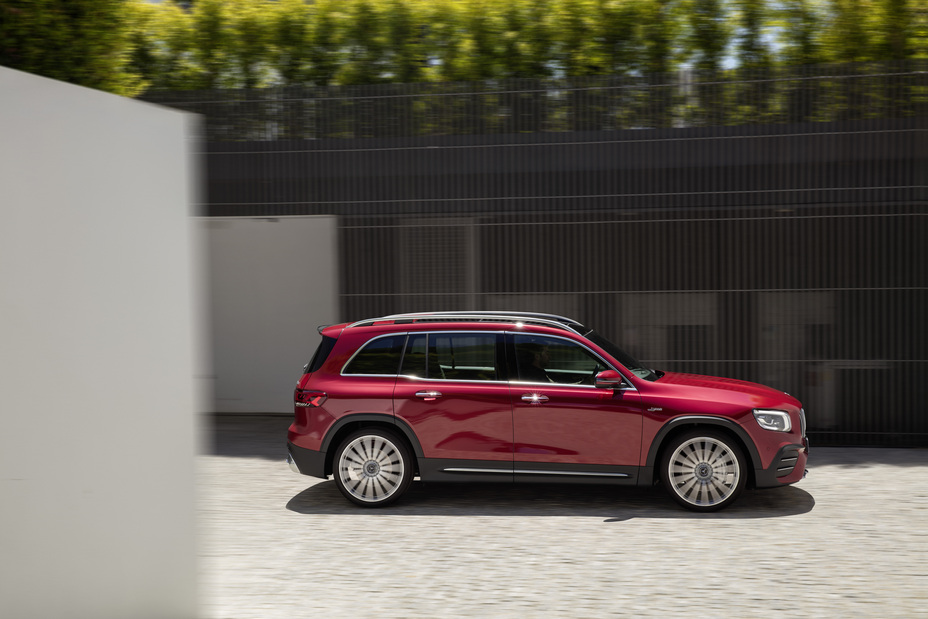 The 2020 Mercedes-AMG GLB 35 is expected to arrive in U.S. showrooms in early 2020. Pricing and other specs will be revealed at a later date.