The name Bookworm Cabin alone tells us the creators of this special accommodation are bookworms. They made this for other bookworms out there who may want to spend a night or a weekend surrounded by books. Even if you don't have any intention to finish a book in one sitting (or lying in bed), it can be relaxing just to be surrounded by hundreds to thousands of books in one place.
Located outside Warsaw, Poland, near Mazovia town, this cabin developed by Polish Architect Marta Puchalska-Kraciuk and entrepreneur Bartłomiej Kraciukand, is a dream come true for any bibliophile. It's placed deep within the forest so one can fully immerse himself in his own peaceful world to read some books. We're certain other people would want to stay here just for the novelty of it because it's a different kind of staycation.
From Concept to Modified Reality
The architect adapted an earlier cabin design with POLE Architekci colleagues. She simply modified the concept and made it perfect for book lovers. With a bit of change to the interior design, colors, and arrangement, the Bookworm Cabin was made ready for any couple, family, or even just an individual who wants an idyllic time alone.  
The Polish cabin measures 377-square-foot (around 35 square meters). It's on a wooded plot where trees abound. It comes with a really big window so you can stare and appreciate the view of lush trees. Settle on a comfy chair and try reading that book you've been wanting to finish. If not, you can maybe finish your writing.
Special Getaway for Booklovers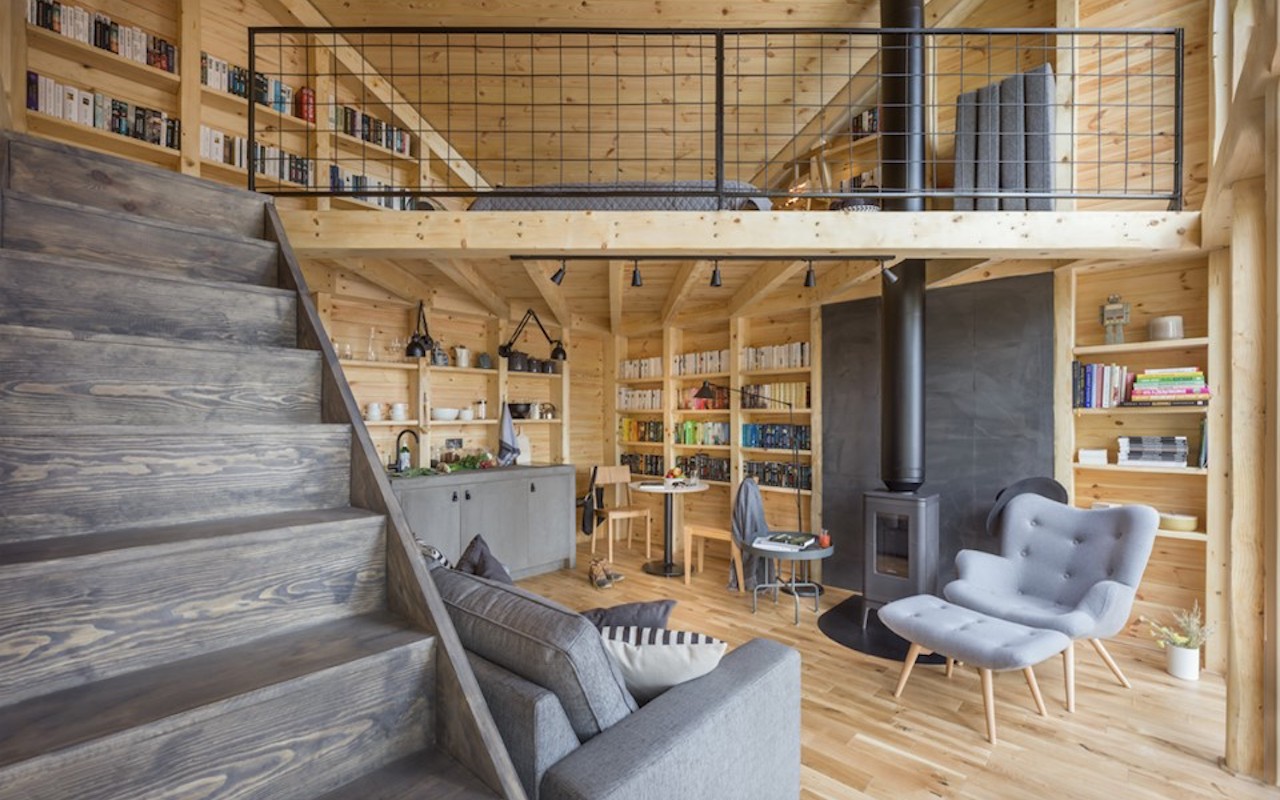 The designers' early intention was for the cabin to be a special getaway for their family. Later on, they also decided to rent it out to others who want to spend some peace and quiet inside a safe and secluded forest. It looks small from the outside but there are two levels inside. The second level is more of a loft for sleeping.
On the first level is a small living room full of bookshelves filled with books. You will see a full bathroom and a kitchenette for your needs. It really is small but very cozy for reading or simply just spending quality time with loved ones.  
From the outside, the cabin looks like a nice wooden house with all the pine and spruce on the roof and deck while the interiors are filled with wood, mimicking the forest outside. The 16-foot high window is also a highlight because it brings guests to feel closer to nature during the day. At night, wood shutters cover the window for privacy and add more coziness.
The Bookworm Cabin is fully reserved for the rest of the year even if it was completed only last June. You can try to reserve your stay for next year HERE.