While on a recent weekend trip to Santorini, I happened to be visiting one of the hottest beach bar spots on the island – a place called "Wet Stories". It's indeed a place possibly worthy of its own reality TV show. I'm not kidding you when I say hot bodies were gracing the sandy beach every which way you looked. Ripped chests, iron-clad abdomens … it was a shore full of perfect behinds. The afternoon I spent there was also a crash course in the latest beach fashion – which I must admit looked pretty sizzling.
Summer knitwear is having its moment. And when I say "knitwear", please don't think of your Grandma's basket of balls of yarn and crocheted bed blankets or knitted doilies that sit daintily under the tea pot on her kitchen table. This knitwear is modern, sexy, fancy, and chic.
A woman who was sitting next to me at the Wet Stories Beach Bar was wearing a bikini the color of a light crème brulee. She got up to go elsewhere in a see-and-be-seen kind of way and donned a pair of white knit pants. The look was stunning. The style of knitting on the pants had an amazing visual effect, making her legs look incredibly long and lean. As she sauntered away, heads were turning all along the way.
You don't need to be a celebrity coming off of a private sailing yacht to own or sport Combo Knitwear, neither to be the beneficiary of nicely styled beach clothing. Rather you just need to have the guts and the confidence to wear them with pride. What's nice about the knitwear is that it will flatter most body types and shapes. The look is both forgiving and enhances at once.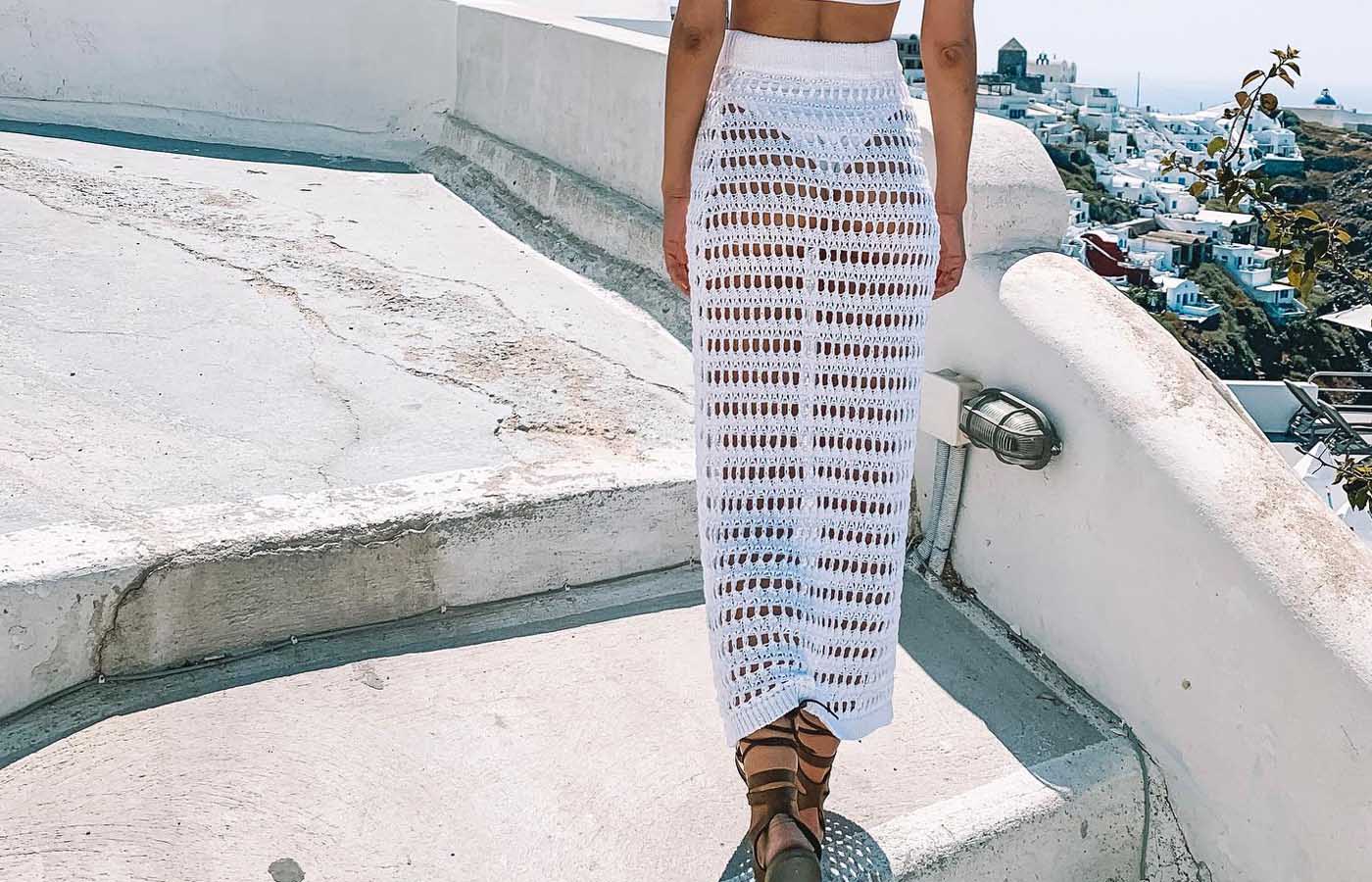 Combos Knitwear is an up and coming fashion brand of Greek origin. In my opinion, who better than the Greeks to guide our fashion sense and ideal of the beach lifestyle. A people with a long heritage and relationship with the sea, sand, and sun. Don't forget about those thousands of miles of some of the world's most famous coastline and beaches.
Combos Knitwear features great designs with a nice collection of uppers and bottoms that include tops, mini-skirts, maxi dresses, boleros, tuxedos, and trousers. Whether the piece is long and white, or shorter and beige it will most likely look good.
Combo knitwear is perfect for a weekend at the beach or week of vacation. It looks amazing when layered overtop bikinis or other types of swimsuits. Need to get up to get a bite to eat or a drink, then just use one of these pieces.
I would even say it's perfectly adaptable for wearing out for dinner or into town over warm summer nights. For example, for an evening out, the cream colored knit dress can be layered with a black legging short, and black bandeau bra with a leather-styled belt around the middle to create an elegant attire.
The way the material is knit is quite cooling and allows for gentle breezes to grace the skin – keeping you cool. You can check out the designs and where to buy on instagram @combosknitwear or on through their facebook page Combos Knitwear. The pieces run around $100 USD.