Nolla. That's the name of this adorable tiny DIY cabin created out of an unlikely collaboration between Finnish designer, Robin Falck, and the oil-refining company, Neste. The aim of working together was finding ways to create a fossil-free future. And the main problem to be solved was figuring out how to live with the smallest carbon footprint possible.
Starting with a blank sheet of paper and a foundational guiding principle not ruled by concrete, but of sustainability, the unusual duo of a Finnish designer and petrochemical company gave rise to the cute Nolla – but with serious intention and purpose.
The idea of sustainability is behind Nolla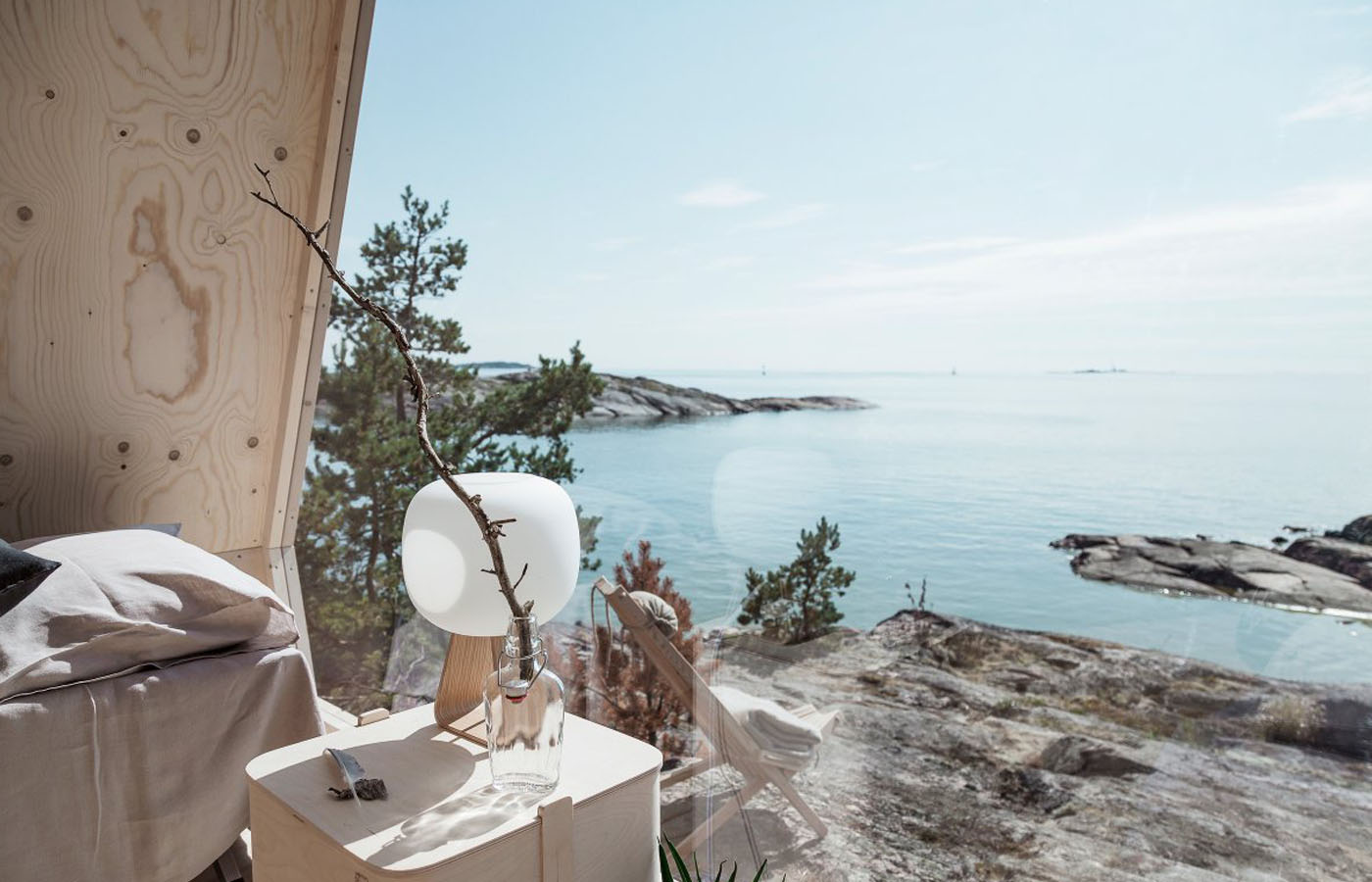 The DIY tiny cabin was unveiled to the world on the Finnish island of Vallisaari, which is off the coast of the mainland and known for its abundant ecological diversity. The cabin was originally designed with a Finn's lifestyle in mind, but will soon be available for all the world to enjoy.
Traditionally, the Finnish people spend the majority of their weekends and summer vacation at their country cottages and relax by enjoying downtime in nature. The Nolla cabin gives individuals an option for a simple and sustainable stay – wherever it may be set up – a notion that is increasing considerably in importance.
Nolla means "zero" in the Finnish language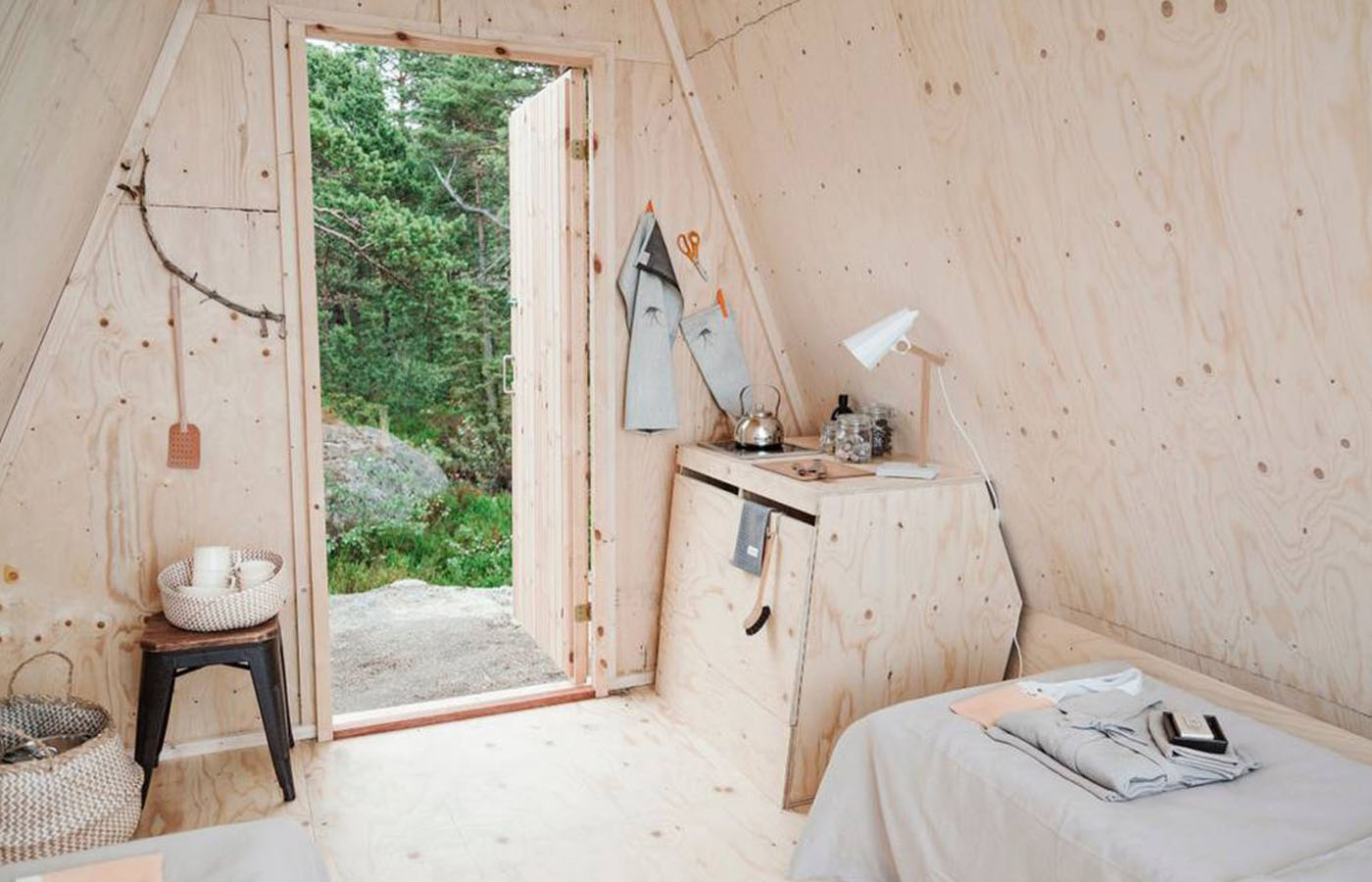 The name given to this sustainable tiny cabin is not a randomly chosen one, but comes with a directed and specific meaning: Nolla means "zero" in the Finnish language. Zero symbolizes 'nothingness' and freedom from limitations in this material world. It is a nod of the head to a zero disturbance lifestyle with regard to the natural world – or at least as close to zero as possible.
If you've ever purchased a product from Ikea and put it together, then building Nolla should not be overly challenging. Supposedly, it will be easy to assemble, as well as taken apart with standard, run-of-the-mill tools – no heavy machinery required. It sounds pretty cool, right? Now all you need is a gorgeous small (or large) plot of wilderness to enjoy it.
Nolla can be placed on variable terrain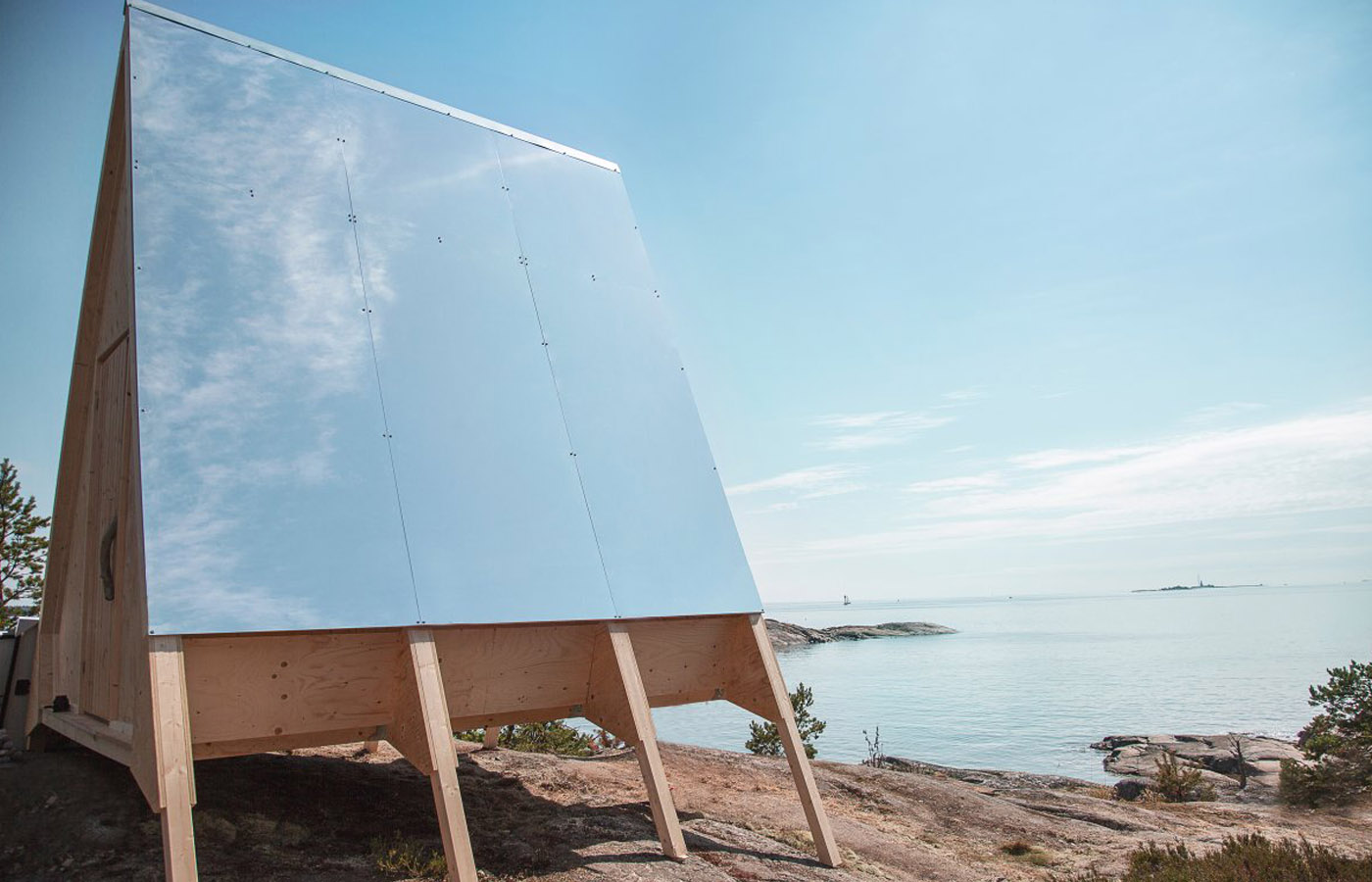 A great feature of the Nolla cabin is the fact that it can be placed just about anywhere. The versatility in setting is possible since the legs of the cabin can be independently adjusted. The cabin is constructed entirely out of locally sourced Finnish fir.
Falck says that his inspiration for designing Nolla comes mainly from "off-grid huts … in the Scandinavian wilderness …, and tent structures." He likes to think of Nolla more as a high-end tent than anything else. He also happens to be an outdoor enthusiast and has used the cabin as a base for unplugging and activities like kayaking. This latter information gives Nolla a more practical edge as the designer works from a perspective of experience vis a vis the outdoors.
What it is like on the inside of Nolla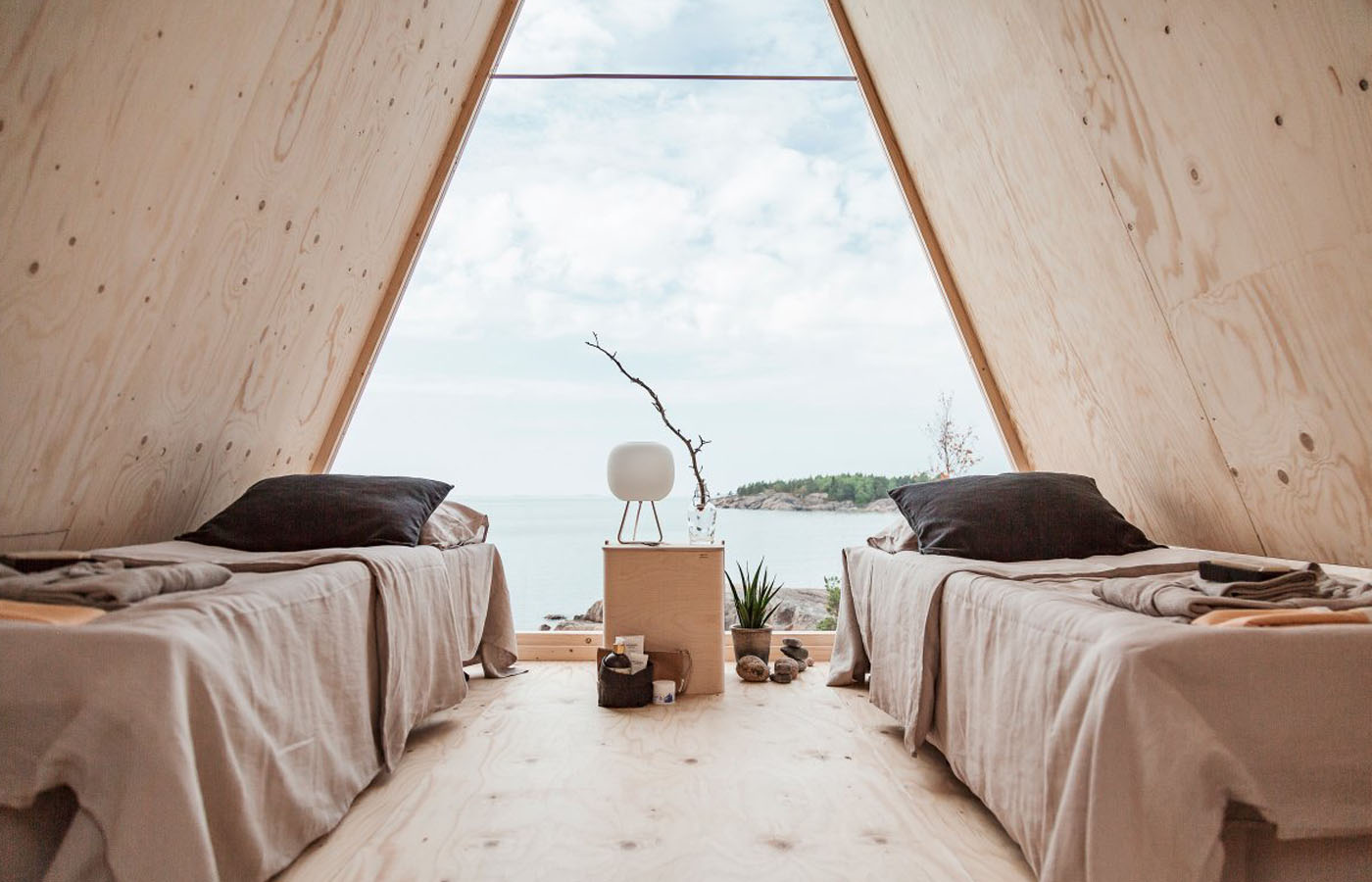 You will find only the bare necessities once you have stepped inside the cabin: there's a small sink, a Wallas stove that doubles up in utility for both cooking and heating, along with two twin-size beds for you and a guest to enjoy. Electricity can be obtained by placing solar panels on the roof, and you will also have the option of adding mirrors to the top of the structure, which will aid it in getting rid of excess heat in hot weather. There is no bathroom – which is probably why Falck regards it more as a tent – at Nollas current location, guests will have to walk down a local road for toilets and fresh water access.
Sitting on the shores of Vallisaari, if you squint, Nolla looks a little bit like a rudimentary Luna 2 – the first spacecraft to land on the moon's surface – and in a way, it's fitting since Nolla is similar to an upscale bivouac and as a impermanent place from which to enjoy a quiet place.
For those of you visiting Finland this summer, the cabin will be available to rent this summer through AirBnB (which actually starts pretty low at $33 USD per night). In addition, DIYers everywhere will soon have access to the Nolla blueprints as soon as Falck posts them soon on his website, which he is planning to do this spring. It will only cost you $20,000.