The Ford Bronco isn't scheduled to arrive until next spring. But for those who can't wait, Ford Racing unveiled the new Bronco R Prototype alongside the original Bronco that won the Baja 1000 in 1969.
There's no shortage of spy shots, renderings, and teaser images of the new Bronco all over the internet, but one thing is for sure: The Bronco is back, and Ford chose no other than the Baja California Peninsula as a testbed for its newest SUV.
The Ford Bronco R Prototype pays homage to Rod Hall's Baja-winning Bronco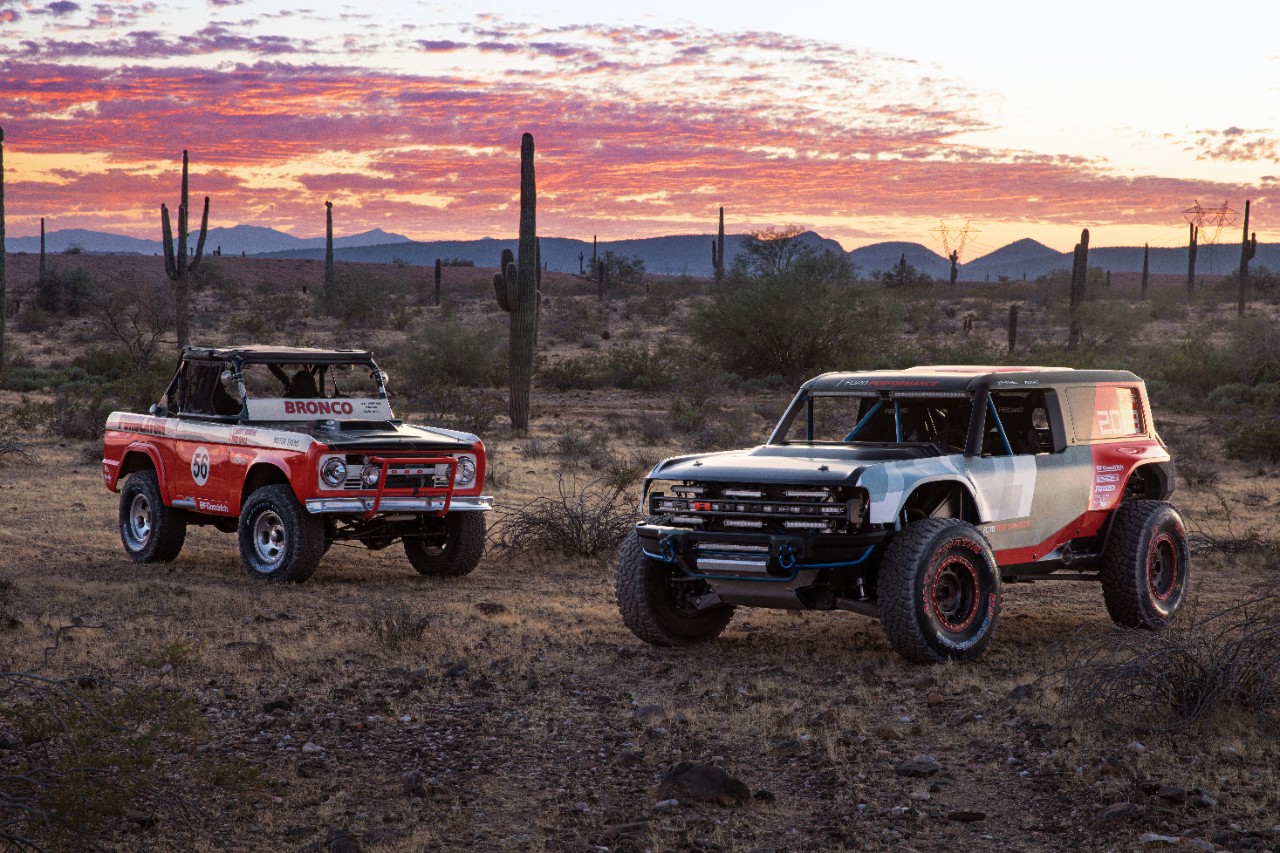 Rod Hall is one of the most famous and respected names in off-road racing. In fact, Hall is the only participant to have raced in every Baja 1000 in a four-wheeled conveyance. If you think that's an easy feat, consider the fact he participated in each and every Baja 1000 event from 1967 to 2016. Rod Hall is the only man to do this in the event's 52-year history.
Without a doubt, the most memorable and historic race of all happened in 1969 when Rod Hall and Larry Minor grabbed the overall win aboard a first-gen Bronco – something that no other 4×4 vehicle has replicated ever since.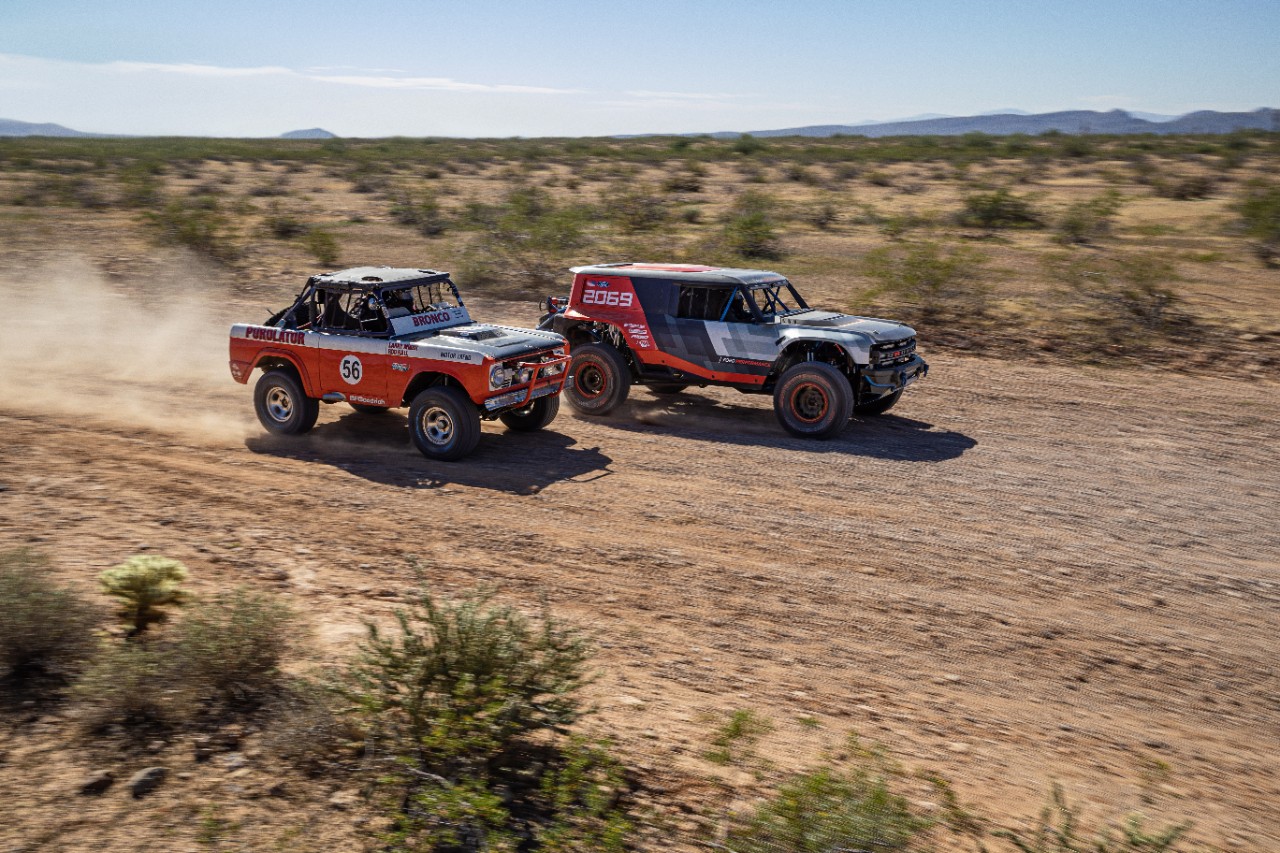 "Bronco's win at Baja in 1969 was epic, something that even after 50 years has not been repeated," said Hau Thai-Tang, Ford chief product development and purchasing officer. "Rugged endurance racing is such a big part of Bronco heritage. The Baja 1000 gives us not only the perfect setting to honor Rod Hall's win, but it also provides an authentic testbed to demonstrate our upcoming Bronco's desert racing capability and durability."
It only took six months for Bronco R to become a reality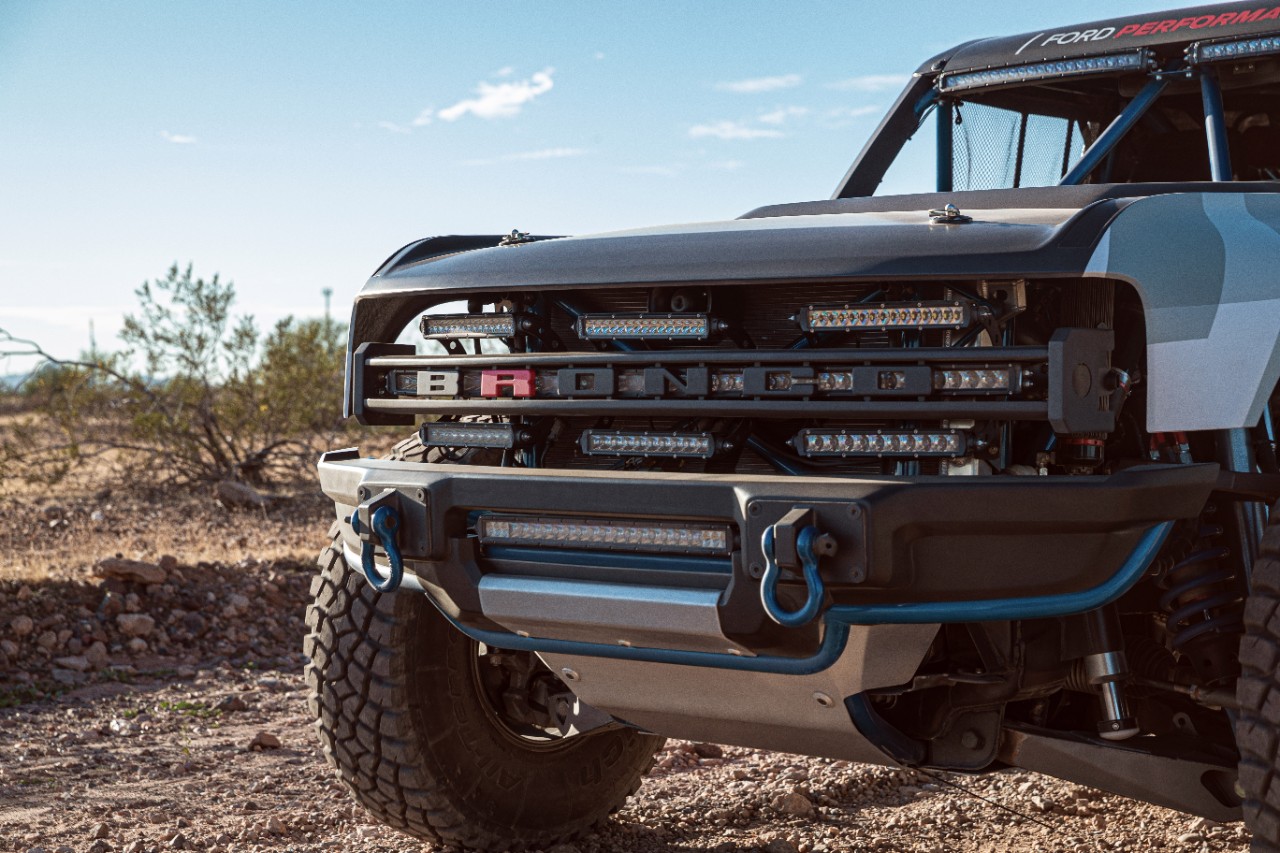 Bronco chief designer Paul Wraith has been working on the Bronco R Prototype since July. With lots of help from Ford Performance, Geisler Bros Design and Development, and Baja 1000 Trophy Truck champion Cameron Steele, the team burned the midnight oil to turn the Bronco R from sketches to reality in just six months.
In production terms, six months is not enough time to develop a racing-inspired SUV from scratch. However, the team employed a host of hi-tech tools like 3D printing, virtual reality, and polygon modeling to get the truck done just in time for the race start on November 22. "This wasn't our usual development process, but it was the right process for this project," said Wraith. "We found, created or adapted the right tool for the task at hand – a cool and exciting blend of old and new creative techniques. We stretched ourselves, but it was worth it – and great fun."
The Bronco R Prototype is built on the production model's body-on-frame architecture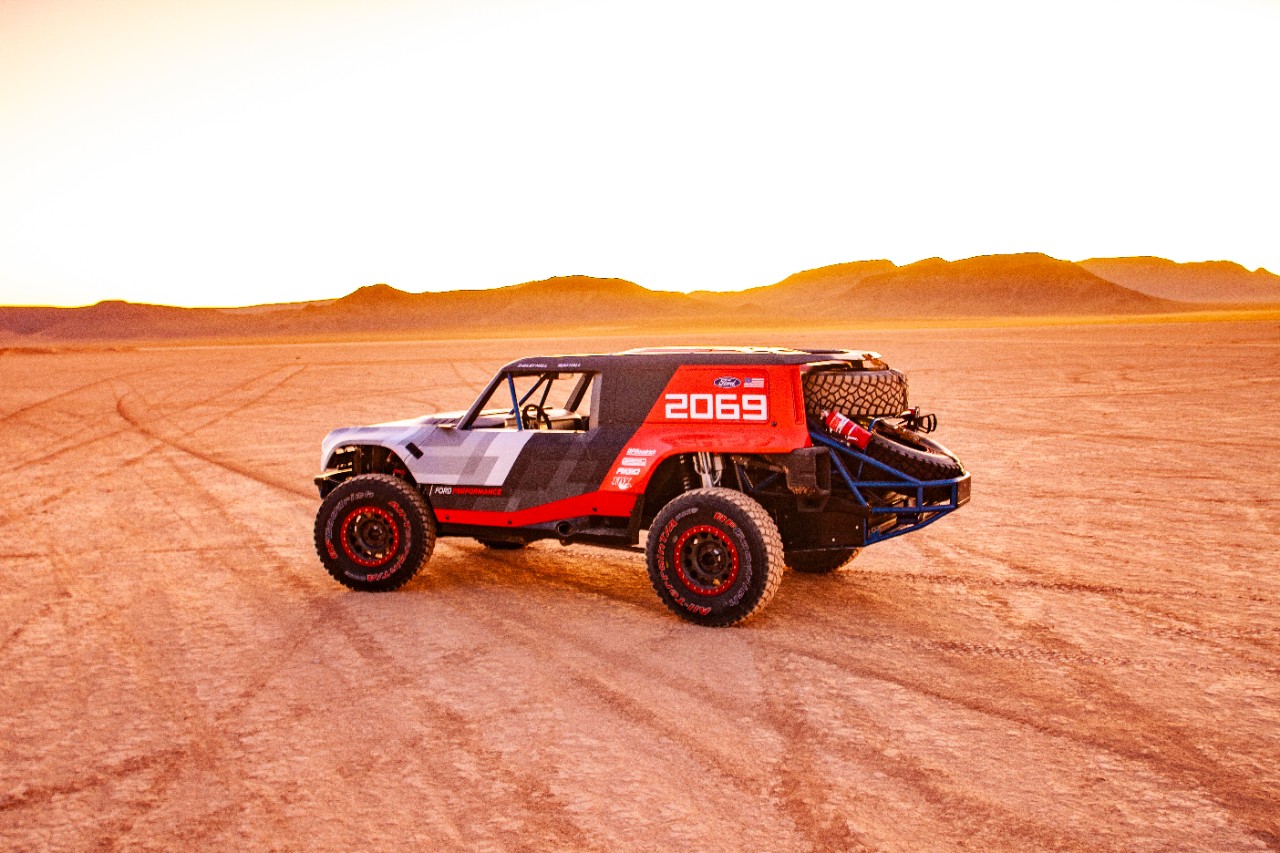 We're not simply talking about a concept vehicle that won't make it to production. The Ford Bronco R Prototype is utilizing the same Ford T6 body-on-frame architecture of the production model Bronco. If you're one of those who are eagerly anticipating what the actual Bronco will look like when it arrives next spring, you only need a passing glance at the Bronco R Prototype to discern it's going to be a mean-looking truck.
And since we're talking about a race-inspired Bronco, the prototype has independent front suspension with 14-inches of wheel travel, a production-based five-link rear suspension with 18-inches of travel, bespoke Fox shock absorbers, 17-inch alloy wheels, and chunky 37-inch BF Goodrich tires. Also, the vehicle is festooned with no less than 15 LED lightbars from Rigid along with a new front grille that boldly spells the Bronco name.
It's a nice-looking rig
The Bronco R Prototype's styling is derived from the proportions of the original Bronco. But with a compressed body design, lifted off-road suspension, and a wider stance, it looks meaner and more capable than before. The composite body shell features a clamshell hood and roof along with clean body panels. The lightweight body is painted in the same red, white, and black livery as the winning Baja 1000 Bronco. Even the space frame is painted blue.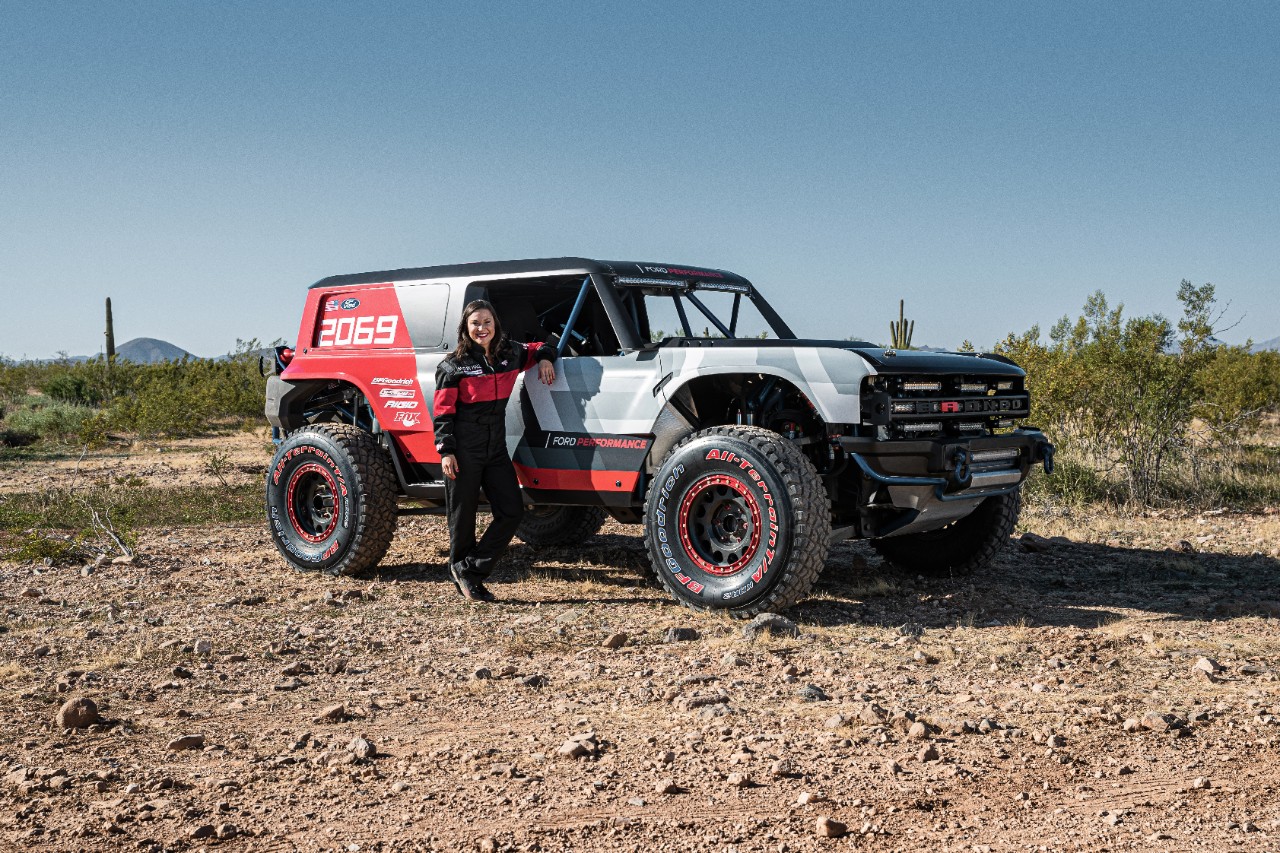 No less than Shelly Hall, Rod Hall's granddaughter, will drive the Bronco R Prototype for some parts of this year's prestigious event. "My grandfather was so proud of the 1969 Baja race and of his Bronco," said Shelby Hall. "More than just the memory of winning Baja, he loved that Bronco. I have no doubt he would be blown away by the Bronco R race prototype."