If you've been prowling travel sites, looking for the best shopping districts in the world, chances are you'd have come across Ginza. Arguably one of Tokyo's, indeed Asia's, most memorable shopping, dining and entertainment destinations, Ginza is a hedonist's paradise.
Although several other Tokyo neighborhoods have caught up in terms of swank and opulence (think Harajuku and Shinjuku), Ginza still has an air of exclusivity about it, only fueled by the well-heeled shoppers and discerning tastes that frequent it. Brands well-worth their logo line up on the streets while art galleries and small boutiques cater to those with eclectic tastes or airy pockets.
But what makes Ginza so fascinating to the thousands of travelers who flock to Tokyo and Japan every year? Here are a few potential reasons:
It dates back several decades
Ginza is slap bang in the center of Tokyo, Japan's capital city. It's hard to believe what the bustling area was in 1590– a swampy marshland. In 1912, a silver mint was established in the area, after which the development of the area slowly begun in blocks of 120m square.
Ginza later went on to be burnt in a huge fire in 1872 and razed to the ground twice over– one during the 1923 Great Kanto Earthquake and once again during the 1945 air bombings. Over the years it became a site of marching soldiers, architecture, industrialization and Westernization.
It was only in 1970 that Hokosha Tengoku– pedestrianization– because in 4 districts including Tokyo. On the first pedestrian day in Ginza, more than 230,000 people took to the streets for leisurely strolls.
It houses 4 of Japan's most expensive streets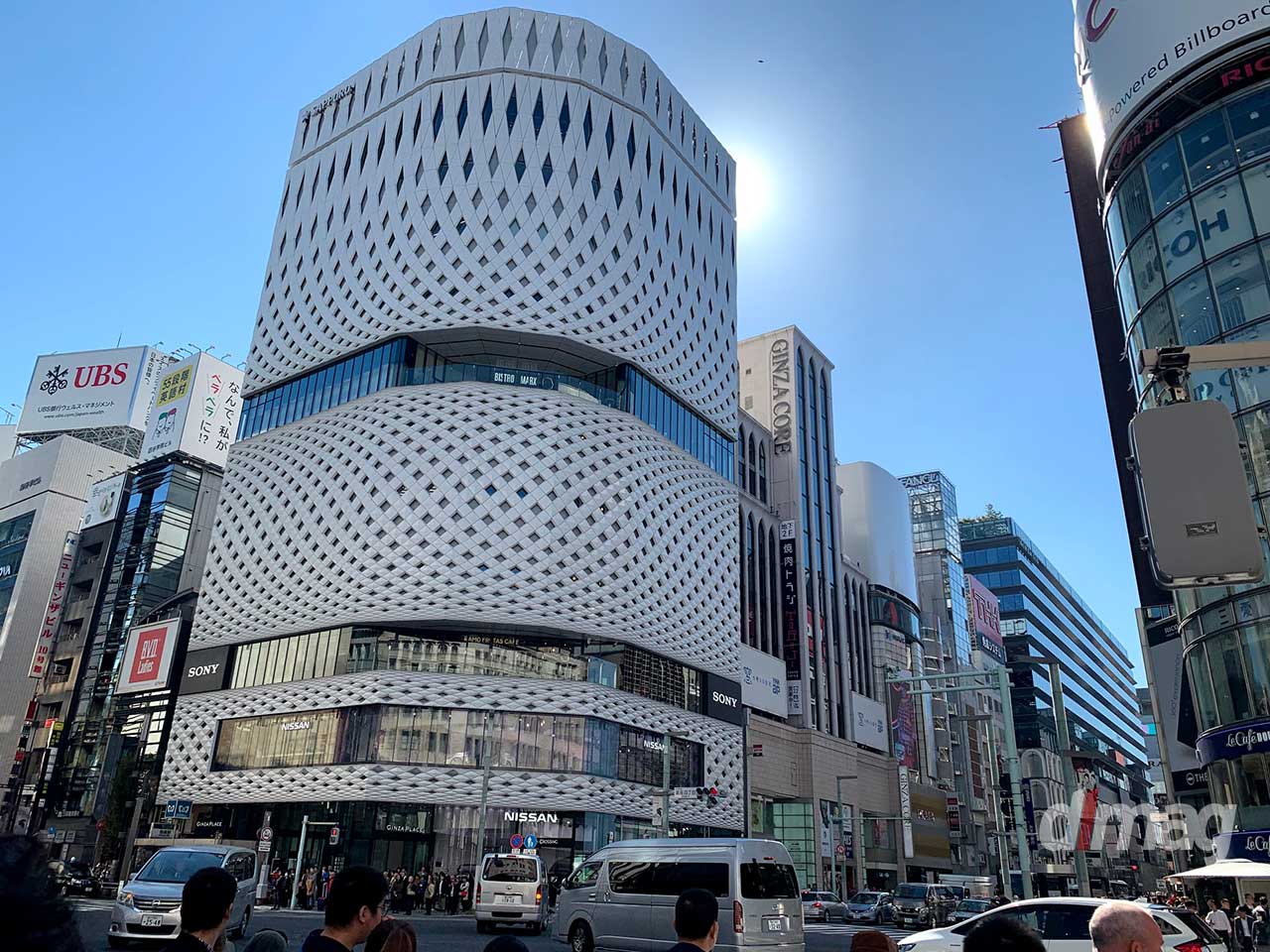 … out of 10– the other 6 of which are also in Tokyo! The most expensive point is the "4-5-6, Ginza, Chuo ward" which, as of 2015, costs USD 283,920 per square meter of land– just a little pricier than the 2019 Ferrari F8 Tributo. Also ranking on the list are Ginza 5-3-1, Ginza 7-9-19 and Ginza 2-6-7, the price tags of all of which hover around the USD 250,000 mark.
It's not just the land that's expensive– the shops in Ginza are known to sell goods at prices that would blow your mind. Don't let that deter you from visiting, however– window shopping is free and a good cuppa while people-watching is quite affordable.
It's got brands to knock your socks off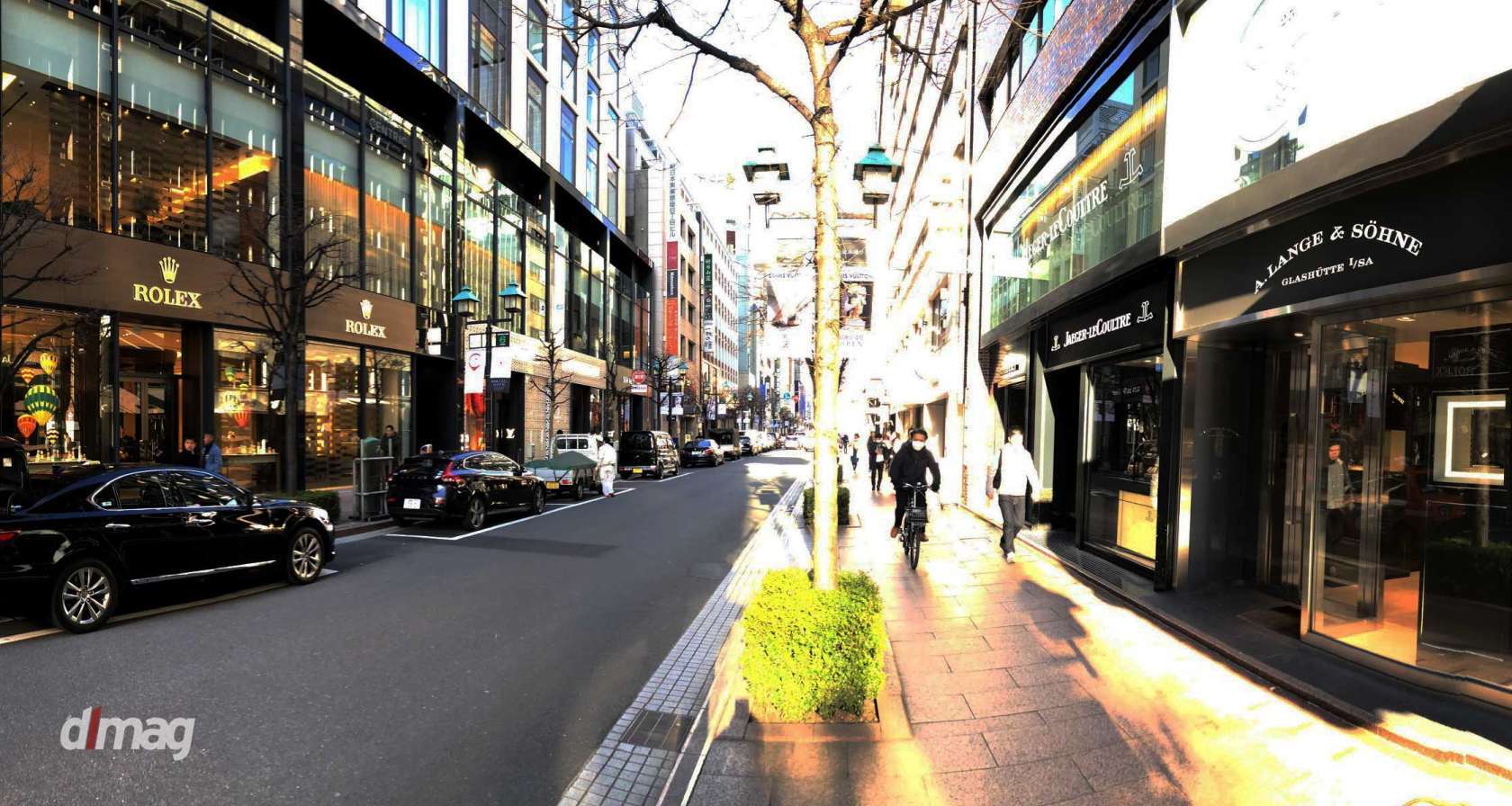 Think of Ginza as Tokyo's counterpart to New York's 5th Avenue or Bond Street in London. Logo brands such as Gucci, Louis Vuitton, Prada, Dior, and CHANEL are represented along the streets of Ginza. The neighborhood has Japanese and Western department stores – depatos – that are as rich in history as they are in value.
Mitsukoshi, Wako, and Matsuya are three of the most illustrious versions but other high-end and affordable stores have cropped up along the side to cater to the masses. Ginza Six is a newly-opened addition, towering over the streets with a grandiose glass facade that houses more than 240 shops including Valentino and Fendi.
Those looking for affordable options can swing by the UNIQLO flagship store that spans 12 floors, or head to Zara and H&M to shop without burning a hole in the pocket. No visit to Japan is complete without a visit to a stationery store– the narrow but expansive Itoya store will stun both stationery aficionados and naysayers alike.
It's synonymous with old money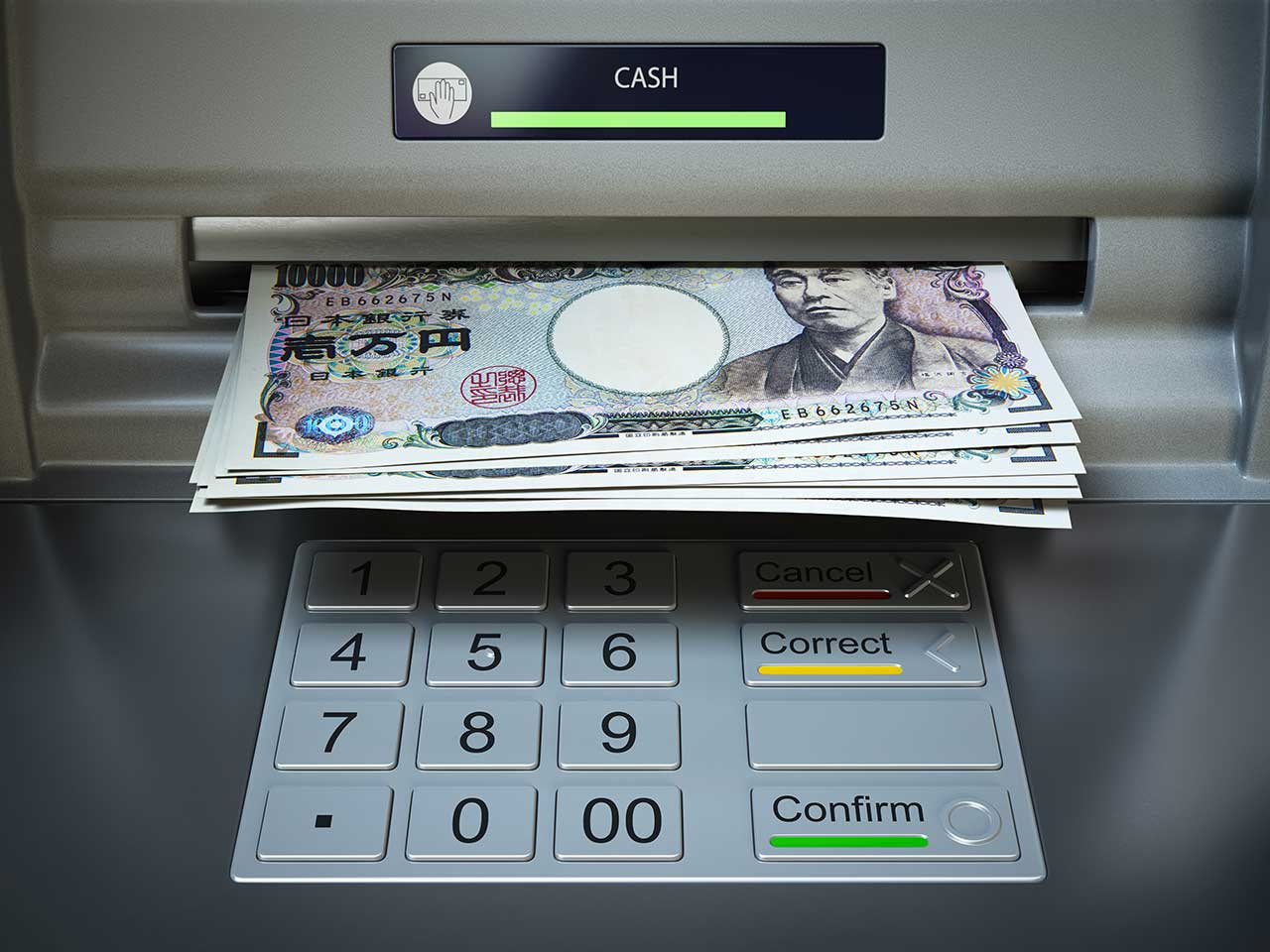 After the 1923 Great Kanto Earthquake, Ginza got the facelift of a lifetime– the one that transformed it into its current legendary appearance. Mitsukoshi is a fine example of this very transformation– what started as a humble kimono fabric shop in 1673 has today become a mammoth structure of 12 sprawling floors dedicated to high-end clothing, accessories, and cosmetics.
Most shops in Ginza offer tax reductions to foreign visitors making purchases so, if you're traveling that way anytime soon, don't forget to take your passport along.
It's steeped in culture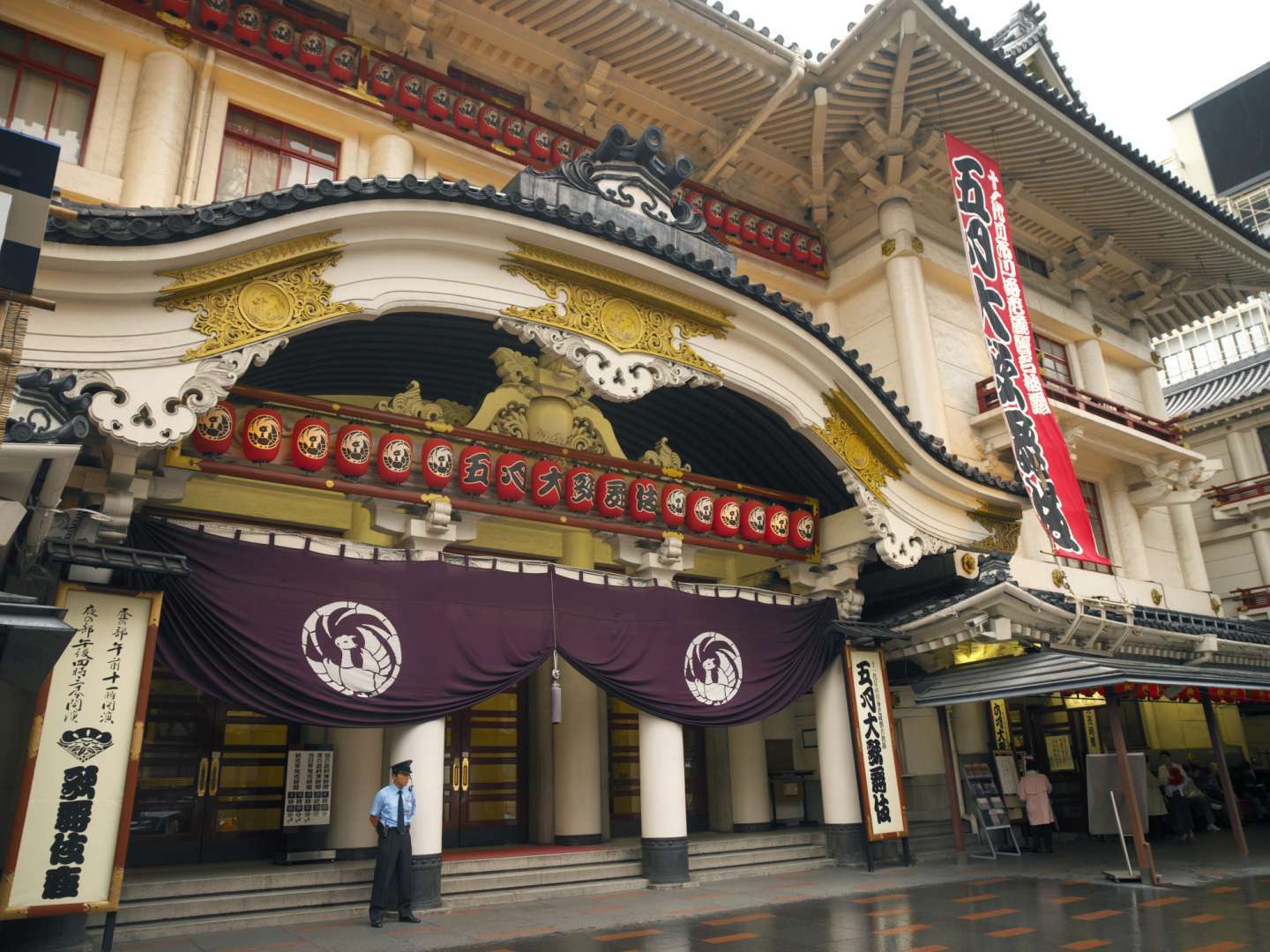 Ginza backs all the luxury brands on its pedestrianized streets, but the interest doesn't stop there. The neighborhood is also home to several cultural and historical institutions, including the world-famous SEIKO clock tower, built in 1932 over Ginza Wako.
Kabukiza Theater is the best place in Tokyo to see kabuki, a classical form of Japanese dance-drama. The Police Museum has free admission and is operated by the Tokyo Metropolitan Police Department in an attempt to educate visitors and locals alike about the city's policing system and history.
The Ginza Mitsukoshi, though today a department store that opened in 1930, actually dates back to the year 1673. The Alleys of Yurakucho was once the hub of black-market activities and is a dimly-lit, seedy area under the Yurakucho station train tracks.
It's home to amazing cuisine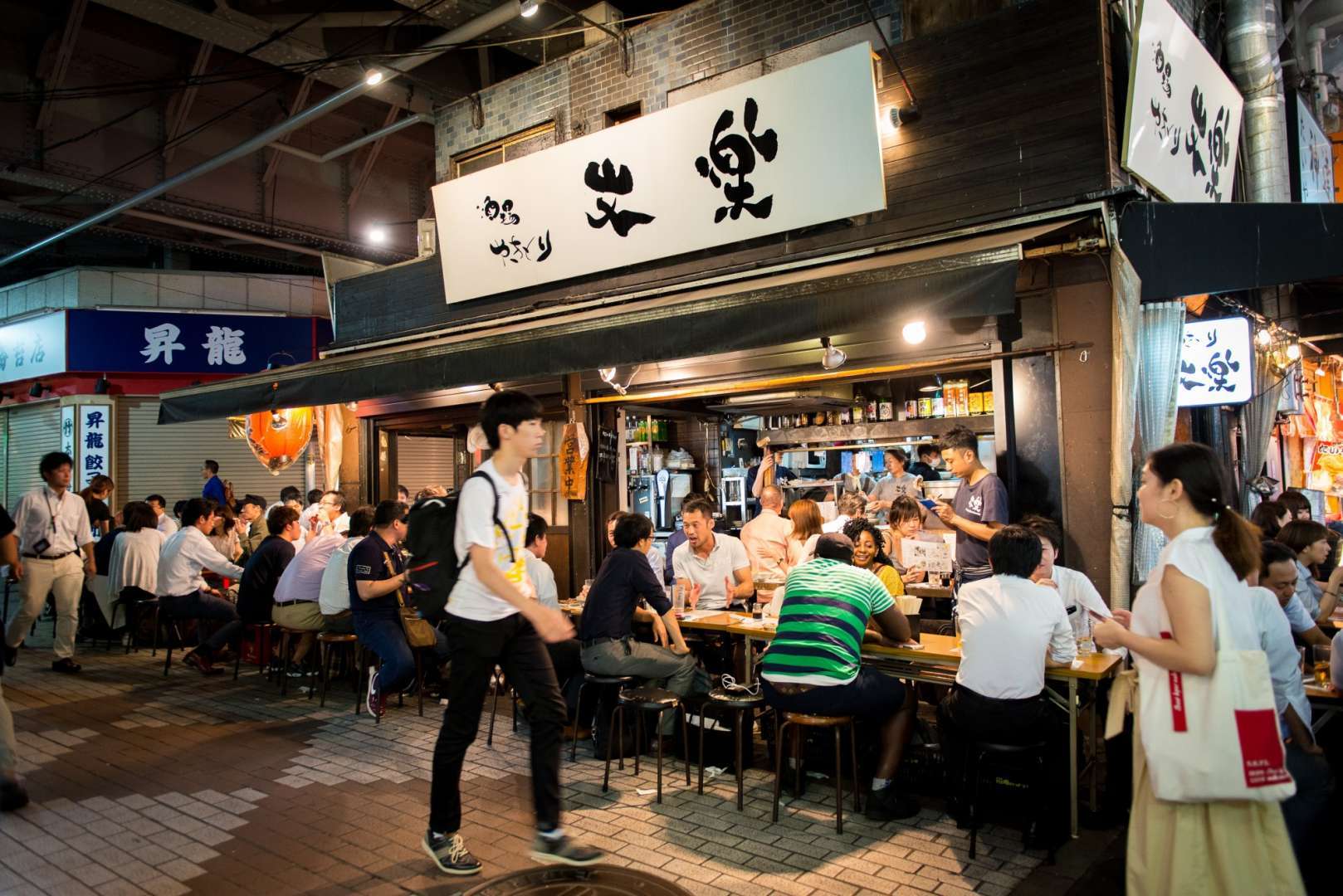 The Japanese love their food, but they're also welcoming to other cuisines. Ginza is the place to go to be acquainted with rich flavors and local delicacies all within the same area. The Edo Slowfood Mikawaya actually serves dishes made from recipes mimicking those used between 1603 and 1868 and is inspired by one of the oldest Japanese recipe books in existence.
Cafe de L'ambre brews coffee perfected over decades by its former owner and centenarian Ichiro Sekiguchi– some of the coffee beans in this cafe have been aged for more than 40 years. Sukiyabashi Jiro is a ridiculously tiny 3-Michelin-star restaurant managed by sushi chef world-renowned Jiro Ono, but there's a caveat– to eat there, you'll have to book at least a month in advance.
For a drink to wind down and drop your shopping bags, head to Bar Lupin– a basement fixture, dating back to 1928 and boasting a clientele history consisting of the country's literary elites.
The final word
It's nigh impossible to put a finger on just one reason that justifies the world's fascination with Ginza. The neighborhood's distinctive aura, coupled with its prime location in the beating heart of Tokyo, is what drives many to visit.
For others, it's the call of luxury goods at tax-free rates while for yet others, it's the glimpses into Tokyo's Shogun and pre-independence past that beckon.