There's a little island named Kasos in the middle of the Carpathian sea, and you've probably never heard of it. A rather small rock that rises out of the sea with a total land surface area of 19 square miles and only 1,000 inhabitants. It's the most southern island in the Aegean Sea and sits between Crete and Karpathos (which are also very beautiful islands).
Most people will never visit this tiny Greek island – even the Greeks themselves really don't have a reason to go here. Nationals visit other islands more often, ones that are larger, more accommodating and with better beaches. The truth is that there is nothing of particular interest on the island, in terms of tourism. You'll find elders enjoying stress free-days in the small picturesque harbor sometimes chatting or with a coffee and game of backgammon, and fishermen toting their fresh catch onto shore from small and colorfully painted fishing boats. The 'Festival of Kasos' takes place every August when famous international singers, like Marios Frangoulis (a Kasos native), take center stage in the port. Nice beaches can also be found on the southern coast of the island. But above all, the two most special things about the island of Kasos are culture and cuisine.
The first thing is that Kasos is an island of mariners. I've been lucky enough to travel to Kasos a handful of times because it's the island of my father. In fact, a large number of shipping owners come from the island. And once established in the industry, it's not uncommon for them to recruit fellow inhabitants as employees. And when I say ship owner, we're not talking of the rubber dinghy kind (although they have those too!), but about large ships and tankers, yah, those kinds! One of the benefits of being in shipping is that you get to travel – all over the world. Thus, this micro-island has some serious macro influence – especially in its cuisine.
The food on the island of Kasos is very particular and special. You cannot find the variations on Greek cuisine, that can be found here, on any other island. You can get to the island by boat or ferry boat. You can also get there by plane with commercial flights running to the island from nearby Rhodes and Athens. When arriving into the main harbor, you'll notice the taverna MYLOS on a bluff overlooking the sea. At first glance, it might have a traditional and unassuming look, but rest assured because it's purported to be one of the best restaurants in the entire nation. Consider the fact that it wouldn't be out of the question to travel to Kasos just for dinner – with the caveat that reservations are a must.
For those in the know, MYLOS is the top-rated restaurant on the island. And it is also nice to see that tripadvisor has it right, confirming correctly what I already knew to be true. Most of the classic Greek dishes can be found on the island with a few plates in particular, that are unique to Kasos and out-of-this-world amazingly good. You can try to recreate these recipes at home, but keep in mind that a dish is only as good as the quality of ingredients used – which as we know can't necessarily be bought unless it's from the source.
Cuttlefish in Wine Sauce (Soupies Krasates)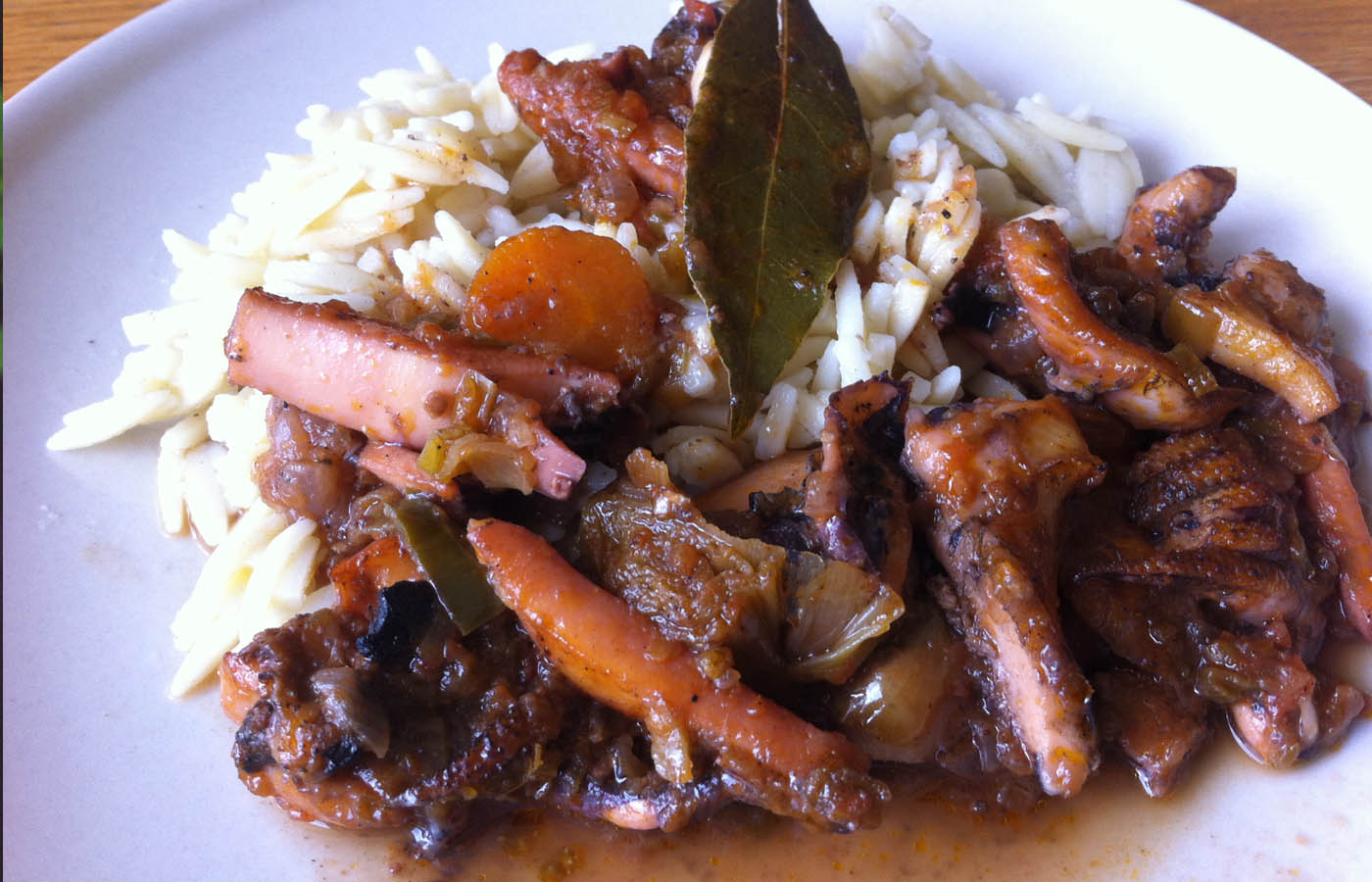 This is one of my favorite dishes of all time hands down. Cuttlefish is squid like in taste and texture, but different. Usually this dish is made by combining chopped onions, olive oil, wine, garlic cloves, black pepper, and bay leaves and vinegar into a saucepan. Afterwards, it's slowly simmered so that the ingredients and flavors meld together in an extraordinary way.
This dish is sure to please and the fusion of flavor is about as good as the idea of fusion itself (should the scientific breakthrough ever be discovered). Finding fresh cuttlefish might be difficult, depending on where you are, and cleaning it fresh can take some time. Otherwise, the dish is surprisingly simple and easy to make. But the best place to have it is on the island of Kasos itself.
Pasta with Caramelized Onions and Cheese (Makarounes me kremithia kai tiri)
Here's another special dish found only in the southern Aegean region with the best variation, in my humble opinion, on Kasos. The dish pretty much consists of butter, onions, heavy cream or yogurt, parsley, and pasta (a penne kind or other wide pasta to soak up the thick sauce-like mixture is best). Once again, the ingredients are actually quite simple but the flavors leap from the dish in bounds.
The onions, when caramelized become very sweet and creates a contrasting flavor to the sour tinge of the savory heavy cream. If you do not want to use heavy cream, and prefer something a little lighter and more waist-friendly, you can try substituting cream with a full fat plain yogurt for an approximation in taste. The pasta is mixed with the cheese and then topped with the delectable caramelized onions. It's truly amazing, I kid you not.
Small stuffed grape leaves (Dolmathes)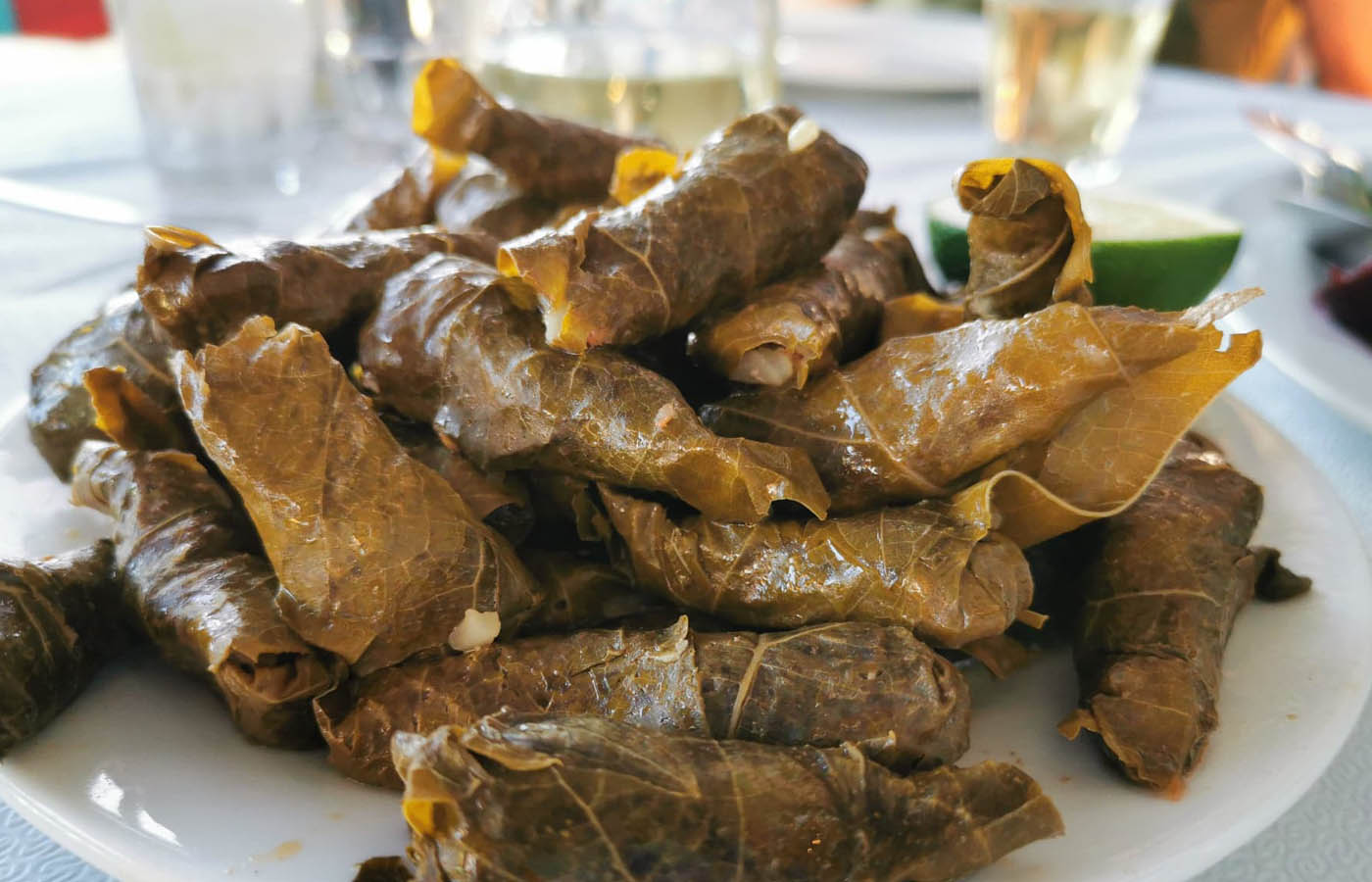 It is easy to find stuffed grape leaves almost anywhere in Greece. In fact, you'd be hard-pressed not to find them. So much so that you might even trip over one that has fallen off of plate and rolling down the street somewhere. But all jokes aside, the Dolmathakia on Kasos are the most delicious I have ever tasted, period. – they are poignant and poetic and worthy of writing about. You can find vegetarian versions of Dolmathakia made with only rice – and those are good – but the ones stuffed with meat is really where the flavor is at, my goodness.

The people of Kasos generally use a combination of beef, lamb, and pork. The mixture can be combined with minced onion, parsley, spices, salt and pepper and then put into freshly harvested grape leaves (or sometimes leaves in a brine solution). Instead of making large rolls, they spoon a small amount of the mix into the grape leaf before cooking in the traditional way in a pot. It is what phenomenal tastes like, in a bite size edible package.
When in Athens, Greece you can get a good sampling of these special Kasiotic dishes at a small little taverna called To Akri – an excellent option for travelers coming and going to the islands since the restaurant is located close to the main passenger port of Pireaus. Call ahead though to make sure it is open for operating hours.