When your target audience is someone who travels at least business class, and is constantly globe-trotting, a simple GMT or multiple time-zones watches don't just cut it. You need your watch to have something more – an exclusive edge above the other. How about a very complicated watch with a vibrating alarm?
The Richard Mille RM 62-01 Tourbillon Vibrating Alarm is this and more. Collaborating with Airbus Corporate Jets, the new watch is all about the oversized date, GMT – with a hand indicating the time in a second time zone, 70-hour power reserve indicator, and most importantly – an alarm. This is not the first time Airbus Corporate Jets have collaborated with Richard Mille, their earlier work – the RM 50-02 Tourbillon ACJ was out in 2016.
The Frequent Flyer Alarm Program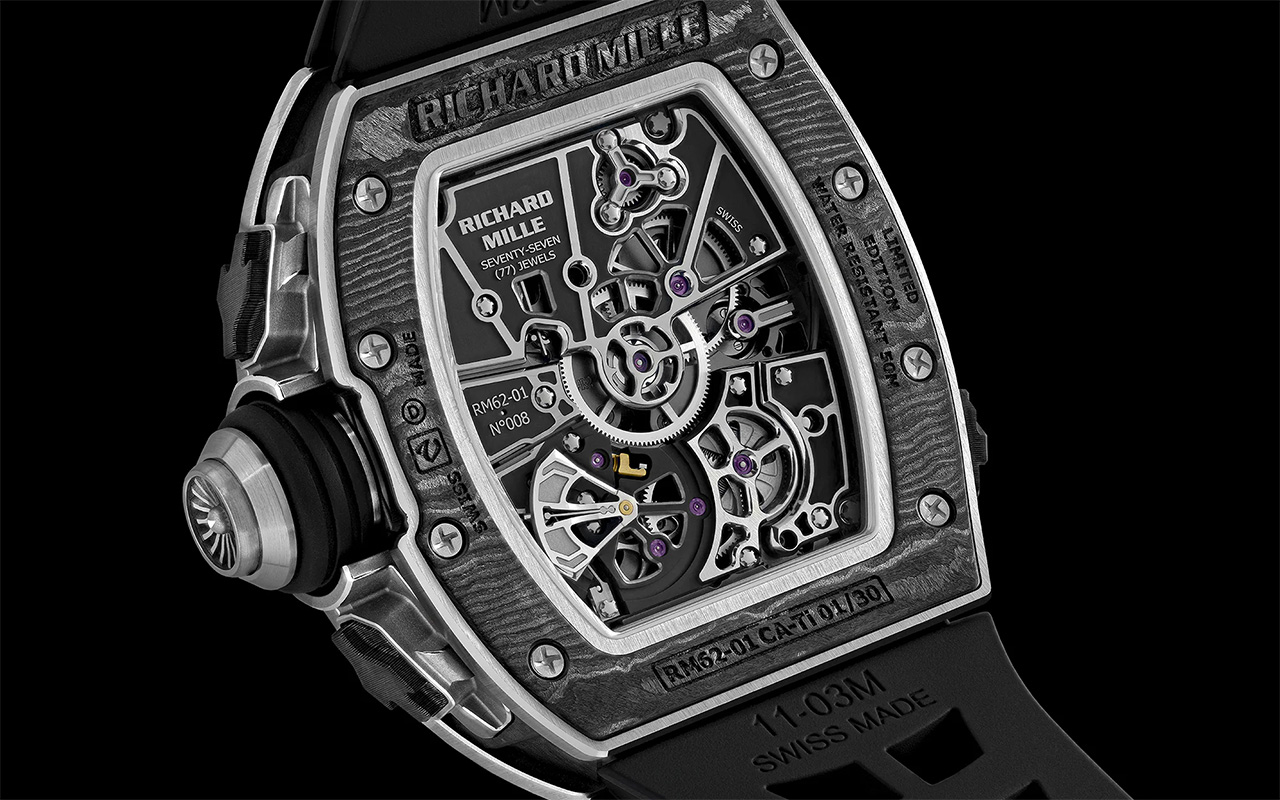 With this exclusive watch, Richard Mille breaks into the alarm watch segment, and although it's not the first alarm watch, it definitely is a first in how the alarm functions. The newness comes from the fact that there is no audible alarm that will blare out in mid-flight, instead it's a vibrating one.
Using a special oscillating body that seems to be the automatic winding rotor, spinning at a speed good enough to cause the watch to vibrate on your wrist and rouse you from slumber. An interesting way to wake you up, especially if you are the kinds to wear your watch and sleep. I know many people prefer to remove their watches and then sleep. But perhaps, when you're flying or in transit, you will not remove your watch, in case you are catching a few winks.
Under the Hood and Design Talk
The new RM 62-01 sports a double bezel, where one has a satin-polished titanium and second one is milled from a block of Carbon TPT. This second bezel is of super-thin thickness of 1.8 mm and you will find at a disc at the 3 o'clock spot that showcases selected mode against a light-colored ground – N for Neutral, W for winding, T for time setting, U for UTC hand setting and A for Alarm setting. 
The Richard Mille RM 62-01 Tourbillon Vibrating Alarm comes in a 42mm case in Titanium and Carbon TPT. The anti-glare coated Sapphire is protected by eight silicon braces. Teamed with a rubber strap, the watch houses the RM 62-01 Caliber with the functions of hours, minutes, oversize date, UTC, am/pm indicator and power-reserve indicator. The vibrating alarm function comes with on/off activation indicator. Limited to 30 pieces, the $1,225,000 timepiece offers 70 hours of power reserve.