If you have managed to get hold of a Cristiano Ronaldo's Manchester United shirt after his surprising transfer to Old Trafford, you've got a piece of history to wear.
The sales of 'Ronaldo 7' shirts hit a record £187m and are now part of Premier League history! Reportedly, the Adidas Ronaldo 7 shirt is the faster selling shirt in history, which has toppled the sales record of Messi shirt after the Argentine legend's transfer to Paris Saint-Germain (PSG).
The record breaking shirt
Reportedly, the 'Ronaldo 7' Adidas football shirts have been sold twice as many times as compared to 'Messi 30' PSG shirts. The sales figures are reported by shopping marketplace LovetheSales that's been keeping track of Ronaldo's Man Utd shirts sales since this return to the old club where he reached the peak of his career to become most celebrated name in modern-day football.
Clubs signing celeb players are sure of boosting sales of the football kits through the season. Cristiano Ronaldo has been an influence unlike any other, and this is proved again for Manchester United through the record-breaking sales his shirts have amassed for the club.
You must act now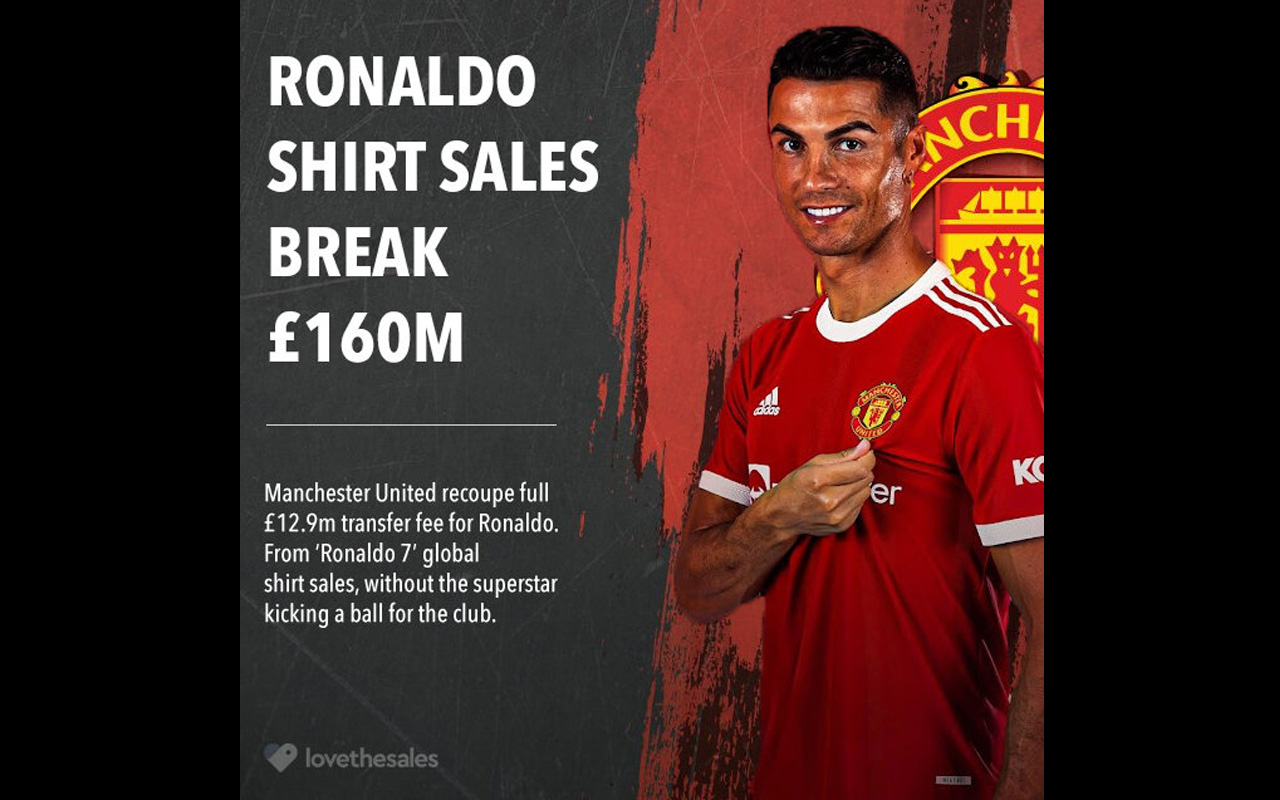 Manchester United is reported to have paid approximately £12.9 to Juventus to bring Ronaldo back to Old Trafford on a two-year contract. Through the sales of his shirts alone, the five-time Ballon d'Or winner, who again wears his favorite "No. 7", has already netted Man United upward of £13m in shirt sale revenue.
According to Stuart McClure, co-founder of LovetheSales, "online searches for the 'Ronaldo 7' shirts have increased by over 600-percent" and they are already sold out at numerous stores. Football fans who have not collected their shirts may want to move the finances quicker!