I keep a collapsible spork on my person at almost all given times (it's the one featured in the main image). I swear, the moment that I don't have my trusty spork at my side I want to kick myself because if I'm either on the road, traveling, hiking or staying somewhere and don't feel like eating at a restaurant, I'll walk on over to the local supermarket to pick something up. Whether it's salad or a tin of beans, there are two things I don't want to do: ask for a plastic fork or have to buy one.
Seriously, a spork is one of the most useful things to keep with you. It gives you the freedom to dine anywhere while on the go. You are more than welcome to dig into any meal with your hands – and in some places I'll do just that – but I don't always feel like picking up pieces of tuna soaked in olive oil with my fingertips. My beloved spork stays stashed in a pocket, suitcase, backpack, or toiletry kit (clean of course) so that if I need it, I can have it in a snap.
Just so you know, if a spoon and fork are not combined on the same end, then technically, it's not a spork. And if it has a separate fork with a serrated tine on one edge, that's called a 'knork' (this is apparently what I own). Alternatively, a spork with a knife on the other end is referred to as a 'sporf', 'sporknorf', or just 'spork with a knife' (you'll see this Sea To Summit item listed below). I'm sorry if I just confused you.
I'm always on the prowl for great gear, so when I Googled "best spork in the world" here's what I found: it's hilarious how thoroughly tested all the sporks of the market are – one reviewer carried out experiments in a controlled 75 degree room, with no wind, at 6,000 ft. altitude. He creatively tested things like a spoon volume's "fruit-loop capacity" and "stab-ility" of a spork with a giant 1 lb. meatball – the spork would earn a pass or fail rating. Darn genius if you ask me. Details like length, weight, portability, eco-friendliness, and ease in cleaning are also taken into consideration. Here are some top sporks that I think are worth buying. A spork also makes for a great gift. They are the handy unsung heroes of the cutlery world. But I'm warning you, once you go spork, you might never want to go back to regular spoons, forks and knives.
Snow Peak Titanium Spork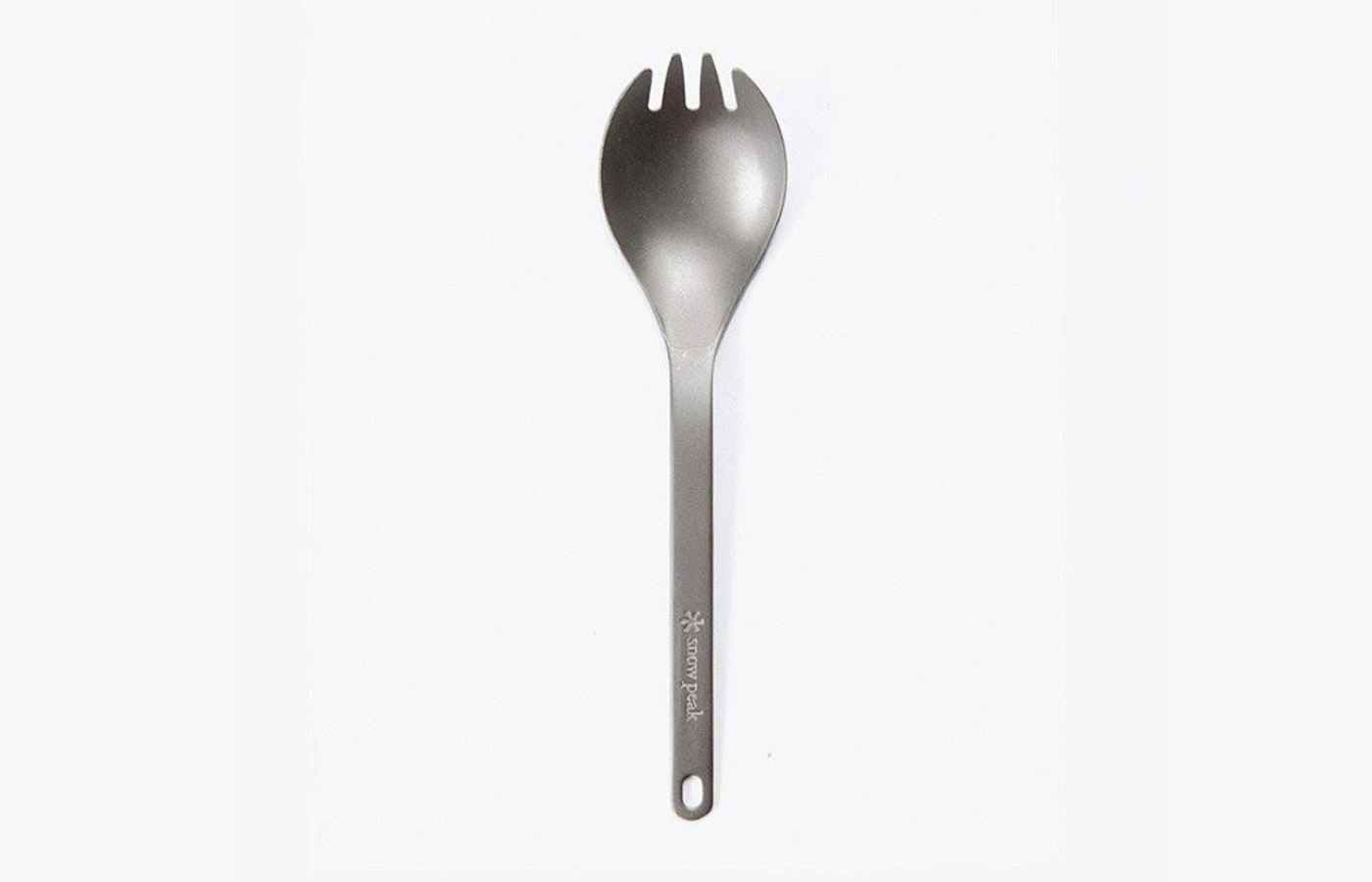 This spork is very lightweight at 0.6 oz and measures 6.5 inches in length. The titanium leaves no metallic smell or taste and is rust resistant. This spork is utilitarian and highly durable, only the stem might be a little too short for some deep pots. $9.95
Vargo Titanium ULV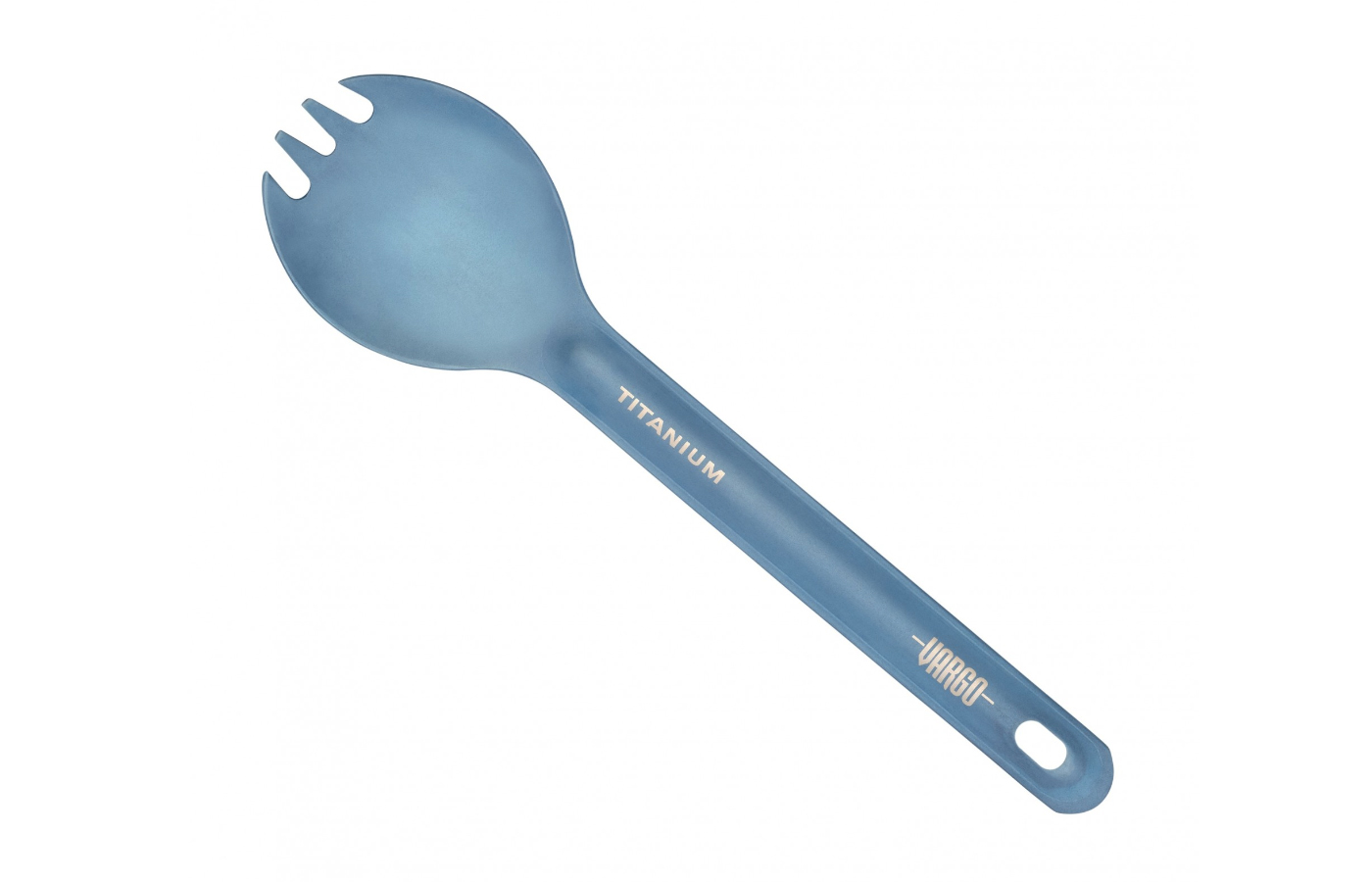 The Vargo Titanium ULV wins the low weight category at 0.3 oz and measure 6.5 inches in length. It has the benefits of titanium with no smell, taste, or rust, and looks great with the matte finish. It has an extra wide bowl and is comfortable to eat with. At 6.5 inches it might not have the perfect reach for digging into bags or cooking. $11.95
GSI Glacier Kung Foon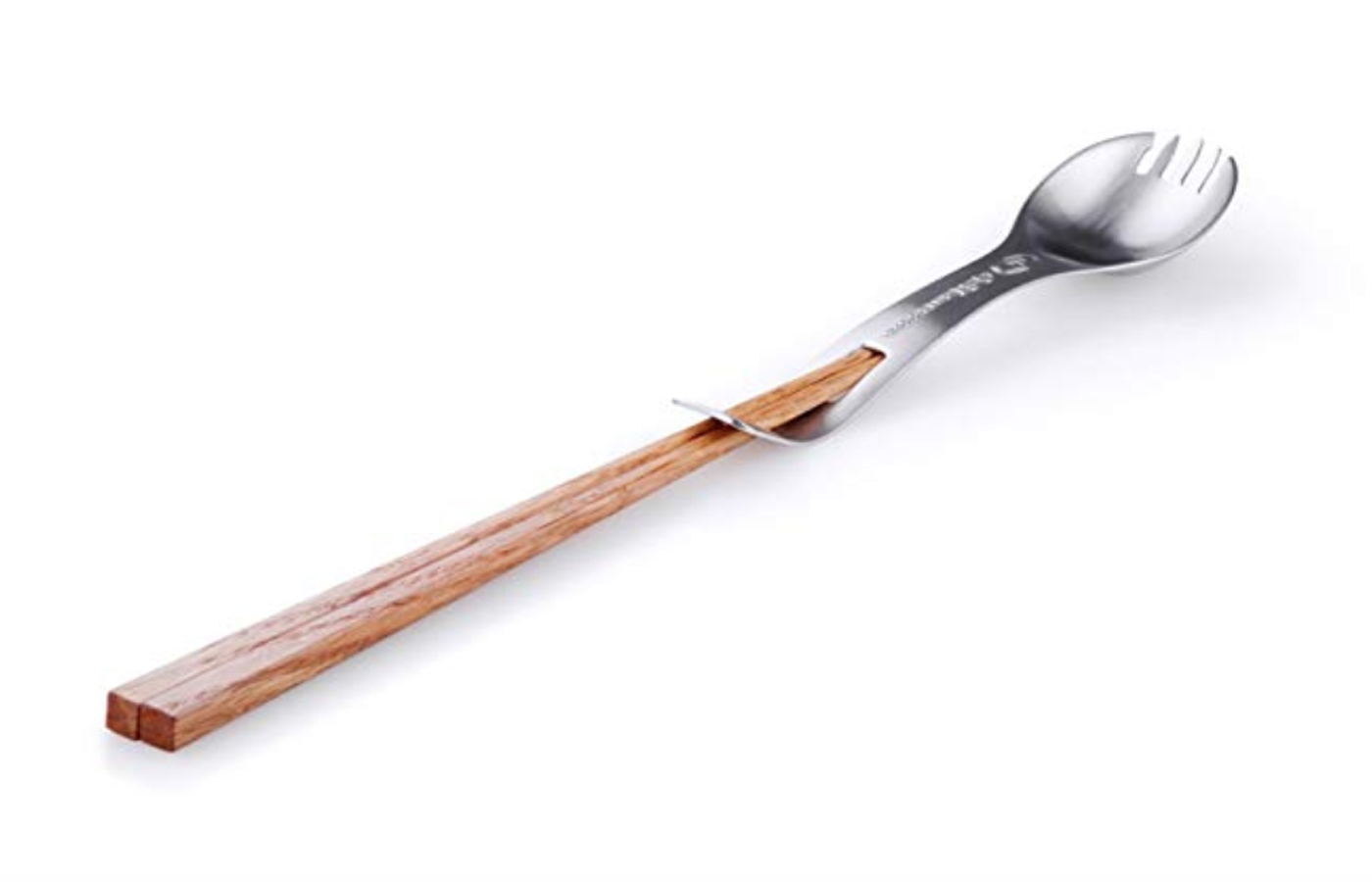 First off, I love this design and the versatility of the product. It's crafted with a mix of stainless steel spork and bamboo chopsticks to create a three-in-one product. It weighs 4.7 oz and measures 8.7 by 1.6 by .9 inches. The chopsticks stow in the Foo handle extending the entire length of the tool which is perfect for pots or deep bags. The fork tines perform well and the spoon has a depth that's suitable for soups or cereals. It also comes with a handsome metal case. $11.95
Forestry Labs Bamboo Sporks – Long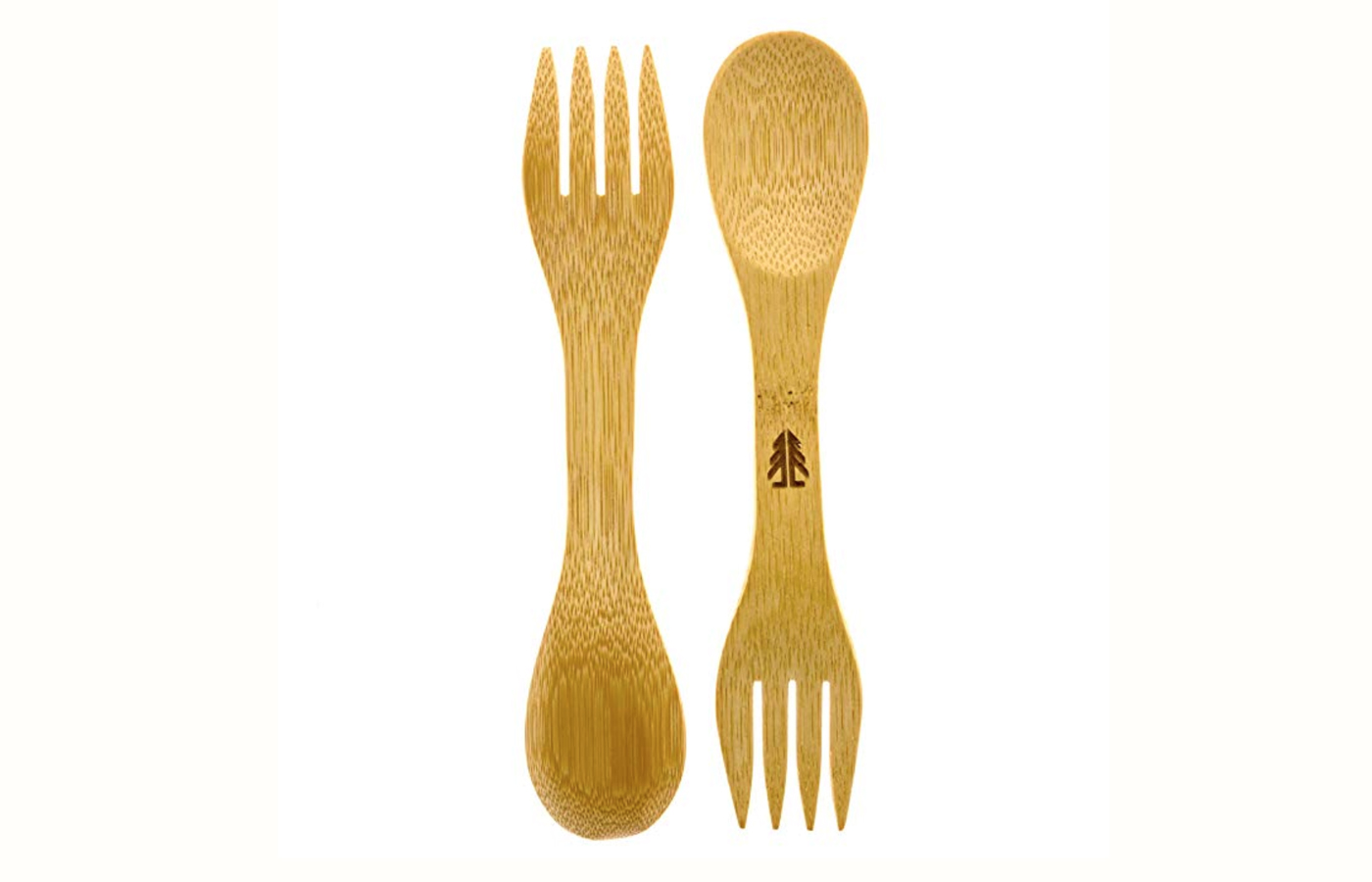 Made from bamboo, all-natural, organic and food safe, it is 0.4 oz and is available in two lengths: 6.5 and 8.6 inches and are sold in sets of four. Stain-resistant and they don't warp or swell in soapy water when hand washed properly. I might just use these for all the time at home too. It is durable and the long tines are good for grabbing food. Technically, this is not a 'spork' but earns a spot on the list because its eco-friendly character. A drawback being the short length if you do any cooking you risk exposing your hands to heat or steam. $10.00
Sea To Summit Delta Spork with Knife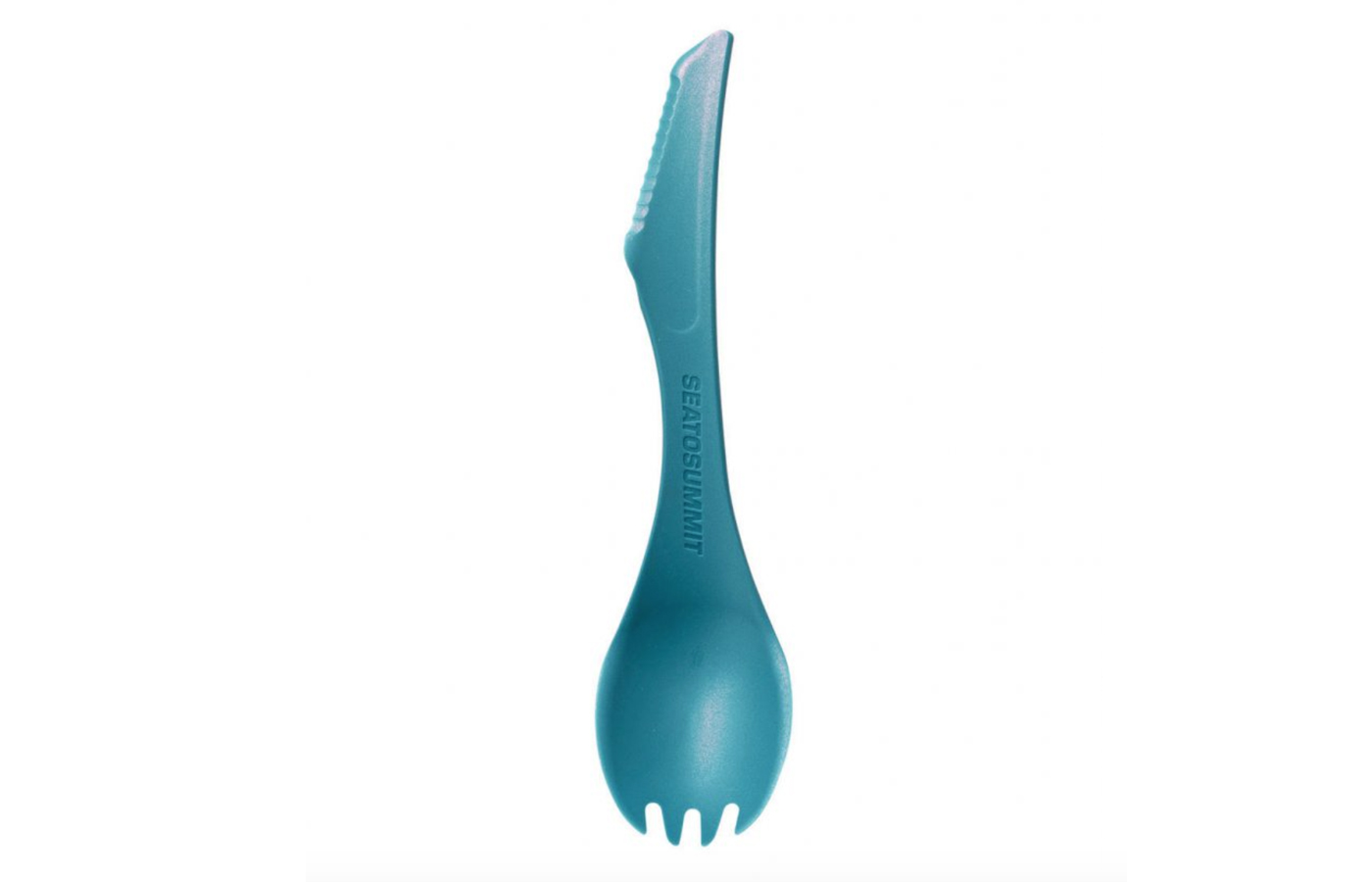 Here's another one that shouldn't really be on the spork list, but hey, it's good. A multifunctional tool that weighs .5 oz with a length of 7 inches. Made from food grade glass reinforced polypropylene for strength and durability, and is BPA free and dishwasher safe. The knife part cuts well and has the added benefit of being able to spread things nicely. The spoon portion has a nice volume and the fork tines work well too. $8.45
Ramen Spork – MoMa Design Exclusive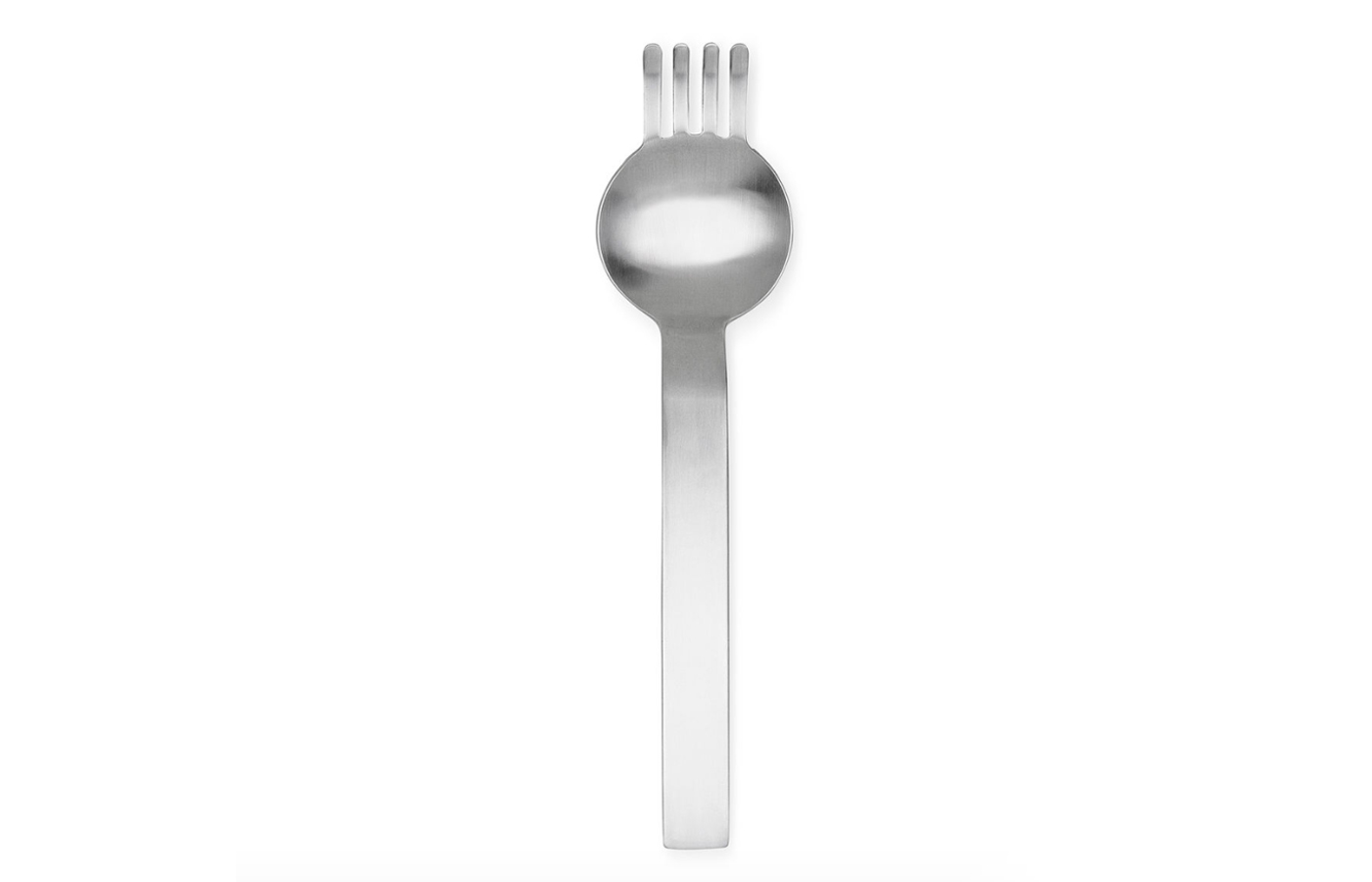 If you love ramen or spaghetti while on the go, then this might be the perfect spork for you. It weighs 0.8 oz and has a length of 7.75 inches. Not to mention a design pedigree as a MoMa Exclusive product designed by Masami Takahashi as an alternative to chopsticks in an effort to eliminate waste. Ramen or spaghetti, apparently noodles will wind around the tines of this cool stainless steel and dishwasher-safe piece. $16.00