If you've ever walked into a gym and marveled at other gym-goer carrying out some intense dumbbell exercises, you're not the only one. More and more people are realizing the benefits of dumbbells, regardless of what your fitness goal is– losing weight, gaining muscle or just getting fit.
However, for first-time gym-goers, the world of dumbbells can be an intimidating one to navigate. Couple that with herculean trainers giving you all sorts of advice and monstrous equipment littering the gym floor and you have an experience that's nothing short of terrifying.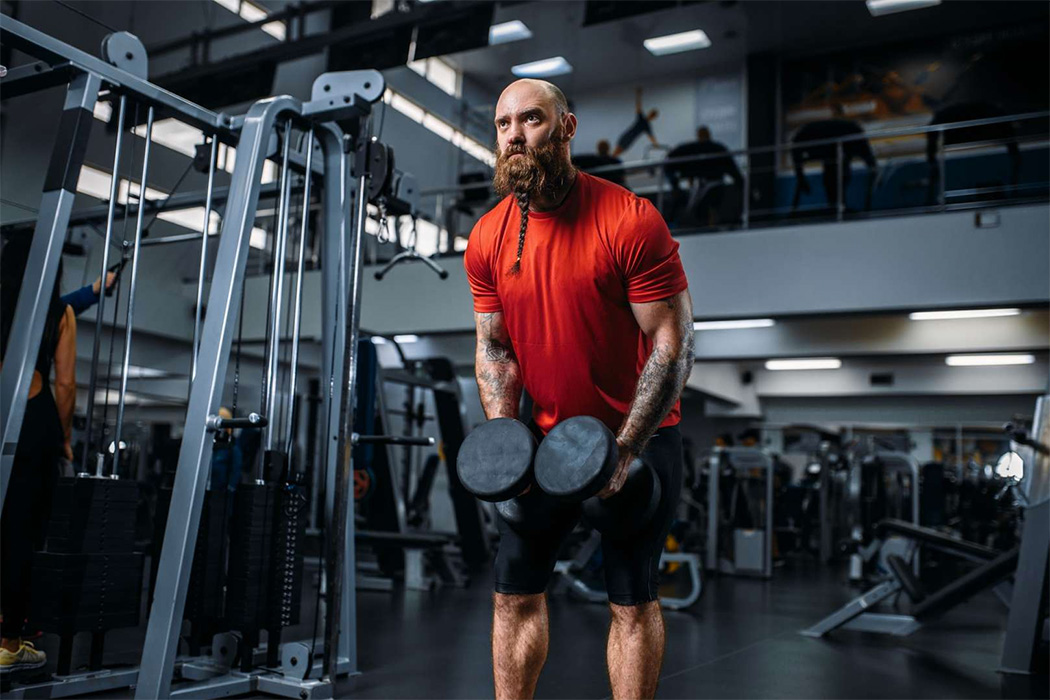 But it doesn't have to be that way! Dumbbells are the essence of any good weight-training or get-fit exercise and come in a variety of weights that you "graduate" to, depending on how much your body has been trained on a weight so far. From basic weight loss and High-Intensity Interval Training to weight training and muscle-sculpting, you can reach new fitness heights with– you guessed it– a humble set of dumbbells.
Here's a weigh-in on the top 5 dumbbells that will help you get fit and smash that fitness goal in the coming months:
York Fitness Cast Iron Dumbbell
One of the best weights in the market today, this York Fitness spinlock set is arguably a staple in home and regular gyms. With a rough grip and a cast iron finish, this set promises longevity and great use. The spinlock set has a weight spread of 4lbs to 44lbs, which means any newbie can graduate on the same pair for a good few months.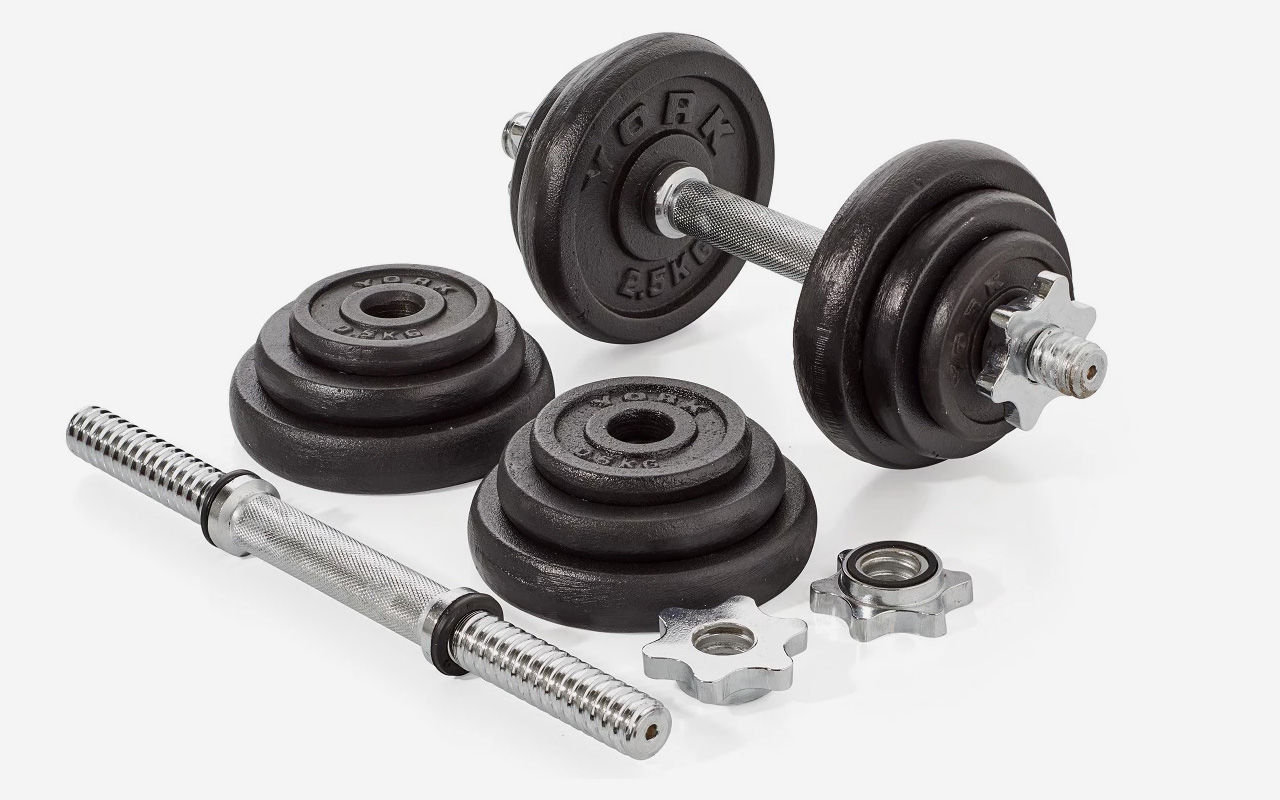 A word to the wise, though– ensure your floors are well insulated as this set can be quite noisy when put down. They've also been known to chafe the palms and fingers during use, but that's nothing a good ol' pair of exercise gloves can't remedy.
Men's Health Adjustable Dumbbell
As far as modular weights systems go, the Men's Health Adjustable Dumbbell keeps all the benefits of the top guns while cleverly undercutting them on the price front. It's quite the versatile weight system, packing a weight range of 5.5lbs to 55lbs in increments of 5.5lbs that won't feel like going from rubber ducky weight to that of a boulder.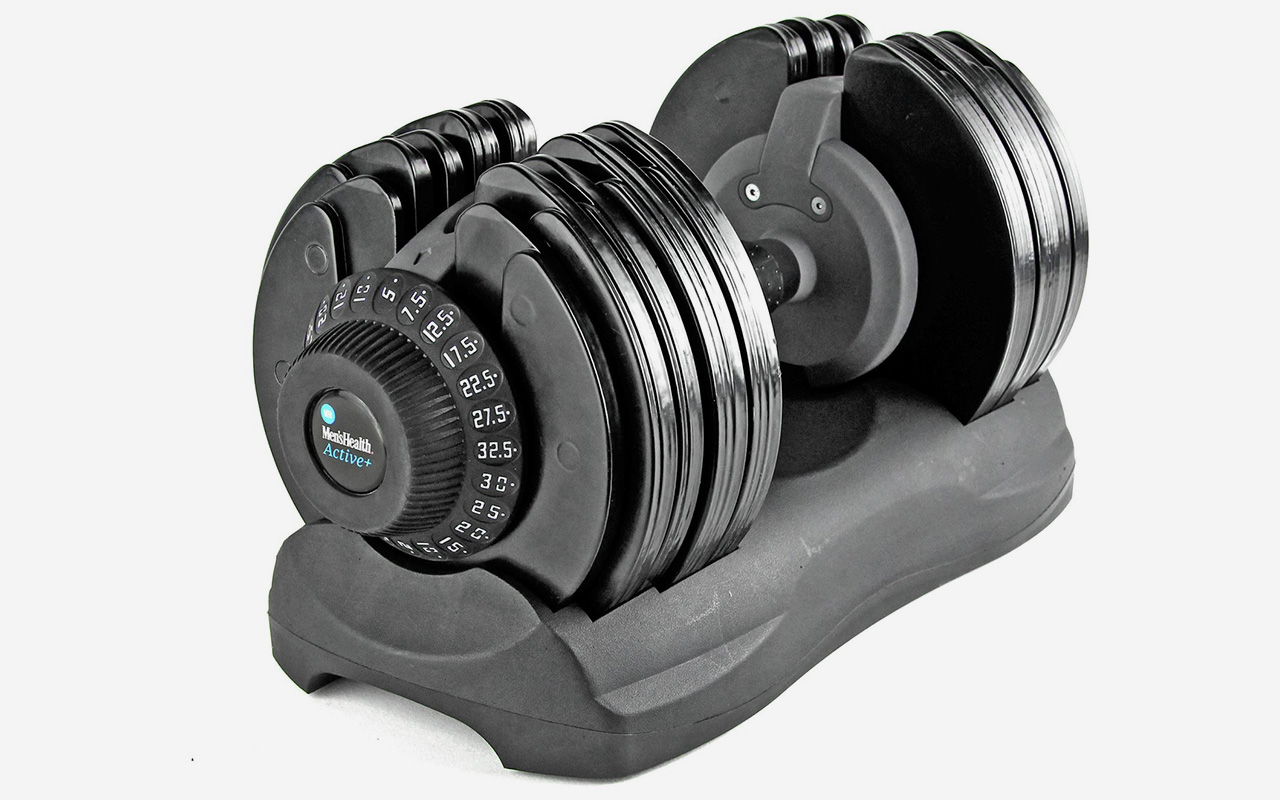 The exterior is built with thick plastic that's made to last and the weight spinning mechanism is quite smooth and easy to use.
Bowflex SelectTech 552
The luxury car of dumbbells if there ever was one, the Bowflex set packs power and versatility in a suave black-and-red design. It's one of the most versatile sets out there, with a base weight of 52.5lbs and 15 different levels of increments. It ticks all the right boxes when it comes to design and storage, too– the set features comfortable grips of rubber and a dumbbell tray to store them in.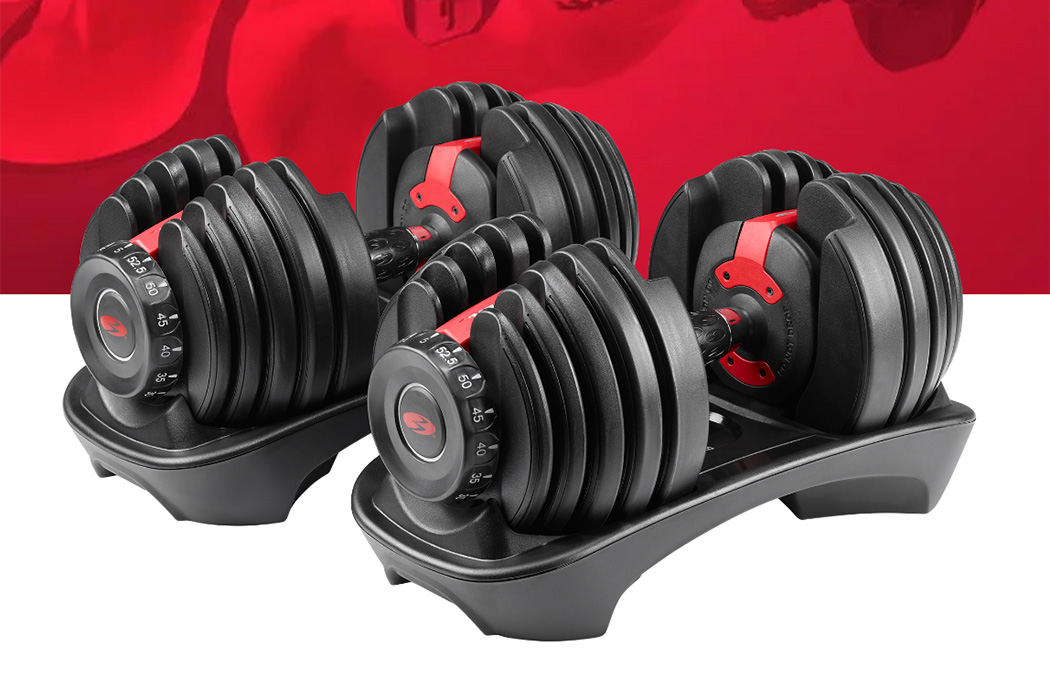 Being an innovative disrupter of the American fitness world has its downside– the set costs a cool $300. However, considering you're getting what's worth an entire rack of dumbells in a single one, this one's arguably a worthwhile investment.
Sunny Health and Fitness Dumbbell Set
For beginners looking for a versatility at n affordable price, the Sunny Health and Fitness set is a good contender. It's got a total weight of 33lbs without predetermined weights, meaning the dumbbells take on weight as you stack on any of the 12 adjustable plates.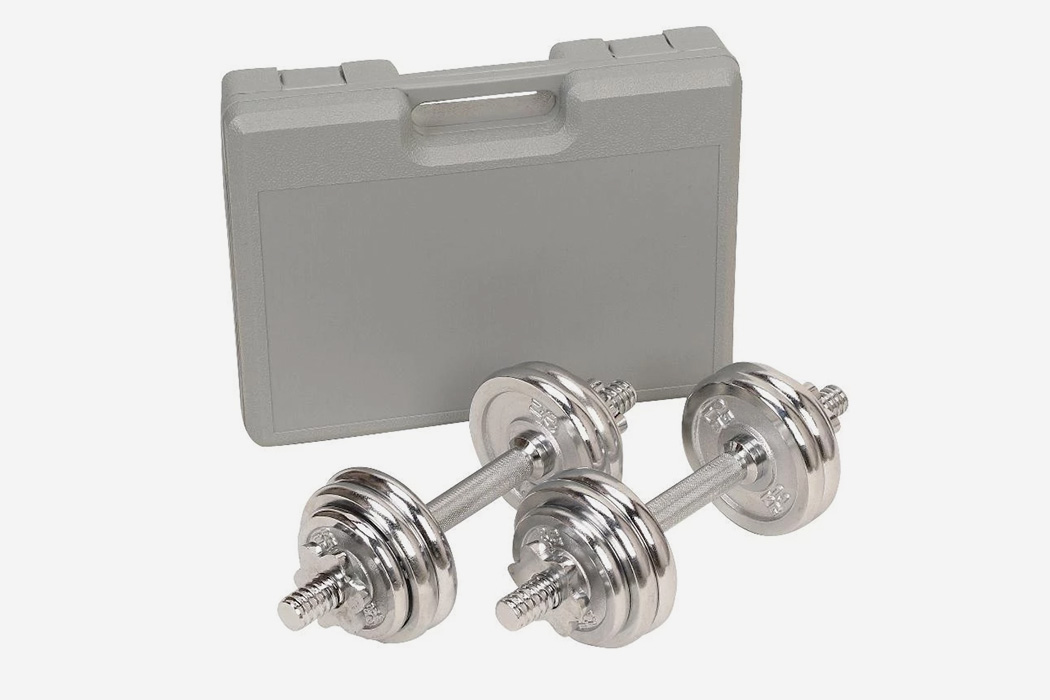 The sleek chrome finish is quite attractive too, especially for home setups where you don't want a bulky set wrecking your decor. They come in a sturdy plastic case and feature a ridged grips for full control. The downside, if any, is that the round plates may make the dumbbells roll around some.
CAP Barbell Cast-Iron Hex Dumbbell
One for the beginners as well as the pro bodybuilders, this dumbbell displays a cast iron old-school design that's no-nonsense and does its job. The individual dumbbells range from 5lbs to a whopping 120lbs, meaning that beginners are set for life if investing in this. The hexagonal head ensures no rolling around, while clear markings indicate the weight.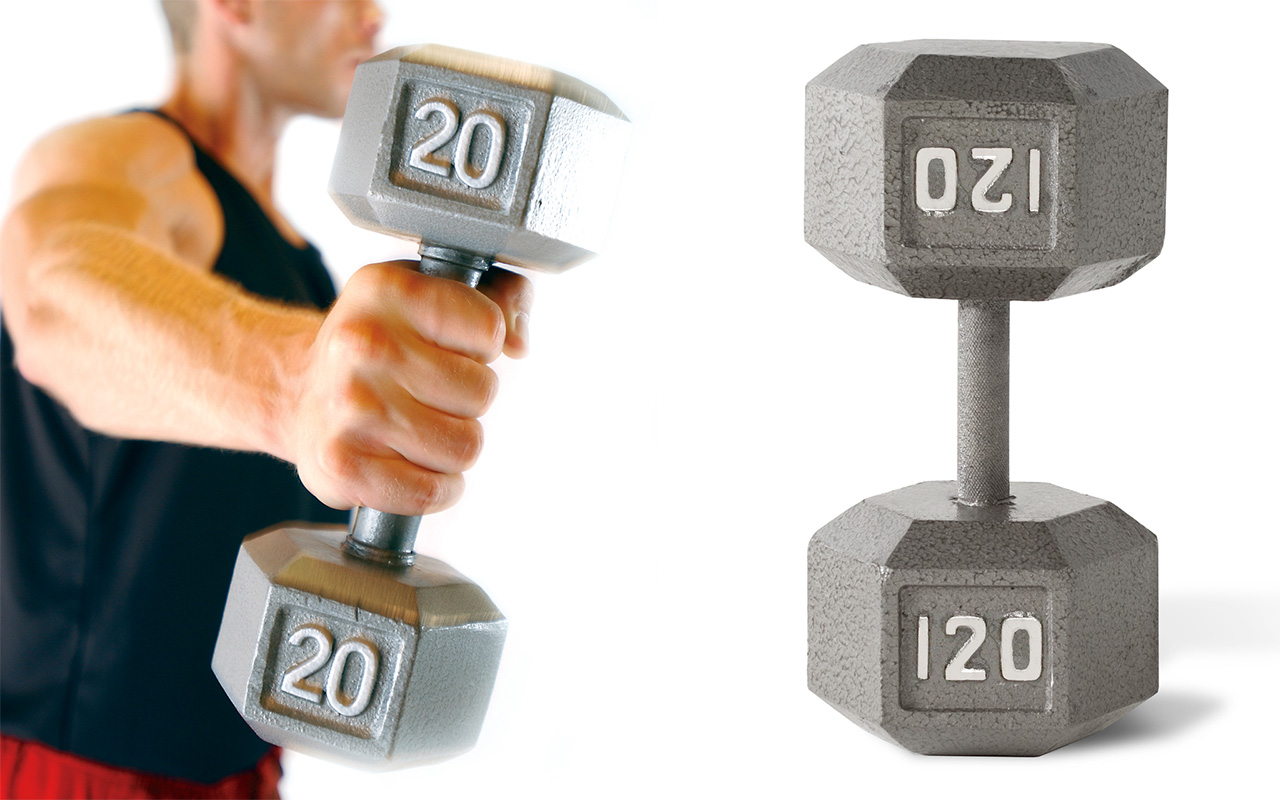 The knurled handle ensures your grip stays strong regardless of the exercise. A caveat, though– the costs may start to build up if you're looking to expand into a gym-worthy set over time.
Picking the right dumbbell set
When picking the perfect dumbbells for you, here are some factors to use as yardsticks: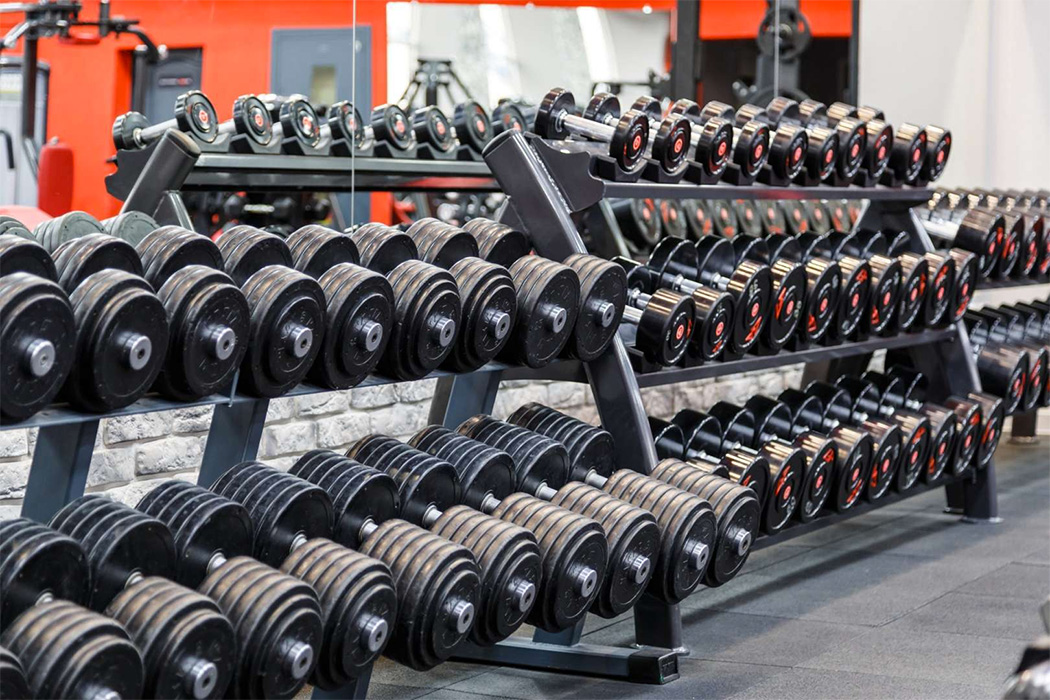 Shape: Dumbbells usually come in round or hexagonal shapes. The latter is perfect if you don't want any rolling around or will use dumbbells for press-up or push-up exercises.
Adjustment: As you've probably gleaned from the list above, dumbbells can either be fixed or adjustable. The former is ideal for those who've already reached a set weight limit or want to collect a gym-worthy set, while the latter is perfect for beginners going up the weight ladder.
Coating: Weights without coating may look masculine but can damage flooring and create a lot of noise. A rubber coating can insulate on both counts but could result in skid marks if they're dragged across the floor.
Number: Some dumbbells come in pairs, while others are singular. Depending on your use for them, you could either choose the pair set or carry on with the singular ones, supplementing your collection as and when you see fit.
Casing: Once again depending on your use and the location, you could pick from dumbbells that come in a case or stand, or just stick to the ones without a case, adding on a stand at a later stage if your floor is getting wrecked.
And there you have it! The top five dumbbells to really get you started on smashing your fitness goals and progressing from amateur to pro levels.
As with all weight training and gym equipment, exercise caution while lifting or exercising, wear the right training wear and gloves, and don't lift beyond your weight grade because that could result in serious injuries that throw a spanner in the (fitness) works!