Ahhh motorcycles. They can be awe-inspiring or downright frightening. Despite how you look at it, an adventure is an adventure, and one that I've been meaning to do for a long time: A cross-country tour by motorcycle across the United States, Europe, Australia, Asia, New Zealand, South America – anywhere in fact – is on my bucket list of things to do.
So when the time comes to hop up into the saddle, sidling up in a snug manner behind some strapping adventure enthusiast, I definitely want to do it in the ultimate style. I'm talking a no holds barred approach – on the back of the best bike, and why the heck not, with the most sought after gear too.
Is it overkill to wear a full body defender and a fully inflatable vest at the same time? Perhaps, but when it comes to safety, then again, maybe not. At the very least, give me a great jacket, pair of pants, helmet, gloves, and boots.
In my search for excellent adventure touring motorcycle apparel I came across many reputable companies out there like Dainese, Alpinestars, Richa, and BMW.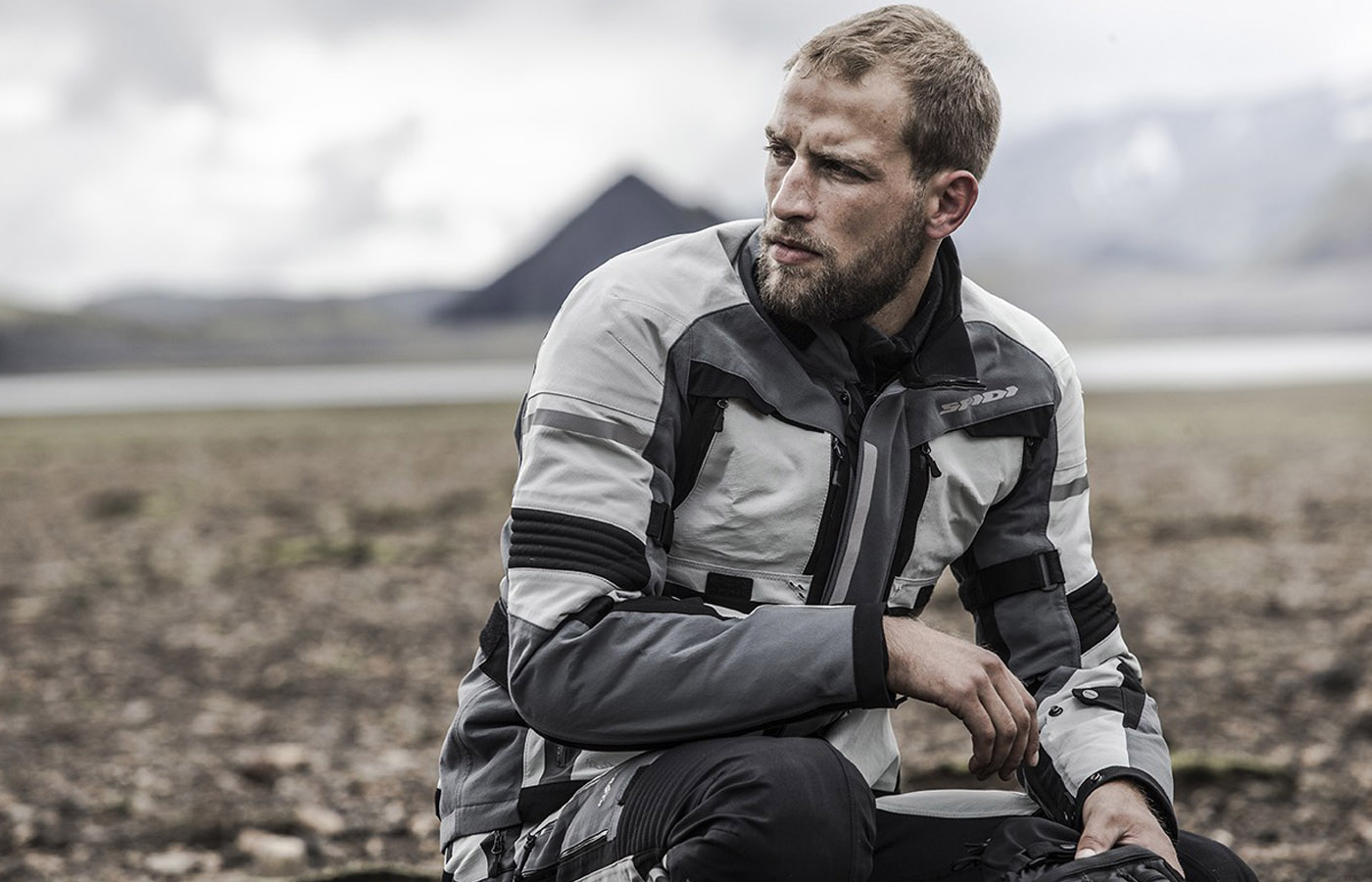 My hunt also brought me to the website doors of Spidi and the Globetracker H2Out Jacket. Spidi is a technical motorcycle apparel company that was founded in 1977 in Northeaster Italy. Out of a tiny garage, like many Italian business stories, a man named Renato Dalla Grana made high-quality and hand-crafted leather racing gloves. The Italian company has since branched out into a full line of apparel and is dedicated to the motorsport lifestyle. Today, the product line is designed and planned in Sarego, Italy.
After gazing for a while at the Globetracker H2Out Jacket, I thought to myself … " this might be the one". It looks 'hot' (not as 'in temperature', but in terms of style and cool), with a great number of nice features in lockstep with the latest comfort, protection, and technology too.
The Globetracker H2Out jacket by SPIDI has been created to maintain the ultimate in form in function for the long haul and for extreme conditions. In short, enhancing the experience of your ride so that you can focus more on your tour and worry less about your gear.
The jacket retails for around $1,000, but doesn't this seem too unreasonable given the fact that you'll be rolling down the pavement for long stretches of time and rubbing elbows with all the elements imaginable – wind, rain, dirt – okay, hopefully not fire. For any adventure tour, good motorcycle gear is not only essential, it's an absolute must.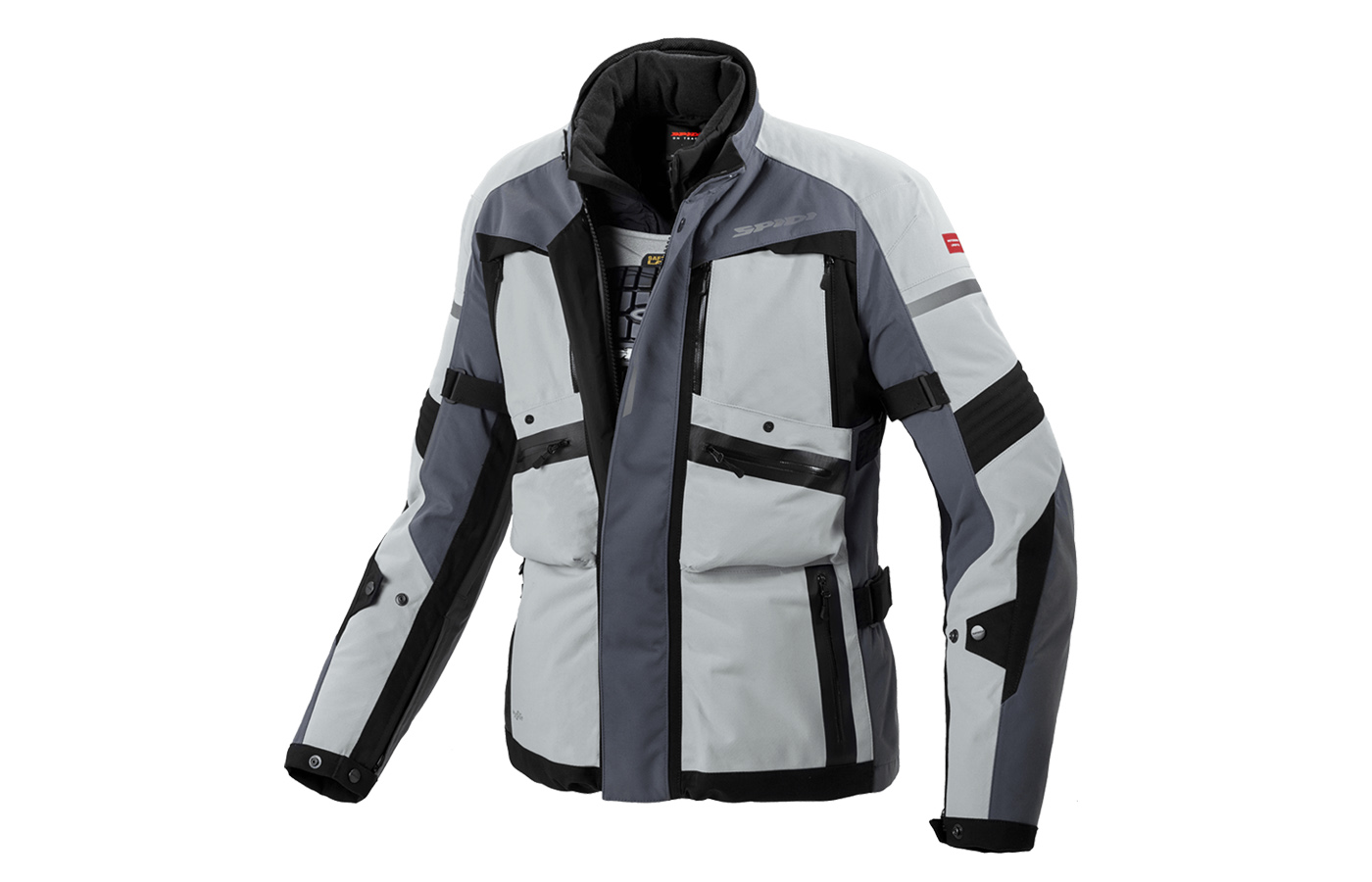 The jacket is prEN 17092:2017 AA certified with a Dermizax membrane technology by Toray that is coupled to the outer fabric, practically guaranteeing impermeability – keeping the water out and your body bone dry. This also has the added benefit of an extremely high degree of breathability with little condensation.
On the outside is a Cebonner fabric with a good degree of elasticity for fit with little nuisance of rubbing or chafing. Also on the inside is a thermal down jacket (affixed with snap button tabs) that can be removed as a stand-alone jacket. The thermal down in turn features a CoolMax technology which also has excellent breathability.
The jacket offers a fully customizable fit with adjustable Velcro straps on the arms, wrist, torso and other parts and is loaded with ventilations zips, flaps and pockets.
So for now, this jacket might just be my jam. What's your opinion on top-notch motorcycle adventure touring jackets? Please share with us.